My Valentine's Day Gift Guide is filled with Red, Pink, and Hearts galore and everything under $35. These gifts are the perfect way to makes someone feel extra special without breaking the bank! Happy clicking!
2021 Valentine's Day Gift Guide for Her
Valentine's Day in our house isn't a holiday that we go over the top. Instead, it is more about thoughtful and meaningful gifts. So that's why it was so important for me when creating this Valentine's Day gift guide to include all my favorite things Under $35! You'll find the the sweetest Valentine's Day gifts perfect for every lady in your life, and, of course, we can't forget our main squeeze. I have him covered with VDay gifts he is sure to love!
First up, this Valentine's gift guide for Her! It's a zero guilt shopping – with such great prices, you can spread the love and treat your girlfriends, sister, mom, etc., to a sweet Valentine's Day gift.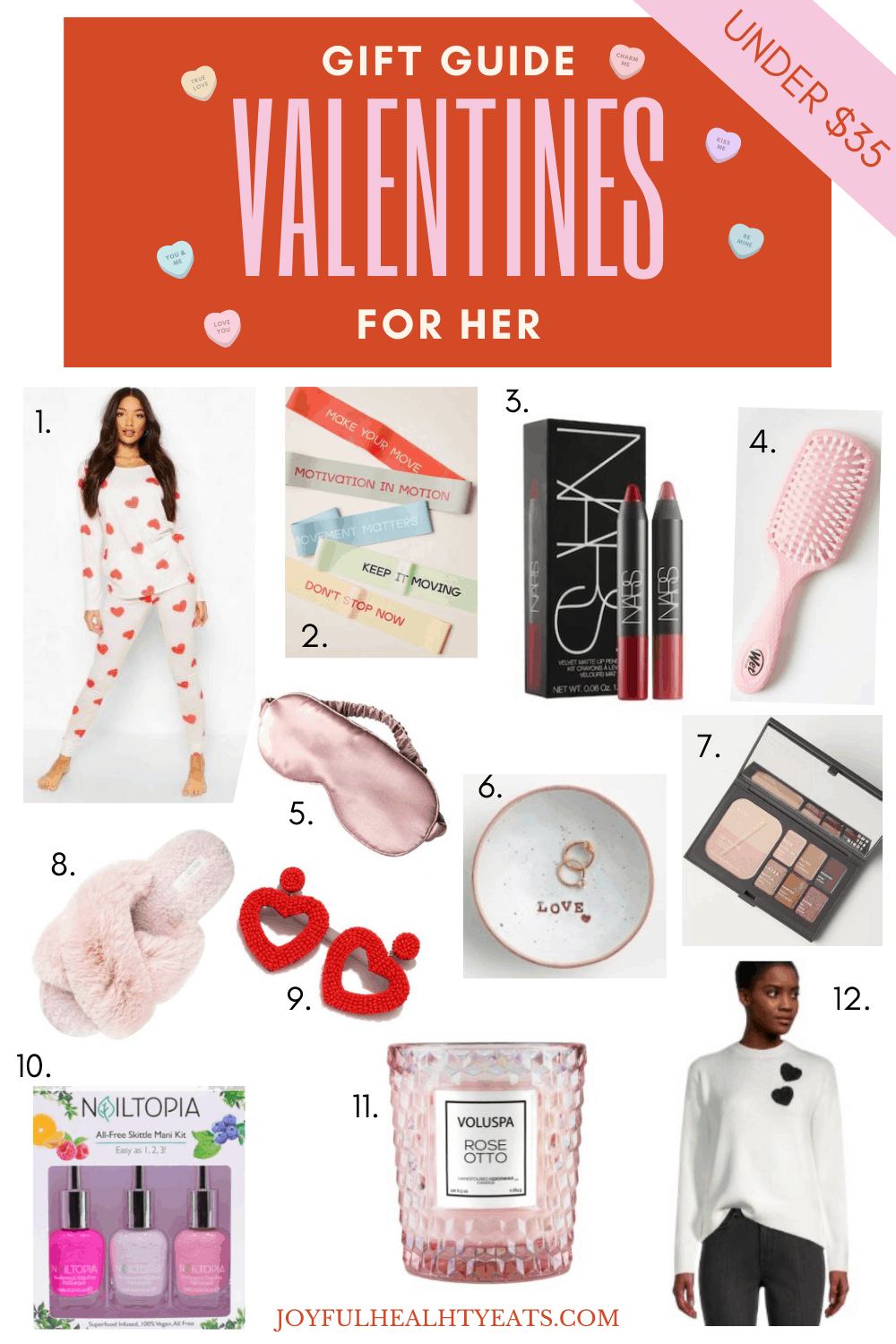 MUST-HAVE VALENTINE'S GIFTS FOR THE LADIES IN YOUR LIFE – UNDER $35
I am so excited about these gifts and may have event snagged a few for myself…hey, self love, right?
I'm such a sucker for cute PJs. And these heart cuffed pajamas have my heart; haha get it? Seriously, cannot wait to order these cuties! They are currently 50% off, making them only $16.
If you follow me, you know I am a lover of all things fitness. I am obsessed with these Bala resistance bands. Each one has it's own motivational phrase!! Resistance bands are one of my go-to at-home gym equipment must-haves.
Can one ever have too many candles? My answer is a definite NO! I am currently working on decorating little vignette's around the house for Valentine's Day, and this Rose Otto candle is the perfect pop of pink in any space. Not to mention this is my favorite candle brand. Every candle they make smells divine!
The Gift Breakdown
Shop Valentine's Gifts For The Ladies In Your Life

2021 Valentine's Day Gift Guide for Him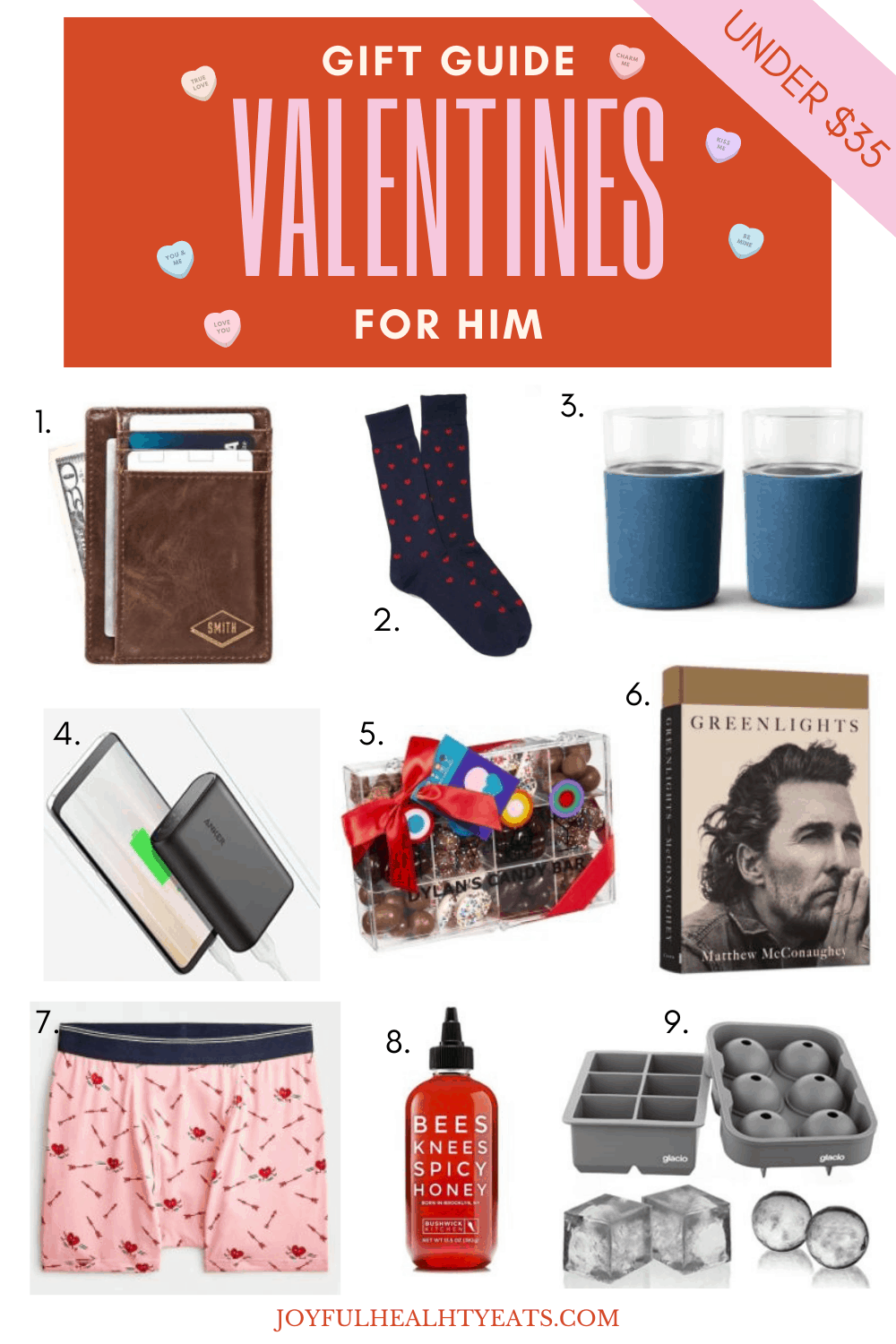 THE PERFECT VALENTINE'S GIFT FOR HIM UNDER $35
Why are men so hard to shop for – if Mike wants something, he just goes and buys it…leaving me high and dry every holiday for gift ideas! For the Valentine's Day gift guide for him, I sourced sweet little gifts. There is something for every type of guy, and you got it, it's all Under $35!
When I found this front pocket wallet, I thought it was the perfect gift, especially for nights out when Mike doesn't want to carry a bulky back pocket wallet, and then I saw it can be personalized – I was sold!
I have heard so many great things about Matthew McConaughey's new book Greenlights this is the perfect book for the avid reader or just the guy looking for a few words of wisdom!
Is any Valentine's Day gift guide complete unless there is a little pink, red, and hearts? I just couldn't help myself. What can I say? I love a man in pink. These pink boxer briefs are so festive and cute. The navy and red heart socks are perfect for the office and help spread the love!
The Gift Breakdown
My Favorite Valentine's Gifts For Him Under $35

You didn't think I could leave something sweet for the kids and the home chef out? Check out my LiketoKnowIt page- where you can shop all my current and past gift guides. In this Valentine's Gift Guide for the Kids, every item is under $26. You will find the perfect sweet treat for your littles! For all things Valentine's for the kitchen, check out this Valentine's Gift Guide for the Home Chef – all items are under $50! I hope you loved this Valentine's Day Gift Guide Under $35 and found the sweetest Valentine's Day gifts perfect for everyone in your life! Each of you makes every day so special – you allow me to live my dream creating one healthy recipe after another!
DON'T MISS A RECIPE ->
FACEBOOK | TWITTER | PINTEREST | BLOGLOVIN | INSTAGRAM