Today's Gift Guide is for the Health & Fitness lover, you'll find the latest and greatest gifts in all things Health & Fitness. Plus my favorite gifts for UNDER $30! These gifts are perfect for any fitness level, and all have an emphasis on at-home workouts to help keep you on track to meet your goals! Happy clicking!
2020 Holiday Gift Guide for the Health & Fitness Lover
For me, this is the easiest gift guide to put together. You all know I love everything health, wellness & fitness! There are constantly new gadgets to help you stay on track to achieve your goals. As you get further into your fitness journey, not only is your gear breaking down, but you want to grow and add to your collection so you can continue to challenge yourself.
So, if anyone is looking for the perfect gift for me…look no further! I want them all!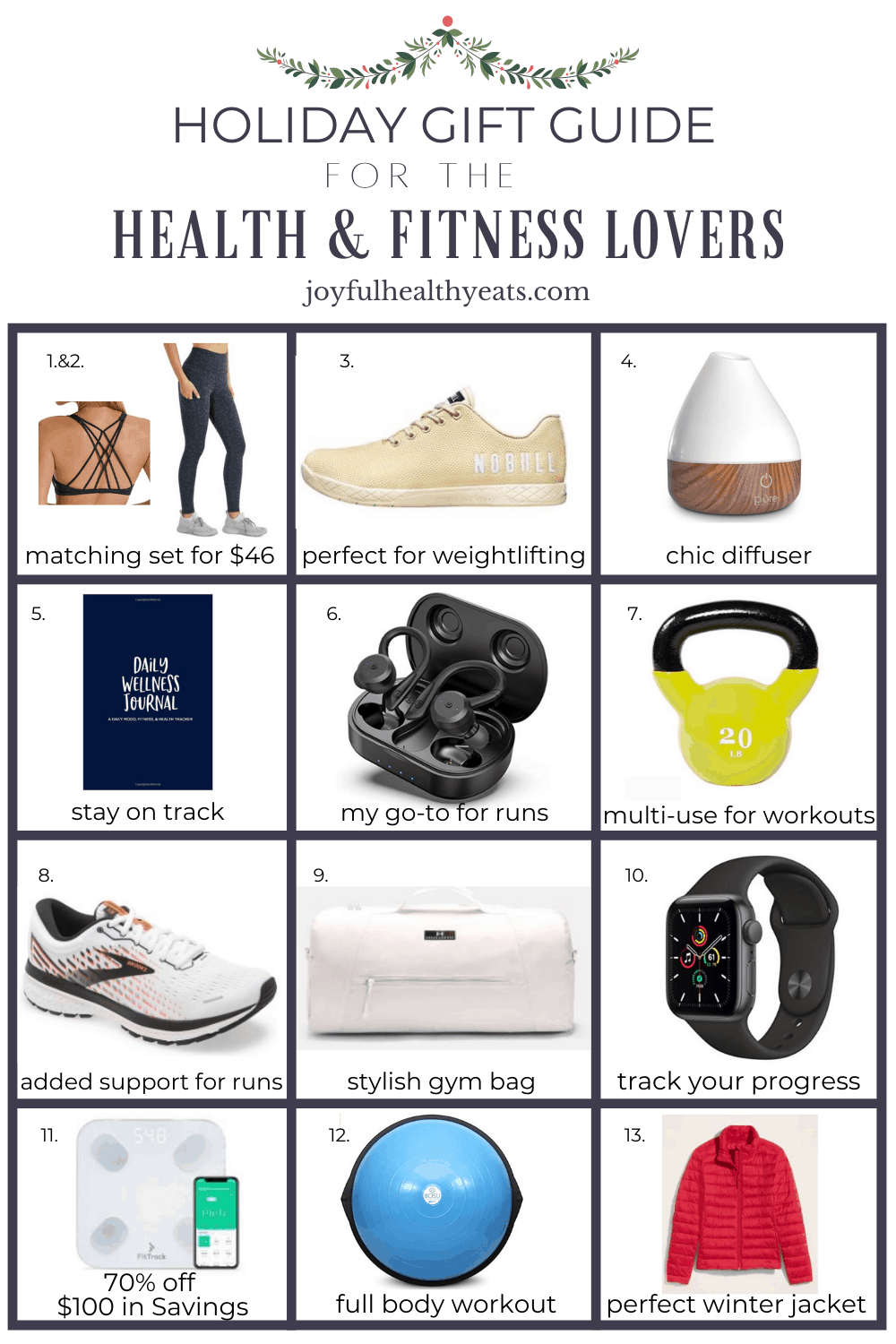 Must-Have Gifts for the Health & Fitness Lover
Some of my favorite gifts to receive are on this list!
As soon as the pandemic hit, at-home workouts became a staple for many, and at-home gym equipment became super hard to find. Do not wait! A kettlebell is a perfect gift for the fitness lover. It is one of the most dynamic pieces of workout gear one can have for only one piece!
I am a lover of all things LULU, so when my girlfriend told me about a great dupe, I was skeptical. But y'all, the CRZ YOGA sports bra & yoga pants will not disappoint. The leggings are high waisted and do not sneak down during your workout. Did I mention you can get the pair for $46!!
Training doesn't stop in the winter, and if you live in the South, when you go to grab a jacket for your workout, you might not find one! This puffer jacket is not only 40% off, making it $30, but is water-resistant and not too bulky, making it perfect for your workouts.
1.& 2. CRZ YOGA Sports Bra& Yoga Pants: I live in activewear! A girlfriend told me about these LULU dupes, and let me tell you, they live up to the hype! A must-have plus if you look good, you feel good!
3. NOBULL Training Shoes: if you are looking to up your strength training, this is the shoe for you! These are on my Christmas list this year!
4. PureSpa Natural Essential Oils Diffuser: brings lovely aromas covering up to 250 feet. It runs up to 10 hours, has an automatic shut-off feature and color-changing design.
5. Daily Wellness Journal: consistency is key, and consistency is hard to achieve. Let the daily wellness journal help you stay the course on your journey.
6. HolyHigh Wireless Earbuds: I know AIRPODS are all the rage right now…but I am always terrified I will lose them on the run! These have been my go-to buds for over a year now. The charging case is super-fast, and they have up to 8 hours of battery!
7. Everyday Essentials Kettlebell: kettlebells are perfect for at-home workouts. They are in high demand right now, making it a perfect gift!
8. Ghost 13 Running Shoe: running can for sure be a challenge, but running in Brooks shoes is a game-changer. There is so much cushion you will feel like you are running on air.
9. Women's UA Midi Duffle: not only is this a chic gym bag, but it can double as a weekender too!
10. Apple Watch SE: this is by far the easiest way to keep track of your daily movement, and you can look back over the year to see how you are meeting those goals.
11. DARA Smart Scale: do not walk to this sale, RUN!! The Dara is currently 70% off. That's over $100 in savings! I don't use a scale to look at my weight; this scale tracks my body fat – the less body fat, the healthier we are!
12. Bosu Balance Trainer: I love multi-use workout equipment. Get a complete body workout using the Bosu ball – working your core the entire time!
13. Go-H20 Water-Resistant Puffer Jacket: this is currently on sale for $30, a whopping 40% off!
Shop My Must-Have Fitness Gifts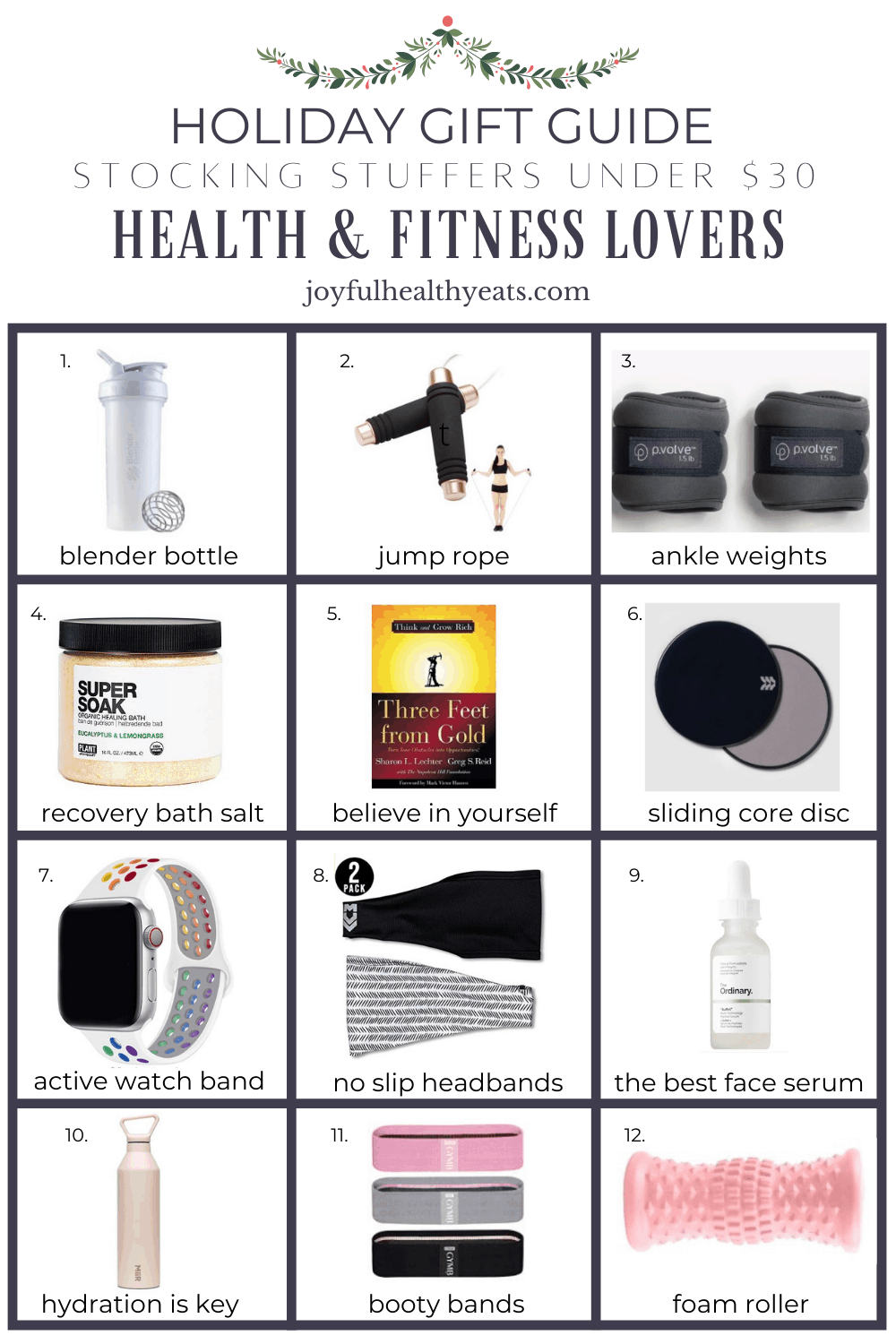 Health & Fitness Guide for Under $30
I love fun but useful gifts/stocking stuffers and I love them even more when they are under $30!
Whether you exercise indoors or out, sweat can take a toll on your face. I was struggling with breakouts, and my facialist told me about a must get product. My first thought was that this would cost a fortune, but I am willing if it helps. The buffet serum transformed my face, and guess what, it is only $15. I use it morning and evening, and my skin has never looked better; the ultimate stocking stuffer!
Making little adjustments can make a huge difference. I am loving adding ankle weights to my workouts. It is such a small change, but instantly make your movements that much more difficult!
Hydration is critical, and if you're like me, you get one water bottle you love, and then the next thing you know, it has been 3 years leaving your water bottle all beat up and so overused. Everyone loves getting a new MiiR water bottle, especially one that can store 23 oz. of water, is insulated, and has a narrow mouth making it easy to drink from.
1. BlenderBottle: protein can be hard to sneak into your diet. The BlenderBottle makes being prepared easy with your protein shake when on the go!
2. Weighted Jump Rope: find your inner child and give the gift of laughter – especially if it has been a while since you have attempted to jump rope. Jump roping builds serious endurance and bonus points if you can do cool tricks.
3. Ankle Weights: does this take you back to an 80's workout video. Adding any amount of weight to any movement immediately increases the intensity and difficulty level.
4. Plant Apothecary Healing Bath: we can be hard on our bodies, so it is vital to take care of it as well. This healing bath is the perfect gift for the bath lover!
5. Three Feet from Gold: in this book you'll find encouragement and motivation to believe in yourself, discover your own Personal Success Equation(TM), and never give up.
6. Sliding Core Disc: looking to gift the gift that will have the giftee fooled. Look no further these are super easy to use, but oh, do they burn!
7. YANCH Compatible Apple Watch Band: how fun is this rainbow burst watch band! Made of soft silicone so makes it ideal for your workouts.
8. MUV365 Headbands for Women: keeping stray hair and sweat out of your face while you are moving can be a challenging feat. Let the MUV365 do the work with its non-slip band.
9. "Buffet": this is truly the gift that keeps on giving! Under $15, it has been life-changing in keeping my face healthy and blemish-free.
10. MiiR Water Bottle: keep your cool with the MiiR insulated bottle holding 23 oz. of liquid with a narrow mouth and stainless steel.
11. GYMBee Resistant Bands: whether you're a beginner or a pro, GYMBee resistant will help you step up your game. With the same size (14 in) but different resistance levels, these resistance bands bring new life to your training!
12. Foam Yoga Roller: ease the soreness with the high-density point foam roller. It will hurt so good.
My Favorite Health & Fitness Gifts Under $30

I hope you enjoyed the Gift Guide for the Health & Fitness lover, discovering the latest and greatest gifts in all things Health & Fitness. Plus, my favorite gifts for UNDER $30! Are you in need of more gifts, look no further; check out my Ultimate Gift Guide Kitchen Edition – it includes kitchen appliances, gadgets, plus unique finds under $35—perfect gifts for the home chef, girlfriends, or hostess.

DON'T MISS A RECIPE ->
FACEBOOK | TWITTER | PINTEREST | BLOGLOVIN | INSTAGRAM