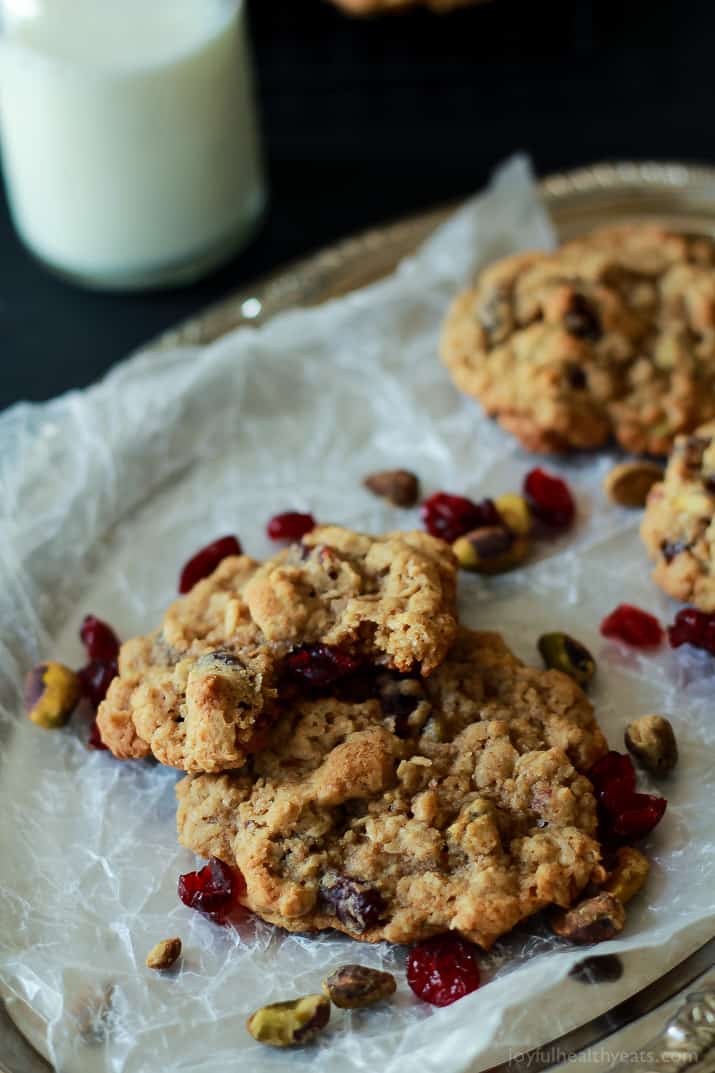 A guilt free cookie for the holidays, Pistachio Cranberry Oatmeal Cookies. These oatmeal cookies are super easy to make, healthy, and the flavors are phenomenal.
Do you have a go to list of cookies that you make for the holidays?
In the cookie realm …  I don't really branch out too much, at least not the way I do when I'm cooking dinners.
Most of my cookie recipes involve chocolate of some sort because well.. Chocolate Chip Cookies are the bomb.
Usually my friends and I get together one day in December, each bring 1-2 cookie or Christmas treat recipes, bake them all up, and then separate everything out into little goodie bags to give to our neighbors, friends, and family for the holidays.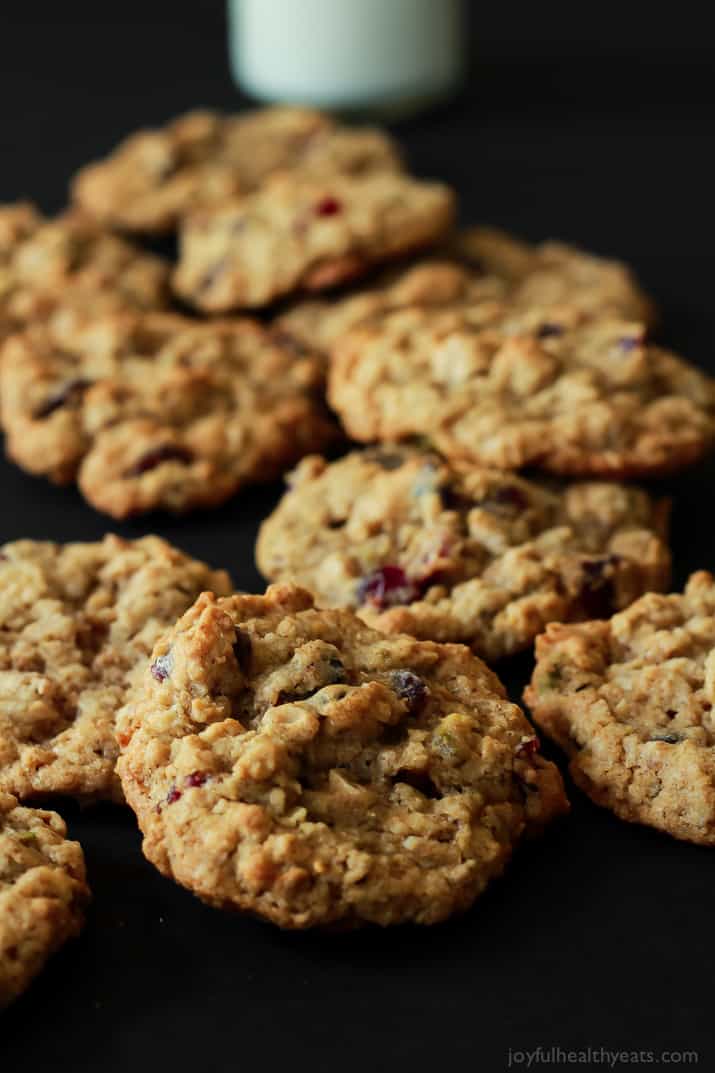 As I was thinking about the cookies I want include in my "goodie box" for our neighbors this year I thought about including an oatmeal cookie of sorts.
Recently I made these delicious Pistachio Cranberry Biscotti, the combination of the salty from the pistachios and the sweet from the dried cranberries seriously went so perfectly together .. so I thought why not just make an oatmeal cookie with that combination. After all Oatmeal Raisin is a pretty popular cookie recipe, why not a Pistachio Cranberry Oatmeal Cookie Recipe. Plus the red and green colors from the Pistachio & Cranberry just makes this recipe perfect for the holidays, so festive!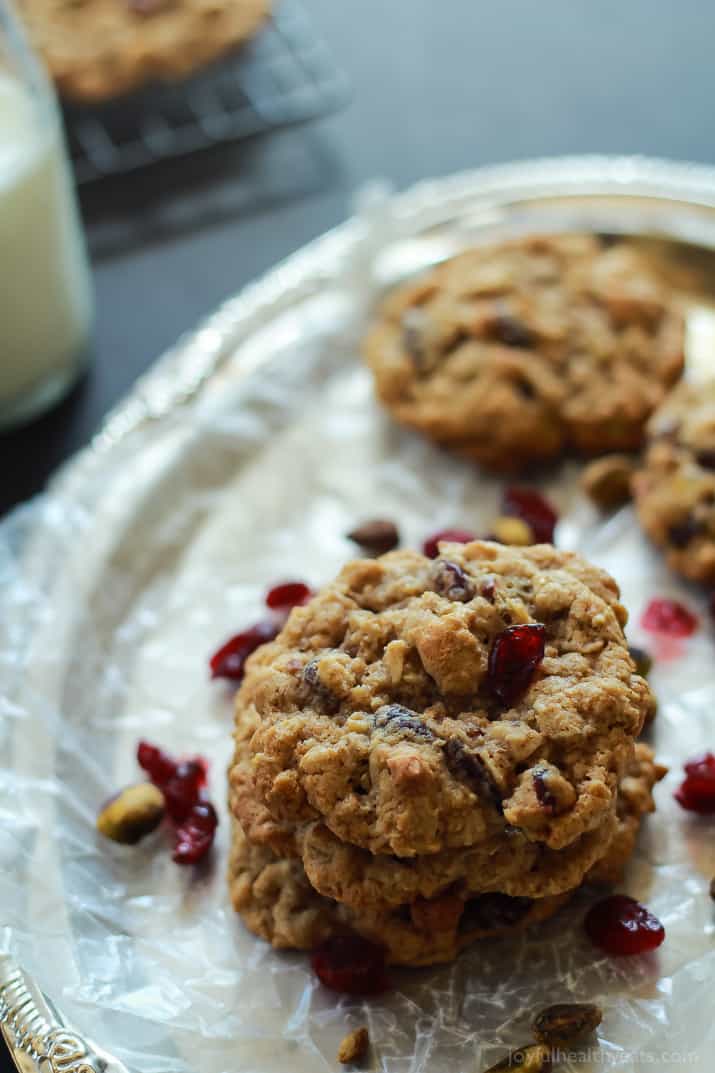 To give you a little perspective on how good these cookies are. Lets start from the beginning.
Mike and I first started dating after he made me his mom's Chocolate Chip Cookie recipe blindfolded! I was so impressed that I just had to date him! hehe …. Actually he won me over with his mom's chocolate chip cookie recipe.
Through the years that chocolate chip cookie recipe has been the baseline for all cookie recipes, we add fruits or nuts to the recipe but have always kept it the same for the most part. LOTS of Dark Chocolate Chips. This is my go to cookie recipe and the recipe my husband and son absolutely love!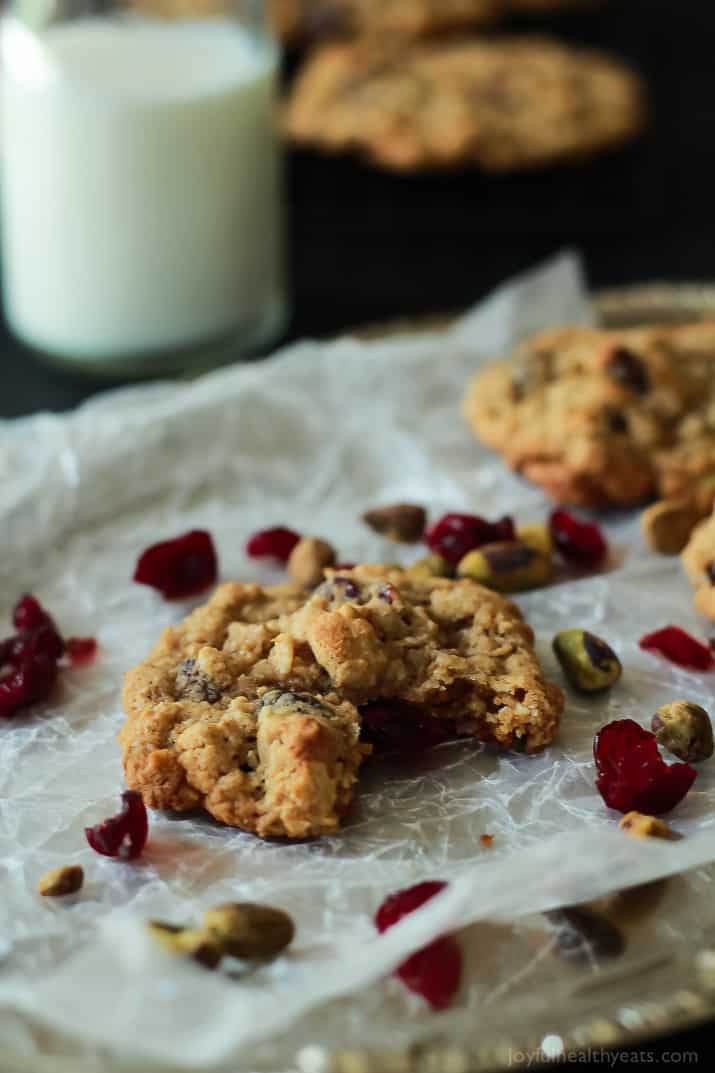 Anything that is NOT chocolate chip will not do.
But … this Pistachio Cranberry Oatmeal Cookie recipe totally WOWed my husband. He even told me that he thinks its the best cookie I've ever made! What?!?!
Even as I was editing the photos for the post he glanced over and saw the pic and said.. "babe we need to make those again. They were amazing!"
So all in all… if you can convert a chocolate chip cookie lover to oatmeal cookies… I'd say its a good recipe.
Wouldn't you?
Go make them and tell me what you think!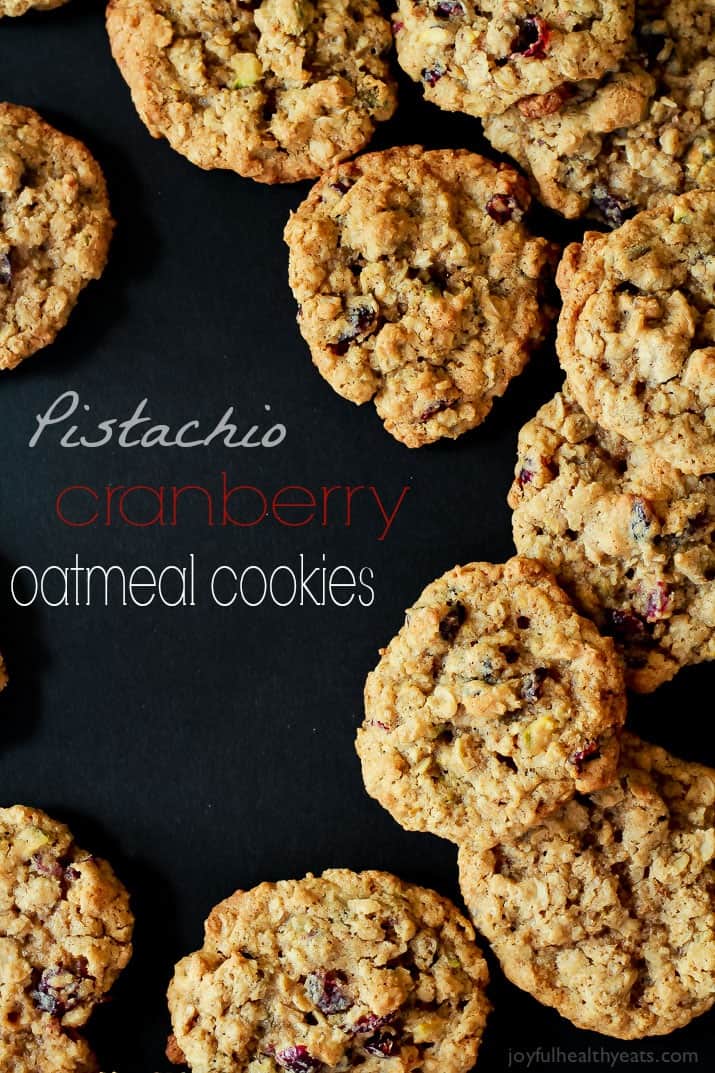 Print
Pistachio Cranberry Oatmeal Cookies
Author:

Prep Time:

5 mins

Cook Time:

10 mins

Total Time:

15 mins

Yield:

2 - 2 1/2 dozen

Category:

Dessert, Holiday
---
Ingredients
1 1/2 cup of regular oats
3/4 cup of all purpose flour
3/4 cup of brown sugar
1 egg
1/2 cup of unsalted butter, softened
1/2 teaspoon of baking soda
1/2 teaspoon of baking powder
1/2 teaspoon of ground cinnamon
1/2 teaspoon of vanilla extract
pinch of salt
3/4 cup of dried cranberries
1/4 cup of pistachios
---
Instructions
Preheat oven to 350.
In a large bowl, mix oats, flour, baking powder, baking soda, cinnamon, and salt.
In a stand mixer, combine butter, vanilla, and brown sugar until creamy. Add in a egg. Mix until combined.
Slowly add in the oat flour mixture, mix in stand mixer until just combined.
Gently fold in the cranberries and pistachios.
Scoop 1 tablespoon of cookie batter on a baking sheet lined with silicone mat or parchment paper placing 2″ apart.
Bake for 8-10 minutes.
Remove from oven and let cool on wire rack.
Want more Cookie Recipes?
The BEST Ever Soft Chocolate Chip Cookie Recipe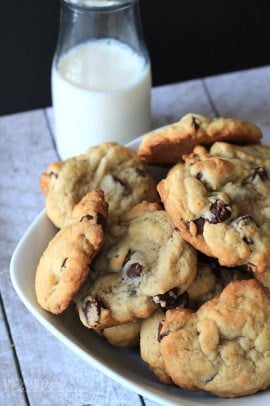 Mint Dark Chocolate Chip Cookies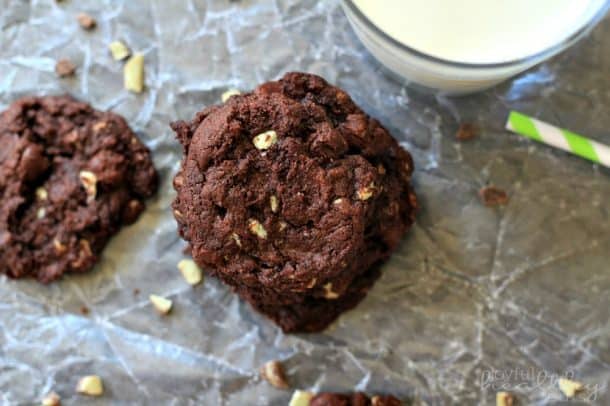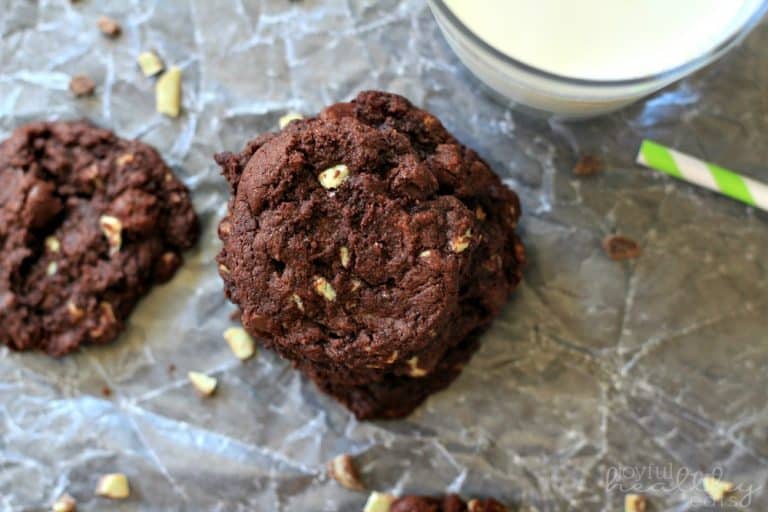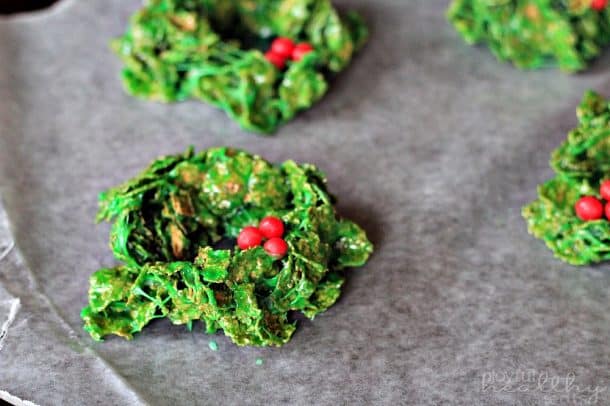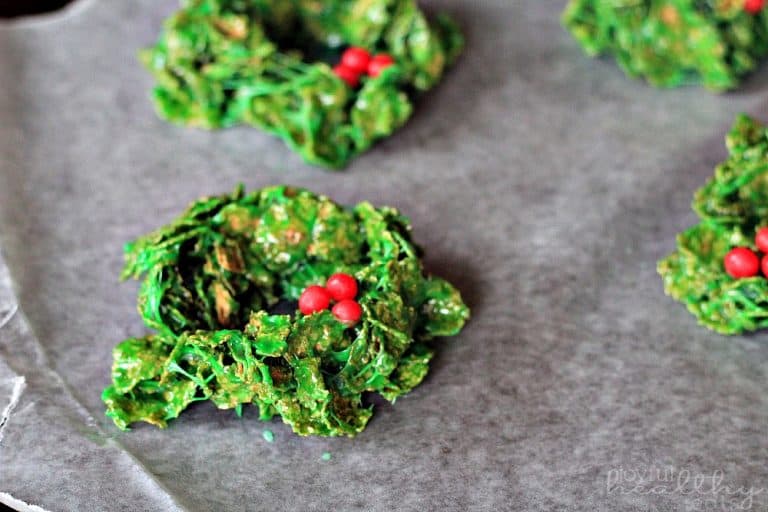 DON'T MISS A RECIPE ->