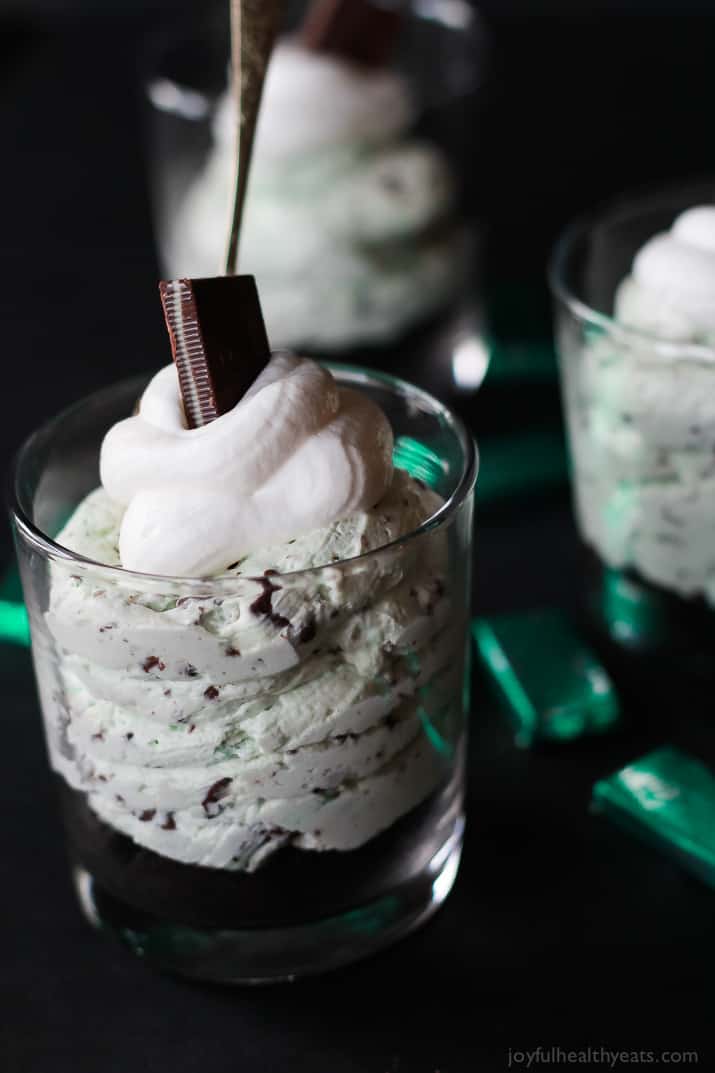 The perfect skinny sweet treat to satisfy that sweet tooth, Mini No Bake Mint Chocolate Chip Cheesecakes! 
Sometimes its just nice to take a break from everything ya know.
I didn't necessarily plan on taking a break from blogging and social media over the holidays but it just kinda happened.
I felt the urge last week to try and get a post up on Friday but then I was thinking… ya know.. its Christmas Day and I just don't want to have to worry about it. So I gave myself some grace and enjoyed the moment and I'm sooo glad I did!
Its been refreshing to be able to make food, not have to take a picture, and be able to eat it hot out of the oven. 🙂 haha.. I know its weird, but its true. So many times when I'm photographing a recipes, that meal is actually the meal we will be having for dinner that night. So I have to cook it, take photos of it real quick, and then we eat it right afterwards. Which usually means our food is a little cold. I guess its the little things I'm appreciating this holiday season. 🙂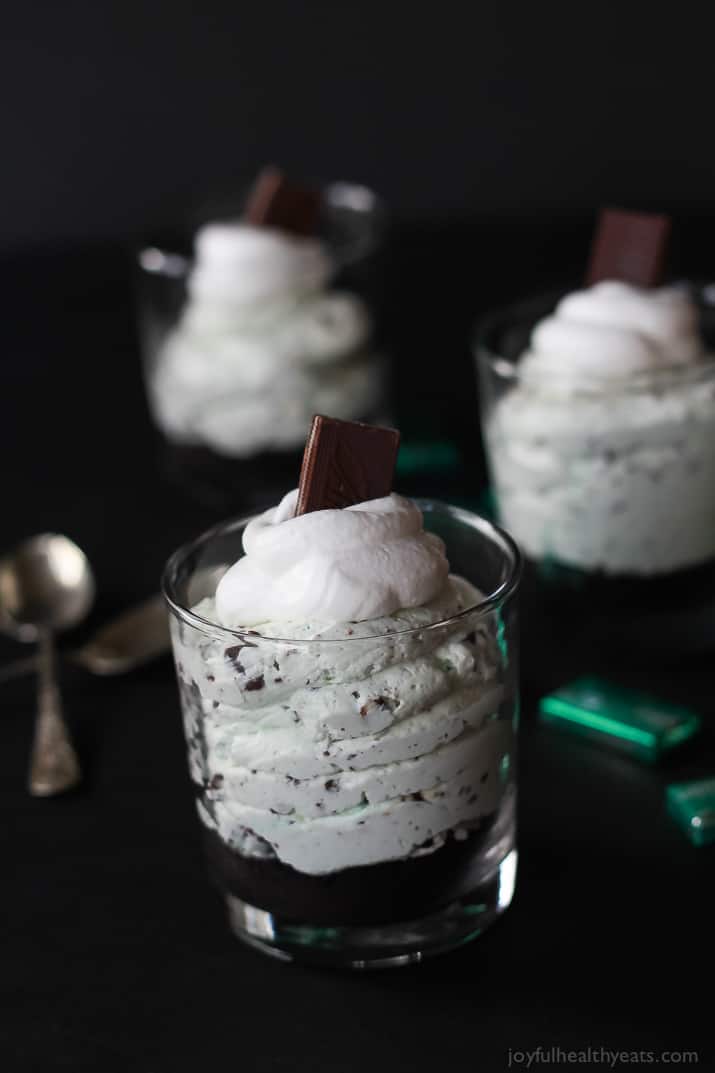 So, what has everyone been up to? Did you get some good gifts for Christmas? What about the things you were hoping to get?
We had a great Christmas! My husband got me a brand new set of really nice knives that I've been enjoying using!  (just hope I don't cut a finger off because they are SHARP) I got my husband the new Jawbone UP3, which is one of those fitness bands that helps keep track of eating, sleeping, and work out habits. But little man by far made out like a bandit this Christmas, we literally just finished finding a spot for all his new toys – which meant getting rid of older ones that he doesn't use anymore so we could fit everything!! Grandparents sure like to spoil their grandchildren, but I don't blame them. Its part of their job as a grandparent right? 🙂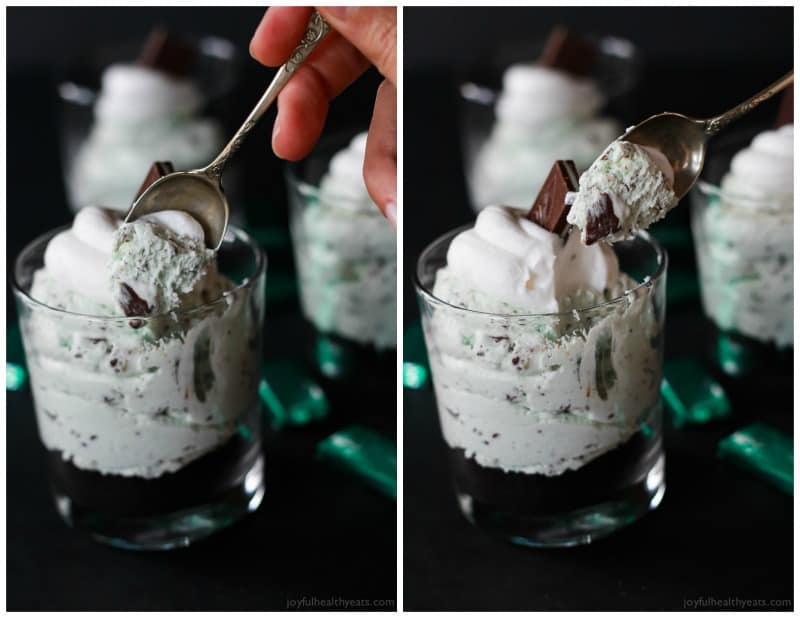 It has been nice to have my parents around this holiday season.They live out on the west coast so we don't see them a ton.
One of the things I can remember doing since I was little was cooking with my mom, so over the holidays there has been lots of messing around in the kitchen. I learned how to make King Crab Legs, made our famous Baby Back Ribs for Christmas Eve Dinner, whipped up a Crepe bar for Christmas morning, learned out to cut a kiwi with a spoon, and then made this awesome Mini No Bake Mint Chocolate Chip Cheesecake! Life has been good!
But it is even better when you have an easy dessert to make during the holidays. What I love about this recipe is: one, the mint and chocolate chip combo OBVIOUSLY, and two they are so stinking cute! I made them in larger glasses so it just made four servings (which was all we needed) but you could totally make them in small shot glasses so that its a two or three bite teaser dessert per person! Just enough to satisfy that sweet tooth but not enough to over indulge! (bonus!!!)
In order to make this recipe a little "skinnier" I used chocolate wafers, instead of oreos, to cut out that cream filling calorie addition and then used lite cool whip. Which makes it a great healthier dessert option after the holidays. 🙂 If it was up to me, which it is because we are chilling at the house this New Years with parents (yeah I know I'm such a party animal), then this No Bake Mint Chocolate Chip Cheesecake would be the last dessert I'd want to have for 2014 … AND before all the New Years Resolutions begin! Cheers!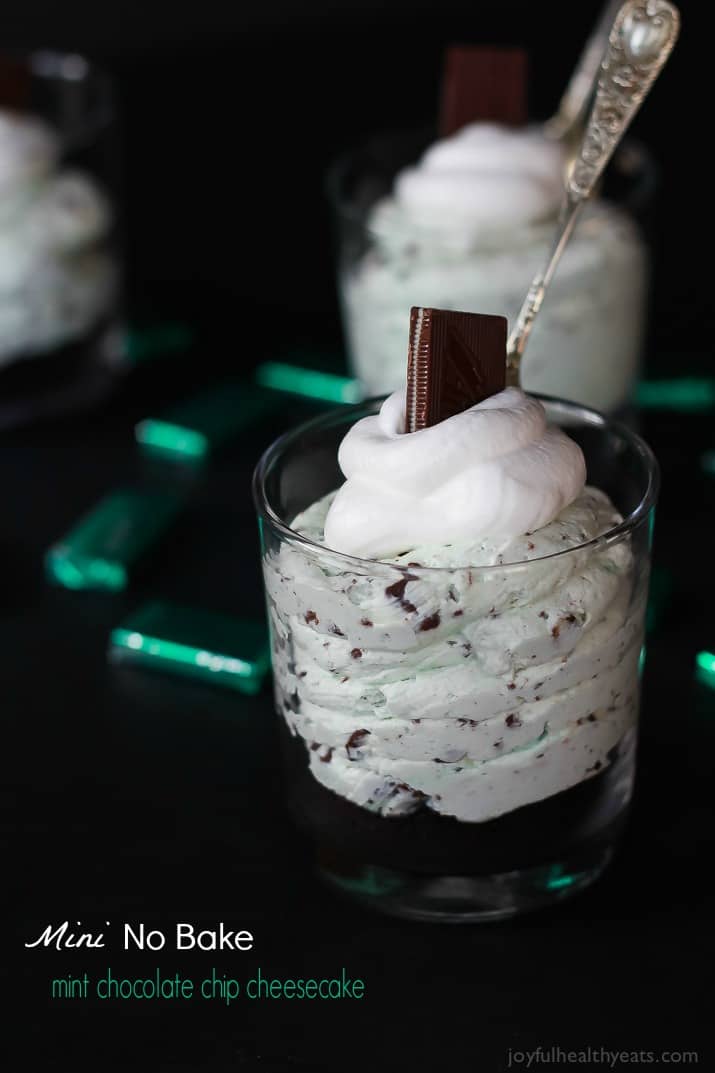 Print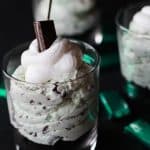 Mini No Bake Mint Chocolate Chip Cheesecake
Author:

Prep Time:

45 mins

Total Time:

45 mins

Yield:

4

servings or

8

shot glass servings

1

x
Category:

Dessert, Holiday
---
Scale
Ingredients
Crust:
24

chocolate wafers

2 Tablespoon

s of butter, melted
Mint Chocolate Chip Cheesecake:
8 oz

. cream cheese, softened

1 teaspoon

of vanilla extract

12 oz

. of lite cool whip

1/2 cup

of andes candies pieces (or

20

andes candies crushed up)

4

drops of green food coloring (or more if you want it darker)
---
Instructions
In a food processor, add chocolate wafers. Chop until you see no more chunks, should look like a powder.
Add chocolate wafers to a small bowl with melted butter, mix to combine.
Evenly spread chocolate wafer mixture into serving dishes (either 4 small cups, or 8 shot glasses), press down on crust to harder and place in refrigerator.
In a stand mixer, add cream cheese and vanilla. Blend until smooth and cream cheese has no more lumps.
Add in the andes candies and food coloring to bowl, mix again until just combined.
Gently fold in the cool whip until cream cheese mixture and cool whip are combined. Place in refrigerator for 30 minutes to set.
Remove cheesecake from refrigerator and pipe or scoop mixture into serving dishes on top of chocolate crust. Top with a dollop of cool whip. Serve
---
*This post does contain affiliate links.*
More Dessert Recipes:
No Bake Pumpkin Cheesecake with Gingersnap Crust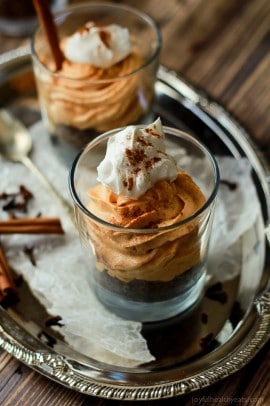 Mini Apple Pie Tartlets with Pecan Streusel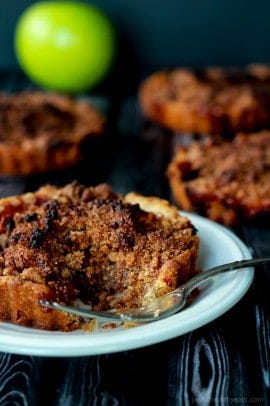 Caramel Apple Pie Wonton Cups with Cinnamon Mascarpone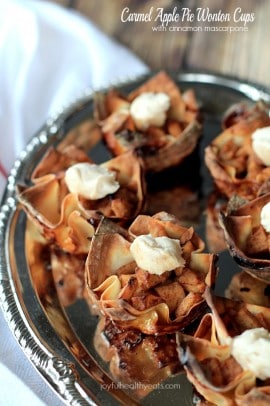 DON'T MISS A RECIPE ->