These Air Fryer Burgers are a great example of getting creative with the kitchen appliance everyone is talking about. Burgers that are juicy, full of flavor, perfectly cooked every time and mess-free – basically, it's the perfect dinner!
Want more burger night ideas? Try some of my favorite recipes like Zesty Chimichurri Burgers or Mushroom Burgers with Horseradish Aioli for inspiration.
Easy Air Fryer Burgers
Cooking a burger is a pretty simple kitchen task, but it can easily escalate to a greasy mess if you try to cook them inside.
Sure, you could fire up the grill. But what if it's raining? Or it's winter and the grill is out of reach? Cooking hamburgers in the air fryer really could not be more simple. It's a much less messy way to cook a juicy burger.
For this recipe, I'm going to keep it simple. But I'm still going to add a little extra flavor to keep things interesting. I love to mix garlic and onions into my burgers. Not only does it add extra flavor, but it adds a little variation of texture.
Plus, we'll add one of my favorite kitchen ingredients – Worcestershire sauce. Using Worcestershire is a great way to add a salty and umami (think soy sauce) flavor to a dish. It works perfectly with burgers!
Why Make Burgers in the Air Fryer?
There are a lot of benefits to cooking a burger in an air fryer. Not only is it less messy, but it's a less greasy burger in general. You won't need any cooking fat, so the burger crisps up nice and isn't dredged in grease.
The air fryer creates a perfect sear around the entire burger (not just the top and bottom). The warm air circulates around the whole burger creating a crispy outer layer while keeping the center juicy and tender.
I personally love cooking with the air fryer because it's just less of a hassle. Don't you agree?! Sometimes, I just don't want to heat up the oven or stovetop. That's when I turn to my trusty air fryer.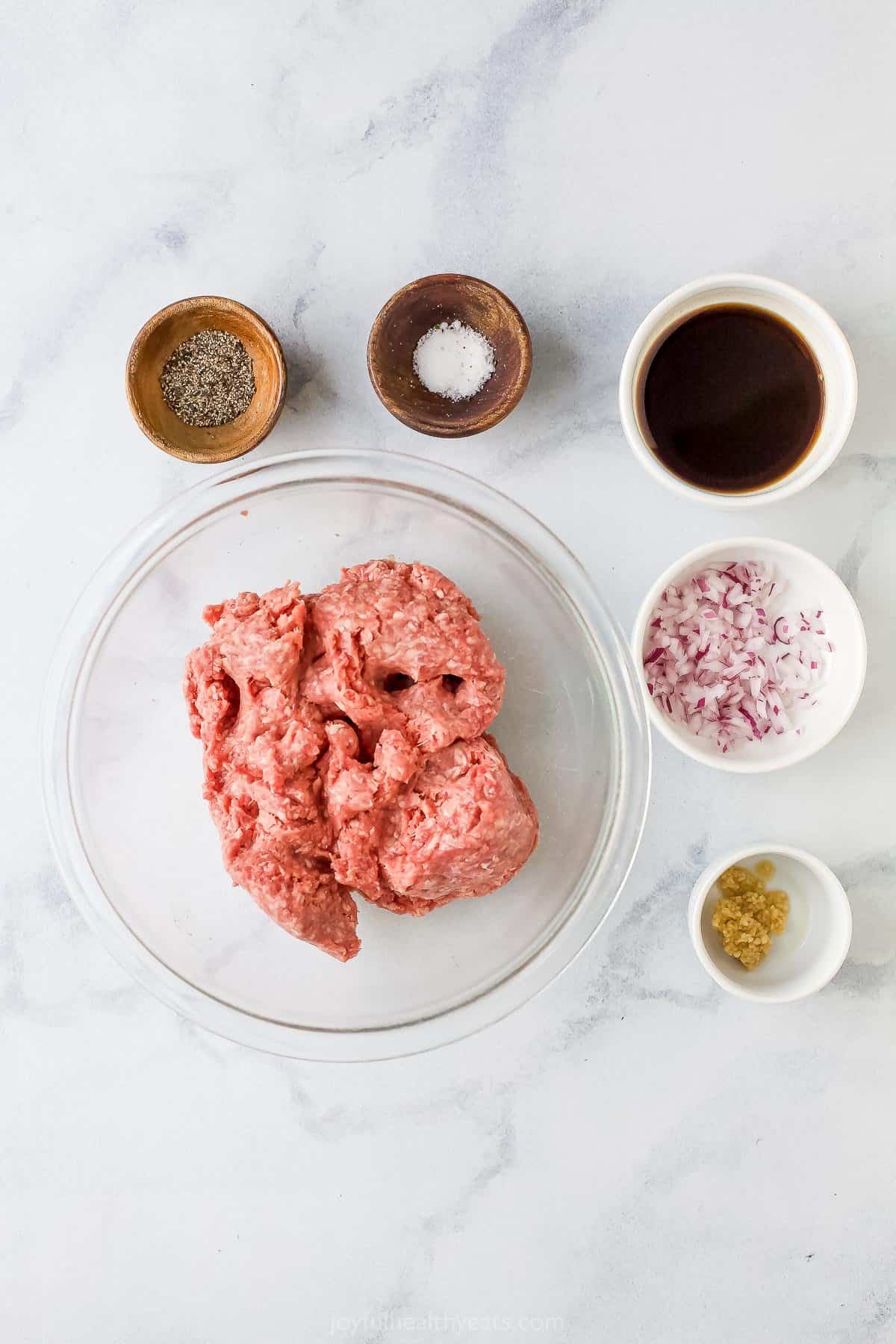 Recipe Ingredients
Making a burger in an air fryer doesn't require a lot of ingredients. Here's the short list of what you're going to need.
Grass Fed Ground Beef – I like using an 80/20 mix of beef for burgers. You don't want the meat to be too lean or your burgers will be dry.
Red Onion – When the diced red onions cook in the burger they release a slight sweetness that rounds out the flavor of the burger.
Worcestershire Sauce – This sauce has it all – sweet, sour, umami, and savory flavors.
Salt – I never skip the salt. Even just a little bit makes a world of difference in flavor.
Black Pepper – The obvious companion to salt! It's earthy, with a little kick, and is best if it's freshly ground.
How to Make Air Fryer Hamburgers
Break out the air fryer and let's get to work. Here are the simple instructions on how to cook an air fryer burger.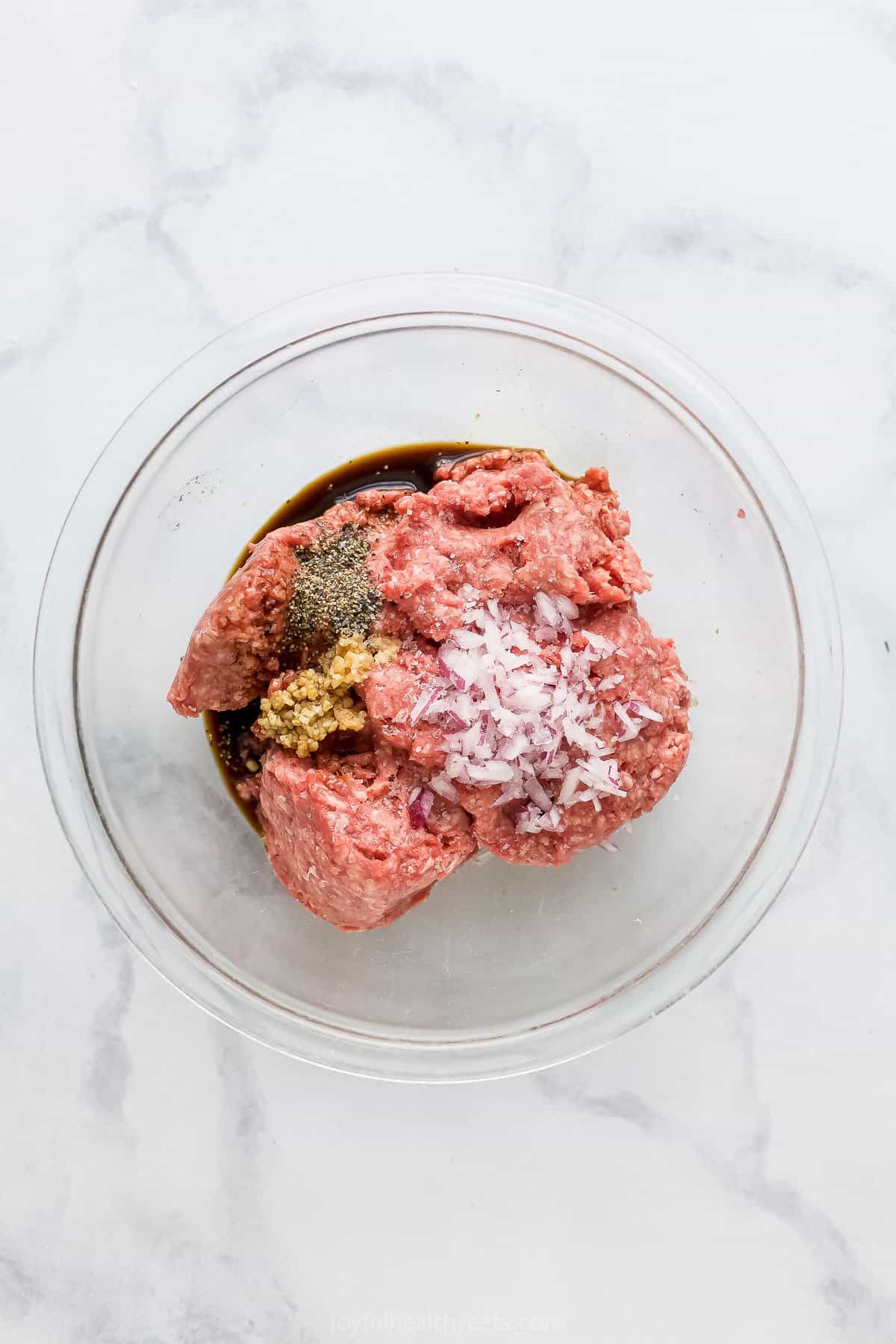 Make the burger mix. Combine the burger meat, red onions, garlic, Worcestershire sauce, salt, and pepper. Be very gentle with the meat, you don't want to overwork it.
Shape the burgers into patties. Again, be gentle with the mix, and form the burger meat into hamburger patties. You can make them big because they are going to shrink up in the air fryer a bit.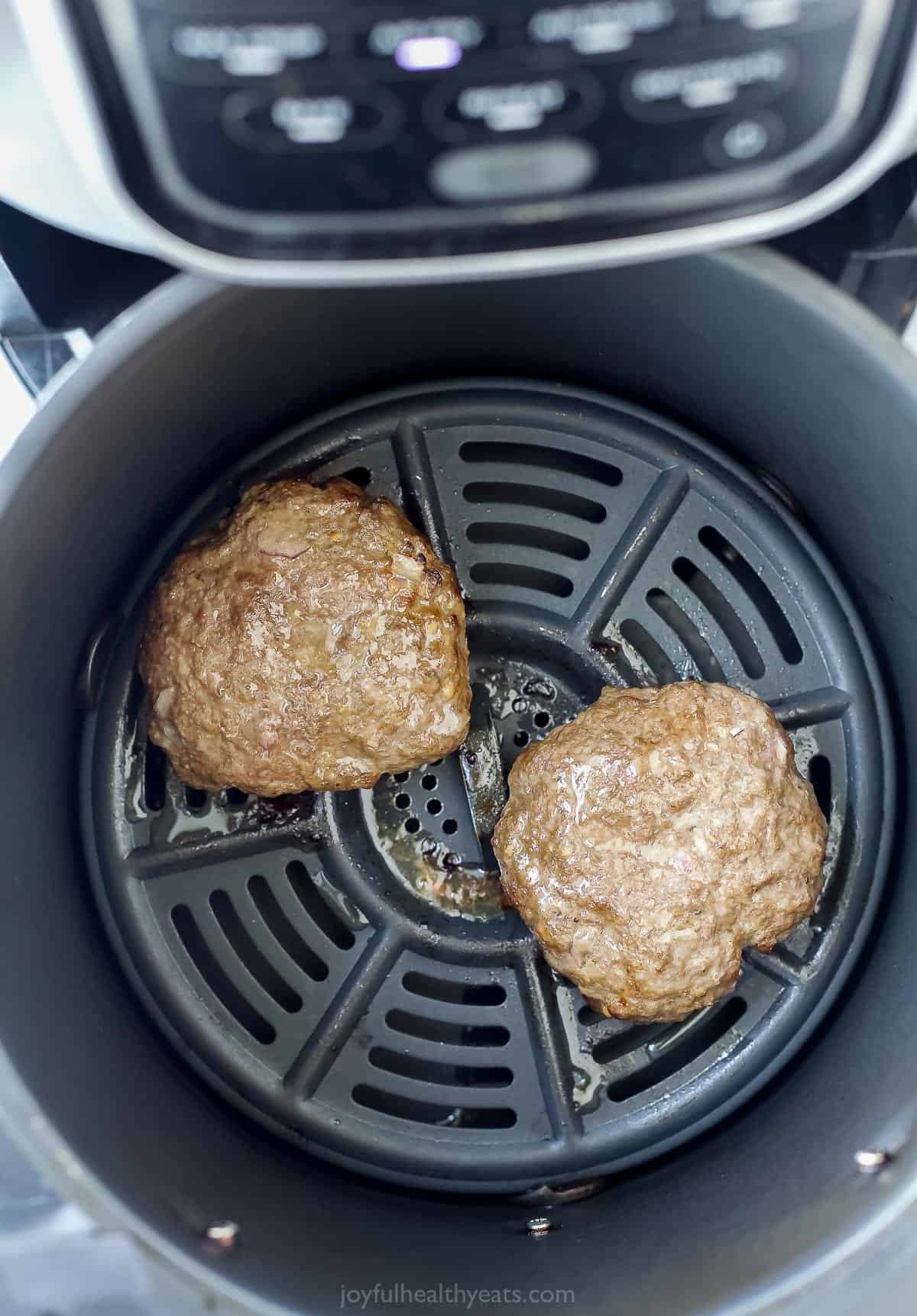 Air fry the burgers. Preheat the air fryer to 375F. Put two patties on the cooking tray. Keep in mind some air fryer trays are larger than others. So, you may be able to put more than two on a tray. Just make sure the burgers are not touching.
Flip the burgers. Flipping the burgers will ensure that you get that perfect sear around the entire burger.
Add cheese! The magic happens when you add a slice of cheese immediately after you take the burger out. This is the best way to melt the cheese so it actually stays on top of the burger! (Of course, cheese is optional here, but I highly recommend a good slice of American cheese on top of your burger!)
Repeat the cooking process until all of your burgers are done. Then enjoy however you'd like, with or without a bun.
Tips for the Best Burgers
You'll cook a perfect burger every time when you remember these pro burger tips! You can use these tips for whatever method you want to use to cook your burger.
Don't overwork the meat. Treat the burger meat like you would porcelain. I'm not kidding! If you want the burger to be juicy and have those delicious little fatty pockets of yumminess, you can't mush the meat into a stiff mess. Using a soft touch will result in the most delicious burger.
Don't forget the seasoning. Always season your burgers. The salt and pepper bring out the natural flavor of the beef.
Use cold burger meat. Sometimes, it's best to leave meat at room temperature before cooking it. That's not the case with hamburgers. You want to put a chilled burger patty in the air fryer so that all of the flavors stay in the patty. I'm talking about those little bits of fat again. They stay in the burger when you cook from a cold patty.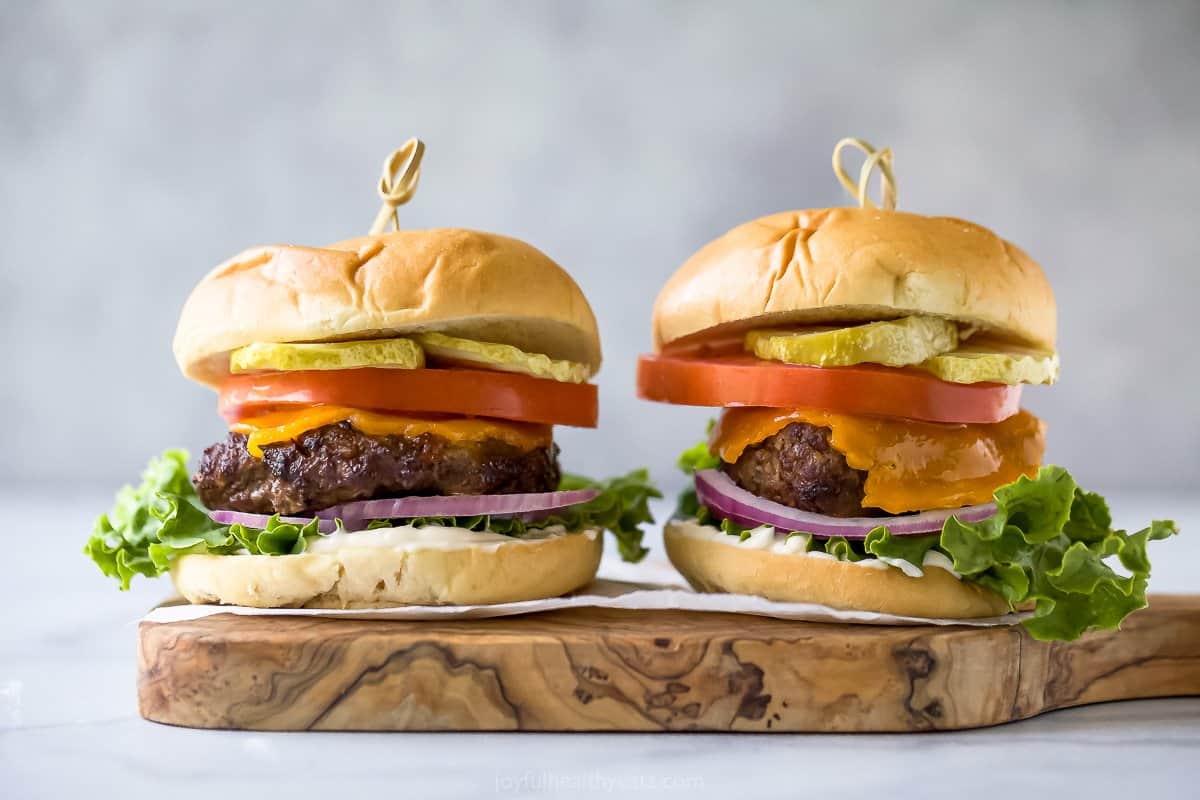 Serving Suggestions
Now that you know how to make the perfect burger, you have to pick the perfect side. Here are some of my favorite side dishes to serve with hamburgers.
How to Store and Reheat Leftovers
It's going to be hard to top the flavor of a fresh and hot air fryer burger. But, that's not to say you can't keep any burgers for leftovers.
Keep any leftover burgers refrigerated in an air-tight container. keep leftover burgers for 2-3 days. Then, when you want to heat it up again, just throw it back in the air fryer. Keep in mind, you won't need to cook them as long this time. 2-3 minutes on each side should be perfect.
I actually think a leftover burger makes a really excellent salad topping! It's a fun way to mix up your normal salad proteins.
Can I Freeze Extras?
Yes, you can freezer air fryer burgers. Here's how:
Uncooked burgers: You can always shape a large batch of burgers and freeze them raw. This will save you a ton of time the next time you're scavenging for a last-minute dinner.
To freeze cooked burgers: Let the burgers cool completely, then lay them flat on a cookie tray and freeze. Once they are frozen solid, you can put them in a plastic bag or another freezer-friendly container.
Don't forget to label and date your burgers! You can keep them in the freezer for up to three months.
Print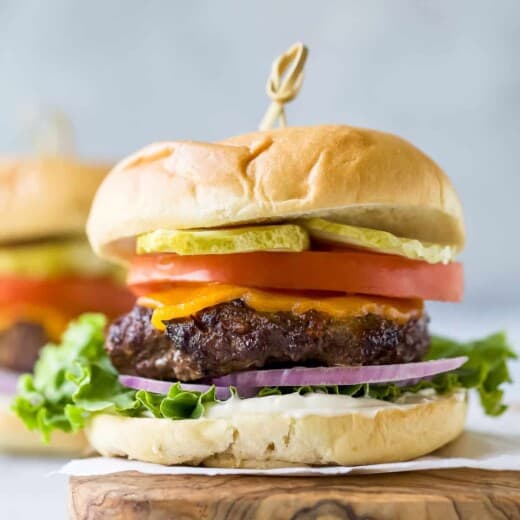 Air Fryer Burgers
Author:

Prep Time:

5 minutes

Cook Time:

16 minutes

Total Time:

21 minutes

Yield:

4

1

x

Category:

Lunch/Dinner

Method:

Air Fryer

Cuisine:

American
---
Description
Air fryer burgers are quick, juicy, and flavorful. The burger mix is flavored with red onions, garlic, and Worcestershire sauce. The circulating air in the air fryer creates the perfect sear all around the burger without drying it out.
---
1

lb. grass fed ground beef

1 tablespoon

red onion, finely diced

1 tablespoon

Worcestershire sauce

2

garlic cloves, minced

1/2 teaspoon

salt

1/4 teaspoon

black pepper
---
Instructions
To a small bowl, add ground beef, red onion, Worcestershire sauce, garlic, salt and pepper.
Using your hands, gently mix everything together until just mixed. Form into 4 patties about 1/2″ thick and approximately 4-5″ wide. You want them big because they will shrink when they cook. Make a small indent in the middle of the burger.
Preheat air fryer to 375°F.
Add 2 patties to your air fryer.
Cook for 4 minutes. Flip and cook for an additional 4 minutes.
Remove the burger from the air fryer and immediately top with cheese.
Repeat the process with the other two patties.
---
---
Nutrition
Serving Size:

1 burger patty

Calories:

177

Sugar:

1 g

Sodium:

415 mg

Fat:

8 g

Saturated Fat:

3 g

Carbohydrates:

2 g

Fiber:

0 g

Protein:

24 g

Cholesterol:

70 mg
Keywords: hamburgers in air fryer, air fryer hamburgers
Filed Under:
More Beginner Air Fryer Recipes
DON'T MISS A RECIPE ->
FACEBOOK | TWITTER | PINTEREST | BLOGLOVIN | INSTAGRAM