This Fresh Avocado Butter Salad is a simple summer salad recipe that's made in minutes. It's filled with spicy radish, almond slices, goat cheese, and topped with homemade lemon vinaigrette!
Need another easy avocado salad? Check out my Avocado Caprese Chicken Salad next!
Easy Avocado Salad Recipe
I am learning that life is about constant surrender… about letting go of the "reigns." Letting go of control. It's a hard thing, right!?!
Life is just easier when you know whats coming next, when things in life are going good, when it can be controlled. When you know what's coming it's easier to protect against heartache.
But is it? Heartache hurts no matter what. Planned or unplanned.
As I've been walking through the struggle of infertility, even that word hurts. When I read it I think… no thats not me.. I'm not in that group. We just haven't been able to have a baby for two years, I'm not infertile.
This was not in my plan. I was "planning" on having babies back to back so we could be in and out of the diaper stage in one swoop, none of this back and forth stuff. I wanted three kids close in age.
Well, God has other plans. And I'm learning that I need to surrender my idea of what I thought life would be, what I thought our family would look like. Sometimes his plans are way better than ours, its just hard to see that in the midst of hurt or disappointment.
The past two to three weeks have been hard, I've found out six friends and/or family members just got pregnant and while the excitement and happiness is there for them, because I know the blessing a child can be. I also can't help but look and think.. why not me God? What are you waiting for? I'm ready!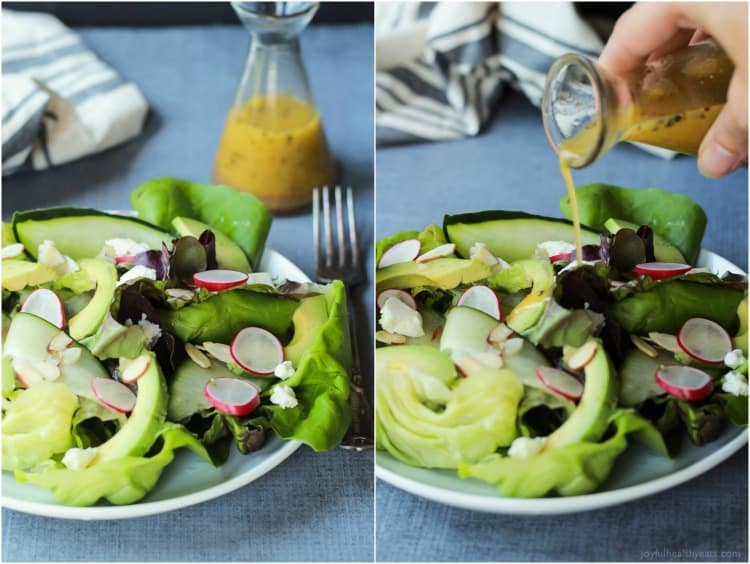 As I have been working my way through these emotions this weekend I've realized a couple of things. God draws us near through times of heartache. I can look back in my life and see those "kiros" moments … moments that propel you forward in life, that changed who you are. All those moments were in a time of deep hardship. God shows us more of who HE is to us in hard times, he draws us close, tells us that he is there, and that we are not alone.
Sometimes He makes us wait. You know that saying "the good things in life are worth waiting for"… well its true. I think through the waiting we learn patience and dependence on God. Think about it, if you were given everything you wanted at the exact time you wanted it, what would you need God for? Sometimes he makes us wait to draw us closer to him or to teach us something about ourselves. Even in the Bible, David was told he was going to be King of Israel at a young age but wasn't anointed right away he waited 15 years. Moses, you know the one that parts the Red Sea and delivers the Israelites from Egypt, he was told that he was going to be "the deliverer of Israel" but he had to wait 40 years before God showed him how and actually do it. God builds our character through the waiting.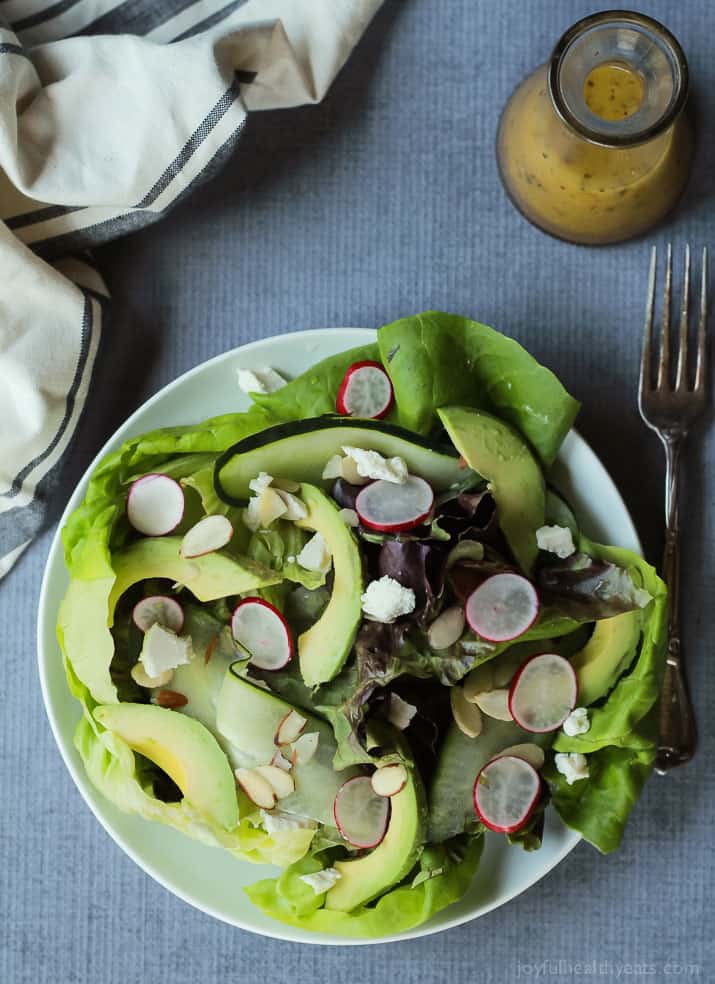 There is freedom in letting go. As I have let go of my "plans" and embraced the plan God has for us there is freedom. I have literally felt a weight lifted off my shoulder and trust in His perfect plan for us. And to be honest, I wouldn't change what we are going through for anything. Yes it is extremely hard, but there is joy in it because I have experienced more of who God is … My faithful and loving Father!
So my question to you is: Is there something you have been waiting on? A spouse? A baby? A healing? A home? How are you coping with the disappointment or the wait? Is it working for you or hurting you even more?
Surrender it. There is freedom! I promise!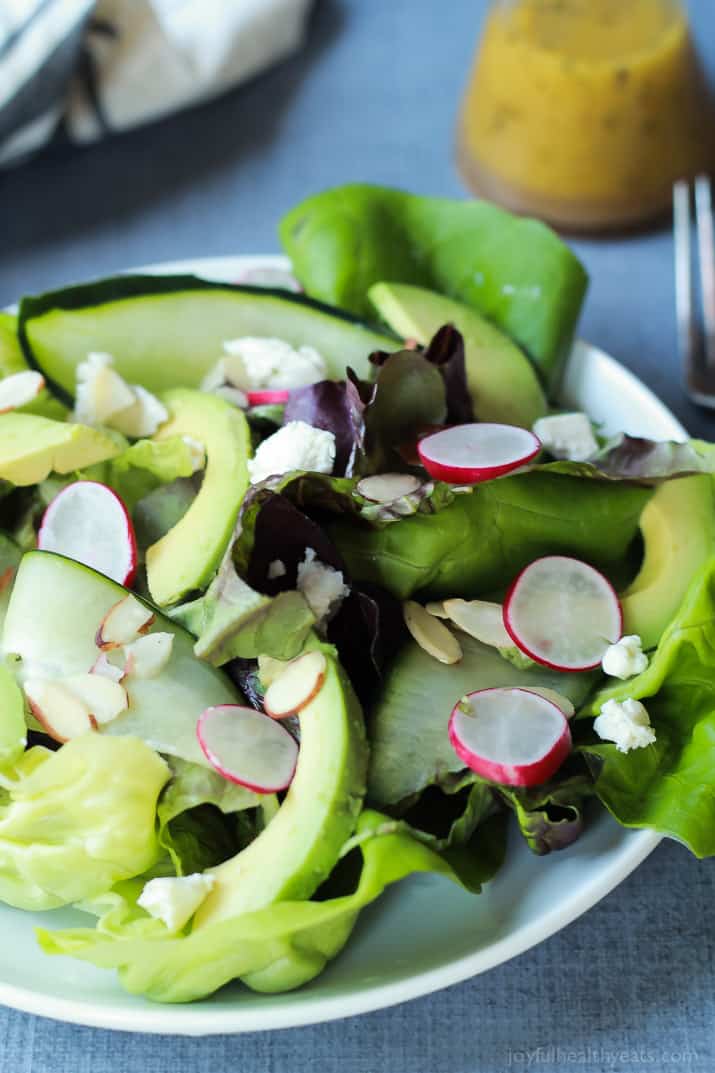 Hugs to you sweet friends!
More About This Simple Summer Salad
Ok, so with a heavy post I thought I would give you a recipe that is easy to make and easy to digest! 🙂 This Avocado Butter Lettuce Salad can be made in less than 5 minutes but the different flavors and textures will leave you happy for hours!
I packed this Salad with two different kinds of lettuce, fresh cucumbers, avocados, sliced almonds, spicy radishes, and a honey goat cheese. It is super light to eat and such a perfect refreshing salad for summer. I've just started making it for lunches lately and have loved it! The lemon vinaigrette on top is very basic and light which compliments the salad perfectly!
This recipe serves just one, but you could easily double or triple it to serve a crowd. I hope you enjoy it! Bon Appetite!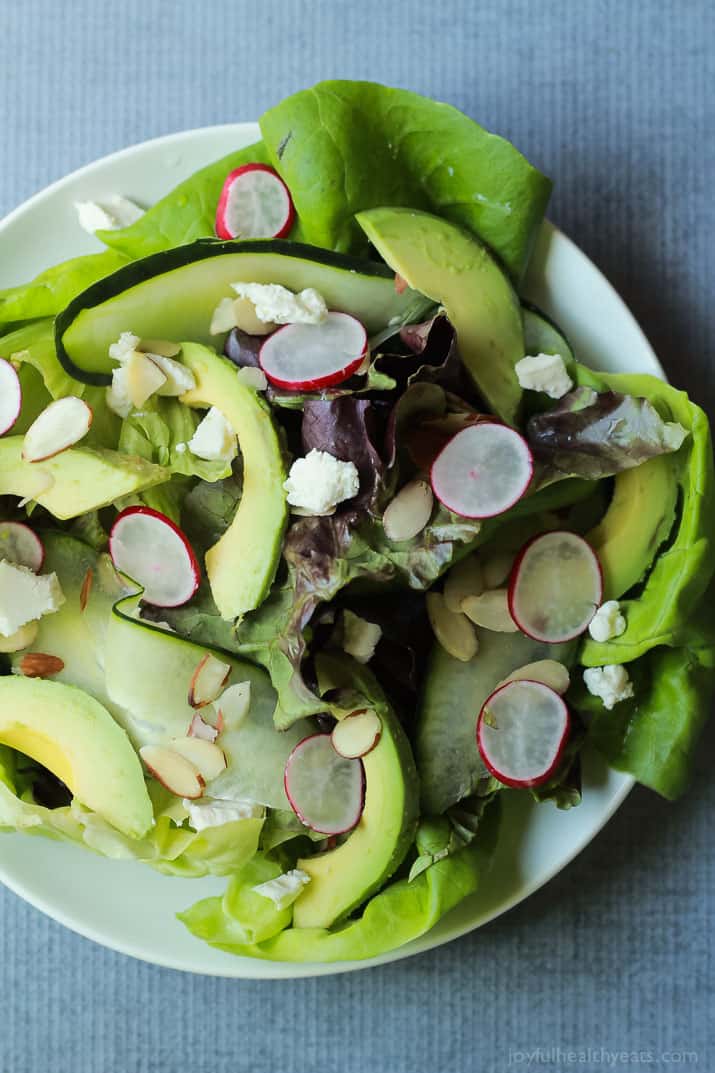 Print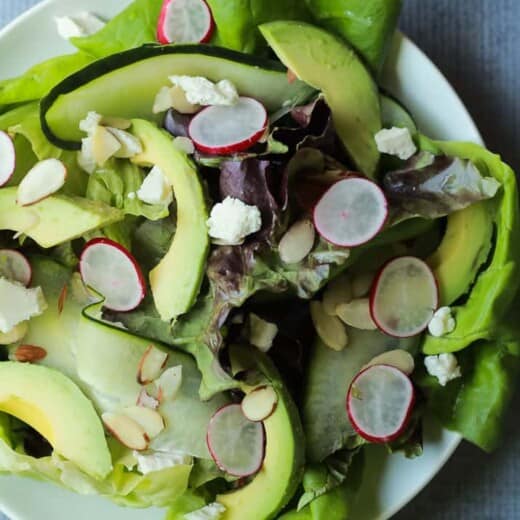 Fresh Avocado Butter Salad with Lemon Vinaigrette
Author:

Prep Time:

5 minutes

Cook Time:

0 minutes

Total Time:

5 minutes

Yield:

1

serving

1

x

Category:

Appetizer

Method:

Bowl

Cuisine:

American
---
Description
This Fresh Avocado Butter Salad is a simple summer salad recipe that's made in minutes. It's filled with spicy radish, almond slices, goat cheese, and topped with homemade lemon vinaigrette!
---
4

leafs of butter lettuce

1/3 cup

of roughly chopped red leaf lettuce

1/2

avocado, sliced

1/4 cup

of thinly sliced cucumber

1/4 cup

of sliced almonds

1 oz

. of honey goat cheese, crumbled

1

radish, thinly sliced
Lemon Vinaigrette:
2 tablespoons

of fresh lemon juice

4 tablespoons

of olive oil

1

garlic clove, minced

1/8 teaspoon

of red pepper flakes

1/4 teaspoon

of dry basil
salt & pepper to taste
---
Instructions
Add butter lettuce, red leaf lettuce, cucumber, avocado, almonds, goat cheese, and radish to a bowl.
In a small bowl add lemon juice, olive oil, garlic, red pepper flakes, dry basil, salt, and pepper. Whisk until combined.
Serve dressing with salad.
---
Keywords: avocado salad, avocado salad recipe, summer salad recipe, summer salad, easy summer salad, best summer salad, easy salad recipe, simple salad recipe, easy salad
Filed Under:
IF YOU MAKE THIS RECIPE, BE SURE TO SNAP A PIC AND HASHTAG IT#JOYFULHEALTHYEATS. I LOVE SEEING WHAT YOU MAKE!
More Salad Recipes
Strawberry Avocado Spinach Salad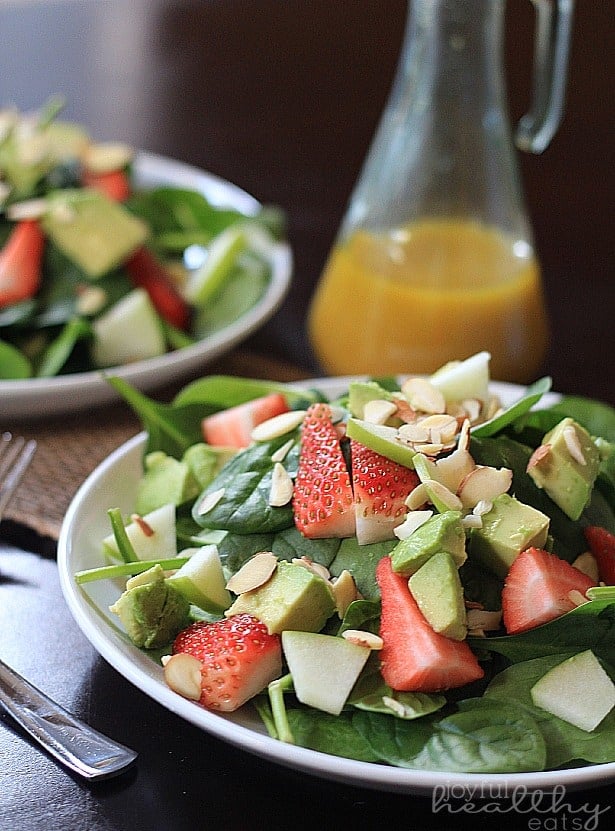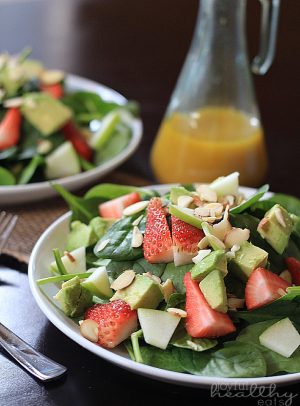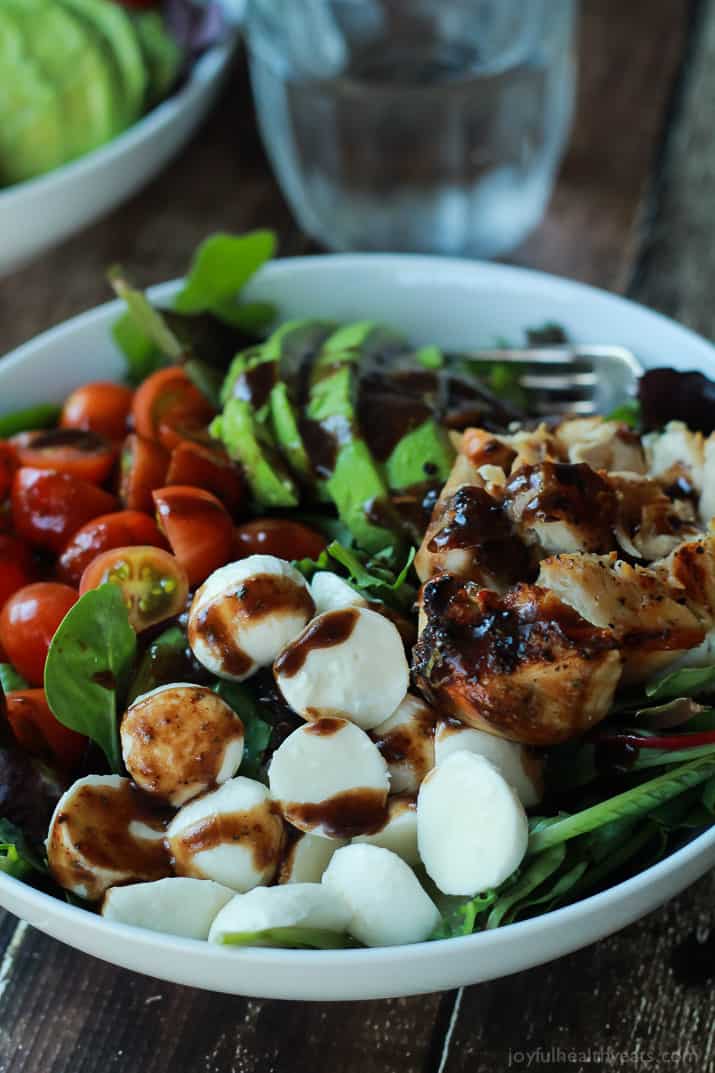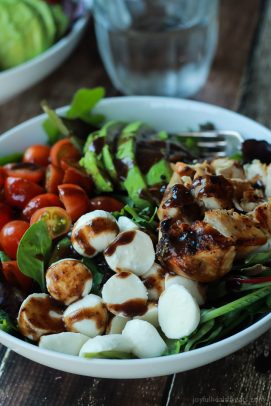 Harissa Lime Grilled Chicken Salad with Creamy Cilantro Lime Vinaigrette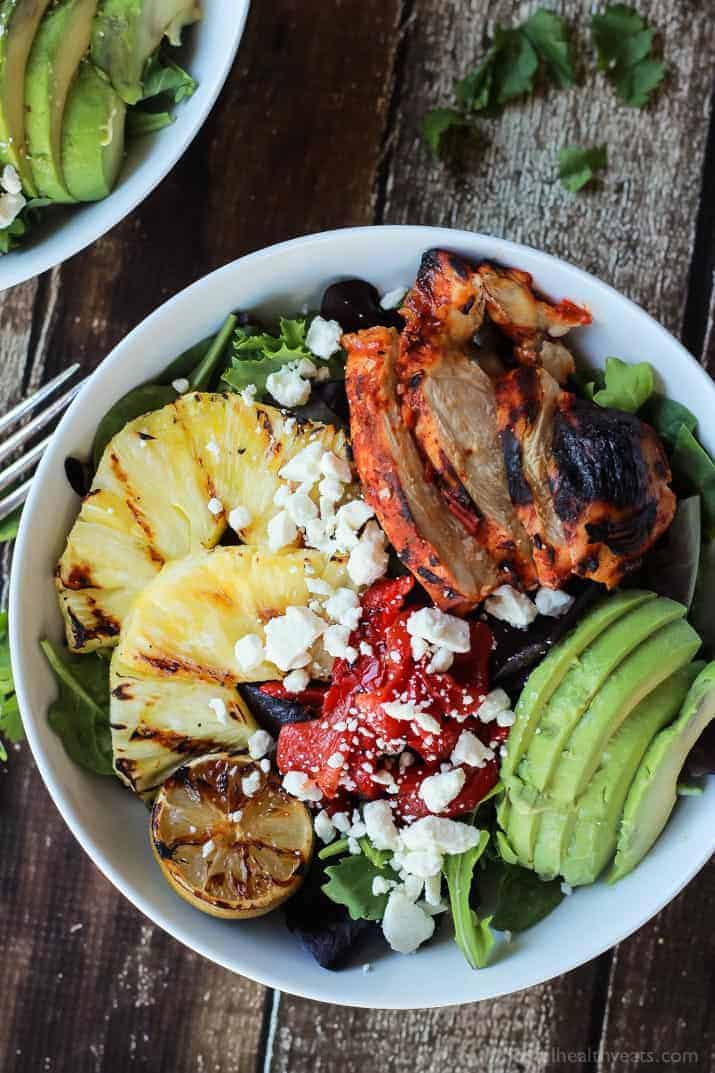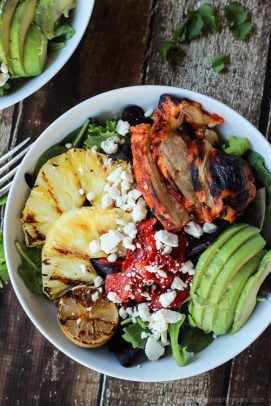 DON'T MISS A RECIPE ->
FACEBOOK | TWITTER | PINTEREST | GOOGLE+ | BLOGLOVIN