How to make Creamy Peanut Butter Overnight Oats with only 6 ingredients! These healthy overnight oats are naturally sweetened with banana and pack a nutrient punch to keep you full, kick start your metabolism and burn calories!
Looking for more quick overnight breakfast options? Try my Overnight Breakfast Enchiladas!
Easy Creamy Peanut Butter Overnight Oats
Can I be real for a minute? I've made overnight oats before. Followed a recipe from Pinterest and was not impressed. I didn't like the texture of it or the flavor. I just kinda put that "overnight oats" fade thing on the back burner because it was not my cup of tea.
Well, this year I've been eating more oats in the morning. After all, oats really are a great source or fiber and good blood sugar regulator throughout the day. So I gave the overnight oats thing another try. Except this time, I was making my own recipe because clearly the Pinterest peeps led me astray. I've got good news. These Creamy Peanut Butter Overnight Oats are incredible! You don't even realize you're eating oats – it's like creamy peanut butter heaven! You can eat them cold or hot! So buckle up butter cup, because I've got goodness in store for you!

What are Overnight Oats?
Think of overnight oats as a non-cook way to make oatmeal. Instead of cooking your oats on the stove or in the microwave. You let the oats sit overnight in a liquid (usually milk or nut milk). This process softens the oats up so they are ready to eat.
How long do overnight oats last?
Overnight Oats typically last for 5 days in the refrigerator if stored in an air tight container. However, I don't like mine too mushy. So I'd say 3 days so that the oats still have a little bit of texture to them.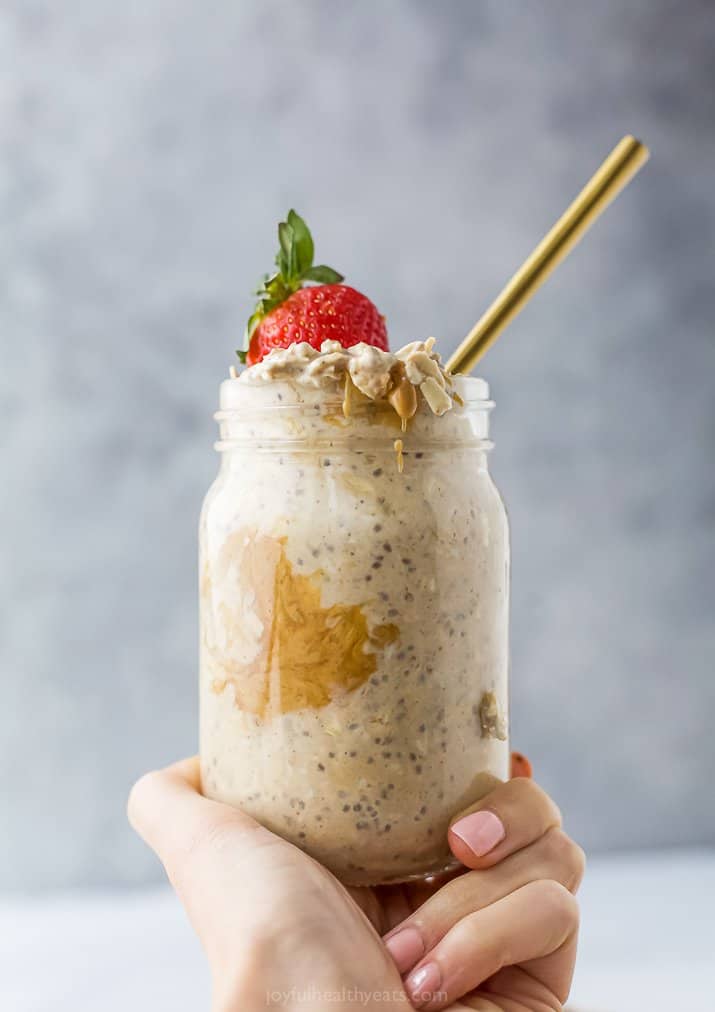 Health Benefits of Oats:
Sometimes carbs get a bad rap. But, truth be told not all carbs are bad carbs. And our body needs carbs to perform certain function. Carbohydrates are what provides us with "fuel" or energy throughout the day. So eat your carbs at every meal! haha
Oats are a great source or nutrients and fuel and a great way to start your day. Not only are they filling but they also:
Packed with protein. Suppress appetite and speeds up your metabolism for the day which therefore helps you burn calories faster.
Reduces cholesterol and is a great heart healthy option.
Boosts your fiber intact for the day which helps with gut health.
The Vitamin B can help boost brain function!
Overnight Oats can help promote muscle health and performance because of the iron in the oats.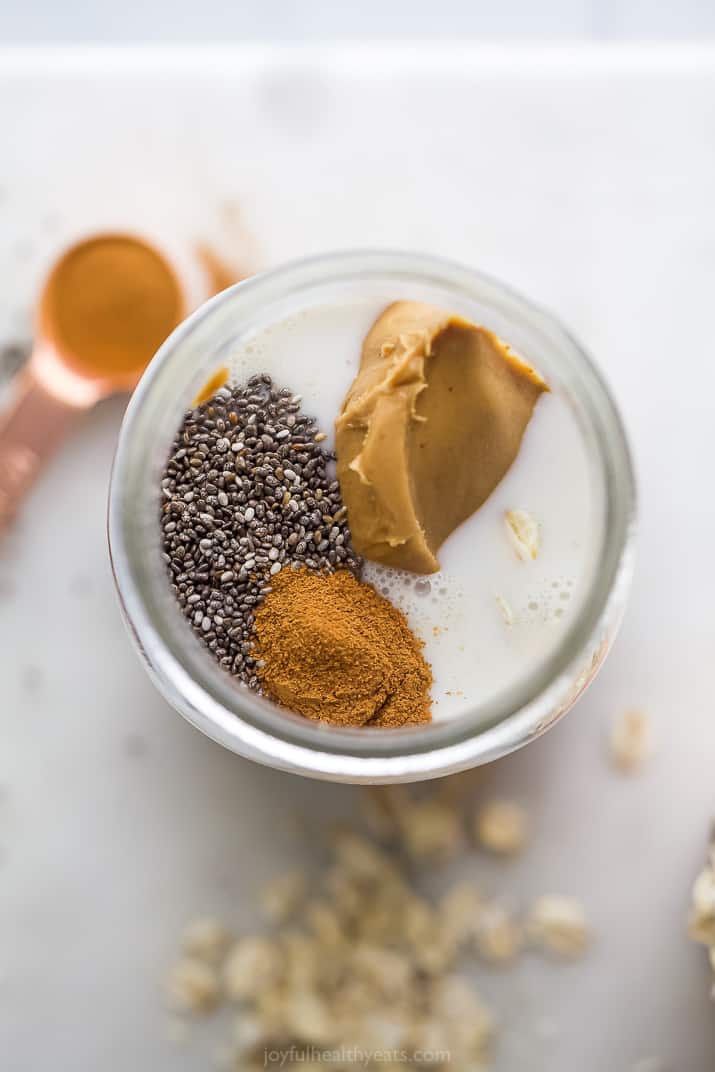 What you'll need for these Overnight Oats:
You're just 6 ingredients away from this Creamy Peanut Butter Overnight Oats. Here are the ingredients you'll need to make this recipe.
Oats – just plain regular rolled outs will do. (not quick oats – this will change the texture)
Chia Seeds – These super seeds add fiber, antioxidants, heart healthy omega-3 fats and help thicken the oats up overnight.
Peanut Butter – Look for natural peanut butter that has low sodium and sugar. I like to use creamy but you can use chunky if you'd like.
Cinnamon – For a little flavor, plus cinnamon is known to help make you feel "full" which will help suppress appetite.
Almond Milk – Unsweetened Plain Almond Milk is the way to go, no need to add extra sugars to this recipe. If you don't have almond milk you could use regular milk, coconut milk, cashew milk or even water if you want.
Banana – Instead of adding a sweetener like agave, honey or maple to these oats. I use mashed bananas as my sweetener! It adds just the right touch of sweetness and adds potassium!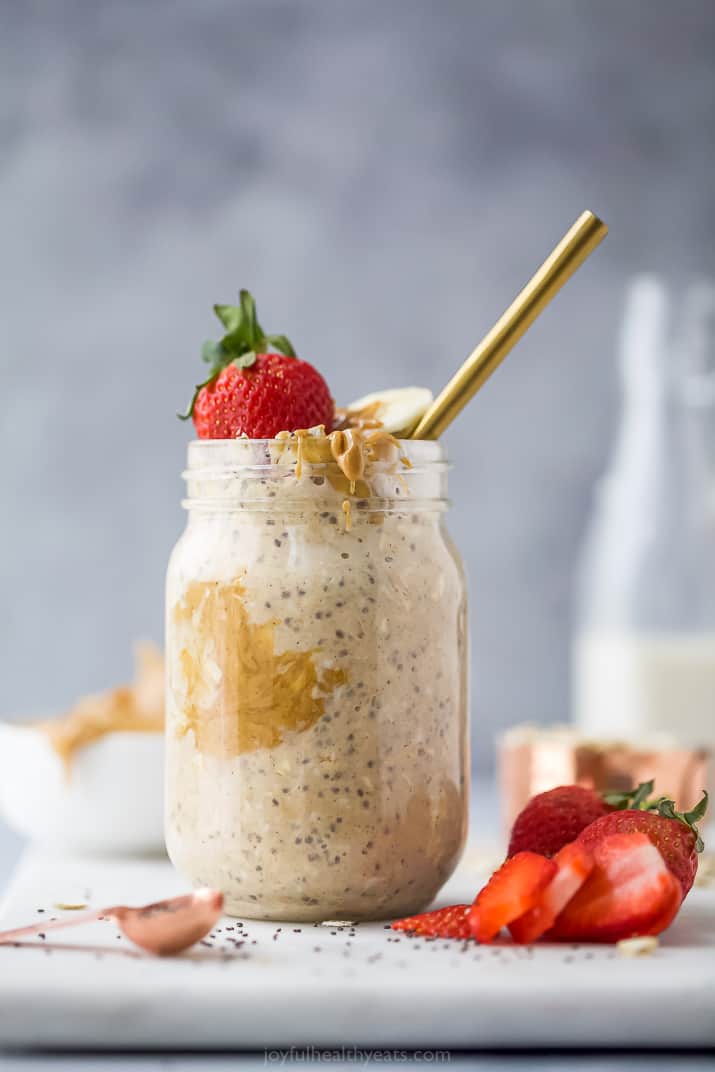 How to make Peanut Butter Overnight Oats?
Not only are these overnight oats super simple to make and a great healthy breakfast option. You can whip them up in less than 5 minutes and then just pop them in the fridge to devour the next morning. Here's how to make these healthy overnight oats:
Get a mason jar or sealable container out. Set aside.
Mash up Bananas.
Add Ingredients to Jar: Add mashed bananas, oats, cinnamon, chia seed, almond milk and peanut butter to jar.
Mix: Using a spoon, mix everything together until it's all well incorporated.
Sit Overnight: Cover the jar with a top or with plastic wrap. Let oats rest overnight and eat the next morning.
Do you eat overnight oats hot or cold?
Most people eat their overnight oats cold. However, if you're a warm oatmeal eater like me. Just pop the oats in the microwave for 30 seconds. Remove and stir. Repeat process in 30 second increments until the oats are at your desired temperature.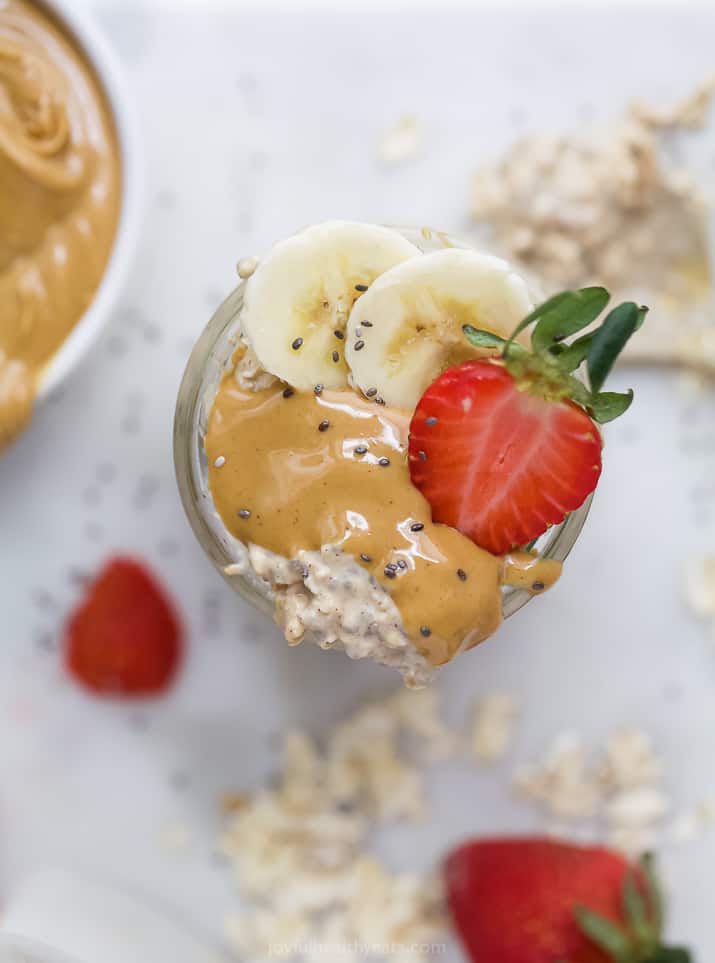 My Favorite Toppings:
These Creamy Peanut Butter Overnight Oats are great on their own. But what's life without a little extra? Some of our favorite things to top overnight oats with are:
Sliced Bananas
Berries (blueberries, raspberries, strawberries)
Nuts (sliced raw almonds, pecans or pepitas)
Hemp Seeds
Jelly or Jam
Honey
Chocolate Chips
More Recipes to try using Oats: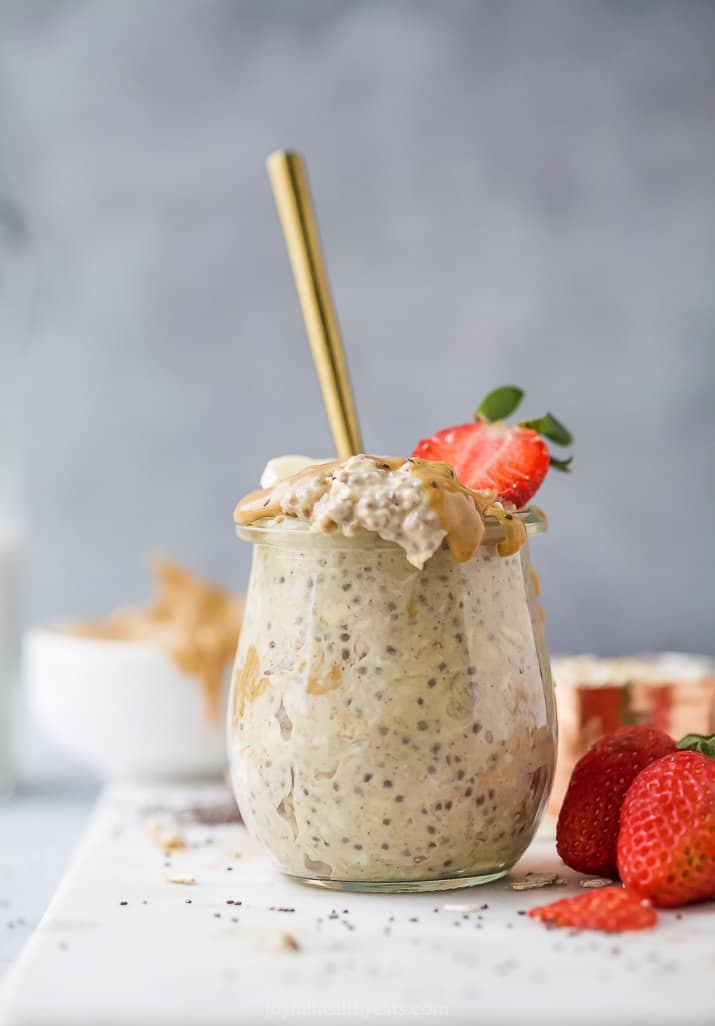 Print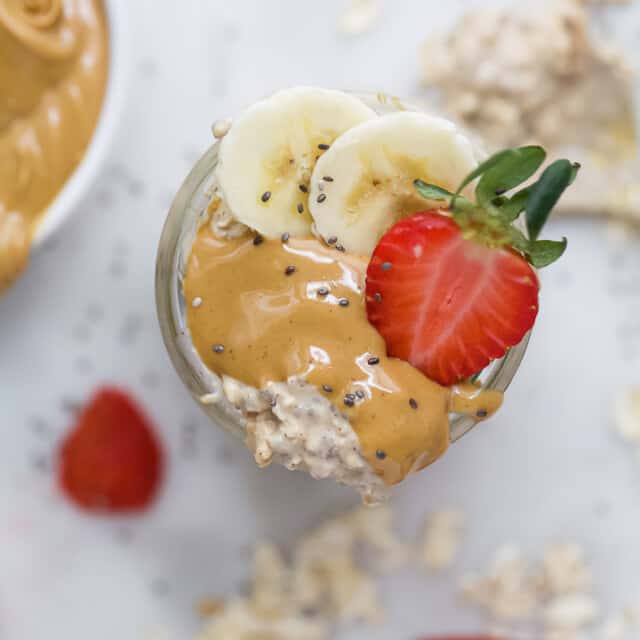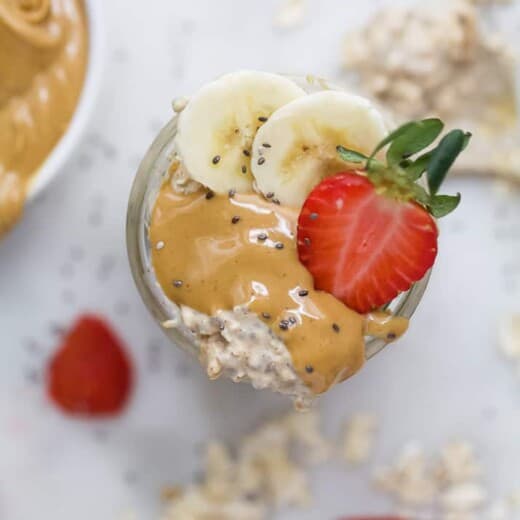 Easy Creamy Peanut Butter Overnight Oats
Author:

Prep Time:

2 hours 5 minutes

Cook Time:

0 minutes

Total Time:

5 minutes

Yield:

1

1

x

Category:

Breakfast

Method:

No Bake

Cuisine:

American

Diet:

Gluten Free
---
Description
How to make Creamy Peanut Butter Overnight Oats with only 6 ingredients! These healthy overnight oats are naturally sweetened with banana and pack a nutrient punch to keep you full, kick start your metabolism and burn calories!
---
1/2 cup

gluten free oats (or regular oats)

2 teaspoons

chia seeds

2 tablespoons

peanut butter

1/2 teaspoon

cinnamon

1/2 cup

almond milk +

2 tablespoons

1/2

banana, mashed
---
Instructions
To a 16 oz. mason jar add mashed banana, oats, chia seeds, cinnamon, peanut butter and almond milk. Stir to mix everything together.
Cover mason jar with top or seal with plastic wrap or tin foil. Let rest for at least 2 hours or overnight.
Serve with desired toppings or just plain.
---
Notes
If you like it sweet you can add 1/2 tablespoon honey or maple syrup.
---
Nutrition
Serving Size:

1

Calories:

464

Sugar:

11 g

Sodium:

162 mg

Fat:

24 g

Saturated Fat:

4 g

Carbohydrates:

54 g

Fiber:

12 g

Protein:

15 g

Cholesterol:

0 mg
Keywords: overnight oats, overnight oats recipe, peanut butter overnight oats, how to make overnight oats, benefits of overnight oats, healthy overnight oats, healthy overnight oats recipe, overnight oats protein,
Filed Under: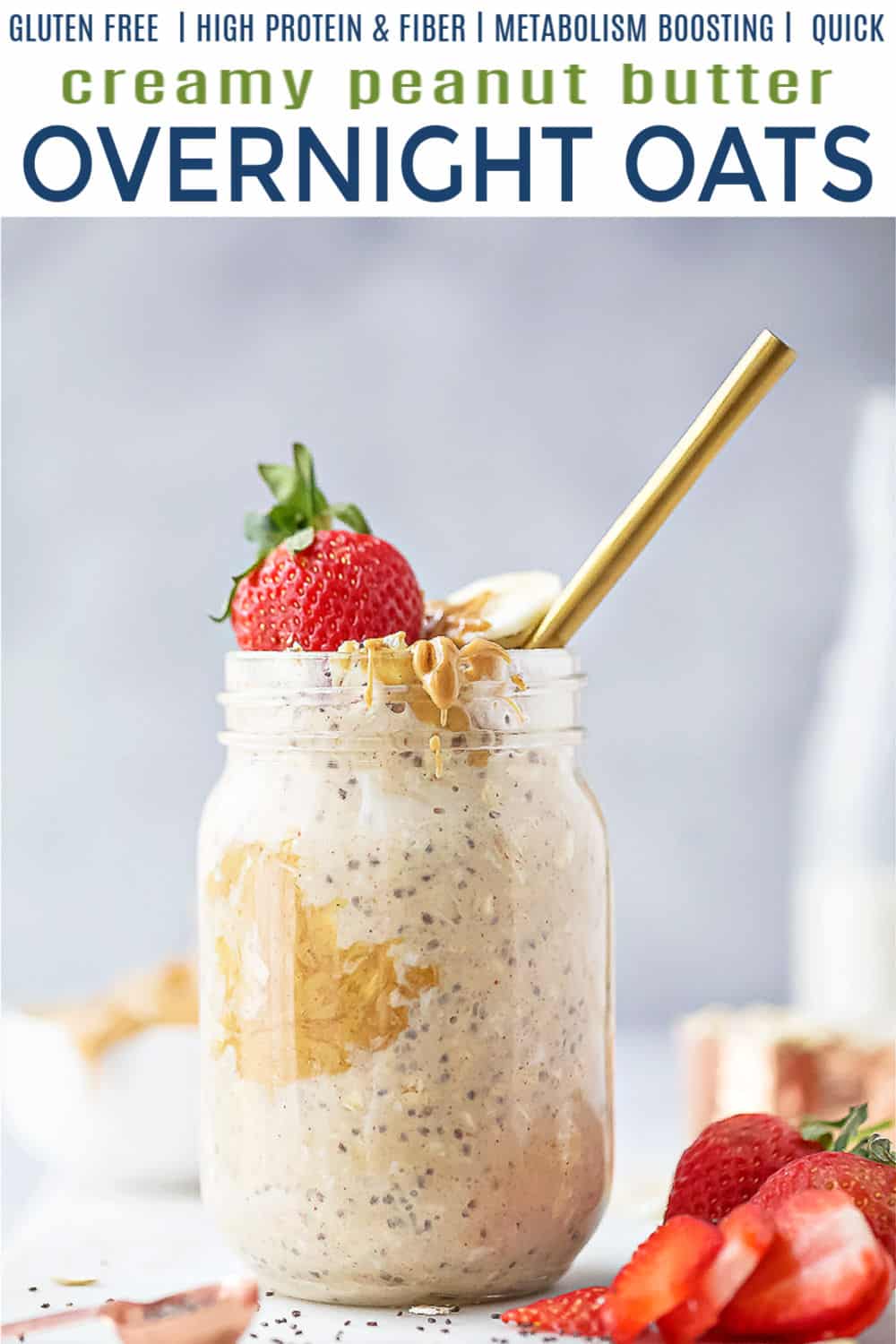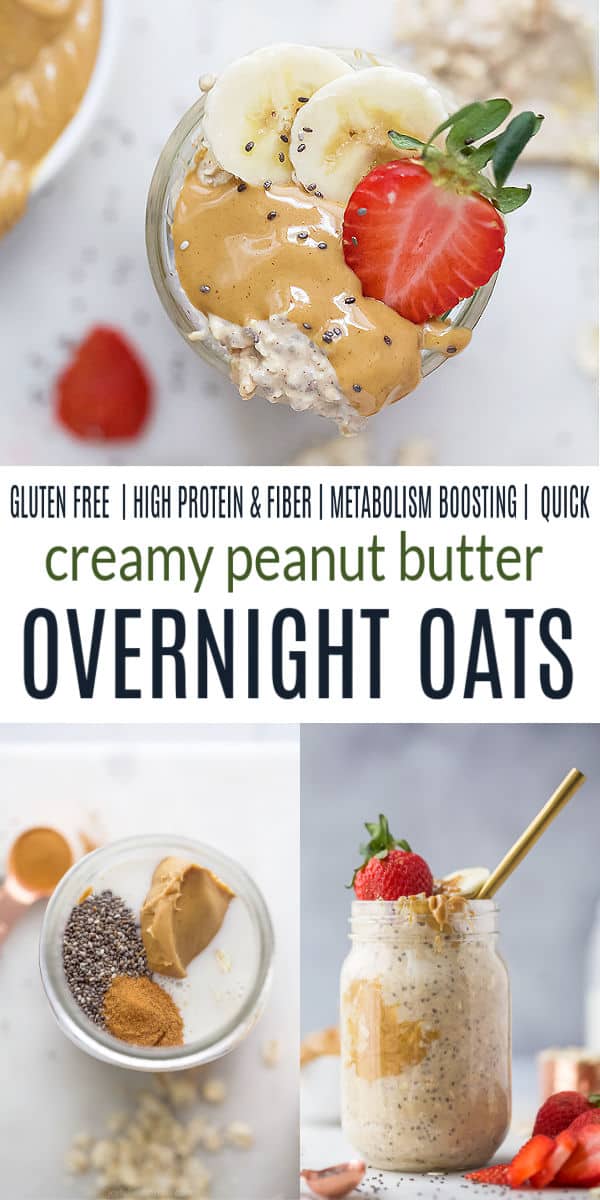 DON'T MISS A RECIPE
FACEBOOK | TWITTER | PINTEREST | BLOGLOVIN | INSTAGRAM