This Creamy Coleslaw for Fish Tacos is a quick and easy no-mayo slaw recipe. It's made with green and purple cabbage, cilantro and avocado for a nutrition-packed taco topping.
Some of my favorite tacos to add this to are the Spicy Shrimp Tacos or my Blackened Salmon Tacos!
The Best Slaw for Fish Tacos
Taco night means taco toppings, and I love creating an assortment of sides that my family and friends can pick and choose from. I usually make some Homemade Guacamole and Restaurant-Style Salsa. And I always make a taco slaw to go with everything to add texture and creaminess.
This super quick coleslaw is perfect for fish tacos because it's light and crunchy. Plus, it has an avocado-based dressing instead of using rich mayonnaise because sometimes you want something a little lighter. Especially if you're making tacos that are a little heavier like my Beer Battered Air Fryer Fish Tacos [LINK]. (I should add that these two recipes are a pair made in heaven. They are perfect together!)
Another bonus is that this recipe comes together in just a few minutes with a short list of good-for-you ingredients. Cabbage-loaded slaw is a great way to sneak veggies into taco night!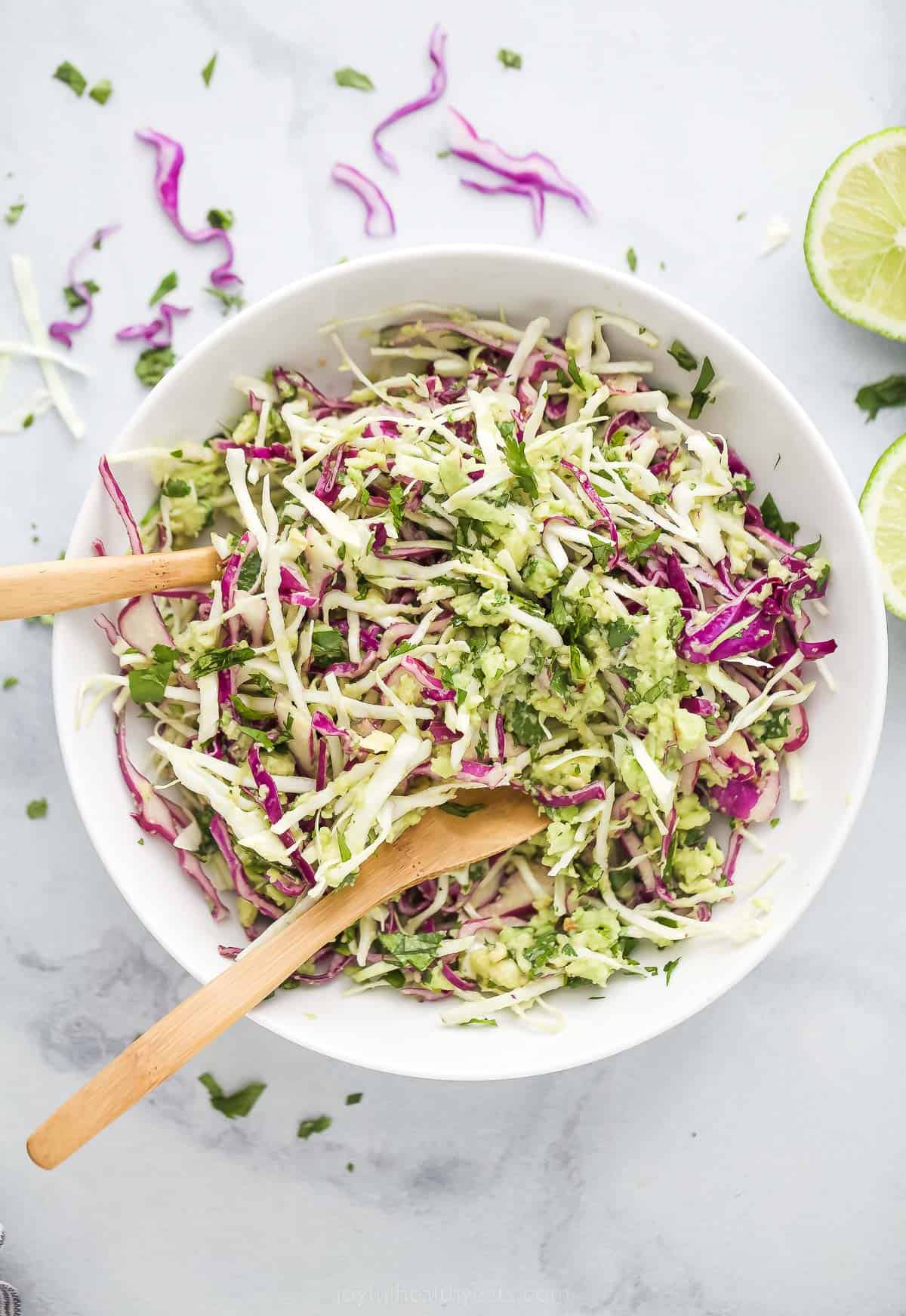 Why You'll Love This Recipe
This cabbage taco slaw is a little different than your typical Mexican slaw. Here's why you're going to love this unique recipe.
There is no dairy or mayonnaise in the recipe. It's perfect for anyone that has any dietary restrictions or is simply avoiding things like dairy and oil-based mayonnaise. The smashed avocado provides the perfect amount of creaminess.
It takes 5 minutes to make. And then it's ready to go. There's no need to refrigerate or wait for the slaw to be ready to eat.
The coleslaw is the perfect topping for any taco. I love this slaw for fish tacos, but it also goes great on other tacos, too! The kids love to put it on Cilantro Lime Chicken Tacos.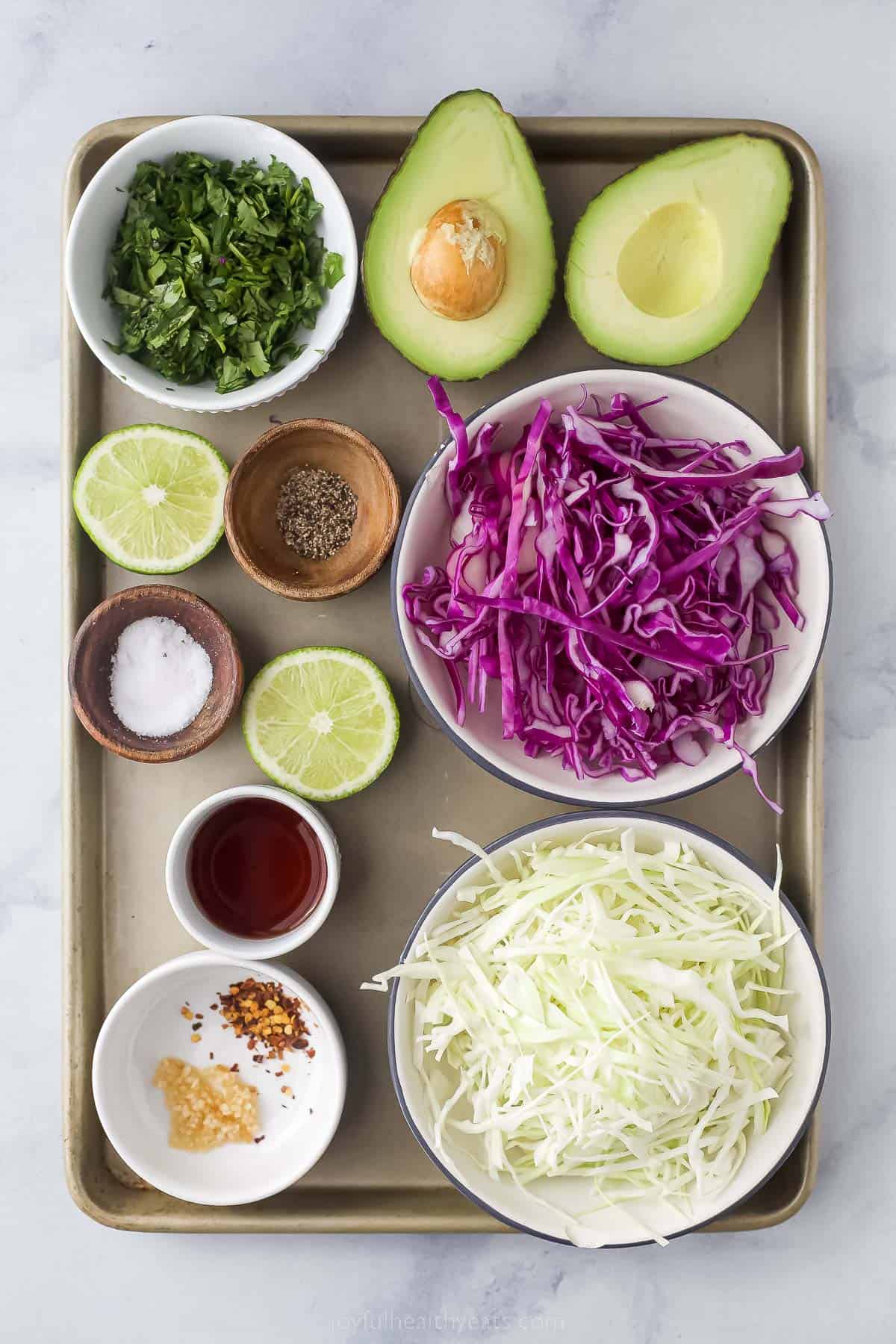 What You'll Need
Here's what you need to make Fish Taco Coleslaw. Keep in mind that the exact amounts you need for each ingredient are in the recipe card below.
Avocado: This is the star of the show! Find a ripe avocado that's slightly soft to the touch.
Lime Juice: The lime juice will bring a ton of flavor to the slaw and help the slaw stay fresh. The acid prevents the avocado from browning.
Red Wine Vinegar: This is a common ingredient in slaw dressing as it adds a bit of acid that helps balance the creaminess of the avocado.
Cilantro: Cilantro is a pretty typical taco ingredient, but I understand some of you don't love it! That's ok! You can use another fresh herb like parsley or chives.
Garlic: Fresh garlic works best for this recipe and I don't recommend using garlic powder. If you don't have any garlic you could use about a tablespoon of minced shallots or white onion.
Red Pepper Flakes: You can omit them if you don't want any spiciness, but with just a small amount it adds the perfect amount of heat.
Salt
Green Cabbage: Also known as white cabbage, it's the large head of cabbage that you see at the supermarket that kind of looks like a head of iceberg lettuce.
Red Cabbage: I love the color that the red cabbage adds to this slaw! If you can't find one or the other, you can just use one type of cabbage. And also Napa cabbage would be a good substitute for either red or green cabbage.
How Do You Cut Cabbage for Coleslaw?
There's no need to buy the pre-cut cabbage at the store when you know how to cut it the right way! Plus, I think it tastes way better when you cut it fresh.
To shred cabbage with a knife you need to make sure that the knife is very sharp. Then, cut the cabbage head in half (through the core) and carefully work your way through the cabbage cutting long thin strips.
You can also use a mandoline, which is one of my favorite kitchen tools. They can be a little tricky, but sliding the cabbage down the sharp blade will make this coleslaw come together even faster!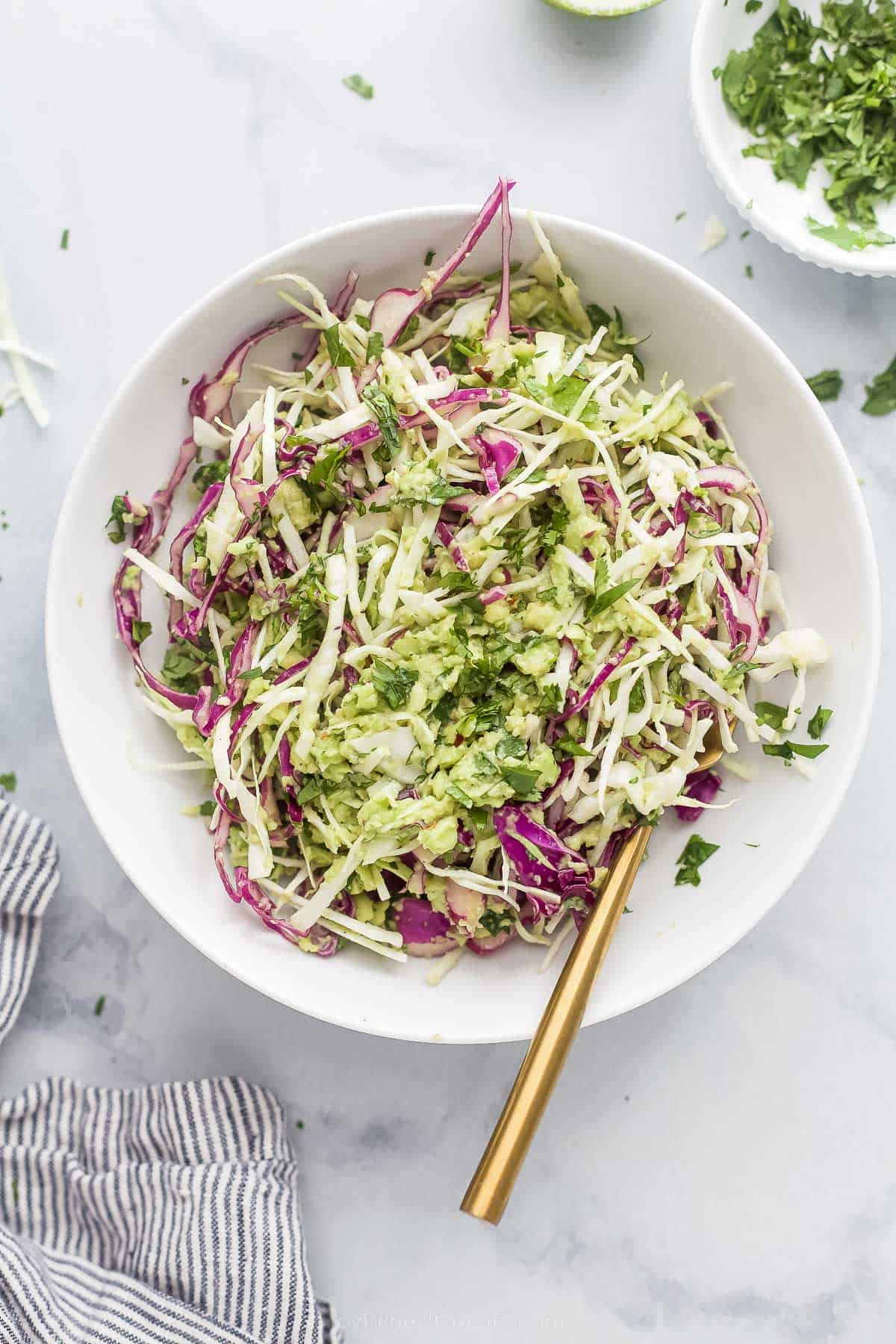 How to Make Coleslaw for Fish Tacos
The steps are so simple for this taco topping! Here's what you need to do: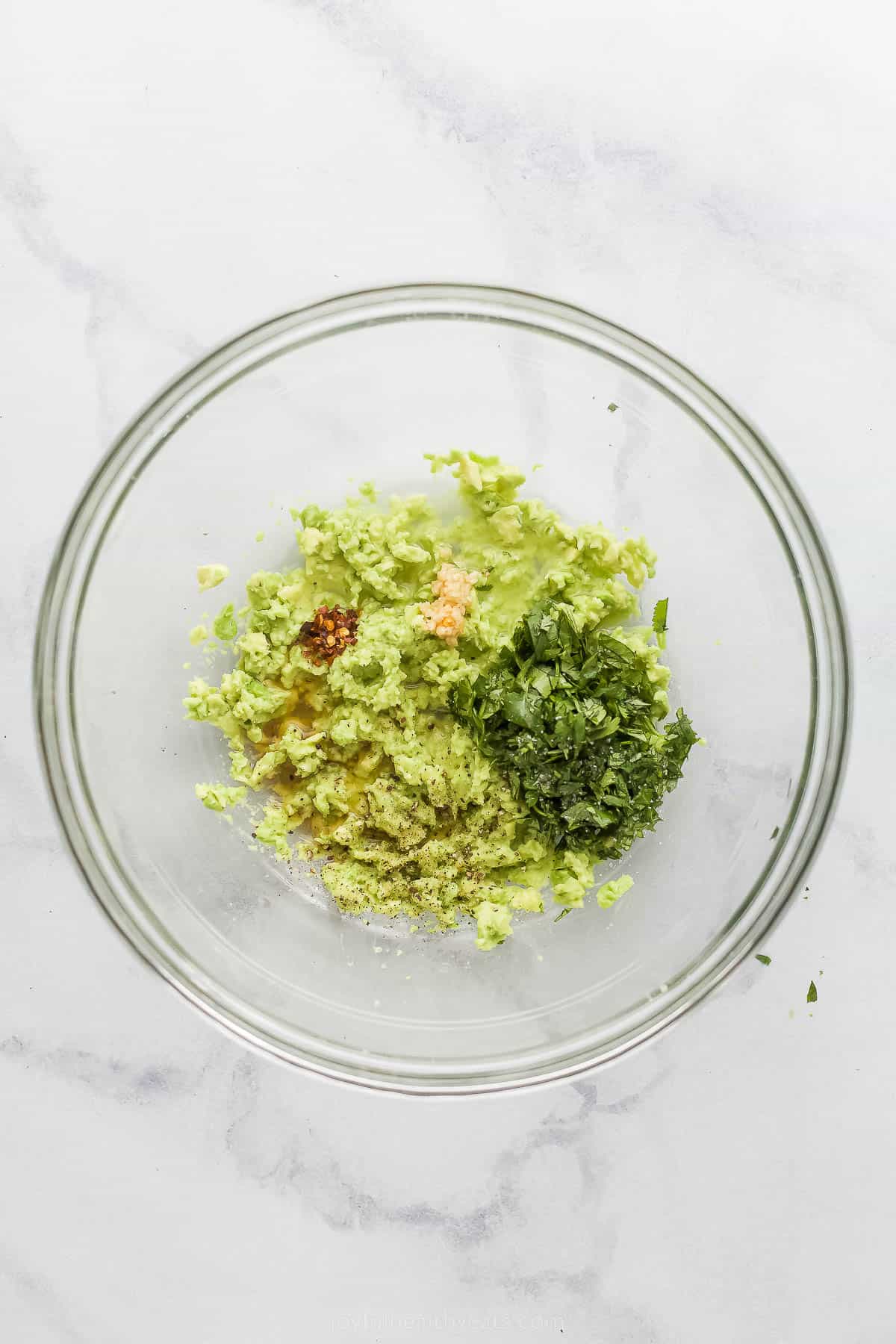 First, smash the avocado in a large bowl. I like to do this with the back of a fork until it's nice and smooth.
Then add all of the ingredients except the cabbage. Mix it all together until everything is combined.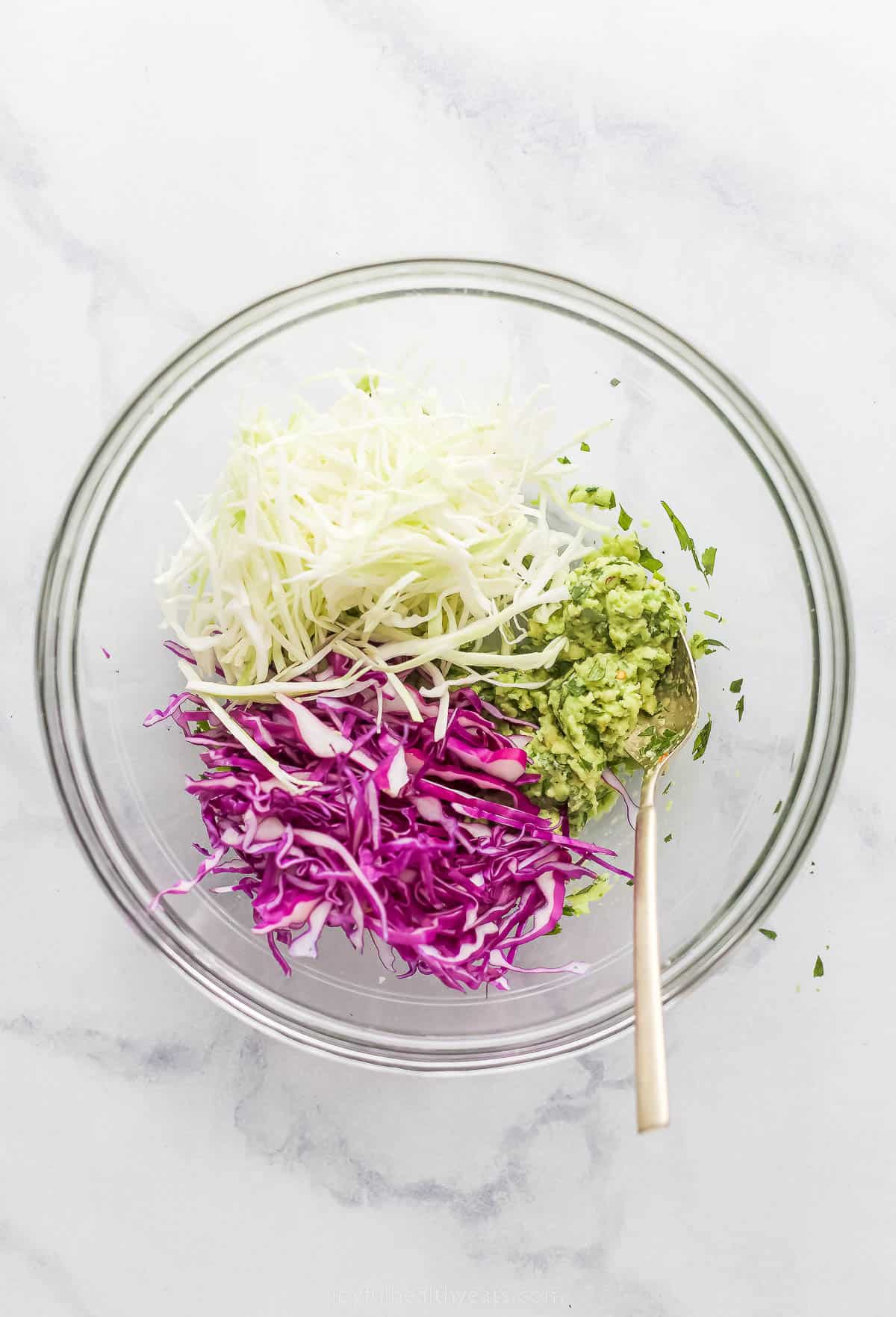 Toss in the shredded cabbage. Lastly, mix the cabbage into the dressing. And then your slaw is good to go!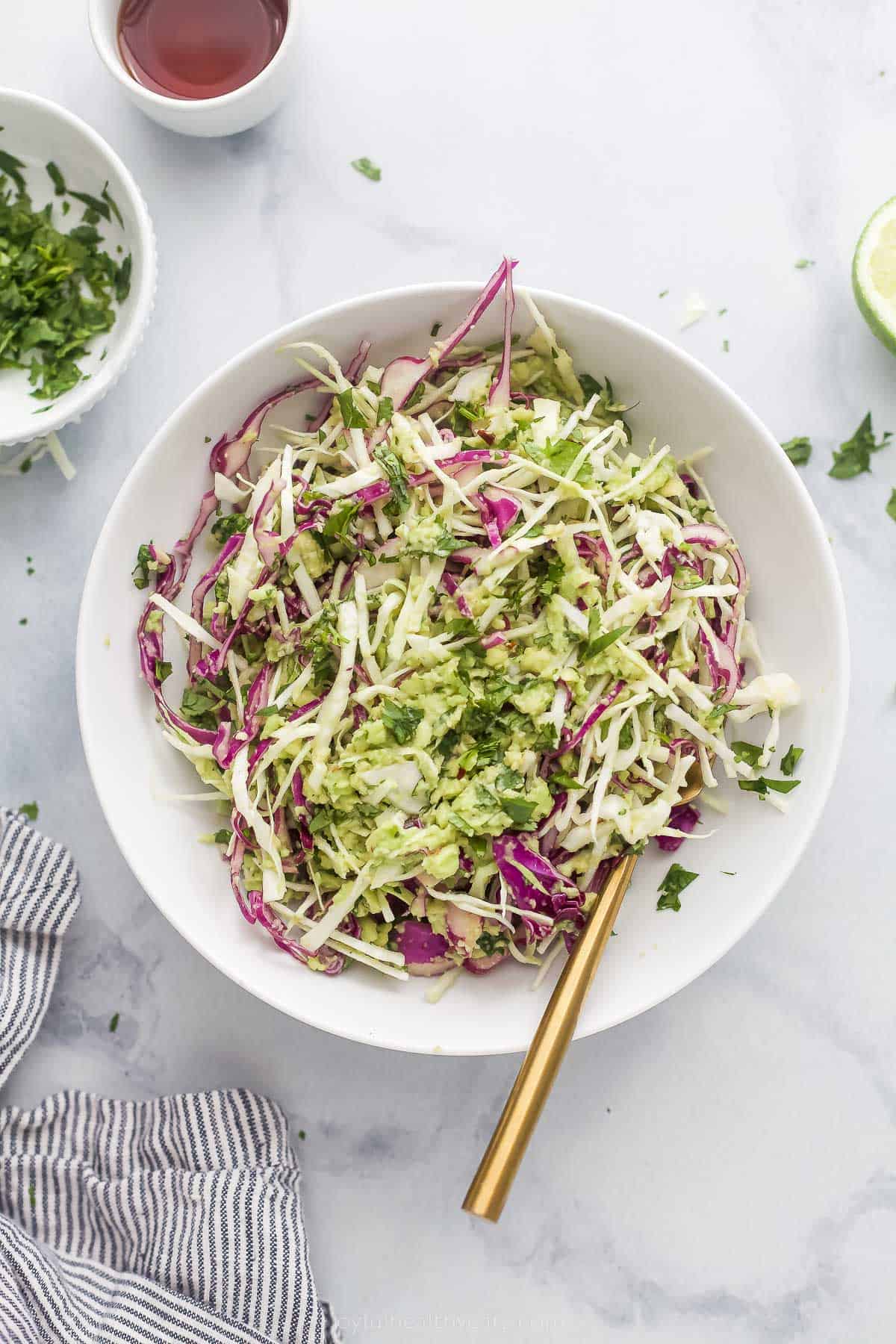 Tips and Variations
Below are some helpful tips for making s slaw for fish tacos. Also, I've included a few variations in case you're missing a few ingredients or you want to try something different.
Cut the cabbage into very thin strips. I know it can be tricky, but this is important so that it scoops perfectly onto each taco. Make sure your knife is sharp before cutting and you shouldn't have any problems.
Use this coleslaw right away. Unlike other coleslaw that may need to sit in the fridge for a little bit, this one can be enjoyed right away. And you'll want to eat it immediately because you're using fresh avocado and you don't want it to start to brown.
Add other vegetables. This slaw also works well with shredded carrots and broccoli. You could also add thinly sliced red onions for extra color and flavor.
Make it spicy. You can add diced jalapenos if you want to add a little kick.
What Goes Well With Creamy Coleslaw
This is the perfect Creamy Coleslaw for Fish Tacos, but it also goes well with so many other things! Here are some of my best fish taco recipes and some others.
Can I Make This Ahead of Time?
I don't suggest making this Creamy Coleslaw for Fish Tacos too far in advance. Why? Because it has avocados in it, and we all know that avocados tend to brown if they are out in the open for too long.
But, if you need to make this in advance, I suggest that you use plastic wrap to cover the coleslaw and store it in the fridge. Press the plastic wrap right onto the coleslaw so that it's touching and the avocado will be less likely to brown. You can store it like this for 2-3 hours.
How to Store Leftovers
As I mentioned before, this fish taco slaw is best when it's eaten immediately. I think that's the joy of this taco slaw! You can just make it and it's ready to go, no waiting required.
Print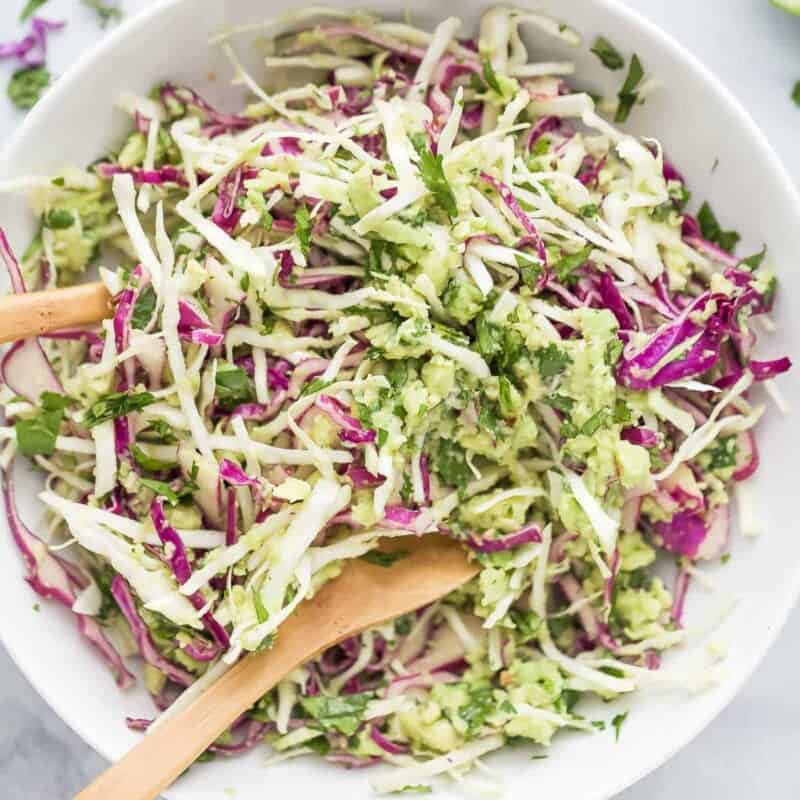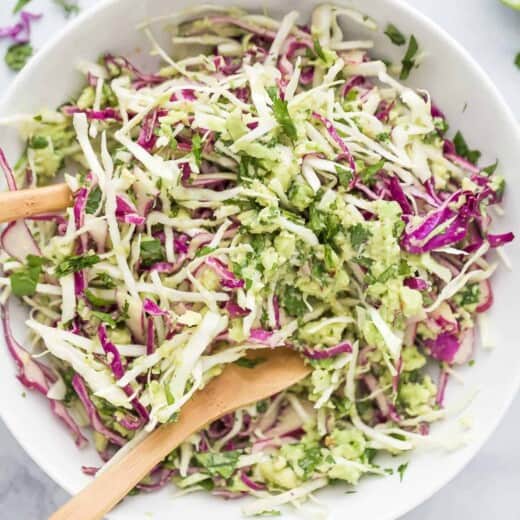 Creamy Coleslaw for Fish Tacos
Author:

Prep Time:

5 minutes

Cook Time:

0 minutes

Total Time:

5 minutes

Yield:

2 1/2 cups

1

x

Category:

Condiments

Method:

Mix

Cuisine:

Mexican

Diet:

Gluten Free
---
Description
This No-Mayo Creamy Coleslaw for Fish Tacos is crunchy, fresh, and citrusy. Smooth and rich avocado is used instead of mayonnaise making it a healthy taco topping choice.
---
1

avocado, mashed or pureed

1 tablespoon

lime juice

1/2 tablespoon

red wine vinegar

1/4 cup

chopped fresh cilantro

1

garlic clove, minced

1/8 teaspoon

red pepper flakes
salt to taste

1 cup

of thinly sliced green cabbage

1 cup

of thinly sliced purple cabbage
---
Instructions
To a medium bowl, add avocado, lime juice, cilantro, garlic, red pepper flakes, and salt to taste. Using a spoon, mix together until well combined.
Add in shredded cabbage and gently stir everything together.
---
---
Nutrition
Serving Size:

1/4 cup

Calories:

31

Sugar:

1 g

Sodium:

67 mg

Fat:

2 g

Saturated Fat:

0 g

Carbohydrates:

3 g

Fiber:

2 g

Protein:

1 g

Cholesterol:

0 mg
Keywords: slaw for fish tacos, fish taco slaw recipe, recipe coleslaw no mayo
Filed Under:
More Easy Side Dishes
DON'T MISS A RECIPE ->
FACEBOOK | TWITTER | PINTEREST | GOOGLE+ | BLOGLOVIN