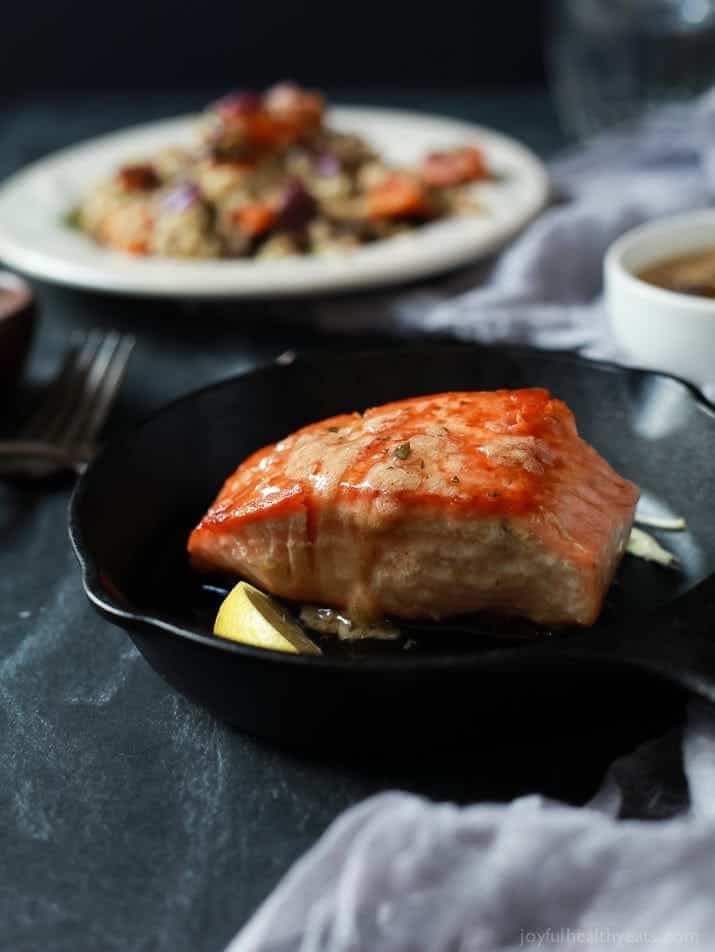 Perfectly Pan Seared Salmon topped with a nutty Brown Butter Sauce with subtle hints of fresh sage and nutmeg for one to die for bite. This Salmon recipe screams fall, takes less than 30 minutes to make, and is 300 calories a serving! Make it!
Want to know something funny? I use to hate Salmon, well seafood in general.
Growing up I can remember going to the fish market with my mom. She use to get these little scallops and then shrimp to fancy up at home with her culinary skills. In the beginning I liked them, they tasted great because my mom is an amazing cook. Then, my dad told me what they were.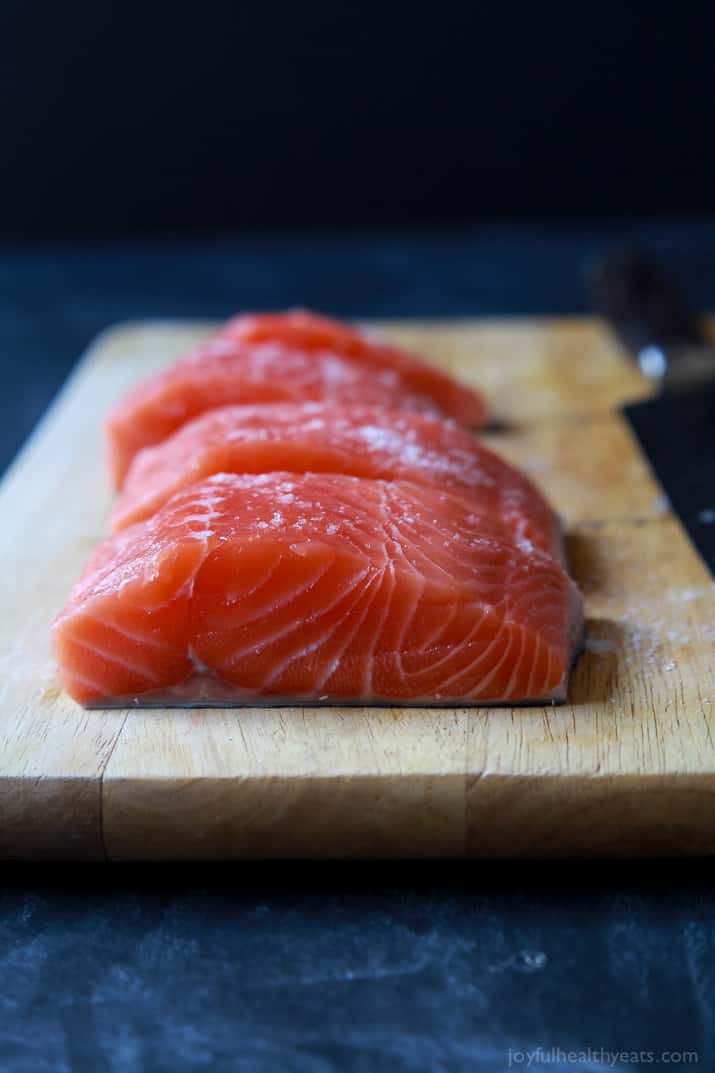 He said, "Krista seafood is brain food". Huh? What does that mean, what is brain food? Whatever it is I didn't want to have anything to do with it because naturally if you don't know what something is, don't try it right? (or at least that is what my teenage self thought) And because I adore my dad and wanted to be just like him I was now a seafood hater too and completely wrote it off. My mom would put the same dish she use to make in front of me and I would stick my nose up and refuse to put anything in my mouth.
After college I got smart, well, that and Mike convinced me to try seafood again. We started with baby steps… aka everything was fried. And it tasted AMAZING, basically because it masked the seafood taste! Anything fried and then dunked in cocktail sauce is going to taste good, right? Then we moved to fresh tilapia, which is a good "beginner" fish to start with because it doesn't have a strong fish taste. I liked it and was ready to venture out.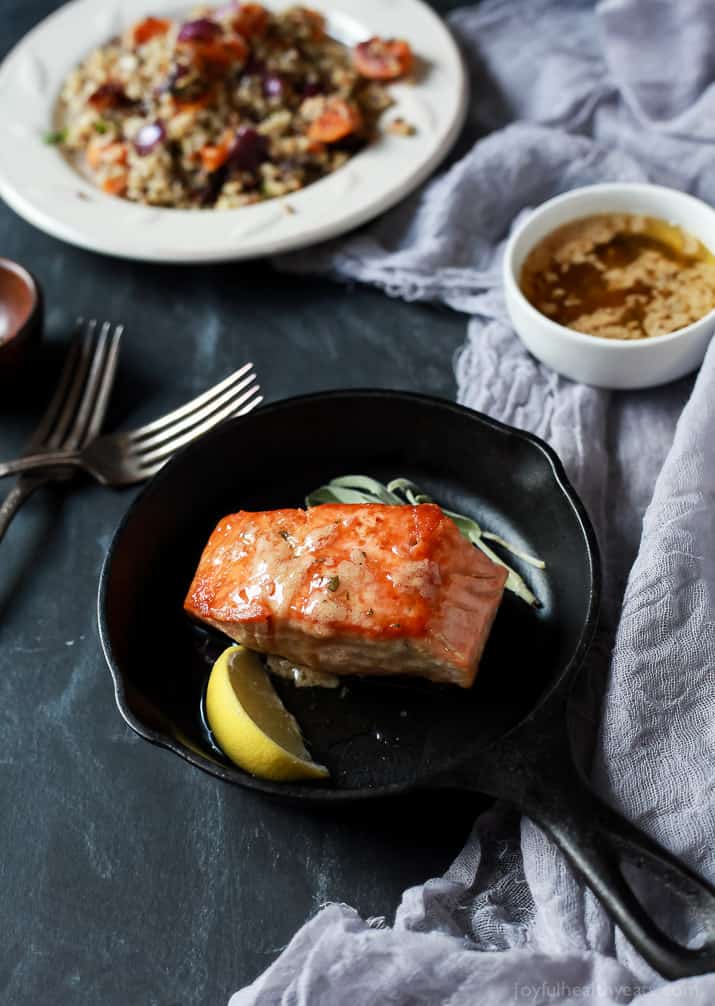 Over the past year, I have now tried octopus, squid, black sabel fish, chilean sea bass (my favorite), halibut, cod, salmon, bay sea scallops, ahi tuna, and of course shrimp. It has been an adventure for sure.
Something I never thought I would come to like was salmon. To me it had such a strong fish taste that I was completely put off by it. But then my mom told me that if fish smells fishy then it's not fresh! Well…. that was the problem! Now I buy all my seafood fresh not frozen (because who knows how long its been in the freezer), and I always make sure to smell my fish before they wrap it up! Game changer folks!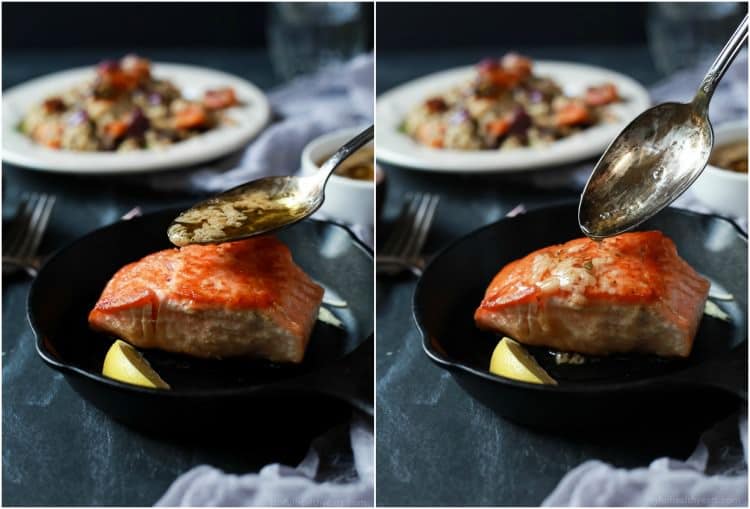 What I love most about salmon are the nutrients it contains. Salmon is loaded with Omega-3 fatty acids, it has 7g of protein per ounce, and is an excellent source of Vitamin D and B12. Basically you are loading your body with nutrients it needs with just 4 oz of this fish! Pretty freakin' awesome if you ask me.
Now, I don't eat food just because it has nutrients – believe me. Otherwise I would be drinks kale smoothies all day and would swear off ice cream. That is not going to happen! I am all about the taste, if it doesn't taste good it's not going in my tummy!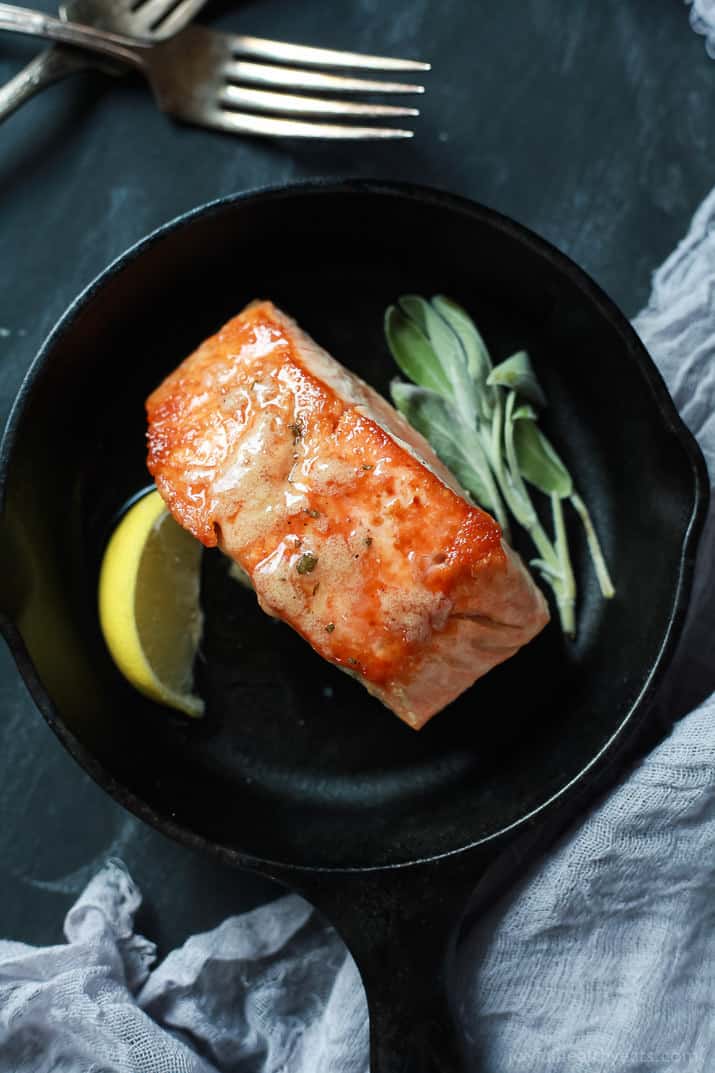 This Pan Seared Salmon is quickly becoming a favorite of mine. I am finding that my two most loved methods for cooking salmon are pan seared or grilled. Why you ask? Because both of them give you one amazing crust on the exterior of the fish that can't be compared to baking or poaching it. The key is making sure you have a searing hot pan!!!
This Salmon is seared in a little bit of olive oil and then topped with a creamy buttery luscious Sage Brown Butter Sauce that you will want to swim in! It has hints of nutmeg throughout to give it a nice autumn flavor everyone will love. Who knows I may make for Thanksgiving this year instead of turkey, it's that good! Top the Salmon with a squeeze of fresh lemon juice to enhance all the flavors!
Gluten Free, fall flavors, packed with nutrients, 300 calories a serving, and less than 30 minutes to make. I'd say this dish is a winner! Wouldn't you? Can't wait to hear what you think. Bon Appetite friends!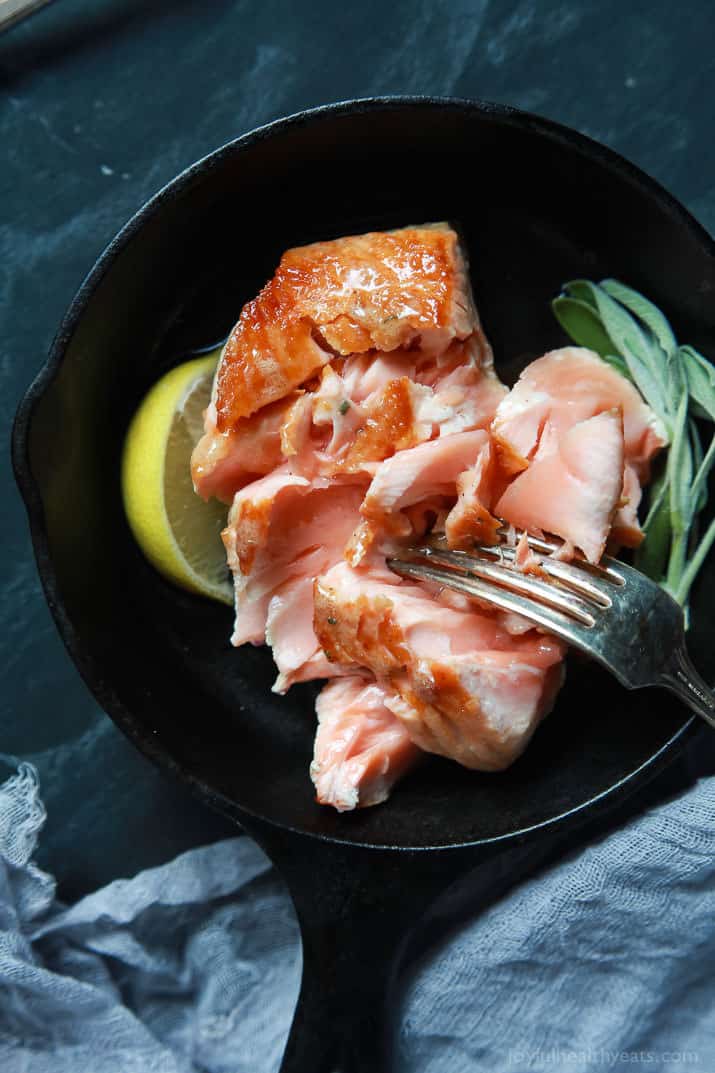 Print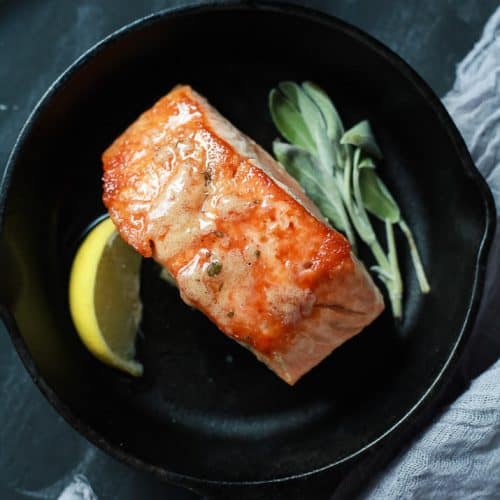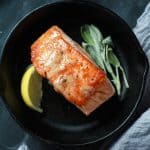 Pan Seared Salmon with Sage Brown Butter Sauce
Author:

Prep Time:

5 mins

Cook Time:

20 mins

Total Time:

25 mins

Yield:

6

1

x
Category:

Gluten Free, Seafood, Paleo, Kid Friendly

Method:

Pan Seared

Cuisine:

American
---
Description
This salmon is seared in a little bit of olive oil and topped with a creamy Sage Brown Butter Sauce.
Scale
Ingredients
2 tablespoons

olive oil

6

(4 oz) salmon filets, skin on

1 teaspoon

sea salt

6 tablespoons

unsalted butter

1 1/2 teaspoons

raw honey

1 teaspoon

diced fresh sage

1/4 teaspoon

ground nutmeg

1/4 teaspoon

sea salt
Instructions
Bring a large skillet to medium high heat.
Pat the salmon dry and season the flesh side of the salmon using 1 teaspoon of sea salt.
Add the olive oil to the hot skillet and immediately add the salmon to the pan flesh side down. Saute the salmon for 4-5 minutes until browned.
Gently flip the salmon to saute on the skin side for another 4-6 minutes. (it may take longer depending on thickness of your salmon. Remove from pan and let sit to cool.
In the meantime, bring a small skillet to medium heat.
Add butter and 1/4 teaspoon of sea salt to the pan and melt.
Once the butter is melted, add the honey, sage, and nutmeg. Stir and let the butter begin to brown, for about 5 minutes. Be sure to stir throughout cooking process so the butter does not burn. Remove from heat.
Serve salmon with drizzle of sage brown butter sauce. (i used about 1 tablespoon for each salmon filet)
---
Nutrition
Serving Size:

1 salmon filet + sauce

Calories:

307

Sugar:

1 g

Sodium:

518 mg

Fat:

23 g

Carbohydrates:

2 g

Fiber:

0 g

Protein:

23 g

Cholesterol:

92 mg
Keywords: pan fry salmon, easy dinner ideas, easy weeknight dinners
IF YOU MAKE THIS RECIPE, BE SURE TO SNAP A PIC AND HASHTAG IT #JOYFULHEALTHYEATS. I LOVE SEEING WHAT YOU MAKE!
Want more Seafood Recipes?
Grilled Mahi Mahi Fish Tacos with Chipotle Lime Crema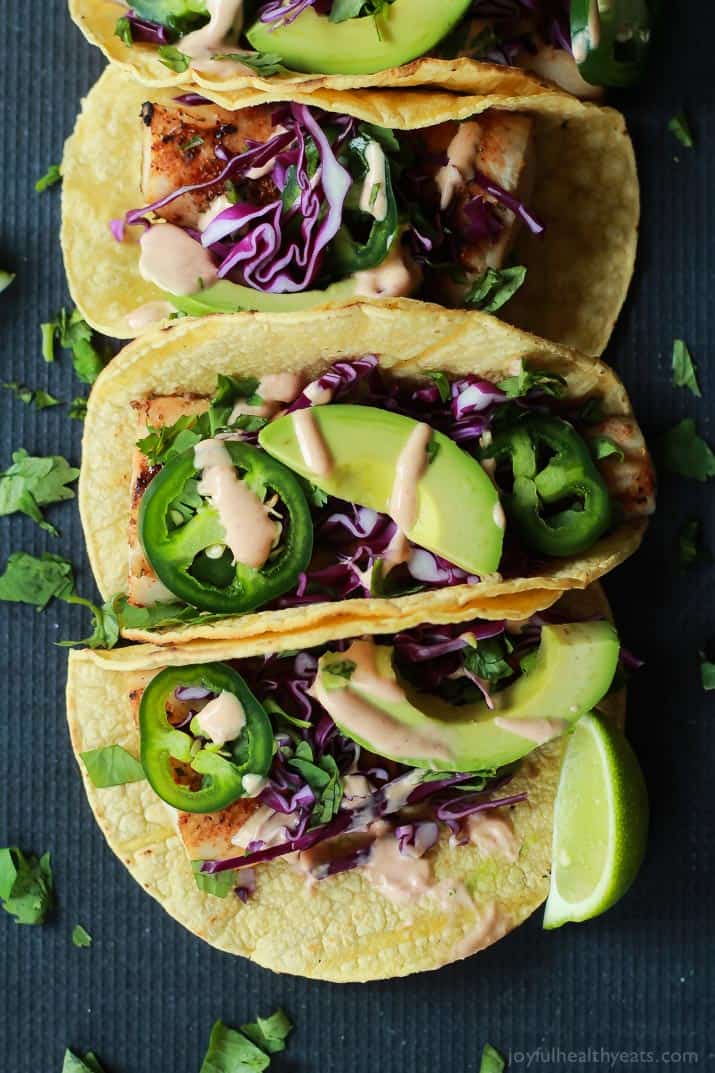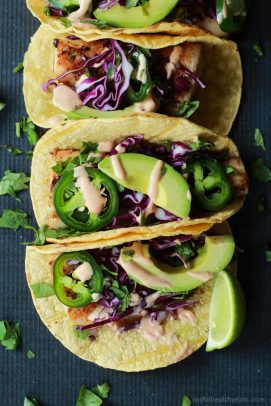 Panko Crusted Tilapia with Fresh Tomato Basil Sauce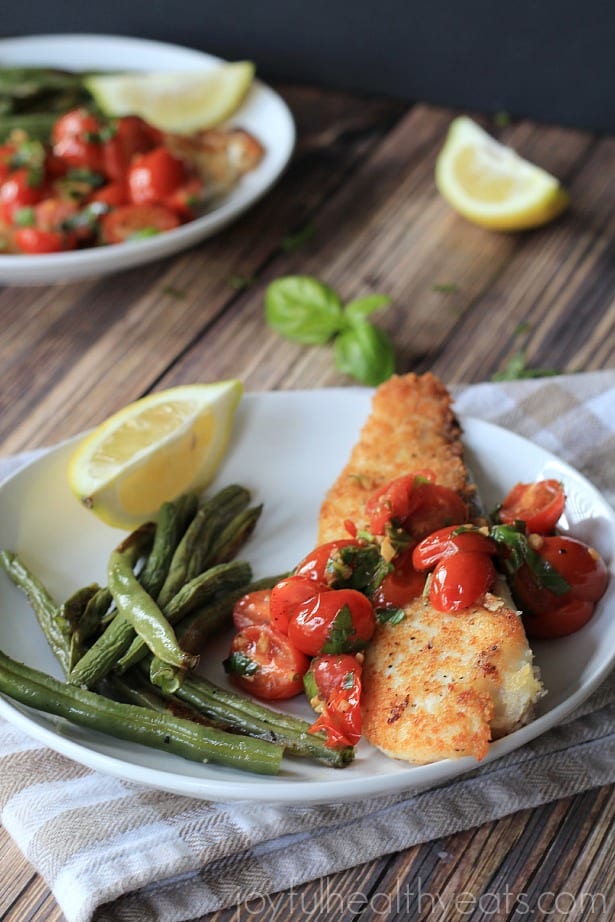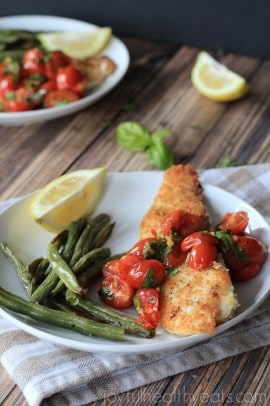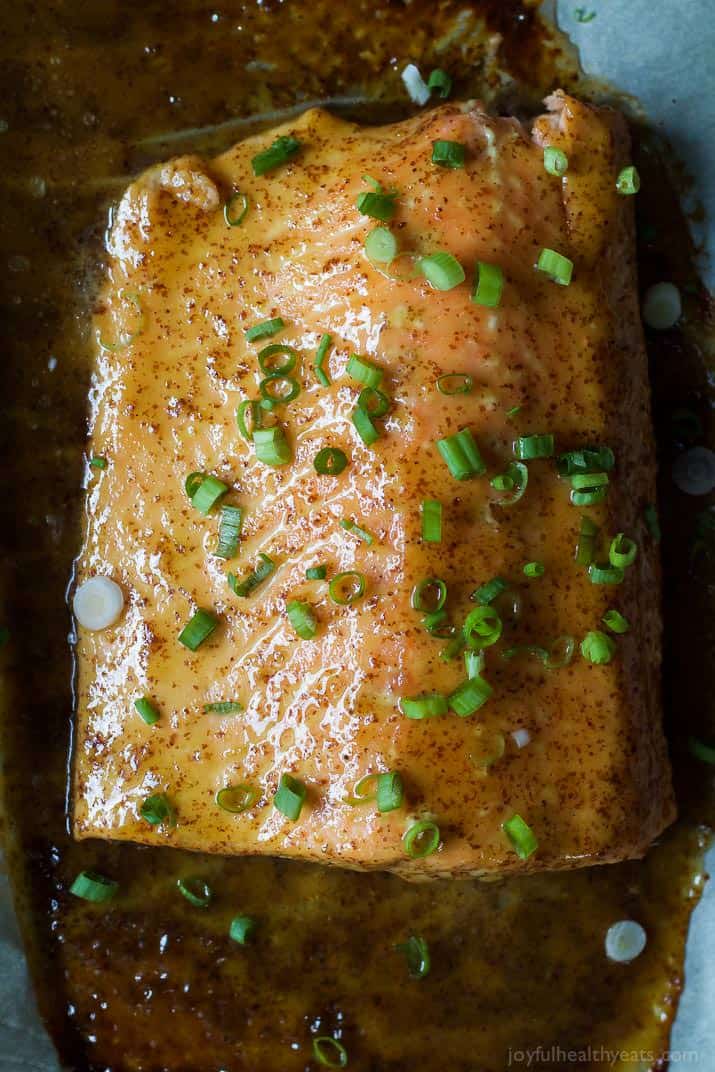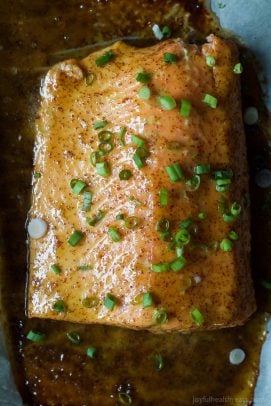 DON'T MISS A RECIPE ->