Perfectly buttery and flaky, this pan seared salmon topped with brown butter sage sauce for a fun at-home fine-dining experience. With hints of honey and earthy nutmeg, this 30-minute dinner is also perfect for any weeknight.
Easy Pan Seared Salmon with Brown Butter
If you're looking for an easy dinner that'll get you a gold star among guests, this pan-seared salmon with a luxurious brown butter sauce is just what you need. Cooked to perfection and drizzled with sauce, it's a homemade gourmet meal no one will see coming.
Even if you're a beginner cook, you can nail this 25-minute meal. The secret's in making sure the pan is really hot to make sure you get naturally buttery, flaky salmon in every bite. You also get bonus points for sear marks! Then melt some butter in a pan for an ultra-fancy but crazy easy sauce with some French flair.
With a splash of honey, sage, and a sprinkle of nutmeg, this brown butter sauce tastes better than what you'd find at gourmet restaurants. It's also healthier! Served with broccolini on the side, you'll be preparing this quick recipe whether you've got a special occasion or not.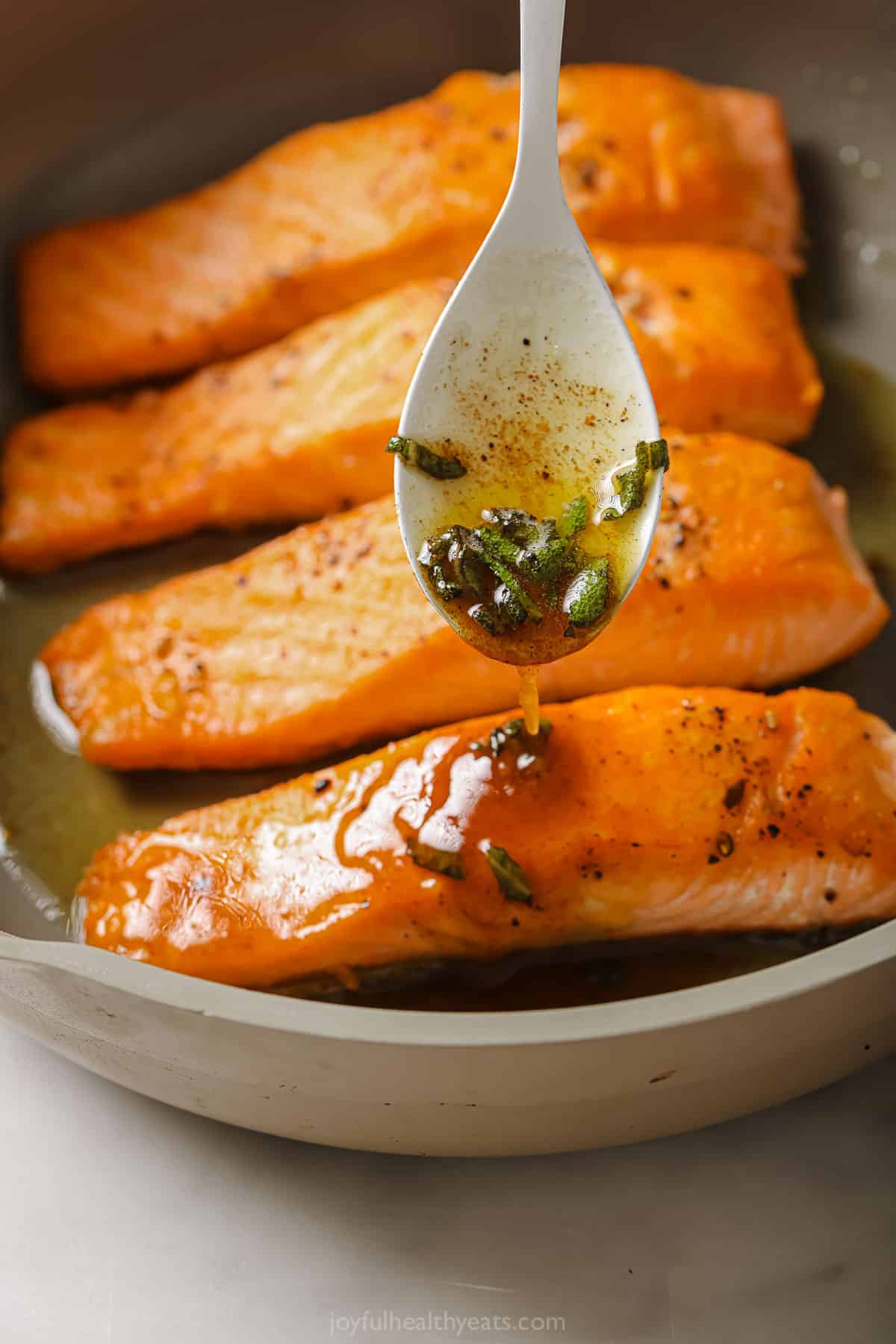 Why You'll Love This Pan Seared Salmon Recipe
This pan seared salmon is one of those recipes that can go from easy, lazy weeknight to date-night dinner in a second.
Healthy. Salmon is packed with omega-3 and protein. Plus, with full control over the sodium and a homemade sauce, it doesn't get much healthier than this.
Fancy. Something about a brown-butter sage sauce screams gourmet meal. Fortunately, this is one fancy meal you won't have to leave your kitchen for.
Quick. Ready in less than 30 minutes, it'll be on your table even faster than at a restaurant. It's perfect for a weeknight dinner.
Great for gatherings. Sear all the salmon fillets and then double or triple the recipe for the brown butter sauce. Drizzle it on top and serve right away. It'll be less than an hour before everyone's digging in.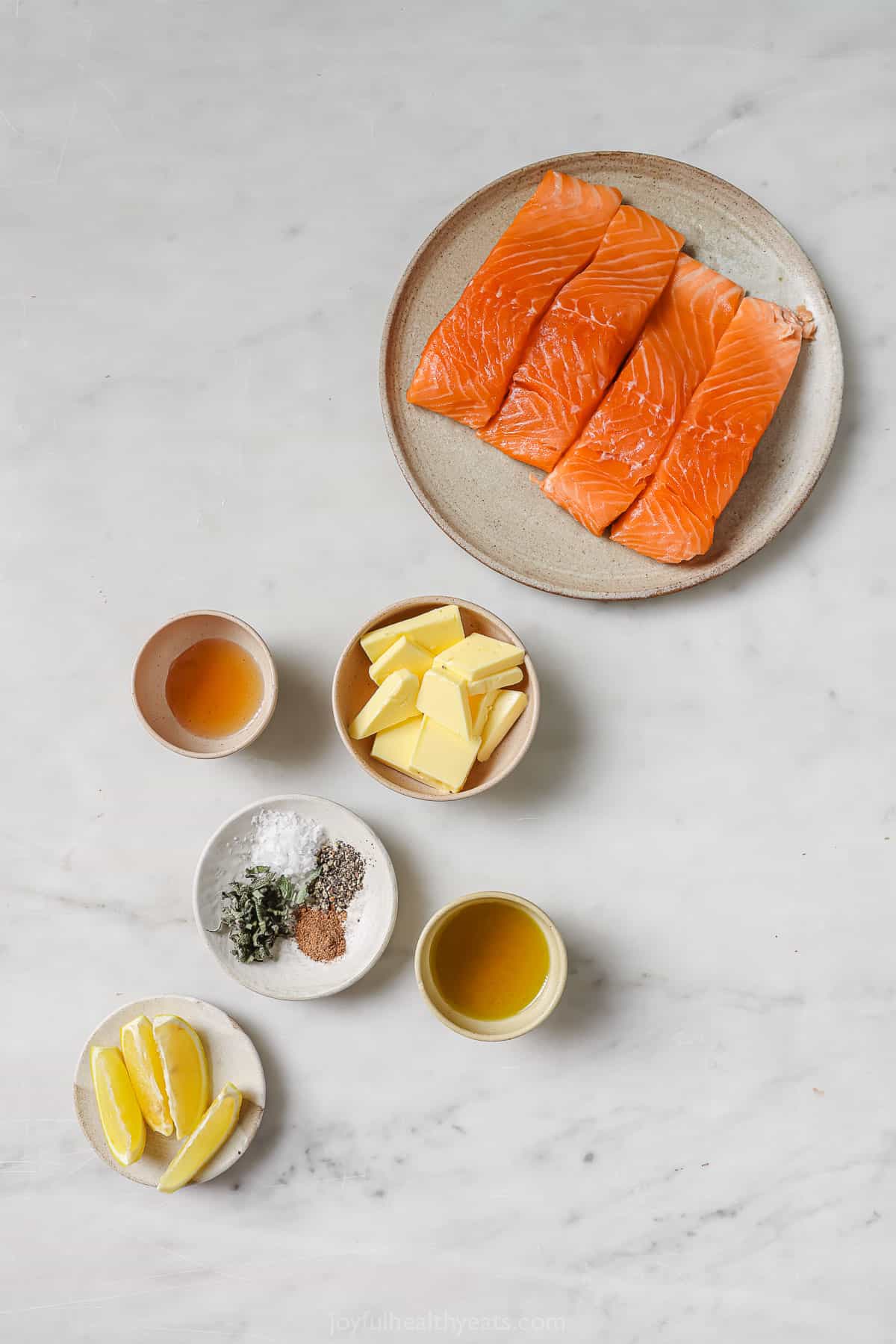 Recipe Ingredients
Don't skip any of the ingredients for the brown butter sauce! It's what takes this recipe over the top. Check the recipe card at the bottom of the post for exact amounts.
For the Salmon
Olive oil – Coconut, corn, canola, and vegetable oil are great swaps.
Salmon filets – Use fresh or frozen.
Salt – Feel free to use Himalayan salt.
Black pepper – Please don't use white or pink pepper.
For the Sage Brown Butter Sauce
Unsalted butter – Skip the salt if you use salted butter.
Raw honey – Don't use maple syrup or agave syrup for this.
Fresh sage – You can find this in the produce aisle, next to the fresh herbs.
Ground nutmeg
Salt
What is Brown Butter?
Brown butter is an easy flavor booster that's very commonly used in fine dining. It's called "beurre noisette" in French. Despite the fancy-sounding name, it's actually quite easy to make. All you need to do is melt butter and let it simmer over medium heat until it begins to turn brown. There's a bit of stirring involved because you don't want it to burn. The flavor is quite nutty and toasty. This is because heating it evaporates the natural water-content found in butter until the milk solids begin to toast. You can add it to pastas, fish, steak, chicken, etc.
How to Make Pan Seared Salmon
This pan seared salmon recipe will be your new favorite thanks to its easy brown butter-sage sauce. Check the recipe card at the bottom of the post for more detailed instructions.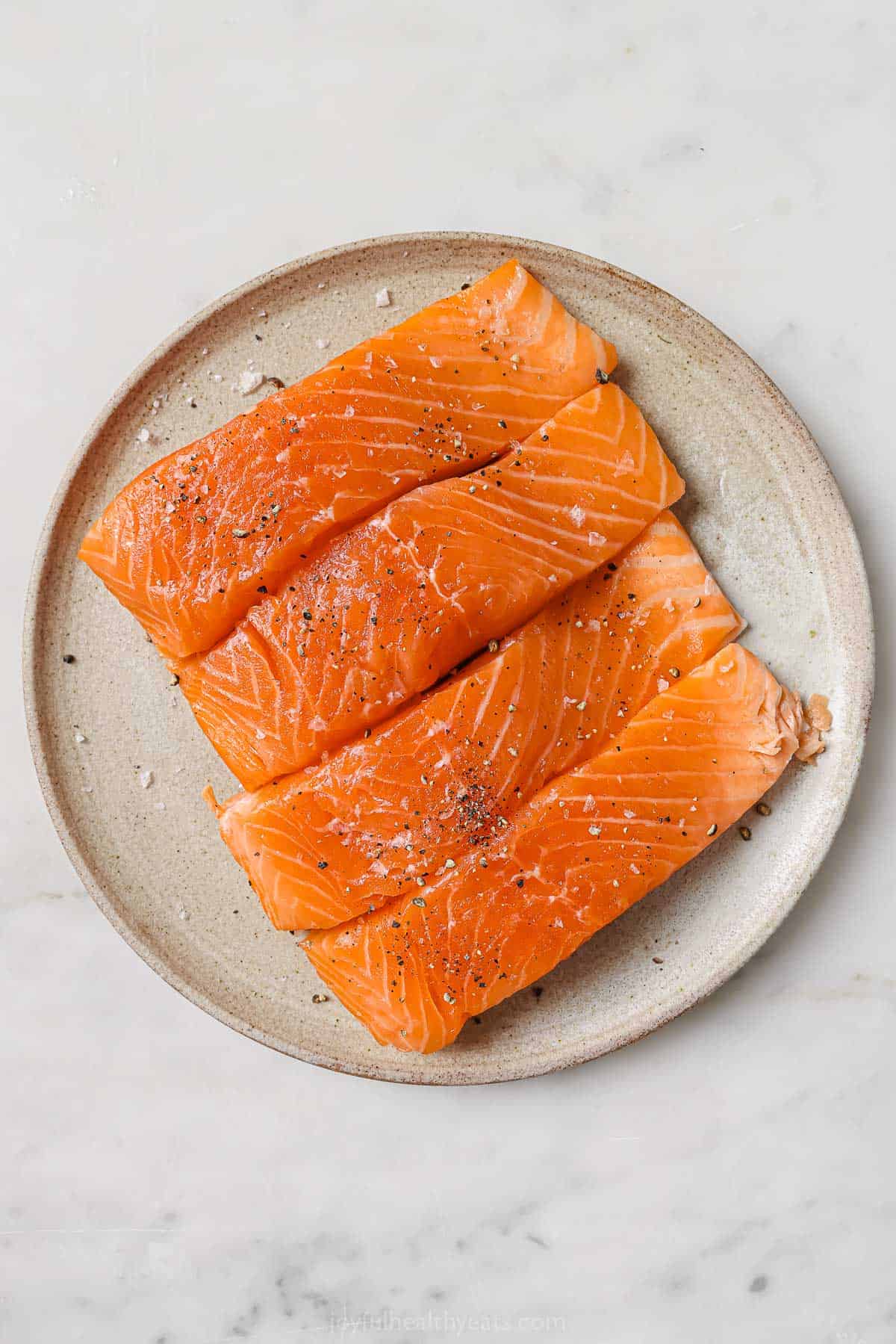 Prep the salmon. Place a large pan over medium-high heat. Use a paper towel to pat the salmon dry on all sides. Removing excess moisture helps avoid splattering. Season it with salt and pepper.
Cook the flesh. Add the olive oil to the pan and add the salmon with the flesh facing downwards. Let it cook for 5-6 minutes or until you get a nice golden sear.
Flip it. Use a spatula to gently flip the salmon over so the skin is touching the pan now. Let it cook for 2 minutes or until crispy. The cooking time may be longer depending on the thickness of the fillets. Remove the salmon from the pan and set it aside.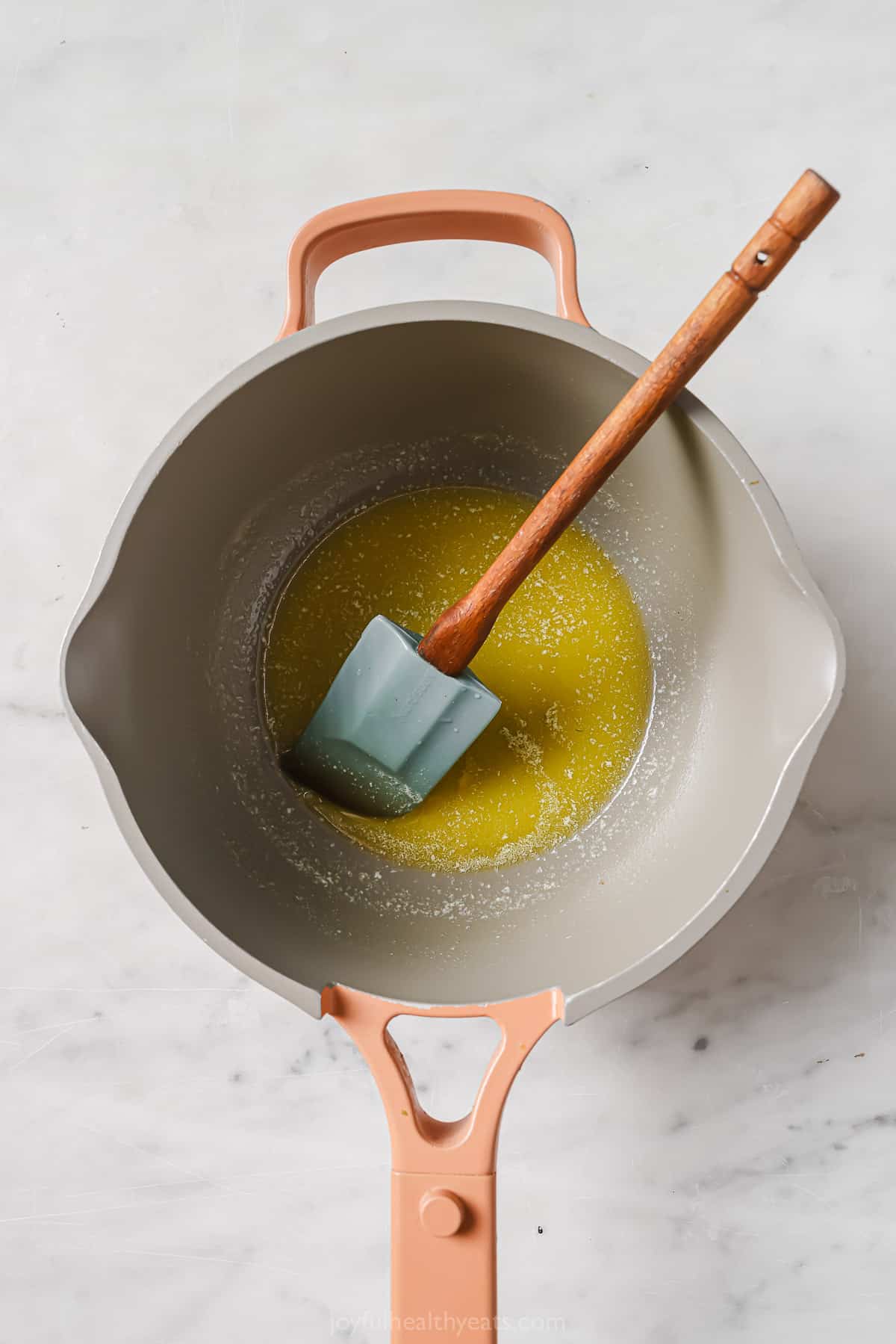 Brown the butter. Place a small pan over medium heat. Add the butter and 1/4 teaspoon of salt. Let it melt completely and simmer it for 5 minutes. Stir it occasionally so it doesn't burn. Once it begins to brown, remove it from the heat.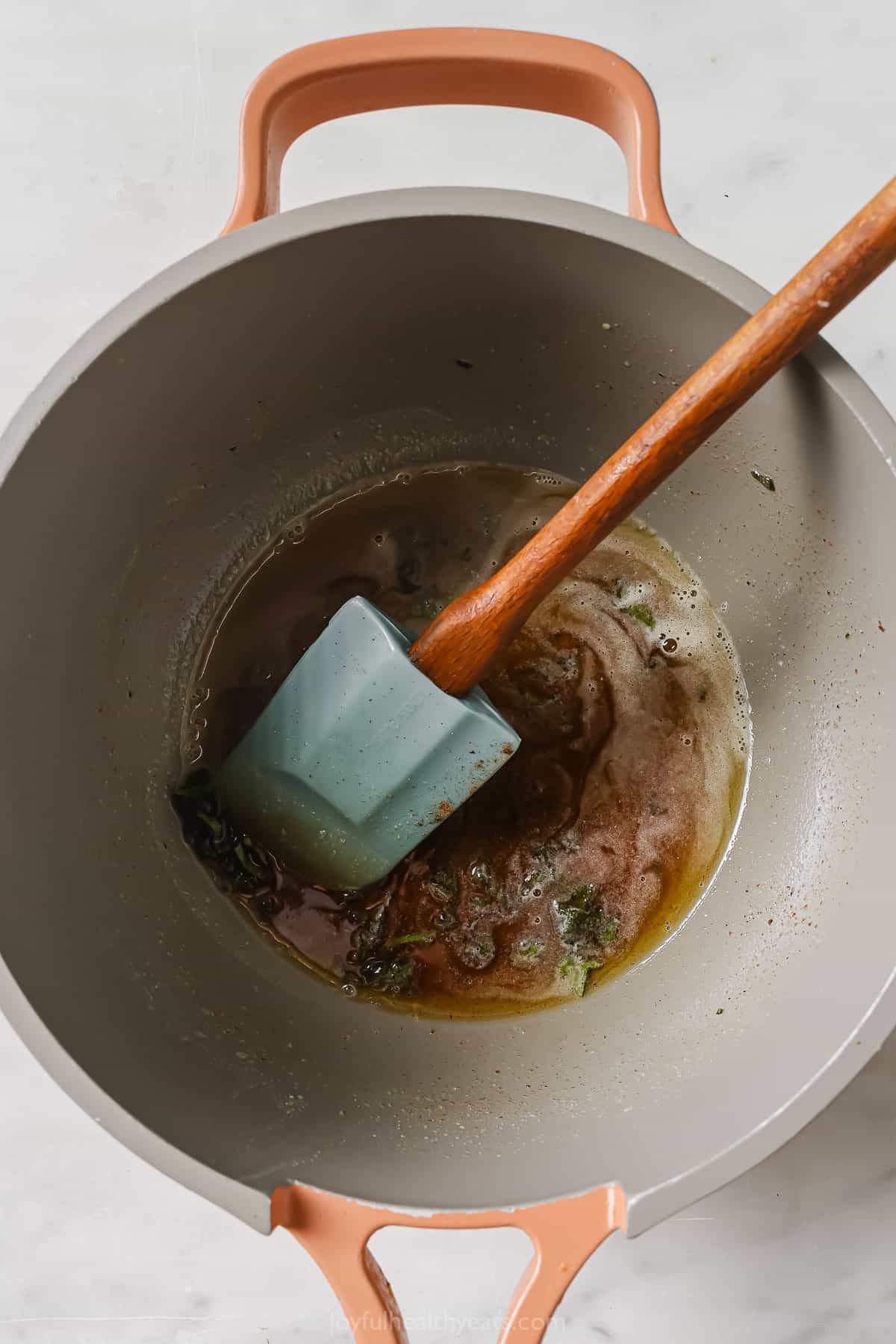 Flavor it. Stir in the honey, sage, and nutmeg. Mix well.
Serve. Serve each fillet with a drizzle of brown butter sauce to taste. I use about 1 tablespoon per piece. Enjoy!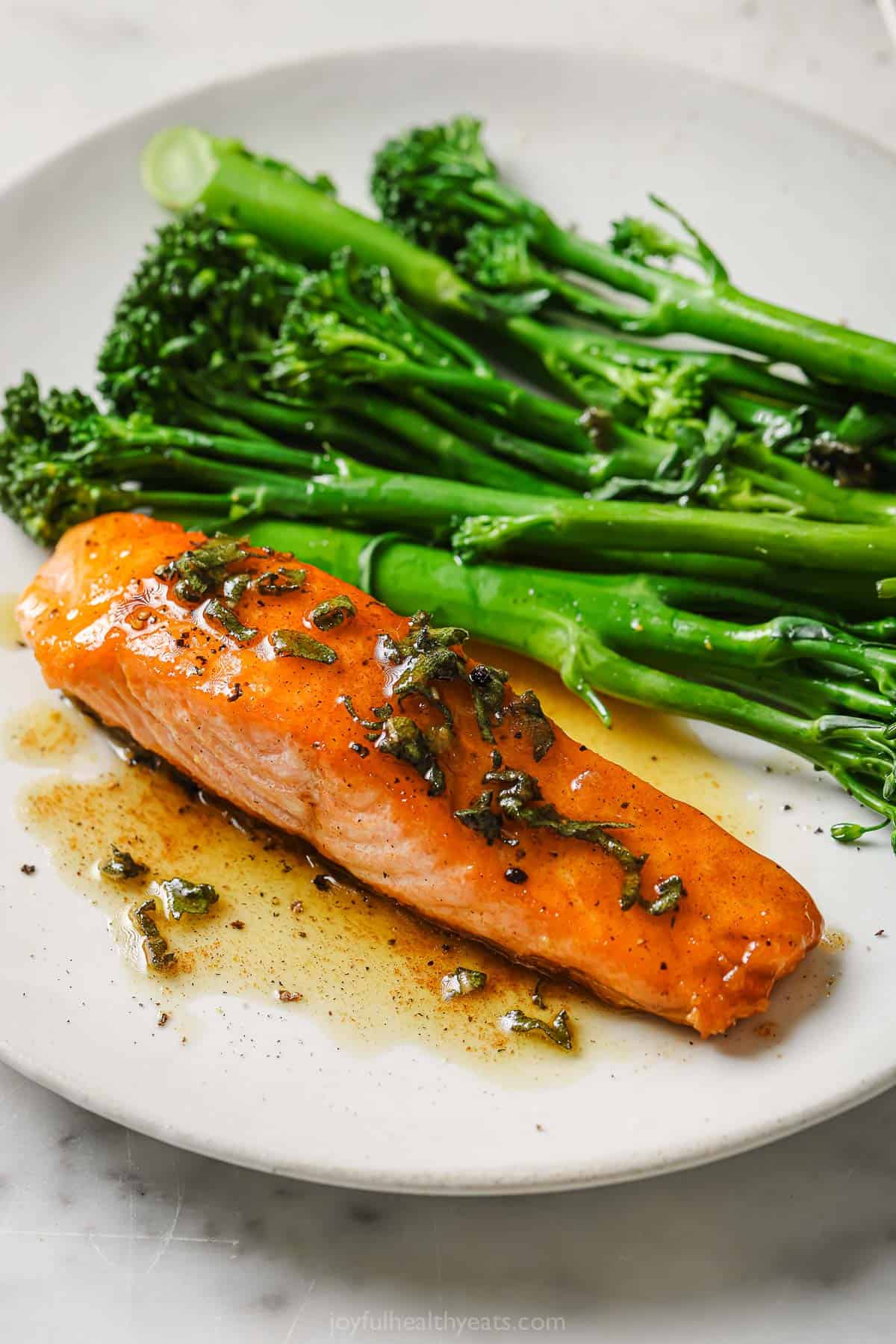 Tips for Success
The thought of a seared salmon disaster will lose all of its power over you if you follow these tips for all of your recipes.
Use high heat. Don't add the salmon to the pan if it hasn't been preheated for at least 2-3 minutes. Cold pans affect the sear and will actually end up drying out the salmon because the cooking time will be longer. Always use a hot pan.
Give the oil a minute. Allow the olive oil to heat up for 1-2 minutes once it hits the pan. Adding the oil will lower the pan's temperature so you need to give it a minute to heat up again before adding the salmon.
Avoid it from sticking. If your salmon usually sticks to the pan, cook the skin side first. This will make flipping super easy and it reduces the chances of it sticking to the pan and breaking before you've had a chance to flip it over.
Check the color. Fresh salmon fillets should look bright orange or even red. The flesh should look glossy and almost buttered-up. If it looks opaque and pale pink (almost as if cooked) then steer clear from it because it has started to decompose.
What to Serve with Seared Salmon
This pan seared salmon is great with lots of veggie-packed appetizers and sides. Try my Avocado Bruschetta as a simple starter. For veggie sides, serve it with my Green Beans, Maple Dijon Glazed Carrots, or Air Fryer Asparagus. If you're looking for a salad, pair it with my Cucumber Tomato Feta Salad.
How to Store and Reheat Extras
Once fully cooled, refrigerate any leftovers in an airtight container for up to 5 days. Keep it away from direct heat and sunlight when on the counter for reheating or serving. To reheat it, pop it into the microwave for up to a minute or until warm. You can also heat it in a pan over medium heat for 6-7 minutes.
More Salmon Recipes to Try
Print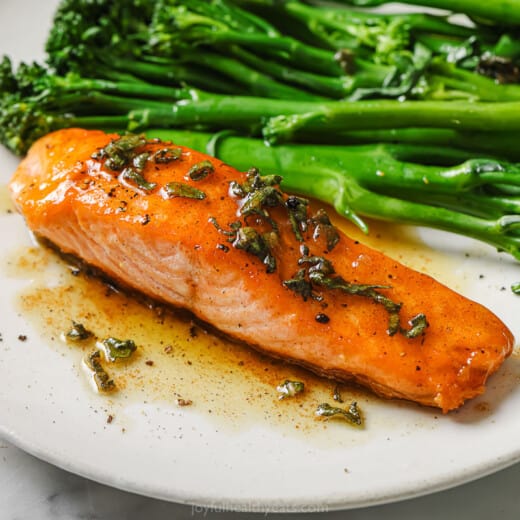 Pan Seared Salmon with Sage Brown Butter Sauce
Author:

Prep Time:

5 minutes

Cook Time:

20 minutes

Total Time:

25 minutes

Yield:

4

1

x

Category:

Seafood

Method:

Stove

Cuisine:

American
---
Description
This quick pan seared salmon recipe with brown butter sage sauce with hints of honey is perfect for weeknights and special occasions.
---
2 tablespoons

olive oil

4

(6 oz) salmon filets, skin on

1 teaspoon

sea salt

1/2 teaspoon

black pepper
Sage Brown Butter Sauce:
6 tablespoons

unsalted butter

1 1/2 teaspoons

raw honey

1 teaspoon

diced fresh sage

1/4 teaspoon

ground nutmeg

1/4 teaspoon

sea salt
Optional: serve with lemon wedge
---
Instructions
Bring a large skillet to medium-high heat.
Pat the salmon dry with a paper towel. Season salmon with salt and pepper.
Add the olive oil to the hot skillet and immediately add the salmon to the pan flesh side down. Saute the salmon for 5-6 minutes until browned.
Gently flip the salmon to saute on the skin side for another 2 minutes. (it may take longer depending on the thickness of your salmon. Remove from pan and let sit to cool.)
In the meantime, bring a small skillet to medium heat.
Add butter and 1/4 teaspoon of sea salt to the pan and melt.
Stir and let the butter simmer for about 5 minutes. Be sure to stir throughout the cooking process so the butter does not burn. It will foam up and reside, keep an eye out for brown specks. You should be able to smell a nuttiness to the butter.
Remove from heat and add the honey, sage, and nutmeg.
Serve salmon with drizzle of sage brown butter sauce. (i used about 1 tablespoon for each salmon filet)
---
---
Nutrition
Serving Size:

1 salmon filet + sauce

Calories:

307

Sugar:

1 g

Sodium:

518 mg

Fat:

23 g

Carbohydrates:

2 g

Fiber:

0 g

Protein:

23 g

Cholesterol:

92 mg
Keywords: pan seared salmon, seared salmon, pan seared salmon recipe, how to pan sear salmon
Filed Under: