An easy recipe for how to cook beets on the stovetop! Full of nutrients & antioxidants, beets are great for smoothies, side dishes, salads & snacking!
Beets. Do you love them or hate them? Have you ever tried them before?
My mom has a thing for vegetables. In fact funny story. When my parents got married my mom asked my dad "what his favorite vegetable was" and he said he didn't know because he didn't eat vegetables!!! She just couldn't believe it so she took it as her personal mission to first, get him to eat vegetables, and second to find to out what his favorite is. Needless to say my mom converted him to a vegetable lover. When I was growing up my mom loved to garden so we would always be outside picking things off the plants or vines to bring in and use for dinner that night – so we in turn had just about any and every vegetable under the sun.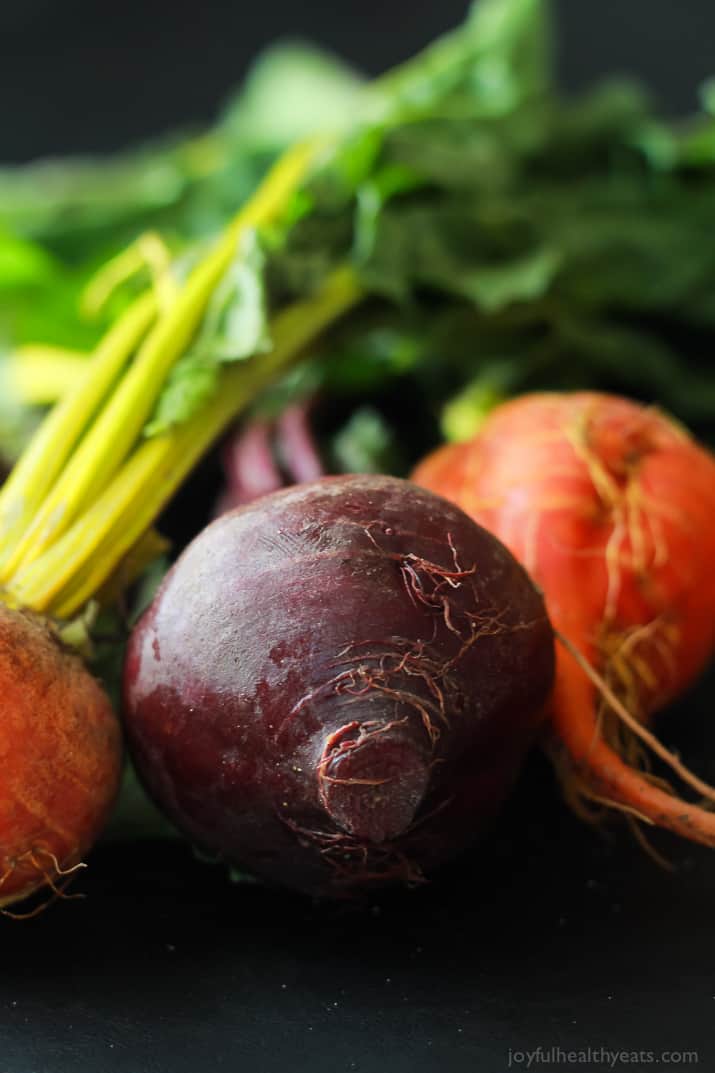 There was always one weekend a year where my mom and dad would dedicate to canning all day. They would can tomatoes, peppers, green beans, and beets. Then they would store all those mason jars in our basement for easy access. My brother and I loved it because we would just go straight for the beets every time!
We big puffy heart beets! They are filled with antioxidants and other good nutrients, are sweet, and absolutely delicious!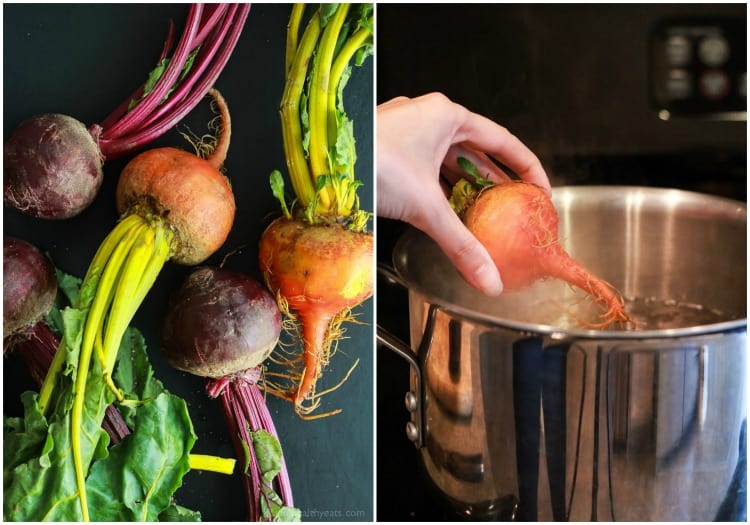 I ate them alot when I was growing up but then stopped around college. They weren't exactly the easiest thing to get in college, if you know what I'm saying. (its ramen town when you're in college) Well, a couple of years ago I went to a Salad bar restaurant in our area and they had BEETS! So of course I got them .. and was brought back to my first love…. mmmmm.
Now Cason adores them too, he could probably eat an entire meal of just beets. The kid cracks me up, "more beets mommy!"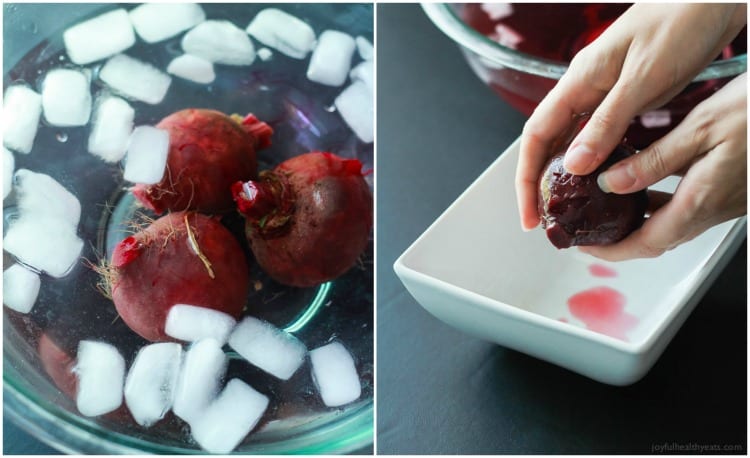 So of course I needed to learn how to make them at home, buying already prepared beets (that are not in a can) can be a little pricey. Which meant it was time to call momma, the ever trusted source in cooking and figure out how to make my own!
You can cook beets two ways, you can boil them or you can roast them. I have done both and prefer to boil them because the skin is SOOOOO much easier to remove. It literally just squeezes off, and believe me, after my share of red hands the ease of skin removal is an important factor when deciding how to cook them. 🙂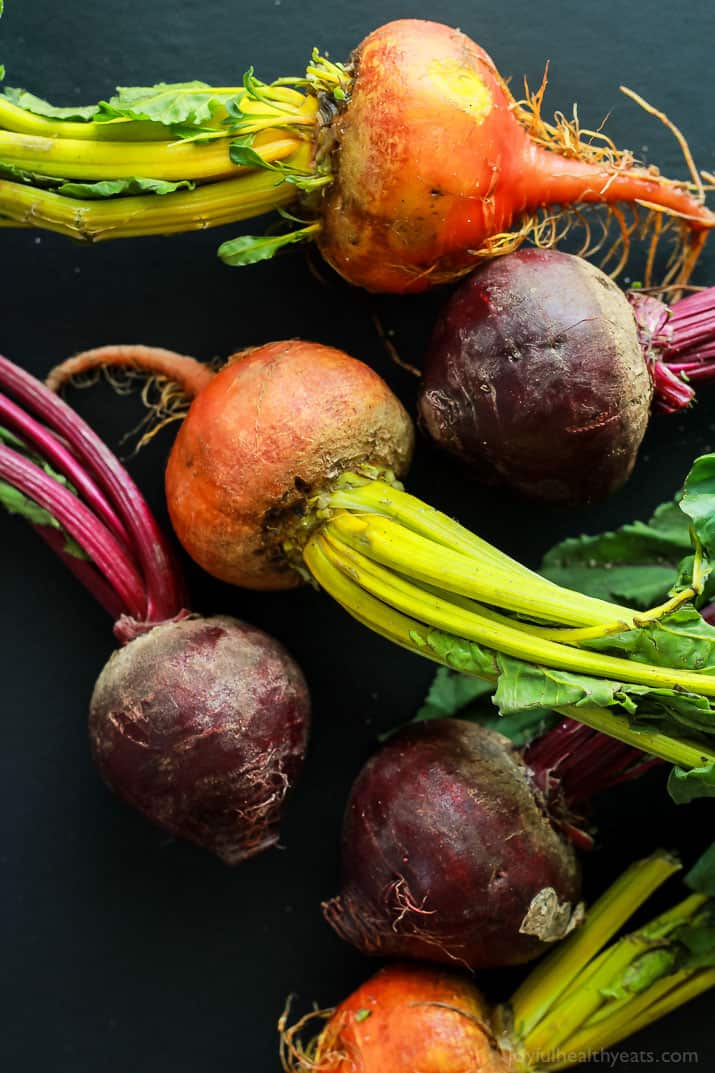 Depending on your beet size, you boil them for 20-30 minutes put them in an ice bath immediately and remove the skin right away. Slice them up and store them in an air tight container for eating later.
I serve them as a side, eat them as a snack, put them in smoothies, or on top of salads.
Happy cooking!
How do you eat your beets?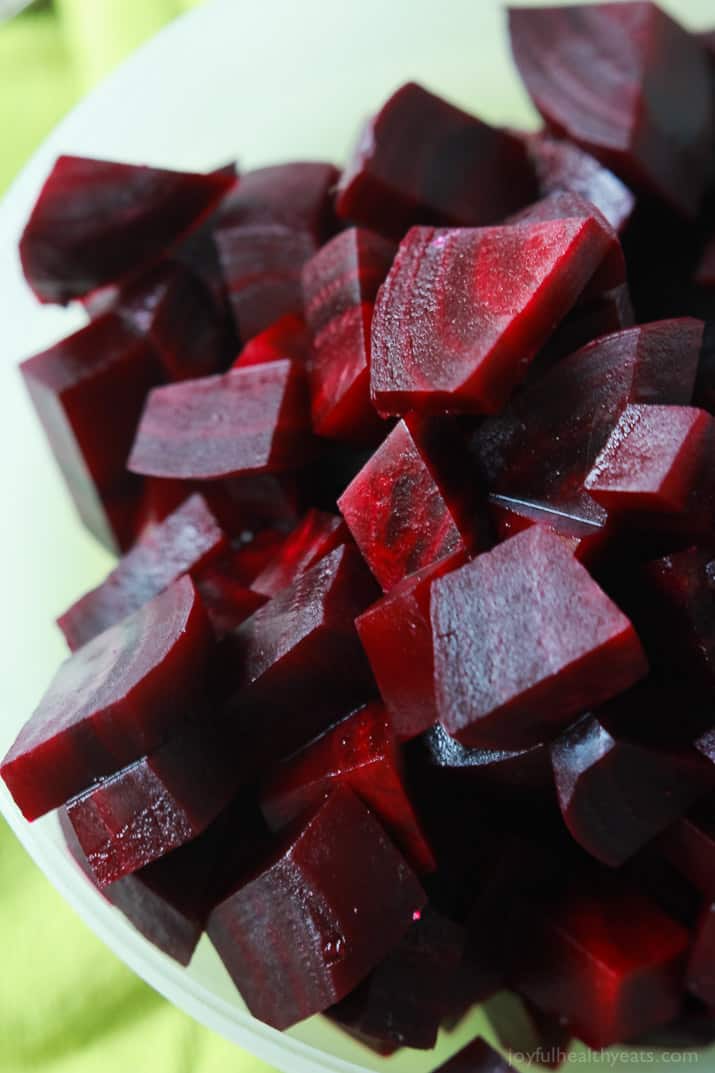 Print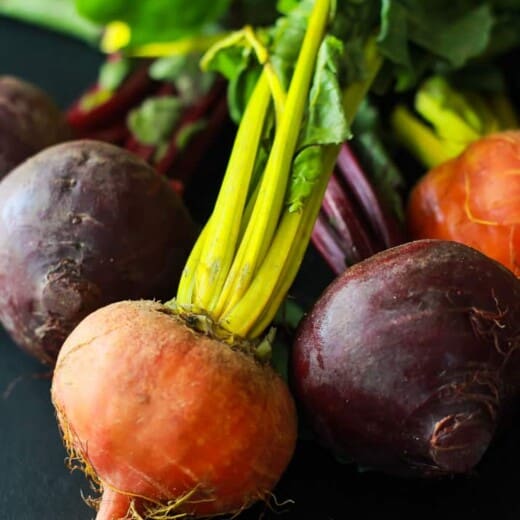 How to Cook Beets
Author:

Prep Time:

5 mins

Cook Time:

30 mins

Total Time:

35 mins

Yield:

4 cups

of diced beets

1

x

Category:

How To

Method:

Stovetop

Cuisine:

American
---
Description
An easy recipe for how to cook beets on the stovetop! Full of nutrients & antioxidants, beets are great for smoothies, side dishes, salads & snacking!
---
6

beets, skin on (I used

3

red and

3

golden)
---
Instructions
Prepare a large bowl with water and ice.
Bring a large pot of water to a boil.
Add beets to pot. (if using red and golden beets, be sure to put them in separate pots or the red will dye the golden beets)
Boil for 20-30 minutes depending on size of beets. (test one of them – you should be able to easily remove the skin if you can't them let it cook longer)
Remove beets from boiling water and place in an ice bath.
Remove skin from beets using your hands, rinse, and slice/dice beets.
Store in an air tight container.
---
Keywords: how to cook beets, beet recipes, how to cook beets on the stovetop, best way to cook beets, how to boil beets, easy beets recipe
Filed Under:
IF YOU MAKE THIS RECIPE, BE SURE TO SNAP A PIC AND HASHTAG IT#JOYFULHEALTHYEATS. I LOVE SEEING WHAT YOU MAKE!

DON'T MISS A RECIPE ->
FACEBOOK | TWITTER | PINTEREST | GOOGLE+ | BLOGLOVIN