Daily Harvest New Plant-Based Whole30® Edit is filled with a combination of 14 nourishing Harvest Bowls, Soups, Harvest Bakes, and Smoothies to make your food journey easy. Sign up for your first Whole30 box and use code JOYFULWHOLE30 for $30 off.
New Daily Harvest Review!
Y'all know I'm addicted to Daily Harvest! I've been using them for 5 years and they make eating healthy easy. In fact, I have an entire freezer out the garage dedicated to Daily Harvest. Everyone in my house knows where to go if they are in need of a quick healthy pick-me-up, and that includes my kids. Truth be told I usually have to box them out for the Strawberry + Peach Smoothie most weeks.
So when Daily Harvest told me they were partnering with Whole30 to come out with a box filled with 14 items solely dedicated to Whole30 and wanted me to try it… I was all in. Bring on all the Daily Harvest food! Especially after the last box that was filled with their new Harvest Bakes, which if you have tried OMG SOOOO good!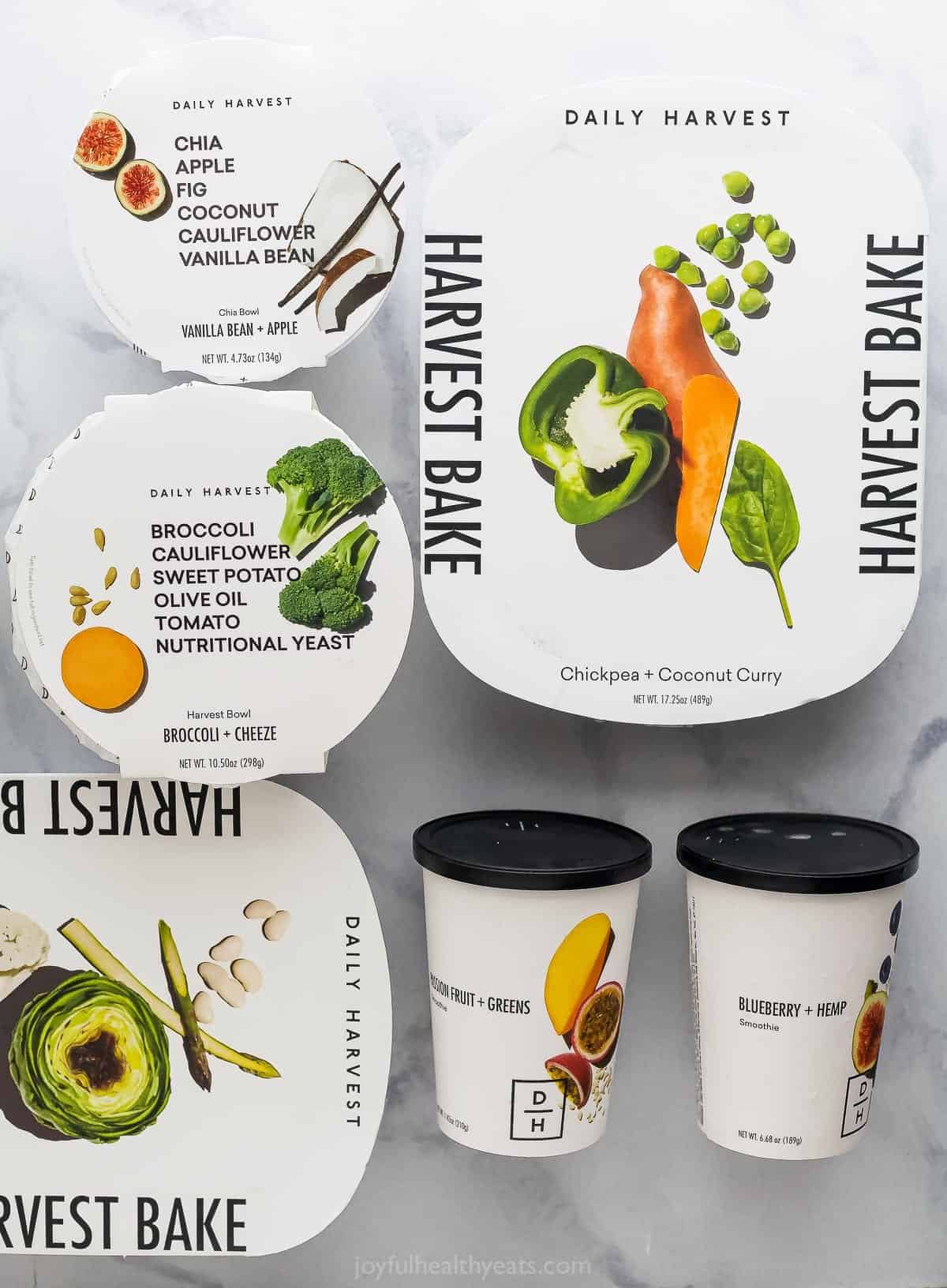 What is Daily Harvest
Daily Harvest, is dedicated to creating chef-crafted nourishing, delicious food built on sustainably sourced fruits + vegetables. The kicker? It's delivered straight to your door. Everything comes frozen so you can enjoy it in minutes. No shopping, chopping, or intense prepping. Ever. All you do is follow the simple instructions and devour!
What is Whole30
Whole30 is a 30 day dietary experiment that involves removing processed foods, inflammatory foods, sugar, alcohol and caffeine to see what your body responds to. It has transformed millions of people's health, habits and relationships with food through eliminating cravings; improving energy, sleep, and digestion; and discovering lasting food freedom. Mike and I actually try to start the year off with Whole30 in January and it's like a reset. It's challenging but you will notice a huge difference!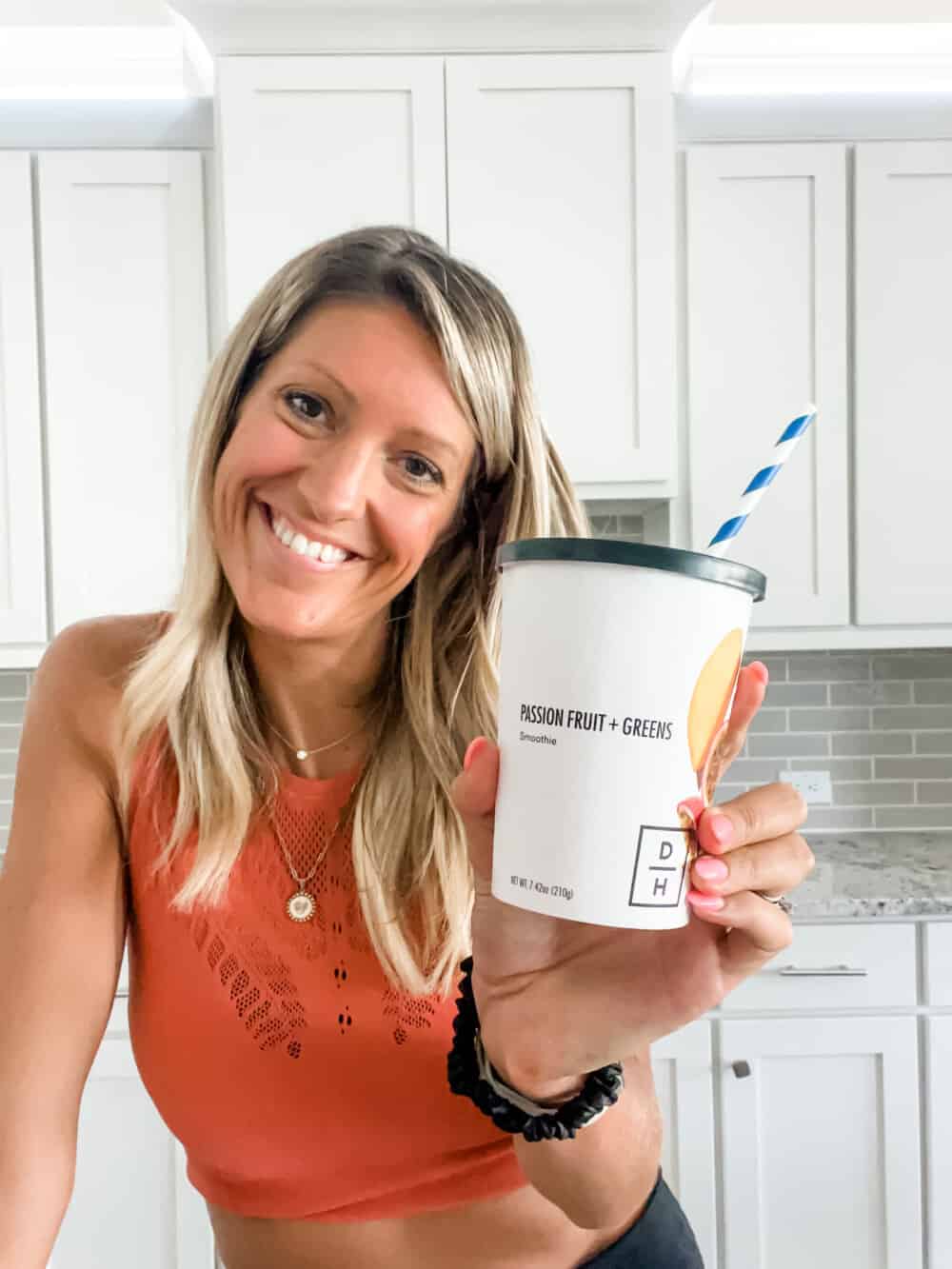 What's in the NEW Whole30 Daily Harvest Box
Ok. So. Let's get to the deets. What's actually in this new Whole30 Daily Harvest Box? Not only does it come stocked with 14 items with Whole 30's stamp of approval for your journey but they also give you a 5 Day Meal Plan. Not knowing what to cook isn't an option. They have you completely covered with food and recipes for breakfast, lunch, dinner. Here are a few of my favorite items in this box. You'll have to order it to try out the rest!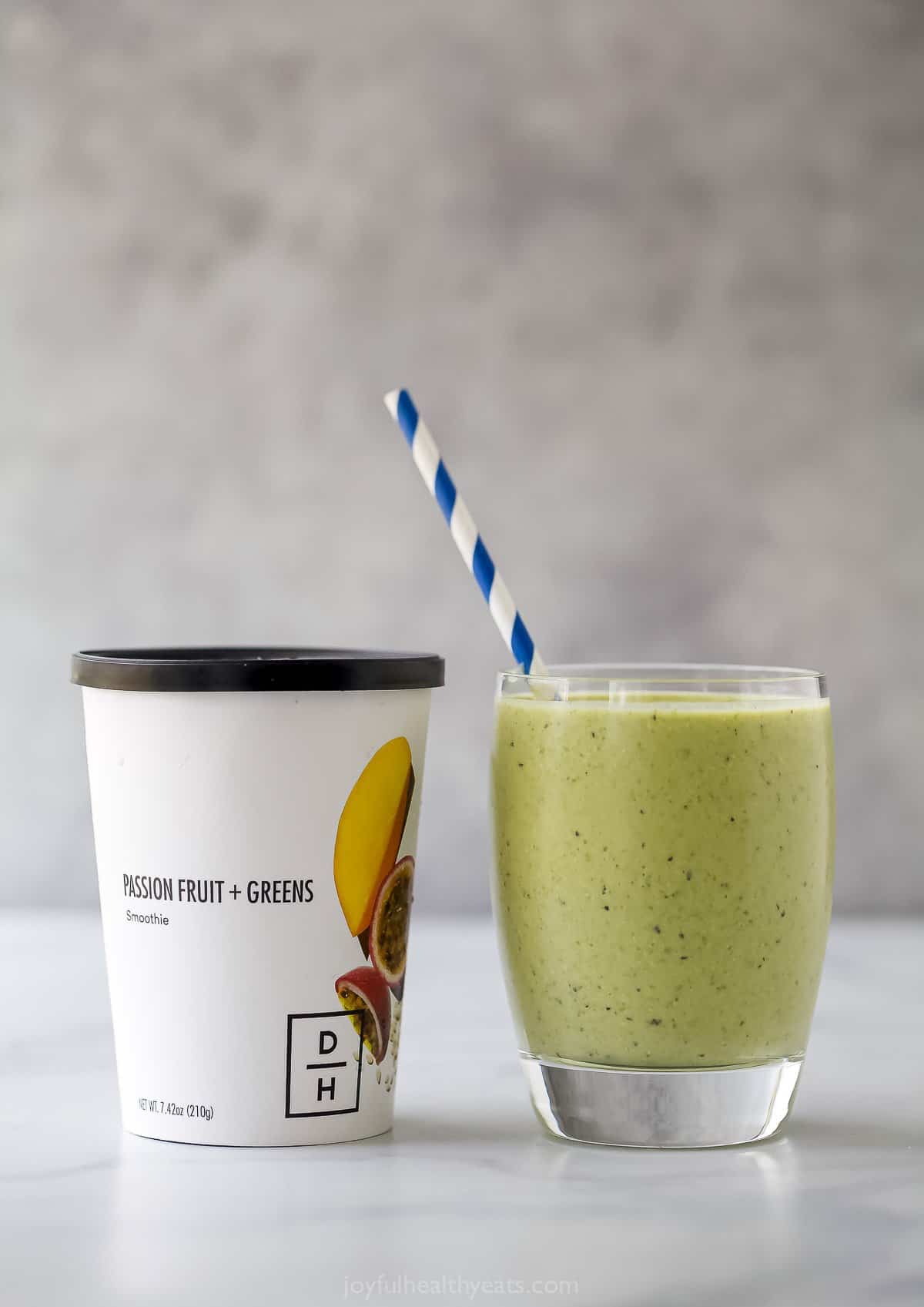 Breakfast
Passionfruit + Greens Smoothie – A smoothie with a tropical Hawaiian flare. Filled with passionfruit, mango, hemp seeds for protein, spinach and creamy tahini all swirled together for one refreshing and filling sip. To make: Fill a cup to the top with your preferred milk or liquid of choice, pour into a blender and blend until smooth. Pour back into your cup and enjoy.
Vanilla Bean + Apple Chia Bowl – Chia Seed Pudding is one of my favorites and Dailly Harvest has given them a facelift in this Chia Bowl with sweet coconut milk and vanilla. Bright apples and sweet figs along with energy-sustaining hemp and pumpkin seeds permeate each "custard-like" bite. To make: Add 1/2 cup of your preferred milk or liquid to the bowl and stir. Cover and soak in the fridge for 6+ hours. When ready to eat, stir and dig in.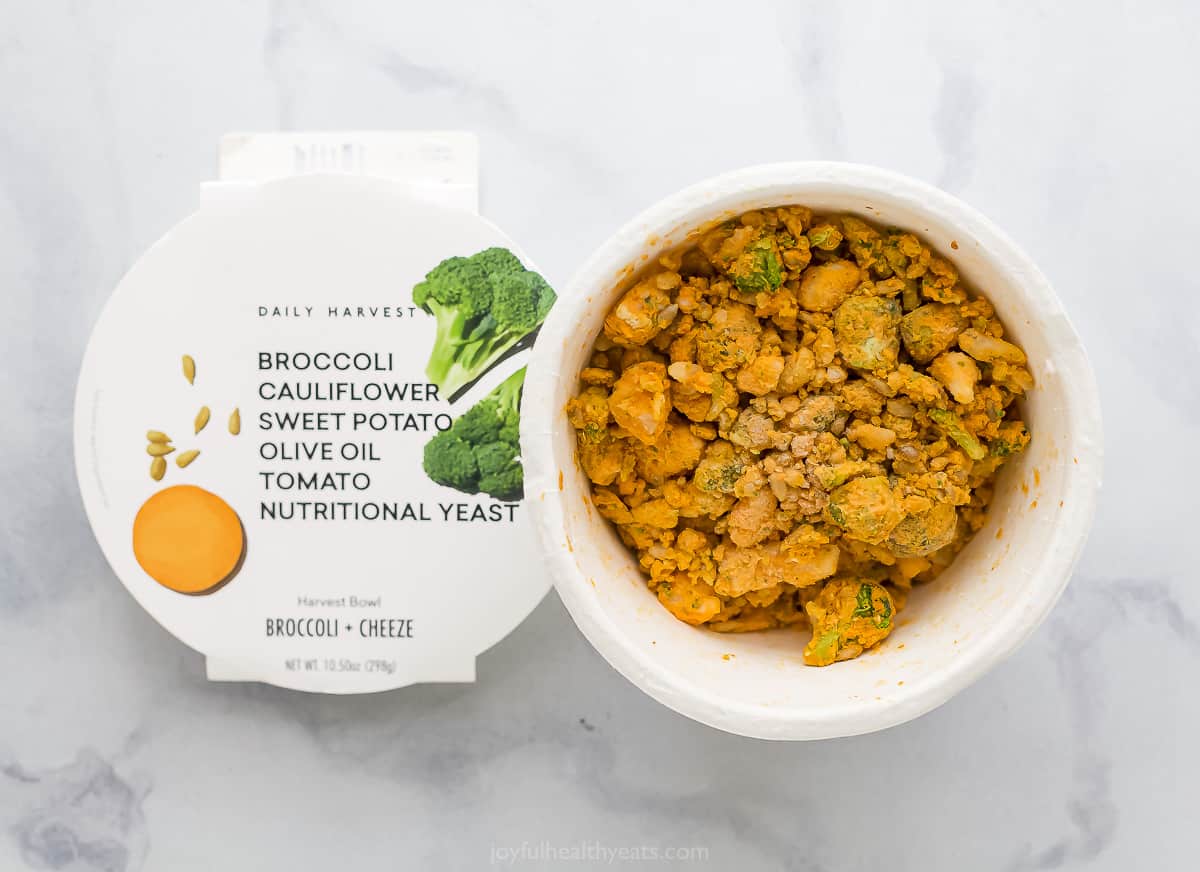 Lunch
Broccoli Rice + Dill Pilaf Harvest Bowl – A light and refreshing bowl filled with Broccoli Rice, coconut cream, a crunchy seed blend for extra protein and a lemon dill sauce leave you feeling like you're dining Al Fresco in California. To make, just remove the seal. You can microwave it straight in the bowl. Add 2 tbsp of water or broth. Heat on high for 3 minutes. Stir. Heat for 1-2 additional minutes.
Broccoli + Cheeze Harvest Bowl – Hands down my favorite bowl of all the Daily Harvest Bowls. Filled with broccoli, cauliflower, red pepper, sweet potato and nutritional yeast that acts as "cheese." This bowl is creamy, cheesy, comforting and so nutritious! To make, just remove the seal. ou can microwave it straight in the bowl. Heat on high for 3 minutes. Stir. Heat for 1-2 additional minutes.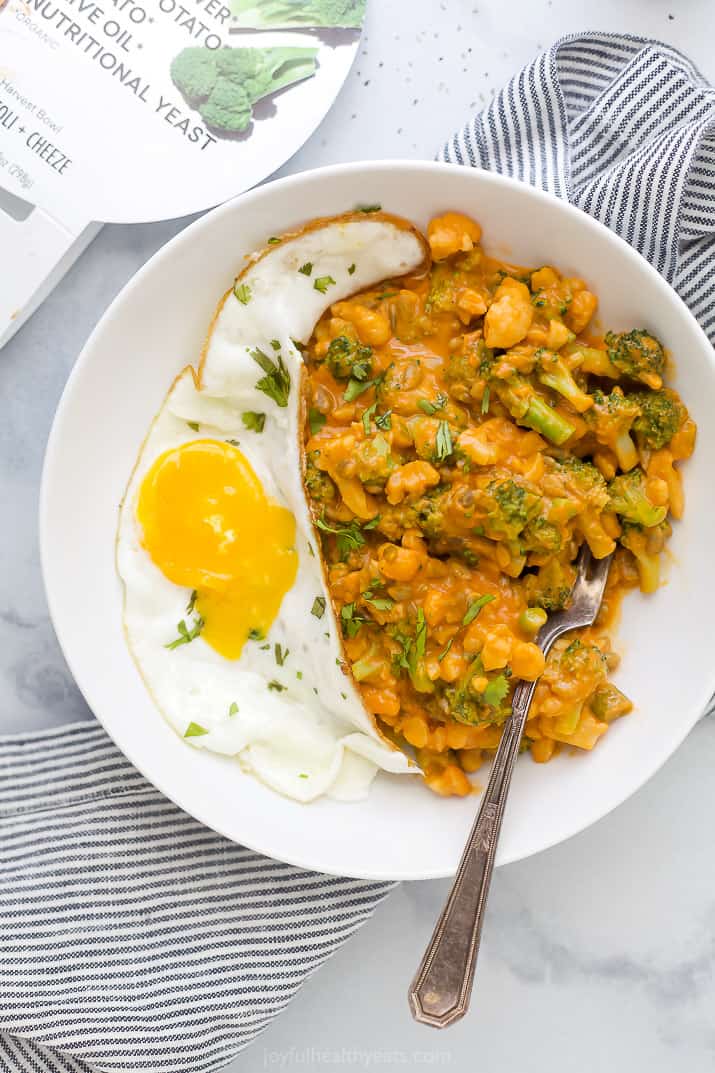 Dinner
Brussels Sprouts + Tahini Harvest Bowl – One of my favs that is actually always in my normal order. This Harvest Bowl is filled with butternut squash, brussels sprouts, leeks, lentils, creamy tahini and a dash of turmeric for one dynamic bite that will keep you full and satisfied. To make, just remove the seal. ou can microwave it straight in the bowl. Add 2 tbsp of water or broth. Heat on high for 3 minutes. Stir. Heat for 1-2 additional minutes.
Chickpea + Coconut Curry Harvest Bake – Curry takes center stage in this silky Harvest Bake featuring a coconut cream and a cashew butter base. Each spoonful is filled with cauliflower, sweet potatoes, bell peppers, chickpeas and spinach that brings a heartiness that will leave you savoring every bite. This curry is like no other. It is also packed with more protein and fiber to keep you satiated longer. To make preheat the oven to 450°F. Remove the seal and place the Bake on the center rack. Bake for 22-27 minutes, stirring halfway through. Remove from oven, let cool for 1-2 minutes and serve.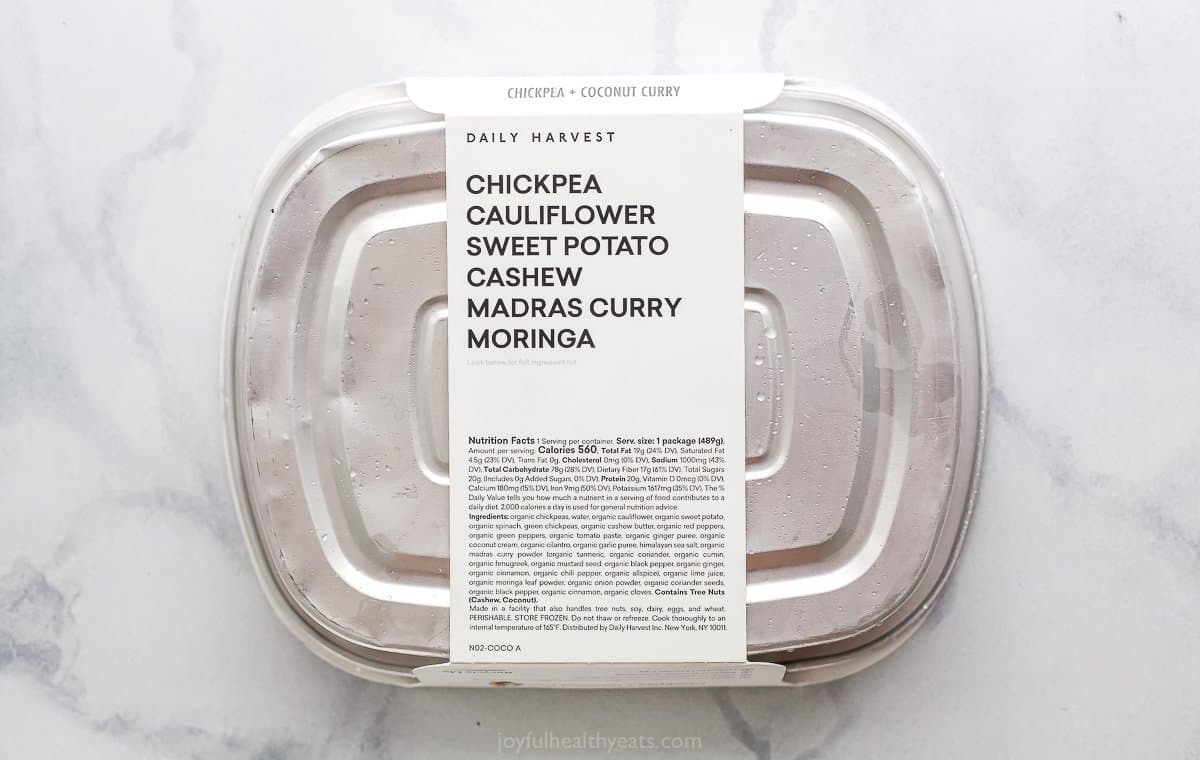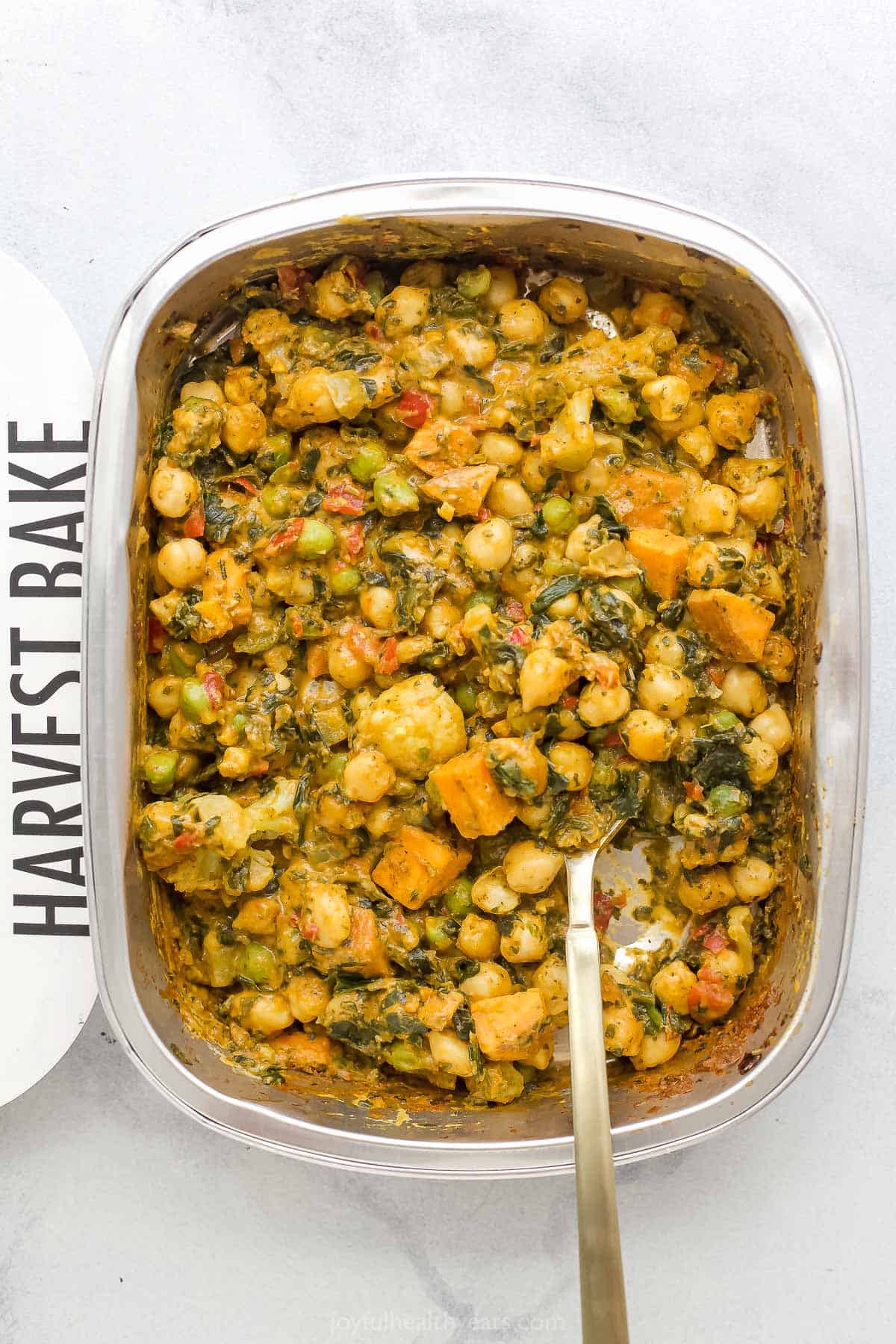 How much is Daily Harvest?
A new customer can choose a flexible plan of your choice of items that come weekly or monthly. Once you have the quantity selected then you can select items from any collection and swap them out as you want before your next delivery. You can also pause your plan at any time. I have chosen to be a member of Daily Harvest for so long because I love the food and the convenience of having a fully stocked freezer of healthy food to eat anytime I want.
You have the ability to fill your box with any items of your choice and pricing is based on your box size. Use my code JOYFULWHOLE30 for $30 off your first box. As always, I'm here for you, so if you have questions let me know!
DON'T MISS A RECIPE ->
FACEBOOK | TWITTER | PINTEREST | BLOGLOVIN | INSTAGRAM