All about Daily Harvest, a nutritious food company that's a game-changer for you and your family when it comes to eating more fruits + veggies. How Daily Harvest can help you meet your health goal and fit your macro or dietary needs! Use code JOYFUL for up to $40 off your first order.
For Daily Harvest Meal Hacks check out this post.
A special thanks to Daily Harvest for sponsoring this post. As always all opinions are 100% mine and honest! Thank you for supporting the brands that support Joyful Healthy Eats.
Goals vs. Patterns
At the start of every year, I always like to reflect on the past year and think of areas I could create change. After all, if we aren't changing or moving we are just staying stagnant. I used to be a "goal" girl. You know. The type that sits down and writes out a goal for each part of her life. Read 10 books. Workout 4 times a week. Eat Better. The list goes on. But here's the thing about goals. If we don't achieve them we feel like we failed, or if we miss a day we mentally slow down.
This year I felt like my word was "rhythms." I want to create rhythms that turn into patterns, that turn into my normal routine. Get it? Patterns of reading 10 minutes a day, having 30 minutes of movement every day, and eating at least 1-2 servings of fruits and vegetables every day! These are attainable, measurable AND guilt-free!
When it comes to eating healthy, one of the ways I help myself and my family is Daily Harvest. If you've been following me for any length of time you know I've been using Daily Harvest basically since they started! You can see why I use them and why I think it's worth it here. Promo code: JOYFUL to get up to $40 off your first box.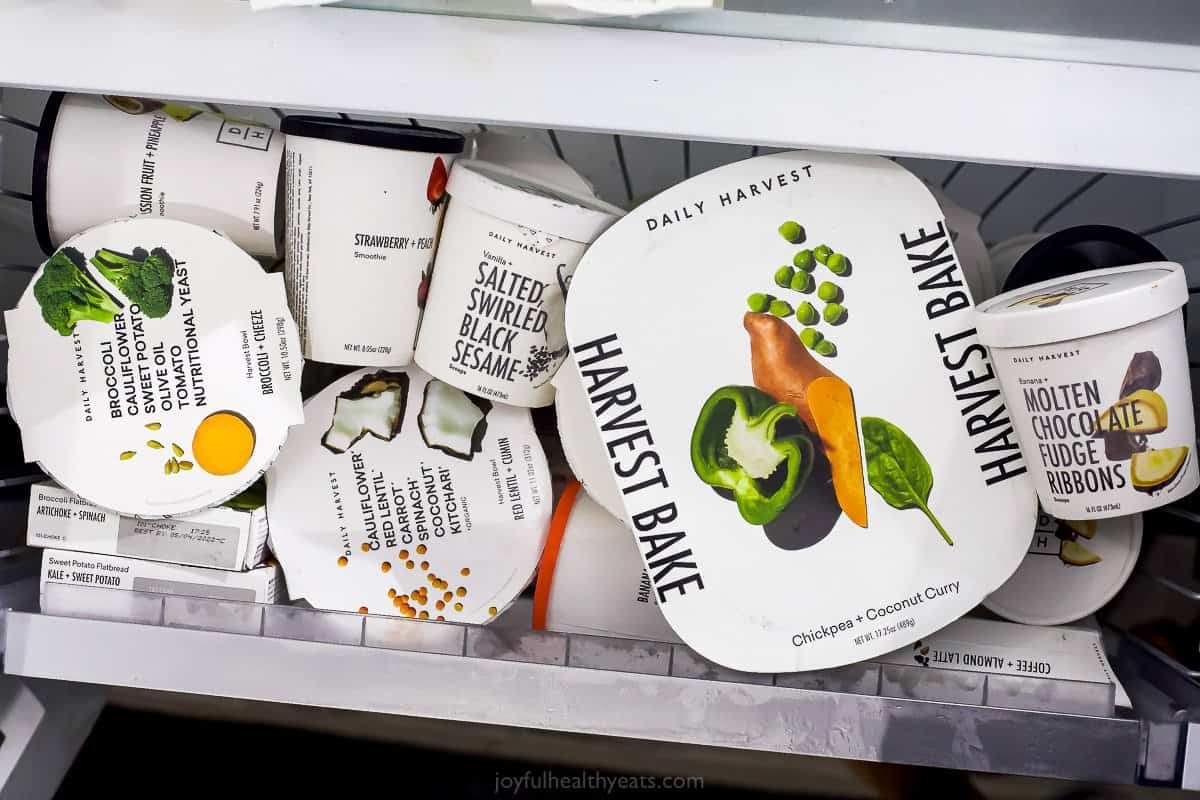 What is Daily Harvest?
Daily Harvest is a healthy food company that provides farm-frozen food in environmentally safe packaging, delivered right to your door that's ready in minutes. Every collection is plant-based, gluten-free, dairy-free and is free of any artificial ingredients.
Fruits + Veggies are one of the most powerful things we have that can aid our overall health. They are loaded with nutrients, vitamins, anti-inflammatory properties and antioxidants our bodies need! I try to make sure that my family has either one or the other for every meal. Daily Harvest makes it easy for that to happen. Their collections make fueling my body with real, whole foods and ingredients a sinch and gives me complete peace of mind.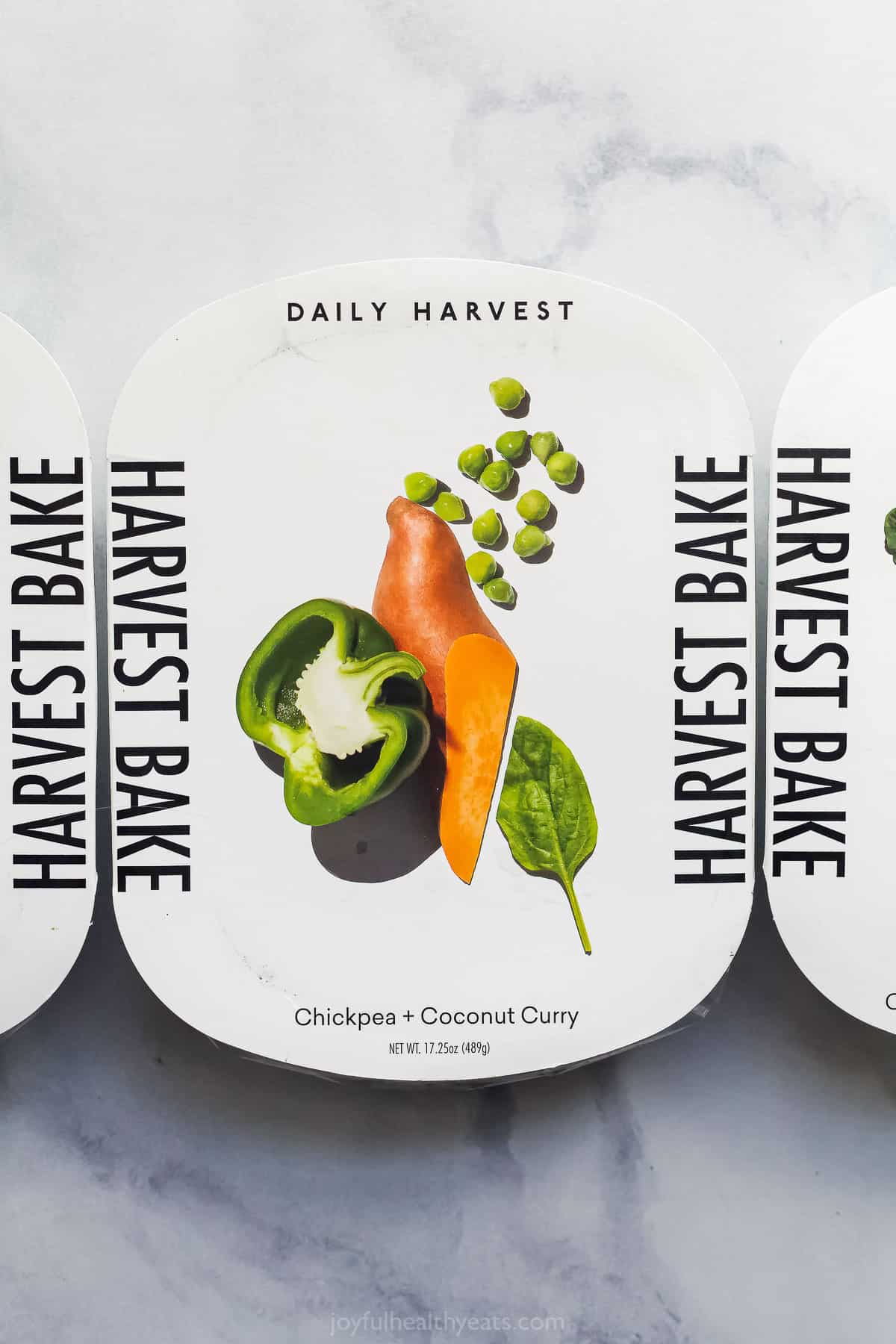 Collections Available
I have been a Daily Harvest member for 5 years now. The reason I love it so much is it takes the thinking out of eating healthy. Instead of filling your freezer (and your body) with food that has artificial ingredients and preservatives, I have it stocked with real, whole foods built on fruits + veggies. There have been multiple times in life when my fridge is empty and it's lunchtime, so I just go to the freezer grab a Harvest Bowl and I'm good to go. Blend up a smoothie and I'm off to work out. It's so easy you don't even have to think about it. Here are the collections that they offer:
Smoothies: Over 25+ smoothie flavors to choose from and super easy to make. Just fill your cup up with a liquid of your choice, pour into a blender, blend until smooth then pour back into your cup for a smoothie on the go. You can't get easier than that! Some of my favorite flavors are the Strawberry + Peach, Banana + Greens or the Chocolate + Blueberry Smoothies.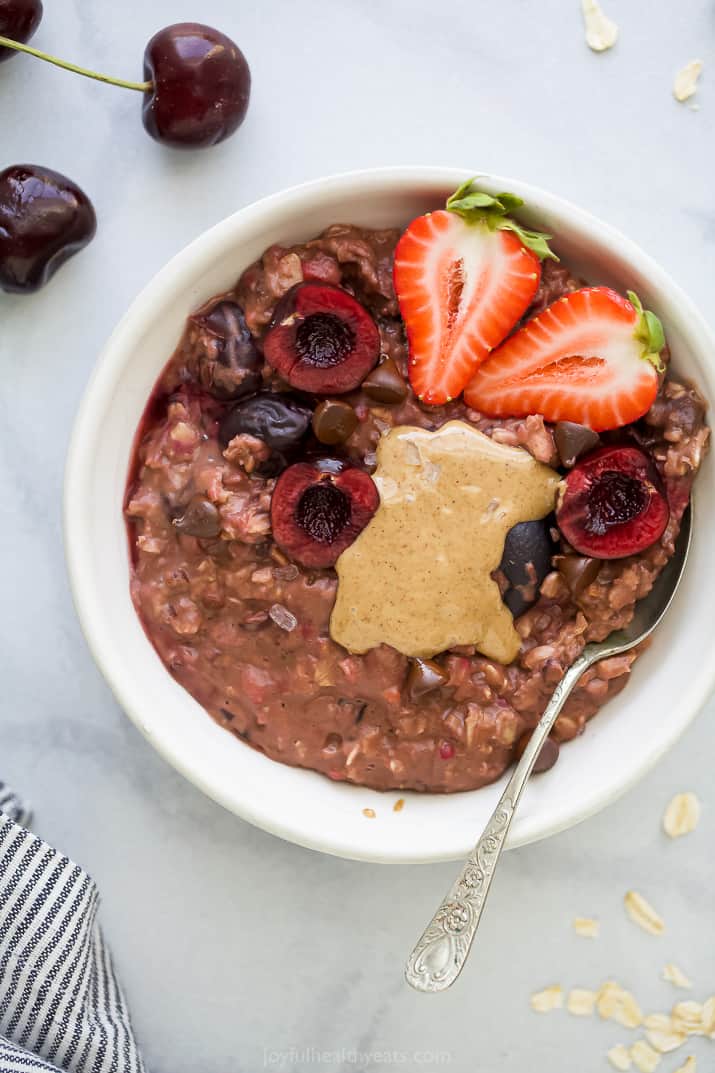 Oat Bowls: If you're an oatmeal lover, you're going to swoon over these bowls. Whole fruits + vegetables, multi-tasking superfoods, and zero fake ingredients make for a one-step breakfast with minimal effort. Just add 1/2 cup of your preferred milk (or water) and contents of the package to a pot and cook on medium-low for 2-3 minutes. Stir and serve. I love the Apple + Cinnamon, Cinnamon + Banana or the Cherry + Dark Chocolate Oat Bowls.
Bites: Think energy bites but better for you! A combo of powerful superfoods and a touch of sweetness create the easiest thing you can eat – great for a quick pick-me-up or sweet treat at night. No prep for these babies, just grab and go. I highly recommend the Espresso Bean + Tahini or the Coconut + Lemon Bites.
Harvest Bowls: Hands down the most used collections in my house, even my kids and husband devour these! To make, just add 2 tablespoons of water or broth and microwave on HIGH for 4 to 5 minutes stirring halfway. Some of my go-to's are the Broccoli + Cheeze, Beet + Wild Rice, Lentil + Tomato Bolognese or Brussels Sprouts + Lime Pad Thai.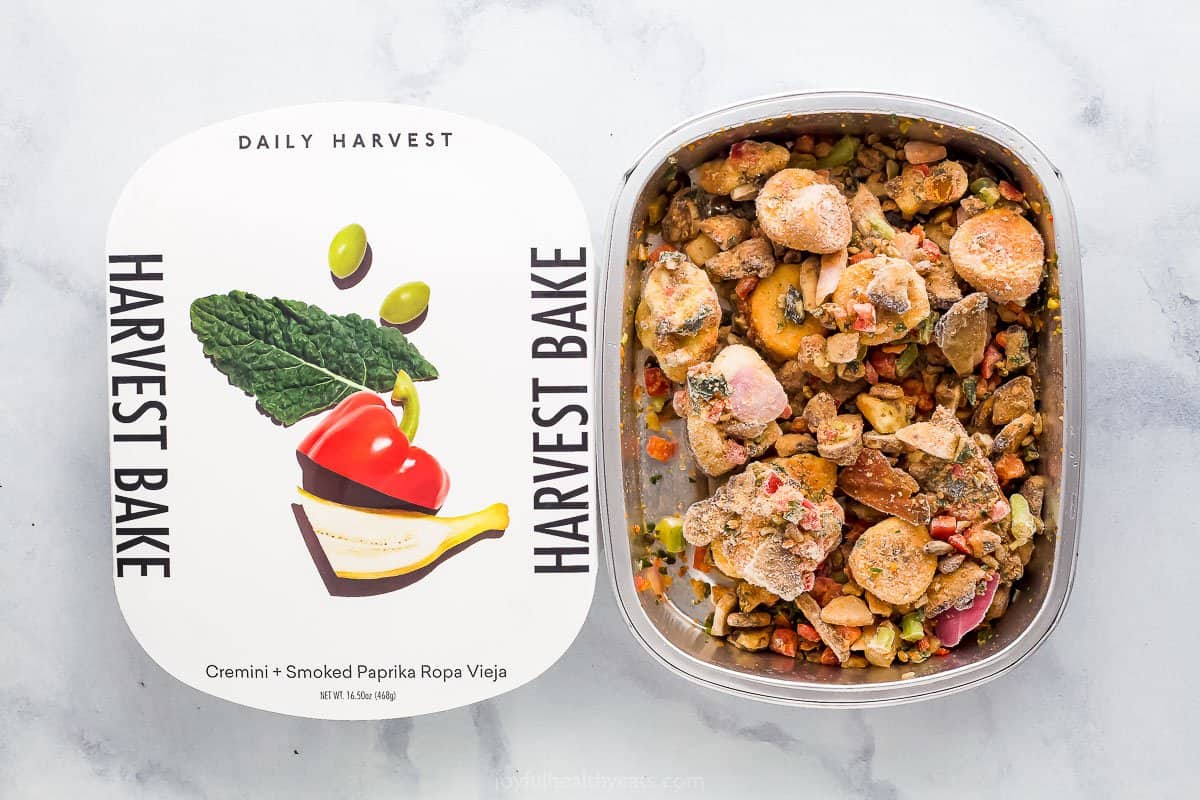 I could not be more excited to announce this! Most of the Daily Harvest Collections are 1-2 servings per package. Until now! I have secretly been waiting in the shadows for Daily Harvest to come out with this one!!!
Say hello to the new collection –> Harvest Bakes. Ready to bake and packed full of rich vegetables, simmering with gourmet-level flavor. These differ from the Harvest Bowls because they cater to the lunch or dinner category with larger portion size (servings are big enough to share, save for later, or keep all to yourself), and even more protein and fiber! If you're like me and constantly jumping from one event or drop off to the next then sometimes cooking dinner just isn't in the cards. But that doesn't mean you have to sacrifice healthy & satisfying meals. That's where these Harvest Bakes come in! These plant-based, ready-to-bake dishes are done faster than delivery will arrive. Just toss Harvest Bakes in the oven to get all of the complex textures, flavors, protein and fiber of a home-cooked dish without the chopping, slicing and marinating. Meet your one-and-done solution for food you feel good about eating or serving, without the hours of prep. Can I get an amen!!!!
Choose from: Squash + Wild Rice Gratin, Chickpea + Coconut Curry, Gigante + Artichoke Olio or Cremini + Smoked Paprika Ropa Viejo.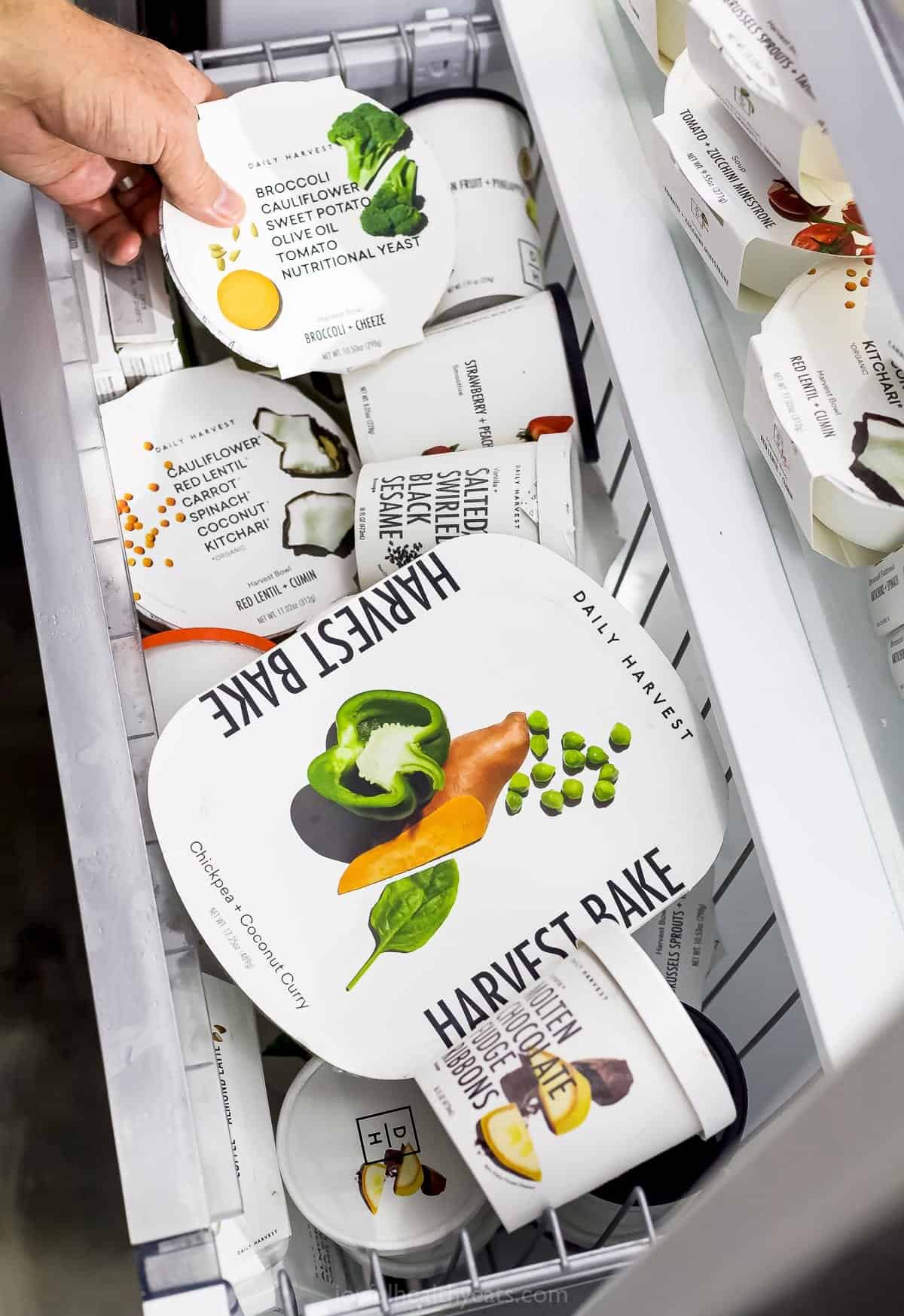 How much is Daily Harvest?
A new customer can choose a flexible plan of your choice of items that come weekly or monthly. Once you have the quantity selected then you can select items from any collection and swap them out as you want before your next delivery. You can also pause your plan at any time. I have chosen to be a member of Daily Harvest for so long because I love the food and the convenience of having a fully stocked freezer of healthy food to eat anytime I want.
You have the ability to fill your box with any items of your choice and pricing is based on your box size. Use my code JOYFUL for up to $40 off your order. As always, I'm here for you, so if you have questions let me know!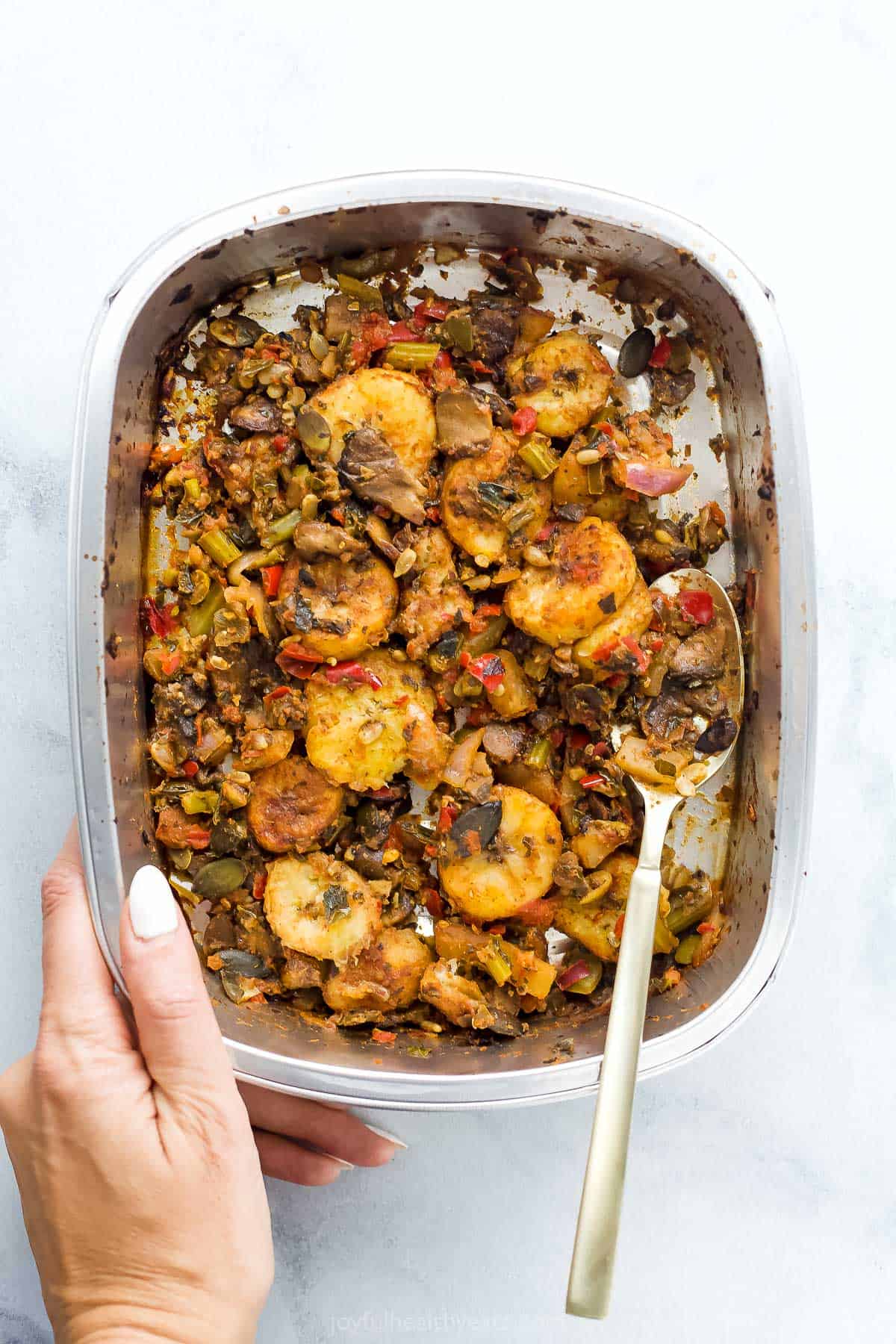 DON'T MISS A RECIPE