An Honest Daily Harvest Review – Is it good? It is worth it? What are the benefits? Daily Harvest is a meal subscription company that delivers delicious fresh organic and nourishing food straight to your door!
Looking for a more recent Daily Harvest review? Here is my 2021 review!
*** A special thanks to Daily Harvest for sponsoring this post. As always all opinions are 100% mine and I stand by them.**
My Honest Daily Harvest Review
Well, if you follow me on Instagram, you know that I have been using Daily Harvest for at least 4 years now. I wanted to give you an honest daily harvest review because I've had quite a few people ask me questions about it. (get up to $40 off your first box use CODE: JOYFUL)
I absolutely love their food and have primarily used their Smoothies. It was super convenient when I started having kids. All of the ingredients are fresh fruits or vegetables that are "real" ingredients.
Recently Daily Harvest, came out with some pretty cool items – soup, flatbreads, harvest bowls, oat bowls, scoops (aka ice cream), energy bites, and lattes. And because we've been at home more often and have been cooking … "all the livelong day".. these new items have allowed me to hit the "easy button" with peace of mind when I'm in a hurry or don't feel like cooking.
So, let's dive in, answer all those questions and give you that daily harvest review you're all wanting. Is it good? Is it worth it? How much is it? How does it work?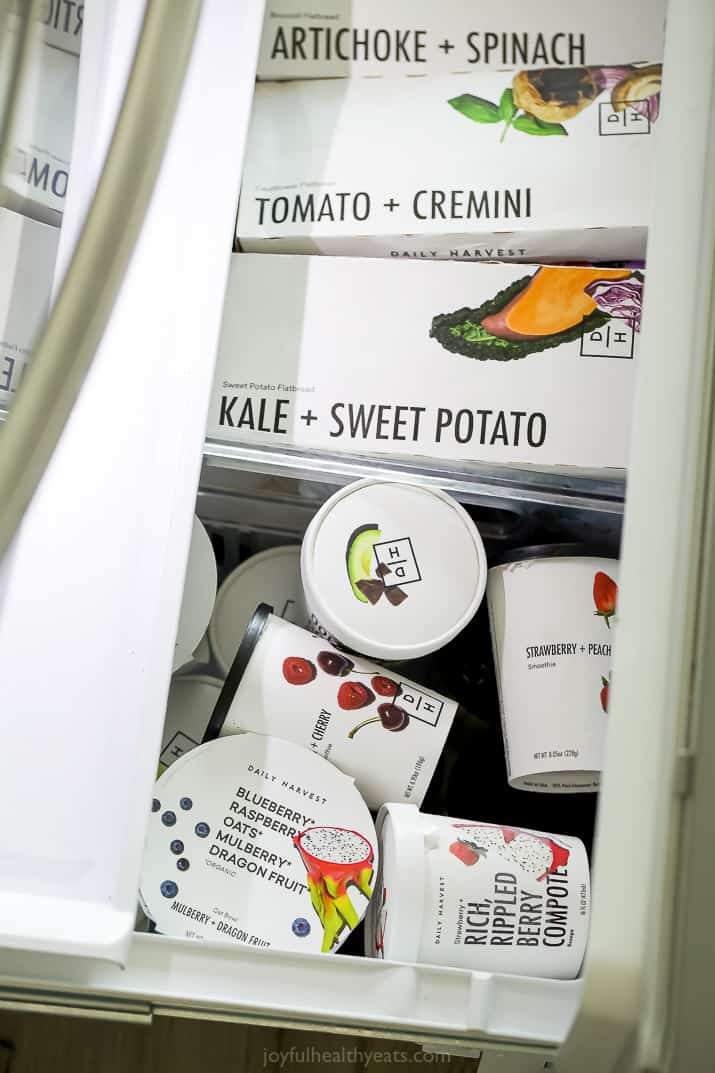 What is Daily Harvest?
Daily Harvest is a meal delivery service that sends thoughtfully sourced, chef-crafted foods to your door, all built on fruits and vegetables and ready to enjoy in minutes.
They believe that living good starts with good food. Let's be real for a second. The speed at which we live today — both online and off — forces us to substitute good food for convenient foods lacking in real nutrition. Without nurturing or nourishing ourselves, we simply cannot be our best. That's why they created Daily Harvest. It's food that takes care of you, so you can be at your best, always.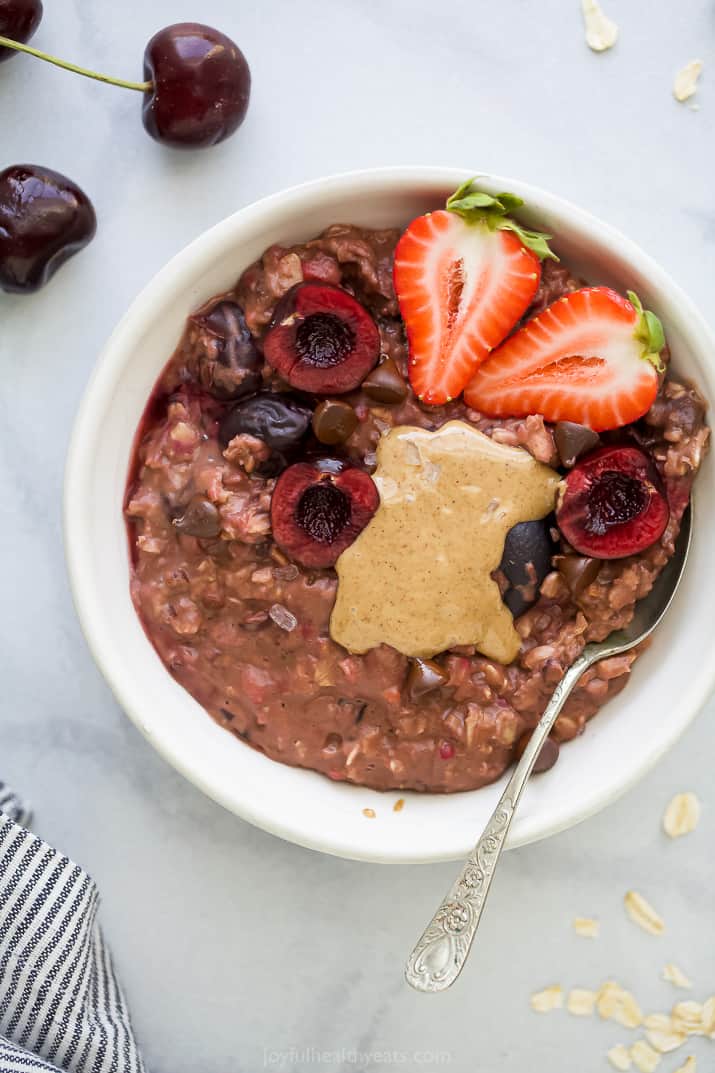 Why I Love Daily Harvest
For me, it took away the element of worry. I cook and make food for a living, but sometimes I just want to pick something up and not have to worry about "preparing" breakfast, lunch or dinner. I have enough demands on my day and time already. Daily Harvest helped minimize those demands by allowing me to pick something out of the freezer and have a healthy, fresh, nutritious meal in minutes. So why is Daily Harvest great?
Convenient — Delivered to your doorstep
Customizable — Make your box your own
Fast and Easy — Ready in one step and less than five minutes
Ingredients You Can See — Listed on the cup and visible in the cup
Clean and Plant-Based — Top-quality fruits and veggies
Freezer, Not Fridge — Ingredients pulled at their peak and frozen for no risk of spoilage
Dietary Flexibility — Gluten-free, keto, paleo… they've got it!
Unique Recipes — Combinations that even the pickiest eaters will love (and you likely haven't seen before!)
Variety — A recipe for every time of day

Do They Use Organic Ingredients?
Yes! 95% percent of the ingredients they use are organic.
For specific details on what's organic and what's conventionally grown, check out the ingredients list on each recipe detail page or the back of your container. They will always use organic for all ingredients that appear on the Environmental Working Group's "dirty dozen" list (the most pesticide-intensive fruits and vegetables): strawberries, spinach, nectarines, apples, grapes, peaches, cherries, pears, tomato, celery, potatoes, and bell pepper.
In order to support a more sustainable food ecosystem, they also work with transitional organic farms, which are in the process of gaining a USDA Organic certification. Daily Harvest invests in their farmers and help them transition to organic by making the 3-year, cost and labor-intensive process a bit easier, so they can take care of food, farming practices and increase accessibility to organic for all. Basically they're an awesome company who does what they say they're going to do!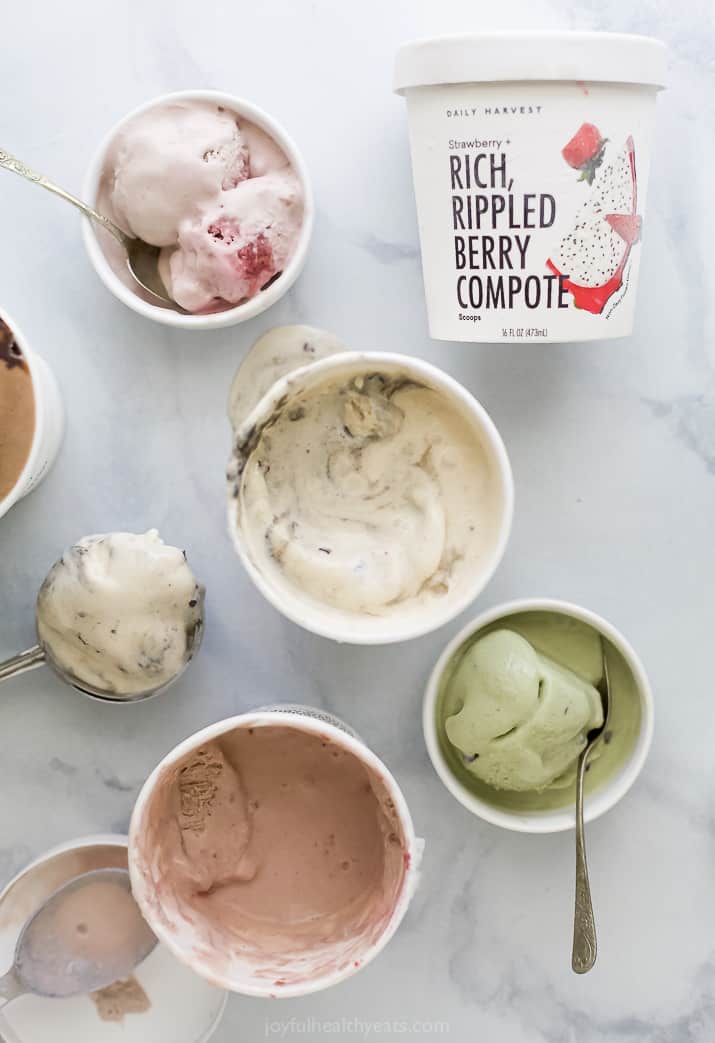 How Does the Subscription Work?
Daily Harvest offers flexible deliveries and a wide variety of options so that you can build a plan that is customized for you. Their food is built on fruits and vegetables, ready to enjoy in minutes, and satisfies all types of taste profiles and dietary needs to provide a nourishing, convenient, and delicious experience for everyone. So if you want to add protein powder to your smoothie, go for it. Or cheese to your pizza, great. A drizzle of almond butter on your oat bowl, awesome. What you want!
As a new customer, you'll choose a plan of how many items you want to be delivered (9, 14, or 24) and then how often you want them delivered (weekly or monthly). Then, choose from over 80 uniquely nourishing, chef-crafted options for any time of day. After your first delivery, you have even more control of your account with the opportunity to add additional items, change box sizes, swap out selections, skip a week, and manage deliveries.
Everything they deliver is plant-based, nutritious, and has minimal ingredients. Daily Harvest boxes arrive on dry ice so you can just pop the convenient cups in your freezer + use them as needed.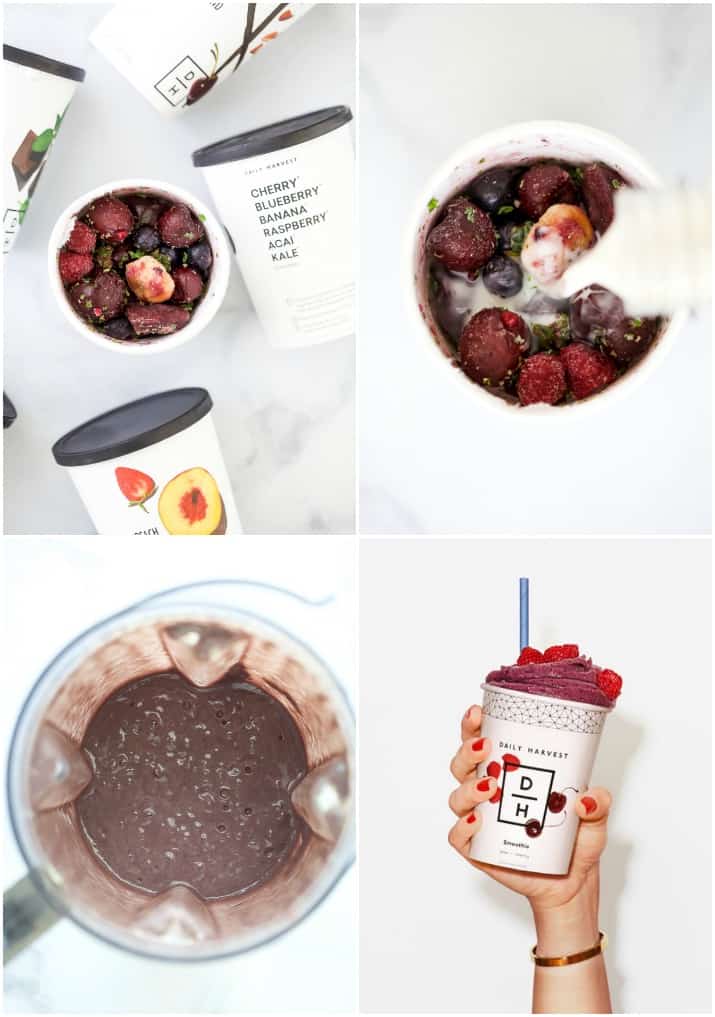 These Smoothies Are My Morning Go To!
Smoothies are a great entry point and one of their most-used items. I make a Daily Harvest Smoothie every morning! I love the ease, the flavor is killer and the nutrients give me the energy I need to attack the day! All of their smoothies are meticulously sourced and crafted. My favorites are the Cherry + Acai, Strawberry + Peach, Banana + Greens and Chocolate + Blueberry.
How to make a smoothie from Daily Harvest:
Fill cup to top with your preferred liquid (any liquid works, but we'd go with an option like almond or oat milk).
Pour into a blender and blend.
Pour back into your cup and enjoy. Drink as is or turn it into a smoothie bowl and top with granola, a nut butter drizzle or more fresh fruit.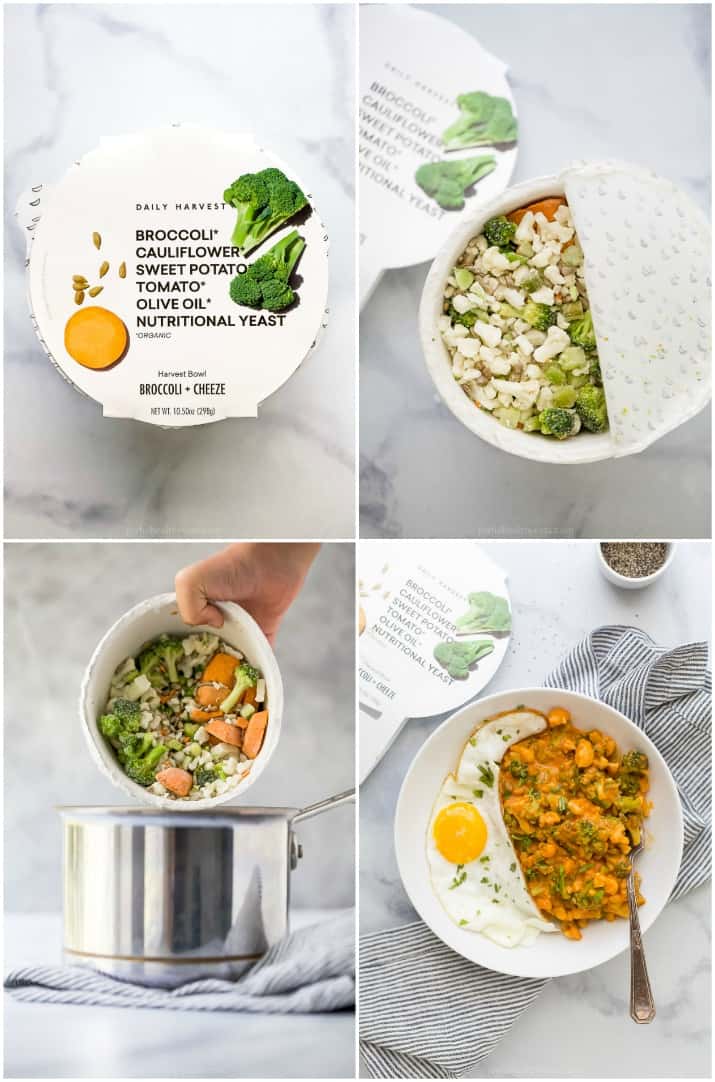 Harvest Bowls
You'll be joining the "scrape-your-plate-clean" club after trying these super-nourishing, bowls. Every harvest bowl I've tried has been flavorful, comforting and nutritious. It's honestly becoming my go-to quick lunch option on work days. My favorite Harvest Bowls are the Broccoli + Cheese and the Brussels Sprouts + Tahini.
Here's how to make one of the bowls:
On the Stove: Pour into a pan and cook over medium-high heat for 4-5 minutes. Add 1-2 tbsp of water or broth if needed.
In the Microwave: Keep in this bowl—it's microwave-safe. Heat for 4-5 minutes, stirring halfway in between.
Serve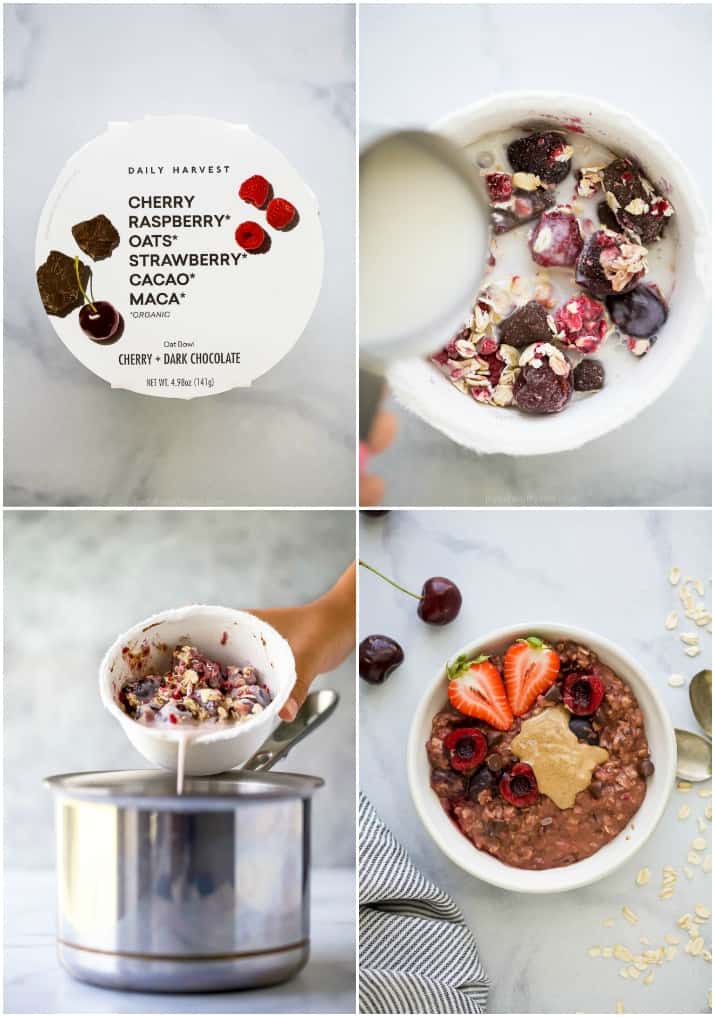 Oat Bowls
Whole fruits + vegetables, multi-tasking superfoods, and zero fake ingredients make for a one-step breakfast with minimal effort. Each Oat Bowl has a base of gluten free oats and then layered with flavorful ingredients to curate custom bowls. I loved the Cherry + Dark Chocolate and the Mulberry + Dragonfruit.
Here's how to make the oat bowl:
For Warm Oatmeal: Add ½ cup of your preferred milk to this bowl and stir.

Stovetop: Pour into a pot and cook over medium-high heat for 2 minutes.
Microwave: Keep in this bowl—it's microwave-safe. Heat for 2 minutes, stirring halfway in between. Stir and dig in.

For Overnight Oats: Add ½ cup of your preferred milk to this bowl and stir. Cover and soak in the fridge overnight (6+ hours). Stir and dig in.
*** I like to top mine with fresh fruit and a drizzle of almond butter.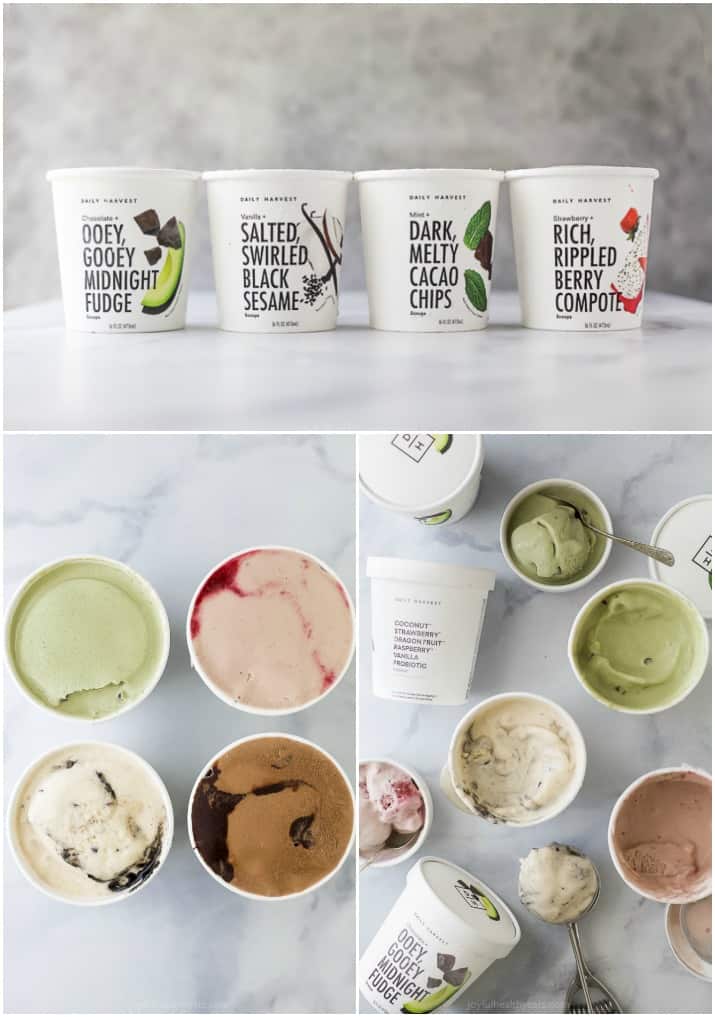 Scoops
Whether your dairy-free or not, the scoops are a MUST! This deliciously creamy, decadently swirled ice cream is the treat you've always dreamed of. Plus it's made from 100% whole, nourishing ingredients for a guilt-free treat! My favorites are the Chocolate + Ooey Gooey Midnight Fudge (because I'm a chocolate addict), Strawberry + Rich, Rippled Berry Compote, Vanilla + Salted, Swirled Black Sesame and the Mint + Dark, Melty Cacao Chips. Oh wait. That's all of them. I told you they were good!
Let sit for 10 minutes before digging in for perfectly creamy Scoops. Enjoy.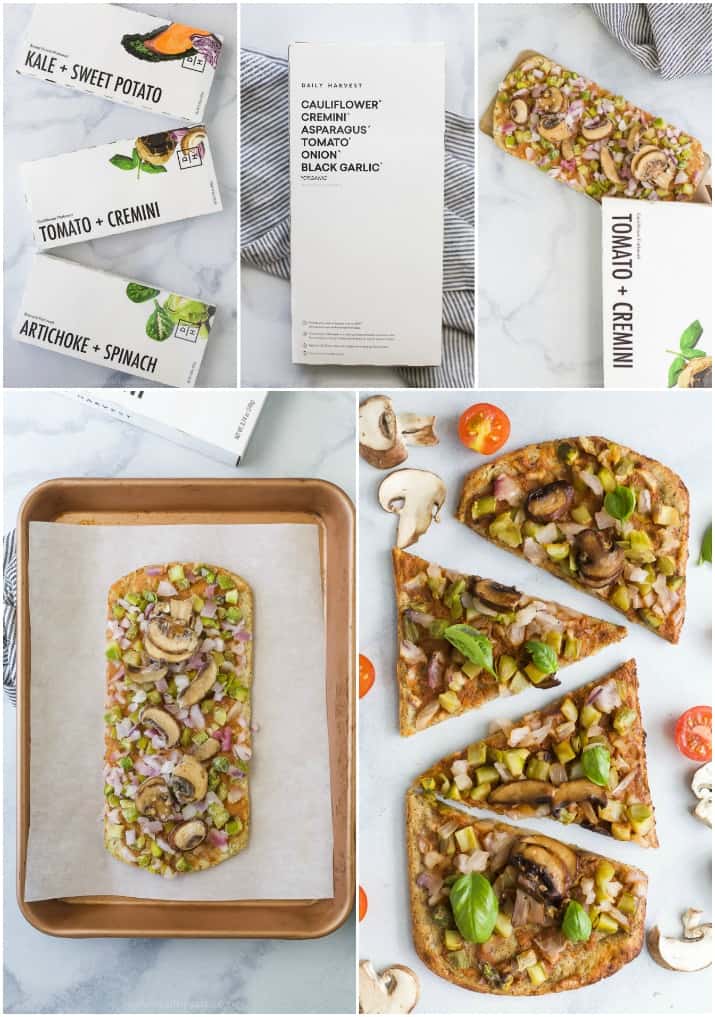 Flatbread
A guilt-free flatbread that's delicious. Um.. yes please! Daily Harvest Flatbreads are made of real, whole ingredients from crust (whether it's cauliflower, broccoli or sweet potato crust) to sauce (made of alllll veggies) to perfectly paired toppings. They're good, any way you slice it. I love the Spinach + Artichoke and the Tomato + Cremini.
Here's how to prepare the flat breads:
Place baking sheet on center rack of your oven or toaster oven and preheat to 450°F.
Unwrap and remove Flatbread from base. Place frozen Flatbread on preheated baking sheet and bake for 20-25 minutes until edges are a deep golden brown.
Cool for 1-2 minutes. Enjoy.

Is Daily Harvest Worth the Money?
Yes!!! I think it depends on what you value and what you want to pay for a delivery service. The convenience factor is also something to contribute to the cost. It might be a little more than what I like to spend, but I will pay it because I love the food, the convenience and the peace of mind I get from knowing the food is as natural as possible.
For 12 items (you get to pick from the smoothies, bowls, soups, and flatbreads), it will cost you about $90. That means each item is roughly $7.50, which is definitely more expensive than if you were to make meals at home, but is less than the average commercial meal. In fact, meals from places like SnapKitchen, Hello Fresh or other meal delivery services are more expensive than this.
I hope you found this Daily Harvest review helpful!
Want a Coupon?
You can put together your first box here and make sure to use this Daily Harvest Promo Code: JOYFUL for up to $40 off your first box!
If after a few days you realize it's not for you, no worries. Just cancel your subscription! If you don't want the boxes delivered every week, skip a week. It's super easy to manage so that it fits in your needs and budget!
DON'T MISS A RECIPE
FACEBOOK | TWITTER | PINTEREST | BLOGLOVIN | INSTAGRAM