An Honest Daily Harvest Review – Why I love it? Is it worth it? What are the benefits? Plus meal hacks to help you meet your macro goals and a promo code for your Daily Harvest order!
*** A special thanks to Daily Harvest for sponsoring this post. As always all opinions are 100% mine**
Why I'm a Firm Believer in Daily Harvest
If you have been following me for any length of time you know that I'm a huge fan of Daily Harvest.
I am a busy mom and business owner. Usually, I'm hopping around from one task or errand to the next. My days are like fast and the furious creating recipes, photographing, making videos, cleaning the house, helping with homework or running to football practice. So finding time for food in the midst of it, even though I'm a food blogger is hard. Shocker! Can anyone else relate?
I've been using Daily Harvest now for almost 5 years and I've never looked back, you can check out my other review here for more details. It's enabled me to be a busy mom on the run while still eating healthy and keeping to my goals. You can put together your first box here and make sure to use this Daily Harvest Promo Code: JOYFUL get up to $40 off your first box!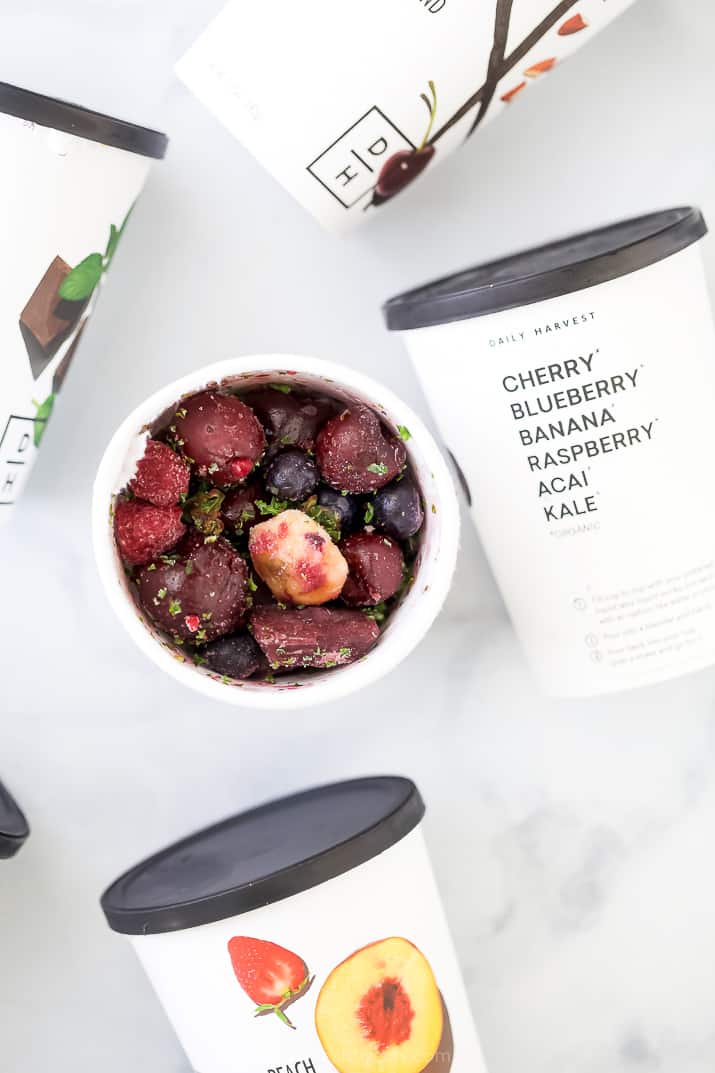 What is Daily Harvest?
Daily Harvest delivers thoughtfully sourced, chef-crafted foods to your door, all built on fruits and vegetables and ready to enjoy in minutes. Everything is always plant-based, gluten-free, dairy-free and is free of any artificial ingredients.
They believe that living good starts with good food. Let's be real for a second. The speed at which we live today — both online and off — forces us to substitute good food for convenient foods lacking in real nutrition. Without nurturing or nourishing ourselves, we simply cannot be our best. That's why they created Daily Harvest. It's food that takes care of you, so you can be at your best, always.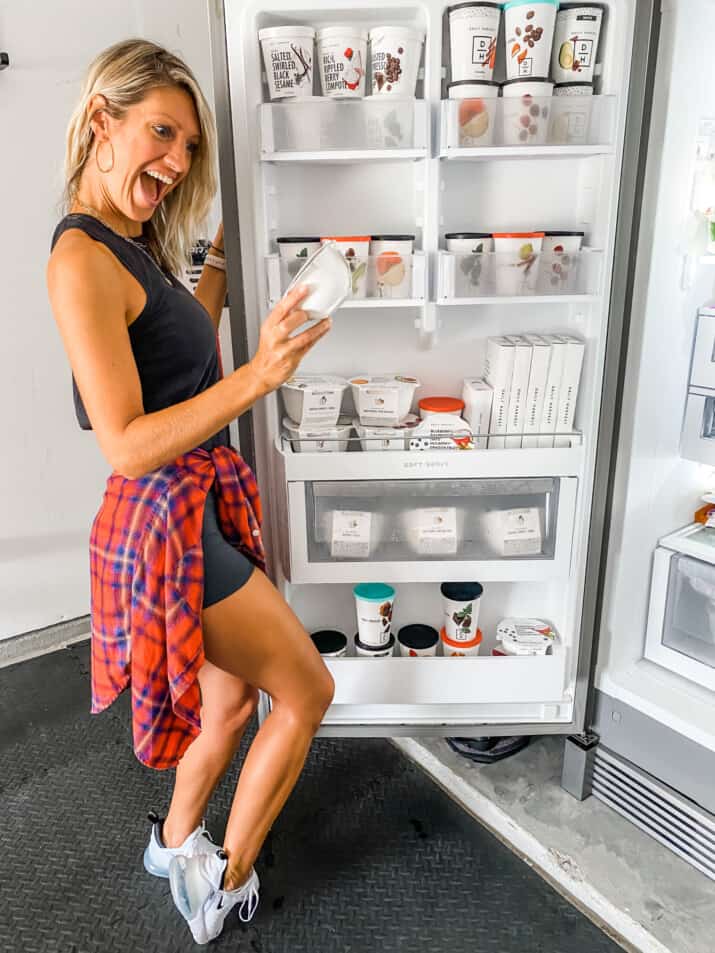 How to Fit it into Your Daily Routine
In the first part of this Daily Harvest review, I want to talk about how I fit them into my daily life. When I first started with Daily Harvest they only had Smoothies. I loved that on its own. But over the past 2 years that have broadened their scope of collections (they have over 90 options for any time of day) and y'all I'm so grateful they did. If you wanted to, you could literally have Daily Harvest for breakfast, lunch, snack, dinner and dessert! Shoot, you can even have it for coffee or a matcha if you wanted!
Breakfast: I start every day with breakfast. Not only does it help my brain mentally get started but it boosts your metabolism as well. Some of my favorite items for breakfast are: Banana + Greens Smoothie, Strawberry + Peach Smoothie, Acai + Cherry Smoothie, Cherry + Dark Chocolate Oat Bowl or the Apple + Cinnamon Oat Bowl. The Smoothies are just two steps, add your preferred liquid and blend. The Oat Bowls can be heated up in minutes (microwave or stovetop) or served as an overnight option.
Lunch: This is one of the hardest meals for me to sit down for. I'm usually on the go so I need something quick. I LOVE their Harvest Bowls – they take 3-4 minutes in the microwave and then I'm out the door. Here are some of my favorite items to use for lunch: Broccoli + Cheeze Harvest Bowl, Beet + Wild Rice Harvest Bowl, Brussels Sprouts + Tahini Harvest Bowl and Butternut Squash + Chimichurri Harvest Bowl. All of the ingredients are gluten-free, dairy-free and plant-based.
Snack Time: This is a newer area for Daily Harvest and I'm so glad they added it in. Snack on some of their Bites for a quick pick me up. My favorites are their Coconut + Lemon or the Espresso Bean + Tahini. Don't want a bite – sub it for another one of their delicious carefully crafted Smoothies built on fruits and vegetables.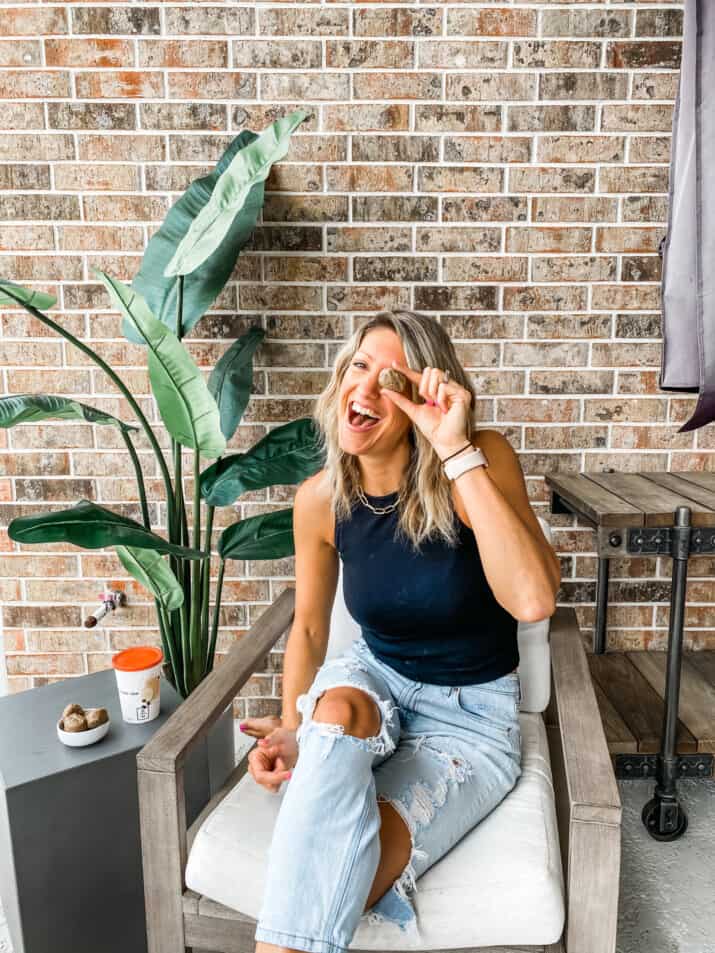 Dinner: This is an easy one. Just pick from any of the Harvest Bowls I just mentioned or dive into their Soup and Flatbreads. My favorites are the Tomatillo + Pepper Flatbread, Tomato + Cremini Flatbread, Artichoke + Spinach Flatbread, Carrot + Coconut Curry Soup or the Tomato + Zucchini Minestrone Soup. But honestly, I haven't found one that I didn't like. These are my favorites. The flatbreads are easy to make, just pop in the oven for 20 minutes.
Dessert: Y'all I'm straight-up addicted to their Scoops. This is their plant-based, dairy-free ice cream that's always made from whole ingredients and never uses added sugar. If you're looking for a healthy sweet treat at the end of the day that's guilt-free you need to try their Strawberry + Rich Rippled Berry Compote Scoops, Chocolate + Ooey Gooey Midnight Fudge (for the chocolate lover) or their Vanilla + Sticky Sweet Salted Caramel. OMG! I'm swooning just thinking about it.
Daily Harvest Meal Hacks
I love that Daily Harvest makes it so easy to eat healthy and keeps it delicious. Over the years I've started to add more protein to my diet, if you want to find out why go here. That being said, I like to "hack" the Daily Harvest meals a bit to fit my dietary needs. Namely… show me the protein! haha. I top my Harvest Bowls with eggs, shredded chicken or ground turkey. Here are the two hacks I wanted to show you today.
Portobello + Pesto Flatbread: While this Flatbread is great on its own, featuring whole frozen broccoli, artichoke, portobello, spinach, basil, and cashew, I like to make sure I'm meeting my macros for the day. So I added 1/3 cup shredded mozzarella cheese, 4-5 halved cherry tomatoes, and 1/2 cup shredded chicken. Follow the same cooking instructions and voila. Dinner perfection!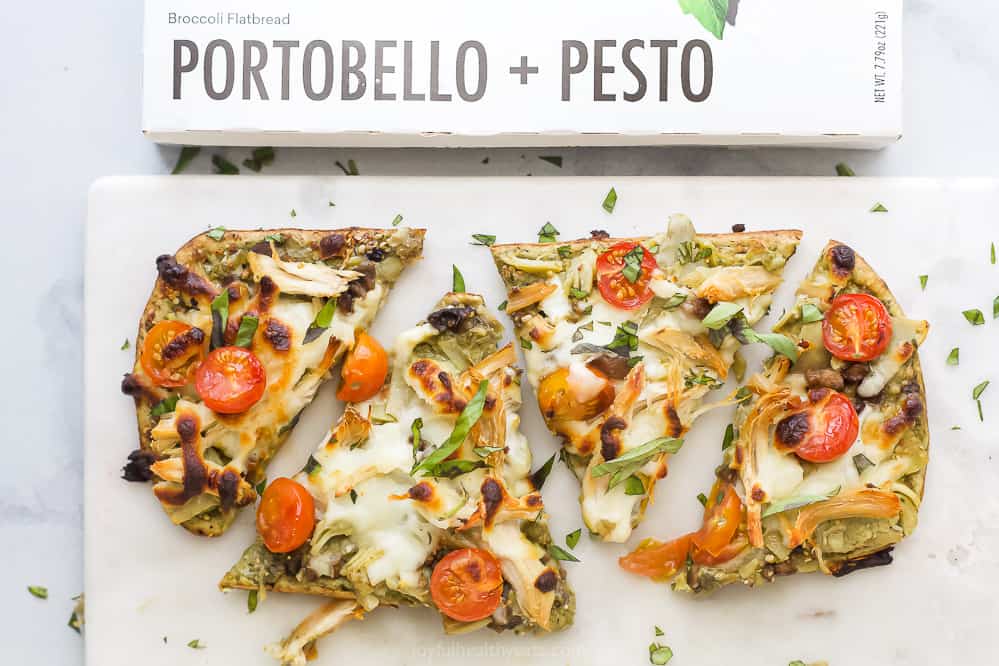 Strawberry + Rich Rippled Berry Compote Scoops: Y'all. I'm in love with this hack. First off, the heavenly Scoops key ingredients are: coconut, strawberry, dragonfruit, raspberry, vanilla bean and probiotics. Already a great start! But I turn this creamy luscious ice cream into a beautiful parfait. Add one scoop of the Strawberry + Rich Rippled Berry Compote, top with almond granola, diced strawberries and blueberries. Repeat one more time. Dive in!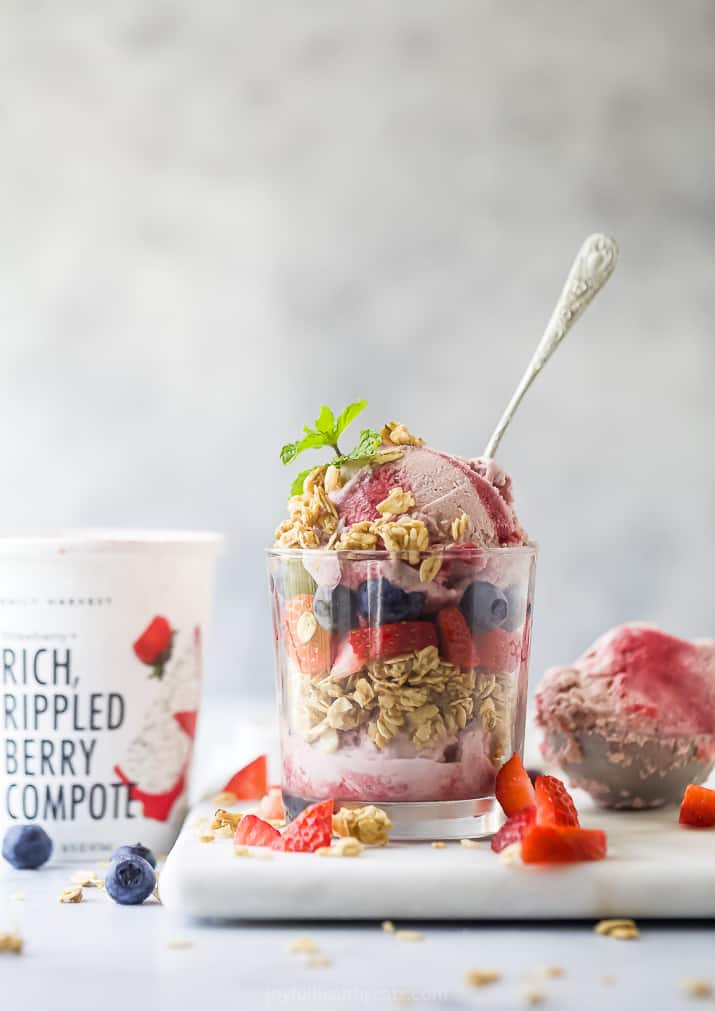 Is Daily Harvest Worth the Money?
Yes!!! I think it depends on what you value and what you want to pay for a delivery plan. A new customer can choose a plan of 9, 14, or 24 items that come weekly or monthly. I will pay for Daily Harvest because I love the food (no gums, preservatives, or artificial anything) and the convenience of having a fully stocked freezer to eat anytime I want.
You have the ability to fill your box with any items of your choice and pricing is based on your box size. Use my code JOYFUL for up to $40 off your order. I hope you found this Daily Harvest review helpful!
Want a Daily Harvest Promo Code?
You can put together your first box here and make sure to use this Daily Harvest Promo Code: JOYFUL get up to $40 off your first box!
If after a few days you realize it's not for you, no worries. Just cancel or pause your plan! Switch up your picks before each delivery, skip a week as needed, or add to your box at any time – flexible plans allow you to fill your current box with anywhere between 6-26 items. It's super easy to manage with their flexible deliveries and plans so that it fits in your needs and budget!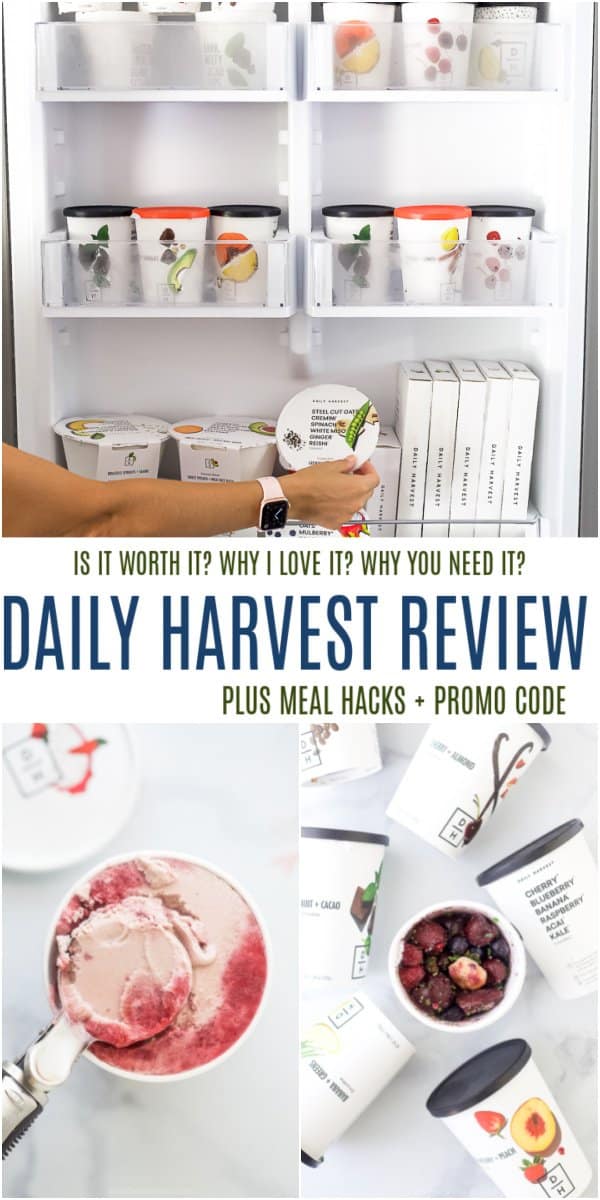 DON'T MISS A RECIPE ->