Breakfast Bruschetta topped with scrambled eggs, salty bacon, sweet peppers, all on a creamy Avocado Toast! These are so stinking good! The perfect Saturday morning breakfast or brunch recipe.

Happy Friday folks!
I hope you've had a great week and that things are starting to feel a little more normal with the kiddos in school and routines starting to set in.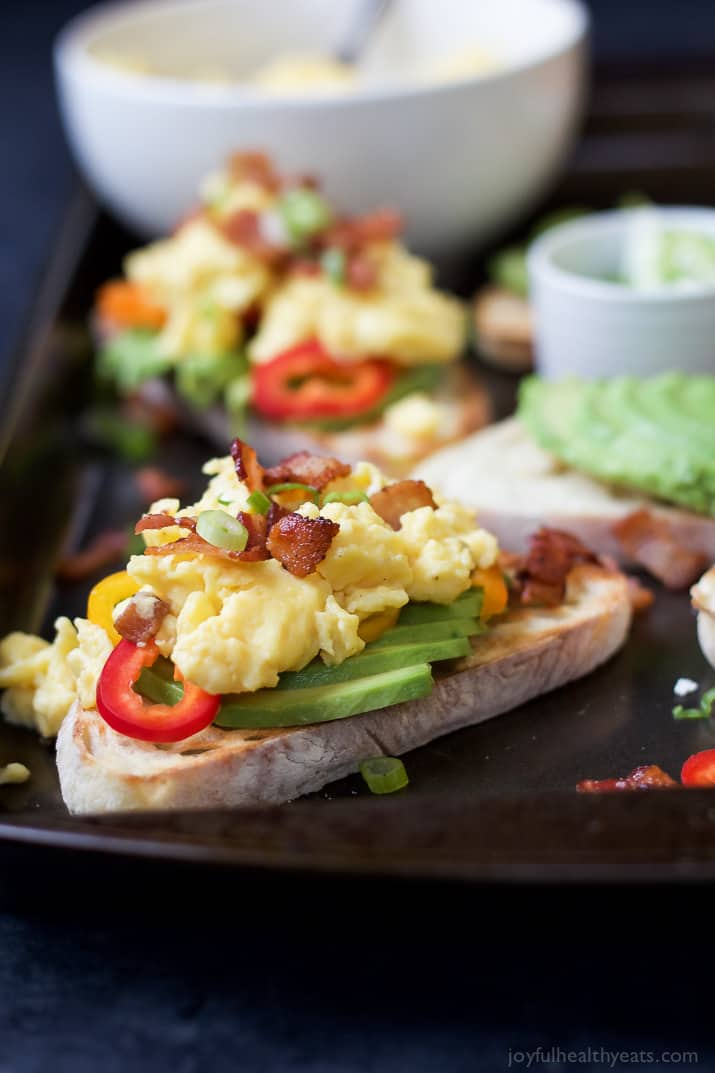 Our little man had his first day of school (or mommy's day out) on Wednesday and it was so nice. I was able to work out in peace, head to a local coffee shop/restaurant and get some work done, and then have lunch with a friend. Basically the kind of day most people think us "stay at home moms" have.
It was pure bliss to not have a toddler asking me "why" every second or hear the word "mommy" for a couple of hours. I love my little guy but he is definitely a talker. Mike and I like to say that each day he has a quota for words that he needs to fulfill and most days he goes way over that quota. Definitely a talker. I am an introvert by nature so it is wonderful just to have a little "me time" and silence. 🙂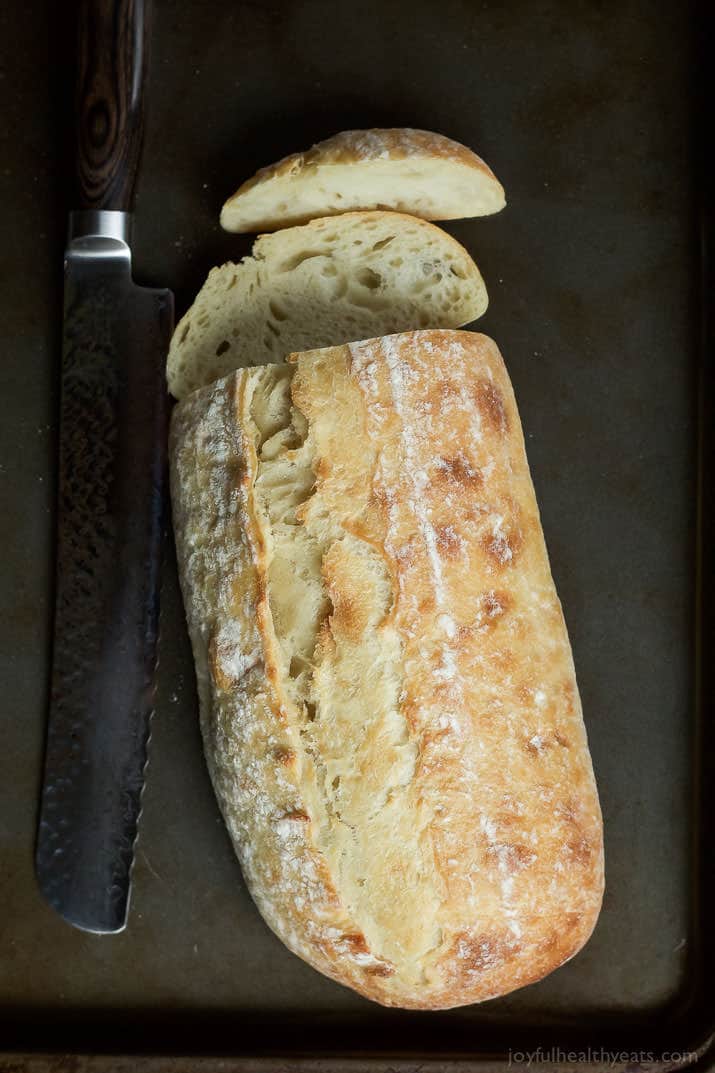 Ok, on to the food! One of my favorite meals to make during the week is breakfast for dinner, otherwise known as brinner.
Breakfast is just the best isn't it. There is just something about having a big stack of pancakes, blueberry waffles, or a runny poached egg in front of you that can turn any frown upside down.
Today I am going back to my happy place, breakfast recipes… Staring this Breakfast Bruschetta on Avocado Toast.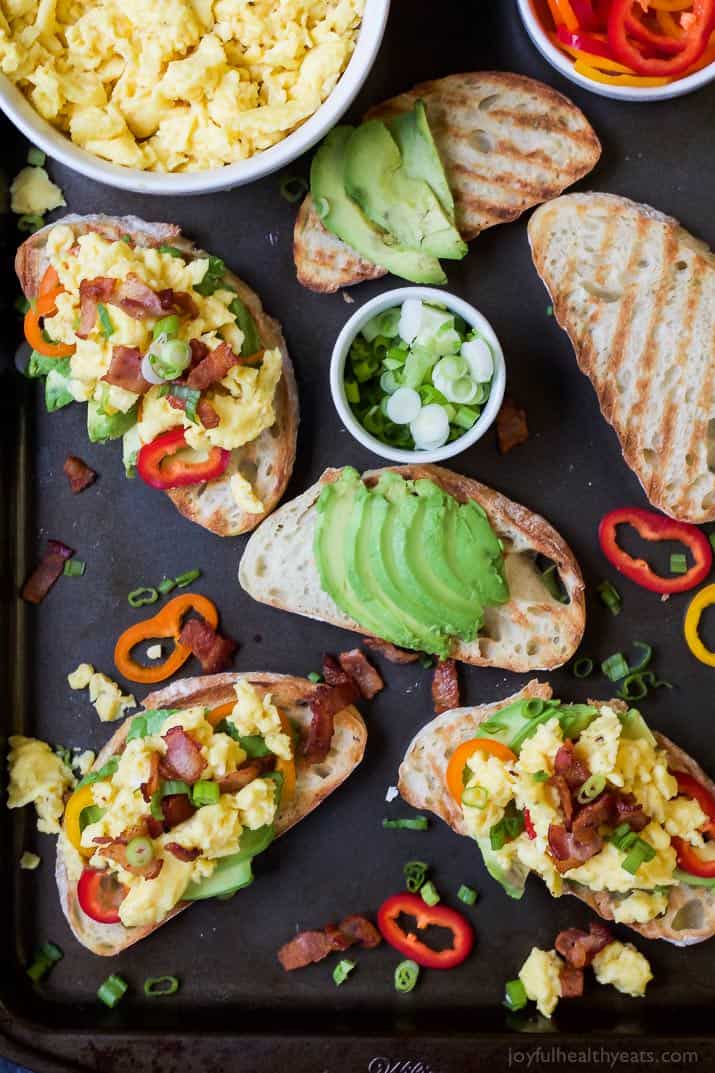 This recipe was born from brainstorming for different baby shower brunch recipe ideas for my sister-in-law. I saw a breakfast bruschetta recipe on pinterest and ran with it!
Everybody loves breakfast and everybody loves bruschetta, this seemed like a win win to me!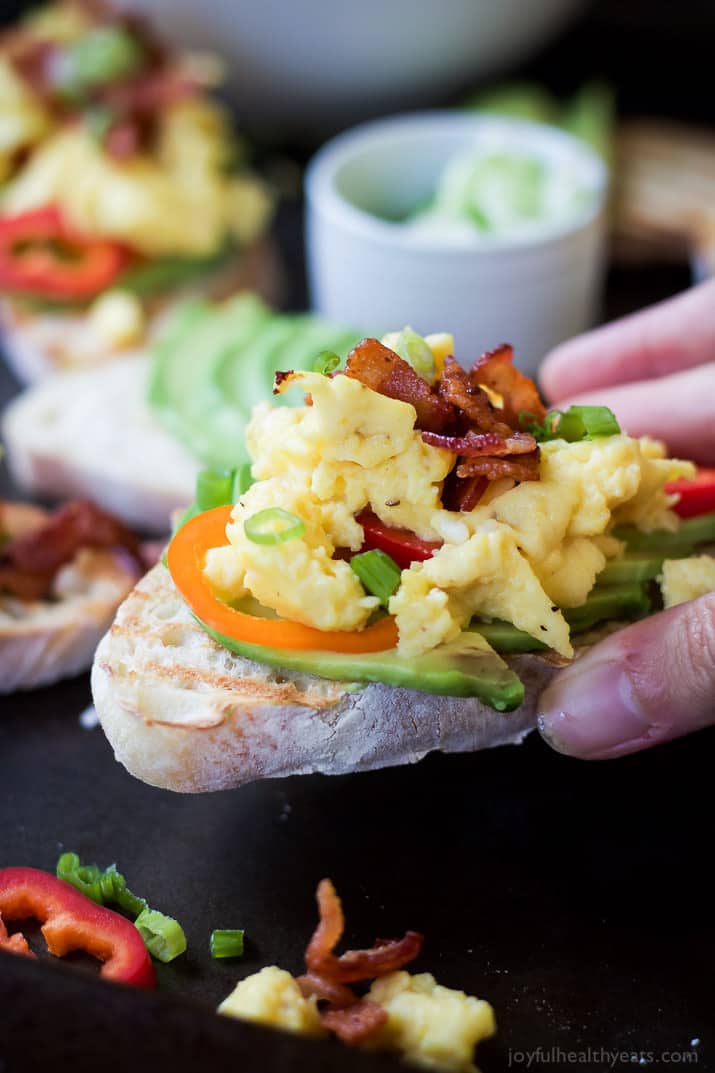 And let me tell you, it was!!!
Crunchy toasted bread with creamy scrambled eggs, salty bacon, sweet bell peppers, and buttery avocado. Seriously one dreamy bite to eat! I could eat these for breakfast, lunch, and dinner!
If you are a sauce person like me, add a little homemade salsa. But honestly, these don't really need it.
The best part of this recipe is it's done in 20 minutes! Well, I guess that's the second best part. The BEST part is the flavor! You will devour these after you've your first bite. Guaranteed!
Bon Appetite my friends!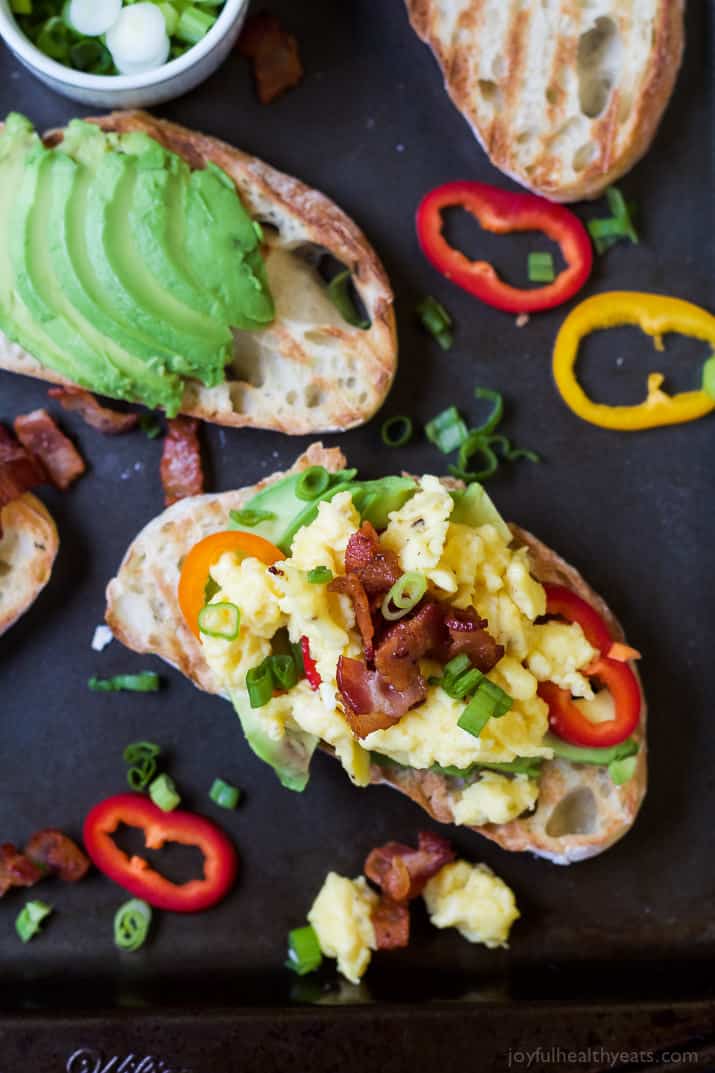 Breakfast Bruschetta on Avocado Toast
Nutrition Information
Serves:

12-15 slices of bruschetta toast
Serving size:

2 breakfast bruschetta

Calories:

282
Fat:

11 g

Carbohydrates:

32 g

Sugar:

3 g

Sodium:

605 mg

Fiber:

4 g

Protein:

15 g

Cholesterol:

245 mg
Recipe type:
Breakfast, Appetizer, Kid Friendly
Prep time:
Cook time:
Total time: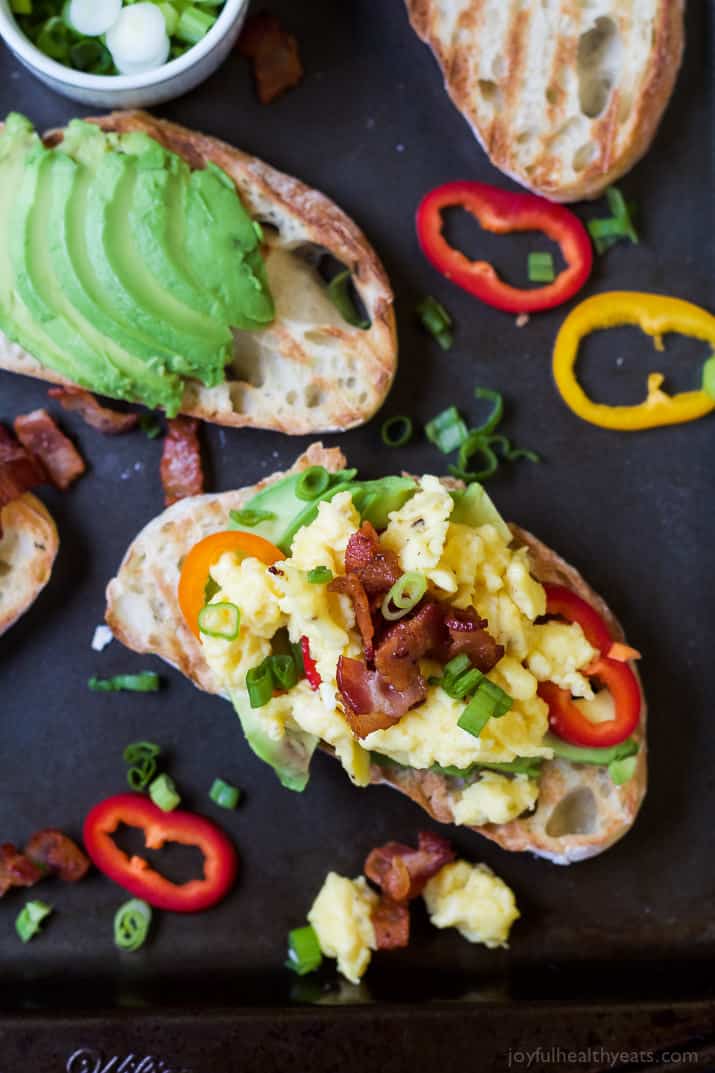 Ingredients
1 loaf italian bread, sliced
8 eggs
2 tablespoons 2% milk
½ teaspoon sea salt
¼ teaspoon ground pepper
8 strips of bacon, diced
3 avocado
6 mini sweet peppers, sliced
⅓ cup sliced green onions
Optional: top with Homemade Restaurant Style Salsa
Instructions
In a large bowl add eggs, milk, salt, and pepper. Whisk until eggs are scrambled, set aside.
Toast sliced bread in a toaster, panini press, or hot skillet. Set aside.
Preheat skillet to medium high heat. Add diced bacon to pan, saute until bacon is crispy, about 5-7 minutes. Remove and place bacon on a plate covered with paper towel to drain the grease.
In same skillet, on medium low heat, add scrambled egg mixture. Cook until eggs are no longer runny, stirring the entire time, about 6-10 minutes.
Top each toasted sliced of bread with thinly sliced avocado, sliced mini sweet peppers, 2-3 tablespoons of scrambled eggs, and sliced green onions.
IF YOU A RECIPE BE SURE TO SNAP A PIC AND HASHTAG IT #JOYFULHEALTHYEATS. I LOVE SEEING WHAT YOU MAKE!
Want More Breakfast Recipes?
Ricotta Avocado Toasts with Poached Egg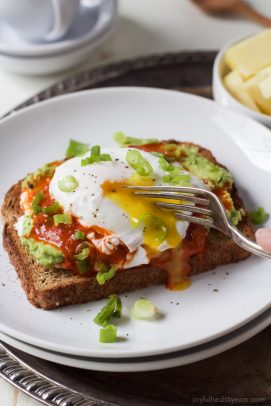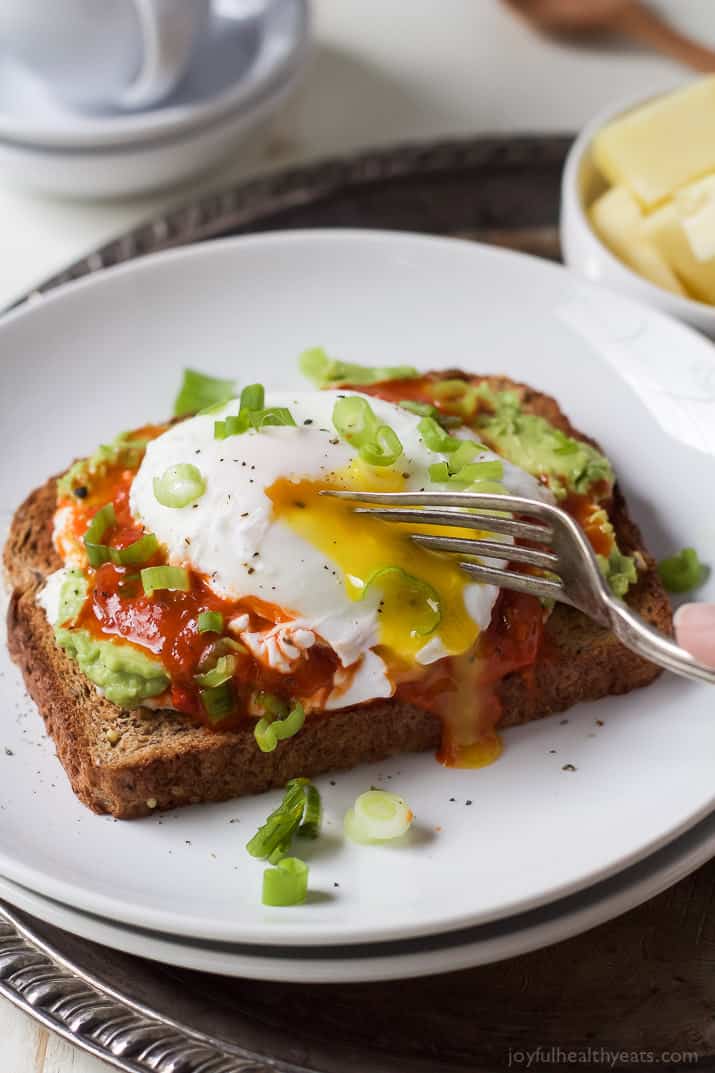 Whole Wheat Lemon Blueberry Waffles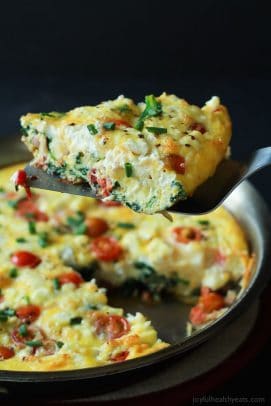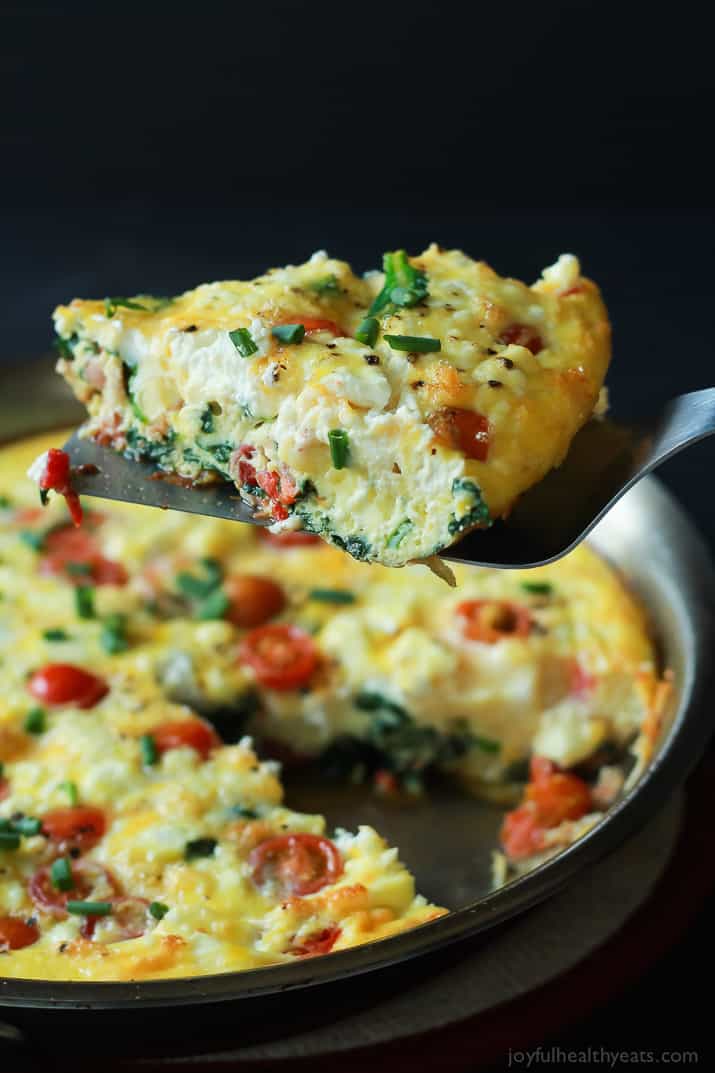 DON'T MISS A RECIPE ->