The Best Essential Oils for Calming Anxious Feelings. Using pure essential oils as a natural remedy for stress relief or to help reduce anxiety can be very effective. Learn how to use essential oils, create blends and diffusing scents to create a calming atmosphere.
My Favorite Essential Oils for Anxiety
The year 2020 has definitely thrown everyone for a loop. Am I right? Anxious thoughts and stress are definitely out there, as are fear of the unknown. We start homeschooling with my oldest next week and if I could just tell you all the emotions going on in my head right now as it relates to that … oh goodness you'd be overloaded. I know I'm not the only one dealing with "all the feelings" right now either.
So, what do we do with those feelings? Or better yet, how do we get those feelings under control so we aren't consumed by them?
A practical tool I use on a daily basis to help reduce anxious thoughts and stress is essential oils.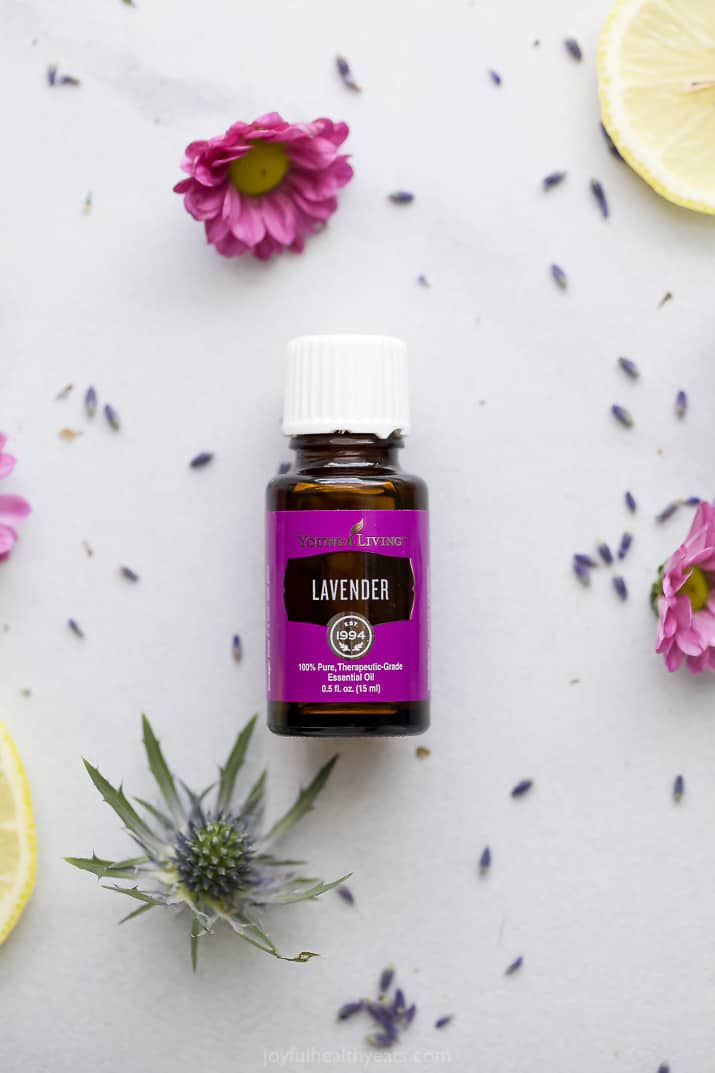 What are Essential Oils?
Essential Oils are the most powerful part of the plant. It is the liquid part of the plant, responsible for carrying nutrients and also aids the plant in healing. When distilled from a plant the oil captures the plants fragrance and flavor. Essential Oils are distilled from shrubs, flowers, trees, roots, bushes, fruit, rinds, resins, and herbs. Oils consist of over 100 different natural, organic compounds.
What are the Benefits of Essential Oils?
In humans, essential oils provide support for every system in the body: your skeletal system, muscular system, circulatory system, endocrine system and hormones, respiratory system and immune system. They support brain health and healthy weight. They are used extensively for emotions and for spiritual support.
The oil itself acts in our body much the way it does in a plant, it provides nutrients and aides in healing. The way and process by which the essential oils are made is important, some essential oils obtained through the chemical processes are not considered true essential oils. Which is why I use Young Living because the oils are extracted in their truest form, not added to or altered.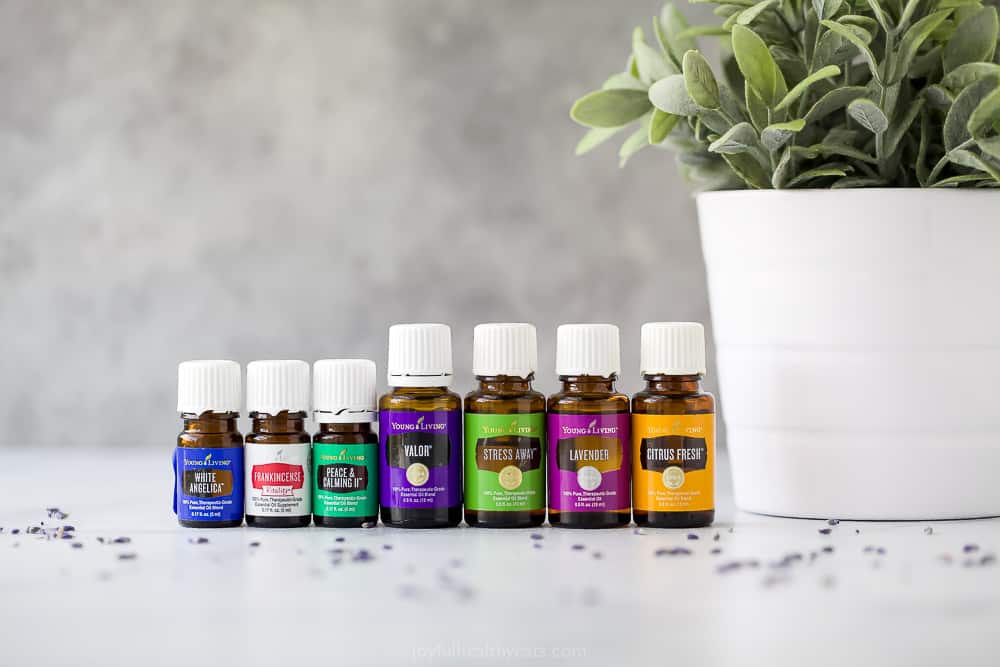 The Best Essential Oils to Calm Anxious or Stressful Thoughts
One thing I will say about feelings of unrest, stress or anxiety. Giving the body what it needs is the best way to handle those feelings. Feeding
it healthy, getting lots of sleep and avoiding alcohol as much as possible because it is a depressant. Also, dealing with the underlying emotional issues and taking care of our mental state. I have personally used all these oils when I feel an attack come on and find them to be extremely helpful.
Peace & Calming– Promotes relaxation and a deep sense of peace, uplifts spirit and reduces tension. At night, I love to put a drop in my palm and cup my hands over my nose and take a few deep breaths, then I rub my hands on my pillow and enjoy a good nights rest (also great paired with lavender).
Valor – This is your balancer!!! Valor helps to balance energy and may instill courage, confidence, self esteem. I apply this to my wrist when I am not feeling peaceful or I feel like I am walking into an uncomfortable situation.
Lavender – Calming, relaxing, balancing and nourishing to the skin. Has been documented to improve concentration and mental acuity.
Frankincense – Grounding. Frankincense is great for using during prayer or meditation. Frankincense is derived from the French word meaning "incense". In the bible when it refers to incense it is most likely talking bout frankincense. It is mentioned in one of the oldest medical records. Frankincense has anti-inflammatory effects that may help reduce joint inflammation, helps with asthma, reduces tension and supports normal immune health.
Stress-Away– The name says it all!!! And if you are a reformed bath and body works user then you will love this blend Blend filled with Copaiba, Lime, Cedarwood, Vanilla, Ocotea and Lavender. This oil may help to dispel nervous tension, improves mental responses and calm spirits.
Palo Santo – Incas used this to purify and cleanse the air of negative energy. When I suddenly feel uneasy for no reason I think this
is the best go to, I place it on my chest or on my wrist.
White angelica – Neutralizes negative energy and leaves a feeling of peace. The Blend is made of sweet almond oil, bergamot, myrhh, geranium, sacred sandalwood, ylang ylang, coriander, black spruce, Melissa, hyssop & rose. This is one of my favorites lately and smells heavenly.
Citrus Fresh – Featuring the fresh, bright aromas of five citrus essential oils, plus spearmint. It's perfect for adding to water for a refreshing citrus twist or diffusing for a light brightening atmosphere.
CBD – The job of cannabis is to restore and maintain homeostasis. When we are anxious it could be from a slew of reason: emotional trauma, lack of control, fear, physical imbalance like hormones or even gut health.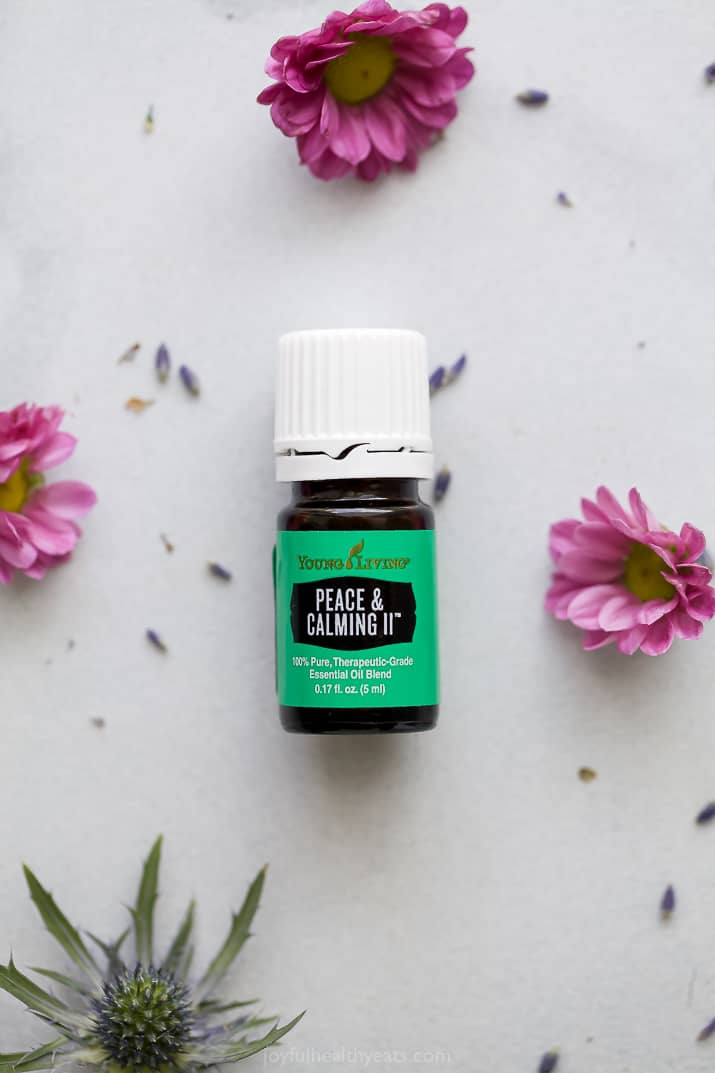 How to Use These Essential Oils
There are multiple ways to use essential oils, for a full guide on how to use them check out my How to Use Essential Oils post. But for today, we're talking about how to specifically use oils for anxiety. Here are my favorite ways to use these oils, I would not recommend internal consumption for these unless they are the vitality line by Young Living.
Aromatically – This may be the most well known way to use essential oils. Take a few drops from the bottle into the palm of your hands. Cup your hands around your mouth and nose and take deep breaths in of the oil.
Topically – this is the most popular way to use it. (and what I do most of the time) Place on your head (around the crown), behind ears, wrists or on the vita flex points. You can dilute the oil with a carrier oil, such as coconut oil (any natural vegetable oil is fine too, such as grape seed, olive, avocado or jojoba) to reduce the strength or smell of the oil if it's too much.
Diffusing Blends – Through a diffuser you're able to fill the air with the essence of that essential oil allowing it to get into your lungs and therefore your blood stream. Be sure to look at your diffuser to get the correct water to oil ratio. Usually it is 3-4 drops of essential oil for every 100 ml (or 1/2 cup of water). However this can be changed based on how strong you want the scent or how big your diffuser is.
Pillow Spray & Room Freshener – Keep the scent around all day or to put you to sleep at night. To a small glass spray bottle add 20 drops of your favorite calming essential oils + 1/3 cup of water + 1 tablespoon of witch hazel extract. Combine all ingredients, shake well before lightly spraying. (for the pillow use, allow to completely dry Use as often as you like.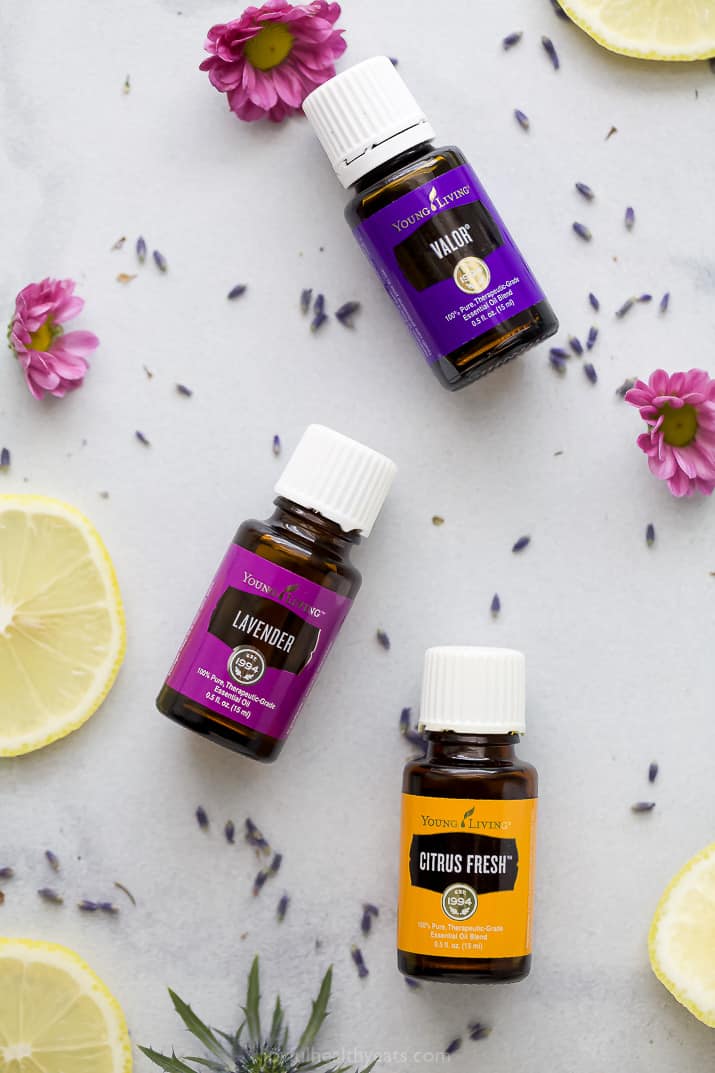 How to Buy Essential Oils?
When I first got started using essential oils I bought a starter kit. It gave me the most bang for my buck instead of buying individual oils one at a time. I received a bunch of oils at once and started messing around with them which caused me to fall in love with their use, smell and benefits. I guarantee you will too!
If you're ready to get your feet wet in oils the Premium Starter Kit is the way to go—> click HERE . The best part is, you get EVERYTHING I just listed above + a diffuser! Literally you don't need anything else! All those anxiety calming oils are in this kit!!! Here's what you get when you buy the starter kit:
Dewdrop™ or Dessert Mist Diffuser – one of the better diffusers out there. This diffuser is custom designed to diffuse continuously for 5–6 hours on High mode, 8 hours on Low mode, and 10 hours on Intermittent mode.* It also offers 11 individual light settings, including a candle-like flicker mode.
Premium Essential Oils Collection 10 oils (Thieves, Lavender, Peppermint, Lemon, Copaiba, Frankincense, Citrus Fresh, Digize, Panaway and Raven)
Stress Away™ Oil 5-ml
Valor® 5-ml
Peace and Calming® 5-ml
2 AromaGlide™ Roller Fitment
Thieves Household Cleaner 1-oz. sample
2 NingXia Red® 2-oz. samples (a great antioxidant made from wolfberries)
10 Thieves® Waterless Hand Purifier Sachets – 0.1 oz. ea.
Thieves® Spray
Below is a special diffusing blend I love to run in the house when I'm feeling anxious or stressed out. It brings a calming sense to the house and smells amazing. All these oils are in the premium starter kit as well –> a $400 value for only $165.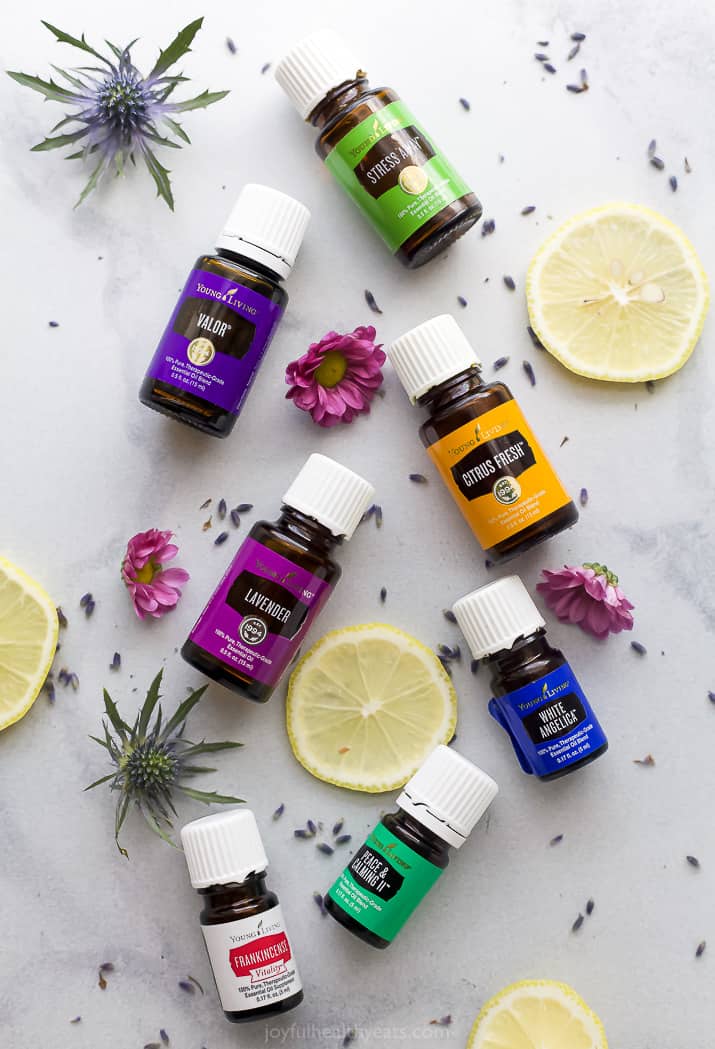 Print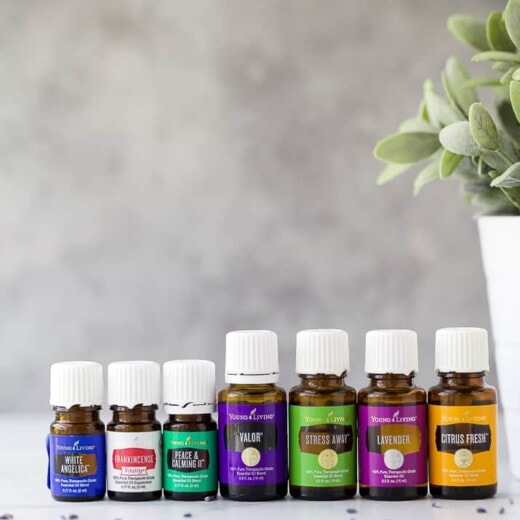 Anxiety Reducing Oil Diffusing Blend
Author:

Prep Time:

5 minutes

Total Time:

5 minutes

Yield:

1

diffuser blend

1

x

Category:

Aromatherapy

Method:

Diffuser
---
Description
A custom essential oil diffusing blend to help reduce anxious and stressful feelings while creating a sense of calm.
---
1

/2 cup water

2

drops lavender essential oil

1

drops valor essential oil

1

drops frankicense essential oil

1

drop citrus fresh essential oil
---
Instructions
To an essential oil diffuser add water, lavender essential oil, valor essential oil, frankicense essential oil and citrus fresh essential oil.
Turn on diffuser and enjoy this calming scent.
---
Keywords: essential oil diffusing blend, essential oils for anxiety, essential oils for stress
Filed Under:
*** There are affiliate links in this post, but all links and opinions are 100% mine and what I honestly believe. Thank you for supporting Joyful Healthy Eats!*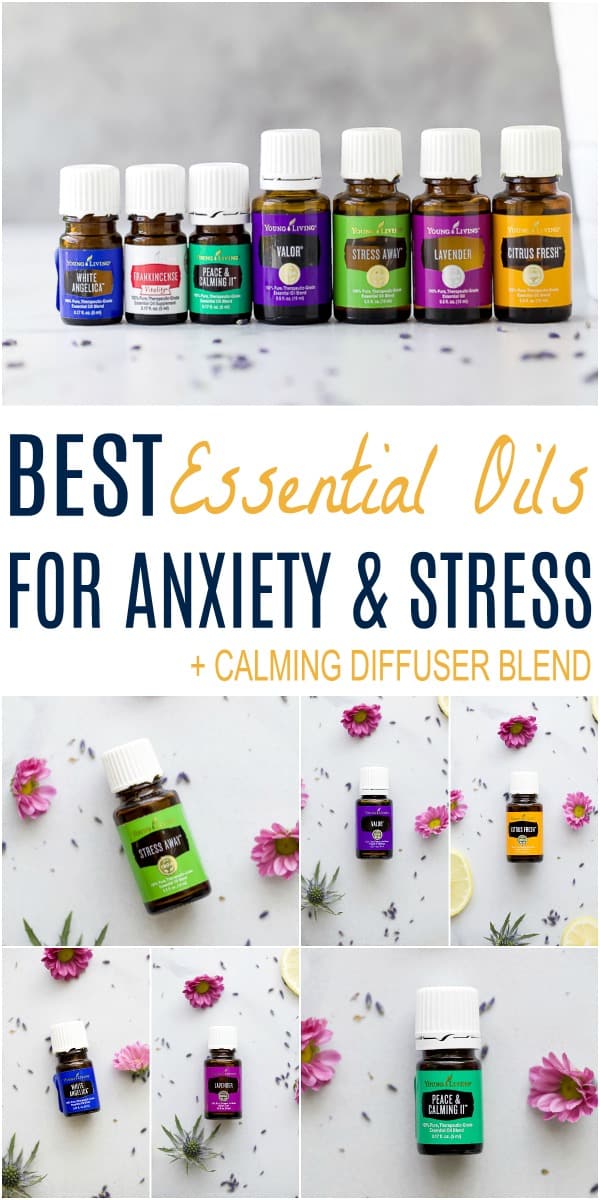 DON'T MISS A RECIPE ->