Getting started with essential oils can be overwhelming – but can be so powerful! These are 10 of the BEST Essential Oils for Beginners – Lavender, Frankincense, Lemon, Thieves, Peppermint and many more! Find out how to use them and where to buy them!
Essential Oils for Beginners
Where's the food?
Well, earlier this year. January to be exact, I mentioned that I am going to start making JHE more of an all encompassing health and wellness website. Which means I am going to start sharing more of what we "as a family" do to stay healthy. Everything from what laundry detergent I use, to beauty products, essential oils and eventually fitness workout routines! The things that helped me. And the things that didn't. Now, don't get me wrong. I am NO expert. But I am an expert in MY STORY. So that's what I'm going to share.
The first baby step for me is sharing essential oils with you because it is such a huge part of our lives. Even my 1 year old daughter uses them and has since she's been a baby!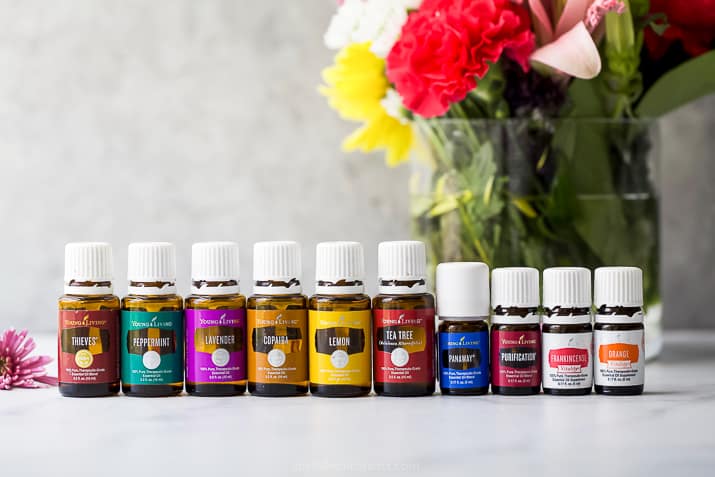 My journey with aromatherapy started about 3 years ago. I had been on an infertility journey and as I was reading more and more I realized I needed to start using more natural products. So, I took it as my personal mission to rid our house of toxins.
That meant removing anything that did not pass the EWG (environmental working group) test for safety.
Laundry Detergent
Hand Soap
Shampoo
Conditioner
Face Wash
Makeup
This was a slow process, because swapping everything all at once would be a big hit to the budget. After that switch I started to research essential oils. I'd heard so much about them, but didn't understand what the big deal was and honestly if they even worked.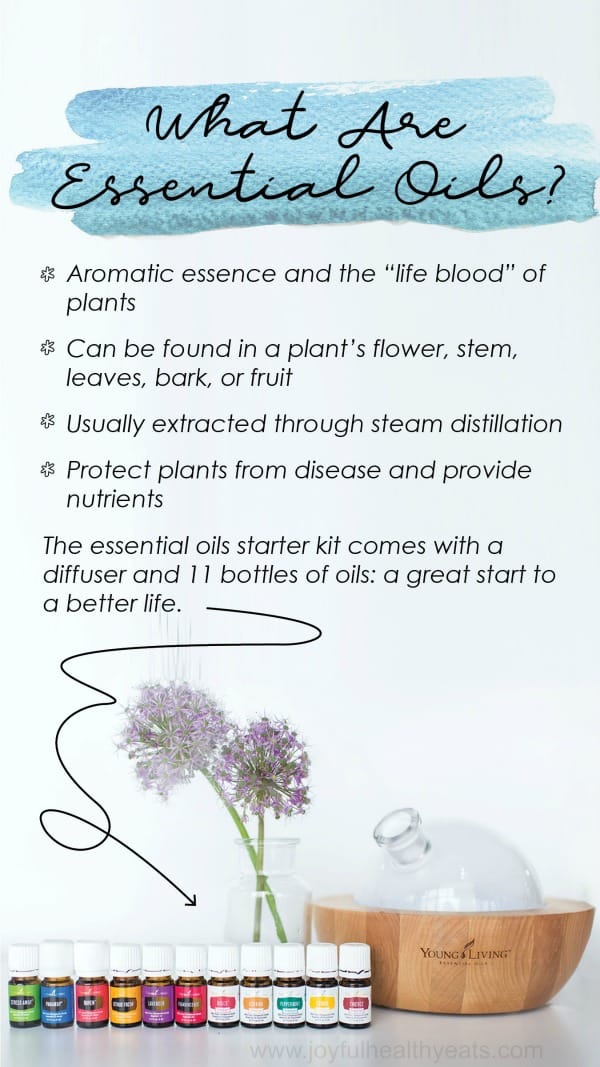 Now that I've been using them consistently for 3+ years and have an understanding of how they work and SEEN how they've affected my family for the better!
The proof is in the pudding!
So with that being said I wanted to put together a list of my top 10 Essential Oils to use if you are new to the oil scene! These are the oils I use most frequently and have shipped to our house on a monthly basis. Each one has something specific that is helps with but they are also very versatile! So without further adieu…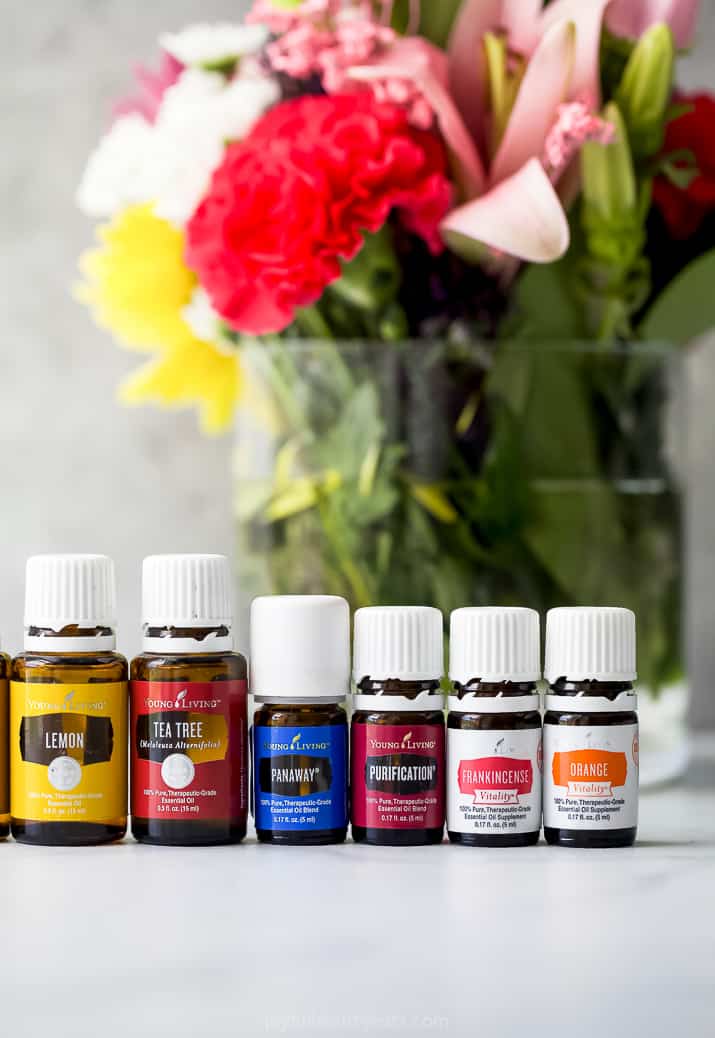 10 OF THE BEST ESSENTIAL OILS FOR BEGINNERS
Lavender Essential Oil
Lavender has a floral clean smelling scent. It's this popular aroma that has made the plant a classic scent for perfumes, soaps, fresheners, and beauty products. Lavender helps promote relaxation and if put on the feet can aid in a restful nights sleep. Lavender is good to use for congestion or allergy season, it helps with sinus drainage.
Frankincense Essential Oil
Frankincense has a broad range of uses, from enhancing meditative practice to use in beauty routines. Frankincense has an earthy, uplifting aroma that's perfect for grounding and spiritual connectedness. Diffuse this oil's empowering aroma particularly when you are seeking purpose or engaged in prayer or meditation. Frankincense is amazing for your skin and can help you maintain the appearance of radiant youthful skin.
Thieves Essential Oil
Thieves is a powerful combination of Clove, Lemon, Cinnamon Bark, Eucalyptus Radiata, and Rosemary essential oils that fills any space with a rich, spicy aroma. It is one of the more popular essential oils and is commonly used for immune support. Thieves is your go-to for an invigoratingly clean and spicy scent that smells more like fall baking than harsh cleaning formulas – great to use in homemade cleaning products!
Peppermint Essential Oil
Peppermint is a very recognizable scent, after all they make gum that smells like peppermint. But Peppermint is so much more than just a nostalgic, fresh aroma. This oil can be diffused to create a stimulating, focused atmosphere for daily tasks. You can also apply it topically to create a cool, tingling sensation on the skin, which can be very soothing after hard physical activity. Peppermint can help relieve headaches, curb appetite, settle an upset tummy and is great for an afternoon pick me up.
Recipes you could use Peppermint Vitality Oil in:

Lemon Essential Oil
With its bright and joyful aroma, Lemon oil benefits skin and hair as much as its aroma enhances your environment. This best-selling oil can be used in a variety of ways: Mix it with your cleaning products, add a drop to your water, use it during your nighttime skin care routine, or add a drop to your conditioner for a great scent. This oil is a key ingredient in many hair and skin care products. Because citrus oil can cause photosensitivity, avoid applying Lemon to exposed skin before spending time outside. Supports your liver, lymphatic and immune system.
Recipes you could use Lemon Vitality Oil in:
Tea Tree Essential Oil
Tea Tree essential oil, also known as Melaleuca or Melaleuca Alternifolia oil, is one of the most widely used and extensively researched essential oils, making it a must-have for every home. Because the benefits of Tea Tree oil include cleansing properties and a refreshing scent, this versatile oil can be used for everything from home cleaning solutions to skin care. Keep a bottle of Tea Tree in your house to make homemade household cleaners, air fresheners, and linen spritzers. You can also find a world of uses for Tea Tree in your personal care and beauty routine. Incorporate this moisturizing yet cleansing oil into skin care applications and hair treatments for a spa-quality upgrade! You can use Frankincense to help heal Sunburn (dilute it with coconut oil), apply to cold sores or any infection as it helps kill the virus.
Copaiba Essential Oil
Known for its gentle, woodsy aroma, Copaiba has high levels of beta-caryophyllene and a uniquely sweet aromatic profile, which helps create a relaxing atmosphere when it is diffused or applied topically. Copaiba is a great addition to your daily routine and skin care. Add it to a neutral moisturizer to utilize its natural fragrance and moisturizing properties. It can also be applied following activity for a comforting cooldown. Aids with sore muscles and helps reduce inflammation.
Orange Essential Oil
Orange essential oil has a sweet, bright aroma reminiscent of a blossoming orchard of orange trees. Start your day with an uplifting burst of liquid sunshine by diffusing Orange as you get ready in the morning. With just a few drops, you can fill any space with a sense of peace, harmony, and creativity. Orange is delightful on its own, or you can combine it with complementary oils such as Grapefruit or Cinnamon.
Recipes you could use Orange Oil in:
Purification Essential Oil
Ditch overpowering and harsh chemical-based sprays and keep your home smelling fresh and clean. This blend is made up of six essential oils for the ultimate weapon against odors. Citronella, Lavandin, Lemongrass, Rosemary, Myrtle, and Tea Tree work together to create a refreshing, bright scent that keeps you and your family happy and comfortable. Purification oil kills bad odors from cooking, laundry, pets, or anything else life throws your way. Diffuse it throughout your house or use a more targeted approach so you always feel confident in your home, in the car, or on the go!
Panaway Essential Oil
With Wintergreen, Helichrysum, Clove, and Peppermint essential oils, PanAway essential oil blend has a refreshing, invigorating aroma and a cooling sensation when applied to the skin. PanAway continues to be one of Young Living's most popular products and is a must-have for every home. Apply this synergistic blend after exercise or anytime for its soothing, stimulating aroma. This oil is my go to for soothing sore muscles before or after a workout. I use it if I have a sore back or neck in the morning. It's also great for growing kids – smells like root beer. 🙂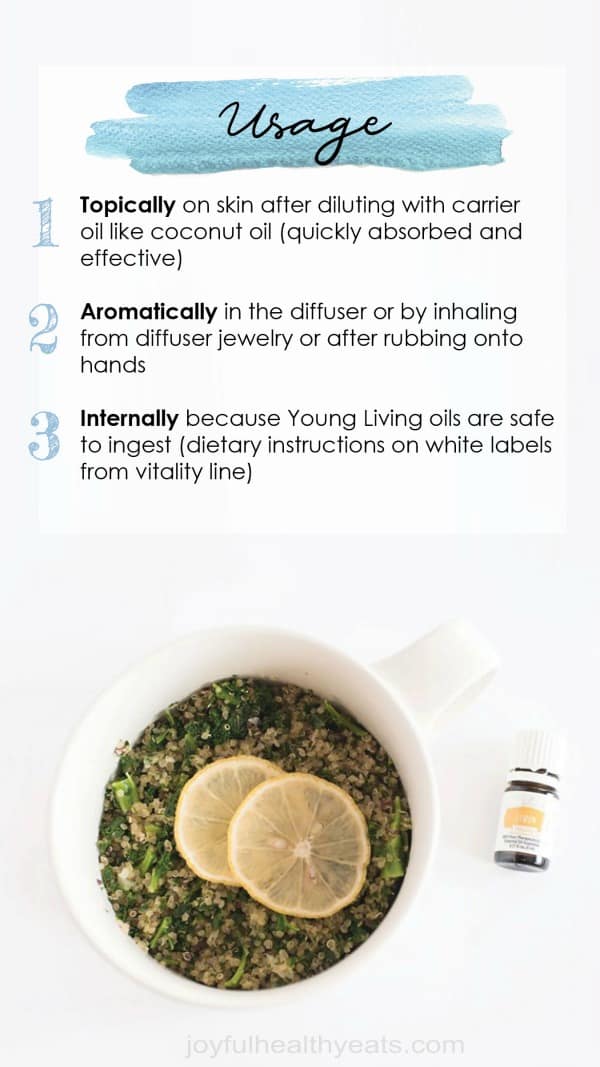 How to use essential oils:
Aromatically – this may be the most well know way to use essential oils. Through a diffuser you're able to fill the air with the essence of that essential oil allowing it to get into your lungs and therefore you're blood stream. Be sure to look at your diffuser to get the correct water to oil ratio. Even if you don't have a diffuser you could simply take a few drops from the bottle into the palm of your hands. Cup your hands around your mouth and nose and take deep breaths in of the oil.
Topically – this is the most popular way to use it. (and what I do most of the time) Place on your head (around the crown), behind ears, wrists or on the vita flex points. You can dilute the oil with a carrier oil, such as coconut oil (any natural vegetable oil is fine too, such as grape seed, olive, avocado or jojoba) to reduce the strength or smell of the oil if it's too much.
Internally – you can also start using them internally by ingesting them. Young Living came out with its own Vitality brand that is approved by the FDA to ingest. This allows you to get the maximum benefit of the oil and fastest absorption rate. I've even used them in cooking, like oregano or black pepper oil for my pasta sauce or lemon oil for my Lemon Raspberry Protein Muffins.
If you're ready to get your feet wet in oils the premium starter kit is the way to go—> click HERE . Here's what you get:
Dewdrop™ or Dessert Mist Diffuser
Premium Essential Oils Collection 10 oils (thieves, lavender, peppermint, lemon, copaiba, frankincense, citrus fresh, digize, panaway and raven)
Stress Away™ Oil 5-ml
AromaGlide™ Roller Fitment
Thieves Household Cleaner 1-oz. sample
2 NingXia Red® 2-oz. samples (a great antioxidant made from wolfberries)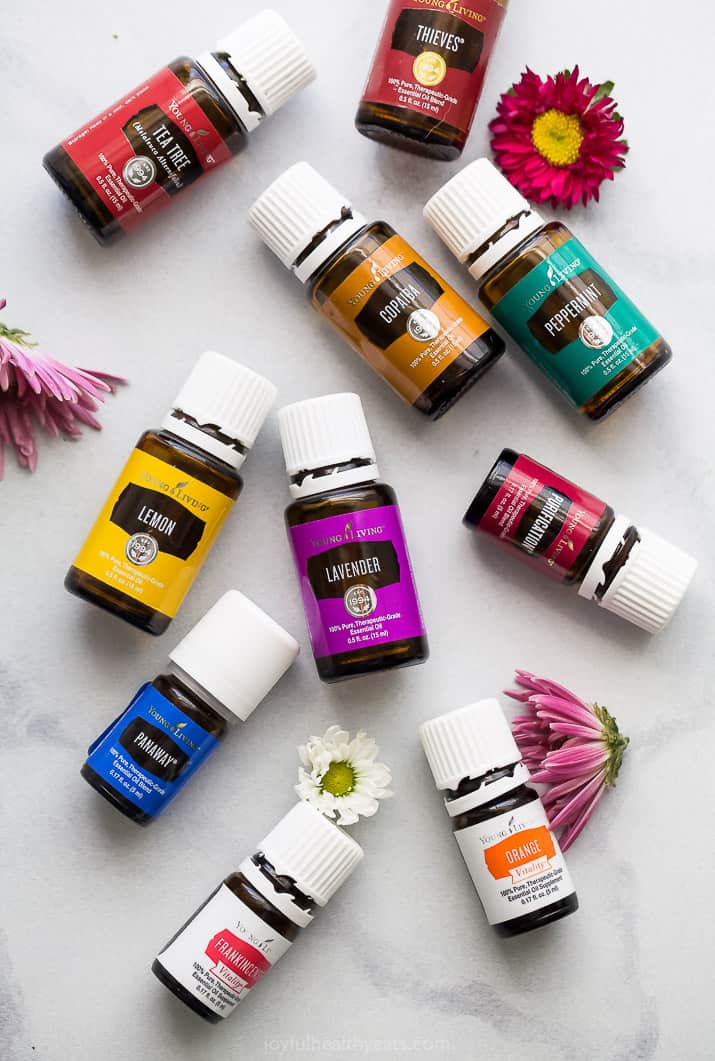 Have questions? Email me info@joyfulhealthyeats.com otherwise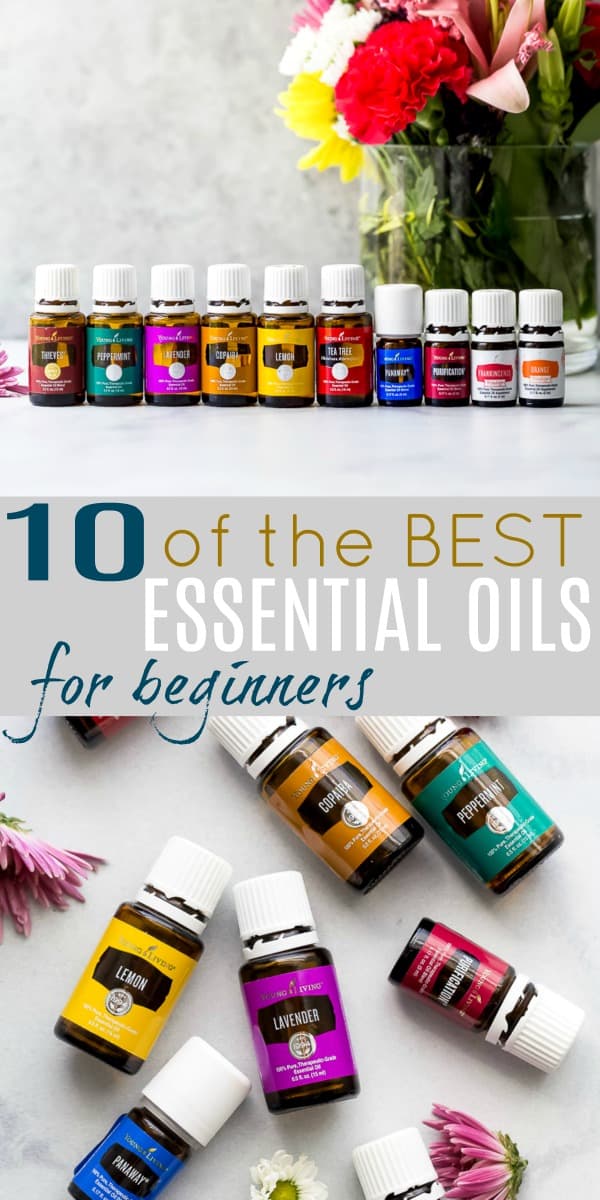 *** There are affiliate links in this post, but all links and opinions are 100% mine and what I honestly believe. Thank you for supporting Joyful Healthy Eats!*