A simple everyday guide on How to Use Essential Oils and where to buy them! Plus a recipe for how to make Elderberry Syrup – a natural antioxidant anti-inflammatory immune boosting syrup your kids will love!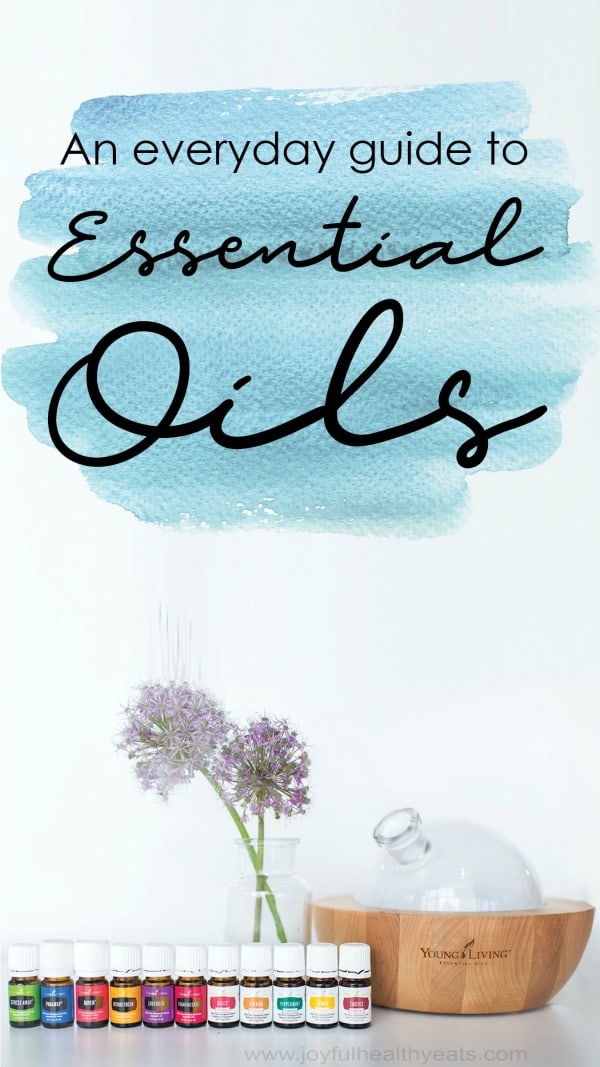 A Simple Guide to Essential Oils
One of the things I desired for 2019 was to be more all encompassing here on JHE. I wanted to dive a little bit more into the healthy lifestyle arena and share more on how I choose to live my everyday life.
The things that helped me. And the things that didn't.
Now, don't get me wrong. I am NO expert. But I am an expert in MY STORY. So that's what I'm going to share.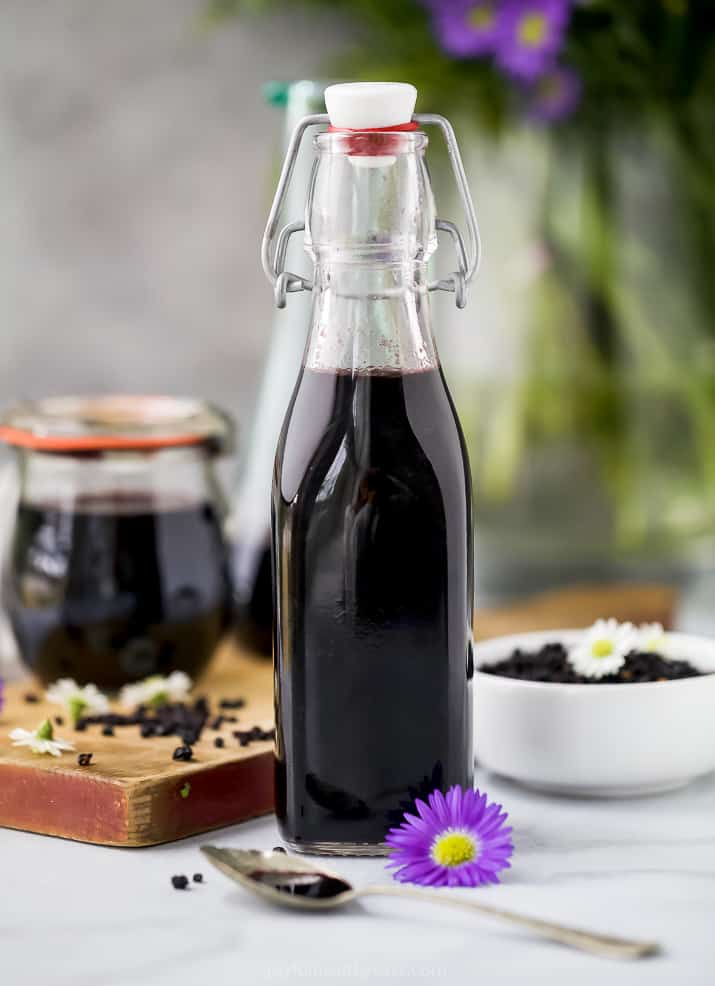 As most of you know. Our little family of four wasn't always a family of four. We were on a 4+ year journey of infertility. A lot of tears, prayer and hope went into this journey and searching for … what the heck is going on.
All the doctors said we should be able to have more kids. Nothing was wrong from a medical standpoint.
So I started doing research and decided to go "clean" in our home. Household and beauty products these days honestly have very few requirements they need to pass before being released to the public, therefore allowing lots of unwanted/unneeded chemicals into the products we use on a daily basis.
That meant removing anything that did not pass the EWG (environmental working group) test for safety.
Laundry Detergent
Hand Soap
Shampoo
Conditioner
Face Wash
Makeup
I did this slowly, because all at once was a huge hit to the budget. After that switch I started to research essential oils. I'd been hearing so much about them, but didn't understand what the big deal was and honestly if they even worked.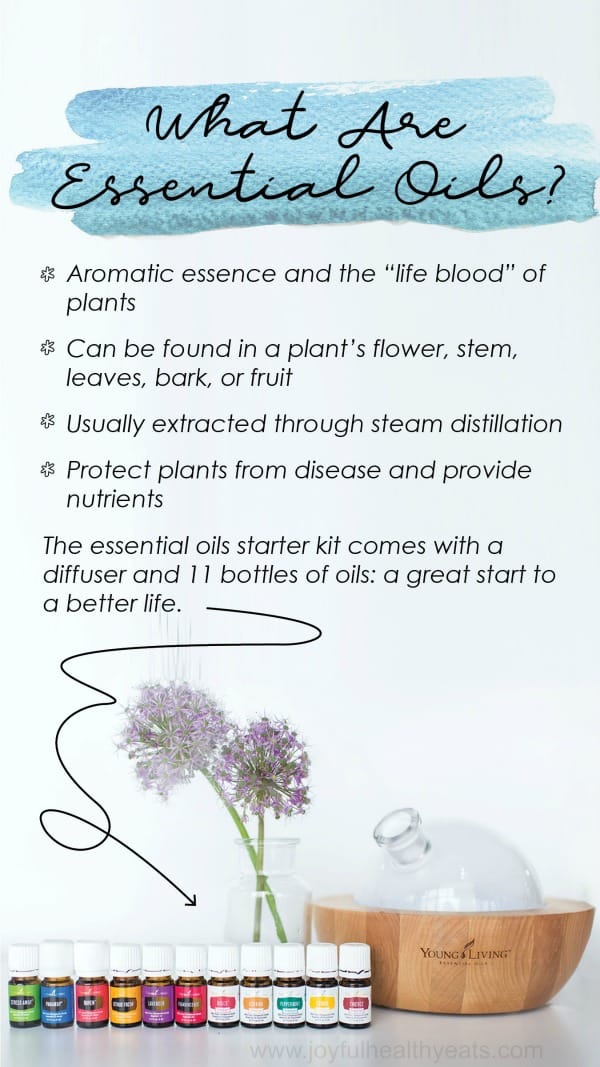 What Are Essential Oils?
Essential Oils are the liquid of the plant, responsible for carrying nutrients and also aids the plant in healing. When distilled the oil captures the plants fragrance and flavor. The oil itself acts in our body much the way it does in a plant, provides nutrients and aiding in healing. The way and process by which the essential oils are made is important, some essential oils obtained through the chemical processes are not considered true essential oils.
Where to Buy Essential Oils?
There are a couple of places you can purchase oils. However, I have finally landed on Young Living Oils. Not all essential oils are created equally. Young Living will never knowingly compromise by adding synthetics, contaminants, or cheap fillers, or by using unethical production practices. Basically, you get what you pay for. If you're going to spend money on essential oils, why not get the best essential oils out there that are truest to form! Seed to Seal, essentially. Young Living puts there oils through over 20 tests and repeats several times … if they don't pass even one of the tests the oil gets tossed before released to the public! Now that is something to brag about!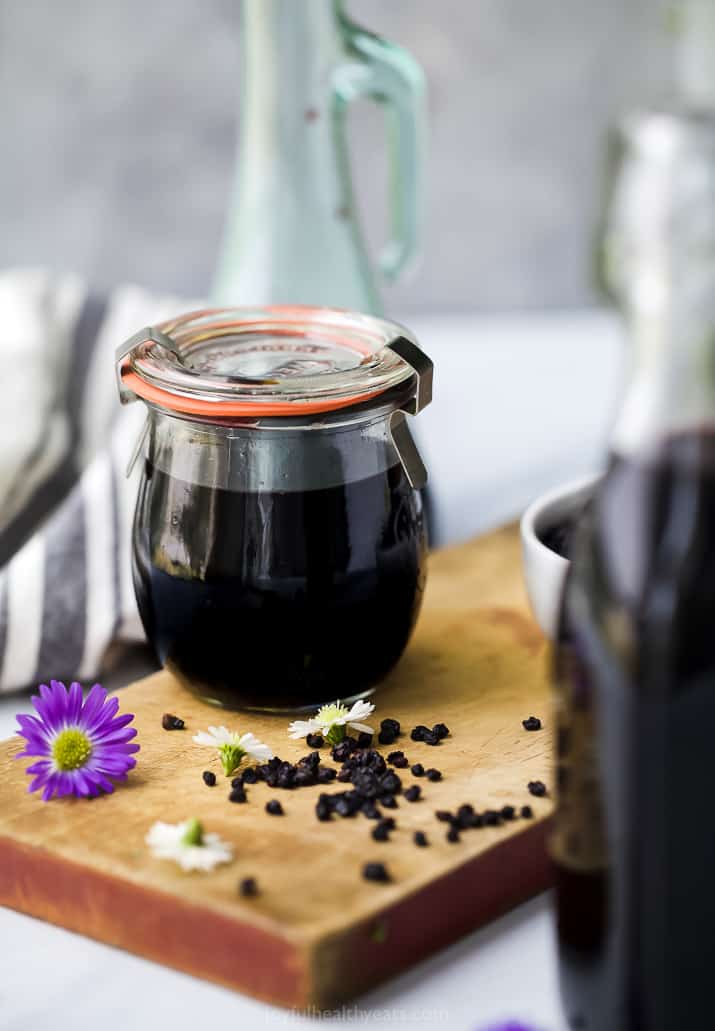 Essential Oils Guide – The Basics
The best was to get your feet wet is starting with a starter kit. It gives you all the essentials for healthy living (plus a diffuser). And as you start to get hooked (which you will) you can start adding more to your essential oil collection. Here are the basics I recommend you starting with:
Thieves Oil – is another GREAT one to use regularly for immune support. It smells amazing and works wonders. It is a blend of Lemon, Clove, Cinnamon Bark, Eucalyptus radiata, and Rosemary cineol.
Lavender Oil – is very calming. It might remind you of a spa. It's great in the diffuser or on your feet before bed for a restful night's sleep.
Peppermint Oil – is great to help curb your appetite and gives you an afternoon pick-me-up. Also great for an upset tummy. Add a drop to a capsule or water and drink after a big meal. I use it regularly for my headaches as well.
Lemon Oil – supports your liver and your lymphatic and immune systems to provide a gentle detox. Put a drop of Lemon Vitality in your water for a gentle detox.
Copaiba Oil – is also calming. It helps the body naturally respond to injury and is a great everyday support oil.
Frankicense Oil – like Lavender, is very calming. It is grounding: great for meditation. It is also amazing for your skin to help create a youthful appearance. Apply a drop to your forehead or diffuse for a peaceful atmosphere.
Panaway Oil – is great for soothing your muscles and joints before or after exercise. If you slept funny and woke up with a stiff neck or if you have growing kids, this is a great one to combine with Copaiba and Peppermint to use on your muscles and joints.
Citrus Fresh Oil – is a blend of Orange, Tangerine, Mandarin, Grapefruit, Lemon, and Spearmint. It may help to enhance the feeling of well-being in children. It is relaxing and calming and it smells SO good. Think citrus with a hint of mint.
DIGIZE Oil – contains Tarragon, Ginger, Peppermint, Juniper, Fennel, Lemongrass, Anise, and Patchouli. While not great smelling, it is everyone's favorite because it works so well.
How to Use Essential Oils:
Aromatically – this may be the most well know way to use essential oils. Through a diffuser you're able to fill the air with the essence of that essential oil allowing it to get into your lungs and therefore you're blood stream. Be sure to look at your diffuser to get the correct water to oil ratio. Even if you don't have a diffuser you could simply take a few drops from the bottle into the palm of your hands. Cup your hands around your mouth and nose and take deep breaths in of the oil.
Topically – this is the most popular way to use it. (and what I do most of the time) Place on your head (around the crown), behind ears, wrists or on the vita flex points. You can dilute the oil with a carrier oil, such as coconut oil (any natural vegetable oil is fine too, such as grape seed, olive, avocado or jojoba) to reduce the strength or smell of the oil if it's too much.
Internally – you can also start using them internally by ingesting them. Young Living came out with its own Vitality brand that is approved by the FDA to ingest. This allows you to get the maximum benefit of the oil and fastest absorption rate. I've even used them in cooking, like oregano or black pepper oil for my pasta sauce or lemon oil for my Lemon Raspberry Protein Muffins.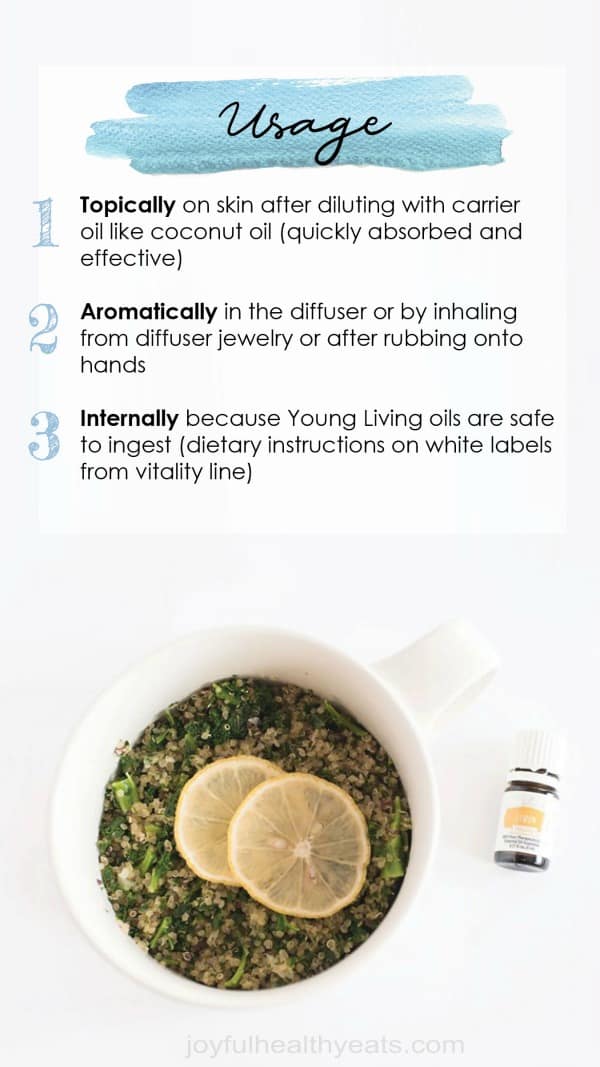 If you're ready to get your feet wet in oils the premium starter kit is the way to go—> click HERE . Here's what you get:
Dewdrop™ or Dessert Mist Diffuser
Premium Essential Oils Collection 10 oils (thieves, lavender, peppermint, lemon, copaiba, frankincense, citrus fresh, digize, panaway and raven)
Stress Away™ Oil 5-ml
AromaGlide™ Roller Fitment
Thieves Household Cleaner 1-oz. sample
2 NingXia Red® 2-oz. samples (a great antioxidant made from wolfberries)
Have questions? Email me info@joyfulhealthyeats.com otherwise
Ok, now let's move on to one of my go to recipes during cold and flu season, besides that Healing Chicken Soup of course. (wink wink) But really, you could use this Homemade Elderberry Syrup Recipe year round.
So, what is elderberry? Elderberry is a berry that is loaded antioxidants and anti-inflammatory properties that help ward off sickness. Then, for the syrup, you add in the benefits from the cinnamon, honey and other oils themselves. This recipe turns into one syrup superhero to fight off sickness. Our little family has been taking spoonfuls of this daily the past couple of months and my 6 year old LOVES it!
Soo…
How to Make Elderberry Syrup:
Add dry elderberries, water, cinnamon and honey to a medium saucepan.
Bring to a boil, reduce to simmer for 30 minutes.
Let cool. Strain the elderberries from the pan so you are left with just the liquid.
Add essential oils to the mixture. (lemon, citrus, cinnamon bark, clove and thieves)
Store in an air tight container in the refrigerator for up to 3 months.
How Many Times a Day Should I Take Elderberry Syrup?
It is recommended up to 2 tablespoons of elderberry syrup per day for adults.
For children 2+ in age it is recommended 1 teaspoon per day.
You can buy a 1lb. bag of dry elderberries on amazon –> click here to buy it now!
I hope that this post was insightful to you and if you were on the fence with that whole "essential oils" thing this pushed you a little further or over the edge into giving it a shot. Health and Wellness is a passion of mine.
In fact, it's what I majored in in college!
I am so excited to start sharing more of my healthy lifestyle tips & tricks with you! Until next time friends!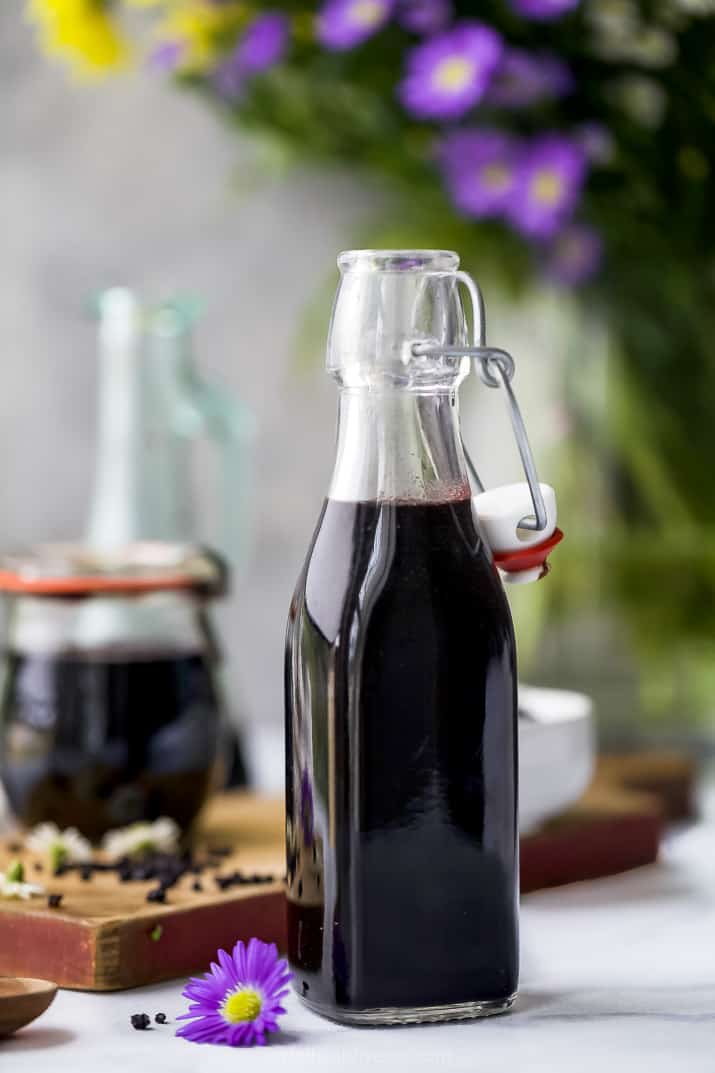 *** There are affiliate links in this post, but all links and opinions are 100% mine and what I honestly believe. Thank you for supporting Joyful Healthy Eats!*
Print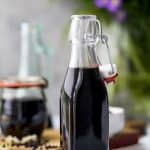 How to Make Elderberry Syrup
Author:

Prep Time:

5 min

Cook Time:

30 min

Total Time:

35 minutes

Yield:

3 cup

s

1

x
Category:

Natural Remedies

Method:

Stove

Cuisine:

American
---
Description
A recipe for how to make Elderberry Syrup with elderberries, honey and essential oils. A natural antioxidant anti-inflammatory immune boosting syrup your kids will love!
---
Scale
Ingredients
1 cup

dried elderberries

4 cup

s water

1 cup

honey

1

cinnamon stick

4

drops of lemon oil

4

drops of citrus oil

4

drops cinnamon bark oil

2

drops of clove oil

2

drops of thieves oil
---
Instructions
To a large sauce pan add dry elderberries, water, honey and cinnamon stick.
Bring to a boil. Reduce to simmer for 30 minutes.
Strain the mixture into a large bowl or mason jar.
Add lemon oil, citrus oil, cinnamon bark oil, clove oil, and thieves oil. Stir everything together.
Store elderberry syrup in an air tight container (I store mine in a large mason jar) for up to 3 months.
---
---
Notes
* Stir before using.
** Adults can take up to 2 tablespoons per day. Childcare can take 1 teaspoon per day.
---
Nutrition
Serving Size:

1 tablespoon (adult) 1 teaspoon (children 2+)
Keywords: natural medicine, home remedies, natural remedies, how to use elderberry syrup, how to make elderberry syrup, elderberry syrup, immune boosting, antioxidant recipes, essential oils, aromatherapy, anti-inflammatory recipes, homemade elderberry syrup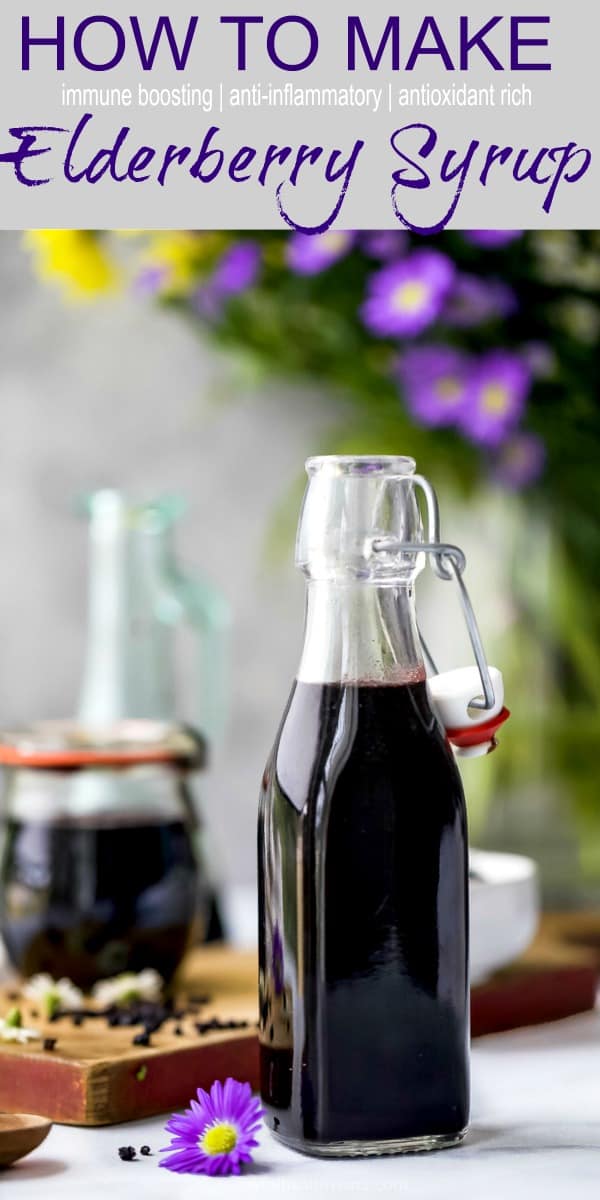 DON'T MISS A RECIPE ->