Have you ever noticed that you when you try to cut back on sweets the cravings just get stronger?  What's up with that?  Doesn't my body realize I am trying to do a good thing?  Its like my brain is working against me, I try to refrain and I just want it more.  Sheesh! Give a girl a break!  So trying to appease the sweet tooth in me, but keep it healthy I started searching through my cookbooks and there it was… standing in all its glory.  This Blueberry Cobbler from one of my paleo recipes books.  It was as if the angels came down and starting singing that famous Hallelujah chorus.
This Blueberry Cobbler is not only so easy to make but is packed full of flavor.  The crumble on top gets nice and crunchy and the amount is just right, not too much that it overwhelms the dish and not too little.  Once in the oven the blueberries melt down and become absolutely deliciousness with a hint of lemon, then add in the crumble topping into that bite and WOW!  It is a great blueberry recipe to have on hand. Plus it's Paleo and healthy for you!
To get started, preheat over to 375º. Wash 2 pints of fresh blueberries.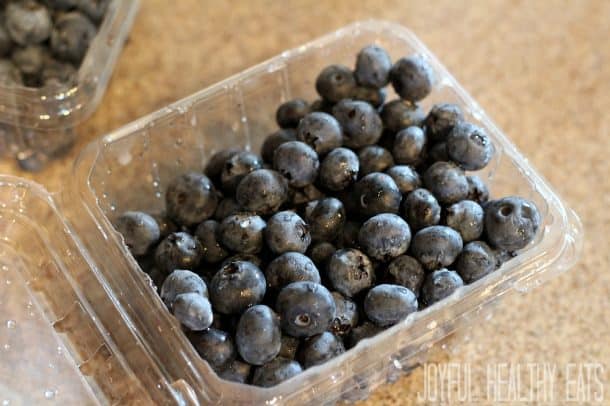 Distribute blueberries evenly between 6 small ramekin dishes.  Juice 1 lemon and evenly spread juice over each ramekin. Toss blueberries to coat with lemon juice.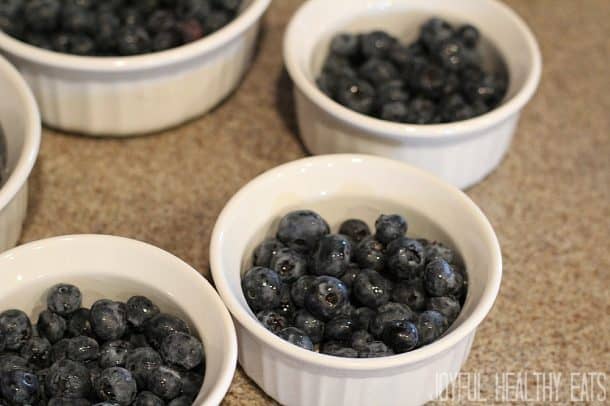 In a small bowl, mix together 1 cup of almond meal/flour.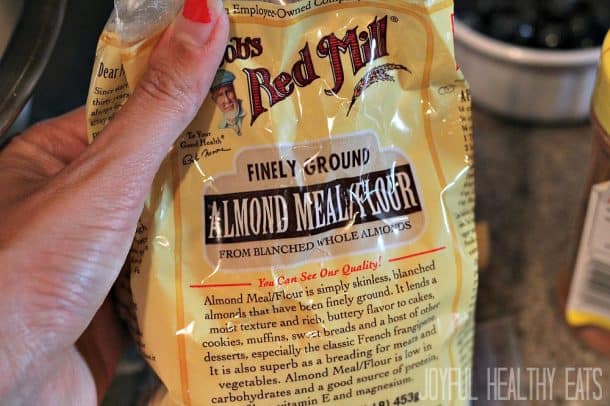 Along with 2 Tablespoons of maple syrup, 1/4 cup of melted butter or coconut oil, 2 pinches of salt, and 1/4 teaspoon of cinnamon.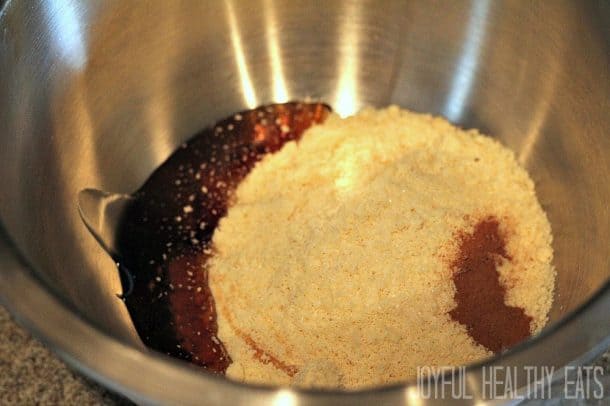 Lastly add in 1/4 cup of chopped hazelnuts.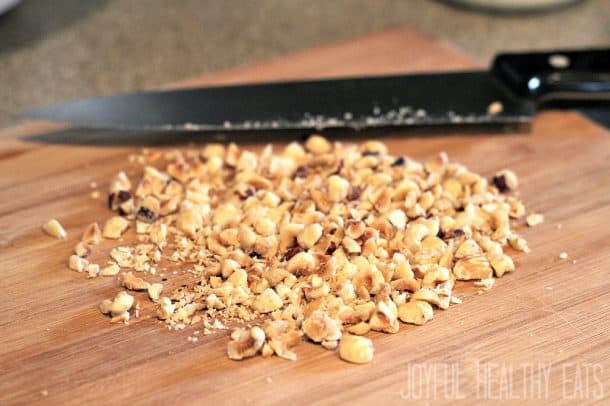 Mix until everything is combined.
Sprinkle each ramekin with a little bit of the crumble.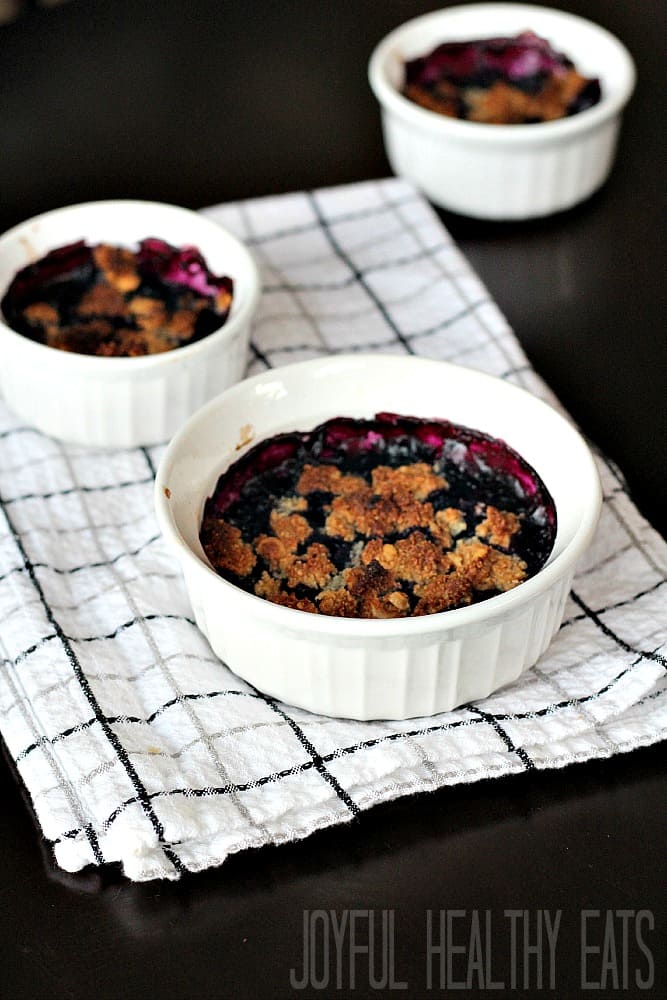 Place in oven and bake for 30-40 minutes, until the blueberry mixture starts to bubble and topping is browned.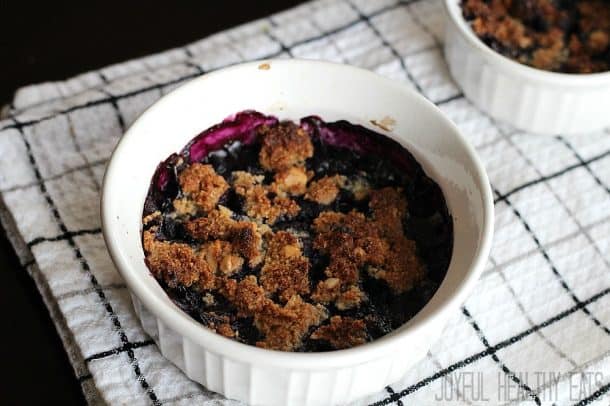 Serve warm. You could serve it with a side of frozen vanilla yogurt, but it is so good with out it! {plus that would take away the whole paleo part :)}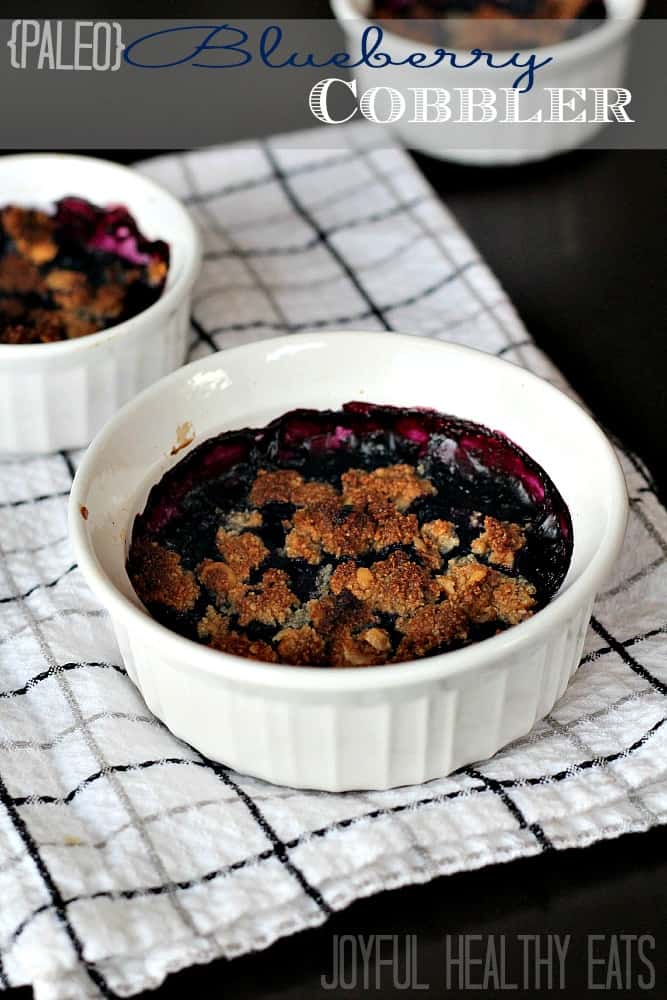 Blueberry Cobbler {Paleo}
Recipe type:
Paleo, Dessert, Gluten-free
Ingredients
2 pints of fresh blueberries
juice of 1 lemon
1 cup of almond meal/flour
¼ cup of melted coconut oil or butter
2 Tablespoons of maple syrup
¼ teaspoon of cinnamon
2 pinches of salt
¼ cup of chopped hazelnuts
Instructions
Preheat over to 375º.
Wash 2 pints of fresh blueberries and distribute evenly between 6 small ramekin dishes.
Juice 1 lemon and evenly spread juice over each ramekin.
Toss blueberries to coat with lemon juice.
In a small bowl, mix together almond meal/flour, maple syrup, melted butter or coconut oil, salt, cinnamon, and chopped hazelnuts.
Mix until everything is combined.
Sprinkle each ramekin with a little bit of the crumble.
Place in oven and bake for 30-40 minutes, until blueberry mixture starts to bubble and topping is browned.
Serve warm. You could serve it with a side of frozen vanilla yogurt, but it is so good with out it! {plus that would take away the whole paleo part :)}
More Recipes by Joyful Healthy Eats you might enjoy: