This Homemade Ragu Sauce is rich, savory, filled with vegetables, umami flavor and easy to make. Ragu, an Italian classic, can be paired with just about anything including just a spoon.
If you're looking for some other Italian-inspired dishes, check out my Four Cheese Ravioli with Homemade Marinara and Baked Eggplant Parmesan.
The Best Homemade Ragu Sauce
I can smell the simmering tomatoes, beef, and garlic already! That smell is unmistakable. There's nothing like getting all the ingredients together for this sauce, pouring a glass of red wine, and getting to work. This kind of Italian cooking is therapeutic and soothing to make. The steps are so simple. Every time you add something else into the pot the flavor deepens, and the aroma gets even better.
Did I mention this dish starts with bacon!? See what I mean about this being the best-smelling dish? Then carrots, celery, and onions are cooked in the bacon fat and it only gets better from there. We'll add in Italian sausage, beef, tomatoes, and tons of fresh herbs. There's a little balsamic vinegar at the end for a touch of acid and sweetness.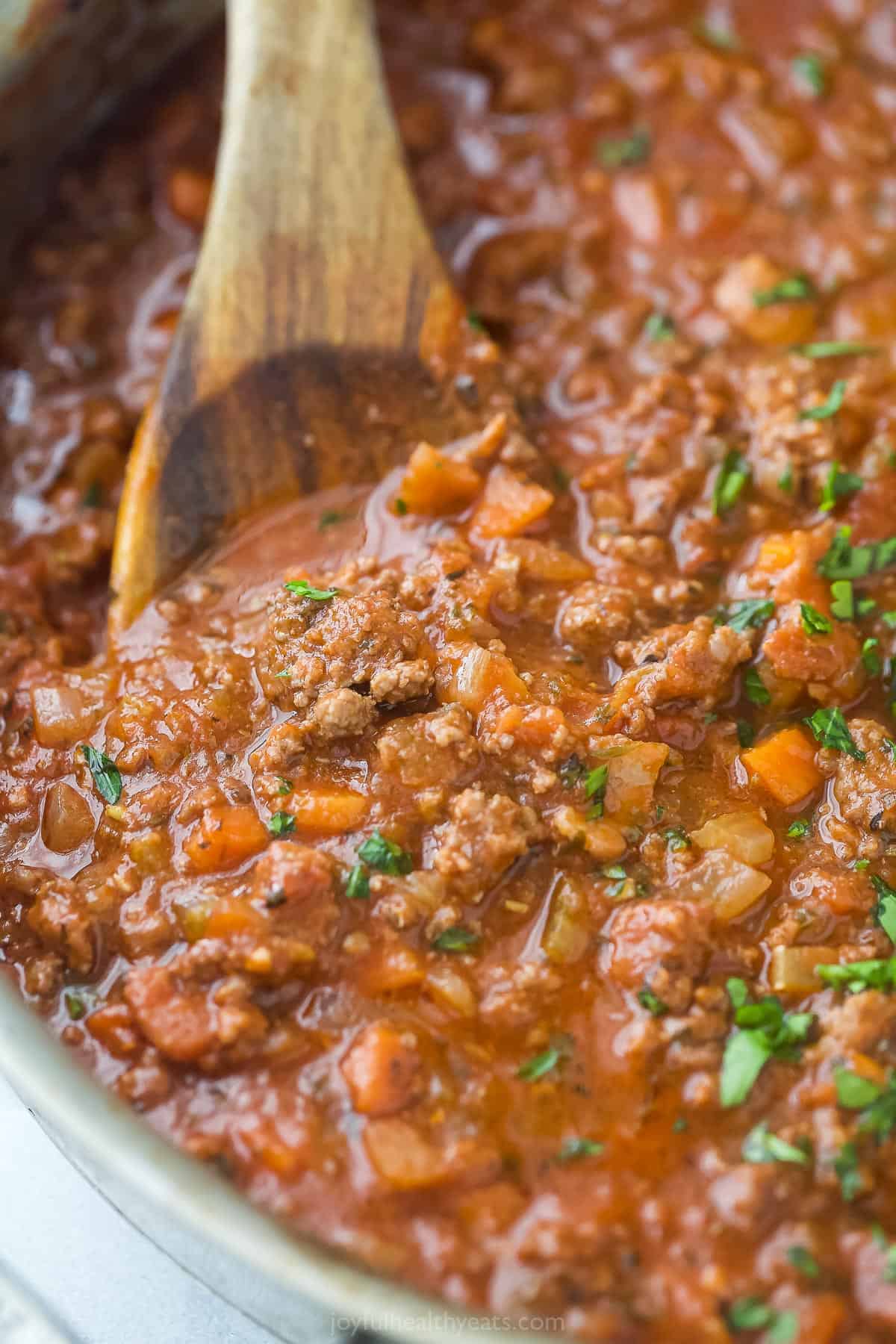 What's the Difference Between Ragu and Bolognese?
If you were to compare ingredient lists, you'd think that Ragu and Bolognese were identical sauces. But if you dig a little deeper, you'll see that there are some differences between the two.
The bottom line is that Ragu is like the top-tier Italian red sauce. It's meaty, has tomatoes, and has wine. Bolognese is a variation of Ragu. It has the same ingredients, but the consistency is a little different.
Ragu is a meatier sauce. Everything is usually minced to be about the same size. This version contains pork and beef, but you'll sometimes find veal or other cuts of meat in it, too. Ragu typically has red wine in it. So basically, it's thicker and cooked with red wine.
Bolognese also has meat but usually has more tomatoes. So it's a bit saucier. Compared to Ragu, Bolognese is usually cooked with white wine. And now you know the difference between Ragu and Bolognese!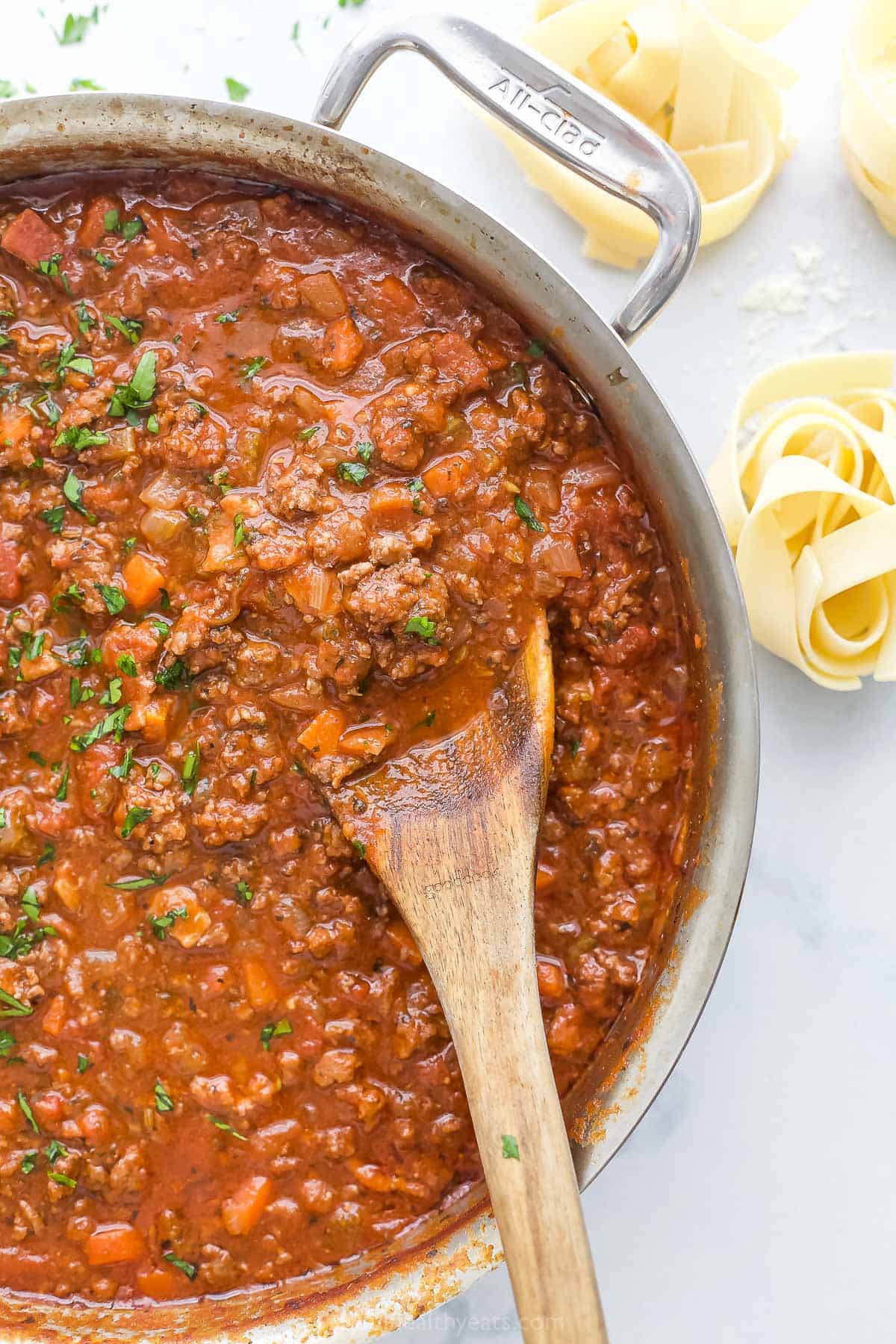 Recipe Ingredients
Here's what you'll need to make simple Homemade Ragu Sauce.
Bacon: Every good dish starts with bacon!
Yellow Onion, Celery, Carrots: a.k.a. "mirepoix" – a French cooking term for this trio of ingredients. These three vegetables are the base ingredients for hundreds of dishes across different cuisines!
Garlic: Another ingredient at the beginning that sets the tone for the entire dish.
Grass Fed Ground Beef: I would recommend a lean mix of 90/10 so that the sauce doesn't have too much grease.
Italian Sausage: You can use ground or just remove it from the casing prior to cooking.
Salt: Always added to balance out the sweetness of the tomatoes.
Red Wine: You can also use beef broth and you'll use it to deglaze the pan.
San Marzano Whole Tomatoes: These plum tomatoes and sweet and only mildly acidic.
Tomato Sauce: Make sure you find a can that is no salt added.
Tomato Paste: Tomato paste deepens the tomato flavor without adding too much sweetness.
Parsley, Oregano, Basil: For this recipe, I recommend using dried spices.
Balsamic Vinegar: A finishing touch that adds a bit of sweetness and acid.
Parmesan Cheese: The salty cheese cuts the acidity of the sauce perfectly.
How to Make Ragu Sauce from Scratch
Grab a glass of red wine and let's get to work! Here's how we're going to make Simple Homemade Ragu Sauce.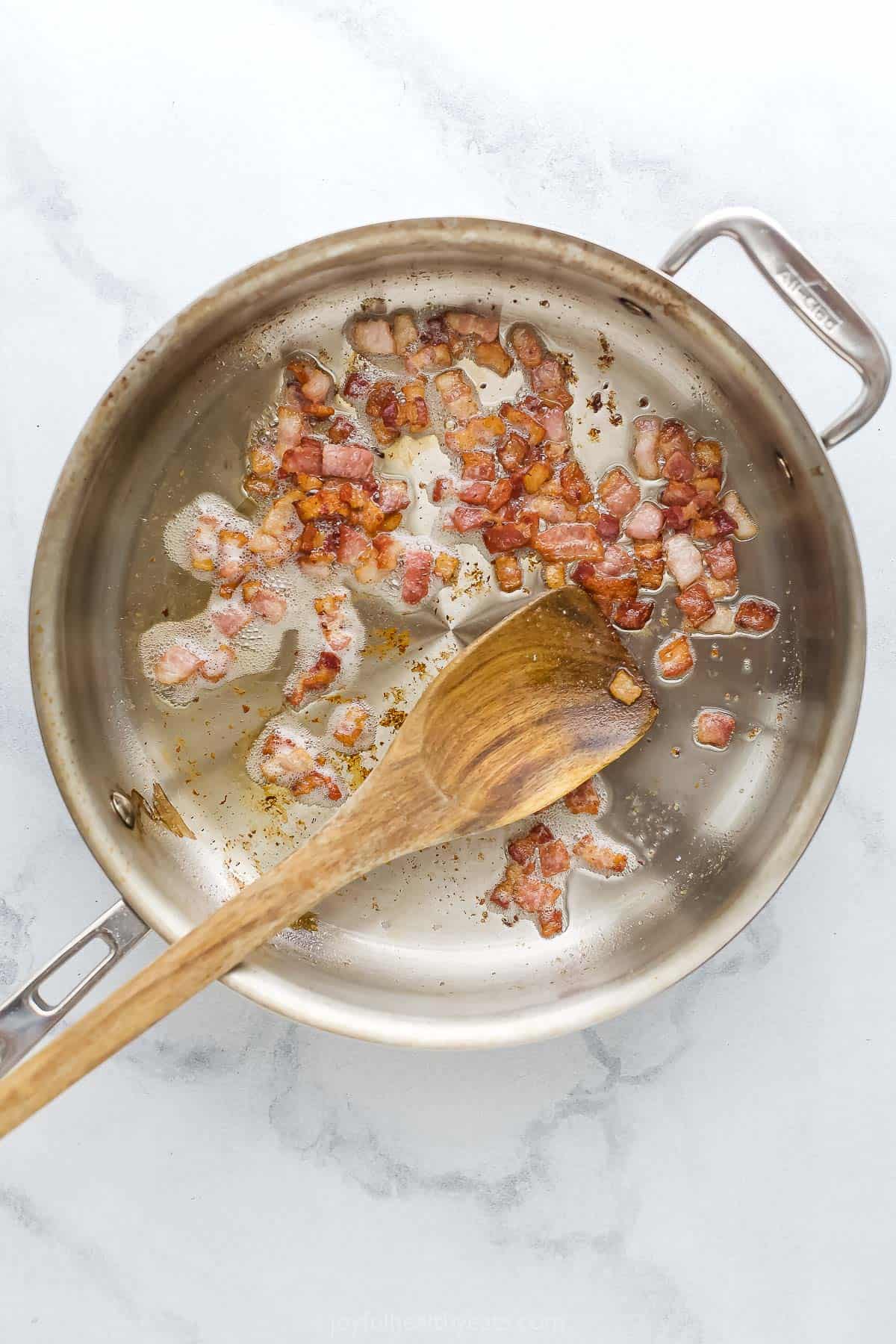 Saute the bacon. Heat a large dutch oven and start to render the fat from the bacon. You'll use this fat to cook the carrots, celery, onions, and garlic.
Then, add the carrots, onions, celery, and garlic. Cook them until they are tender and the onions are translucent.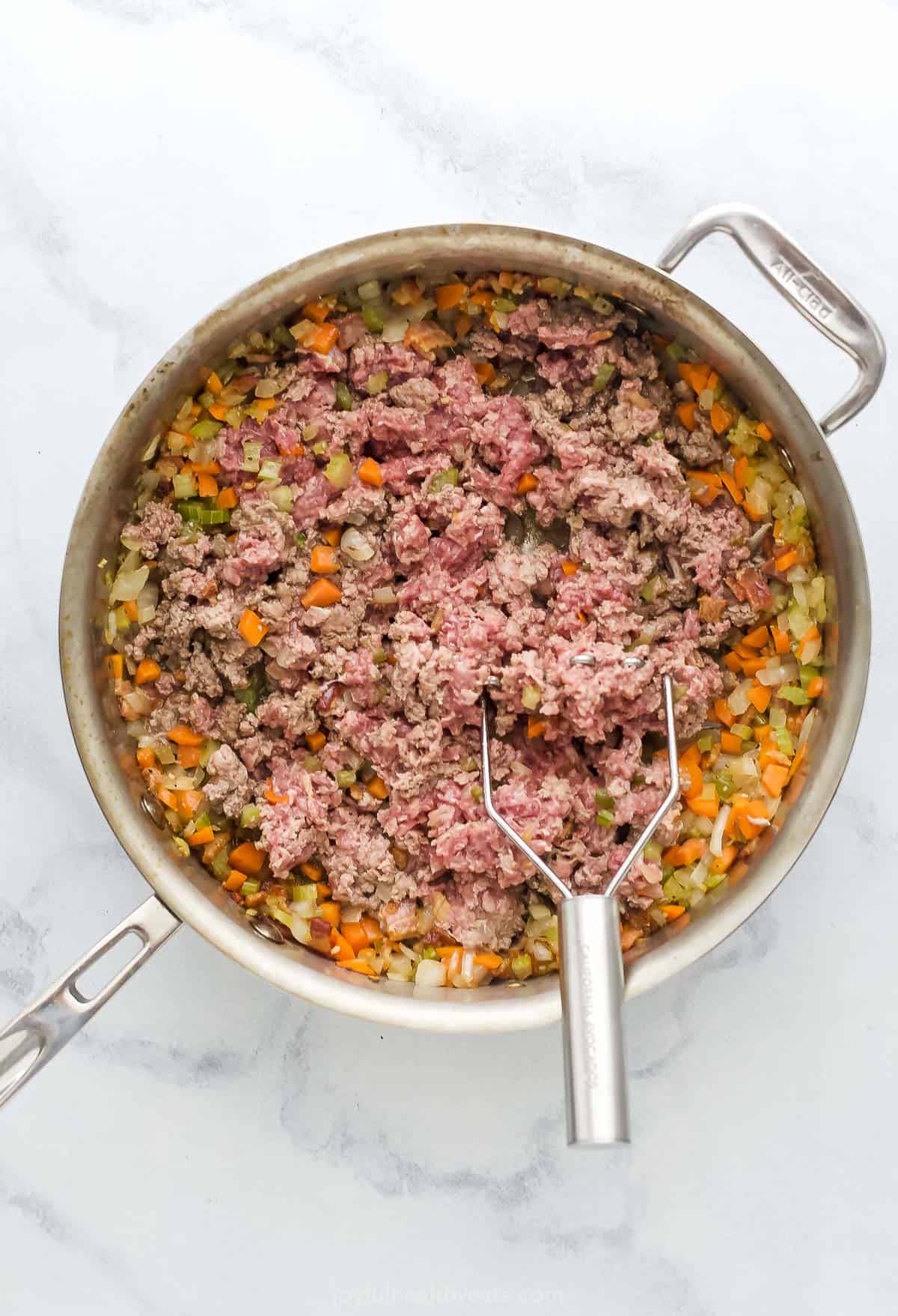 Add the meat. While the meat is cooking, break it up with a potato masher or wooden spoon. Mix together so that the flavors develop.
Deglaze the pan. What does "deglaze" mean? When you deglaze, you'll add the red wine to hot pan and it will start to sizzle. While the liquid is simmering, mix the ingredients in the pan so that you get any pieces of meat or vegetables that are stuck to the bottom. You want that deliciousness in the sauce!
Add the tomato ingredients and spices. Next, you'll stir in the tomatoes, tomato sauce, tomato paste, and dried spices. Then you'll let the sauce simmer for a while.
Add the finishing touches! At the end, you'll add balsamic vinegar and parmesan cheese. These two contrasting flavors will finish the Ragu into an incredibly flavorful sauce.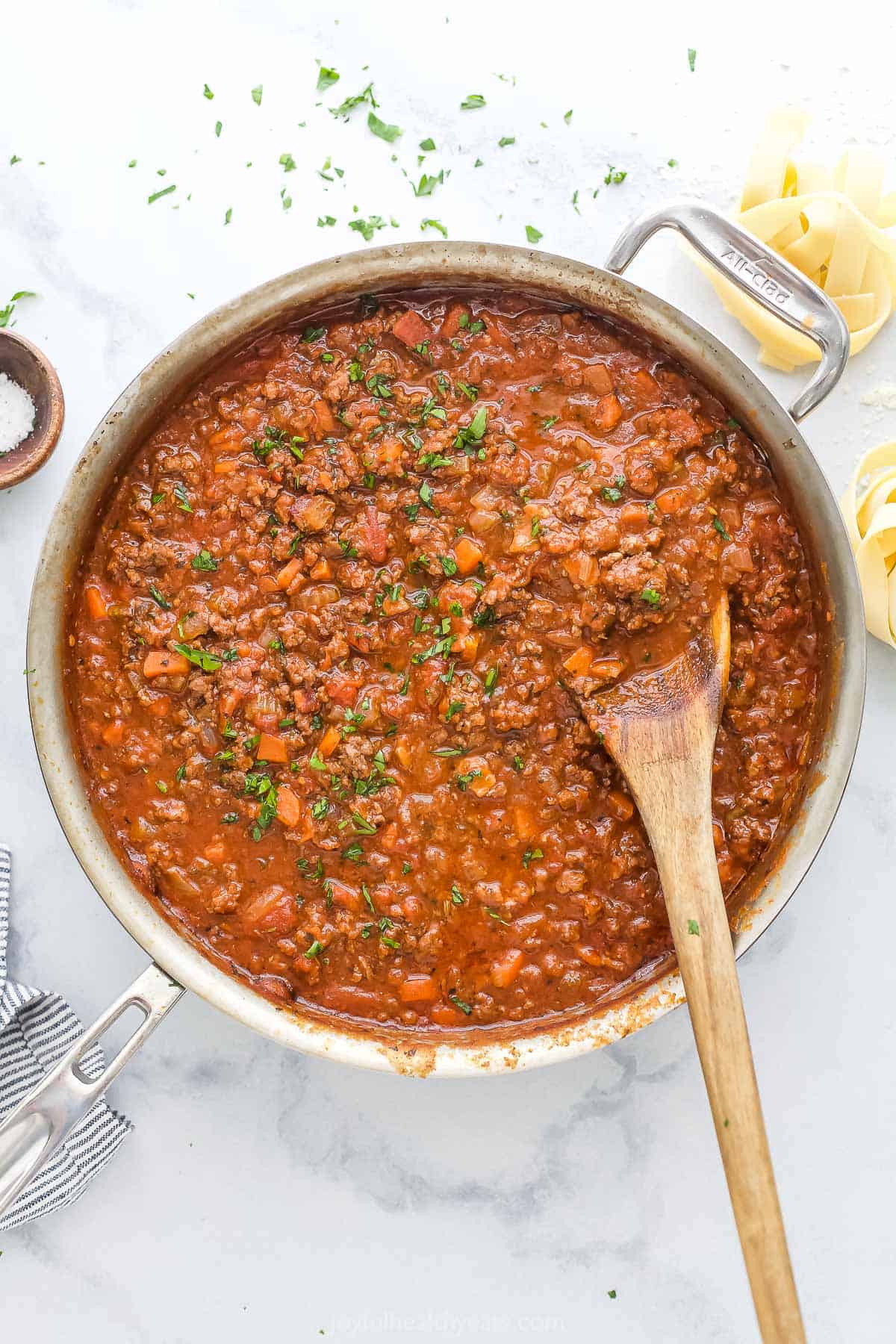 Tips for Success
I'm a firm believer that cooking Italian food requires a lot of heart, and with that comes new cooking skills. The skills develop over time, but you really have to LOVE cooking it! Here are a few tips that will help you along the way.
Always use unsalted canned products. You want to be able to control the amount of salt in your food. You can't do that if you buy foods like salted tomato sauce or canned tomatoes.
That being said, Kosher salt all the way. I've found that the BEST cooking salt is Kosher salt. It has a clean finish and is iodine-free. It has the perfect texture and taste for sauces.
Try to cut your vegetables to the same size. Not only does this allow them to cook at the same rate, but it makes it easier to eat. I also think it makes the sauce look more beautiful!
If you have more time, let it be. Sauces like this Simple Ragu Sauce can be ready to eat after an hour, but the flavors will only develop more if you let it continue to simmer. Better yet, save the leftovers and eat it the next day. I can't explain it, but tomato-based leftovers (like chili) always taste better the next day!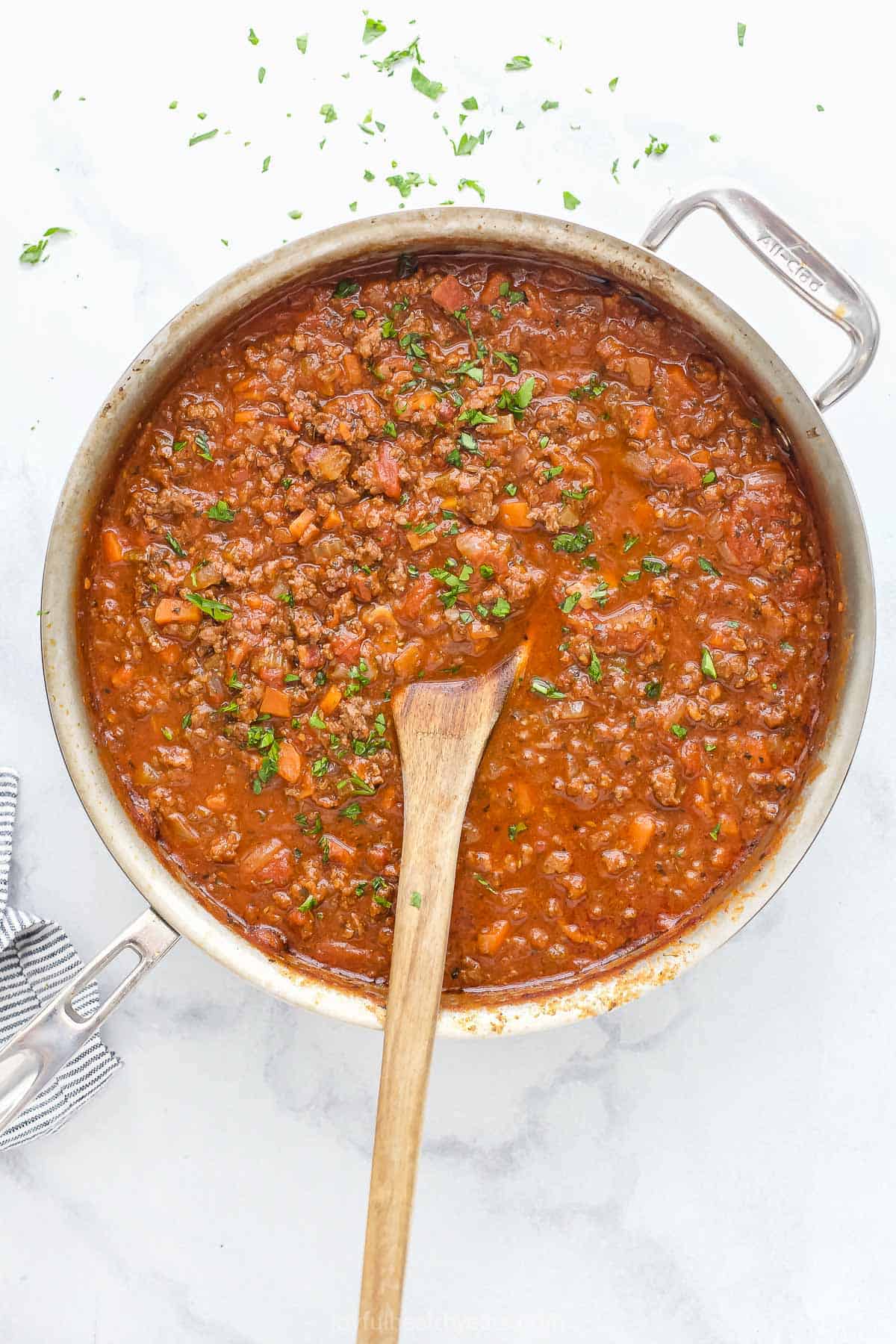 Ways to Use your Pasta Sauce
Now we're getting to the good part! So, I told you that you can just eat this sauce by the spoonful…and by all means, go right ahead! Here are a few other ways that you can also enjoy this delicious sauce.
How to Store and Reheat Extras
My best advice here is to make a lot! You're going to want a lot of leftovers. The sauce is so versatile, you can eat it all week without getting bored.
It's best to store Homemade Ragu Sauce in an air-tight container, like a large Tupperwear dish, mason jar, or deli container. (I love repurposing deli containers from the grocery store!)
The Ragu will stay fresh in the fridge for 5-7 days.
Can I Freeze Extras?
Now, if you made a lot and you still didn't finish it, don't worry! You can absolutely freeze Ragu sauce.
One of the best ways to freeze the sauce would be to put it in a freezer-friendly bag. Then, lay it down so that it freezes flat. It will take up much less space in the freezer that way! For the best taste, eat the sauce within 6 months of freezing it.
Print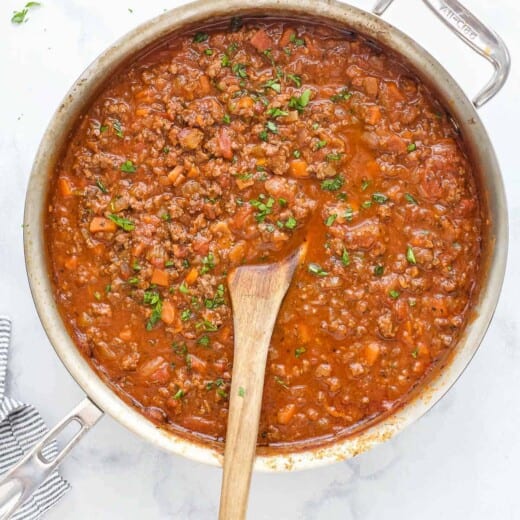 Homemade Ragu Sauce
Author:

Prep Time:

10 minutes

Cook Time:

40 minutes

Total Time:

50 minutes

Yield:

10

–

1

2

1

x

Category:

Sauce

Method:

Stove

Cuisine:

Italian
---
Description
This simple Homemade Ragu Sauce will become one of your go-to favorite family recipes. It's perfect served on top of pasta or polenta. You could also just dip buttery garlic bread into it. You'll love the beef and pork flavors that are complimented with the classic combination of carrots, onions, and celery in a rich tomato sauce.
---
3

strips of bacon, diced

1 1/2 cups

diced yellow onion

1 cup

celery, diced

1 cup

carrots, diced

4

garlic cloves

1

lb grass fed ground beef

1/2

lb ground Italian sausage

1/4 teaspoon

salt

2/3 cup

red wine or beef broth

28 oz

. can san marzano whole tomatoes

8 oz

. can tomato sauce, no salt added

3 tablespoon

tomato paste

1 teaspoon

parsley

2 teaspoons

oregano

2 teaspoons

basil

1 tablespoon

balsamic vinegar

1/3 cup

grated parmesan
---
Instructions
Heat a large dutch oven to medium-high heat, and add the bacon. Saute bacon for 3-5 minutes until bacon is crispy.
Next, add onions, celery, carrots and garlic. Saute for 3-4 minutes, stirring occasionally, until onions are translucent. Season with salt (around 1/4 teaspoon).
Now add in ground beef and sausage to the pot. Cook until meat is browned, about 7-10 minutes breaking down meat with potato masher or wooden spoon the entire time.
Deglaze with red wine, and cook for 1-2 minute until wine has cooked into the meat.
Add in whole tomatoes, tomato sauce, tomato paste, parsley, oregano and basil. Stir and bring to a simmer for 20-25 minutes.
Lastly, add in balsamic vinegar and grated parmesan cheese. Stir to combine and simmer for another 5 minutes. Serve.
---
Keywords: homemade spaghetti sauce, beef ragu sauce, homemade meat sauce
More Easy Italian Recipes
DON'T MISS A RECIPE ->
FACEBOOK | TWITTER | PINTEREST | BLOGLOVIN | INSTAGRAM