Fun Festive Chocolate Covered Strawberry Ghosts – perfect for a healthy spooky treat this Halloween season!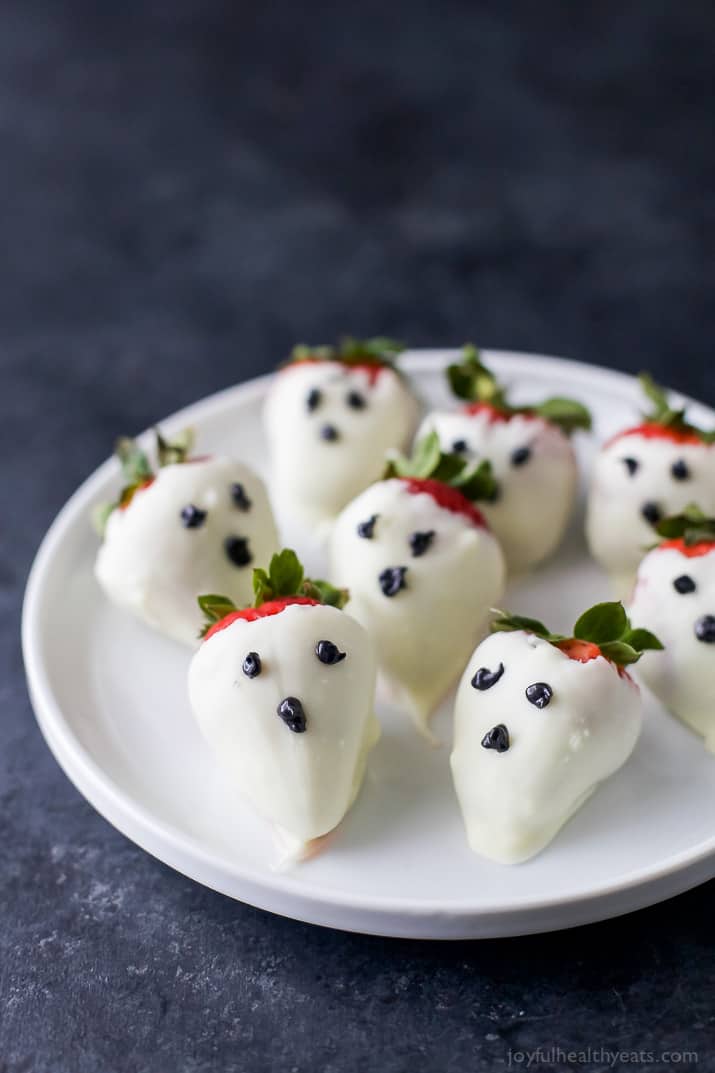 Fun Festive Chocolate Covered Strawberry Ghosts – perfect for a healthy spooky treat this Halloween season!
If you've been following JHE for any amount of time. You know that the cute seasonal treats are not my thing. I'd love to be able to have a mind that thinks of those things. But I just don't. My mind works with ingredients, not with creating some outrageously cool piece of artwork made out of food.
To those people, ahem Beth from The First Year Blog I truly give you credit and tip my hat to you. It takes some true talent, to think of those things, make them and then beautifully photograph them.
These Chocolate Covered Strawberries are my attempt at trying to be seasonal, cute and fun. Luckily, I had a super cute helper to add to the cuteness factor.
Does it work?
I think it does.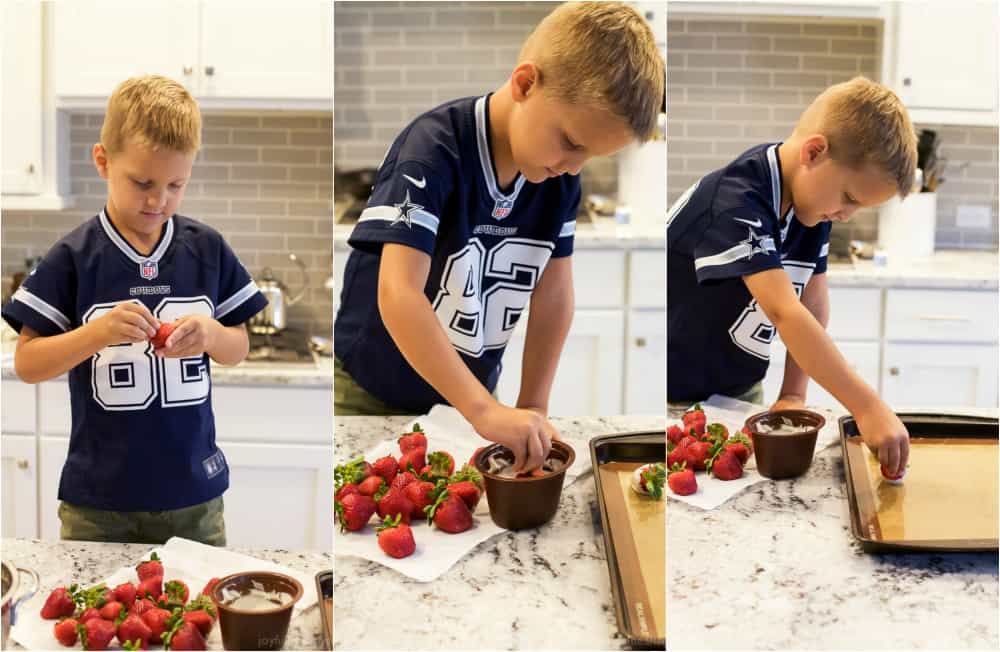 I had planned on making these chocolate covered strawberries during the day so Cason would be surprised. But I ran out of time before I had to pick him up from school. So I asked if he wanted to help mommy make some strawberry ghosts and course the answer was yes.
He ran into my office grabbed his stool, pulled it up to the counter and was ready to go in minutes.
I still think more chocolate ended up in his mouth than on the strawberries. But I was ok with that. Having him home helping me in the kitchen brought back memories of life before school. He was always in the kitchen mixing stuff up with me. Honestly, he loves being in there just as much as I love having him. 🙂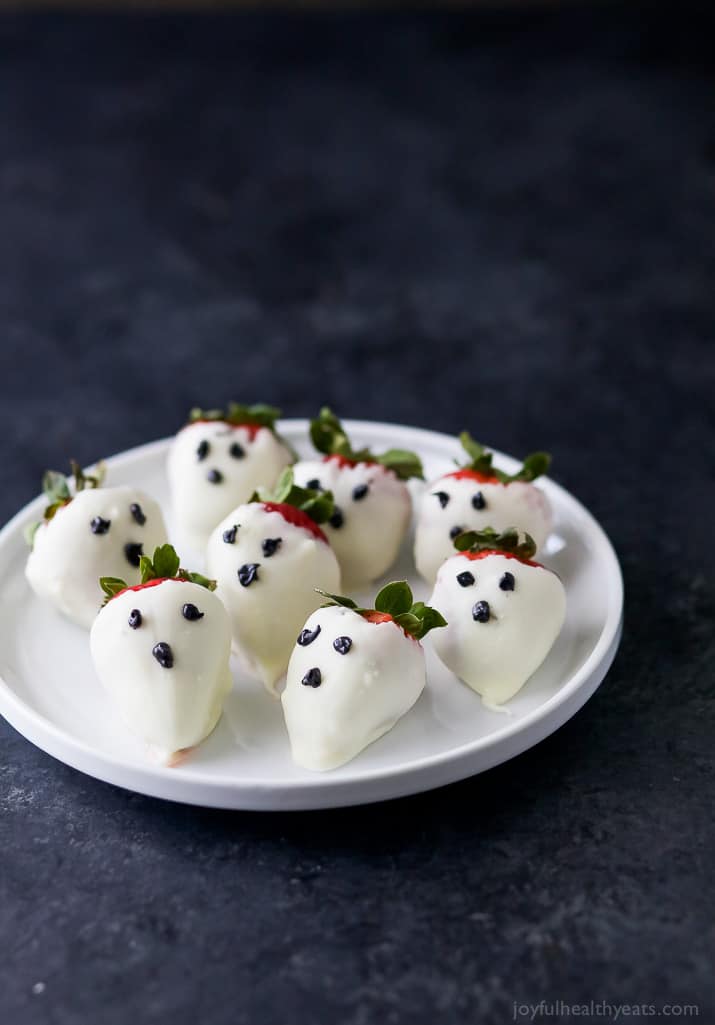 These Chocolate Covered Strawberry Ghosts only require 3 ingredients and as you can see, are easy enough your kiddos can make them!
They are perfect for a class treat because they are a slightly healthier option than most of the stuff out there. Especially around Halloween! But more importantly, you're kids will love making them and then devouring them.
Cason couldn't wait to bring them over to our friends house to share with all the kids. He was so proud!
Fun Festive Chocolate Covered Strawberry Ghosts the perfect healthy spooky treat for Halloween!
Click To Tweet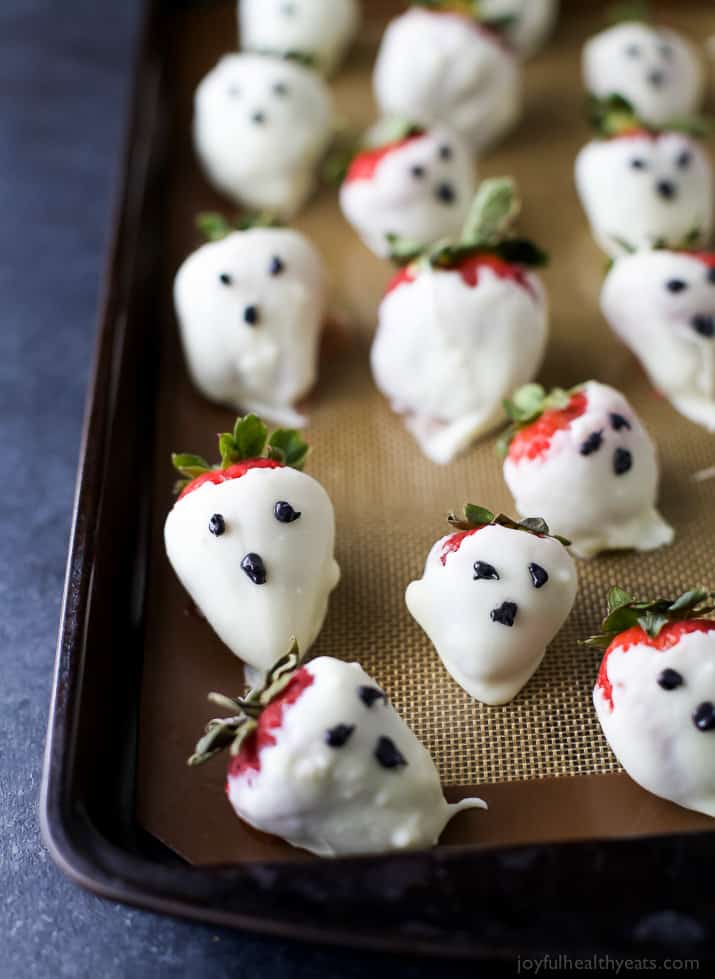 So if you're in the market for a fun yet healthy Halloween treat these Chocolate Covered Strawberry Ghosts are it!
Hopefully these cute ghosts bring a little joy on a Monday!
Bon Appetit friends!
And happy dunking!
Chocolate Covered Strawberry Ghosts
Author:
Krista @ JoyfulHealthyEats.com
Nutrition Information
Serving size:

1 strawberry

Calories:

63
Fat:

4 g

Saturated fat:

3 g

Carbohydrates:

7 g

Sugar:

6 g

Sodium:

8 mg

Fiber:

1 g

Protein:

1 g

Cholesterol:

0 mg
Recipe type:
gluten free, dessert, holiday, kid friendly, snack
Fun Festive Chocolate Covered Strawberry Ghosts - perfect for a healthy spooky treat this Halloween season!
Ingredients
1 pint of fresh strawberries
6 oz. white chocolate melting wafers
small tube of black icing
Instructions
Line a baking sheet with parchment paper. Set aside.
Place white chocolate wafers in a small bowl.
Put in microwave in 30 second increments until chocolate is melted and smooth.
Dunk strawberries in the chocolate and place on prepared baking sheet.
Continue process until all strawberries are covered.
Place in the refrigerator for 5 minutes to let the chocolate harden and cool.
Remove from oven. Using a small tube of black icing, make two eyes and a mouth with the icing. (as shown in the photo)
Serve!
Notes
If you're not serving the strawberries right away keep them in the refrigerator. I wouldn't keep them longer than 1-2 days.
IF YOU MAKE THIS RECIPE, BE SURE TO SNAP A PIC AND HASHTAG IT #JOYFULHEALTHYEATS. I LOVE SEEING WHAT YOU MAKE!

DON'T MISS A RECIPE ->