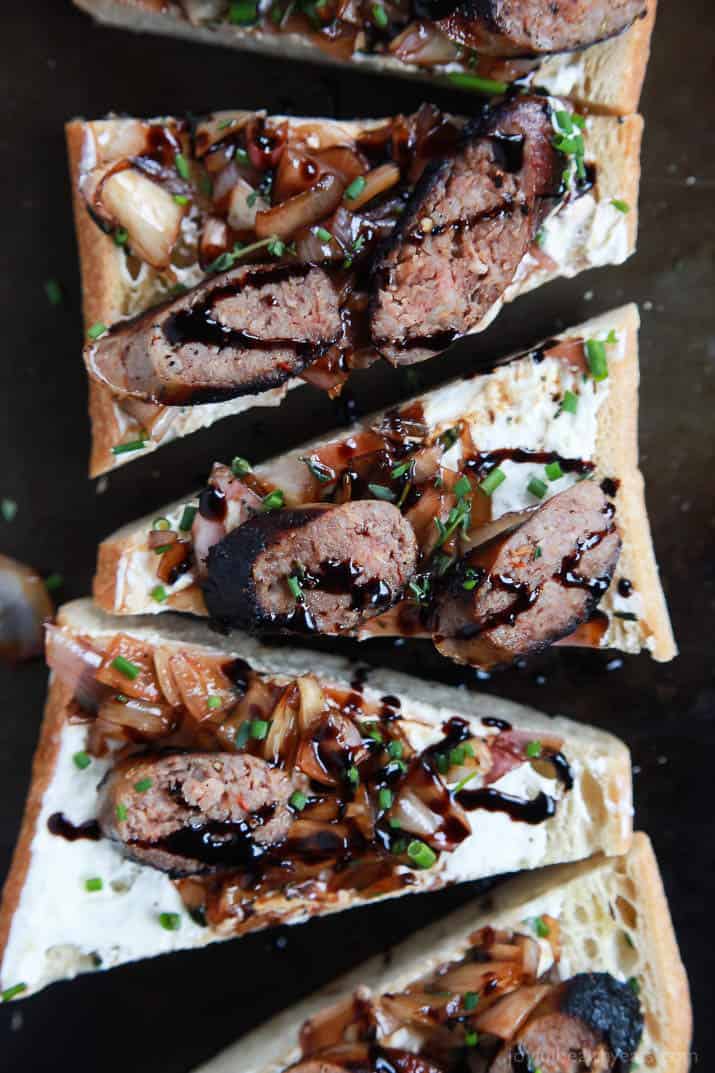 This Balsamic Italian Sausage Crostini topped with Whipped Goat Cheese is the perfect party appetizer to wow your guests for the holidays. It's fancy, delicious, and so easy!
The other day I was driving around running a couple of errands (cuz you know Christmas) when a song came on the radio that brought me to tears.
I should have known the tears were coming. Every time I hear this particular song it happens.
The song was "I'll be Home for Christmas."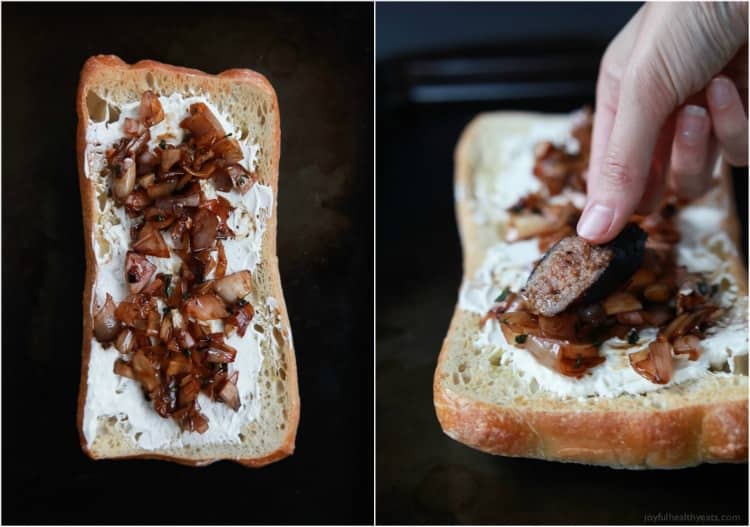 Let's take a trip down memory lane to the Christmas of 2002, shall we. After 9/11 happened in 2001 my dad decided he needed to help his country in any way he could. He made a few phone calls and ended up with a job stationed in Washington DC. Only problem was it was a year long post and we lived in Wisconsin.
At the time my parents were going through a bit of bumpy road in their marriage, from all vantage points a divorce was going to happen. Neither of them were happy. I remember being scared and thinking "this was it," when my dad accepted the position in DC.
We weren't moving to DC …. he was. He was going to be gone for a whole year. What happens when that year is up? Does he come back? Divorce? No one talked about it. We just kinda went through our days as if things were ok, but deep down it felt like our world was falling apart.
Christmas of 2002 rolled around. I had Christmas break from college so I came home to my mom and brother, Dad was still in DC and wasn't going to make it for Christmas for the first time ever. Even the years he had to work on Christmas Eve or Day (he was a police officer) we would still celebrate Christmas together as a family. Every year we rotated homes for Christmas so that one person didn't get stuck hosting. This year was my cousins turn to host. We packed all the presents in our laundry baskets, packed the trays of Christmas Cookies and headed over to my cousins house for Christmas dinner.
It was great and horrible all at the same time. Great because it's Christmas. But horrible because it's Christmas and my dad wasn't there, it didn't feel real.
My brother and I were downstairs playing pool with my cousins kids after dinner while everyone else cleaned up before we opened presents. Finally we heard the call, "Ok, everyone upstairs."
I remember running up the spiral staircase, walking into the living room and every one staring at my brother and I.
All of a sudden my dad walks out from behind the wall!!! He still has his coat on, cold from the outside, tears in his eyes, but a huge smile on his face.
I literally just broke down crying. My heart was about to burst. I ran up to him just about knocking him over and gave him the biggest hug ever!
It was the BEST Christmas gift I could have received! My dad was back home and my family was reunited!
Now, every time I hear the song "I'll be home for Christmas" this is the scene that plays out in my head and tears come to my eyes. I will always remember that Christmas, it is forever engraved on my heart! It was the Christmas that LOVE was the primary gift and family was all that mattered. Like it should be. (on a side note, this year 2015 my parents celebrated 36 years of marriage, God is so good and can bring beauty from the ashes)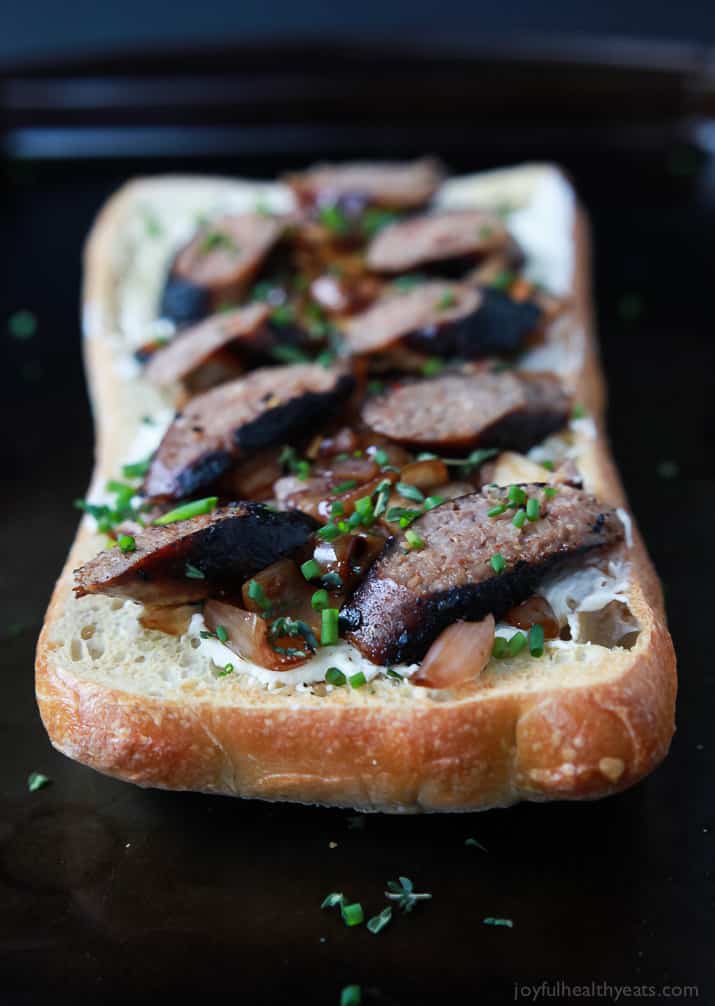 Ok, so right now. There is no possible way to transition from that to Italian Sausage … except the fact that this Wisconsin girl grew up on Grilled Italian Sausage topped with Peppers and Onions. I guess in a way, this appetizer is kinda an ode to my mom and her incredible culinary skills! Muah!
I feel like November it's all about the Turkey and side dishes but in December it's all about the Holiday Appetizers and Christmas Cookies.
So, on that note … behold … the worlds most delicious Crostini you will ever have!
This baby is topped with crispy pan seared Italian Sausage, whipped Goat Cheese that has a slight hint of garlic, and then finished off with the grand daddy of them all … a caramelized balsamic shallot relish that will make you swoon! Oh and if you want to make it even more over the top (ppffff… yeah!!!) then drizzle it with some homemade Balsamic Reduction to make it extra elegant!
Just a warning, this appetizer is in no way healthy. It is comfort food and delicious to the core AND YOU NEED TO MAKE IT! Put on your fatty pants and rock it! Bon Appetite my friends!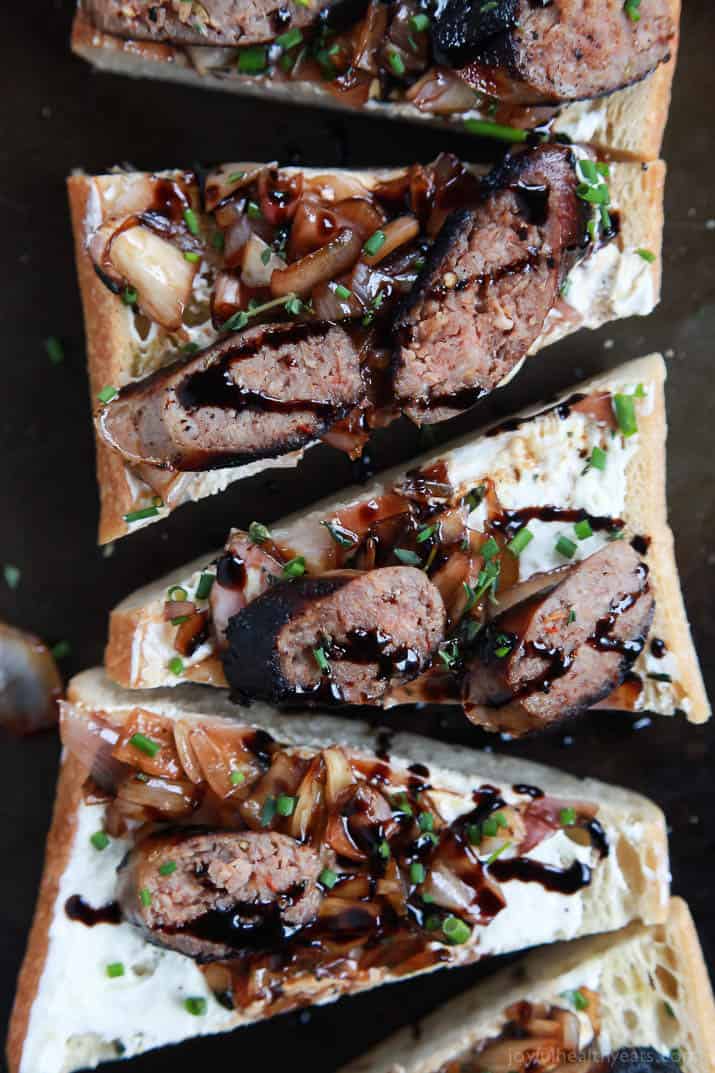 Print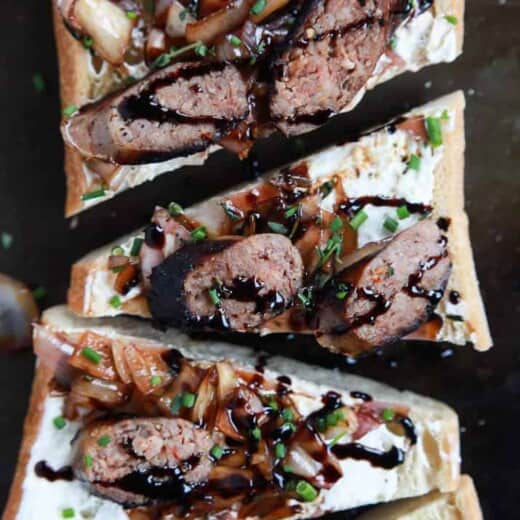 Balsamic Italian Sausage Crostini with Whipped Goat Cheese
Author:

Prep Time:

5 mins

Cook Time:

40 mins

Total Time:

45 mins

Yield:

10

crostinis

1

x

Category:

Appetizer, Holiday,

Method:

Baked

Cuisine:

Italian
---
Description
This crostini is topped with crispy pan-seared Italian Sausage, whipped Goat Cheese with a hint of garlic, and finished off with a caramelized balsamic shallot relish.
---
loaf of ciabatta bread, halved lengthwise (you will have to long pieces)

2 tablespoons

olive oil

3

shallots, peel removed and halved

3 tablespoons

balsamic vinegar

1 teaspoon

fresh thyme, diced

4 oz

. goat cheese, softened

3 oz

. cream cheese, softened

1/2 teaspoon

garlic powder

3

italian sausages

1/4 cup

chives, diced
optional: balsamic reduction to drizzle on top
---
Instructions
Preheat oven to 400.
To make the Balsamic Shallot Relish: In a small bowl, add shallot and 2 tablespoons of balsamic vinegar. Toss to coat. Let sit for 5 minutes.
Place shallots on a baking sheets or baking dish. Bake for 15 minutes. Remove and roughly chop. Add chopped shallots to a small bowl with remaining tablespoon of balsamic vinegar, pinch of salt, and fresh thyme. Toss to mix. Set aside.
To make the whipped goat cheese: add goat cheese, cream cheese, and garlic powder to a food processor. Blend until smooth and combined. (if you don't have a food processor put everything in a bowl and use a hand mixer) Set aside.
To make the italian sausage: heat a medium skillet to medium high heat. Add italian sausage, cook sausage for 3-4 minutes on each side (all four sides) until browned on all sides. Remove and let sit.
To make the bread: Preheat oven to high broiler. Drizzle olive oil on the inside of the bread. Place on a baking sheet and place under broiler for 4 minutes.
Remove bread from the oven.
Slice Italian Sausage into 1/4″ coins
Assemble the Crosinis: Spread the goat cheese mixture evenly on each loaf, top with balsamic shallot relish, and italian sausage. Garnish with chives and more fresh thyme.
Slice and serve!
Optional: drizzle with homemade balsamic reduction for a fancy finish
---
---
Nutrition
Serving Size:

1 crostini

Calories:

333

Sugar:

2 g

Sodium:

586 mg

Fat:

13 g

Carbohydrates:

23 g

Fiber:

2 g

Protein:

12 g

Cholesterol:

22 mg
IF YOU MAKE THIS RECIPE, BE SURE TO SNAP A PIC AND HASHTAG IT #JOYFULHEALTHYEATS. I LOVE SEEING WHAT YOU MAKE!
Want More Appetizer Recipes?
Skinny Bruschetta Zucchini Chips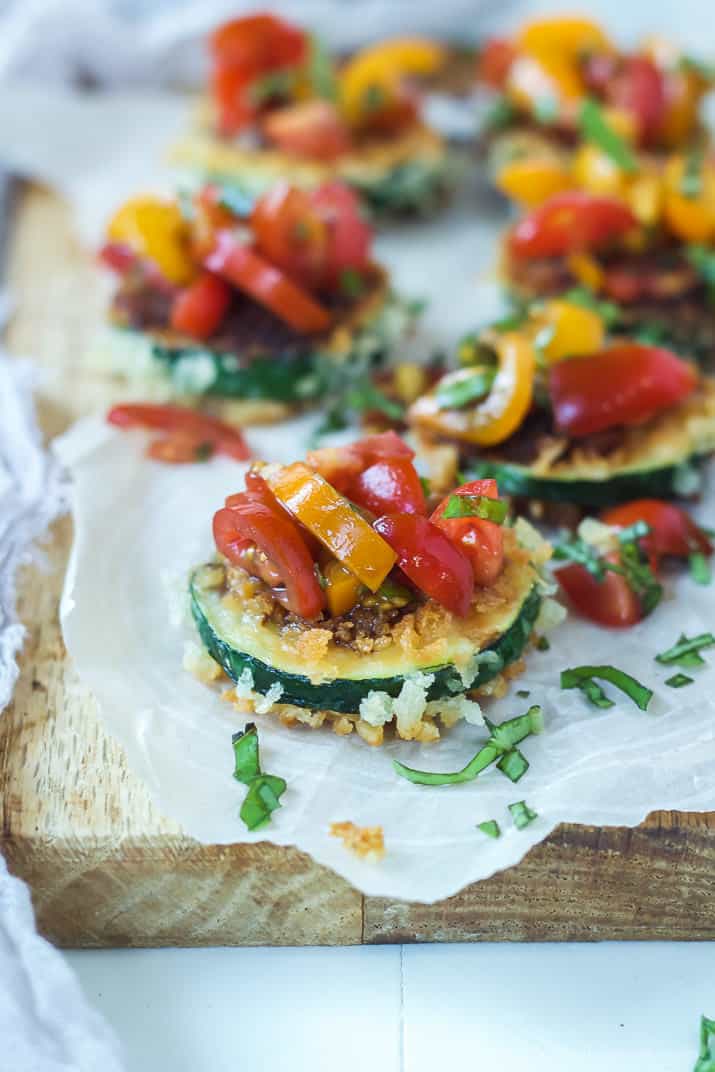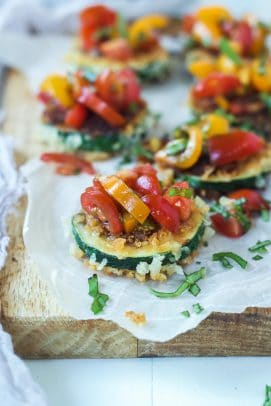 BBQ Pulled Pork Sweet Potato Bites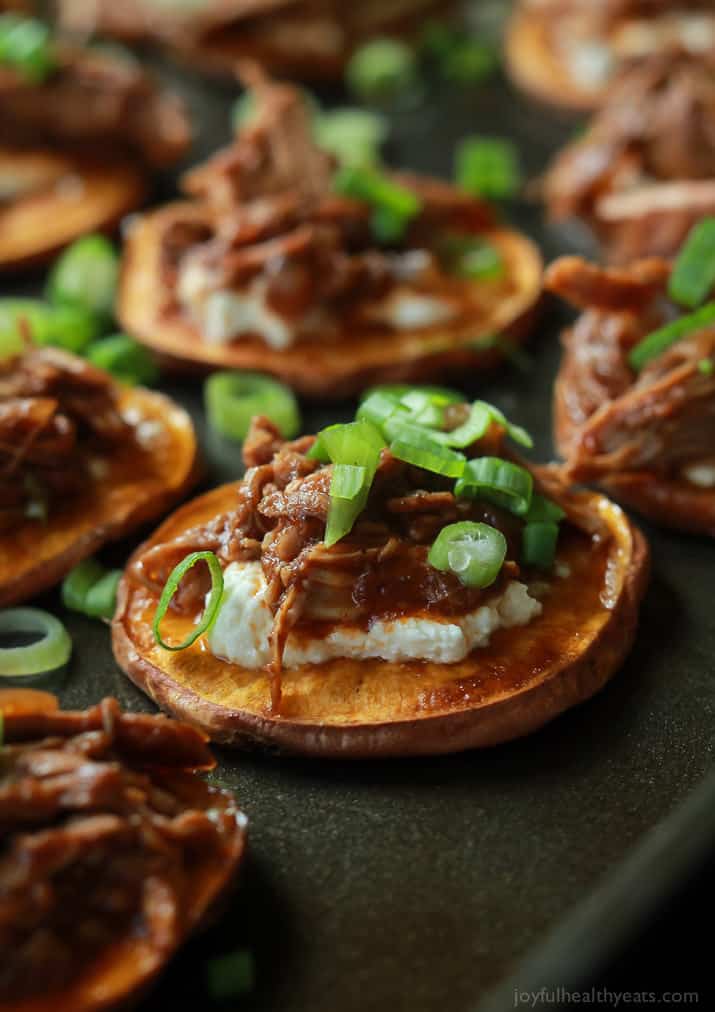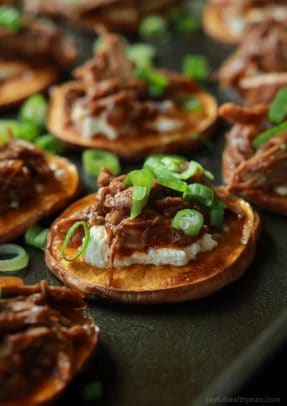 Tangy Honey Mustard Baked Chicken Wings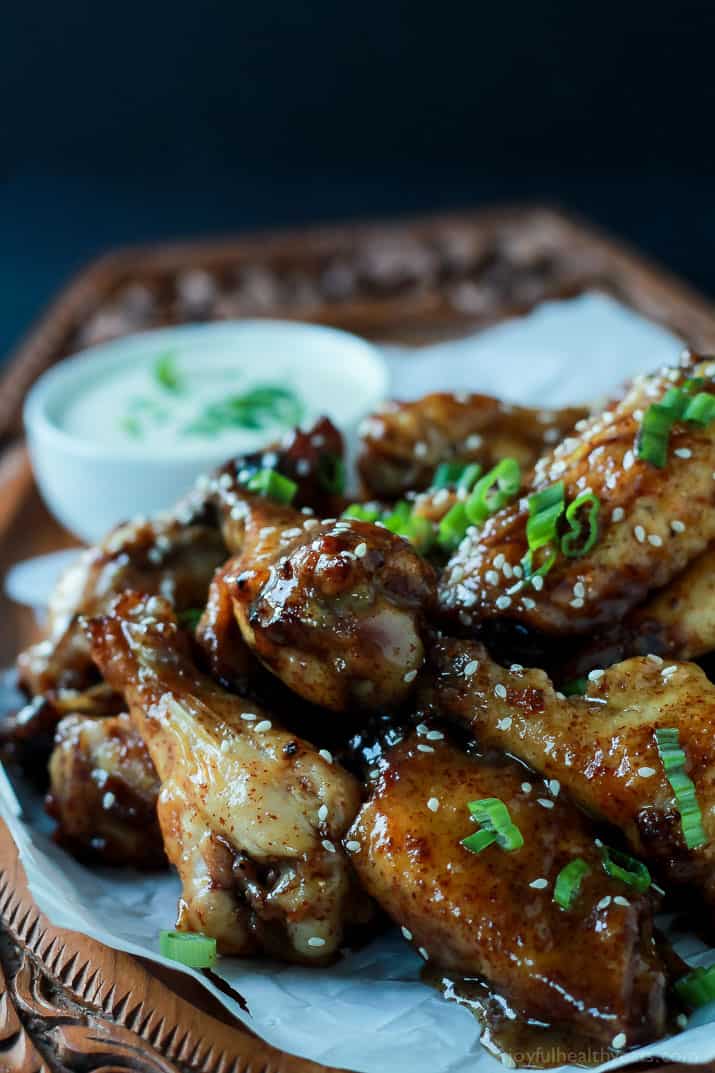 DON'T MISS A RECIPE ->