These Crispy Baked Chicken Wings are baked in the oven then tossed in a Spicy Thai Peanut Sauce. Believe me you'll be licking your fingers after this one!
Looking for more chicken wings recipes? Try my Garlic Parmesan Chicken Wings or these Honey BBQ Chicken Wings!
Baked Chicken Wings Smothered with Thai Peanut Sauce
So if you follow me on Instagram, which if you don't … do it now .. that is if you like to see delicious looking food at all hours of the day …
You would know that I just went on a trip to Lubbock,TX. I have to be honest, when I first booked the trip to Lubbock for the Texas Peanut Blogger Tour I was a little nervous. I mean when you think of Texas you think … Austin, Houston, and San Antonio … NOT Lubbock.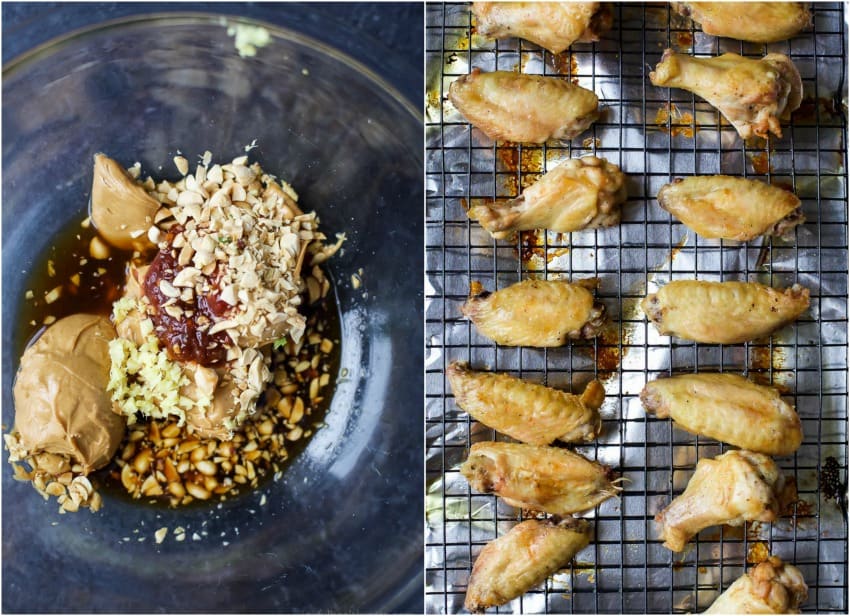 It was about a hour flight from Houston to Lubbock and flying in all I saw were crop circles, fields … and more crop rows. I took a deep breathe and prepared for the unknown. Much to my surprise I was shocked at how AWESOME Lubbock was, it's a hidden gem in the northern part of Texas.
We started out the tour with a meet a greet at the Lubbock Museum of Agriculture. (secret fact .. I'm a Museum nerd! I'm the one that you usually end up waiting on because I'm reading every sign :)) The museum was filled with artifacts, trackers, machines and basically everything you can think of that has anything to do with agriculture. They really work at preserving the history of agriculture while making it fun with interactive holograms!
After our tour we were served a Chuck Wagon dinner made by an awesome crew that does that for a living! It was the first time I ever had Chicken Fried Steak! Which living in Texas now for almost 10 years is frowned upon .. haha.. but now I can say I've had it!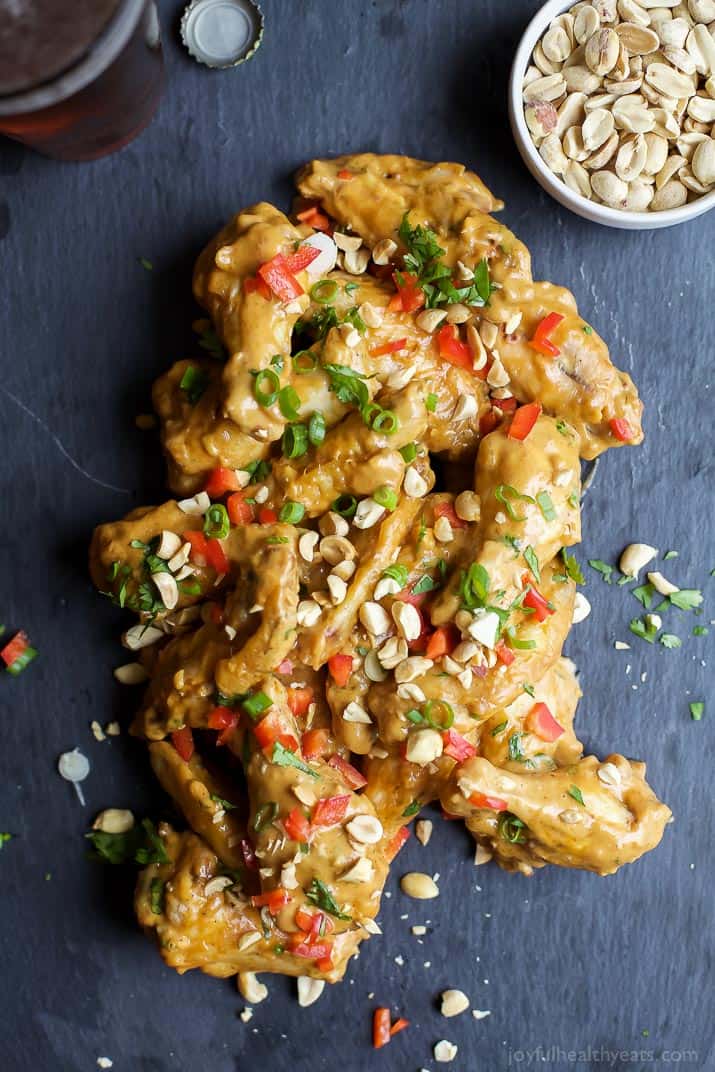 It was a great start to the tour … but I couldn't wait to get out into the fields! After all I LOVED my experience last year in Chicago visiting corn fields and riding a combine machine!
Luckily the next morning we headed to Brownville to meet Monty & Kathy Henson; farmers who have been producing peanuts for years! We learned how Peanuts are grown, about the soil, the watering system and all sorts of stuff! Did you know peanuts are grown in the ground? Ok, I admit it might have been a blonde moment for me. But I didn't know and when we got to the fields and saw the rows upon rows of peanut plants I was amazed. But by far the coolest part was watching Monty taking a shovel to the ground and pulling up a plant with loads of peanut shells attached to the roots! I actually took a video of it, you can see it here on Instagram. (psst… just another reason for you to follow me hint hint .. wink wink!)
When the peanuts are harvested the plants are pulled up, flipped over so the roots with peanuts are exposed and they are left out to dry for a couple days. Then they're picked up by a combine that sorts the peanuts from the plants and hauled off to the plant. Which was our next stop!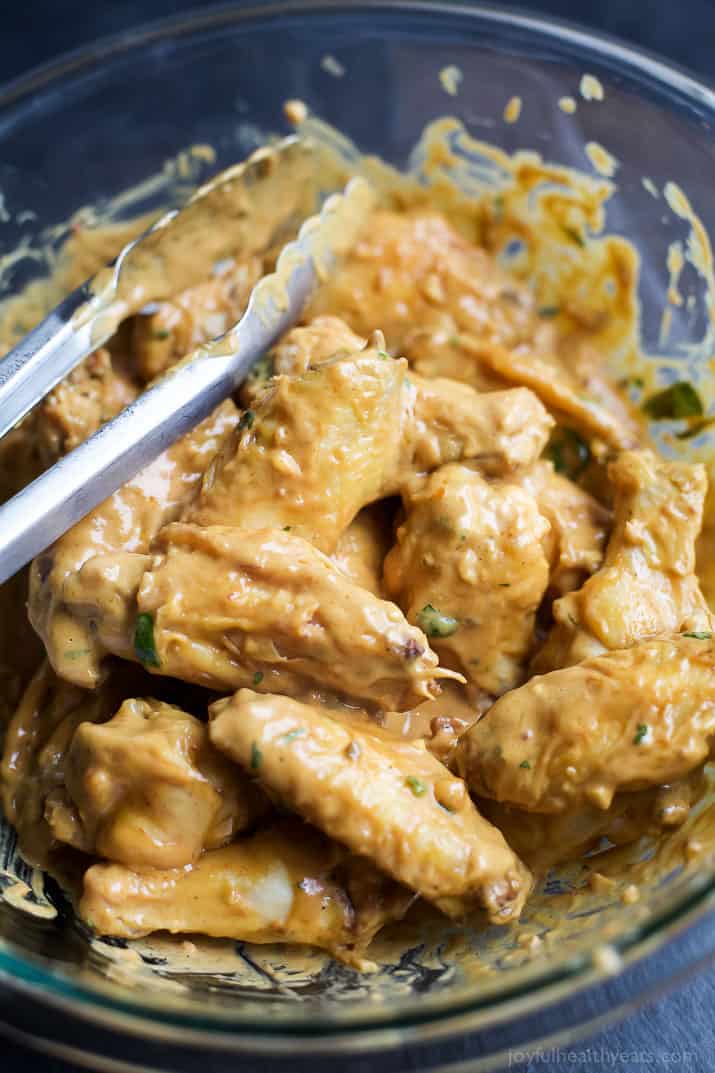 Birdsong Peanuts, a shelling company that provides peanuts to all your favorite companies – Planters Nuts, Mars, Snickers, just to name a few! The plant tour was so cool and all I wanted to do was put my hands underneath the machines as they shelled and sorted billions of peanuts … I mean if a few were missing no one would know .. right?
Some fun facts about Peanuts I didn't know before:
they are actually healthier for you than Almonds: they have less calories, lower fat content, and more protein!
it takes 850 peanuts to make a 18oz jar of peanut butter
Peanuts take less water to grow than Almonds which is why almonds are more expensive, because it takes more money to produce them
Peanut Butter was the secret to getting "Mr. Ed" the horse to "talk"
Eating Peanut Butter can reduce your risk of getting Diabetes
From Birdsong we headed over to Lost Draw Cellars for a picnic lunch! Did you know that Texas has some awesome Wine!? AND that Texas is one of the top 5 wine producing states in the US, that's right it California (obviously), Washington, New York, Oregon, and TEXAS!
Texas doesn't produce your normal wine like Cabernet Sauvignon, Pinot Noir, or Chardonnay. Why? Because Texas has completely different soil and temperatures than California. Texas actually produces grapes that are out of Italy and the South of France and man are they good. Honestly I've been to Napa Valley twice and some of these wines rival those! My next wine trip is gonna be to Fredericksburg, Texas (Lost Draw Vineyards has a tasting room there).
I'm more of a Cab girl but my favorite wine by Lost Draw was there Roussanne which is a sweeter white but they don't use any sugar in their wine! It's all the grape! Lost Draw started with a farmer named Andy Timmons. His family grew cotton and peanuts for forever but he was starting to realize it was not the crop of the future … at least for him. He decided to change it up and start with grapes! He didn't even like wine, which makes me laugh. But he knows how to grow crops and grapes specifically. Wineries from all over were buying his grapes and using them in their wine. Three years ago Andy decided to open up his own Cellar, Lost Draw Cellars, and start selling his own wines. I'm so glad he did, I know have a new favorite Texas wine! We ended the day at McPherson Cellars for a tour, another wine tasting, and then an absolutely INCREDIBLE peanut inspired 7 course dinner created by North Catering who also own the trendy restaurant The Pickle & the Pig in downtown Lubbock.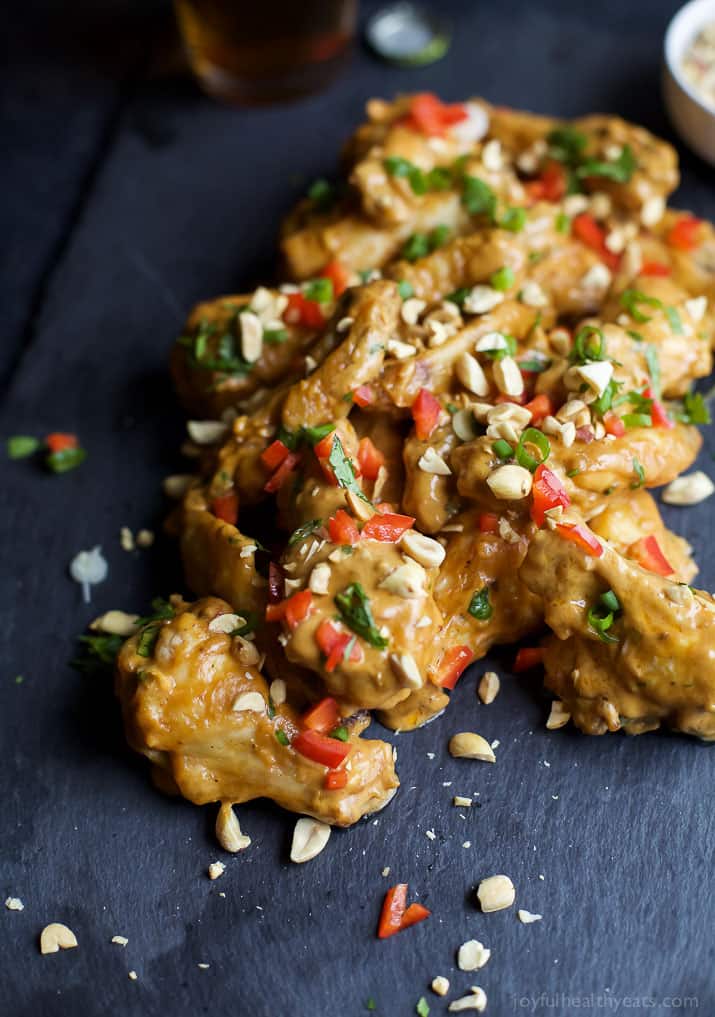 What I appreciate about these tours is I always learn more about the farming process and what goes into our food. Food is so personal; we eat it everyday, depend on it to live, find community around the dinner table while eating it, and feed it to our kids.
Farmers are just like us. They eat it and feed their kids with it! They work hard to produce a good crop that is SAFE for us to eat but also make sure that it is sustainable as our population grows! Let's appreciate all the work they do to provide the food we eat! Speaking of food and eating! Have you enjoyed me teasing you with pictures of these ridiculously tasty Baked Chicken Wings with Thai Peanut Sauce! I figured I can't talk peanuts without making a dish completely surrounded by them!
These Wings are baked INSTEAD of fried and still have that crispy skin we all love! Once they come out of the oven that are tossed in a drool worthy Spicy Thai Peanut Sauce made from peanut butter (duh), rice wine vinegar, lime juice, garlic chili sauce, peanuts, fresh ginger and few other ingredients. Then garnished with MORE peanuts, cilantro, green onions, and red pepper.
To say these Wings are good is an understatement! I guarantee you will be licking your fingers when your done .. I know I was! These are going to be on our menu for game day parties .. which are coming up soon! Woot woot!
Bon Appetit sweet friends .. now go eat some peanuts! 🙂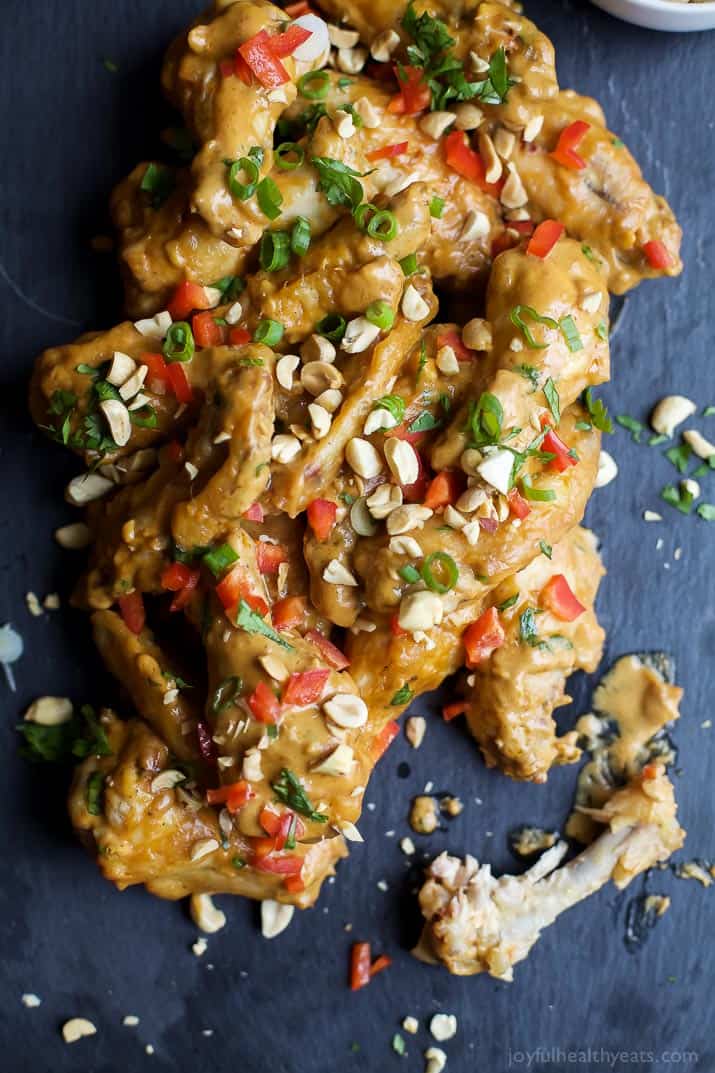 ** This post was sponsored by the Texas Peanut Producers Board, as always all opinions are 100% mine. Thank you for supporting the brands that support Joyful Healthy Eats. **
Print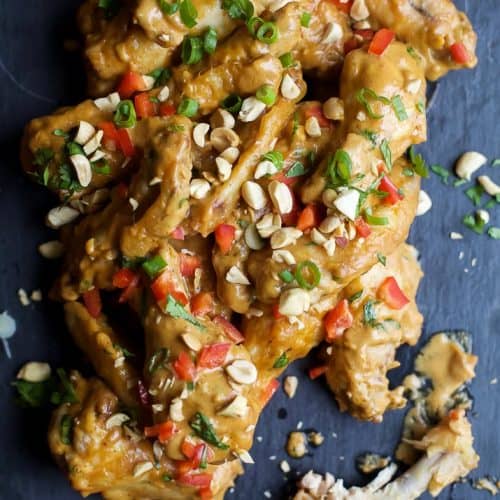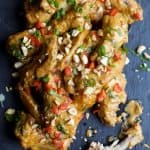 Baked Chicken Wings with Thai Peanut Sauce
Author:

Prep Time:

5 minutes

Cook Time:

45 minutes

Total Time:

50 minutes

Yield:

3

5

1

x
Category:

Appetizer

Method:

Oven

Cuisine:

American
---
Description
These easy Chicken Wings with Thai Peanut Sauce will have you licking your fingers clean! Juicy chicken wings are seasoned with garlic powder, baked until they're nice and crispy, then smothered in a spicy homemade peanut sauce.
Scale
Ingredients
For the Chicken Wings
2 1/2

lbs. chicken wings, drumlettes & wings

1 tablespoon

sesame oil

1 tablespoon

canola oil

1/2 teaspoon

salt

1/4 teaspoon

garlic powder

1/4 teaspoon

ground black pepper
For the Spicy Peanut Sauce
3/4 cup

creamy peanut butter

1/3 cup

+

2 tablespoon

hot water

1/4 cup

diced fresh cilantro

1/4 cup

chopped peanuts (unsalted)

2 tablespoon

rice wine vinegar

2 tablespoon

lime juice

2 tablespoon

tamari sauce (or soy sauce)

1 1/2 tablespoon

garlic chili sauce

1 tablespoon

fresh ginger, minced
optional garnish: diced red pepper, fresh cilantro, diced green onions, peanuts
Instructions
Prepare the Wings
Preheat oven to 400°F.
Rinse chicken with water and pat dry.
Place chicken in a large bowl, add sesame oil, canola oil, salt, garlic powder, and ground black pepper. Toss chicken with your hands to make sure everything is coated.
Line two baking sheets with tin foil and place a wire rack (or cooking rack) on each baking sheet. Line the chicken up on the wire rack.
Bake for 45-50 minutes, flipping the chicken halfway through.
Make the Sauce
While the chicken is cooking to a medium bowl add, peanut butter, hot water, fresh cilantro, chopped peanuts, rice wine vinegar, lime juice, tamari sauce (or soy sauce), garlic chili sauce, and fresh ginger. Whisk until the mixture is smooth. If the sauce is not to the consistency you like it, add more hot water 1 tablespoon at a time.
When chicken comes out of the oven. Place in a large bowl, pour the peanut sauce over the wings and toss so all the wings are coated!
Garnish with diced red pepper, chopped peanuts, green onions, and fresh cilantro.
NOTE: for more of a kick drizzle with Sriracha sauce (that's how we like it)
---
Notes
Makes 30-40 wings.
Storage & Reheating: Once cooled, leftover wings should be stored in an airtight container and kept in the fridge. Enjoy within 4 days. To reheat, place the wings on a foil-lined baking sheet and bake at 350°F until warmed through.
Keywords: baked chicken wings, peanut sauce, thai peanut chicken
IF YOU MAKE THIS RECIPE, BE SURE TO SNAP A PIC AND HASHTAG IT #JOYFULHEALTHYEATS. I LOVE SEEING WHAT YOU MAKE!
Want More Peanut Recipes?
Thai Chicken Lettuce Wraps with Spicy Peanut Sauce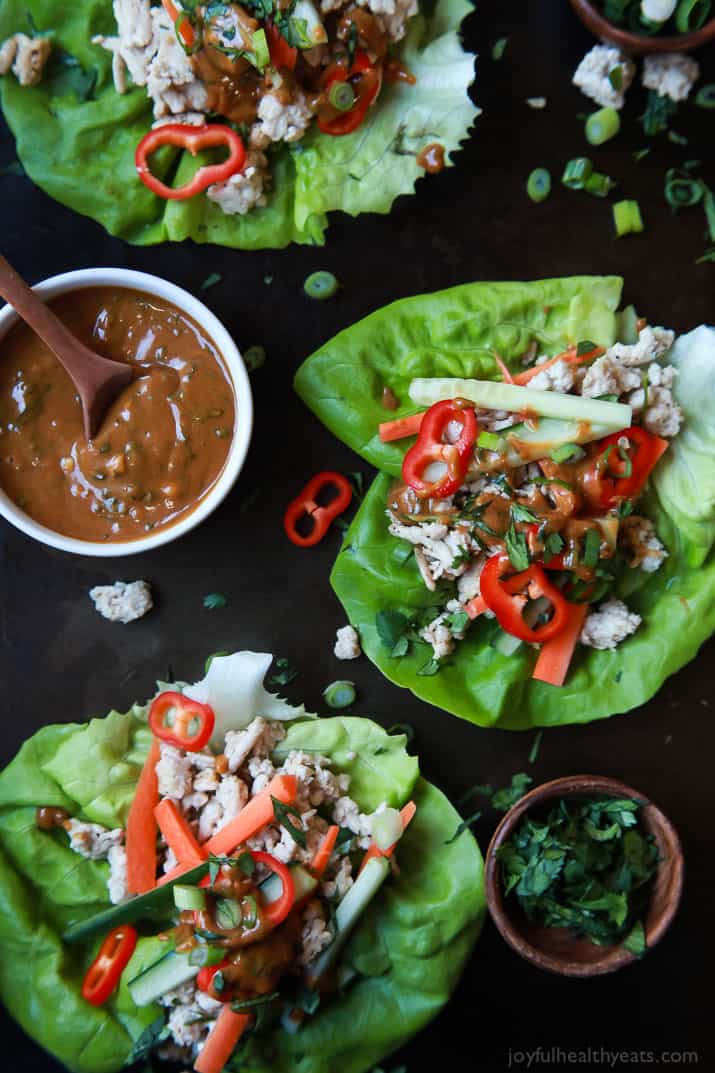 No Bake Peanut Butter Chocolate Bars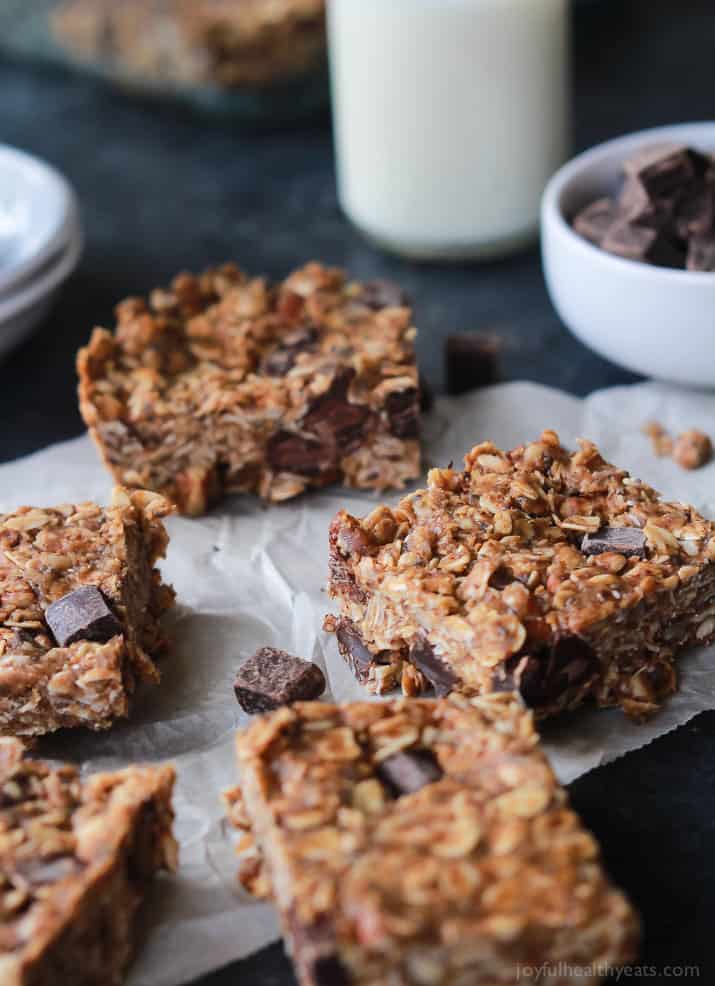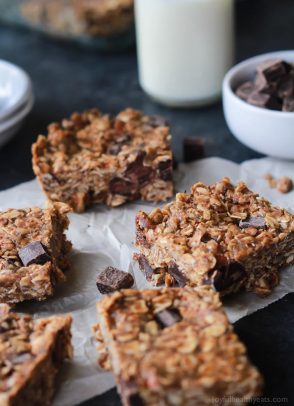 3 Ingredient Peanut Butter Chocolate Mousse with Coconut Whipped Cream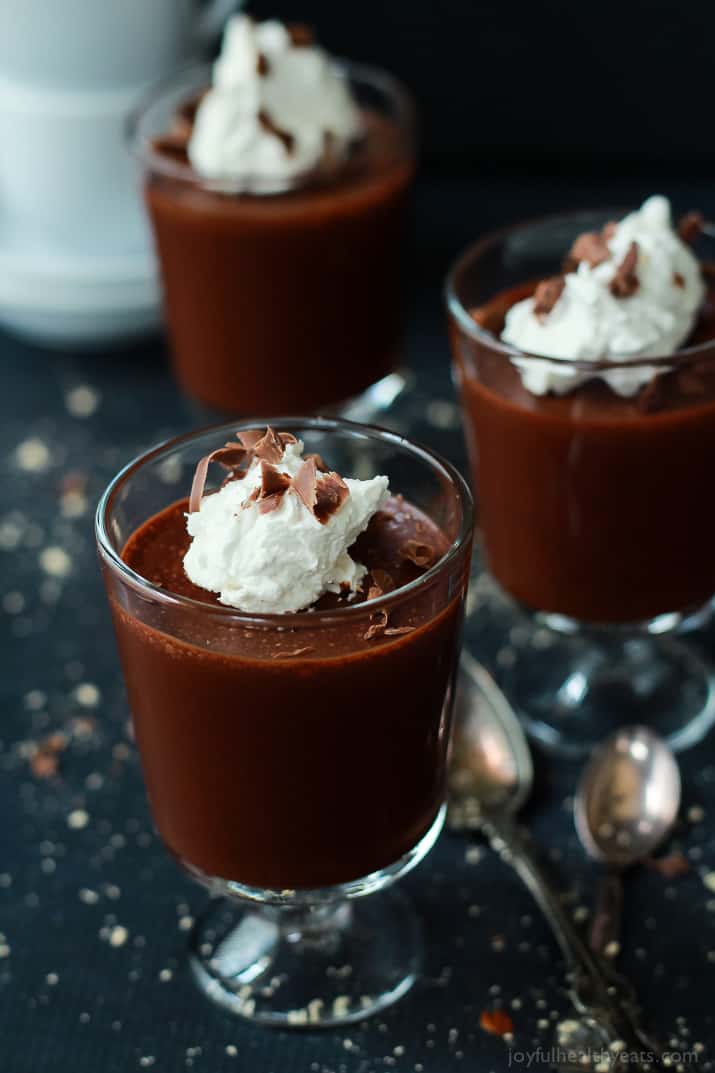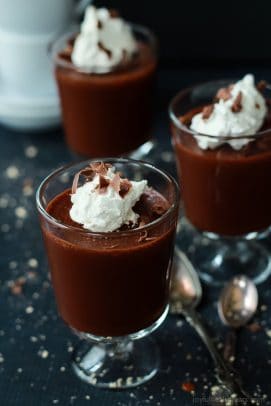 DON'T MISS A RECIPE ->