This 30 Minute Pita Pizza is so easy to make and even more delicious! Made with balsamic vinegar, caramelized onions, arugula and more, this is the perfect healthy pizza recipe.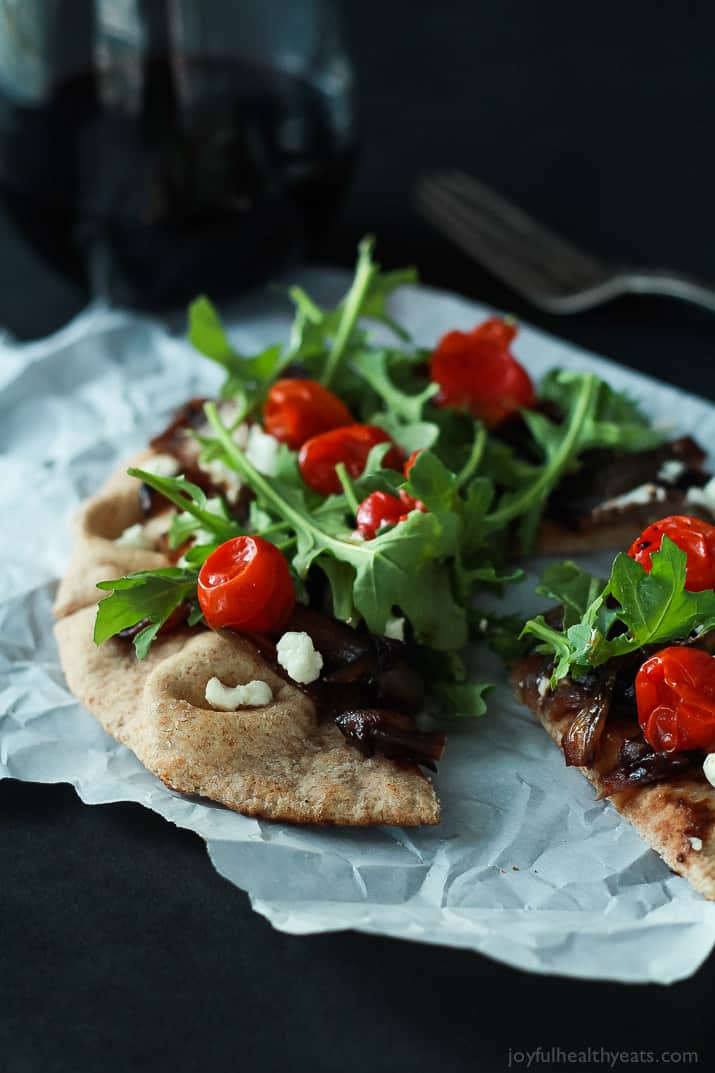 30 Minute Pita Pizza Recipe
Add this low carb recipe to your collection of 30 minute meals; healthy vegetarian Pita Pizza with no sauce but not shy on flavor!
I think I've told you that I can get some really bad migraines, right?
When I get them they usually last for 6-7 days straight. It is absolutely miserable!
They weren't always like that. When I first got married I would get them maybe once a month but I could take an Excedrine Migraine pill and it would knock them right out! Then for a while they stopped all together, which was amazing!
But recently those migraines have come back with a vengeance, for the time they missed and it has rocked my world.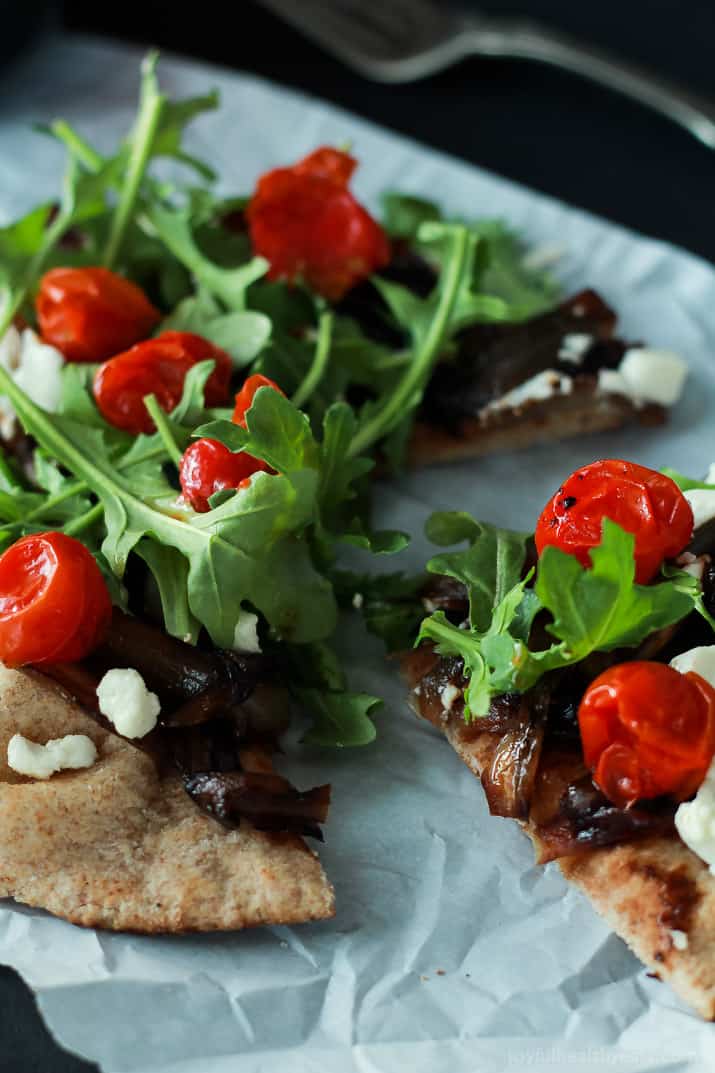 It is constant pain in my shoulders, neck, and temples. It literally feels like someone is squeezing me as hard as they can, until my head will explode. Since I've been having these bad migraines the past couple of months I have learned to "suck it up" and still function. Not well. But function. (someone has to get dinner on the table) I think the hardest part is being fully present with Cason and Michael when all I want to do is curl up into a ball.
Well, I started to get a migraine last week Wednesday which lasted all the way through the weekend. (yup thats a total of 5 days so far).
On Saturday, I had a friend of my mine text me about what she could bring to our Superbowl party on Sunday? We conversed a little and then she asked how I was doing. I told her that I still had a headache. She responded, "If you have a moment, ask the Lord if there is anything he wants you to know about these headaches. There may be nothing, but there may be something you need to surrender, confess, obey, forgive, etc."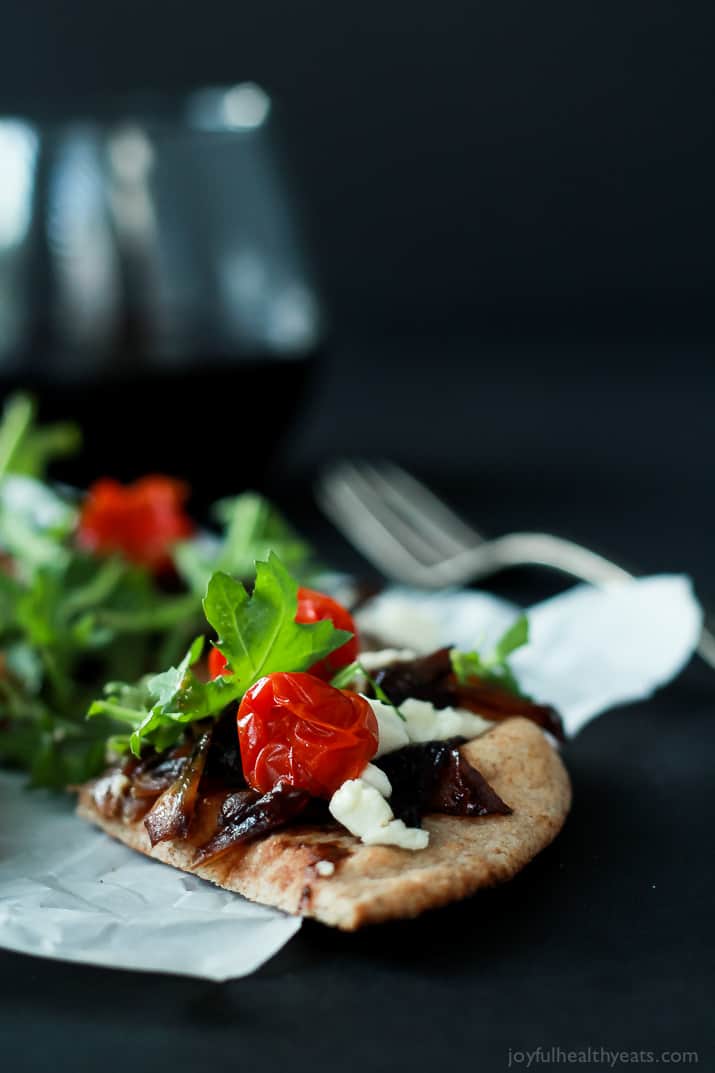 Later that night I was praying and asking God if there was anything he was trying to tell me with these intense migraines I have been having lately. I didn't hear anything. I fell asleep. The next morning I prayed again. I still didn't hear anything.
As I was curling my hair getting ready for church this is what I heard.
"Krista, these migraines have been manageable lately but miserable to live with. It has been hard to 'live life' with that lingering pressure in your head and pain in your neck. These migraines are a physical sign of what its like to carry around things like unforgiveness, fear, pride, shame, worry, anger, etc in your heart. Just like the migraines, you might be able to function with them but think of all the things you are missing out on but not giving them to me. Release them my daughter, you don't have to carry that load alone."
Bingo! I love when God speaks! He is so gentle in His delivery and He cuts right to the heart of the matter. He wants what is good for us and to see our hearts healed.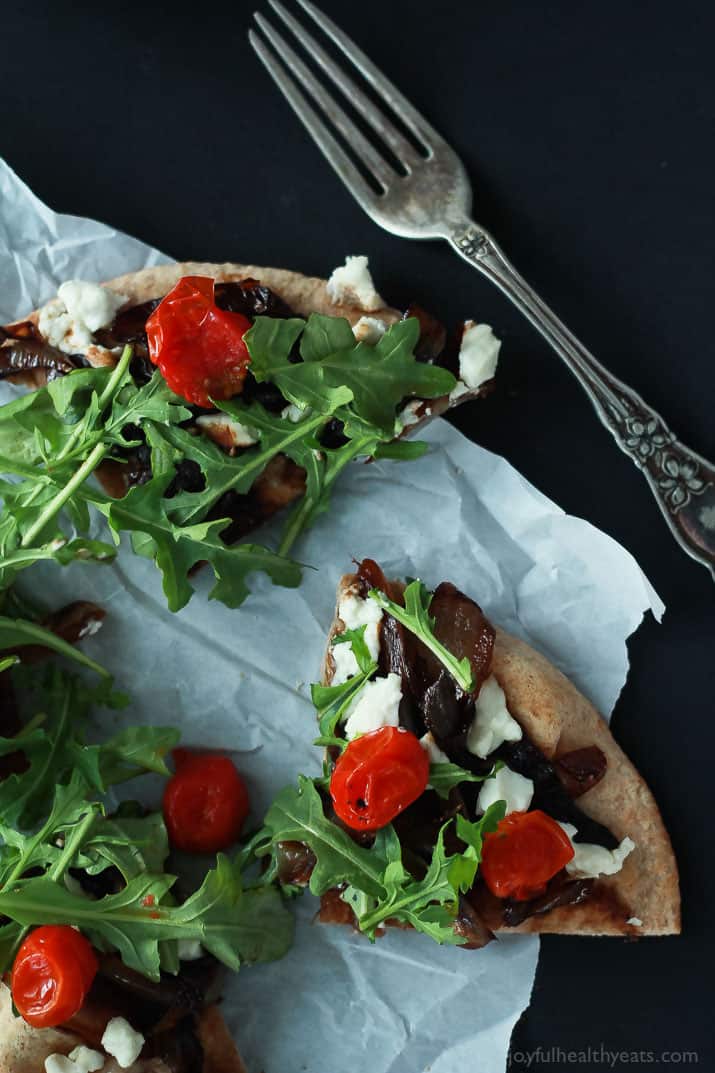 Immediately I thought of some unforgiveness I have been holding onto, another thing that came to mind is the fear I experience when I think of Cason getting hurt. These feelings are not good for me to live with. They do not bring joy, nor do they benefit me in any way. So why do I hold on to them? They hinder my health and living just like these migraines do. I can't experience all that God wants me to experience or reach my full potential if I'm carrying around this weight of unforgiveness and fear in my heart. Weight slows you down!
Wanna know something funny. Our pastor spoke on Luke 12: 22-34 a hour later, the title was "do not worry and do not fear".
Ok God, I get it! 🙂 That's something else I love about God, just in case you didn't hear Him the first time he will continue to subtly leave hints of what He said the first time.
How is God working in your heart? I'd love to hear!!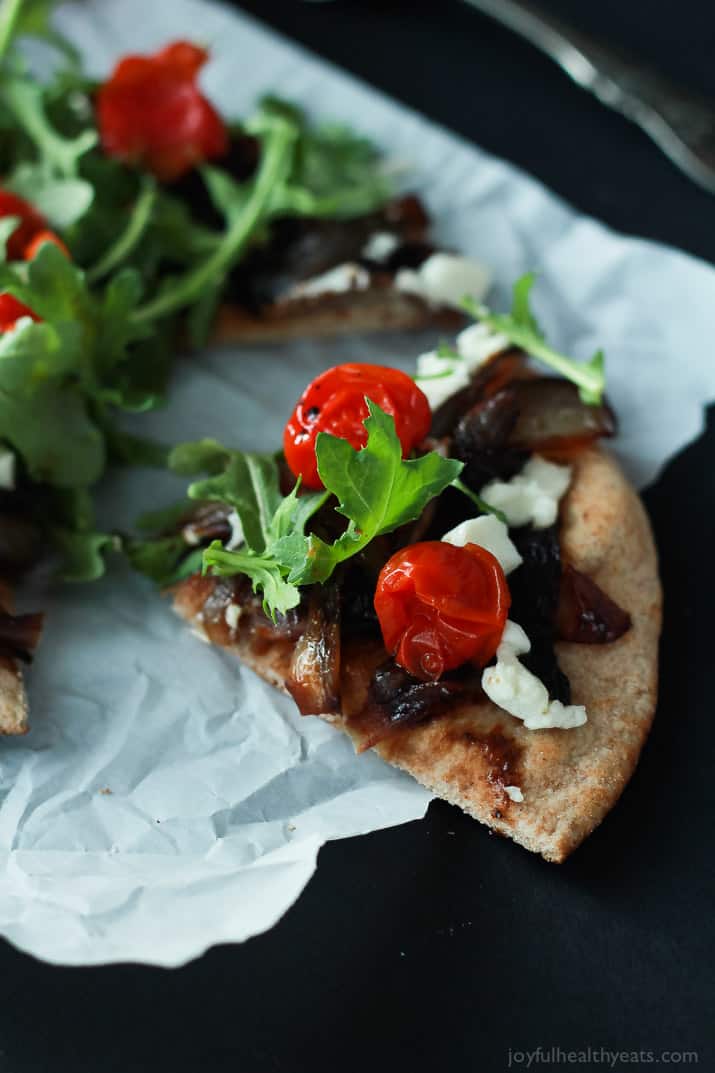 Ok, now, on to the recipe for today!
Sometimes I just want a pizza. Don't you! And sometimes I want a pizza and I don't want to have to worry about making the crust! I mean making it and hoping and praying that the dough rises is not always fun.
Which is why my go to is pita bread. It is perfect for personal size pizzas and stress free!
If you know anything about me you know I don't like just plain pepperoni pizza so this 30 Minute Pita Pizza with Balsamic Caramelized Onion, Goat Cheese, & Arugula should come as no surprise to you.
This pizza has absolutely no sauce to it, but you know what? It doesn't need the sauce one bit, because the ingredients you add to it are enough flavor to make up for the missing sauce. Who knows, you may start to love going sauceless on your pizza and that just cuts down on calories you don't need anyways! Woot Woot!
Back to the point though, this pizza is easy, HEALTHY, FULL of flavor, and tastes 30 minutes to make. Your welcome, now go make it!
Print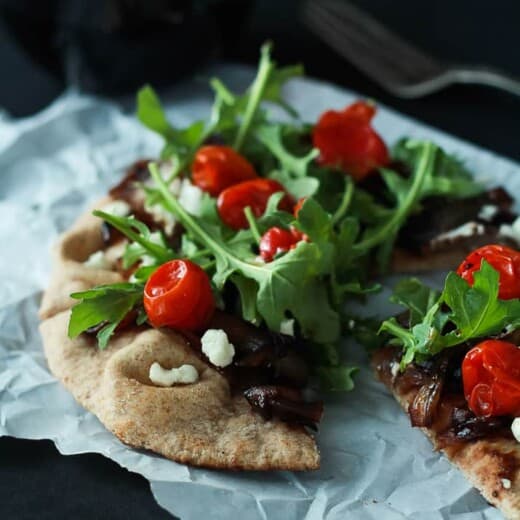 30 Minute Pita Pizza
Author:

Prep Time:

20 mins

Cook Time:

10 mins

Total Time:

30 mins

Yield:

4

servings

1

x

Category:

Dinner

Method:

Oven

Cuisine:

American
---
Description
This 30 Minute Pita Pizza is so easy to make and even more delicious! Made with balsamic vinegar, caramelized onions, arugula and more, this is the perfect healthy pizza recipe.
---
2 tablespoons

of olive oil

1

large yellow onion, sliced

4 tablespoons

of balsamic vinegar

1 pint

of cherry tomatoes

1 tablespoon

of olive oil
salt & pepper

4 oz

. of goat cheese

2 cups

of fresh arugula

4

whole wheat pita breads (or flatbreads)
---
Instructions
Preheat oven to 400.
Add cherry tomatoes to a baking sheet, season with 1 tablespoon of olive oil, salt & pepper.
Roast for 20 minutes, remove when finished.
In the meantime, heat a medium saute pan to medium heat. Add 2 tablespoons of olive oil to pan along with the onion.
Saute for a good 15-20 minutes stirring occasionally.
Season onions with salt & pepper and add balsamic vinegar.
Stir and saute another 2-3 minutes.
Reduce heat of oven to 350.
Place pita bread on baking sheet, top each pita with 1/3 cup of caramelized onion and 1 oz. of crumbled goat cheese.
Bake for 8 minutes.
Remove from oven and top each pita with cherry tomatoes and 1/2 cup of arugula.
Serve!
---
Keywords: healthy homemade pizza, healthy pizza recipe, healthy pizza toppings, easy pizza recipe, veggie pizza recipe, vegetable pizza recipe, vegetable pizza, veggie pizza, veggie pizza recipe, easy healthy dinner
Filed Under:
Want More Pizza Recipes?
Portobello Mushroom Pizza with Balsamic Vegetables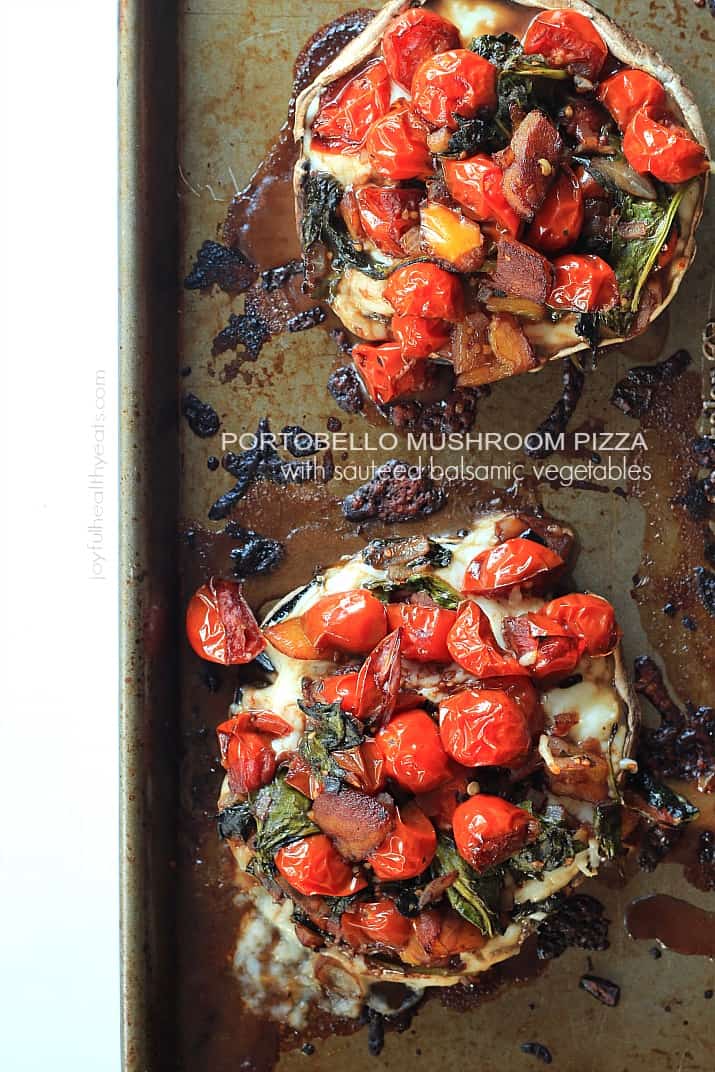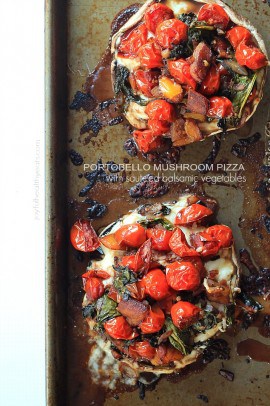 Grilled Chicken Margherita Pizza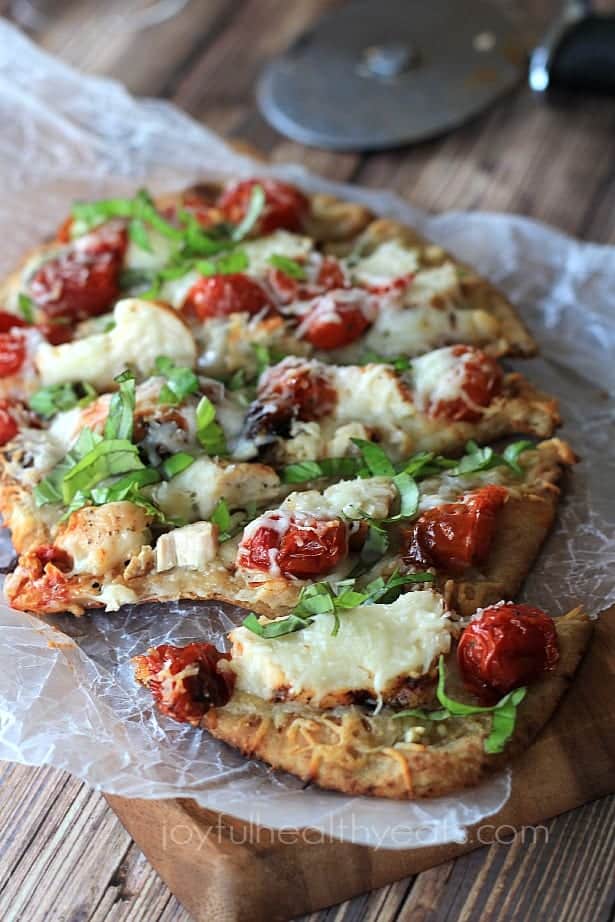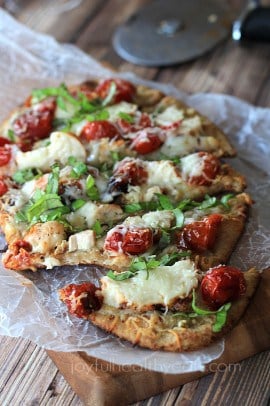 DON'T MISS A RECIPE ->
FACEBOOK | TWITTER | PINTEREST | GOOGLE+ | BLOGLOVIN