15 QUICK & EASY GRAIN BOWLS you need to make for Dinner tonight! These Grain Bowls are packed with protein, fiber, veggies and loaded with flavor!
Grain Bowls! Have you guys heard of these? If not, just go on Pinterest you'll find out what they are in like 10 seconds! These Bowls are so trendy right now, light to eat, most of the time gluten free, and ridiculously easy to make!
I would eat them all the time if I could, but my husband likes to have more than just Grain Bowls and Salads for dinner. Where's the MEAT he says, the potatoes .. the boy food! 🙂
Even though these bowls have a base of grains, they are loaded with flavor. I have a combination of 15 of the best Grain Bowls I could find from some amazing bloggers! I even added in a variety of proteins – so you can do chicken, steak, salmon, fish, or vegetarian! Whatever your fancy you'll find it! The one thing I will guarantee is they are all crazy easy to make AND healthy!
Bon Appetit friends!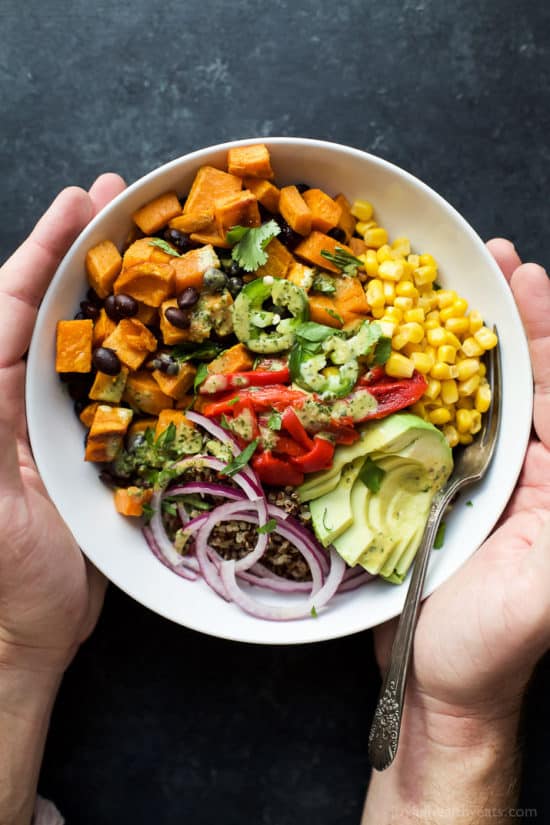 Easy SWEET POTATO BLACK BEAN QUINOA BOWLS topped with a zesty Cilantro Dressing you'll want to pour all over. A fresh vegetarian meal that will satisfy even those meat lovers!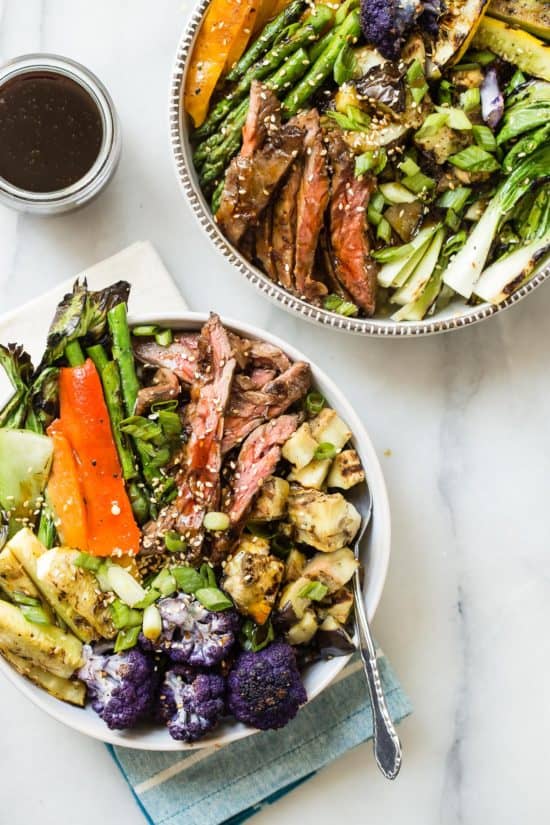 Grilled summer vegetables with World Harbors beef teriyaki skirt steak and healthy freekeh super-grain all in a BOWL!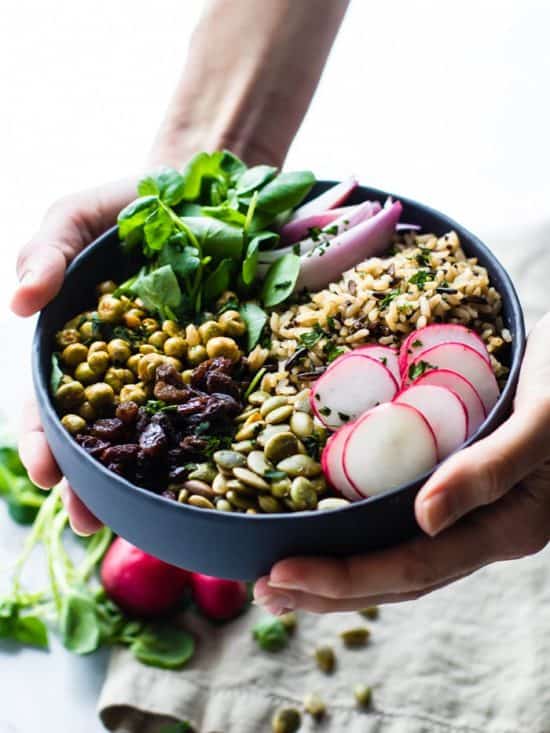 Nourishing Garden Veggie Vegan Buddha Bowl! This wholesome and healthy Buddha bowl recipe, (aka hippie bowls) is filled with superfood ingredients and a delicious way to get a variety of nutrients into your diet! Gluten free, easy, Buddha approved!
These easy, paleo-friendly Mexican chicken bowls have grilled cauliflower rice and a spicy-sweet pineapple chili sauce! They're a healthy, gluten free dinner that's big on flavor!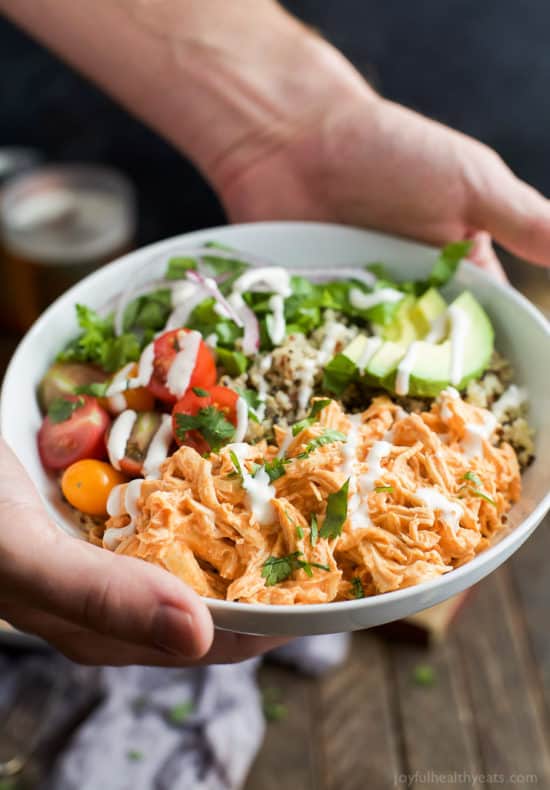 Buffalo Chicken Quinoa Bowls topped with avocado, tomato, shredded buffalo chicken, drizzled with ranch and served on a bed of quinoa. Football food just got a healthy facelift!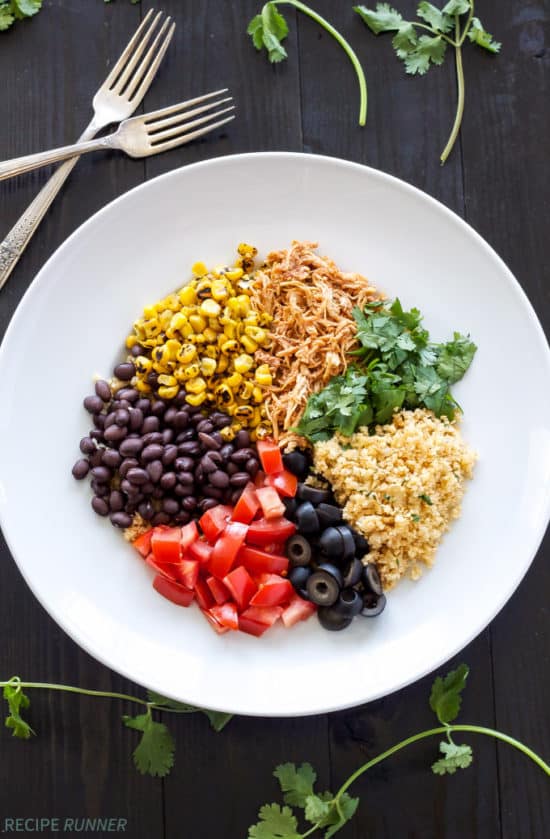 Slow cooked, shredded, red chile chicken is piled on top of cilantro lime cauliflower rice and served with delicious Mexican toppings for an easy and healthy dinner – Chicken Enchilada Cauliflower Rice Bowls.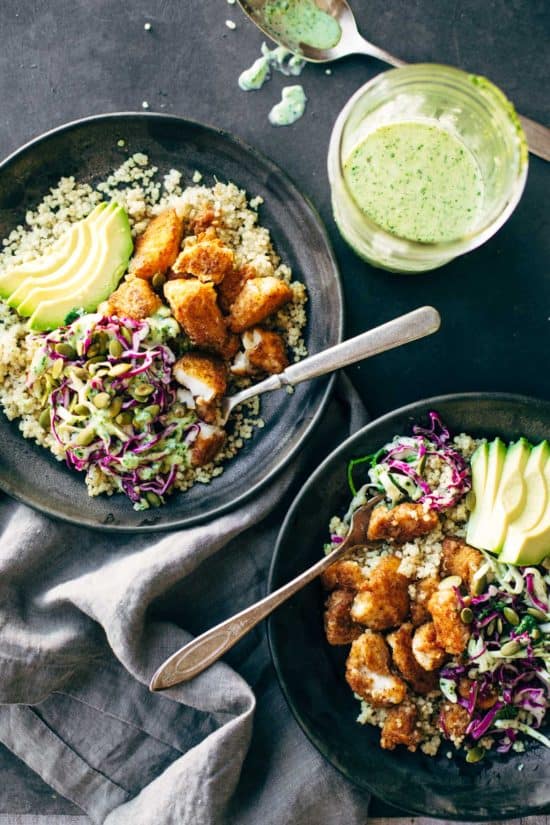 Spicy Fish Taco Bowls with Cilantro Lime Slaw – and easy healthy bowl of deliciousness your family will love!
Harvest Roasted Vegetable Grain Bowls – a healthy, filling, fall inspired dinner recipe packed with nutrients and bursting with flavor! You'll love the dressing the farro is tossed with!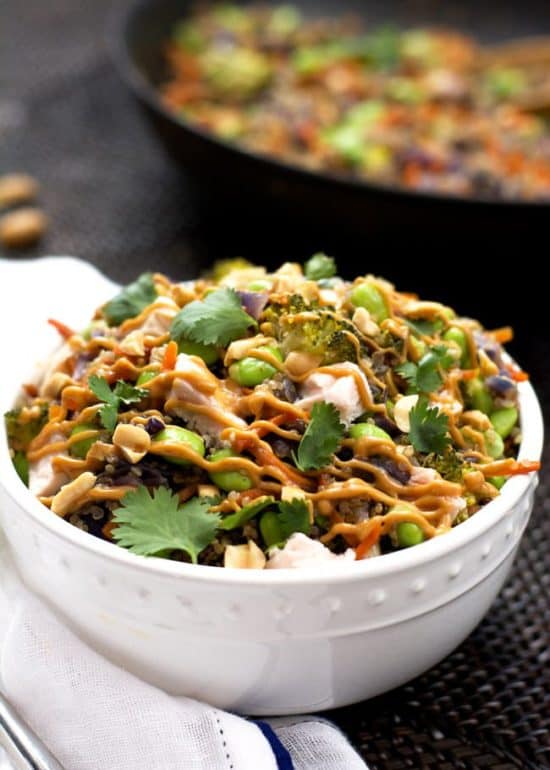 A healthy and filling, one pot thai quinoa bowl filled with crunchy veggies and drizzled with a spicy and addicting peanut sauce!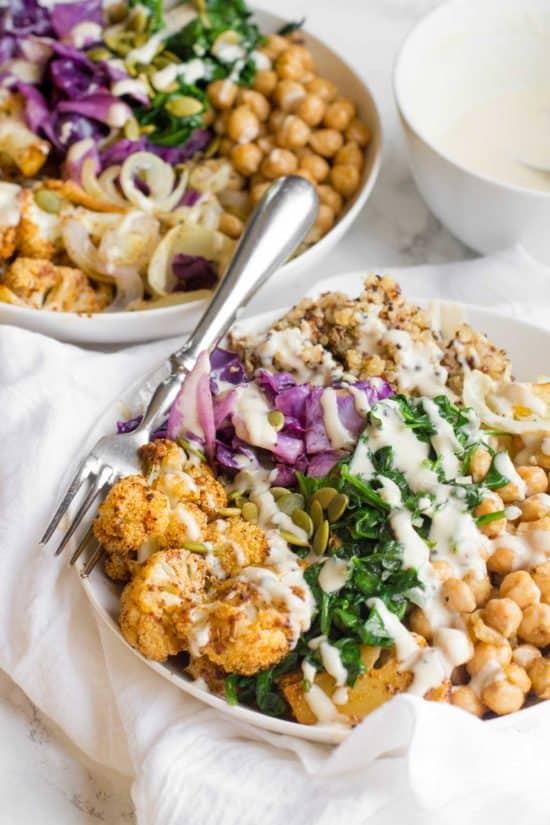 These vegan Cauliflower and Quinoa Power Bowls pack a serious nutritional punch, and they aren't short on flavor, either!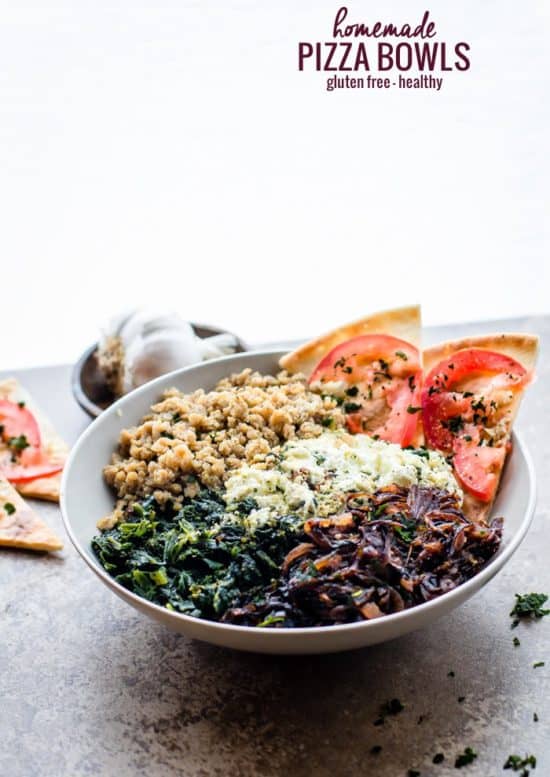 Gluten Free Homemade Pizza Bowls! These Easy homemade Pizza Bowls are a super fun way to share and customize pizza. Just fill it with all your favorite gourmet pizza toppings! Caramelized onion, goat cheese, spinach, and more! Then scoop with gluten free pizza crust. Simple, healthy, and delicious!!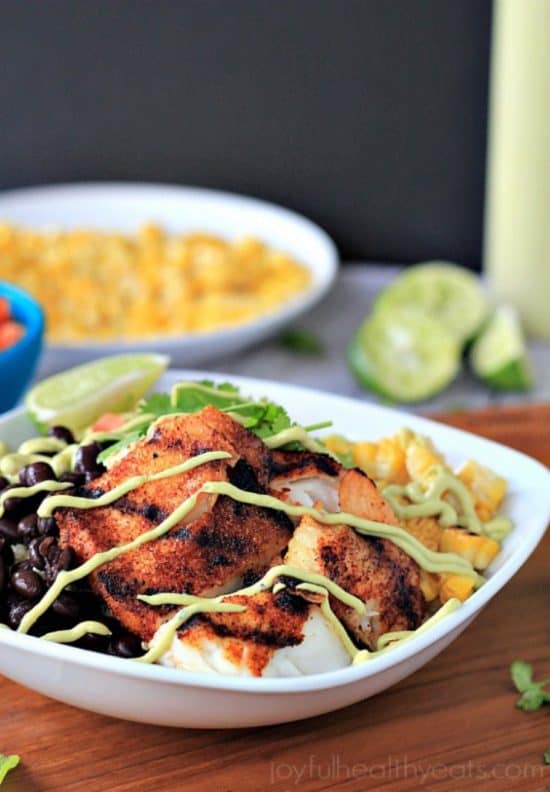 A gluten free quinoa bowl with blackened Grilled Tilapia and a combination of all your favorite Mexican flavors then topped off with a creamy Chipotle Avocado Crema.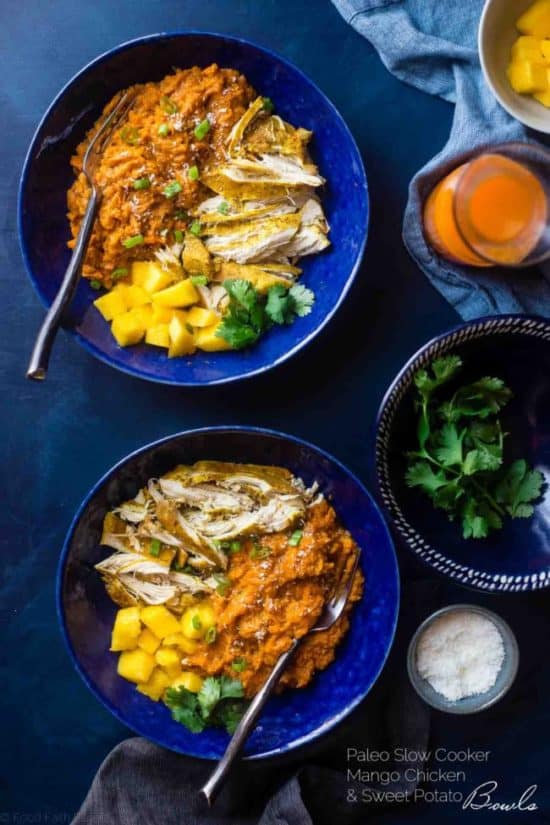 This whole30 approved slow cooker mango chicken has a sweet, tropical sauce and sweet potatoes! It's a healthy, one pot meal that's perfect for busy weeknights!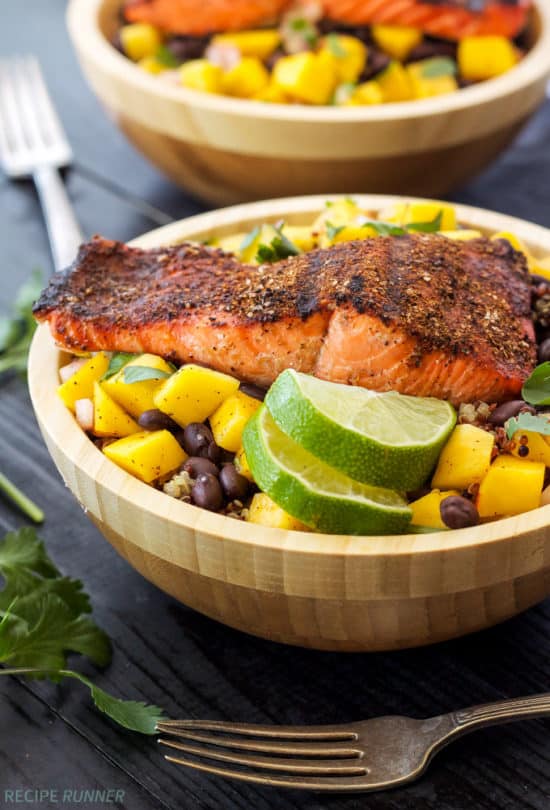 Caribbean rubbed salmon fillets grilled to perfection and served on top of a bed of quinoa, black beans, and delicious homemade mango salsa!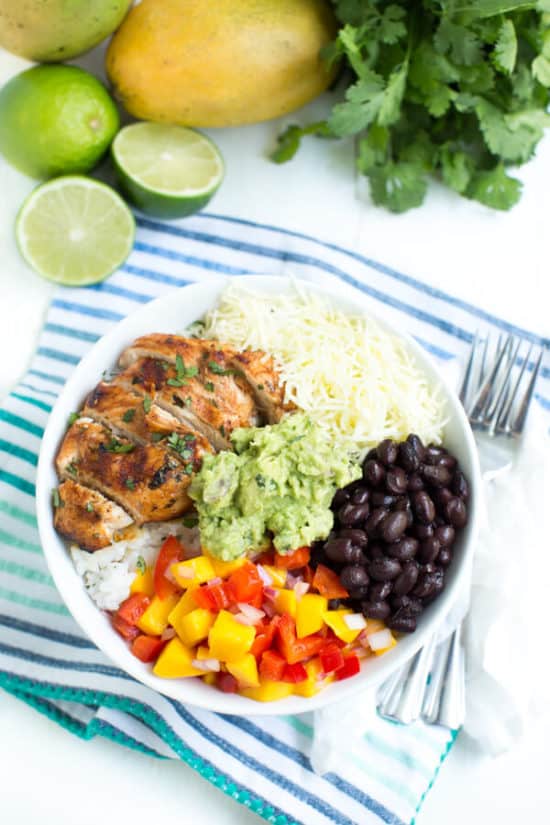 Chipotle Lime Chicken Taco Bowls with Mango Chipotle Sauce are packed with the freshest flavors! Grilled chipotle lime chicken with black beans, cilantro lime rice, mango salsa, cheese and guacamole are topped with a creamy mango chipotle sauce.

DON'T MISS A RECIPE ->