How to Launch Your Brand and Build Your Business!
Easy practical steps on How to Build Your Brand and Grow Your Business using MOO!
When I started my blog 4 years ago I never dreamed that it would turn into what it has today. Now I'm handing out high quality business cards, making media kits, and writing thank you notes to brands that I work with. Who would have thought!
I can still remember driving back from San Antonio with my husband and talking through what it would look like for me to be a stay at home mom. At the time, I didn't want to miss another second of my son growing up. That first year there is so much change going on.
I knew that I was not one to sit at home and just do nothing. I needed something to keep my mind entertained, something that was my own. So I thought, well… what if I start a blog? I could make recipes, photograph them and then just share life.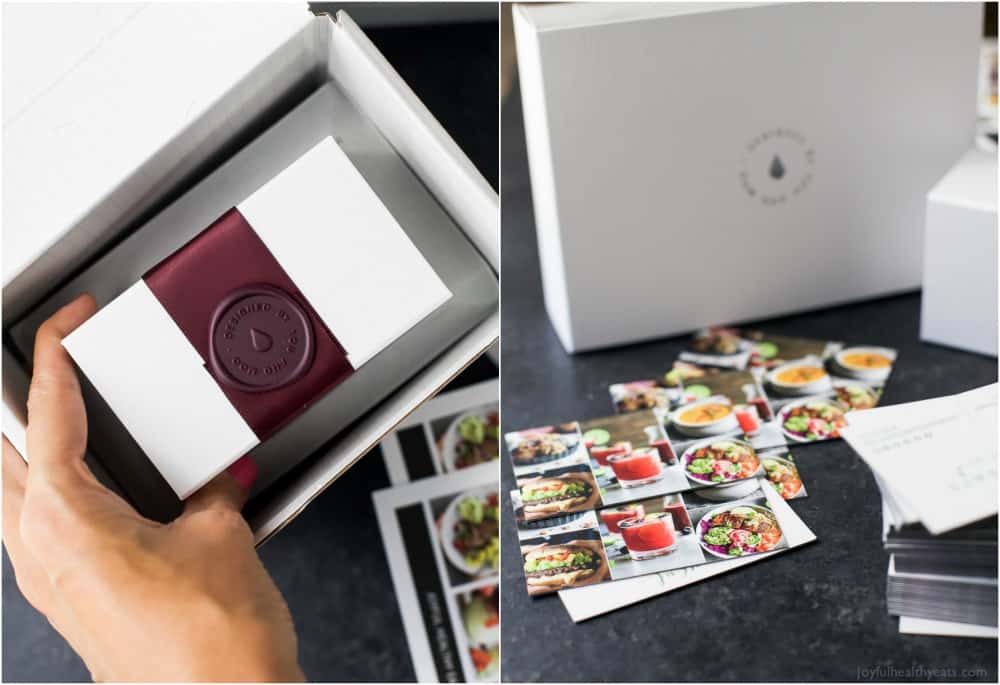 It was something new and fun for me. Because when you start a business you have a budget of zero. I taught myself how to do everything. I built my own website. Learned enough CSS and HTML coding to get by. I created a logo for my "brand" … knowing nothing about graphics. I searched the internet and youtube for as much information as I could to make my website look as professional as possible so people would stick around on a zero based budget. The first one, was not pretty. But it was mine.
How to Launch Your Business:
Come up with a Brand Name. Keep it short and concise but also communicate what your goal is. Sometimes, people will use tag lines to accompany their brand name to further communicate their end goal.
Create Vision and Mission for your Brand. What is your goal? What do you want to communicate? What products do you offer? What makes you different than someone else? Why do people want what you're offering?
Reserve domain names and social media names. Doing this ensures you will not run into issues later on as you expand your brand.
Create a logo to go along with/complement the Brand Name. I recommend hiring a professional for this. They will ask the right questions and help you narrow things down faster as well as communicate your Brand through graphic!
Launch!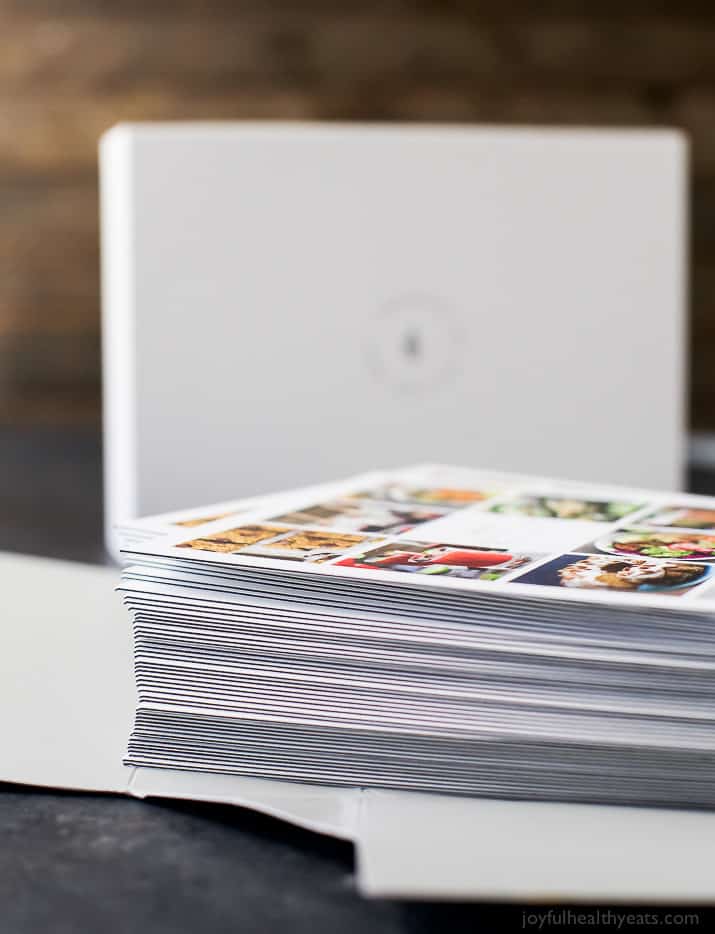 Fast forward a year, now I did have a budget. So the first thing I did was hire a web designer. I went through a questionnaire and narrowed down what I wanted to communicate with my logo. Which words I wanted to be more prominent in the logo and what colors I liked. I came up with a tagline and my designer created a custom graphic geared towards my vision. Then she built my website around that logo and theme so everything was cohesive.
Over the years I've gone through two redesigns on my blog. I think the second one (the current one) is more me. It is on point with my style, my brand and the things I wanted to communicate to my readers. Namely that I love cooking, I eat a healthy BALANCED diet and love my sweets!
Building a brand takes time. It takes time to narrow things down and really focus in on your vision for the brand and ensure you are communicating the right thing to your potential costumers. You may go through 2-3 redesigns to get to where you need to be. And that's ok. But once you're there, it is important to carry that branding throughout everything you do![clickToTweet tweet="Easy practical steps on How to Build Your Brand and Grow Your Business! #ad @MOO " quote="Easy practical steps on How to Build Your Brand and Grow Your Business! #ad @MOO " theme="style1″]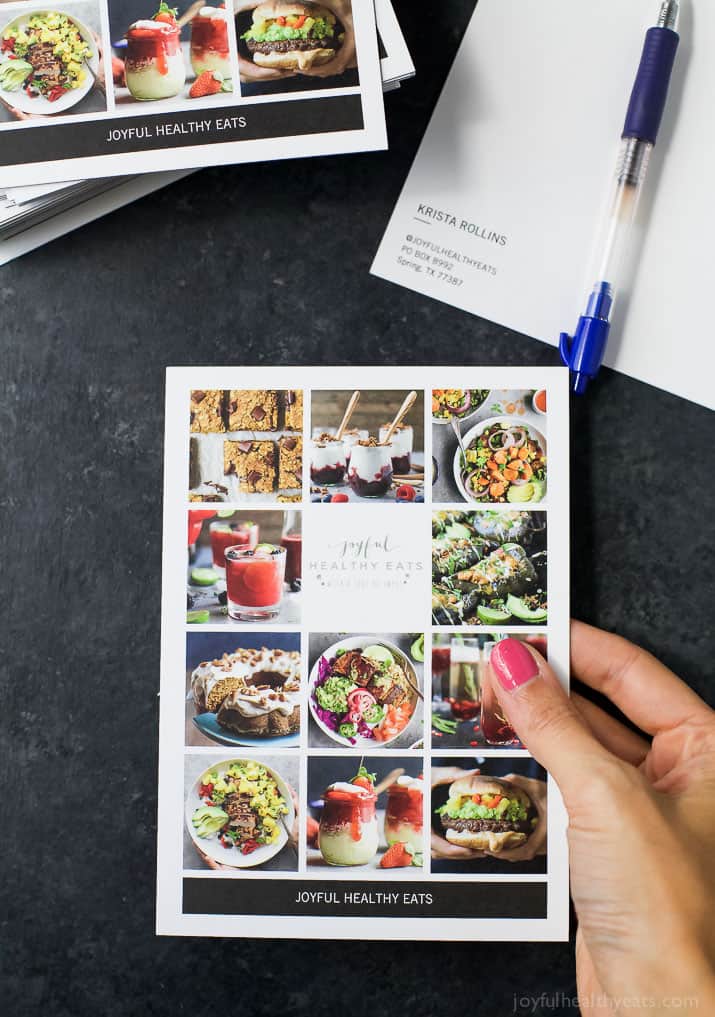 How to Build Your Brand:
Carry the Brand logo, colors and look through everything you use. (ex. email signature, social media profiles, letterheads, word doc.) This will allow your customers to recognize you and your brand at first glance. Make sure they are all the same and consistent.
HAVE BUSINESS CARDS! I cannot stress this enough! "What do you do?" Is a question most people ask. This way you have a tangible way for people to remember you.
Only put time and money into the things that will grow your business. Everything else doesn't matter.
Focus on the things you enjoy and you excel at. Hire out for the rest.
Leave a lasting impact. Recently I started utilizing postcards as a way to further brand myself. I send a thank you note, using those branded postcards, to the companies I work with especially if I would like to develop a long partnership with them. I think it adds a nice personal touch, shows thankfulness and looks very professional!
I would say one of the things that has launched my business the most is creating a catching logo. Then using that logo in EVERYTHING I do and making sure that I have business cards on hand at all times.
My mom usually takes a stack of the cards and hands those out. I've left them on the counter at places like Barnes & Noble, Starbucks, William Sonoma and even Sur La Table at times. You never know who's going to see it and pick it up!
Business cards have been invaluable to me. Lately I've been bringing my test recipes to the crossing guards at my son's school. They loved the recipes so much that they asked me for a stack of cards so they could start handing it out to the other mom's walking by. At one point, I was walking back to the crosswalk after picking my son up and another mom had just followed my Instagram account. She was raving about my website and was so thankful to the crossing guards for handing her the card. THAT IS CALLED GROWING YOUR AUDIENCE!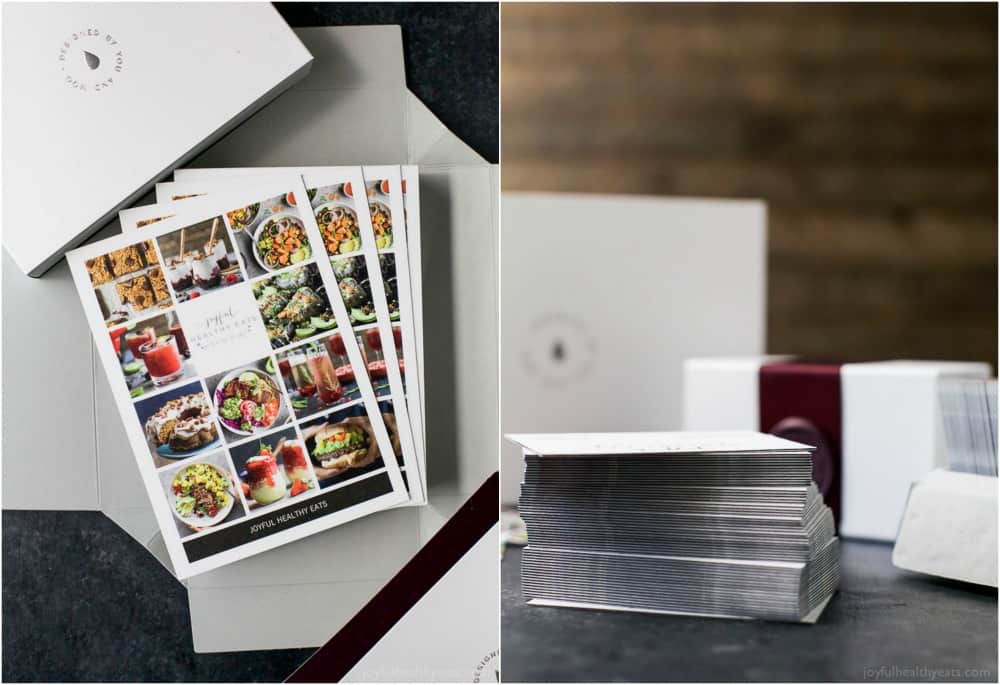 Ok, so let's talk business marketing material. I've used a variety of companies, but by far my favorite is MOO. Their quality is unmatched to anything in my opinion. I usually get the Luxe business cards because I love the weight of it, they use a 32 pt. paper. They have tons of options available to make your card the most professional, luxurious and memorable card there is. From size, to paper style, adding a gold foil or raising certain parts of the print. The options are endless and sure to leave someone asking, "where did you get these?" (Believe me, I've had that happen before.)
Outside of business cards they also offer invitations, stickers, business card holders, envelopes, greeting cards, notebooks, and flyers. All of them, the same quality as the business cards themselves.
But my favorite part is the packaging when they arrive. The box itself is very professional. Your products are not thrown into a box. They are wrapped properly so they stay in top condition. AND they give you a Luxe box that you can keep your cards in, as well as the cards of others you may run into. It's a great networking box. Without question, by leaps and bounds they are the best company to purchase your marketing materials from!
If you have more questions or would like details totally send me an email. I'd love to help as much as I could. Love y'all!
Be sure to check out Moo.com for your next marketing material order. They rock! Just sayin! 🙂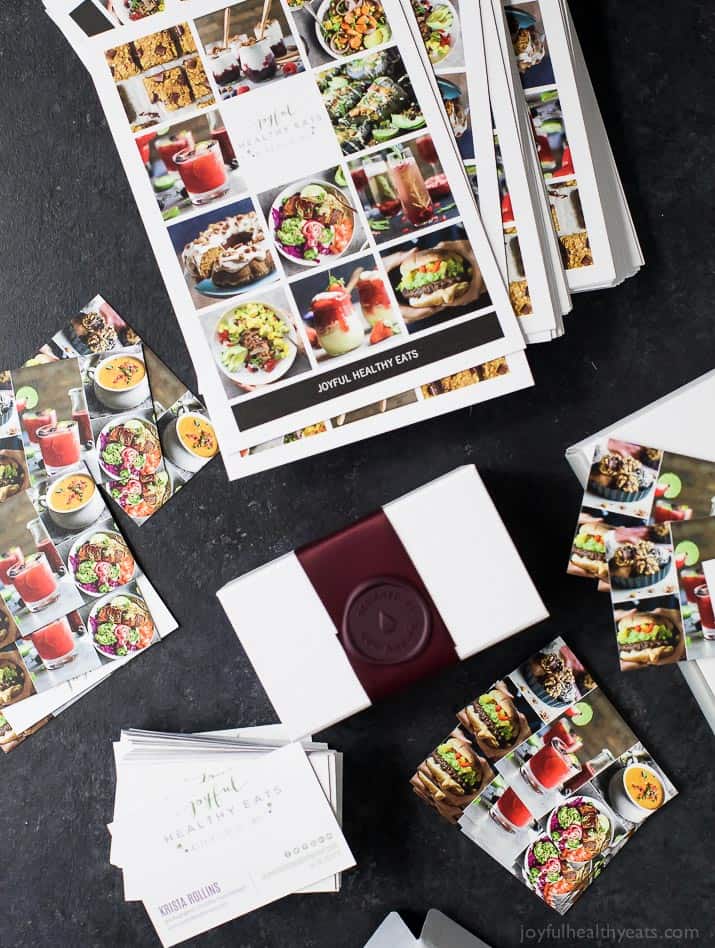 DON'T MISS A RECIPE ->
This is a sponsored conversation written by me on behalf of MOO. The opinions and text are all mine.