Fresh & creamy yogurt parfait with a mixed berry compote and crunchy granola. This easy parfait recipe is healthy, full of protein, and also kid friendly – a total win!
Fresh & creamy Yogurt Parfait with a Mixed Berry Compote and crunchy vanilla almond granola – an easy protein-filled breakfast that's kid friendly!
Over the past couple of years I have had the honor of visiting several different farms and talking to farmers about how they grow their crop. I absolutely love going on these trips because I come back having learned so much and feel more informed as a consumer! Last month I was finally able to go on a dairy farm tour.
I know, can you believe I lived in Wisconsin for 21 years and have NEVER been on a dairy farm. Crazy huh!?
The farm I visited was called Wildcat Dairy located in Gustine, TX. Wildcat Dairy is family owned by the Volleman family. The family consists of Frank and Annette who moved here from the Luxembourg and their 4 sons Benjamin, David, Andrew and Daniel. They are the sweetest family you'll ever meet!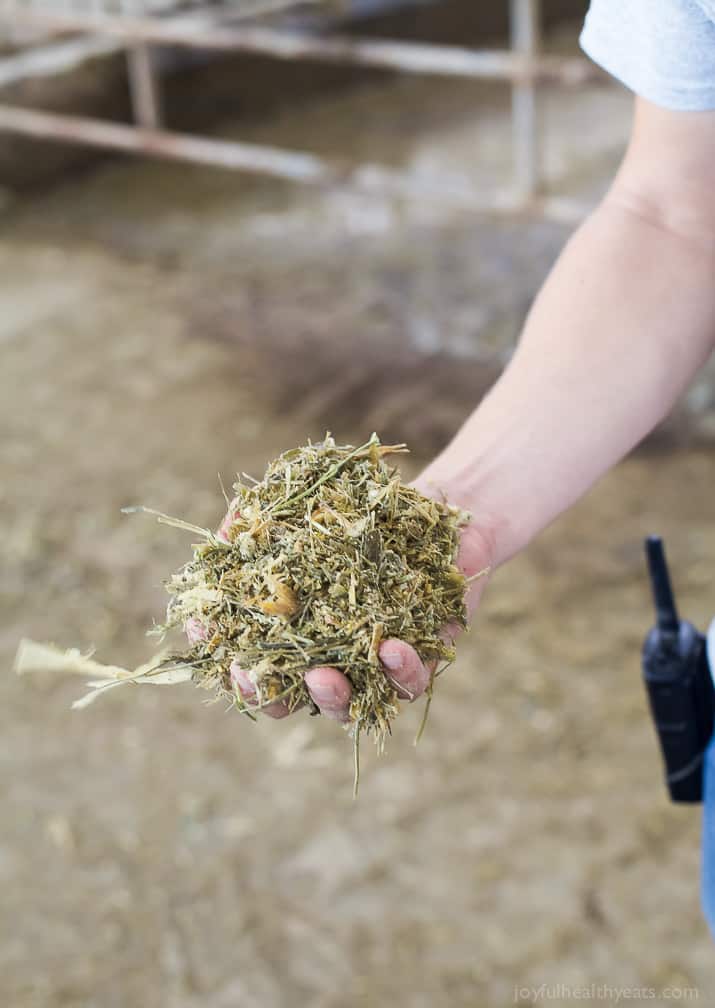 I think what I was most blown away by was how much hard work goes into running a dairy farm (it's a 24/7 job) and how much the farmers go the extra mile to ensure the product they deliver is top of the line, above reproach and responsibly produced.
The farm itself includes approximately 4,000 acres of land to grow feed for the cows. The dairy and the crop farm have been very innovative with technology and research to continually strive to be more sustainable in all aspects of the operation. Also, the water on the farm comes from wells in the area and is fresh water. This water is used for cooling milk, drinking water and in misters to keep the cows cool in the barn. No waste there! Even the manure is reused as a fertilizer for crops. It's truly incredible how innovative these dairy farmers are and how they are constantly trying to find new ways to reuse things on the farm to care for the planet, water, and their animals.
Wildcat Dairy grows a variety of crops including coastal grasses, corn, sorghum, and winter grains such as wheat, oats, and triticale. The feed for the cows is a mixture of different crops. Wildcat Dairy has a nutritionist come in one to two times a month to check the feed, moisture levels and confirm the balance is correct to ensure the cows are given the nutrients they need to stay healthy and happy.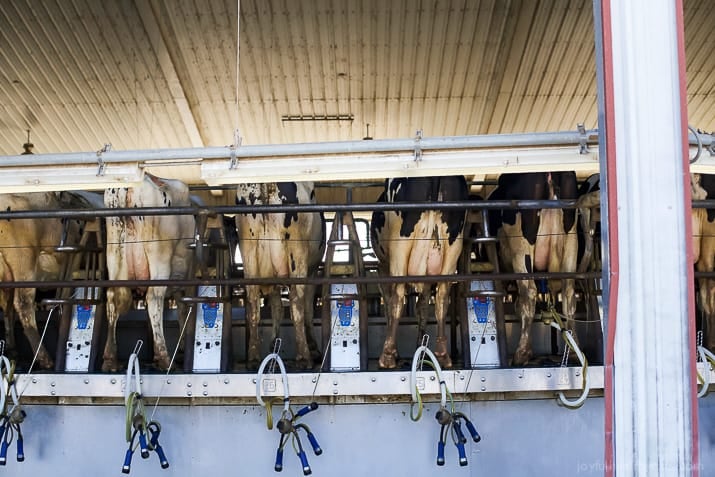 Wildcat Dairy has a total of 9,200 cows and calves. Of those 9,200 only 4,200 of the cows are milked 2 times a day, the rest are calves, heifers (cows who haven't had calves yet) or cows preparing for their next calf. Each cow is given a microchip in their ear tag, which they have from birth. This chip is used as a tracker and identifies and keeps record of that particular cow. The data on that chip tracks things like when the cow was born, who the mother is, if it has had any medical issues, any medicine that was given to the cow and when it was given, when they were last milked, how much milk they produced, etc. It is insane! They know everything about that cow!
The milking process was probably the coolest part to see! In case you didn't know, we NO longer milk cows by hand anymore. Now, the cows are milked using a milking machine and at this dairy they are milked on this big 72- stall rotary parlor! Essentially, it's a big merry go round for cows! The cows walk on, in fact, they actually try to push their way on because they can't wait to get milked. For those of you who are women, just think of the relief you get once you've finally nursed your baby. Yeah, it's basically the same thing for cows! It's a relief for them to get milked.
Once they're on the rotary, they pass by a worker who makes sure the milk from the udders is good to go, then they're sprayed by a machine to disinfect the teat, the next worker wipes off the teat and the last one attaches the machine to the udders to start the milking process. Twice a day, the cows are on the carousel for 8-9 minutes and, on average, they produce 4 – 4 1/2 gallons of milk each time. After the milk the cow is milked, the milk is pumped through to the tanks where it is cooled from a warm 101 degrees to a cool 35 degrees.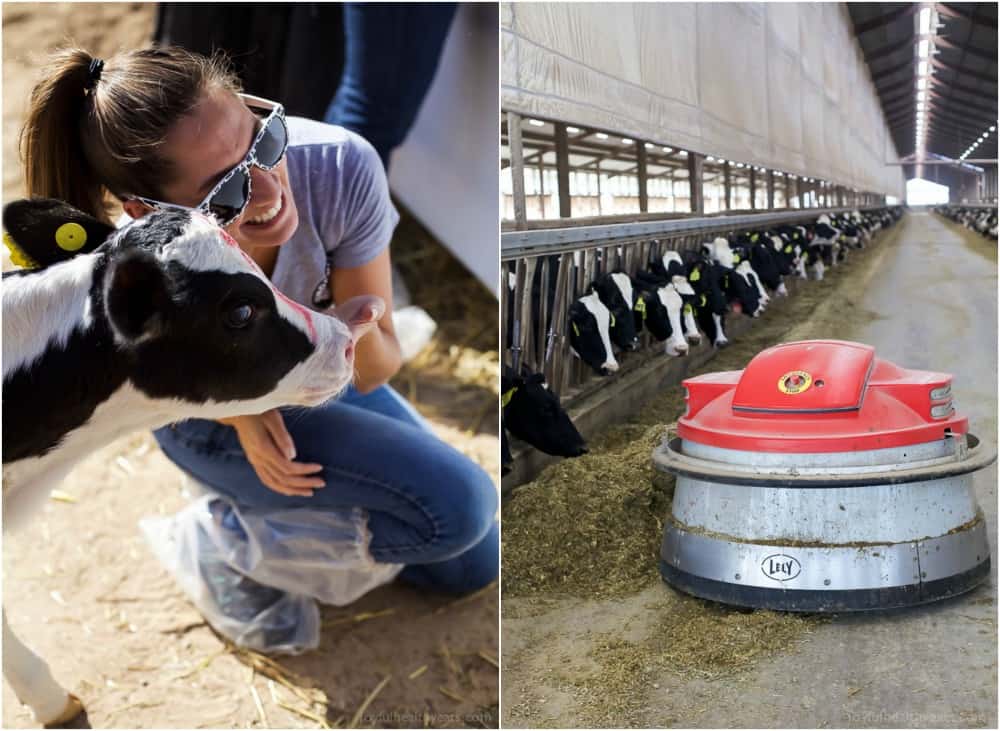 Each tank is tested multiple times for bacteria and any trace of antibiotics before it even leaves the farm. The tanks themselves are then thoroughly disinfected before it is filled again. If by chance, during their milking stage a cow gets mastitis (which is an infection in their udder) similar to what women get when they are nursing, they are given an antibiotic to help with the infection and their milk is separated from the rest of the group. The milk is tested daily until it is free of antibiotics and then they are put back in the group to be milked with the rest of their friends. 🙂 After the milk reaches the processing plant it is tested again, by the plant and by the USDA. If any traces of antibiotics are found the entire tank gets thrown out! So, you can be assured that the milk you're drinking from retail stores is antibiotic free.
Cows are milked 300 days a year and are not milked 60 days while they prepare for their next calf. It's what they call their "cow vacation." However, the dairy farmer doesn't get a vacation during those 60 days – they are still milking other cows on the farm because not all cows on the farm are pregnant at the same time. Dairy farmers work 365 days a year to make sure all their cows are taken care of.
Finally learning the whole process first hand (from the farmer) and seeing what the farmers do to care for their animals was an eye opener to me. But my favorite part was going to the calving barn. (pictured below) Life's always busy on a farm. They were having on average 15-20 calves born a day. In fact, while we were there, there was a cow who was giving birth. The birthing process takes about 1-2 hours and the cow basically does it by herself. Of course, there are staff on hand just in case she needs it, but most of the time those tough ladies do it on their own. The calves are some of the cutest things you'll EVER see, I just wanted to sit and cuddle up with them.
[clickToTweet tweet="Creamy Dreamy YOGURT PARFAIT WITH MIXED BERRY COMPOTE! A must in the morning! #AD @dairygood" quote="Creamy Dreamy YOGURT PARFAIT WITH MIXED BERRY COMPOTE! A must in the morning! #AD @dairygood" theme="style1″]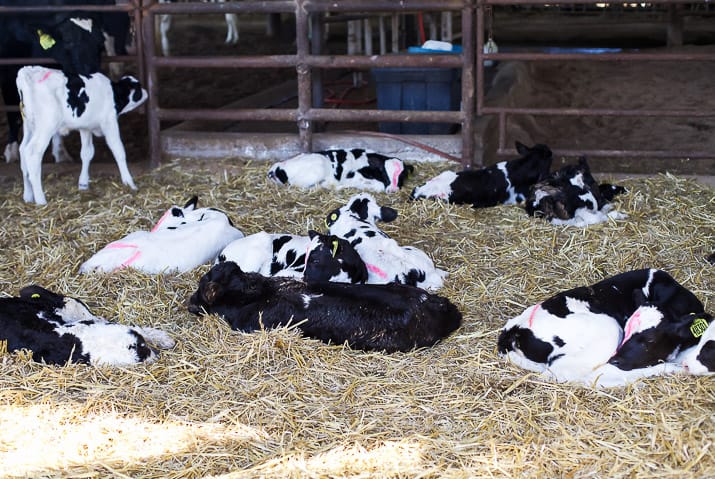 After we finished the tour of the dairy farm we headed back to their office for a Q&A. Some of the things I learned that were "myth busters" to me were.
There is no extra hormones in our milk from the cows being milked "too much."
The cows are given a break. They are only milked 300 days a year and on this farm, 2 times a day.
If a cow has an infection they are separated from the herd.
The sanitation process is intense. The milk is tested multiple times before it even leaves the dairy. Then again multiple times before it is processed and transported to the grocery store. So you can be assured that the milk you're purchasing is TOP quality.
Your milk comes from within 300 miles of your house on average.
Cows on this farm are treated just like a child is treated. If your child is sick, of course you are going to give them medicine to get better. These cows are no different. Every antibiotic cows are give is to help them get better. They are very well taken care of and none at that medicine is in the product we use!
After we finished our Q&A, we had the pleasure of trying out some of Annette's family recipes! Annette had a spread for us when we got to the office. A tray of assorted cheeses, crackers, fruit, and then she made us her homemade cheesecake. This cheesecake was made from cheese that she makes. It's not cream cheese, it's something a little different but it was one of the best cheesecakes I've had in a while. It wasn't overly sweet and had a light fluffy texture to it! I still need to email her to get the recipe and maybe even share it with y'all if she's allowed to break the family secret!
She also served us smoothies and her famous homemade yogurt! She makes gallons of the yogurt each week because her family goes through that much of it! I was just amazed that she makes her own yogurt and that it was as good as it was. Annette served the yogurt with her homemade granola and then fruit preserves to make a sort of parfait. Which is what inspired today's recipe!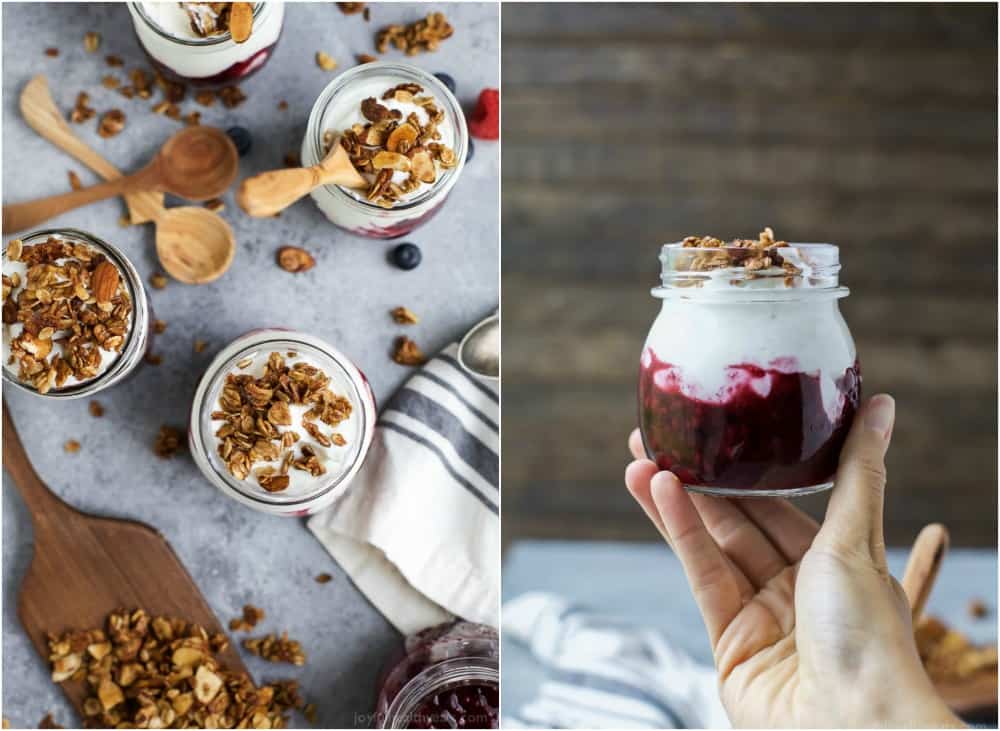 This Yogurt Parfait has an easy, homemade mixed berry compote on the bottom that is topped with a crunchy, homemade vanilla almond granola. It is absolutely incredible. And I love that I can pre-make them in mason jars, put the top on so it's ready in the morning to grab and go as I need it!
Now, just a fair warning. I'm no Annette, this yogurt is not made from scratch but it is plain yogurt because we're adding lots of other flavors to it! Just grab your favorite brand and you're all set. The compote itself is made from a combination of 3 different berries, water, maple syrup and then some arrowroot to thicken it up once the berries are cooked down. (if you don't have arrowroot you can use corn starch) The vanilla almond granola is a must, it adds a nice crunch and sweetness to the parfait and is crazy easy to make. I guarantee you'll be hooked after the first bite.
Everything about these parfaits reminds me of my visit to the farm, so this is my way of giving you a little taste.
Bon Appetit y'all!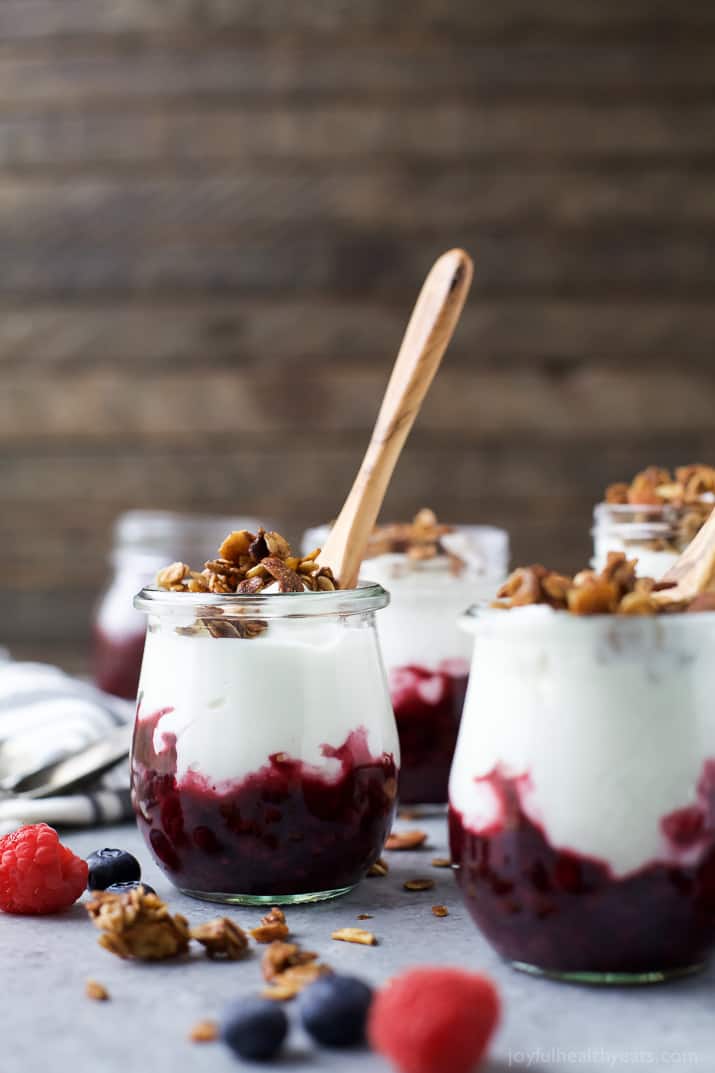 **Created with America's Dairy Farm Families and Importers, in partnership with the Innovation Center for U.S.Dairy. However, like always all opinions are 100% mine! Thank you for supporting the brands that support Joyful Healthy Eats. ***
Print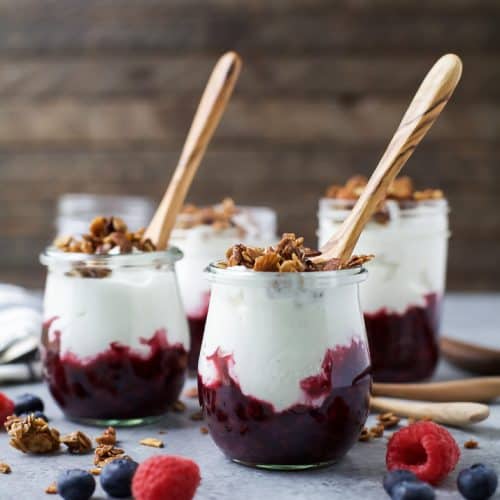 Yogurt Parfait with Mixed Berry Compote
Author:

Prep Time:

10 mins

Cook Time:

30 mins

Total Time:

40 mins

Yield:

6

parfaits

1

x
Category:

Breakfast

Method:

Oven

Cuisine:

American
---
Description
Creamy yogurt parfait with a mixed berry compote + crunchy granola. This easy parfait recipe is healthy, full of protein & kid friendly – a total win!
Scale
Ingredients
24 oz

. plain yogurt or Greek yogurt
Mixed Berry Compote:
1 pint

of fresh raspberries

1 pint

of fresh blackberries

1 pint

of fresh blueberries

3 tablespoons

water

2 tablespoons

maple syrup
dash of cinnamon
dash of salt

1 tablespoon

arrowroot
Almond Granola:
1 1/2 cups

gluten free oats

1/2 cup

sliced almonds

1 teaspoon

cinnamon

1/2 teaspoon

nutmeg

1/2 cup

maple syrup

2 tablespoons

melted coconut oil
Instructions
Preheat oven to 350.
Line a baking sheet with a parchment paper or a baking mat.
In a medium bowl, add gluten free oats, almonds, cinnamon and nutmeg. Stir to combine the dry ingredients. Next add in maple syrup and melted coconut oil. Using a spatula stir to coat all the dry ingredients with the wet ingredients.
Spread the granola mixture onto the prepared baking sheet.
Bake for 10 minutes. Remove from oven, using a spatula turn the granola. (or just move it around)
Bake for another 10 minutes. Remove from oven and let cool.
In the meantime, to a small saucepan add raspberries, blackberries, blueberries, water, maple syrup, cinnamon and salt. Turn heat to medium low and let the berries cook down for about 5 minutes, stirring occasionally. You may want to press down and crush a couple of the berries, that is fine as well.
After the 5 minutes, add arrowroot to the berry compote. Stir it in until it is dissolved. Let simmer for 2-3 minutes. Remove and let cool.
Assemble parfaits: add 2-3 tablespoons of berry mixture to the bottom of a jar, top with 4 oz. of yogurt and sprinkle with granola.
Serve and devour!
HINT: these can be premade and stored in the refrigerator for later use. Just don't add the granola because it will get soggy.
Keywords: yogurt parfait, healthy yogurt parfait, easy yogurt parfait, kid friendly breakfast ideas, healthy breakfast ideas, protein packed breakfast, make ahead breakfast
IF YOU MAKE THIS RECIPE, BE SURE TO SNAP A PIC AND HASHTAG IT #JOYFULHEALTHYEATS. I LOVE SEEING WHAT YOU MAKE!
Want More Breakfast Recipes?
Whole Wheat Pumpkin Pancakes with Candied Bacon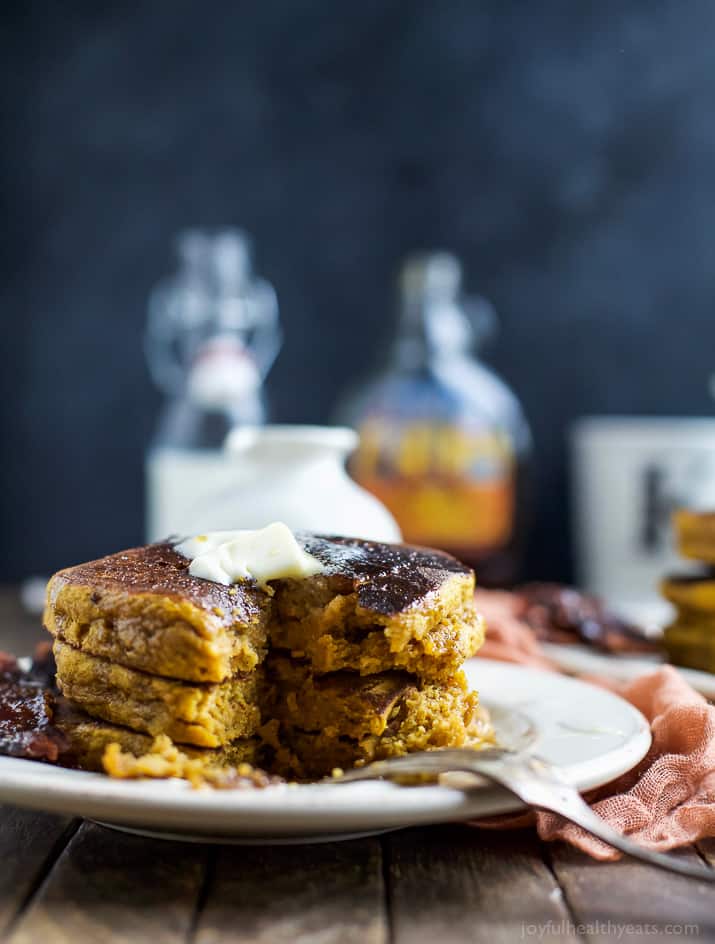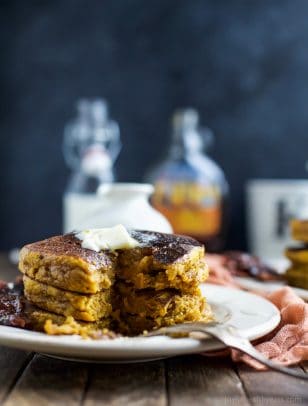 Cajun Shrimp with Smoked Gouda Grits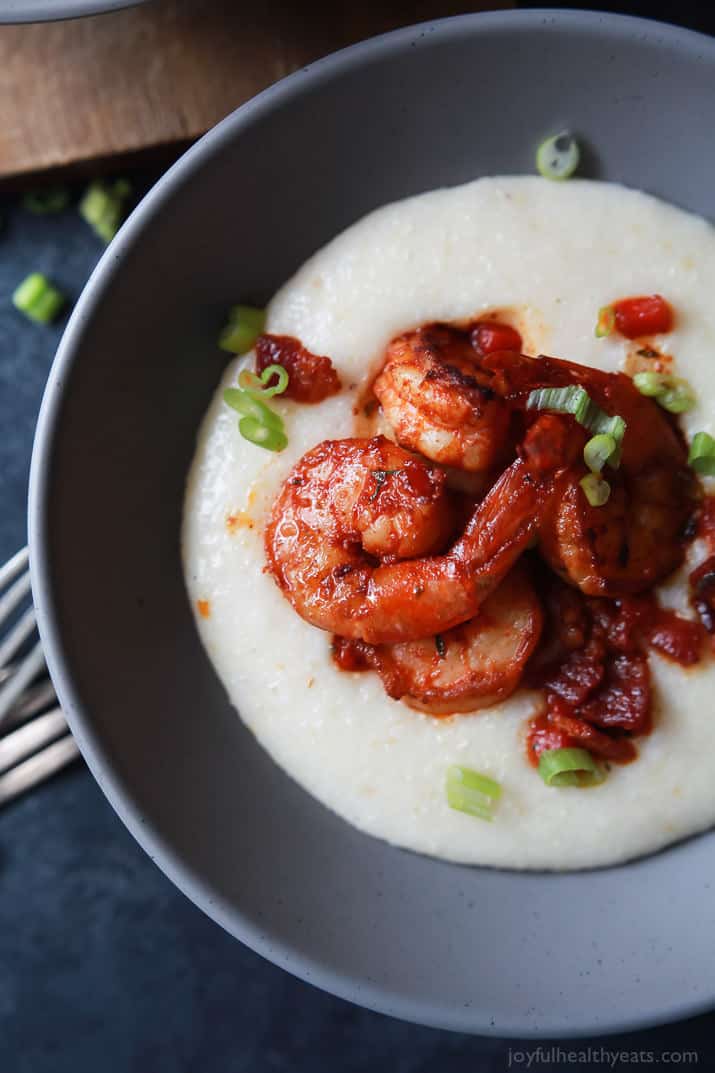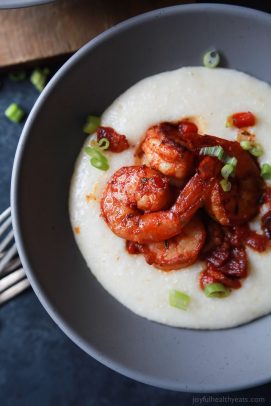 Tropical Superfruit Yogurt Parfait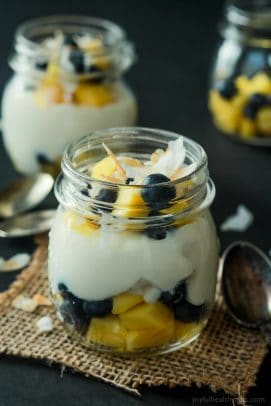 DON'T MISS A RECIPE ->
This post is created with America's Dairy Farm Families and Importers, in partnership with the Innovation Center for U.S. Dairy. However, the views and opinions included are my own.
This post is created with America's Dairy Farm Families and Importers, in partnership with the Innovation Center for U.S. Dairy. However, the views and opinions included are my own.