Gluten Free Berry Tart with a cheesecake filling and Almond Crust a beautiful light dessert perfect for the summer!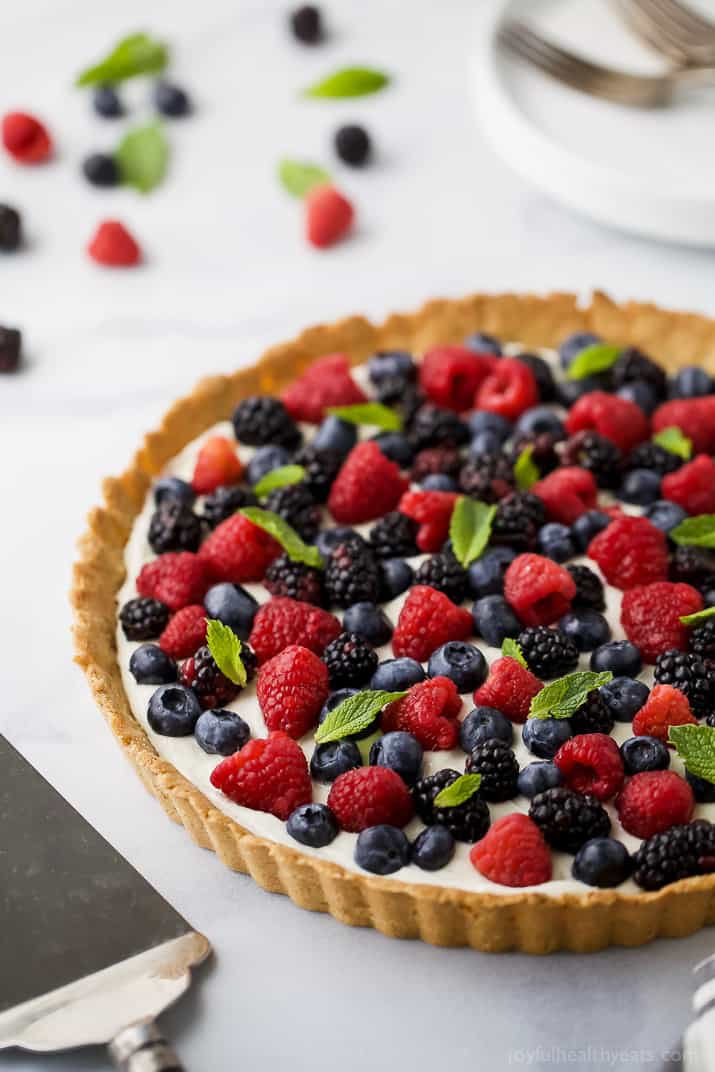 Gluten Free Berry Tart filled with a creamy greek yogurt cheesecake filling and an Almond Crust. This beautiful Berry Tart is a light dessert that's perfect for the summer!
Well if you follow me on Instagram, you know that I had one fun weekend!
Yesterday was my birthday. Woohoo! But Friday morning, after a long night with Maddie, I woke up to a fun surprise.
Every once in a while, my husband will write a sweet note on our bathroom mirror. It always makes me smile. He knows me very well, I'm a words of affirmation person and a quality time person.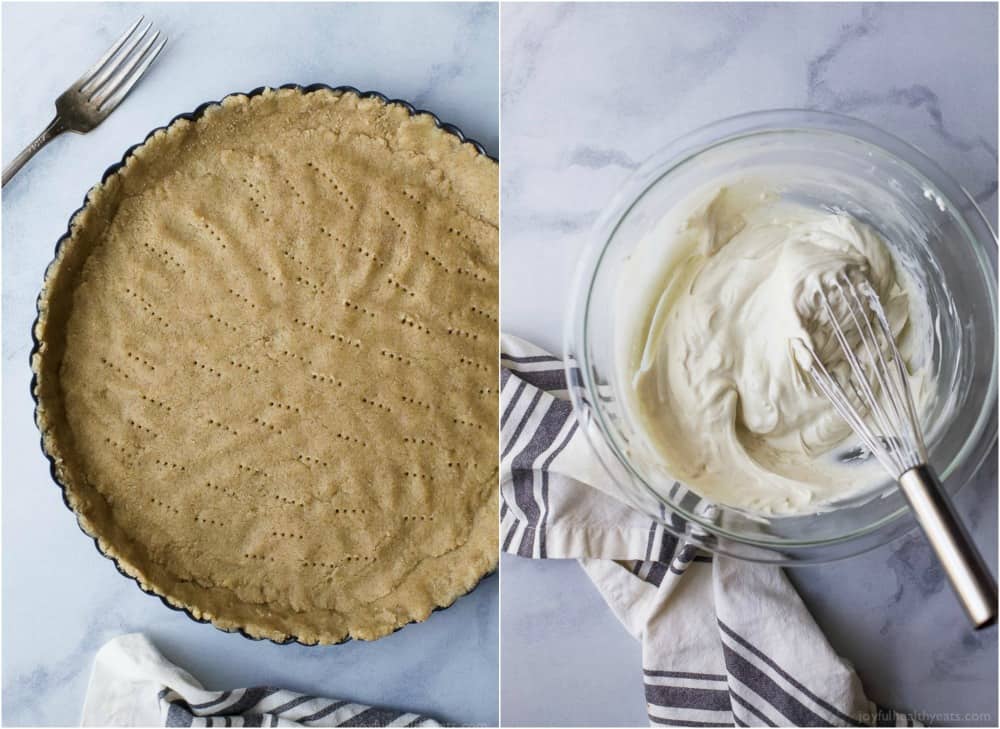 Well, Friday morning I woke up. Walked into our master bathroom and there was a note on the mirror. It said "Happy Early Birthday. You have a few small tasks that need to be done this morning.
You need to get Maddie ready to stay the night with your mom.
Get Cason ready to stay the night with his cousins.
Pick a restaurant to go to downtown Houston because we're having a date night followed by a day date.
Happy Birthday!! I love you!"
BEST WAY TO WAKE UP EVER!!!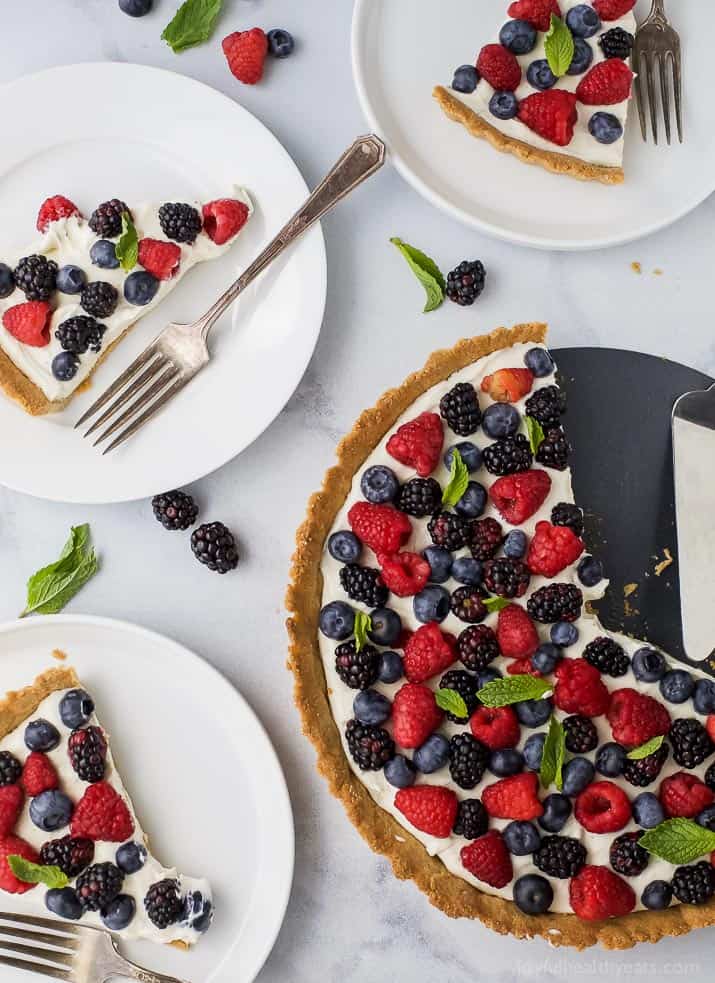 So I did exactly that on Friday. I got everything set for the kids, packed myself and started to think of which restaurant I'd like to go to.
I was really in the mood for a glass of wine, some seafood and a good quality steak … basically a nice dinner. Usually the way Mike and I dine out, we end up splitting everything. We pick an appetizer, a salad, a side dish and then a main dish. We always end up feeling like we got to try a good portion of the menu and not overly stuffed. It's great!
So I went to good old Yelp and searched for the top rated steak restaurants near the area we were staying. Steak 48 came in at the top of the list.
Y'all not only was the restaurant trendy and cute when we walked in but the food was absolutely incredible! When they serve the steak they give you a 500 degree F plate to eat it on. It's literally still sizzling. They want your first bite to be at warm as your last!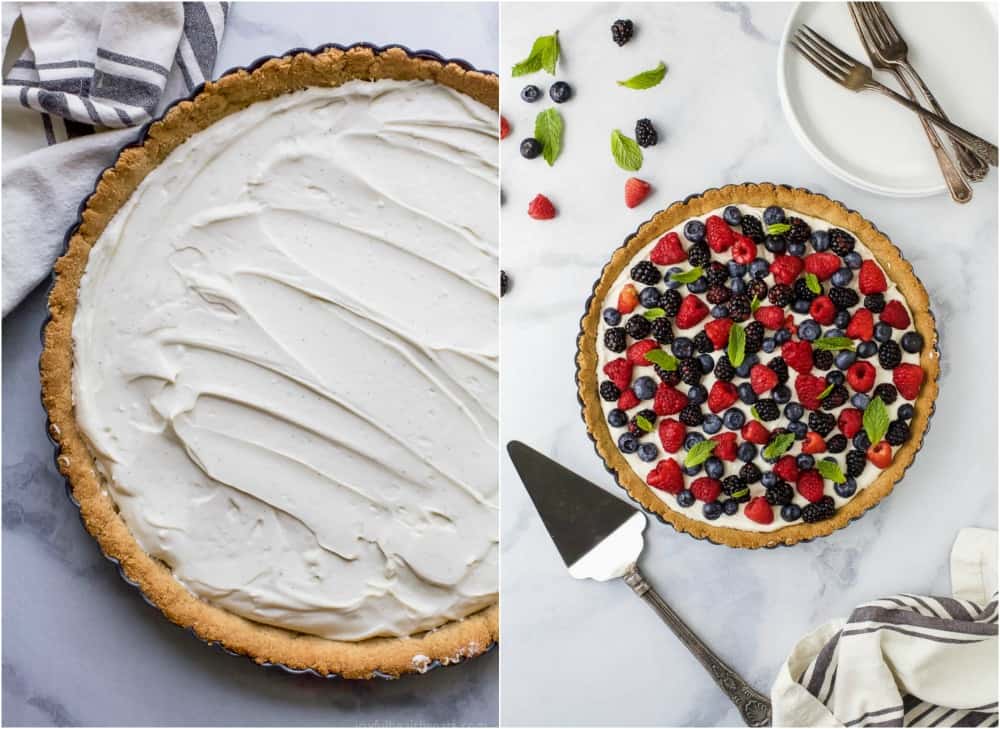 If you live in the Houston area you need to go! And actually they have a location in the Chicago area and in Arizona (although in Arizona it's called Steak 44). For a nice date night this place was the bomb! Plus I tried a new wine, Faust, it was still a Cabernet (because that's my favorite) but was a collection of that grape from different vineyards in the Napa Valley area. So yummy and absolutely perfect with our bone-in Filet and scalloped potatoes layered with gouda and caramelized onions! (totally drooling as I type that)
After we had dinner, we stayed the night downtown. Woke up late the next morning (to us that's 8am) and headed to a new brunch place downtown. It was called the Dish Society and also super delicious. I highly recommend that place too! Great coffee served with fresh local ingredients with a farm to table concept!
Then my sweet husband took me on a shopping spree at the Galleria mall, walked into every store I wanted to go into and bought me all the things! It was awesome! Best weekend ever! Love that man.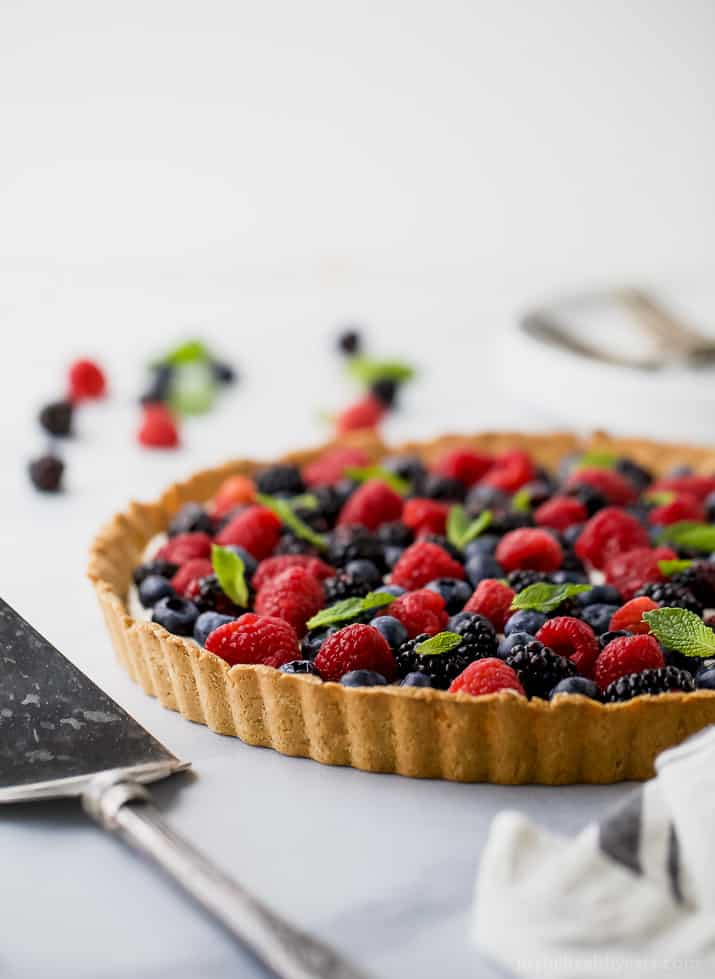 Ok. Now that you know how awesome my weekend was, it's time for you to know how amazing this Berry Tart is!
This tart was a "love project" for me, I had envisioned how beautiful this thing was going to look in photos but had to make it a couple times because the crust fell apart the first time I made it. And that my friends is why I don't like baking. But anywho. The good news is, it turned out awesome the second time and I was even able to make the crust gluten free by using almond flour.
The crust has just the right amount of sweet to it, is toasted, slightly nutty, crunchy but more importantly it holds it shape! Once the crust is cooled I put a greek yogurt cheesecake mixture on top and then topped it with a beautiful array of fresh berries!
Basically it's a gorgeous, light, refreshing dessert that you HAVE to make this summer! It's perfect for a fancy night when you have friends over or a great dish to bring for your next BBQ. (Plus it's Red, White and Blue) Just sayin.
I hope you try this one! Bon Appetit friends.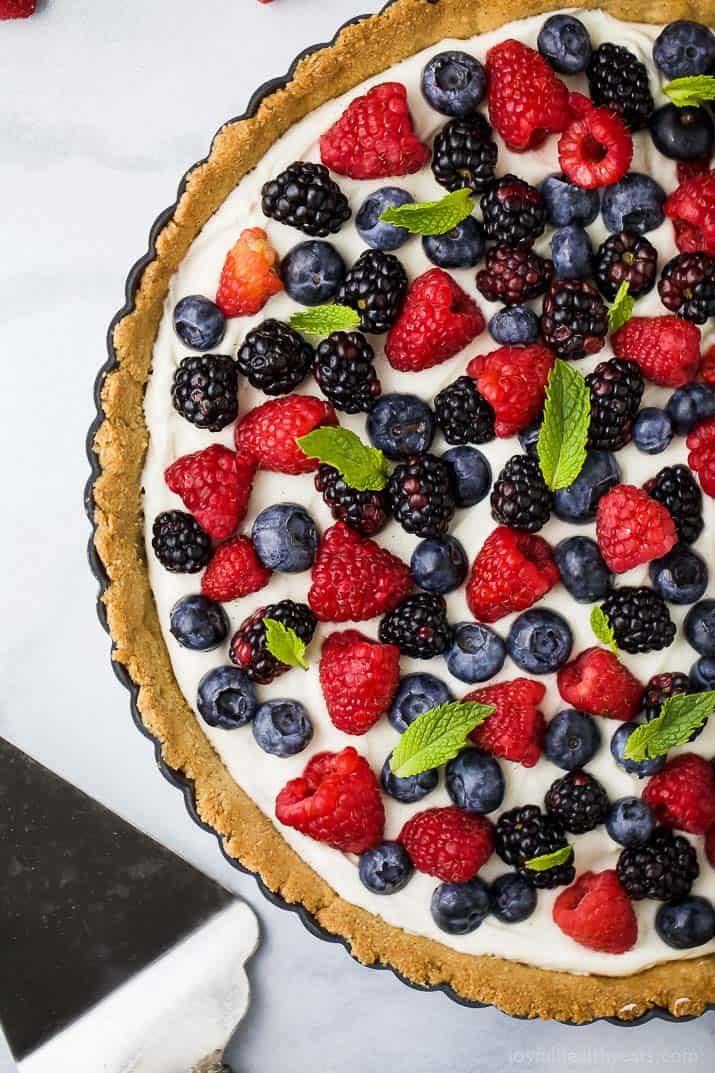 Print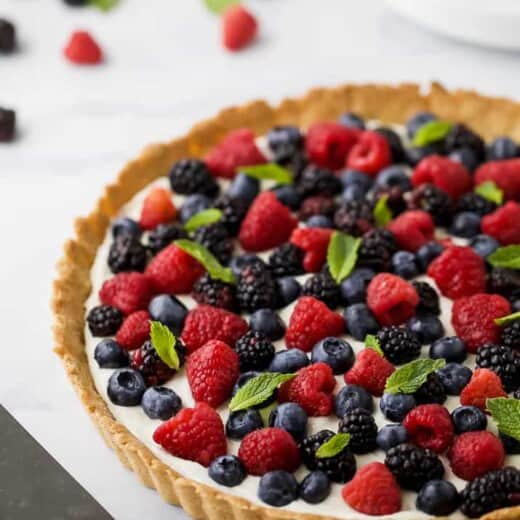 Berry Tart with Almond Crust
Author:

Prep Time:

30 minutes

Cook Time:

12 minutes

Total Time:

42 minutes

Yield:

12

slices

1

x

Category:

dessert, gluten free

Method:

Oven

Cuisine:

American
---
Description
Gluten Free Berry Tart filled with a creamy greek yogurt cheesecake filling and an Almond Crust. This beautiful Berry Tart is a light dessert that's perfect for the summer!
---
For Almond Crust:
2 cups

fine unblanched almond flour

1/3 cup

coconut oil, melted

3 tablespoons

maple syrup

1 teaspoon

ground cinnamon
For Filling:
8 oz

softened cream cheese

3/4 cup

plain greek yogurt

3 tablespoons

maple syrup

1 teaspoon

vanilla bean paste
Fruit Topping:
1 pint

fresh raspberries

1 pint

fresh blueberries

1 pint

fresh blackberries
Optional: mint for garnish
---
Instructions
Almond Crust
Preheat oven to 350 degrees F.
Spray a 10″ spring form tart pan with cooking spray.
In a small bowl mix together almond flour, coconut oil, maple syrup and ground cinnamon. Mix until all the ingredients are combined and the mixture is somewhat sticky.
Add almond crust mixture to the spring form pan. Spread the mixture out evenly along the bottom and up the sides. Pressing into the pan. (if the mixture sticks to your hands just add a little oil to your hands)
Poke the crust with a fork all over the bottom and a few times on the sides. This will prevent the crust from bubbling up.
Place pan in the oven and bake for 12 minutes, until the crust is lightly browned. Remove from oven and let cool.
Cheesecake Filling
To a medium bowl add cream cheese, greek yogurt, maple syrup and vanilla bean paste.
Using a hand mixer, blend until the mixture is smooth and there are no lumps.
Pour the cheesecake mixture over the almond crust and evenly spread to cover the entire bottom with a spatula.
Top the tart with fresh berries.
Let chill and serve later or serve immediately.
optional: garnish with fresh mint
---
---
Nutrition
Serving Size:

1 slice

Calories:

307

Sugar:

13 g

Sodium:

81 mg

Fat:

23 g

Saturated Fat:

10 g

Carbohydrates:

20 g

Fiber:

5 g

Protein:

8 g

Cholesterol:

25 mg
Keywords: easy dessert recipes, gluten free dessert, berry tart
Filed Under:
Want More Healthy Dessert Recipes?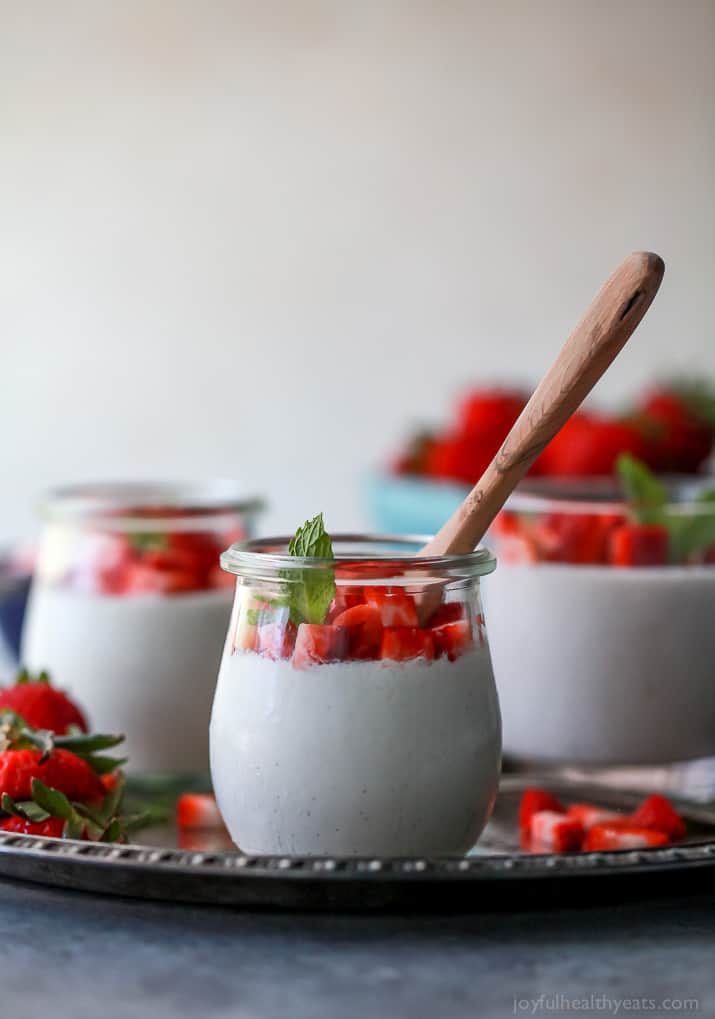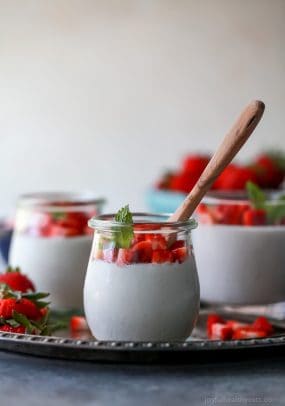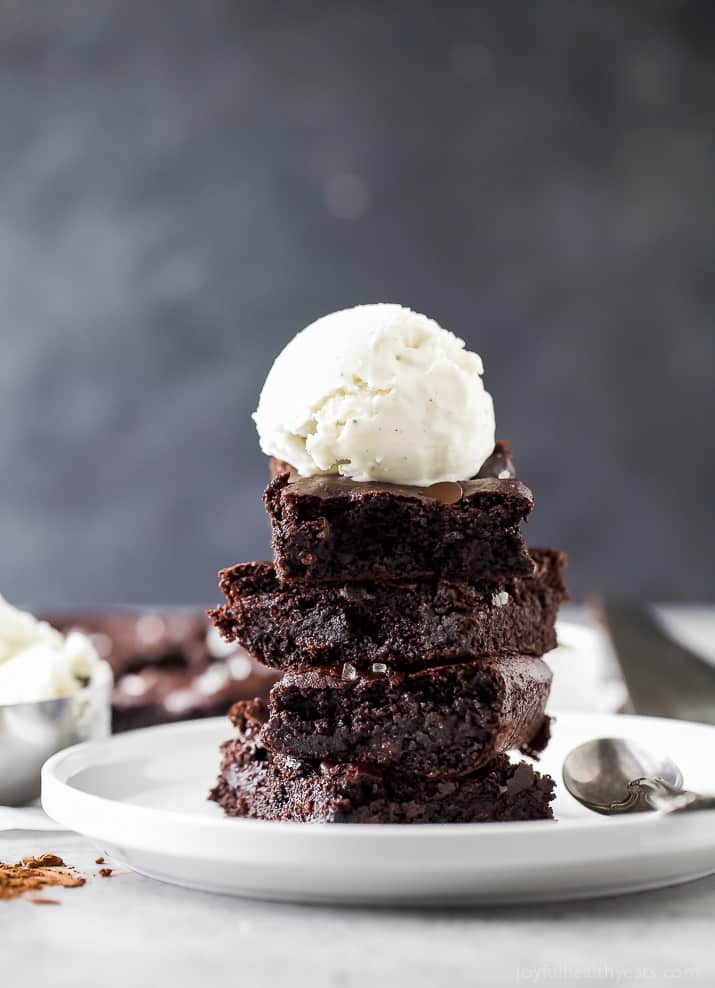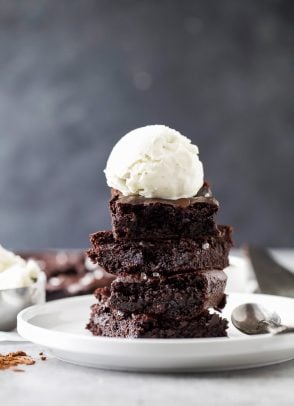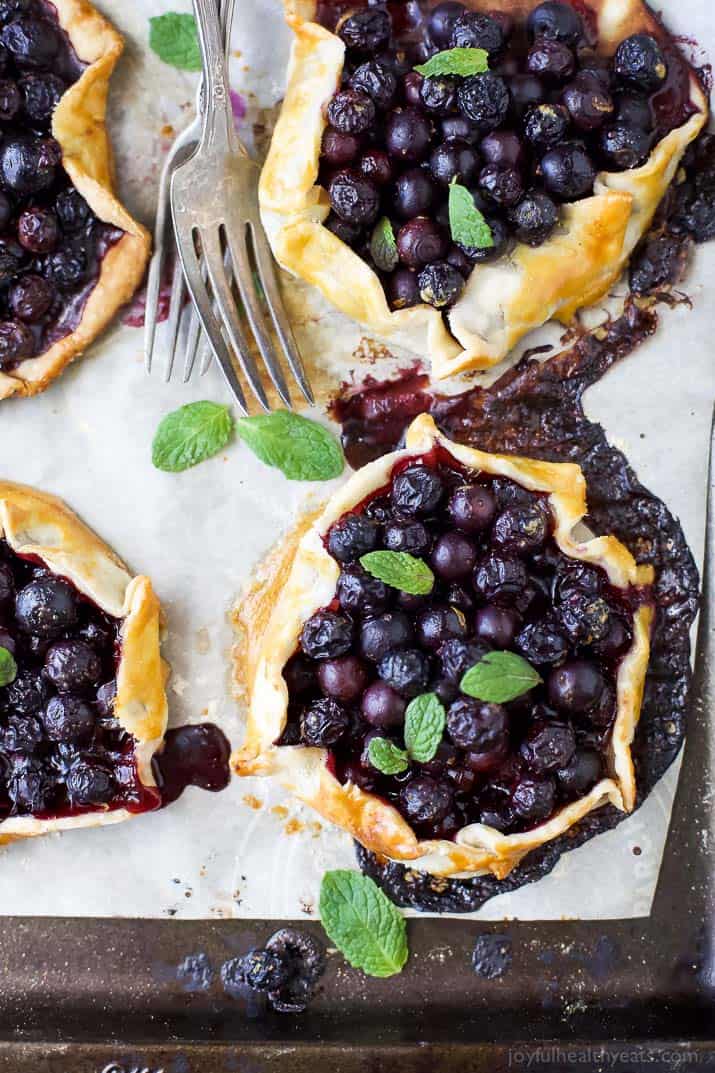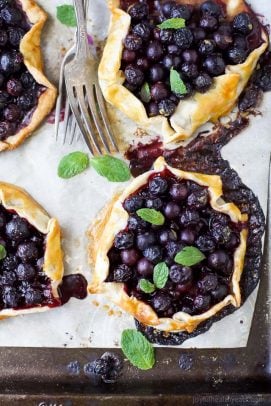 Coconut Dark Chocolate Chia Pudding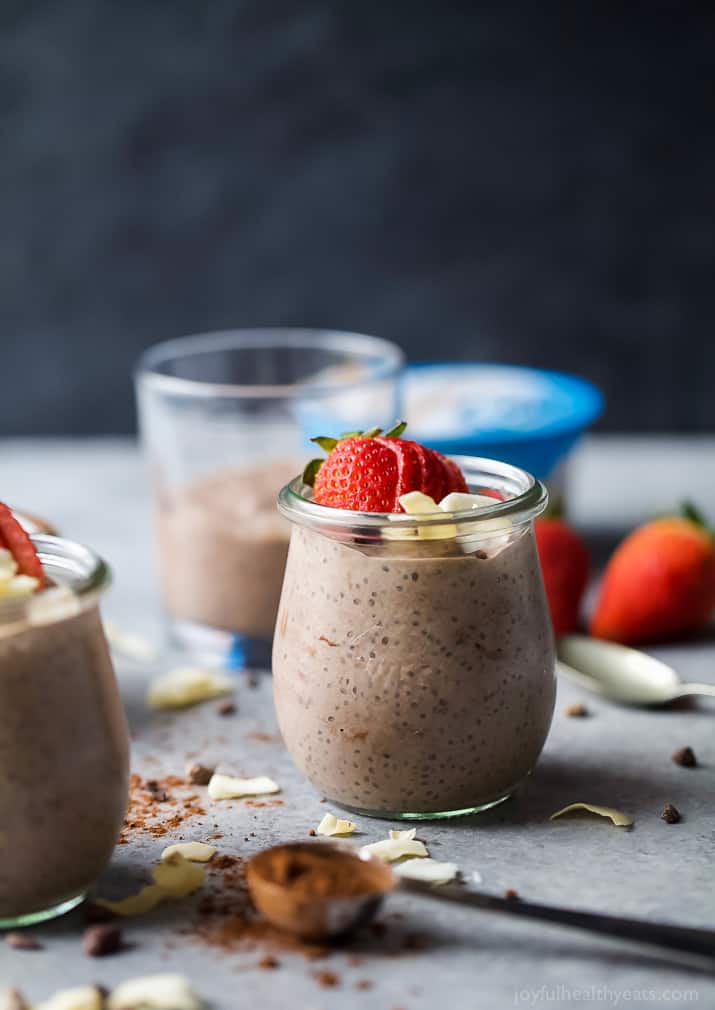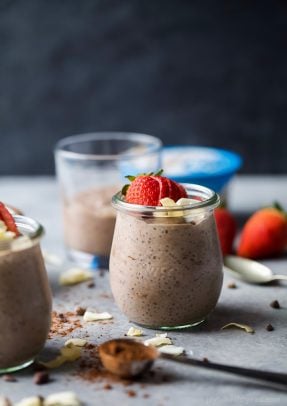 DON'T MISS A RECIPE ->