These Simple No Bake Chocolate Peanut Butter Energy Balls make the perfect snack, breakfast, or even dessert! They are packed with protein to keep you full longer and taste like a Peanut Butter Cookie!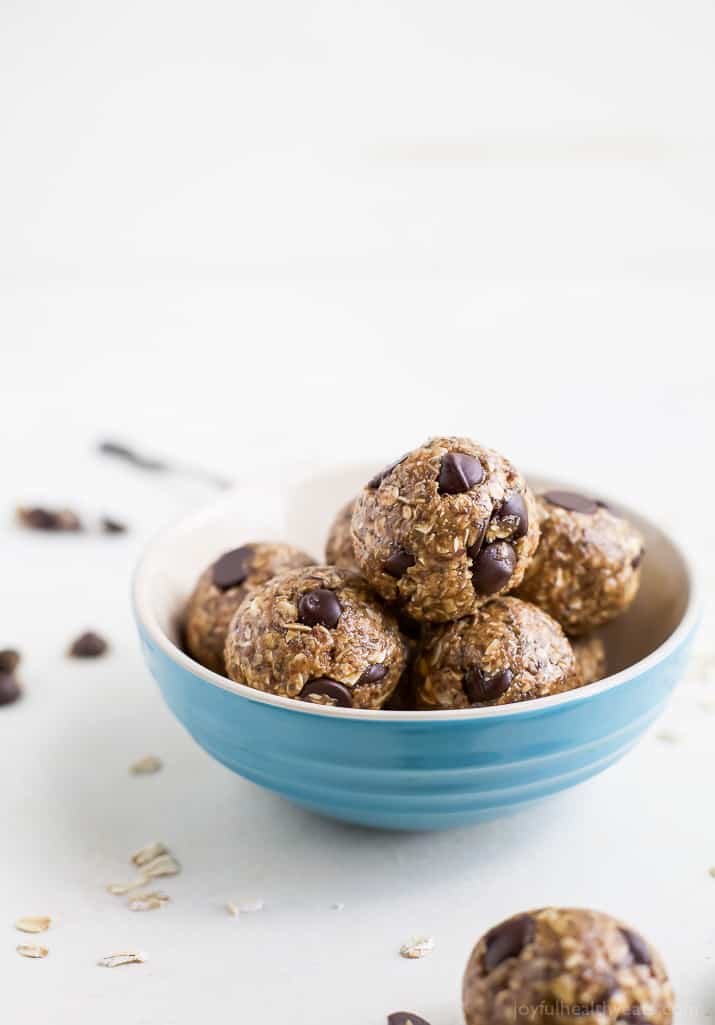 I have always been a gym rat.
I started playing volleyball when I was seven. I started playing club volleyball shortly after that. Playing Club meant practice 2-3 times a week and traveling all day tournaments on the weekends. I tried to play soccer for a bit but my schedule got to hectic so I choose to stick with volleyball.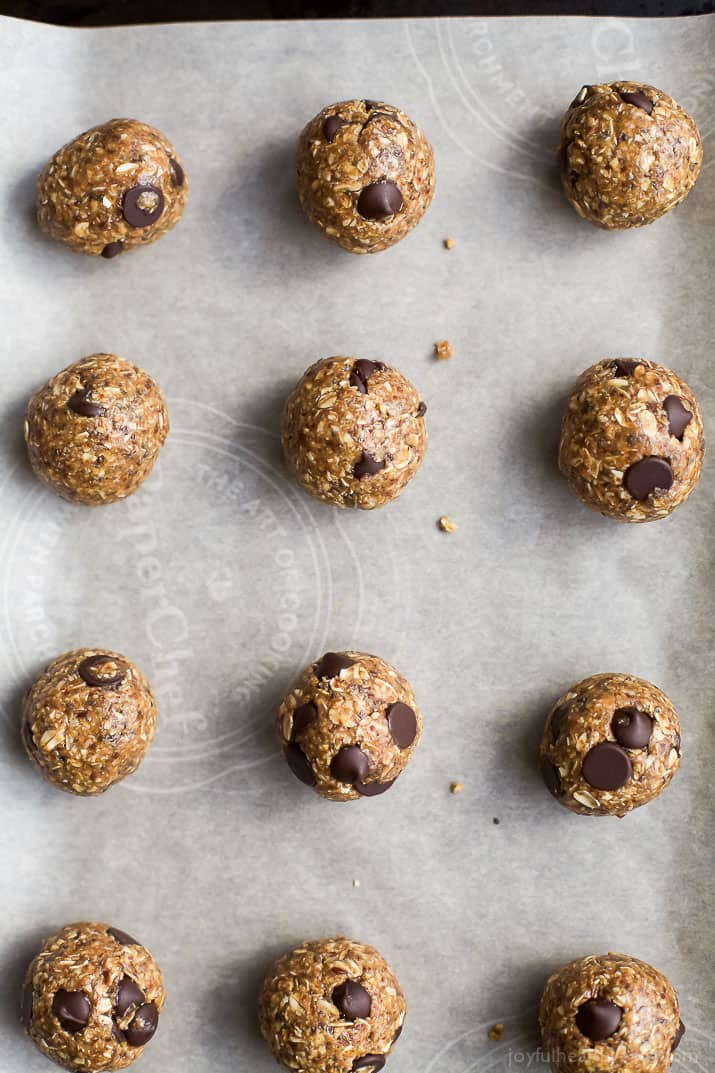 I went to high performance sports training camp in the summer months to increase my vertical. I would practice my overhand serve against our roof … and broken a few gutters in the process … to perfect my craft.
My life WAS volleyball.
And I loved it! I made the Varsity team as a freshman and was the starting setter, so all my hard work had paid off. I started getting letters from college recruiters my sophomore year of high school and starting visiting those colleges junior year. It was kinda surreal.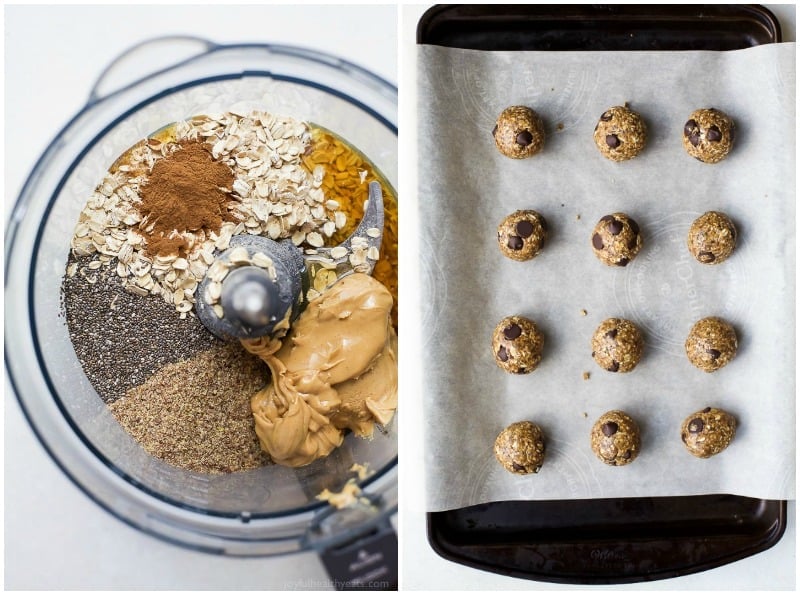 Then my senior year hit and I got tired. I was eating, sleeping and breathing volleyball and I had had enough. I can still remember visiting UCONN for a college trip.
The coach took me around campus and basically gave me the sales pitch, walked me through the gym and then into the weight room to introduce me to the college trainer.  She was huge … definitely a major weightlifter and I honestly I couldn't tell if she was male or female for quite a while.
It was then that I realized, if I go here, what's next? I kill myself for volleyball and then what ….
That's when I thought that yes I wanted a scholarship to college but I didn't want my life to revolve around volleyball. It had been like that for so long. I wanted a change. I decided to go to an NAIA Christian school in Chicago. I LOVED every second of it and that's where I met my husband.
I still enjoy playing volleyball and still LOVE working out. In fact I usually work out at least 4 times a week, it's a big stress reliever for me and helps me stay healthy. Because of that I like to have a quick protein packed snack either right before or after my workout.
And these No Bake Chocolate Peanut Butter Energy Balls are my go to!
ONE, because they have peanut butter as the base and I'm OBSESSED with peanut butter! Not only is it delicious but it's a great quick source of protein. And TWO they have chocolate chips in them! So basically these energy balls are a no brainer!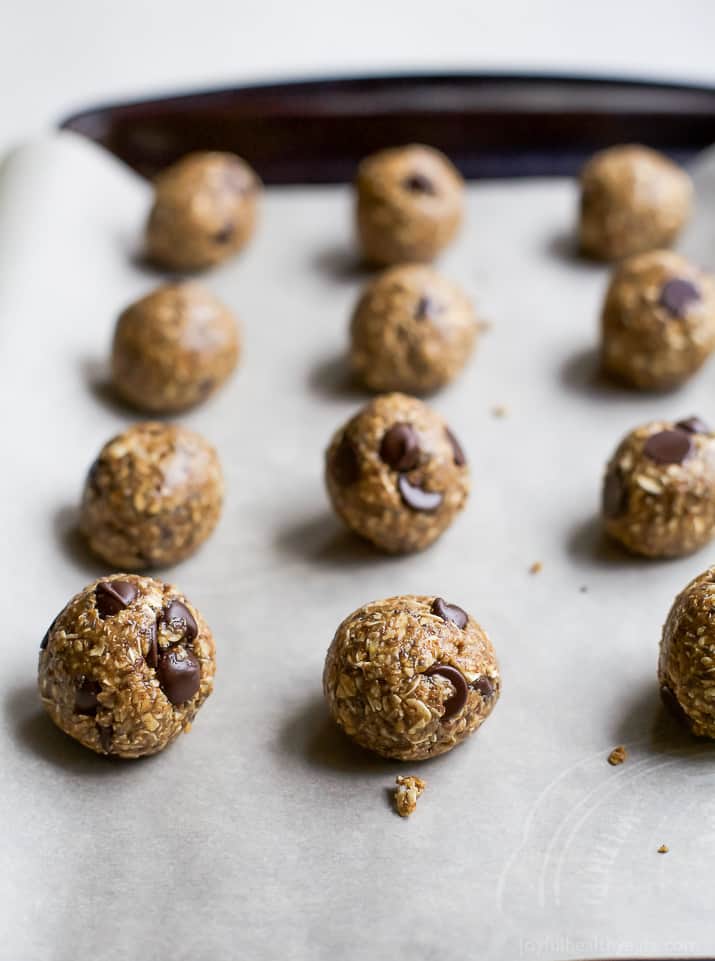 To make this even easier, all the ingredients (minus the chocolate chips) are thrown into a food processor to mix everything up. So the work is done for you! All you have to do roll them and eat them!
Sounds like a pretty easy job to me!
And believe me .. you are going to enjoy the eating part of your job! These are absolutely delicious. Basically taste like a peanut butter chocolate chip cookie! MMmmmmm
Bon Appetit my friends!
No Bake Chocolate Peanut Butter Energy Balls
Recipe type:
breakfast, snack, kid friendly, dessert
Ingredients
2 cups of old fashioned rolled oats
½ cup of ground flax seed
1 tablespoon of black chia seeds
1 teaspoon of cinnamon
½ cup of raw honey
½ cup of peanut butter
1 teaspoon of vanilla extract
1 scoop Vanilla Whey Protein Powder
½ cup of dark chocolate chips
Instructions
Add rolled oats, ground flax seed, chia seeds, cinnamon, honey, peanut butter, vanilla extract, and vanilla protein powder to food processor.
Pulse until ingredients are blended. (about 7-9 times)
Add mixture to a large bowl, add in chocolate chip. Stir to combine.
Form energy bite mixture into 1" balls and place on parchment paper lined baking sheet.
Cover and place in refrigerator for 2 hours.
Serve!
Nutrition Information
Serving size:
1 ball
Calories:
244
Fat:
12 g
Saturated fat:
3 g
Carbohydrates:
31 g
Sugar:
15 g
Sodium:
40 mg
Fiber:
6 g
Protein:
8 g
Cholesterol:
4 mg
IF YOU MAKE THIS RECIPE, BE SURE TO SNAP A PIC AND HASHTAG IT #JOYFULHEALTHYEATS. I LOVE SEEING WHAT YOU MAKE!
Want More Peanut Butter Recipes?
Easy Apple Peanut Butter Energy Bites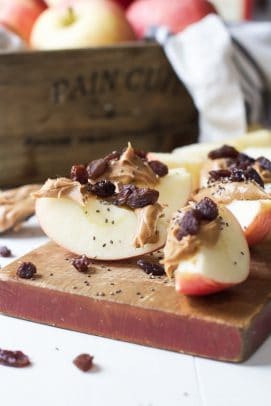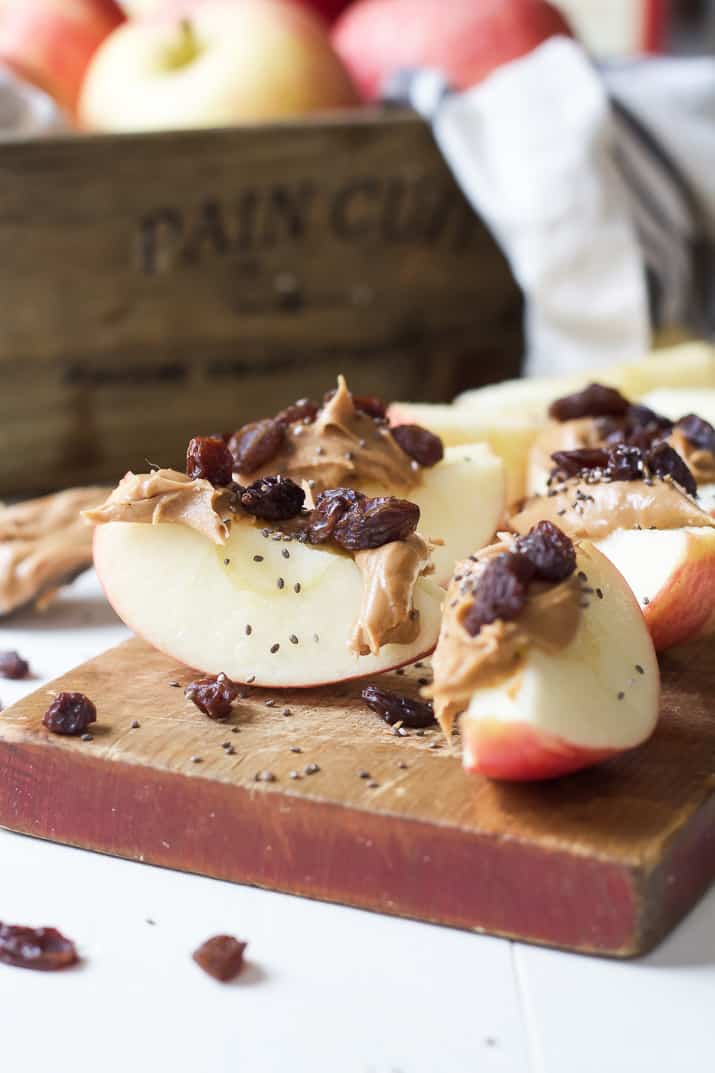 Thai Chicken Lettuce Wraps with Spicy Peanut Sauce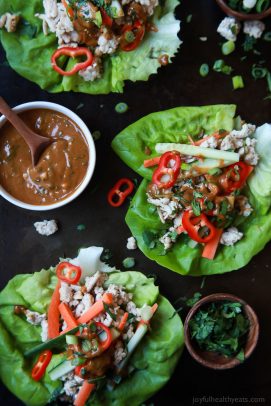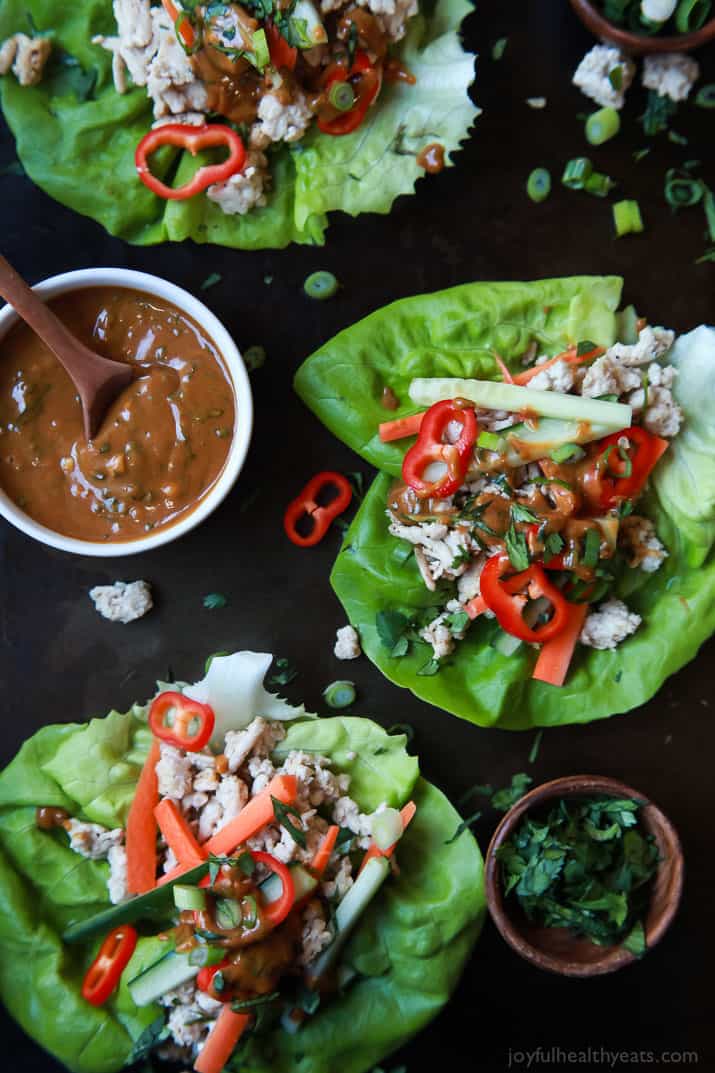 3 Ingredient Peanut Butter Chocolate Mousse with Coconut Whipped Cream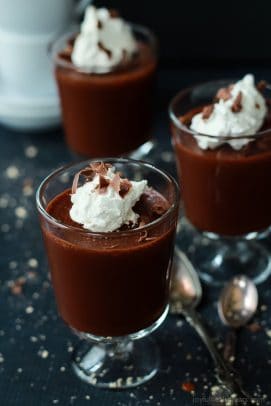 DON'T MISS A RECIPE ->