Organize your meals for the week while keeping them healthy, easy, and something your family will absolutely love! Everything you need is in this meal plan, breakfast, lunch, dinner, snack, and desert for the week!
Happy Weekend! Do you have fun plans for this weekend?
Mike and I are going to a Comedy Show on Sunday and I seriously can't wait! Have you ever heard of Tim Hawkins? He is hilarious! Here's a sneak peak of one of my favorite parody's he does–> "I'll Clean up for you" Hurray for fun date nights with the hubs!
Ok, now on to the meal plan for the week! Bon Appetit friends!
Stop back every Saturday for your weekly fix of daily entrees as well as a breakfast, lunch, snack and dessert! Just click on the photo or link to see the recipe.
~ HEALTHY WEEKLY MEAL PLAN ~

EASY Cauliflower Soup that's super healthy but doesn't taste healthy!

MAIN DISH
Say goodbye to dry, flavorless turkey burgers and hello to these juicy Apple Cheddar Turkey Burgers! Sliced apples, cheddar cheese and maple dijon mustard are the perfect sweet and savory toppings!
SIDE DISH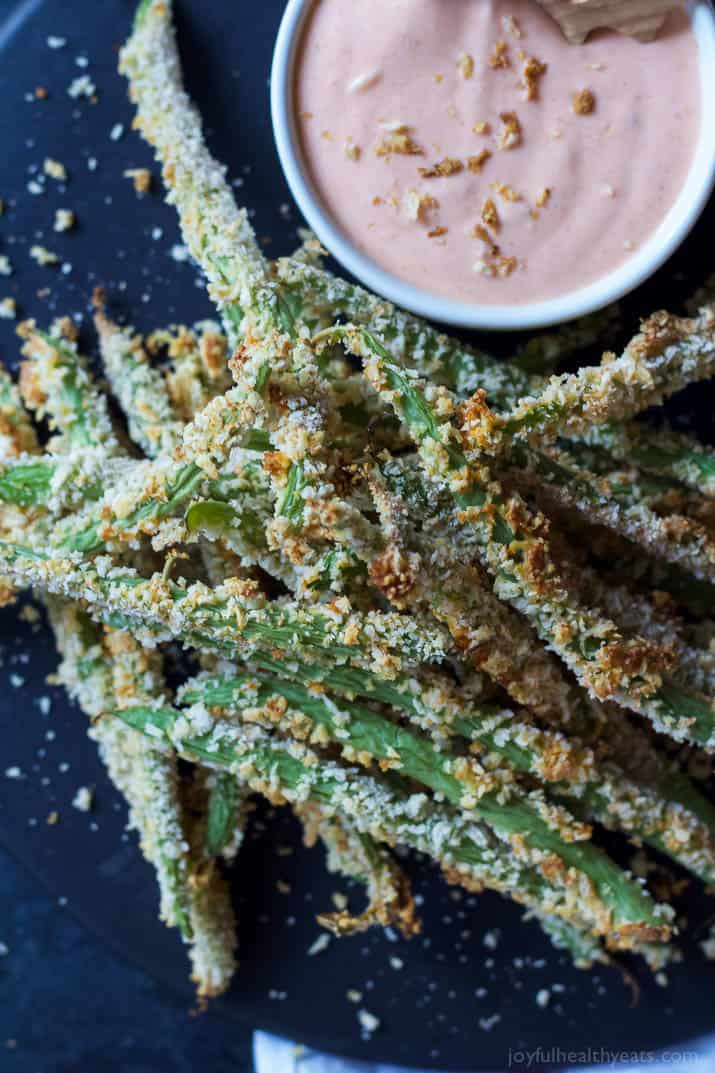 These Crispy Baked Green Bean Fries take only 15 minutes to make and are served with an incredible Creamy Sriracha Sauce for dipping! They are WAY better than regular fries and healthier for you too!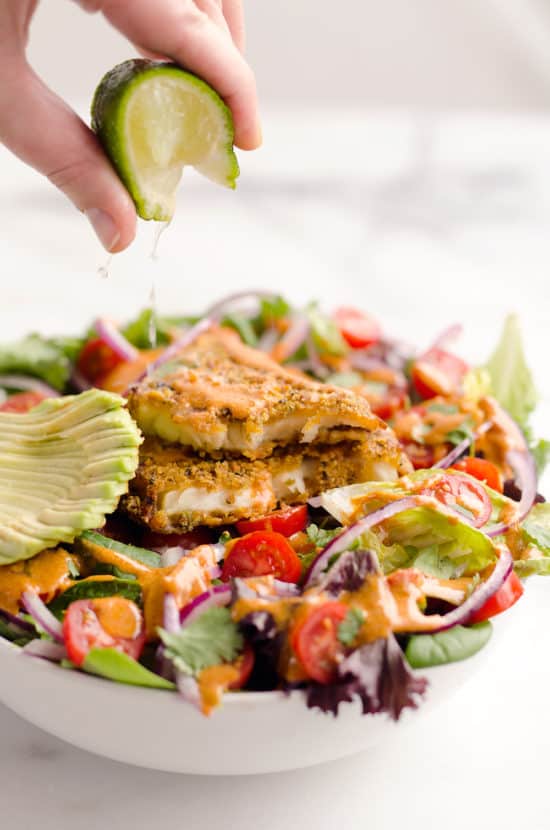 Southwest Tortilla Crusted Tilapia Salad is an easy and healthy 15 minute recipe made with an Air fryer!
Chicken Piccata Recipe that's lighter aka 'skinny' and so easy to make! Perfect on a busy weeknight but also fancy enough to make when you have company over!

For those cheese and beer lovers, this easy Beer Cheese Soup is delicious, creamy and full of flavor thanks to two types of cheese, beer, ham, and bacon!

BREAKFAST
Grab one bowl and only a handful of ingredients to make these jam-packed breakfast cookies! They're ultimately-soft and chewy and only 147 calories per cookie!
DINNER

This Tuscan-style turkey salad is loaded with so much fresh healthy goodness and a simple pesto vinaigrette adds an unbelievable amount of flavor!
DESSERT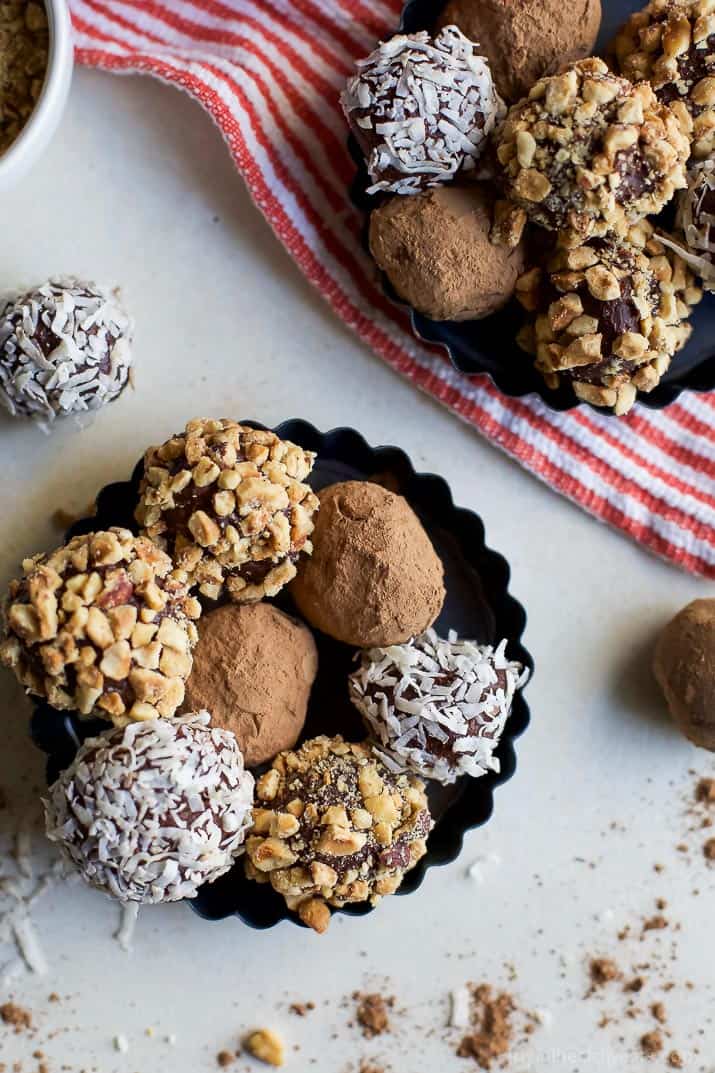 You're just 4 ingredients away from these Paleo Chocolate Espresso Truffles. Believe me, you want these on your cookie platter this holiday season!

LUNCH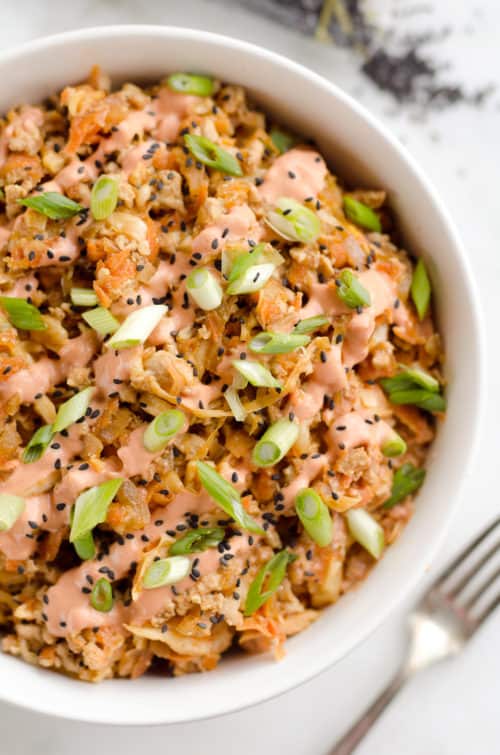 Turkey Egg Roll Bowl with Creamy Sriracha is an amazingly healthy and easy 20 minute bowl of goodness perfect for lunch or dinner!
SNACK
Fruity and tropical, this 4 ingredient raspberry colada smoothie is healthy, full of tart raspberries, coconut and protein for an island inspired breakfast or snack!
DINNER

Lean and full of fresh lemon and rosemary flavors. These Skillet Lemon Rosemary Turkey Meatballs simmered in a white wine sauce make a delicious and healthy weeknight dinner!
With Salt & Wit | Recipe Runner | Whole & Heavenly Oven | The Creative Bite | Joyful Healthy Eats | Yummy Healthy Easy