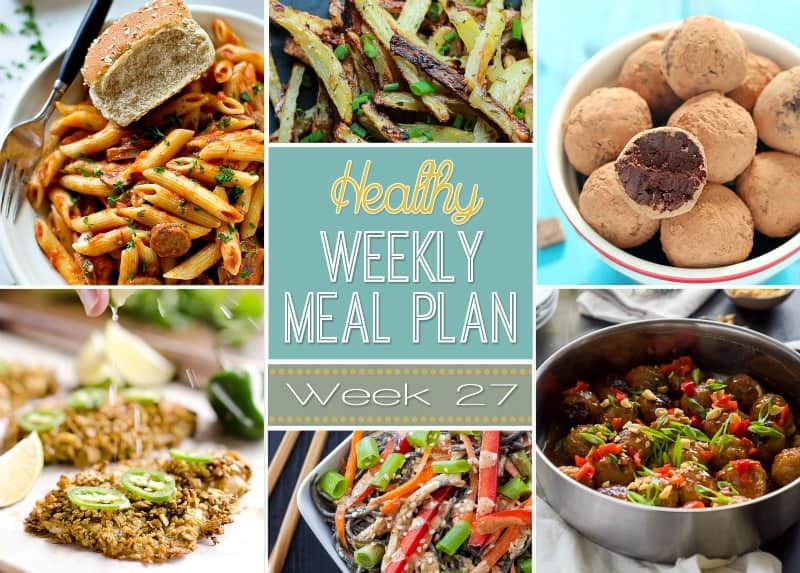 Organize your week with a Meal Plan that will help you navigate through the next week of meals to make dinners easy, healthy, and something your family will absolutely love! Everything you need is in this meal plan, breakfast, lunch, dinner, snack, and desert for the week!
Wow can you believe that in two days it will be February! It seems like January just flew by! Am I right?
Just to make sure you have an easy transition to next month and "stay the course" with your healthy living resolution here is another Healthy Meal Plan for the week. I'm definitely going to be all over those Sweet Chili Glazed Meatballs and Decadent Avocado Truffles, what about you?
Be sure to stop back every Saturday for your weekly fix of daily entrees as well as a breakfast, lunch, snack and dessert! Just click on the photo or link to see the recipe.
~ HEALTHY WEEKLY MEAL PLAN ~

Start with week with this Basil Pesto Pasta with Roasted Vegetables! A simple kid friendly healthy summer pasta that's done in 30 minutes.
DINNER

Baked Chicken Fingers with an almond-herb crust are my go-to easy dinner recipe and my favorite way to eat chicken! They're incredibly flavorful, healthy and delicious!
SIDE DISH
Crispy Baked Garlic Parmesan Fries are crispy on the outside and soft on the inside, the easiest Baked Fries you will ever make! Only 6 ingredients but pack a phenomenal fresh herb taste!

Light Tomato Basil Meatball Soup is a hearty and health dinner filled with lean meatballs, fresh tomatoes and basil! It will leave you feeling warmed up and satisfied!

Baked Tortilla Crusted Tilapia is a light and healthy dinner idea with a crunchy tortilla crust full of spicy southwestern flavors and is ready in less than 30 minutes!

Crunchy, sweet, tangy, nutty, chewy, this Chicken and Wild Rice Salad has it all!
BREAKFAST
Love the cranberry bliss bars from Starbucks? You'll love them even more in scone form!
LUNCH
Shredded sesame chicken, red bell peppers, carrots and black bean noodles tossed in a delicious almond butter based Asian sauce are the perfect blend of flavors in these healthy sesame chicken noodle bowls!
DINNER
Penne sausage alla vodka has never been easier to make at home! Ready in 30 minutes with minimal work and TONS of cozy, comforting flavors.
SNACK
A sweet and spicy combo is the perfect pair in this Honey Sriracha Hummus that takes minutes to throw together and perfect while watching the football (or basketball) game!
DINNER
Sweet Chili Glazed Meatballs are juicy meatballs drenched in a homemade sweet chili sauce that is sweet and spicy! A crowd pleasing 30 minute appetizer, snack or entree for Super Bowl!
DESSERT
An unbelievably smooth, creamy and decadent truffle chocolates recipe made with…wait for it… AVOCADO! Only 94 calories per truffle!