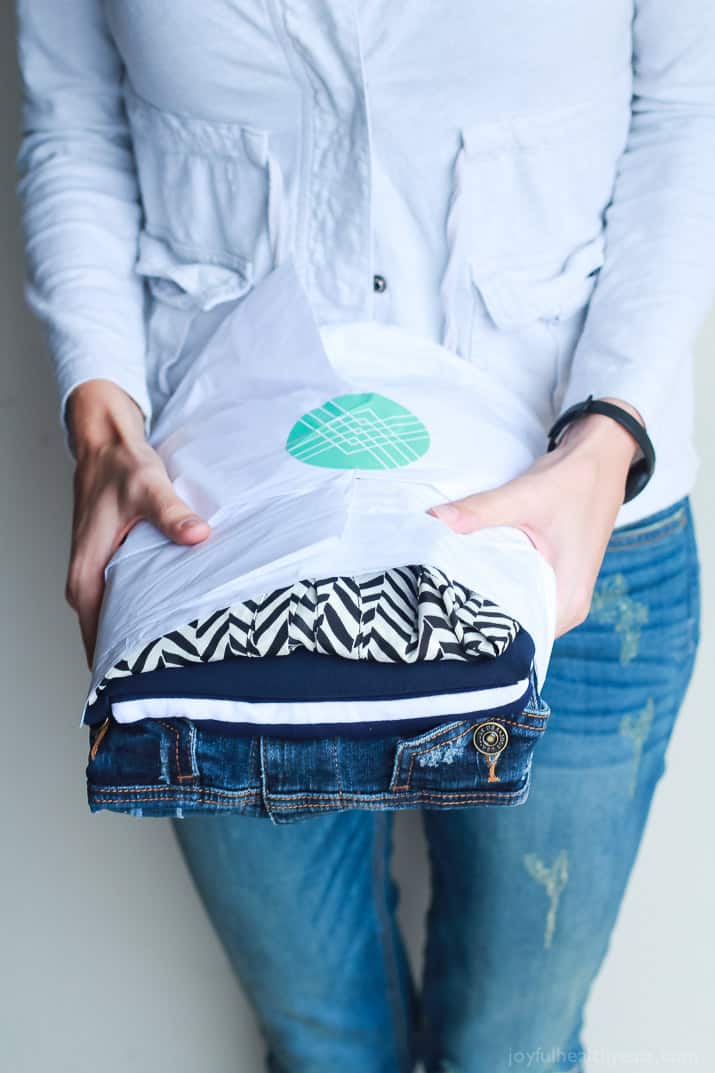 Check out my personal fashion stylist and see how easy it is for you get the same with just $20 a month – cute dresses, blouses, and shirts that fit in the style you want!
I'm about 6 boxes in and totally loving Stitch Fix!  I am learning a few things about how this works so I get the most out of it. First of which is you need to communicate to your stylist! They don't know you and are not magicians who pull the exact item you want out of a hat so in order to get the things that are "your style" you need to communicate with them!
Pin to a personalize fashion board that your stylist can check out. Give reviews or notes on items that you didn't keep or just send your stylist a quick note on what you want in your next fix. It helps them narrow things down so you get what you want!
WHAT IS STITCH FIX?

It's kinda like having a personal stylist that you will never meet … but who knows everything about you. When you first sign up for Stitch Fix, you will fill out an in-depth style profile, where you'll specify sizes, body shape, price range, personal style, likes/dislikes, and any other additional things you might want the stylist to know as they prepare your "fix."  You can even link up your Pinterest account so the stylist can see your pins as a way to sense your style. Once the style profile is complete, you'll pick the date and frequency of your "fixes" and they will ship you a box of 5 clothing items and/or accessories based off of the style profile you filled out! All you do is pay $20, a styling fee, this price includes the cost of delivery. Once you receive your fix you can keep as little or as much as you'd like, the $20 styling fee you paid will be applied as a credit for the items that you decided to keep. The remaining items, that you don't want to keep, just put in the pre-paid return package that is included in the fix and drop it off at UPS. If you decide to purchase everything in the box you get an additional 25% off.
Sounds pretty sweet right? Well, if you want to learn more about how it works head over to Stitch Fix!
I signed up for Stitch Fix because I have a hard time pairing outfits and I don't always have the time to stay in the the store to figure it out. I know what I like when I see it on Pinterest but can't put it together in real life. Stitch Fix has solved that problem for me. They are the brains behind my fashion and I LOVE IT!
To check out my previous Stitch Fix Boxes:
First Stitch Fix Review –> click here
Second Stitch Fix Review –> click here 
Third Stitch Fix Review –> click here 
Fourth Stitch Fix Review –> click here
Fifth Stitch Fix Review –> click here
MY STITCH FIX REVIEW
Ok, let's get started. Up first, Item #1 Sheridan Striped V-Neck Tab Sleeve Blouse. This shirt was very flowy and loose, it was short up front and long in the back with a cute little slit on the sides. I liked how simple it was. It would be easy to dress this down with a pair of shorts for the summer or dress it up at night with a pair of black jeans, peep toe heels and a cute necklace. I loved the button detail on the shoulders too. Price $ 48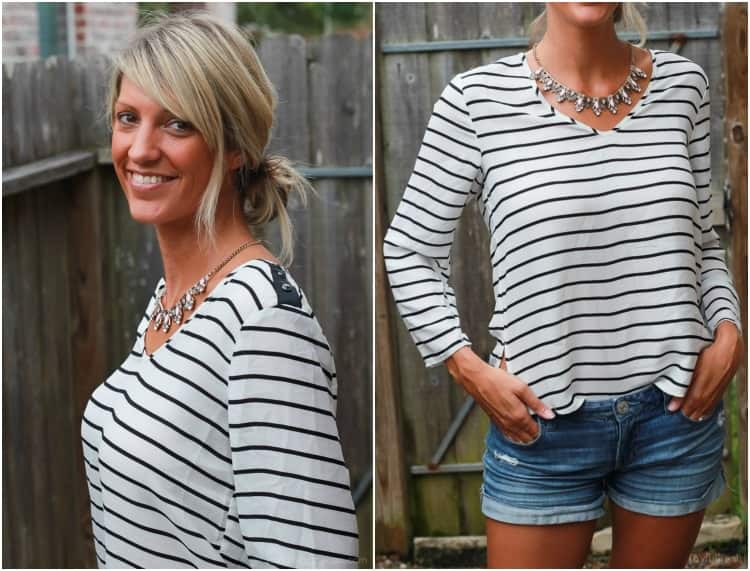 Next up, Item #2 Kate Distressed Boyfriend Jean. I liked the distressed look of these jeans, the color, and the cuffs on the bottom. They were pretty comfortable and definitely more of a "dress down" kinda pair of jeans with a loose t-shirt.  Price $ 78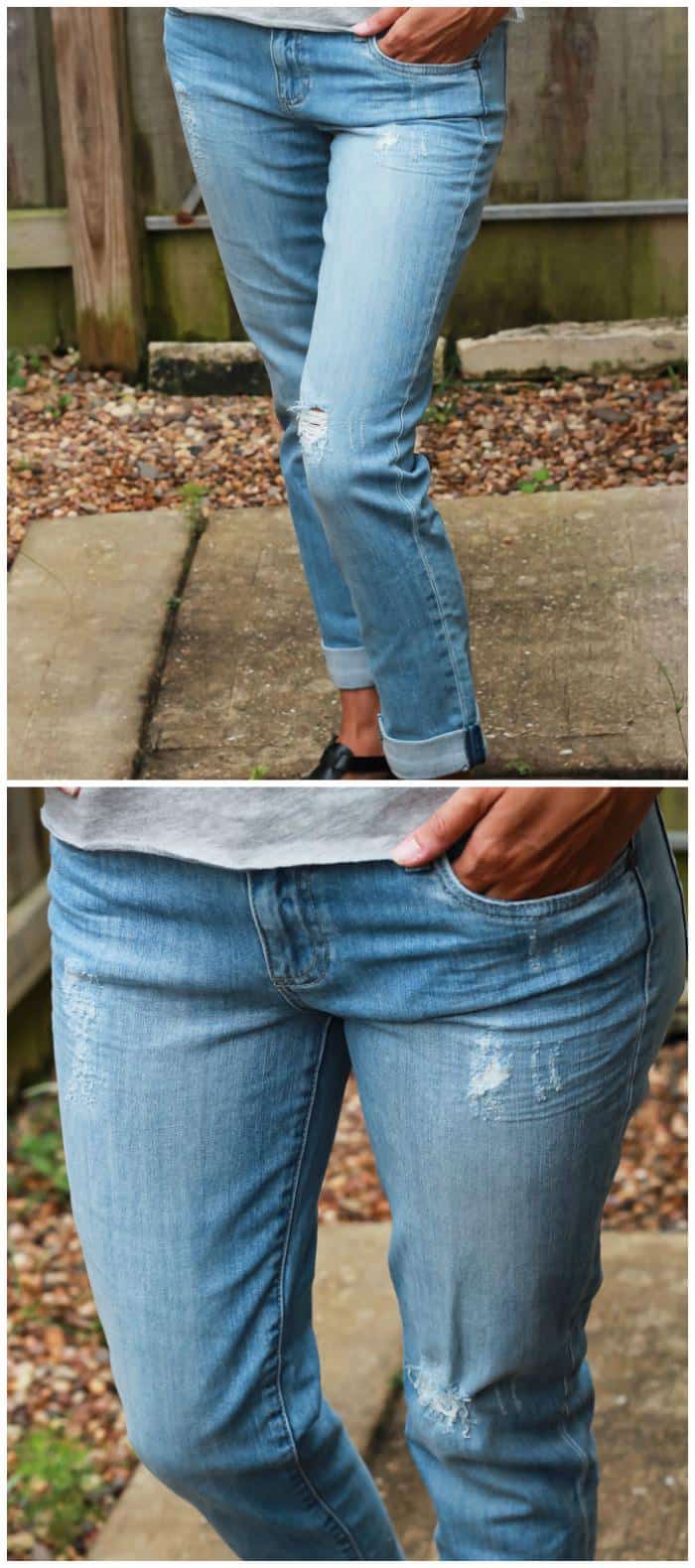 Now, Item #3 Jahana Cargo Vest. I was really excited when I saw this in the box. I don't have anything like it at home! I love the olive color of it, the length and the fact that the zipper and details are gold! It even has a hood that can be folded up and hidden if I want. It was a total keeper, perfect for the fall with a brown pair of boots! EEk! Price $ 68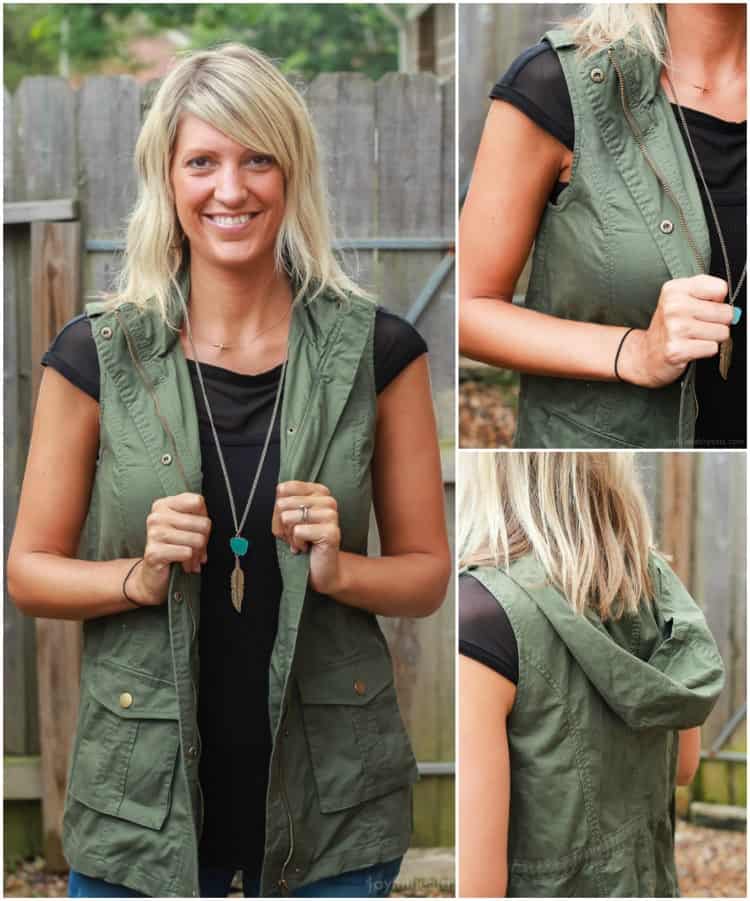 Item #4  Mariska Gem Teardrop Necklace. I'm not a big accessory person. I usually just have a couple key pieces that I wear over and over again. While this necklace was super cute I'm not sure how often I would wear it. I'm not a pink kinda girl! hehe Price $ 28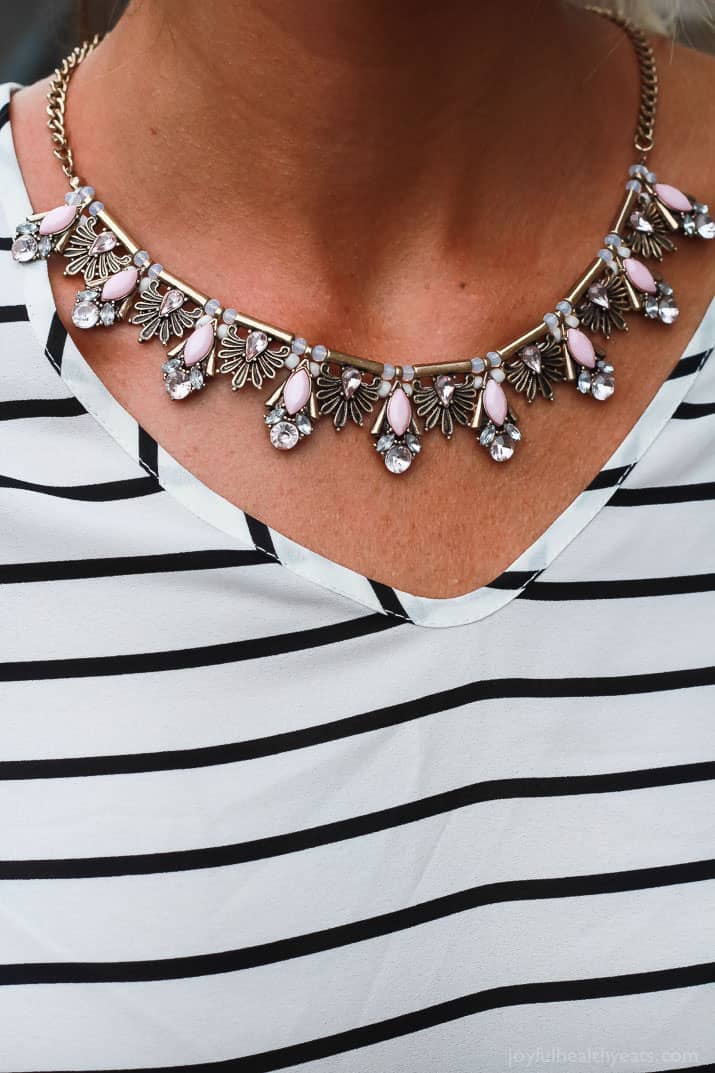 Lastly, Item #5 Mattie Mixed Print Crossback Maxi Dress. I finally got my Maxi! I really liked the style of it, especially the back with the criss cross pattern. The colors were gorgeous, definitely something I would wear out. The only problem I had was it was a little tight, like to the point where I felt like I needed to suck in to wear this bad boy or every part of me would be sticking out. 🙁 Big frown face! Price $ 74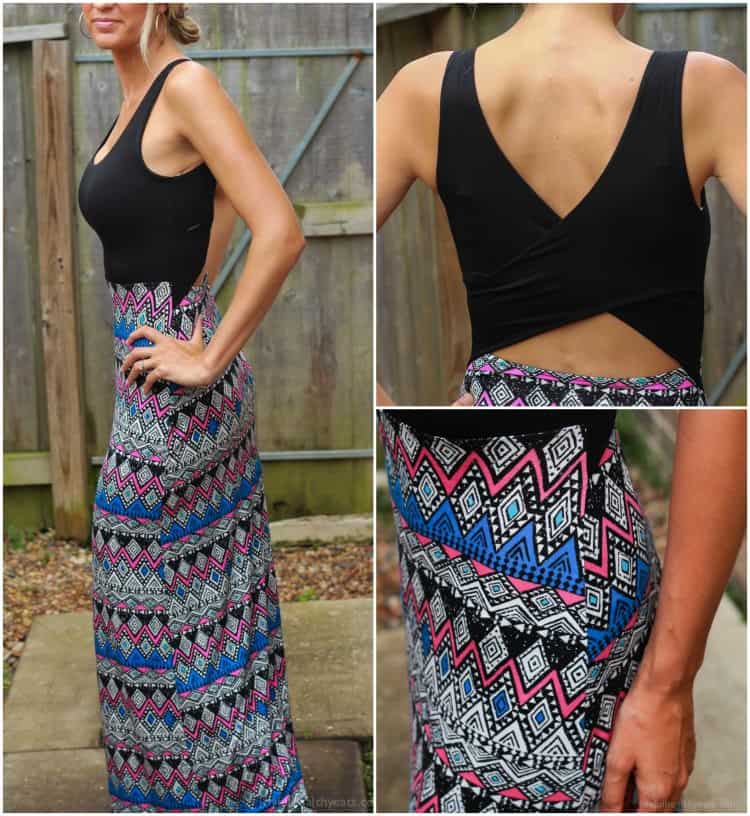 MY THOUGHTS ON THE FIX
The keepers out of this fix were #1 Sheridan Striped V-Neck Tab Sleeve Blouse and #3 Jahana Cargo Vest.. I loved both of these tops, especially the vest. I felt like both of them could be worn in multiple ways which makes them a staple element in my wardrobe! Cannot wait to wear these out!
What would you have kept out of this box?
If are interested in trying out Stitch Fix (which I totally would recommend) just go here and SIGN UP!
Disclaimer: This is not a sponsored post. I signed up for Stitch Fix out of my own accord and purchased the "box" myself. I'm sharing my opinions because I love the product. This post does contain affiliate links for new sign-ups that gives me a small credit towards my next box.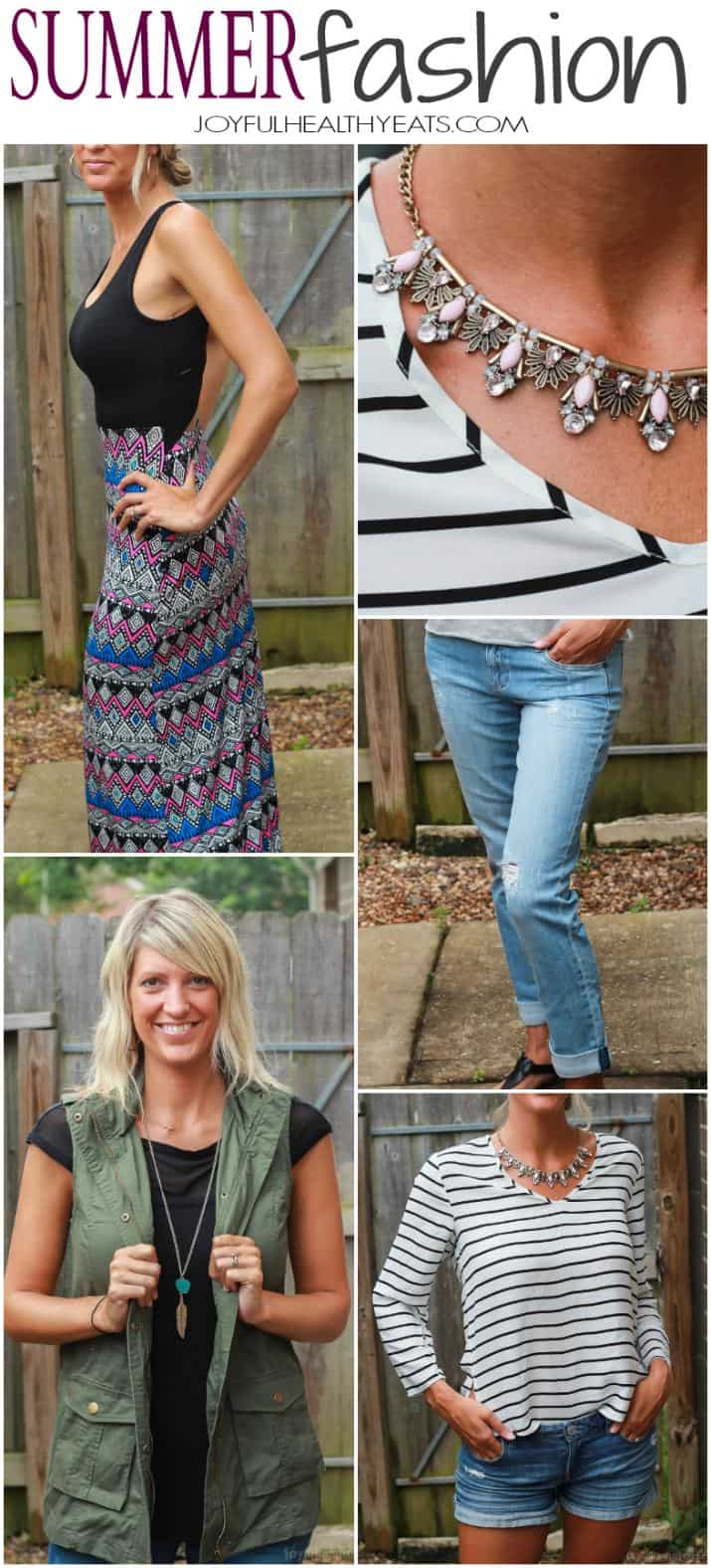 DON'T MISS A RECIPE ->