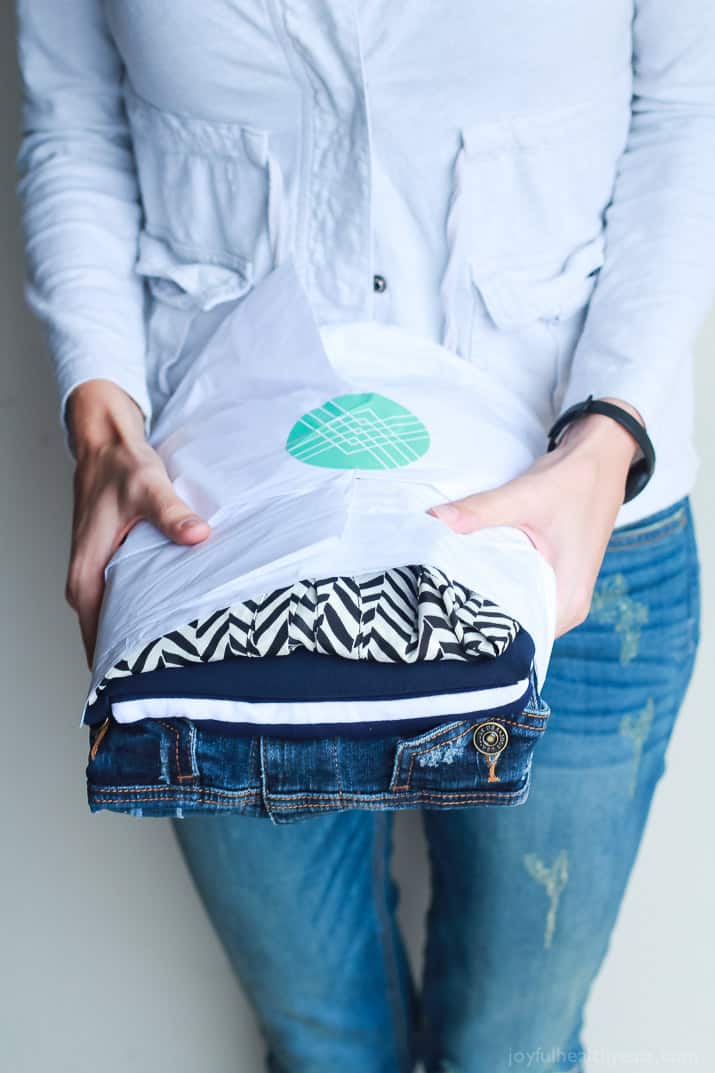 Check out my new personal fashion stylist and how easy it is for you get the same with just $20, Stitch Fix Review!
So this is not a typical post by any means for Joyful Healthy Eats.
It has nothing to do with food, but more to do fashion, which I should say is not my forte.
I KNOW … that really makes you want to read on right?
Bahaha….
I'm just being honest. If it was up to me I would probably live in NIKE clothing and flip flops all day long, and most days I do. But I still like to be girlie every once in a while. I mean whats the point of all those Pinterest Fashionista boards if you don't buy/wear any of the clothes your pinning. right! I might as well stop pinning them ….
Well.. lets not go that far!
SO… today. Let's talk fashion shall we?
I just signed up for this awesome online style retailer called Stitch Fix.
WHAT IS STITCH FIX?

It's kinda like having a personal stylist that you will never meet … but who knows everything about you. When you first sign up for Stitch Fix, you will fill out an in-depth style profile, where you'll specify sizes, body shape, price range, personal style, likes/dislikes, and any other additional things you might want the stylist to know as they prepare your "fix."  You can even link up your Pinterest account so the stylist can see your pins as a way to sense your style. Once the style profile is complete, you'll pick the date and frequency of your "fixes" and they will ship you a box of 5 clothing items and/or accessories based off of the style profile you filled out! All you do is pay a $20, a styling fee, this price includes the cost of delivery. Once you receive your fix you can keep as little or as much as you'd like, the $20 styling fee you paid will be applied as a credit for the items that you decided to keep. The remaining items that you don't want to keep, just be put in the pre-paid return package that is included in the fix and drop it off at UPS. If you decide to purchase everything in the box you get an additional 25% off.
Sounds pretty sweet right? Well, if you want to learn more about how it works head over to Stitch Fix!
I signed up for Stitch Fix because I have a hard time pairing outfits and I don't always have the time to stay in the the store to figure it out. I know what I like when I see it on Pinterest but can't put it together in real life. Stitch Fix has solved that problem for me. They are the brains behind my fashion and I LOVE IT!
MY FIRST STITCH FIX REVIEW
Ok, let's get started. Below is a picture of Item #1 Sonja Straight Leg Jeans paired with Item #2 Sam Hi-Lo Short Sleeve Tee. I liked the style of the pants and the color, but they were a little big in my legs, so I decided not to keep them. The short sleeve shirt seemed to fit really well, I liked how it was short in the front but longer in the back. The dark grey color was perfect, it could easily be dressed up or down.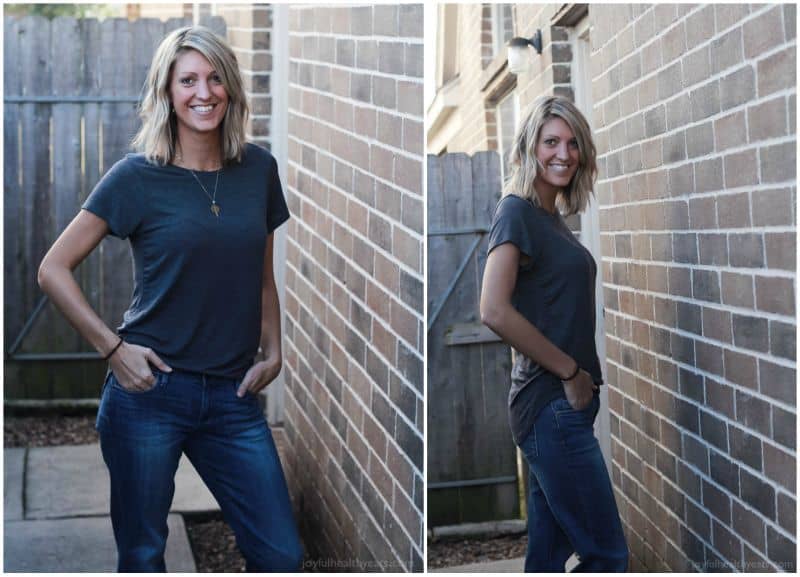 Next up, Item #3 Alberta Tiered Fringe Collar Necklace. In general I don't have alot of necklaces. Most of them are really plain jane but I want to start expanding my accessories so this necklace was perfect. I love the gold color of it, I've found that gold tends to look better on me with my skin color and hair then silver does. 🙂 Have you found that one color looks better on you?
Now on to one of my favorites, Item #4 Braddon Airy Knit V-Neck Sweater. The fit of this one was perfect, I loved the airiness of it, which is great for Texas because lets be honest, it's hot down here! I'm a fan of black and it actually went really well with the above necklace!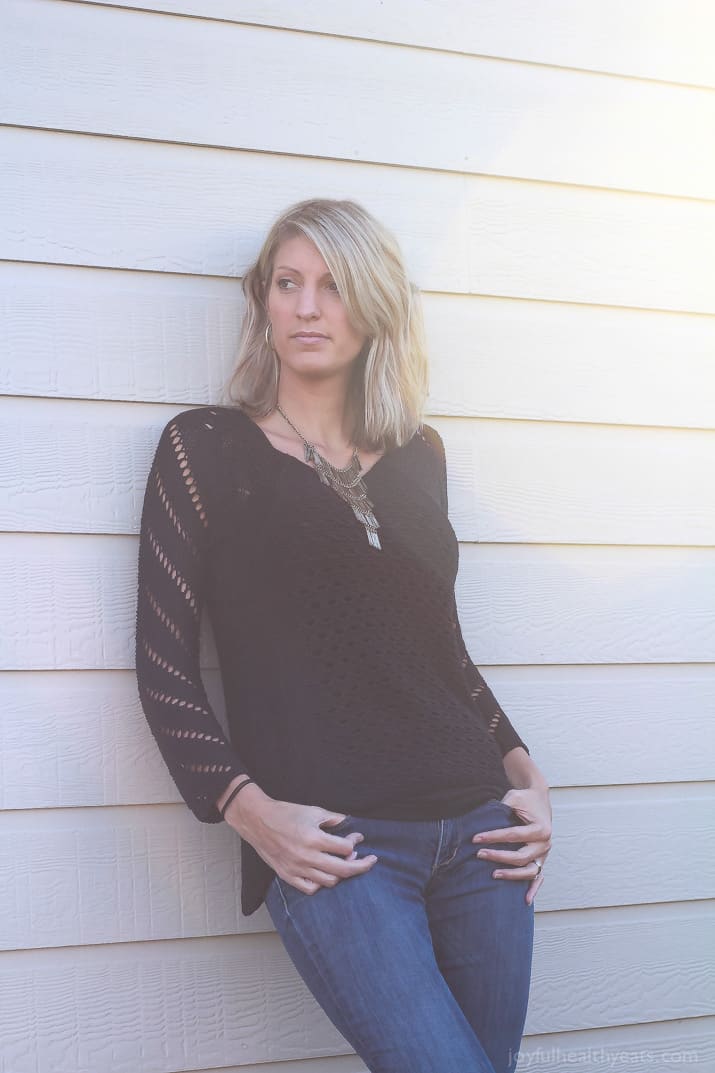 Lastly, Item #5 Braydon Printed Sweater Sleeve Utility Jacket. I don't have a utility jacket yet, this one fit well but was a little heavy for Texas. I loved the aztec print on the sides, super fun, definitely not something I would have picked out for myself normally.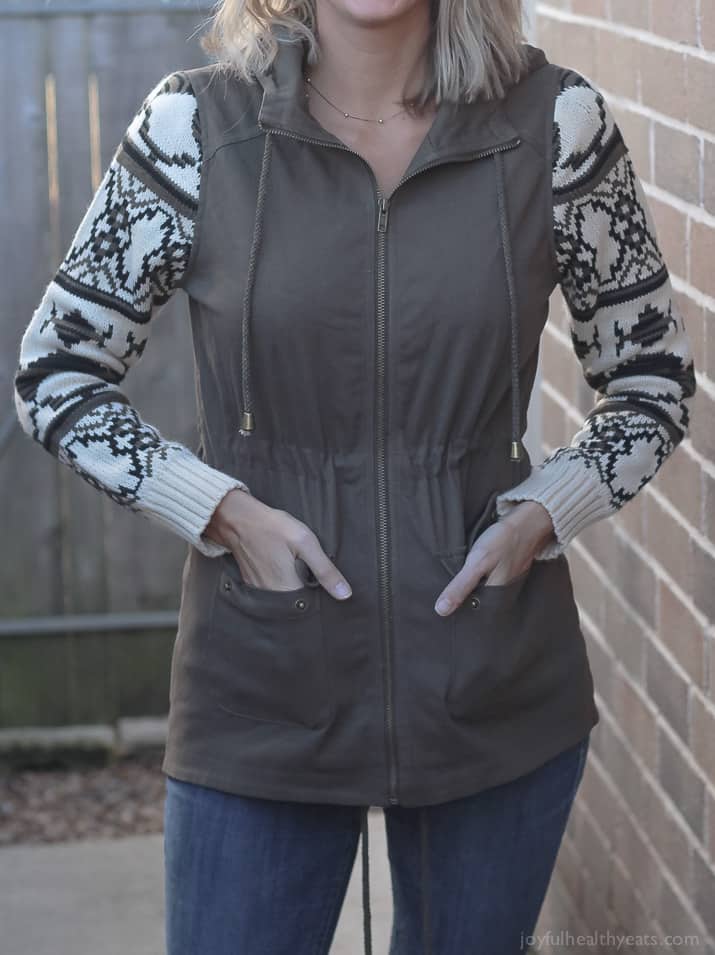 Ok, this one is just for kicks. Daddy and Cason were taking all these photos but Cason wanted to get in on the action and I couldn't resist! I mean look at the cutie!
MY THOUGHTS ON THE FIX
The keepers out of this fix were #3Alberta Tiered Fringe Collar Necklace  and #4 Braddon Airy Knit V-Neck Sweater. I don't have a tiered necklace like the one above so I wanted to add one to my collection and I loved the sweater, so naturally could not resist keeping it! 🙂
If are interested in trying out Stitch Fix (which I totally would recommend) just go here and SIGN UP!
Disclaimer: This is not a sponsored post. I signed up for Stitch Fix out of my own accord and purchased the "box" myself. I'm sharing my opinions because I love the product. This post does contain affiliate links for new sign-ups that gives me a small credit towards my next box.
DON'T MISS A RECIPE ->