Creamy Baked Goat Cheese Dip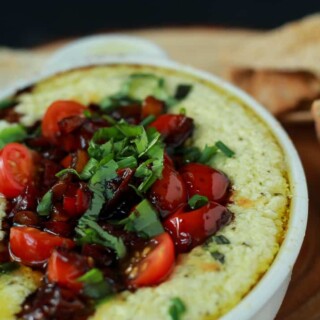 Recipe type:
Appetizer, Holiday
8 oz. goat cheese
4 oz. of cream cheese
¼ cup of shredded parmesan cheese
2 tablespoons of olive oil
cracked pepper
3 leaves of fresh basil
1 tablespoon of olive oil
2 tablespoons of yellow pepper, diced
2 tablespoons of red pepper, diced
17 grape tomatoes, halved
2 tablespoons of balsamic vinegar
1 tablespoon of basil, chiffoned
1 tablespoon of chives, diced
Preheat oven to 400 degrees.
In a food processor, blend goat cheese, cream cheese, olive oil, basil, and pepper.
Spread in a baking dish, making sure to create a "valley" in the middle to put the topping in later.
Bake for 15-17 minutes, until cheese is slightly browned.
In the meantime, heat a medium skillet to medium high heat. Add olive oil, red pepper, and yellow pepper. Saute for 2-3 minutes.
Add grape tomatoes, saute for 3 minutes and add balsamic vinegar. Saute for an additional 2 minutes and then let sit.
Remove cheese from the oven and top with Balsamic Pepper Tomato mixture.
Serve with pita chips or toasted baguette slices.
Recipe by
Joyful Healthy Eats
at https://www.joyfulhealthyeats.com/creamy-baked-goat-cheese-dip/