Crock Pot Chipotle Beef Barbacoa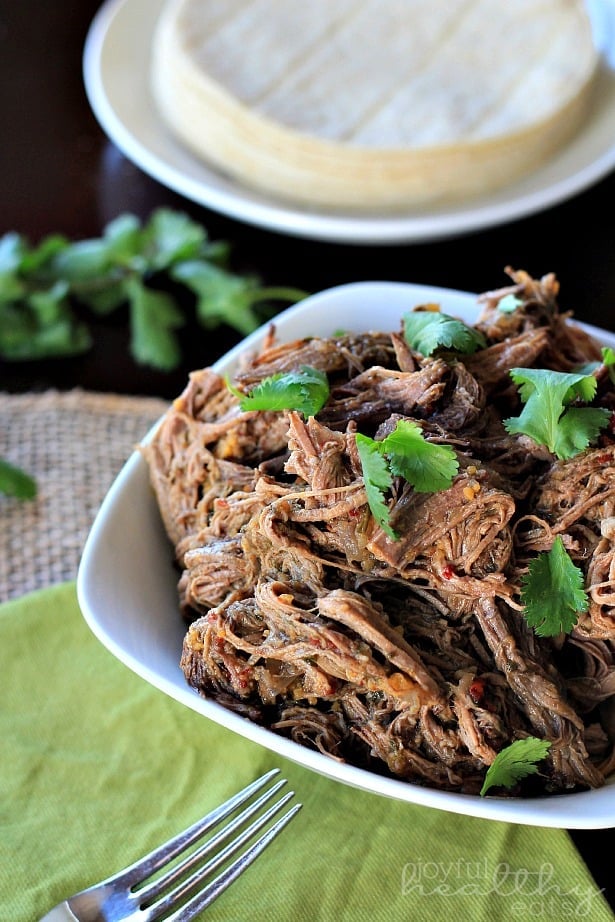 Recipe type:
Crock Pot, Beef,
Serves:
5 cups of shredded meat
4 chipotle peppers (from a can of chipotle peppers in adobe sauce)
2 tablespoon of adobo sauce from chipotle pepper can
1 bunch cilantro, chopped
1 red onion, peeled and cut into large chunks
1 whole head of garlic, peeled and cloves smashed
5 dry bay leaves
2 teaspoon ground cloves
1 teaspoon kosher salt
Juice of 4 limes
½ cup cider vinegar
5 pounds beef brisket
3½ cups chicken stock
Lightly blend together chipotle peppers from a can of chipotle peppers in adobe sauce, adobe sauce, cilantro, red onion, garlic, ground clove, sea salt, lime juice, and cider vinegar.
Pour mixture on the bottom of slow cooker. Place the brisket on top of this mixture.
Add stock to cover the meat and place bay leaves on top. Use tongs to move the meat around gently to combine everything. Put the lid on.
Cook on HIGH 5 -5.5 hours. Use two forks to shred.
Place shredded beef in large bowl and ladle cooking liquid over the top a few scoops at a time. You want the meat to hold the liquid but not swim in it.
Recipe by
JoyfulHealthyEats
at https://www.joyfulhealthyeats.com/crock-pot-chipotle-beef-barbacoa/