These Healthy 30-Minute Dinners will get you "back to school" ready in no time. From vegetarian recipes to chicken, beef, Gluten-Free or Paleo dinners, these dishes fit your dietary needs AND are full of flavor!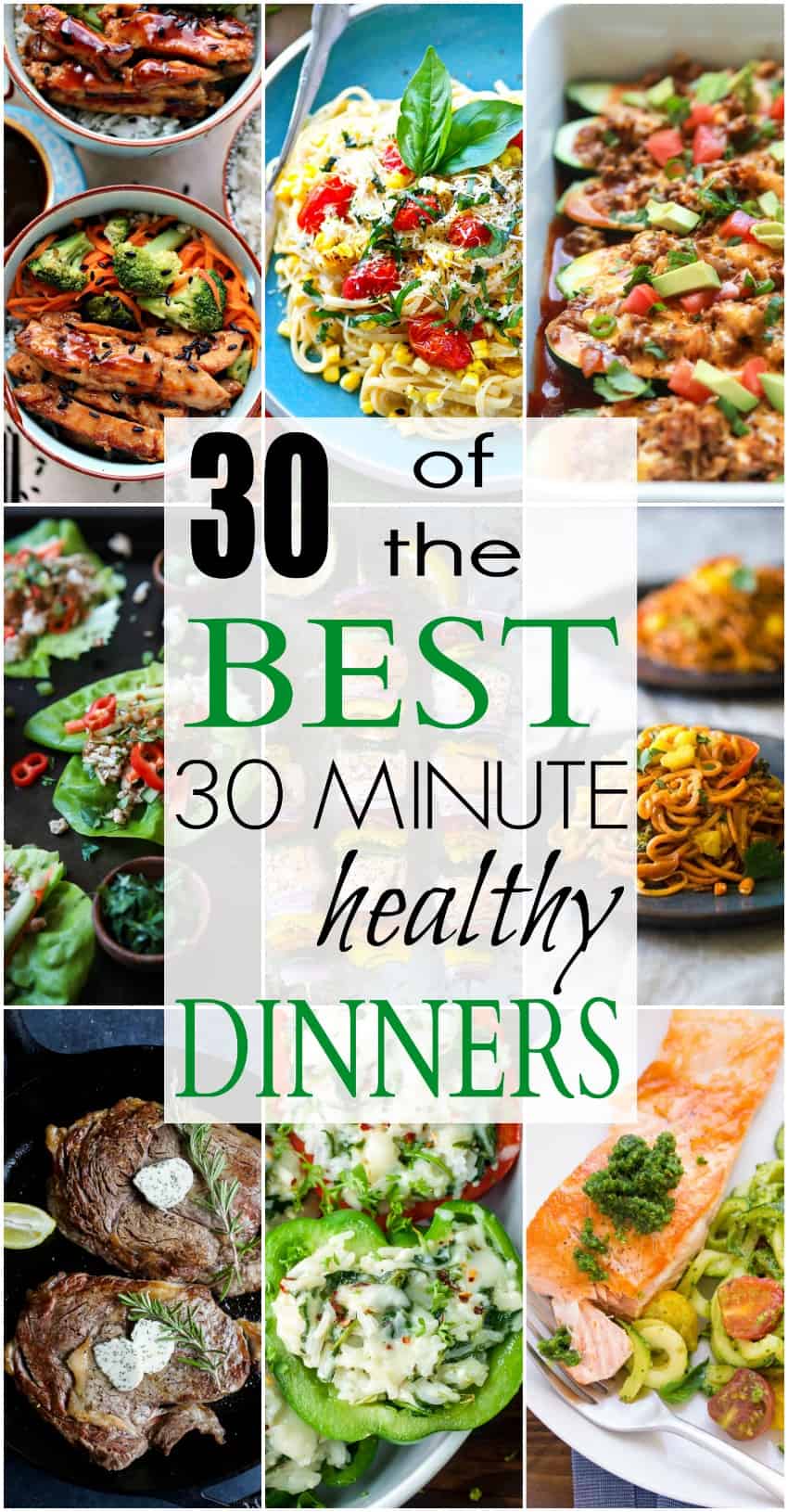 30 of The BEST 30-Minute Healthy Dinners
Happy Friday ya'll!
I don't know about you, but I am super excited for the weekend for so many reasons! But before I get to telling you about that how about we talk about the deliciousness that lies right below these words.
Being a full time mommy, running my own business, and trying to keep the house clean is exhausting. So I am always looking for ways to make life easier! One of the ways I protect my time is making sure I'm not slaving away in the kitchen for hours on end. I usually stick to 30 minute meals … anything more than that is for someone real fancy. 🙂
Just because a meal takes 30 minutes to make DOES NOT mean it skimps on flavor. If anything these meals are bursting with flavor and you'll wonder how they only take 30 minutes to make. I cannot wait to hear which recipes become staples in your house! Bon Appetit my friends!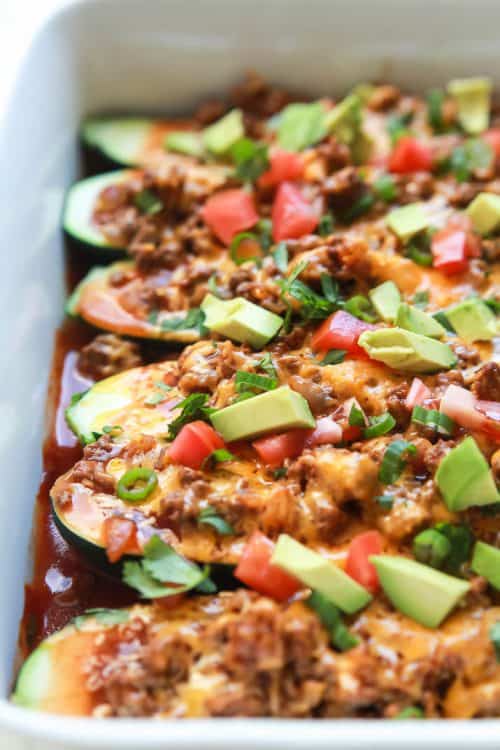 Ground Beef Enchilada Zucchini Boats – a healthy gluten free version of classic Beef Enchiladas that you'll fall in love with! Bold flavors and a low calorie count of 222 calories a serving!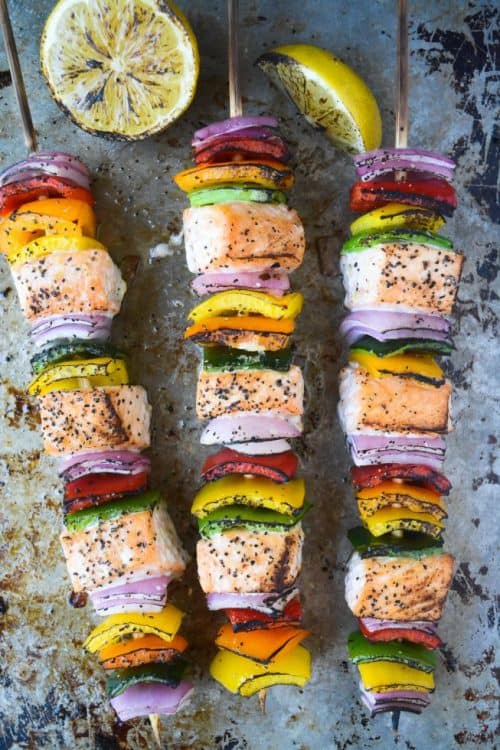 Rainbow Salmon Skewers – full of flavor, healthy, light on calories and so easy to make!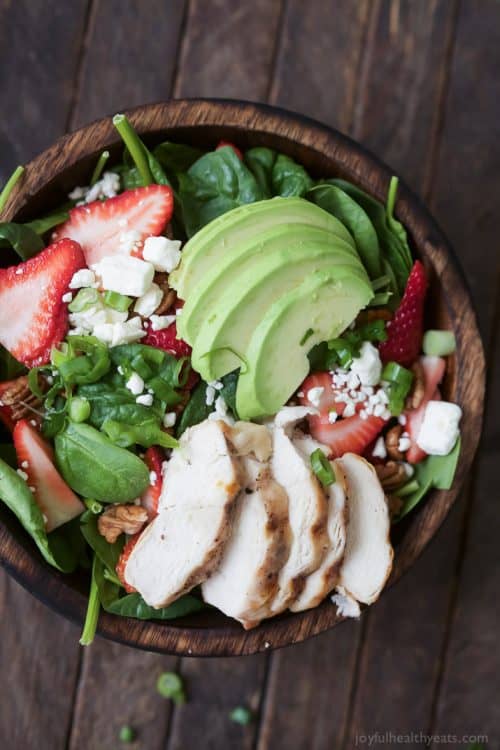 Strawberry Avocado Chicken Salad filled with fresh Berries, Feta, creamy Avocado, and Grilled Chicken. This light salad is topped with a healthy balsamic vinaigrette.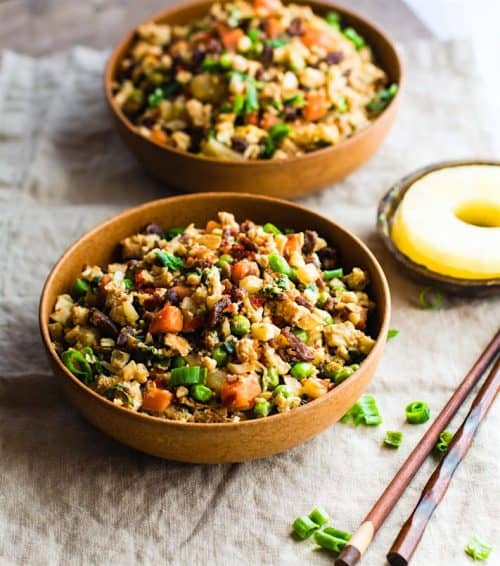 Quick, easy, and protein packed Pineapple Paleo Cauliflower Fried Rice ! A sweet and mildly spicy paleo cauliflower fried rice dish made in under 15 minutes! It's healthy, lower in carbs than regular fried rice, and SUPER EASY!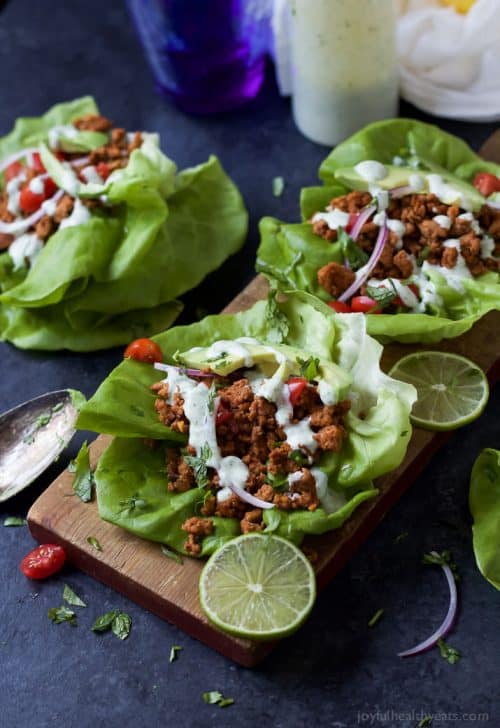 Ground Turkey Tacos in Lettuce Wraps topped with a fresh Cilantro Lime Crema – a great healthy weeknight meal option that's full of flavor and gluten free!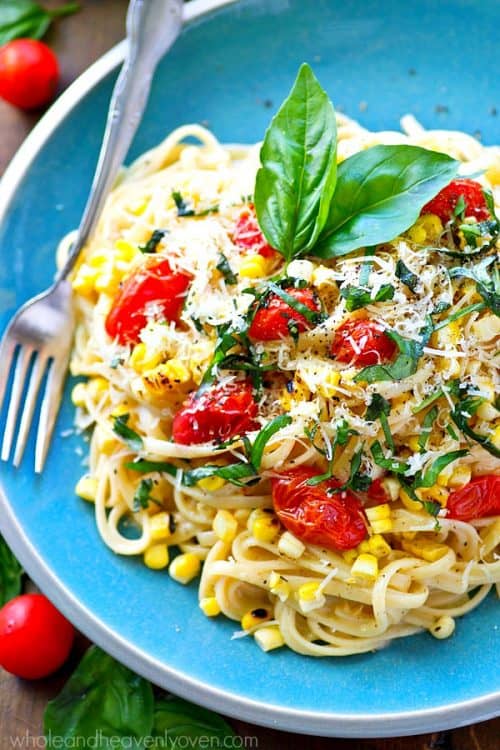 Creamy, comforting fettuccine alfredo meets summer! These luscious noodles are piled high with bursting cherry tomatoes, charred corn, and plenty of fresh Parmesan cheese.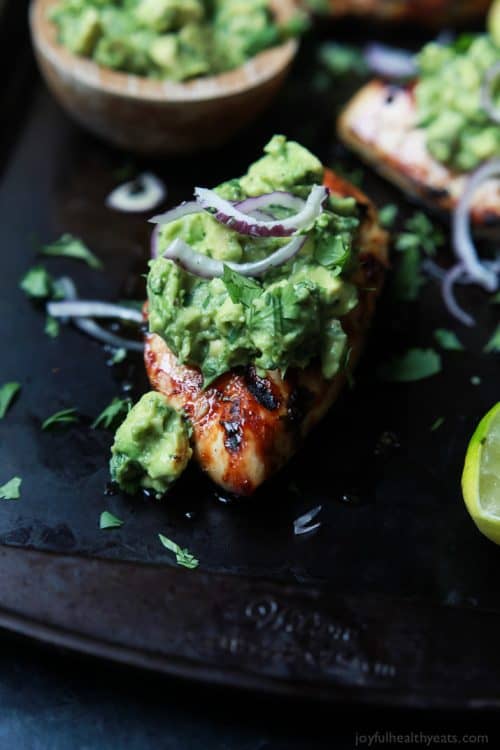 Grilled Cilantro Lime Chicken with Avocado Salsa – a healthy, easy, 30 minute meal packed with fresh zesty flavors.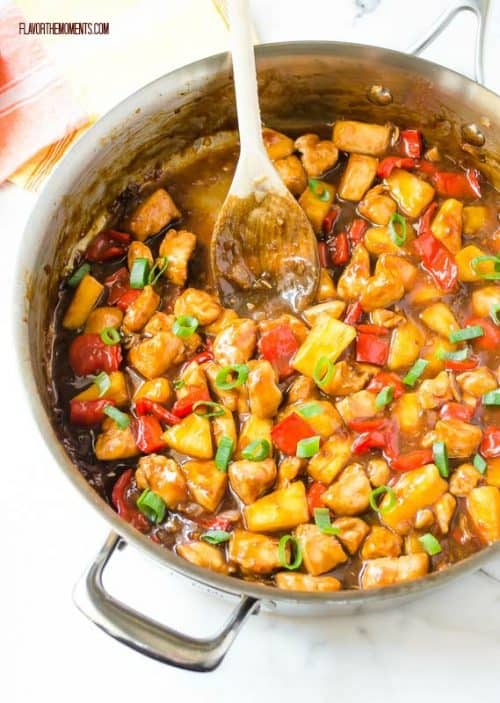 Honey Pineapple Chicken Teriyaki Skillet is a 30 minute skillet meal that's family friendly! It's quicker to throw together than it is to pick up take-out, and it's even more delicious!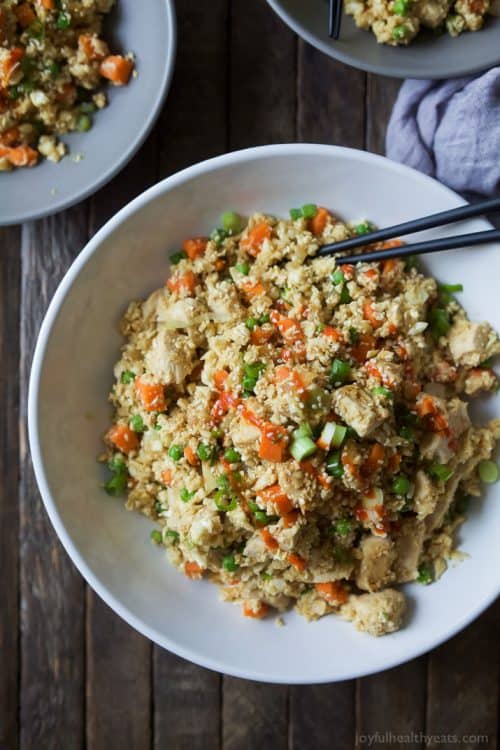 Easy 15 Minute Cauliflower Chicken Fried Rice that's way better than takeout and tons healthier for you, clocking in at a whopping 205 calories a serving! PS you're kids will never know its cauliflower not rice!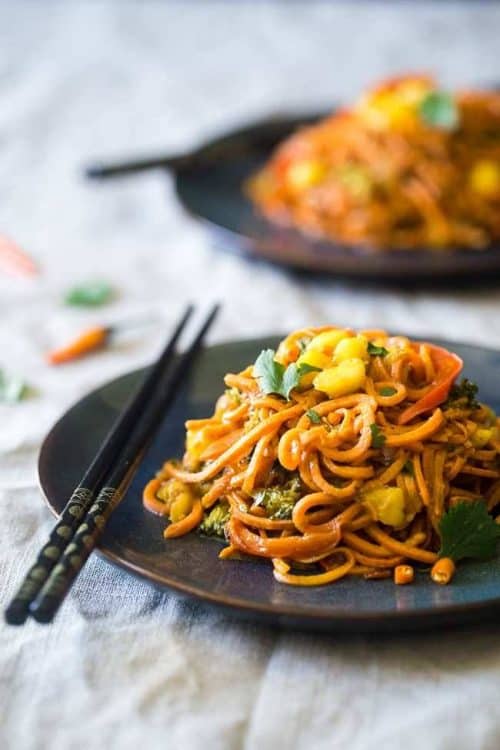 This ULTRA creamy coconut curry is made with coconut milk and tons of veggies for a quick and easy, healthy dinner that is gluten free and vegan friendly!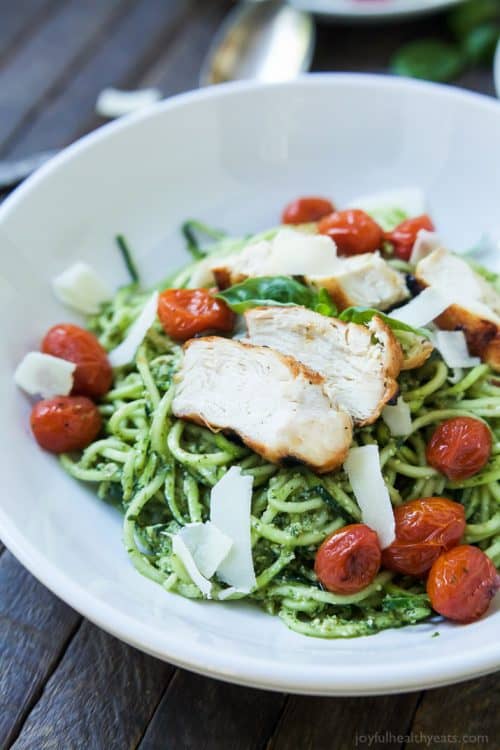 An easy dinner recipe for a busy week, and no stove needed! Pesto Chicken Zoodles with Burst Tomatoes, full of bold flavors, high in protein, and in low carbs!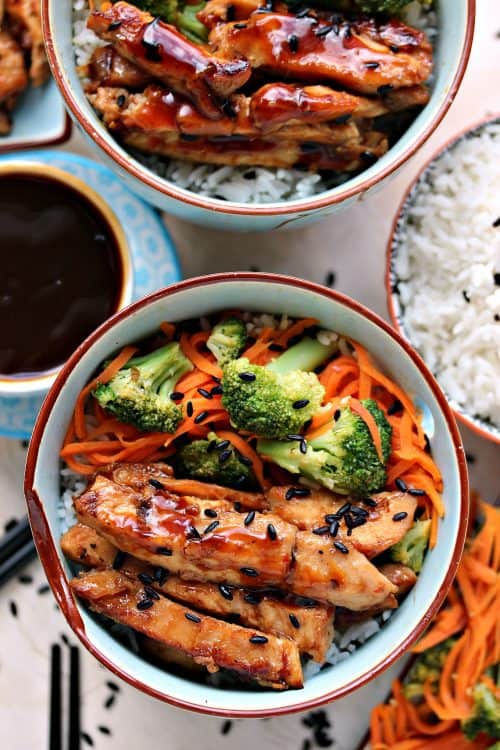 This Easy Chicken Teriyaki Bowl is incredibly quick and easy. It's the perfect way to get more vegetables in your diet without sacrificing taste and creativity.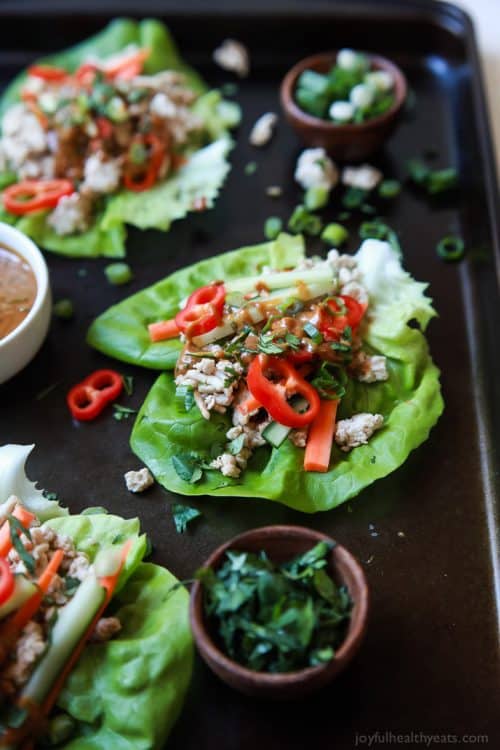 Thai Chicken Lettuce Wraps – made from scratch with chicken, fresh ginger, cilantro, fresh vegetables and slathered with a Spicy Peanut Sauce. This quick easy recipe is ready in just 20 minutes and to die for!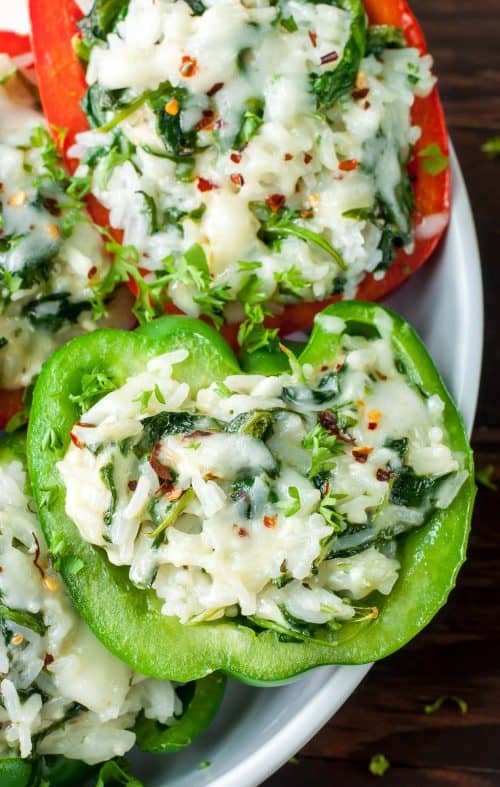 You'll LOVE this fun twist on classic stuffed peppers! These Cheesy Spinach Stuffed Peppers are packed with an entire BOX of fresh baby spinach and loaded with so much flavor, you'll forget you're eating.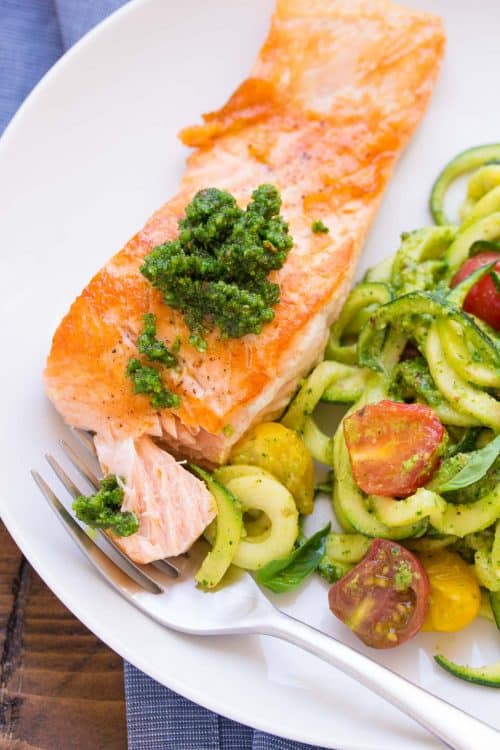 This simple and healthy Kale Pesto Zucchini Noodles and Salmon dinner is ready in just 30 minutes! This zoodles recipe is one of our favorites!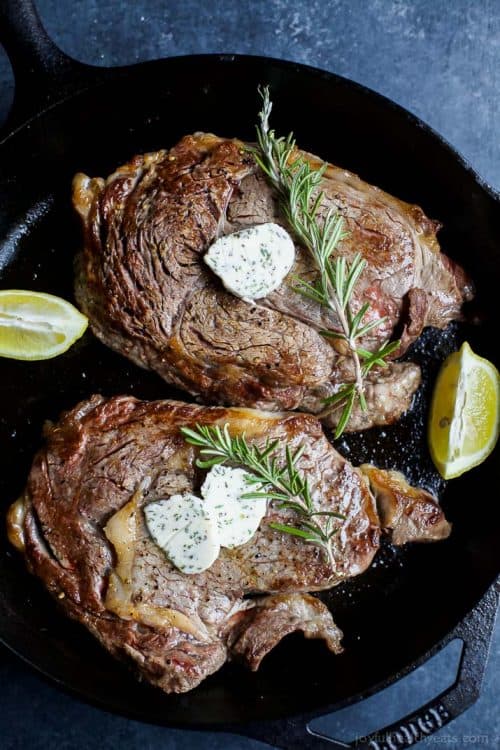 The perfect steak in just 15 minutes! Pan Seared Ribeye that's finished off in the oven and topped with homemade Herb Butter that will make you swoon!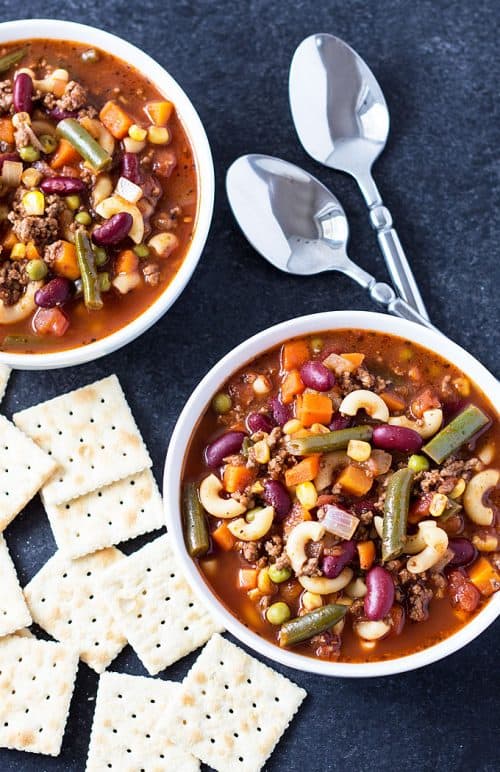 30-Minute Hamburger Minestrone Soup that's hastle free, perfectly hearty and absolutely delicious!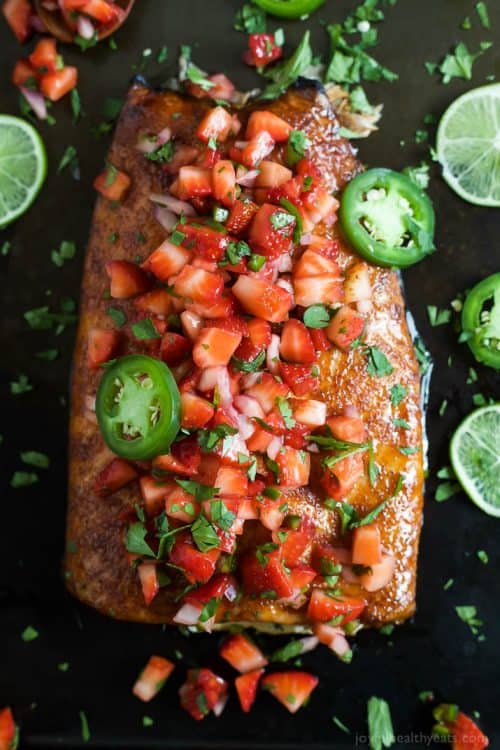 Spice Rubbed Cedar Plank Salmon topped with a refreshing Strawberry Salsa. This Salmon is the ultimate summer main dish and definitely a crowd pleaser!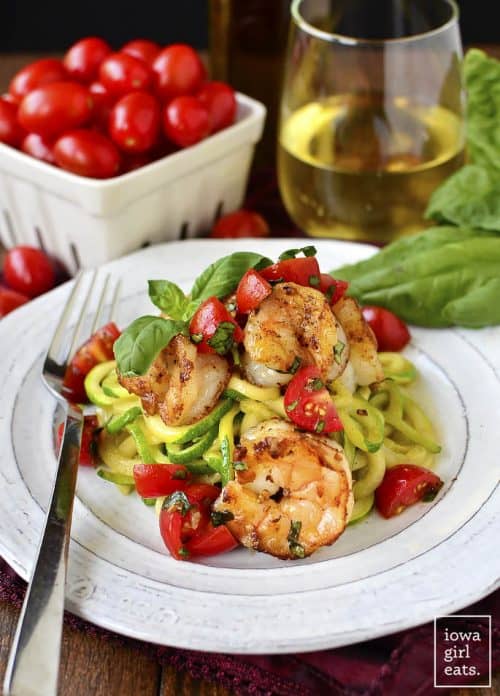 Garlicky Tomato-Basil Shrimp with Zoodles is a fresh and healthy, gluten-free summer dinner recipe. Quick, easy and made in 1 skillet!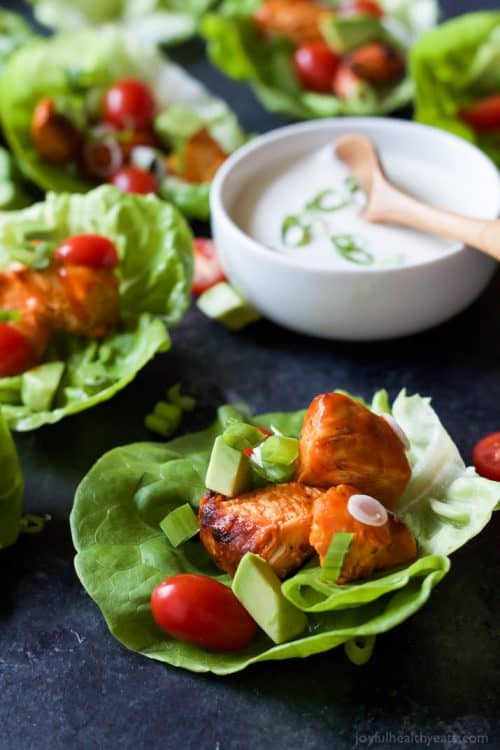 Get game day ready with these healthier low calorie Grilled Buffalo Chicken Lettuce Wraps! All the same great flavor with half the calories!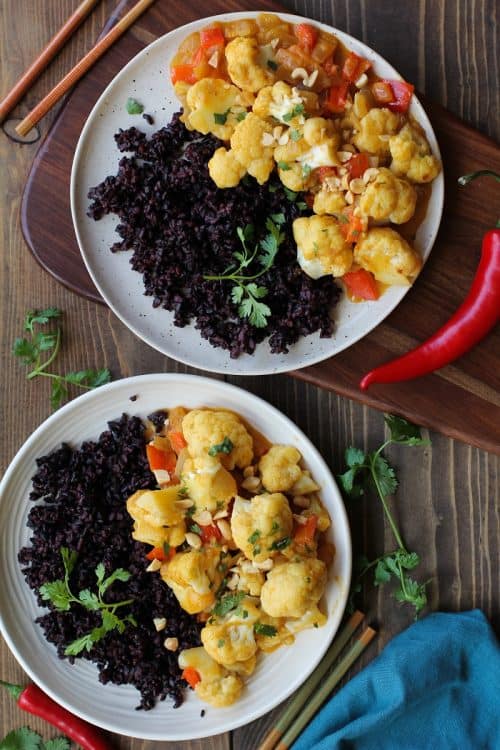 Speedy quick and easy vegetarian curry that requires only six ingredients, and 30 minutes of time.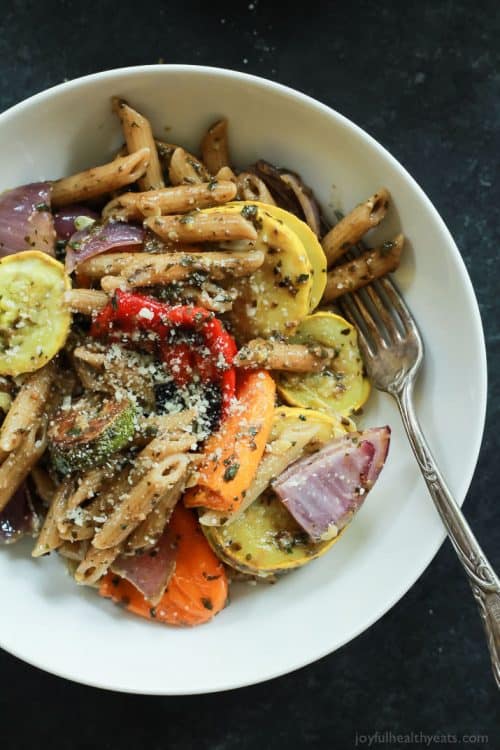 Basil Pesto Pasta with Roasted Vegetables, a simple kid friendly healthy summer pasta that's done in 30 minutes!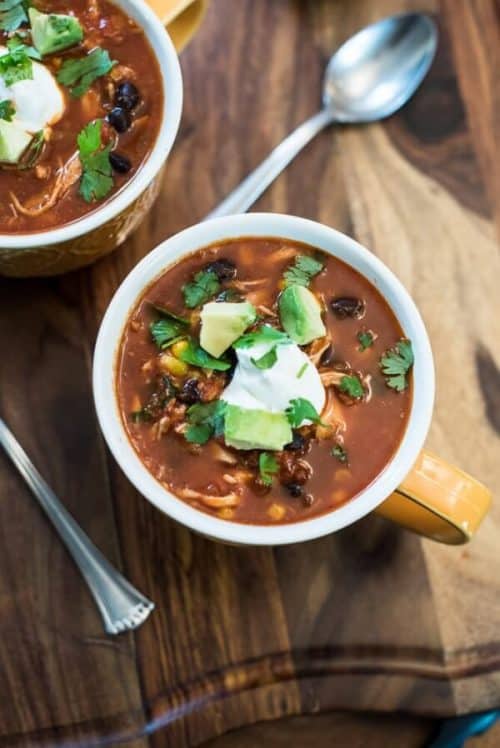 This flavorful Chicken Tortilla Soup is loaded with shredded chicken, black beans, corn, and a delicious blend of spices. You'd never guess it only takes 30 minutes from start to finish!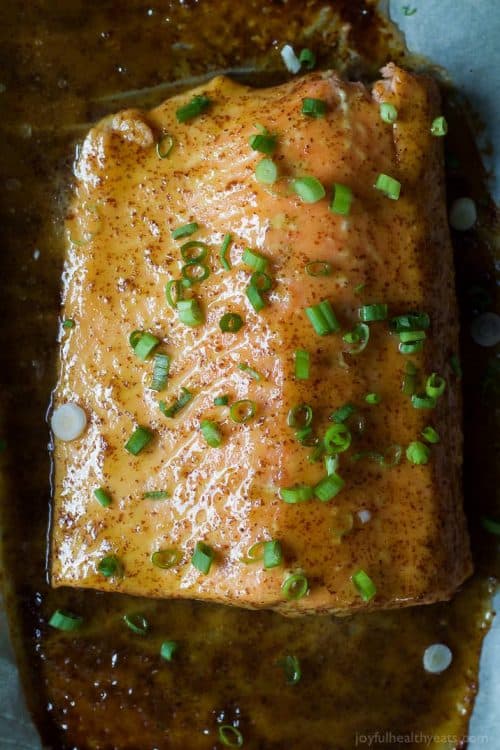 Dijon Maple Glazed Salmon is one of my favorite quick healthy dinner recipes, full of tangy sweet flavor from only 3 ingredients with a whooping 218 calories per serving! A definite must have in your recipe archive!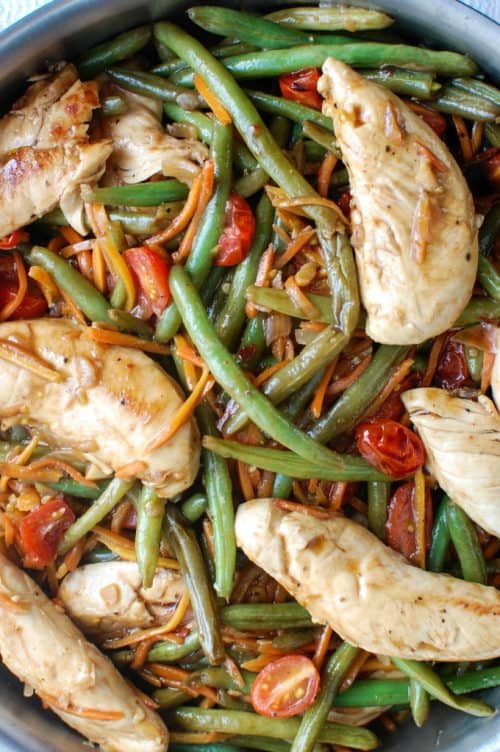 30 Minute One Pot Balsamic Chicken and Vegetables is the perfect quick weeknight meal that is full of flavor, tender chicken and crisp, fresh vegetables.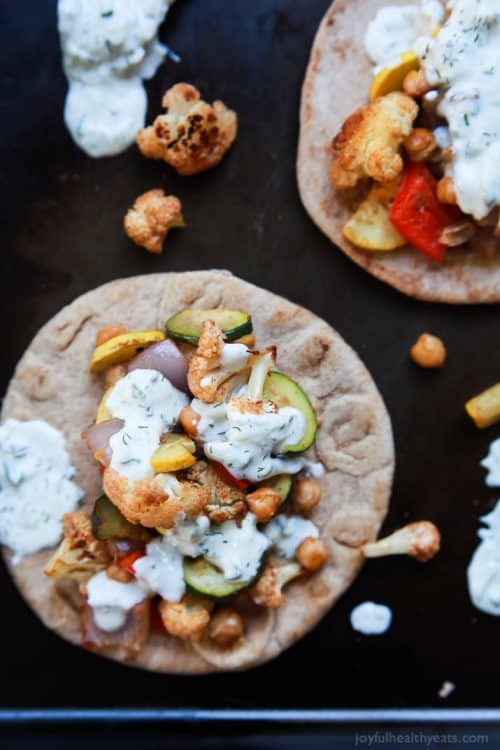 Moroccan Cauliflower Chickpea Pita – done in 35 minutes, filled with spiced roasted vegetables and covered in a creamy Tzatziki Sauce. A meal your family will love and perfect for meatless Monday!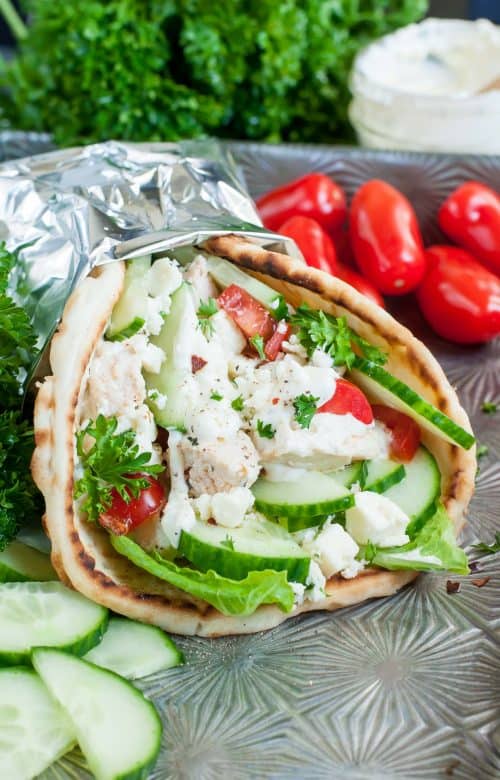 These quick and easy chicken gyros with Greek feta sauce are so super versatile and great for a speedy lunch or a fuss-free weeknight dinner.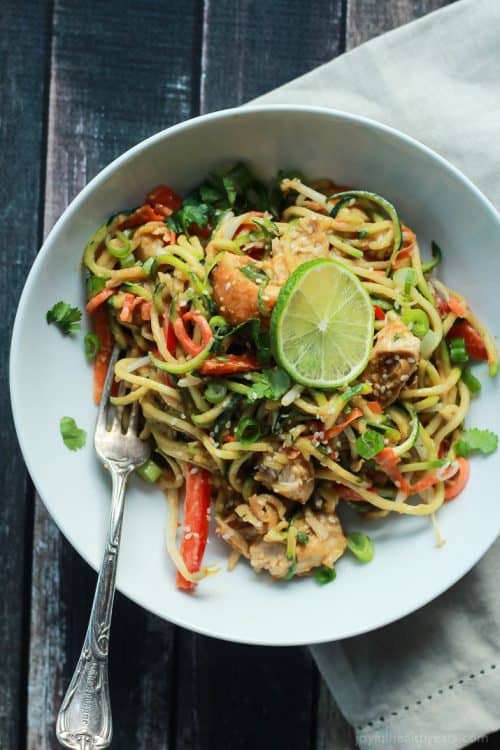 Zoodles are the star in this easy 15 minute Thai Chicken Zucchini Noodles recipe with Spicy Peanut Sauce – only 363 calories and packed with a punch of flavor!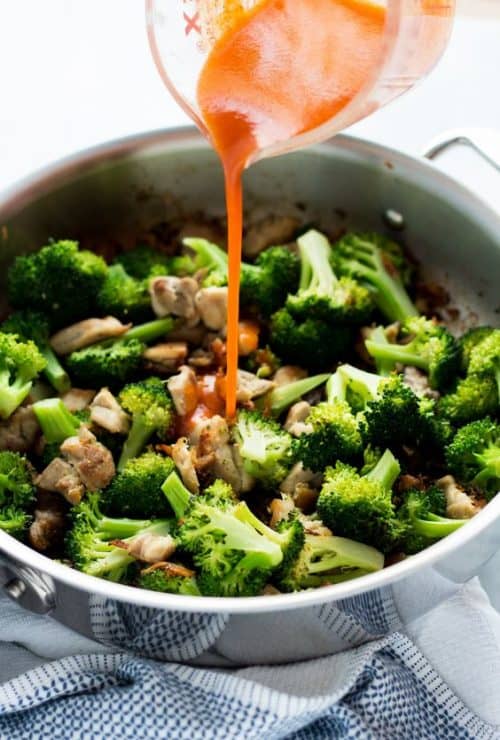 This Buffalo Chicken and Broccoli Bowl is fast, easy and flavorful. Chicken and broccoli in a buffalo sauce, served over cauliflower rice makes a gluten-free, low carb, high protein, paleo and whole 30 friendly meal!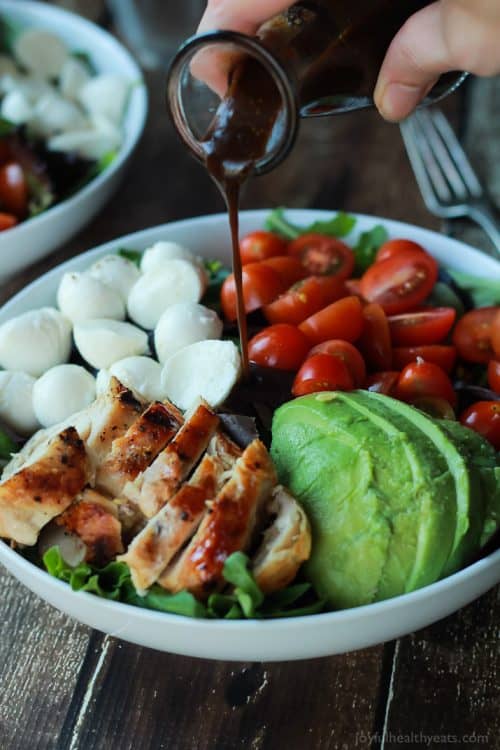 A Quick Easy Dinner for two, Avocado Caprese Chicken Salad topped with a light Balsamic Vinaigrette. The perfect Salad recipe for summer that only takes 15 minutes!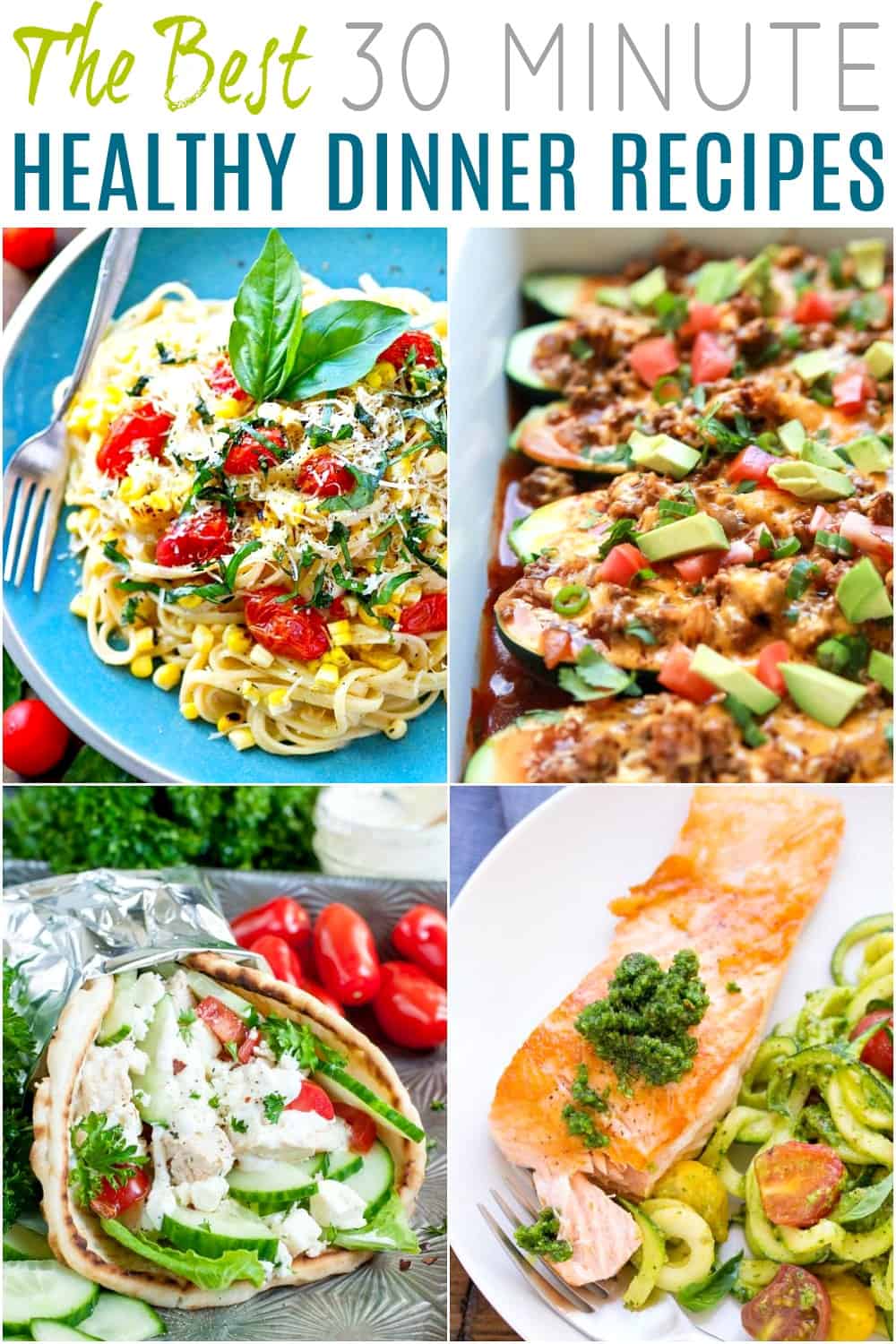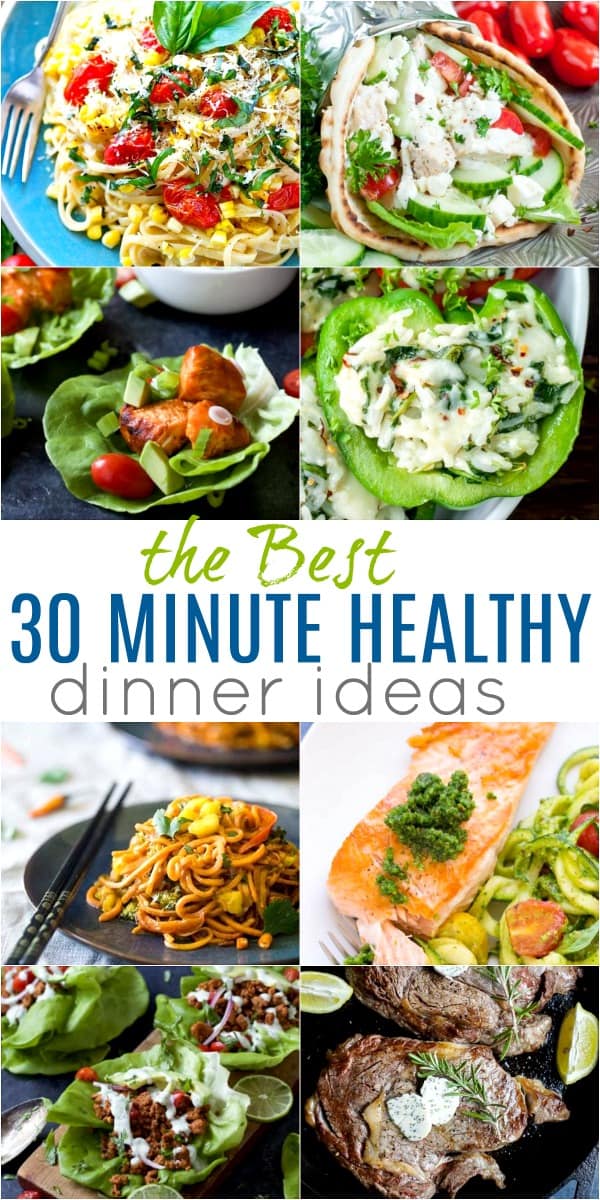 DON'T MISS A RECIPE ->
FACEBOOK | TWITTER | PINTEREST | BLOGLOVIN | INSTAGRAM