50 of the BEST Healthy Recipes you NEED to make in 2018 – recipes for breakfast, lunch, dinner and dessert.

50 of the BEST Healthy Recipes you NEED to make in 2018 – recipes for breakfast, lunch, dinner and dessert. Filled with gluten free recipes, paleo, whole30, vegetarian … but all absolutely freakin delicious!
Pssst… Hey Guys, do you realize we are two days away from it being 2018!?
How crazy is that? This year has literally just flown by. We've had a lot of changes in our house this year, especially in the beginning of the year. All things that in the moment seemed overwhelming but as the year has gone by, those changes I now see were for good! The biggest thing being our new home which we had 30 days to find and move into. It has been such a blessing. It feels like home, like we can settle in and just stay. We've hosted more functions in our home in the past 8 months than we have in 5 years and we're loving every second of it! AND we got pregnant right after moving into that new home… after waiting 4 years for a baby. HUGE!
2017 has been a year of God's faithfulness and blessing. I can't wait to see what 2018 brings!
Have you guys set goals yet?
I'm sure if you're anything like the rest of the country, you have a goal of eating healthy in 2018. Honestly, I have that same goal. But mine is more to have a healthy view of myself and part of the way I do that is taking care of myself – mind, body and soul. I do that through working out and putting things in my body that are going to help it! No calorie counting. But making recipes that are balanced and taste delicious! This will definitely be huge in February when I'm working that baby weight off. 🙂 All that to say, here are 50 of the BEST Healthy Recipes you NEED to make in 2018. I've compiled recipes for breakfast, lunch, dinner and dessert. There are gluten free recipes, paleo, whole30, vegetarian … basically any and everything you can think of! All with one thing in common… absolutely freakin delicious!
Bon Appetit friends!
30 Minute Greek Turkey Meatball Gyros topped with a classic Tzatziki Sauce you'll want to swim in! These Gyros are the perfect healthy dinner option for the family and clock in 429 calories!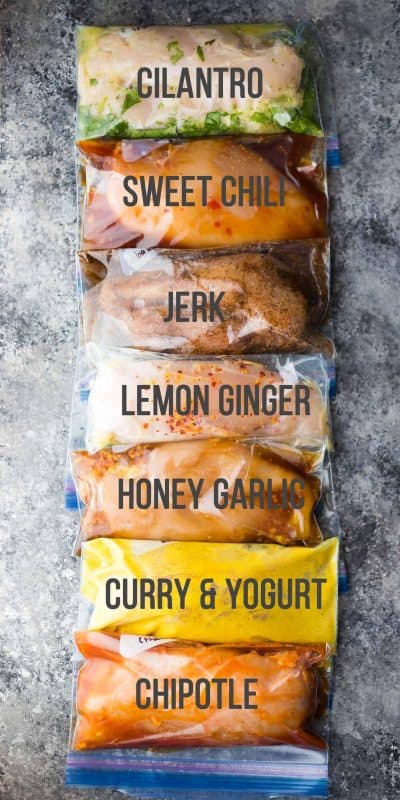 The ULTIMATE chicken marinade post! Everything you've ever wanted to know about making your marinades ahead and freezing, plus seven chicken marinade recipes to stock your freezer.
BAKED EGGS IN AVOCADO with crispy bacon and a Sriracha drizzle! The ultimate Paleo Breakfast, high in protein & fiber and loaded with flavor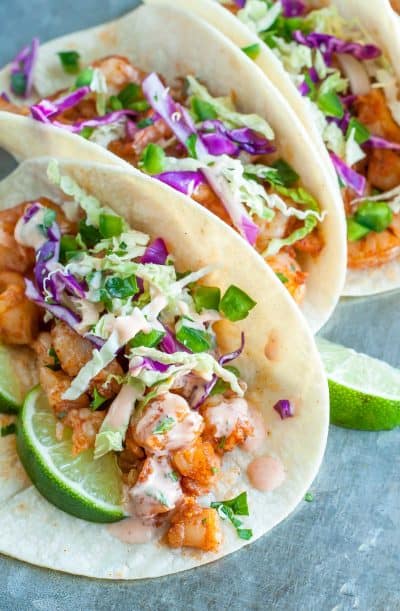 These Spicy Sriracha Shrimp Tacos are fast, flavorful, and topped with a zesty Cilantro Lime Slaw that will rock yours socks! Healthy, Dairy-Free, + Gluten-free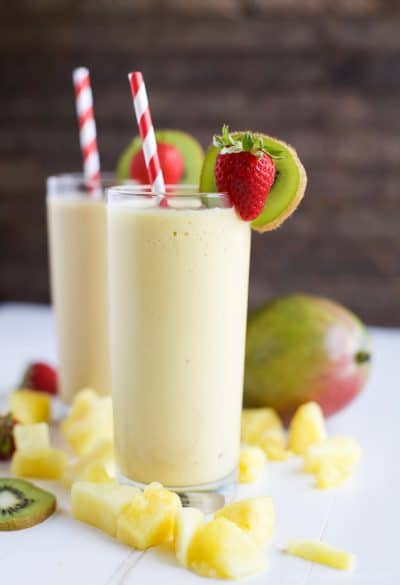 This refreshing Tropical Mango Smoothie is the perfect way to start your day. Fresh flavors that will take you straight to the beach and with 21 grams of protein!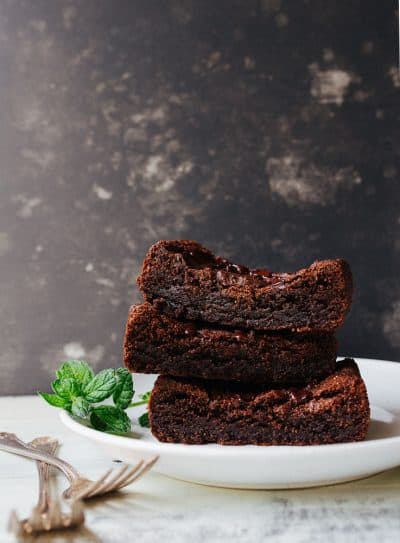 Small batch vegan brownies made with just almond butter, maple syrup, and cocoa powder. Crazy, right? Crazy good!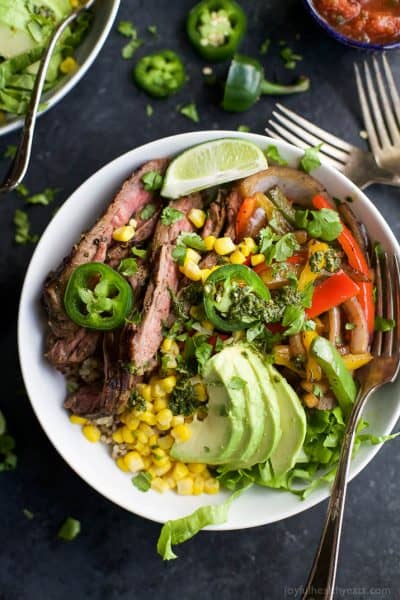 Homemade STEAK FAJITA BURRITO BOWLS filled with quinoa, fajita steak, avocado and a cilantro lime chimichurri sauce you'll adore. This quick Burrito Bowl is done in 30 minutes and is sure to be a favorite!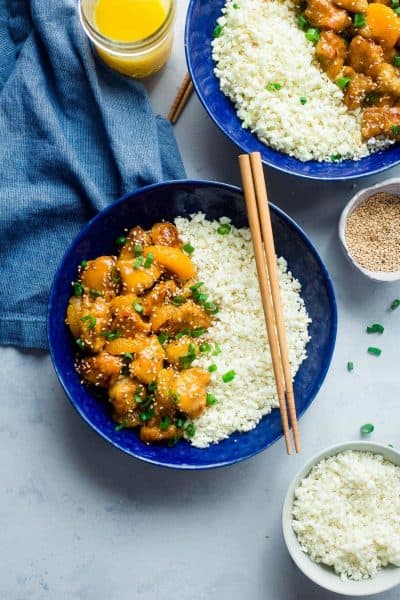 This paleo orange chicken is so much better and healthier than takeout! It's a quick and easy, whole30 compliant dinner that the whole family will love!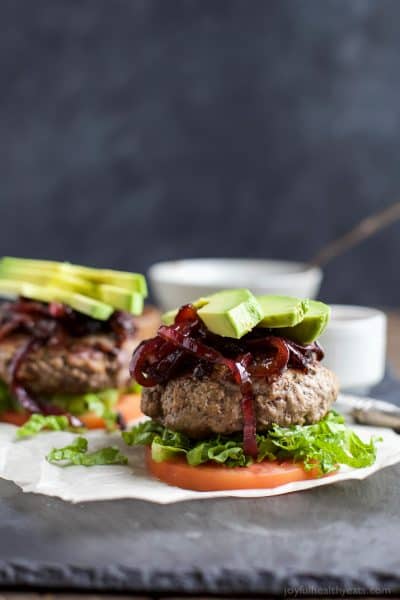 Who says burgers can't be healthy!? Paleo Burgers served on a slice of tomato topped with Caramelized Balsamic Onions that will make you swoon and of course Avocado! A quick 30 minute meal you're family will want on repeat!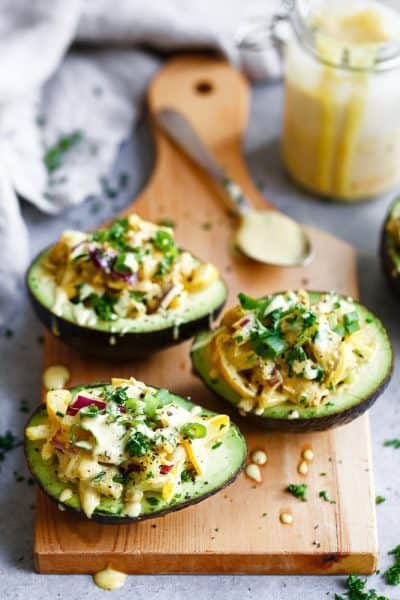 Paleo Whole30 Chicken Salad equals creamy, curried chicken and loaded up with yummy veggies. This salad is stuffed into avocados and topped off with fresh herbs and green onions.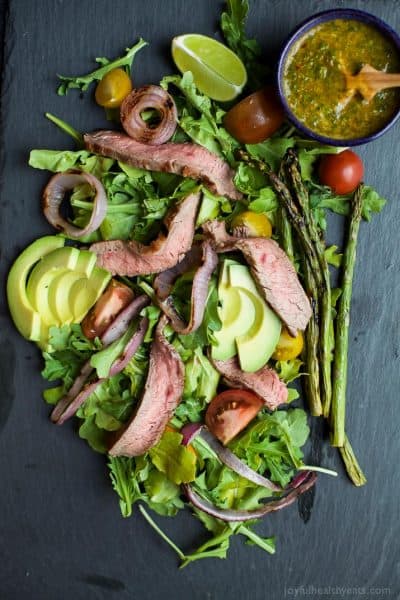 A paleo California Steak Salad filled with grilled onions, arugula, avocado, asparagus, charred Steak and covered in zesty Chimichurri Dressing. Fresh, light, high in protein and freakin delicious!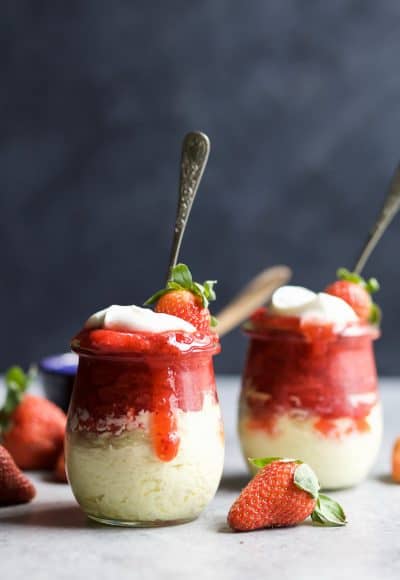 SKINNY CHEESECAKE for two made with greek yogurt and topped with fresh strawberries slightly sweetened with honey. The perfect healthy sweet dessert for those late night cravings!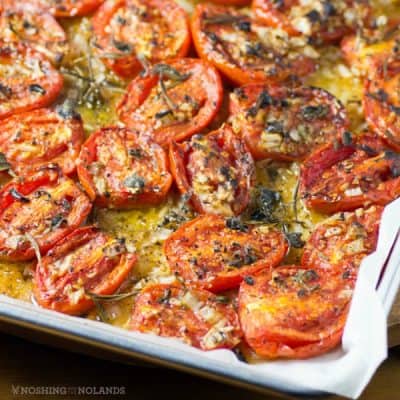 Simple Roasted Italian Tomatoes are bursting with flavor and can easily be blended into an amazing sauce.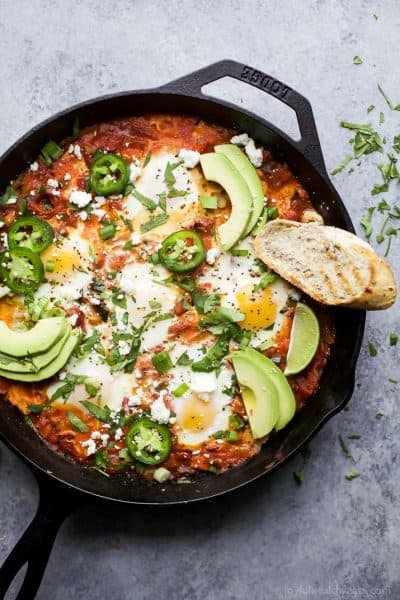 One Pot Mexican Shakshuka an easy dinner recipe made in 30 minutes only 206 calories a serving. Eggs baked in a spicy mexican inspired tomato sauce – it's egg-cellent!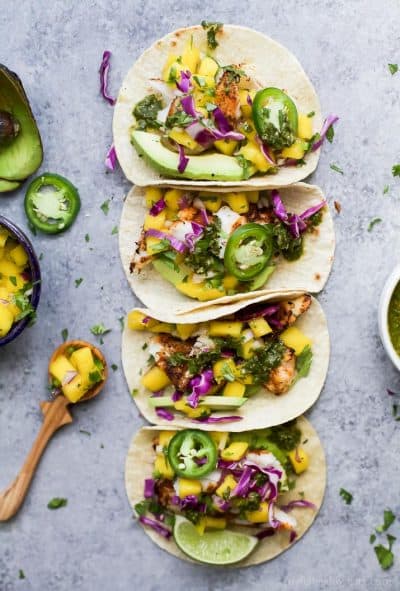 30 Minute GRILLED FISH TACOS topped with a fresh MANGO SALSA, Avocado, and Chimichurri! This easy grilling recipe is one "winner" of a meal that you're family will fall in love with!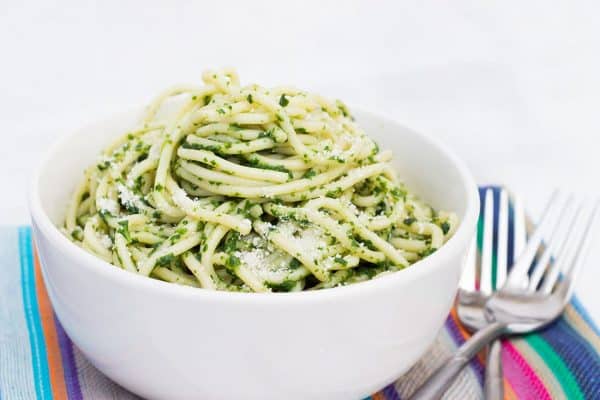 This Spaghetti with Spinach Sauce recipe is a super simple pasta sauce that's quick, healthy and really flavorful. This vibrant sauce is made with grated cheese giving it a creamy, delicious taste.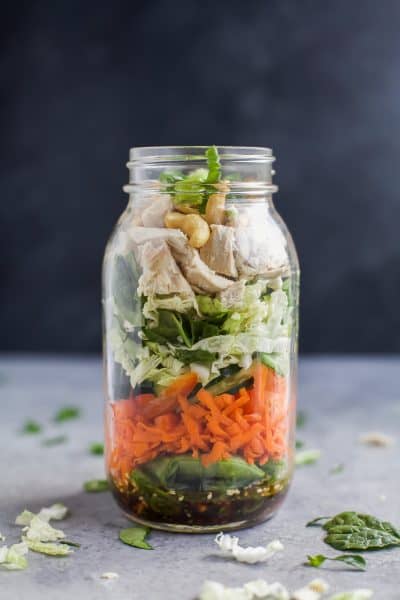 Mason Jar Salad recipes are a delicious, easy, and perfect lunch for the week! This ASIAN CHICKEN MASON JAR SALAD is loaded with veggies, napa cabbage, rotisserie chicken and topped with a Sesame Dressing – done in 30 minutes!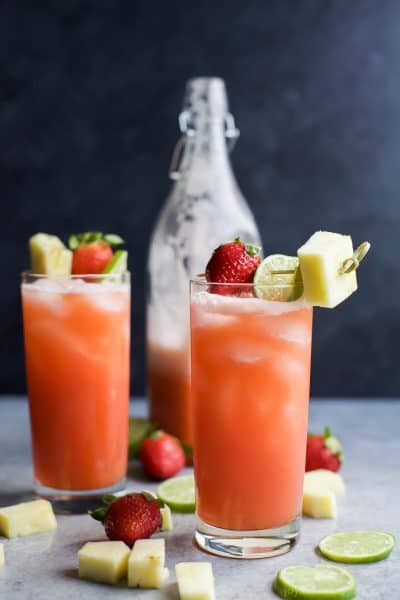 PINEAPPLE STRAWBERRY AGUA FRESCA – a light refreshing drink to keep you cool all summer long! This Agua Fresca takes less than 10 minutes to make and is sweetened with agave nectar.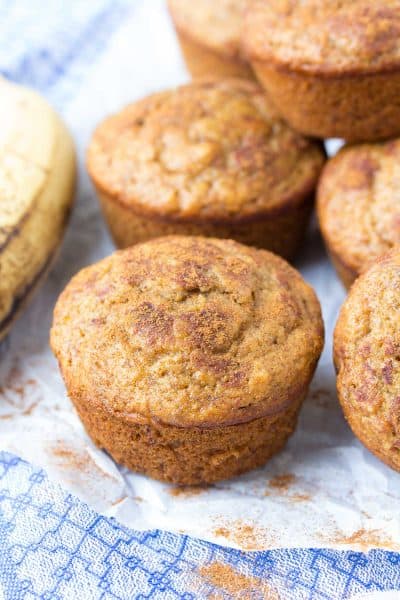 It doesn't get much better than these One Bowl Cinnamon Banana Muffins! They're whole wheat, refined sugar free, and they take just minutes to make!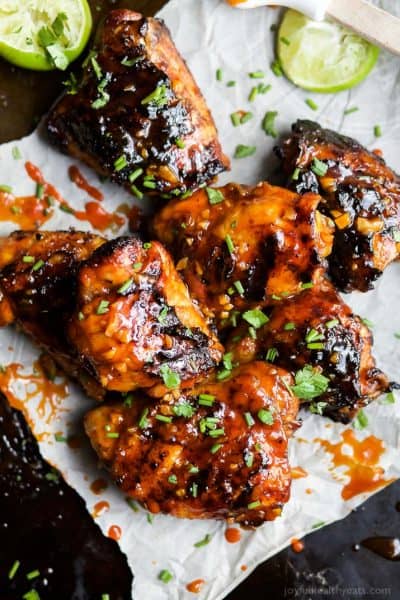 Sweet & Spicy HONEY SRIRACHA GRILLED CHICKEN THIGHS – juicy smoky chicken thighs slathered in an easy Honey Sriracha glaze that will make you swoon! I guarantee these will be a hit!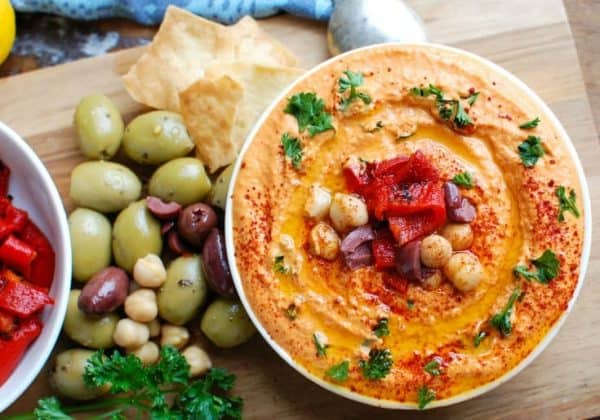 Roasted Red Pepper Greek Yogurt Hummus is a creamy dip that pairs nicely with pita bread or fresh vegetables.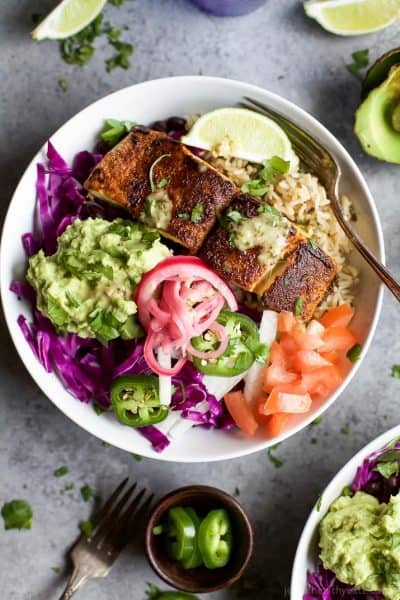 FISH TACO RICE BOWLS with avocado and pickled onions, topped with a Cilantro Lime Dressing! The perfect 30 minute meal to satisfy even the pickiest of eaters!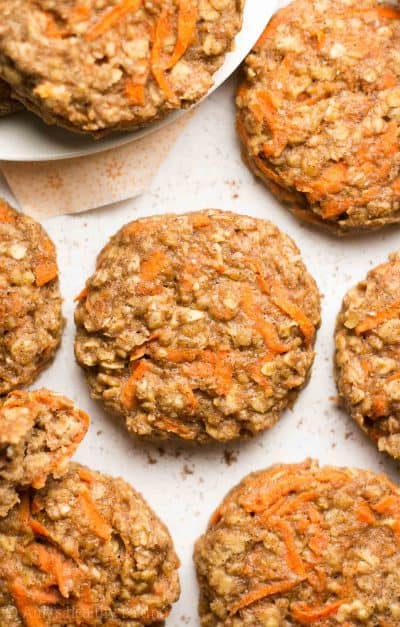 An easy, no-mixer-required recipe for chewy cookies healthy enough for breakfast that taste like carrot cake! No butter, refined flour or sugar & only 74 calories!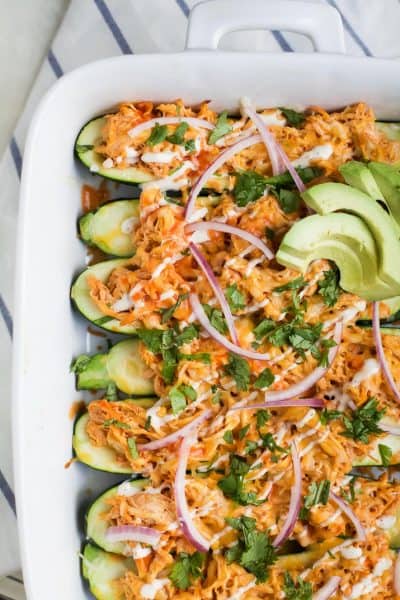 Buffalo Chicken Enchilada Zucchini Boats – tender zucchini stuffed with a creamy Buffalo Chicken mixture then drizzled with ranch. The perfect healthy way to eat Buffalo Chicken Dip without all the carbs!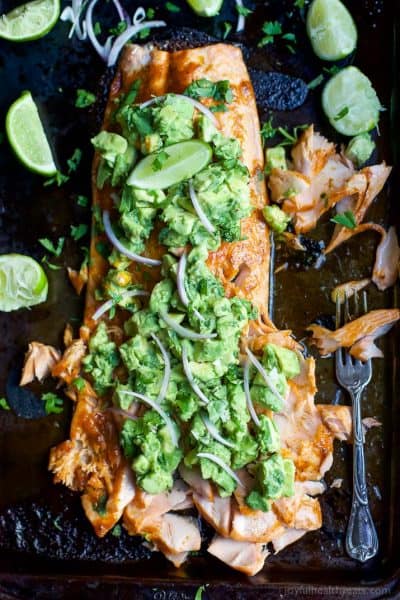 Paleo Baked Salmon that's rubbed down with a sweet & spicy spice blend then topped with a fresh zesty Avocado Salsa! This easy healthy recipe is done in less than 30 minutes!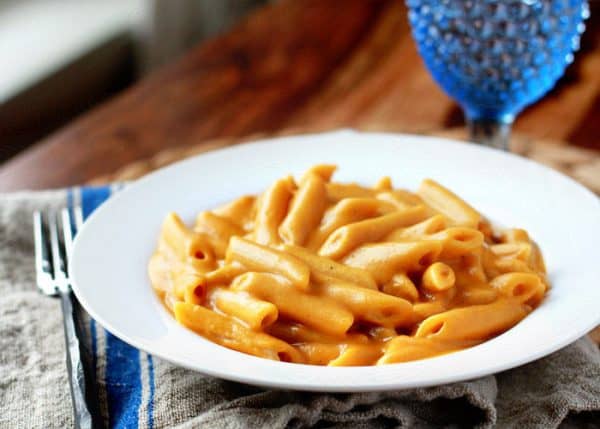 Vegan comfort food at its finest, this easy vegan mac and cheese is made with sweet potatoes, butternut squash, and other mainstream real-food ingredients. No weird stuff here – just pure macaroni and cheese-like deliciousness!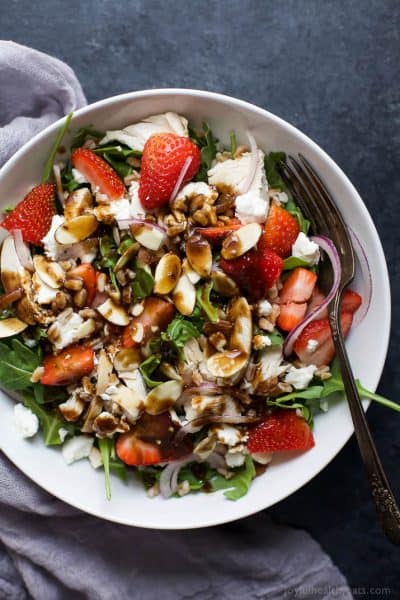 Fresh ingredients make this FARRO ARUGULA STRAWBERRY CHICKEN SALAD shine. A super simple salad to throw together for lunch or dinner that's friendly on the waistline!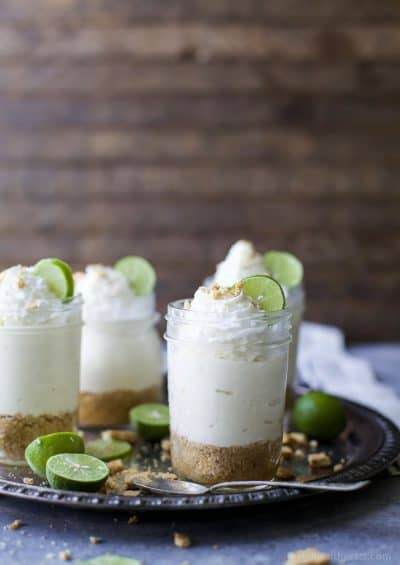 Easy No Bake Key Lime Cheesecake made healthy by using greek yogurt. A perfect light summer dessert to wow the crowd!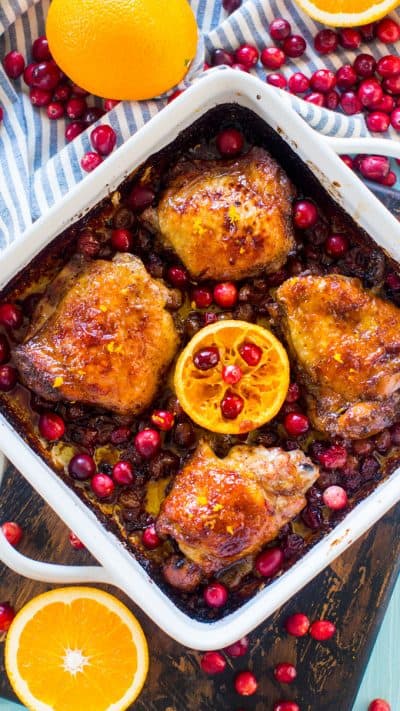 Cranberry Orange Chicken is the perfect, one pan, seasonal meal made with juicy, tart cranberries and fresh orange juice and zest.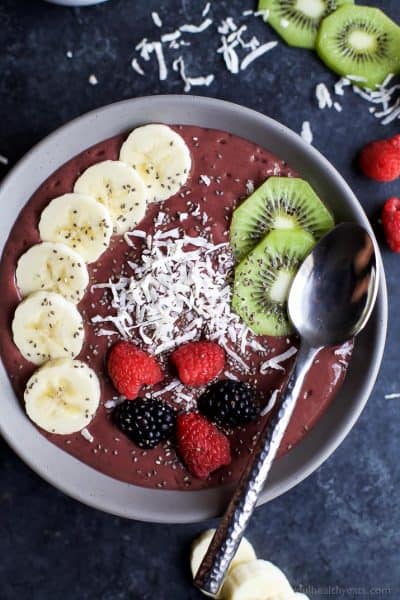 BANANA BERRY SMOOTHIE BOWL an easy delicious way to add protein, fiber, fruits, and veggies to your breakfast! Easily customize the toppings to your Smoothie Bowl.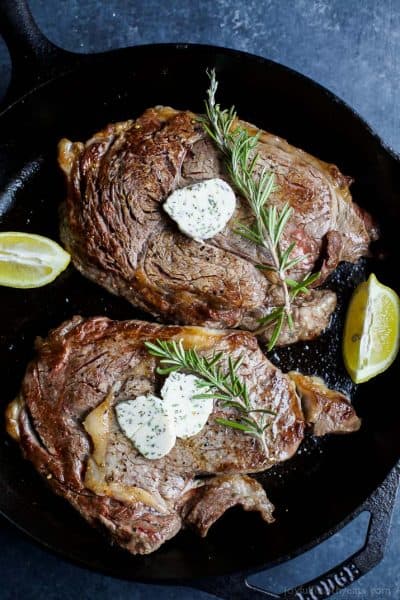 The perfect steak in just 15 minutes! Pan Seared Ribeye that's finished off in the oven and topped with homemade Herb Butter that will make you swoon!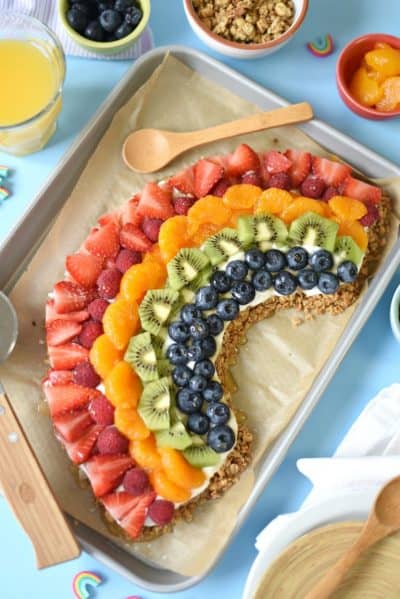 Feel good about feeding your kids a healthy morning meal option when you make them this rainbow-themed No Bake Granola Breakfast Pizza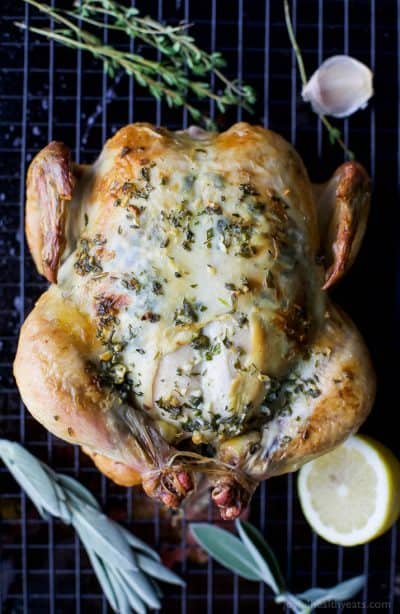 1 Hour Roasted Chicken slathered in a garlic herb butter that will make you swoon. This easy healthy roasted chicken recipe is guaranteed to be a new family favorite!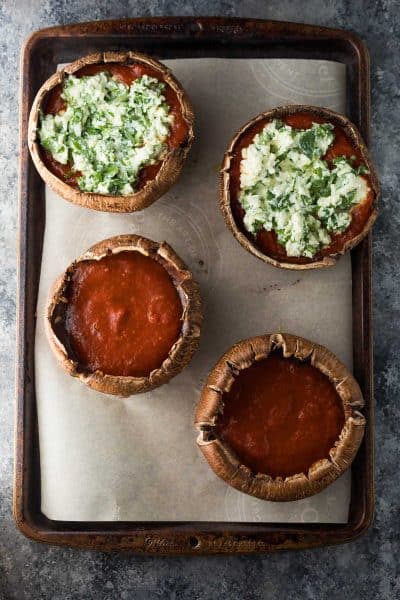 These lasagna stuffed portobello mushrooms can be prepped ahead and frozen. When you're ready to serve, you can bake them up directly from the freezer!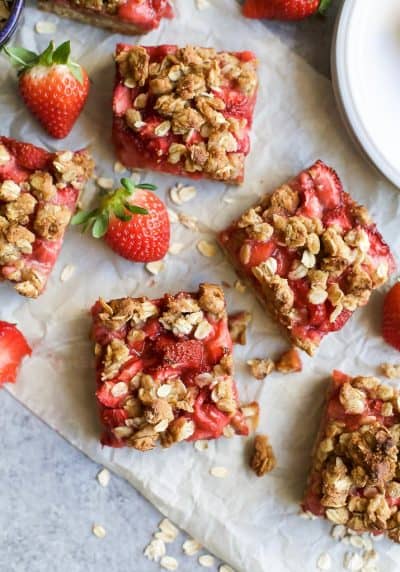 Healthy STRAWBERRY OATMEAL BARS filled with juicy strawberries and a buttery crumble topping for only 132 calories a serving! Serve it for breakfast, dessert, or eat it as a snack! Just make it!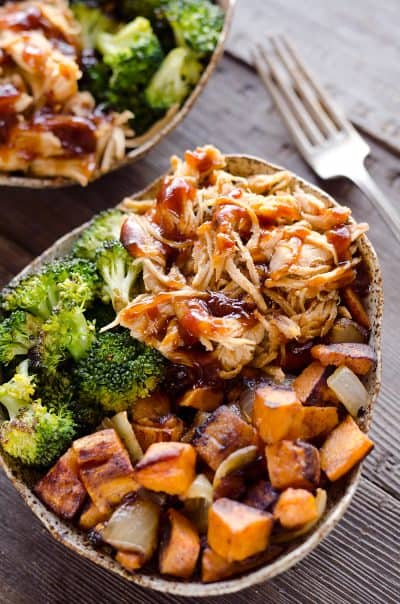 BBQ Chicken & Roasted Sweet Potato Bowls are a hearty and healthy dinner idea bursting with bold flavors and nutritious vegetables. This easy sheet pan recipe is perfect for meal prepping lunches for work or a quick weeknight meal.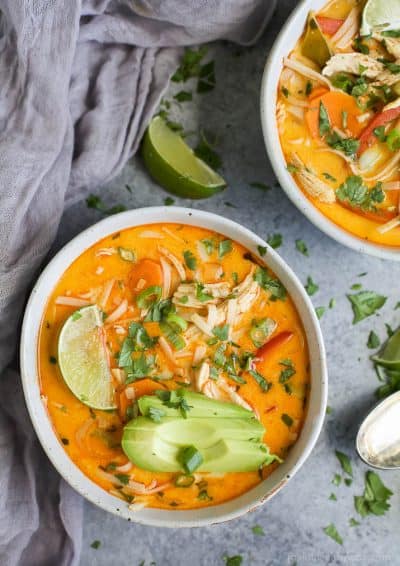 30 Minute Thai Chicken Noodle Soup filled with curry and coconut flavor, chicken, veggies and rice noodles! An epic soup recipe that will soon be your families favorite + it's gluten free!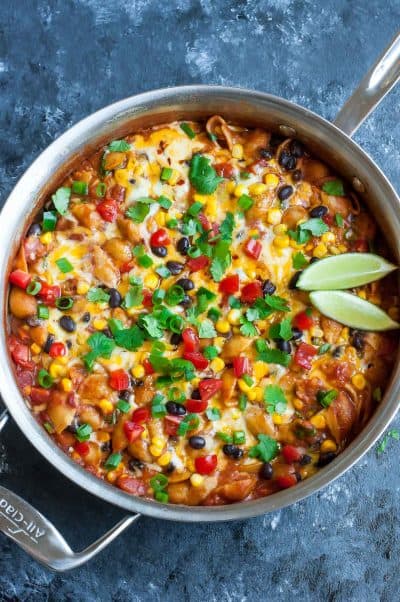 This healthy one-pot enchilada pasta is quick, easy, and ready to rock your plate! Vegetarian + Gluten Free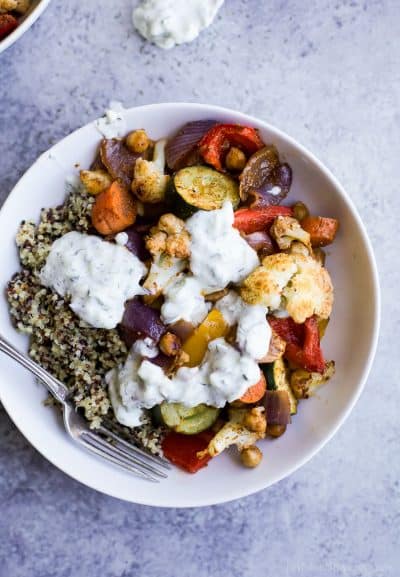 Roasted Vegetable Grain Bowls – a gluten free grain bowl filled with spiced roasted vegetables then covered in a creamy Tzatziki Sauce. A meal your family will love and perfect for meatless Monday!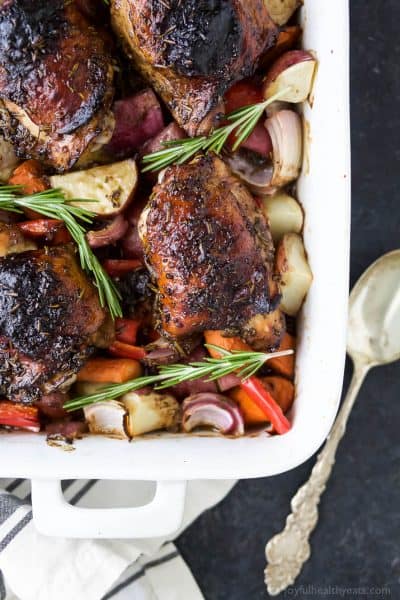 Easy One Pan Balsamic Chicken with Roasted Vegetables – a healthy paleo & gluten free recipe your family will devour! Tender juicy chicken covered in a sweet balsamic glaze has this one pan chicken bursting with flavor!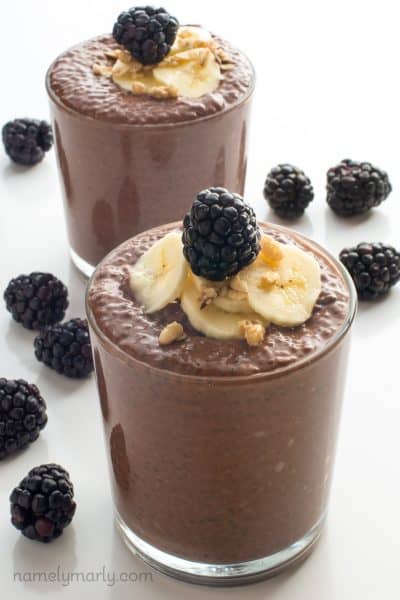 This Vegan Chocolate Chia Pudding is a rich, chocolatey, dessert that tantalizes your sweet tooth, while meeting your "let's get healthy" goals too.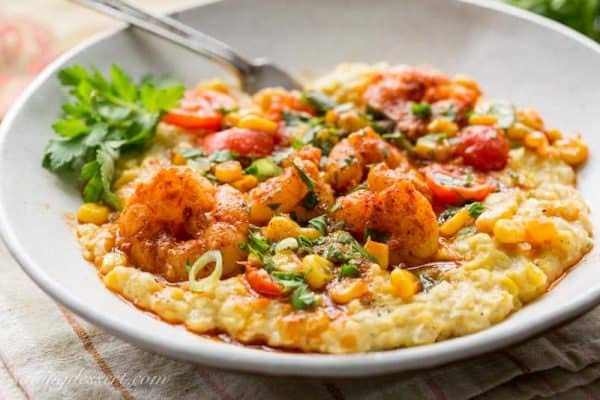 Spicy Shrimp & Fried Corn ~ A fresh and tasty twist on classic shrimp and grits! Creamy, sweet fried corn is topped with spicy shrimp, garden fresh tomatoes and green onions for a delicious bowl of healthy comfort food!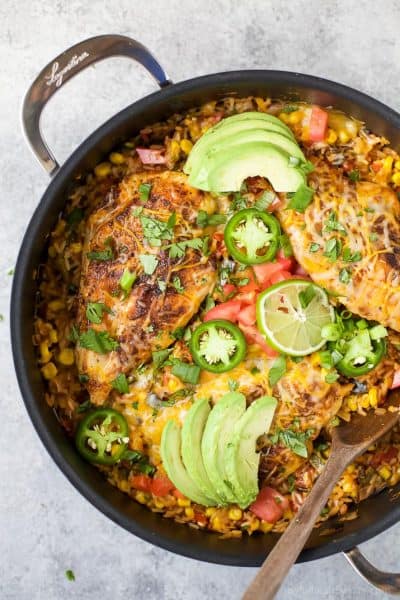 ONE PAN SOUTHWESTERN CHICKEN AND RICE – an easy healthy dinner recipe all made in one pan for easy cleanup! It's perfect for the family and bursting with flavor!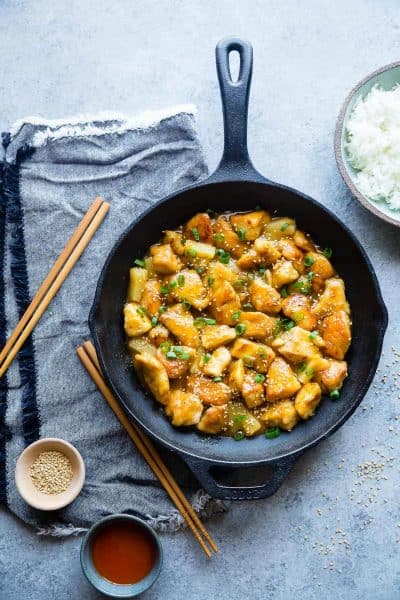 This healthy, sweet and spicy firecracker pineapple chicken is way better than takeout! A gluten free, paleo and whole30 dinner that everyone will love!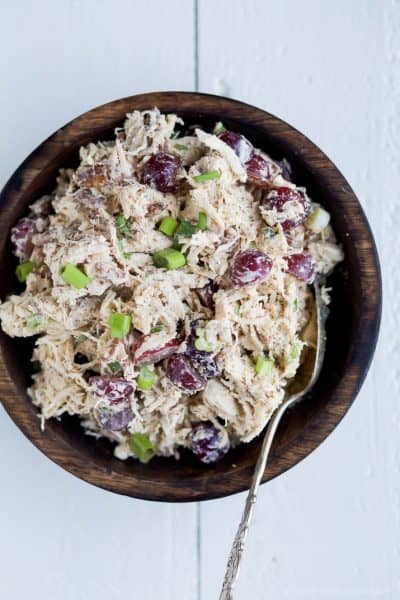 A LIGHT & EASY CHICKEN SALAD RECIPE that's low carb, high protein, and gluten free! This Chicken Salad is made with greek yogurt, mustard, grapes, and fresh lemon juice.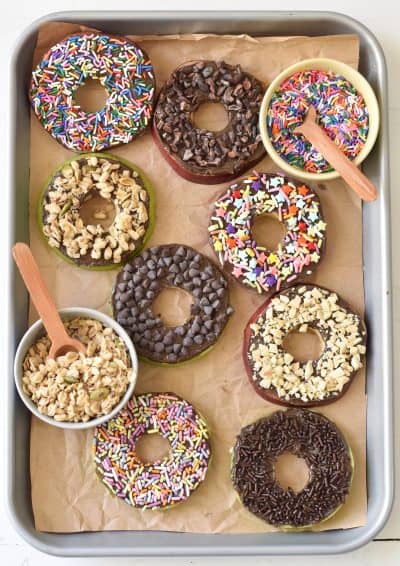 These easy, no bake apple donuts are the perfect after school snack for kids, full of healthy and good-for-you ingredients.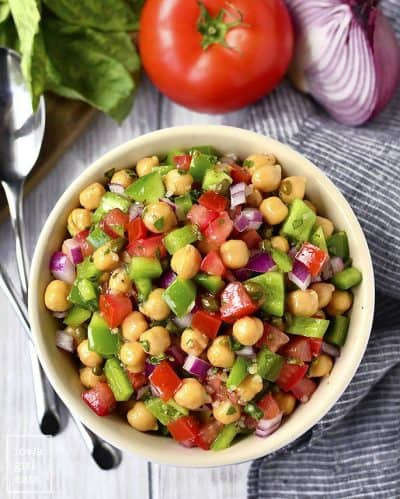 Italian Chickpea Salad is a simple, vegetarian salad recipe that's full of fresh and healthy ingredients.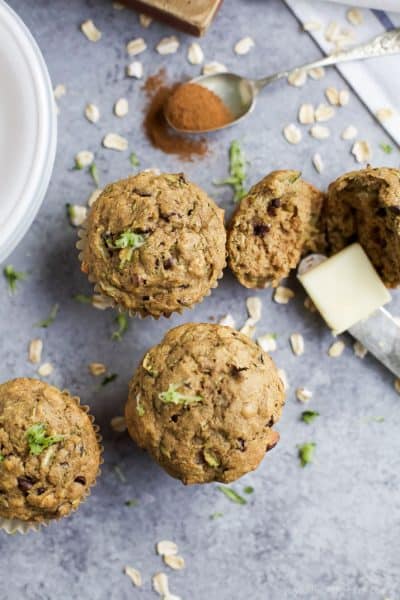 CHOCOLATE CHIP ZUCCHINI MUFFINS – it's the Zucchini Recipe you've been waiting for! These muffins are moist, healthy from a few simple swaps, and down right deliciously addicting!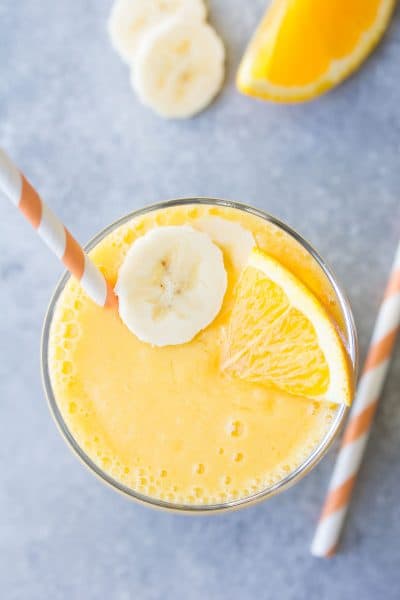 This Immunity Boosting Orange Smoothie packs a hefty dose of Vitamin C! It has a refreshing orange flavor with a hint of vanilla!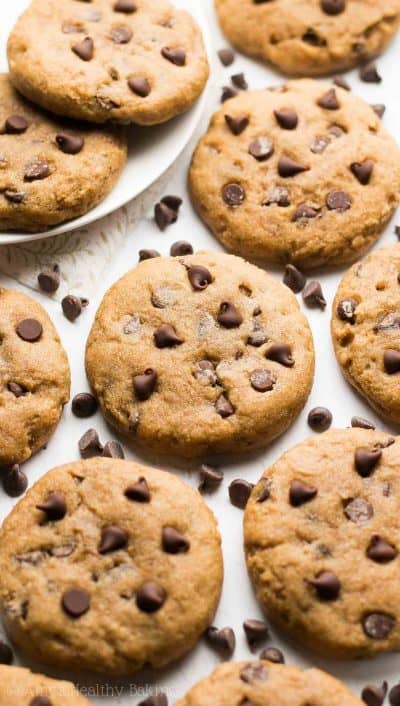 An easy recipe for chewy banana cookies full of chocolate chips. Made with no butter, eggs, refined flour or sugar & only 90 calories!

DON'T MISS A RECIPE ->