47 of the BEST Vegetarian Recipes out there that you NEED to make for your next Meatless Monday Meal!

47 of the BEST Vegetarian Recipes out there! Loaded with flavor, minimal ingredients and all Vegetarian! You NEED to make these for your next Meatless Monday Meal!
Ok, ok, OKAY!!! I know it's friday but I couldn't wait until Monday to share these 47 amazing Vegetarian Recipes with you! I mean that's a whole another 3 days, that's just too long to sit on these incredible recipes. So now, instead, you get to MAKE them on Meatless Monday.
You're welcome!
I seriously cannot wait to hear what you think of these recipes. They are probably some of the most creative I've seen and look absolutely gorgeous! The first one on my list to make is the Parmesan Cajun Spiced Cauliflower Steaks.. holy hannah do those look good!
Just a warning… get ready to drool and to fall in love with vegetarian recipes! Eat yo veggies and set the meat down!
Bon Appetit!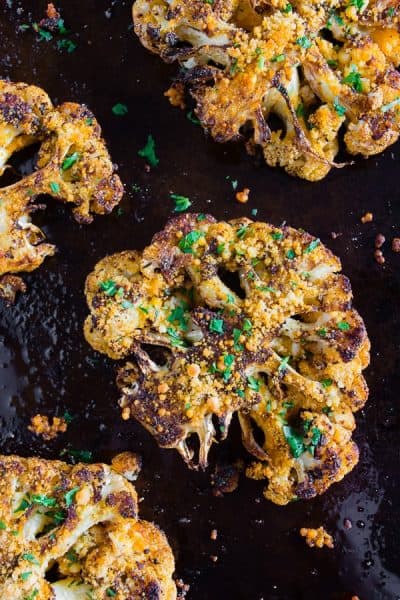 This Parmesan Cajun spiced cauliflower steak is the perfect menu addition to all your meatless meals. It also works perfectly as a flavorful side dish.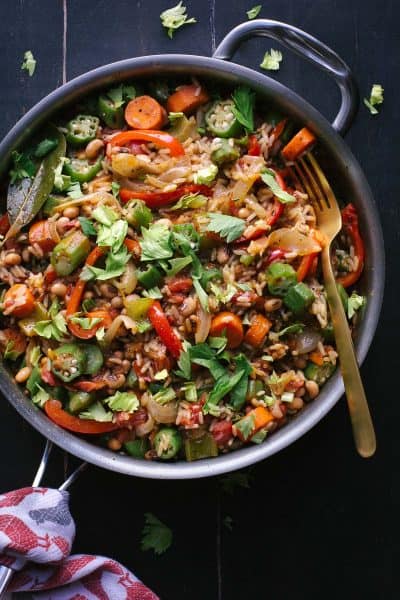 This easy Vegetable Jambalaya has amazing flavor with a bit of spice. I've got simple tips for creating satisfying vegetarian dishes to make all the difference!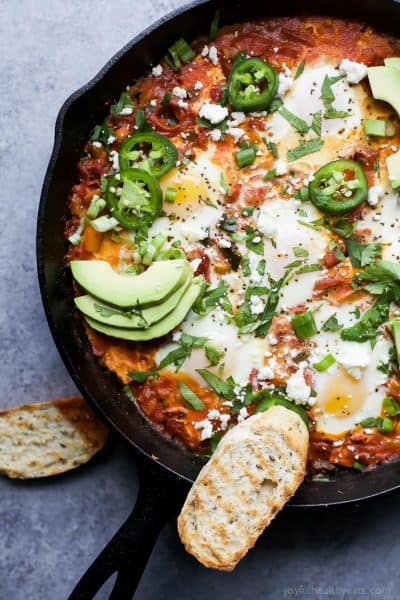 One Pot Mexican Shakshuka an easy dinner recipe made in 30 minutes only 206 calories a serving. Eggs baked in a spicy mexican inspired tomato sauce – it's egg-cellent!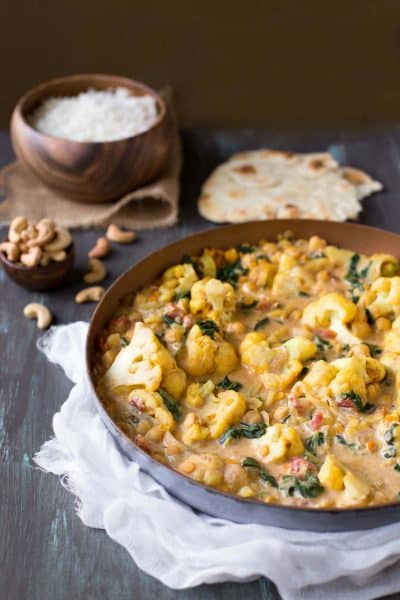 Vegetable Korma is packed with veggies, and has a nice amount of protein from the Greek yogurt, lentils, and chickpeas.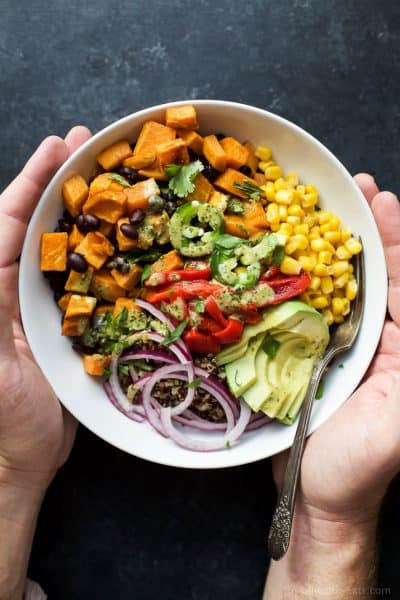 Easy SWEET POTATO BLACK BEAN QUINOA BOWLS topped with a zesty Cilantro Dressing you'll want to pour all over. A fresh vegetarian meal that will satisfy even those meat lovers!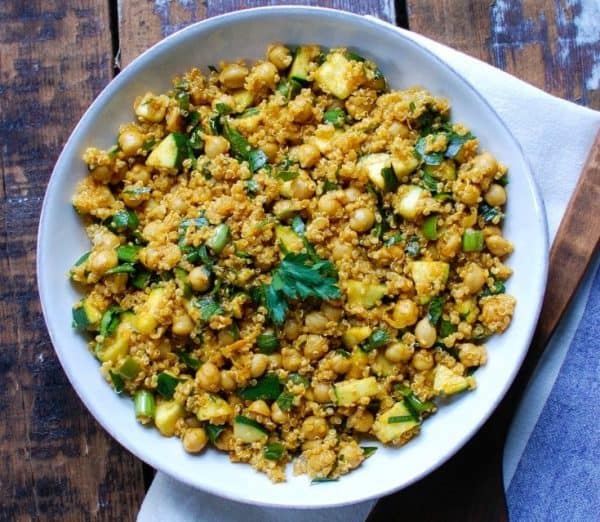 Zucchini Chickpea Quinoa Salad mixes zucchini, chickpeas, quinoa, fresh parsley and green onions and is tossed in a spiced olive oil dressing.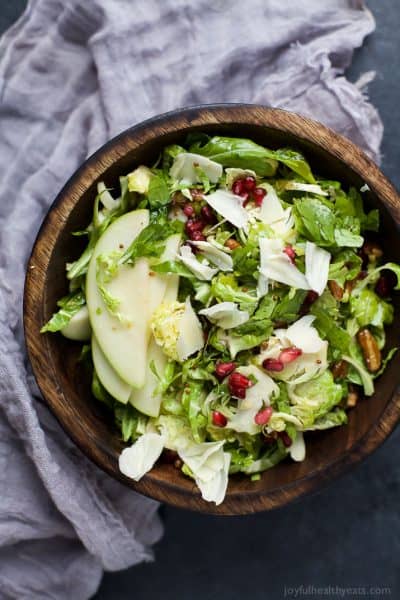 Shaved Brussel Sprout Salad filled with apples, pomegranate, candied pecans, and white cheddar cheese then tossed with a light Lemon Vinaigrette.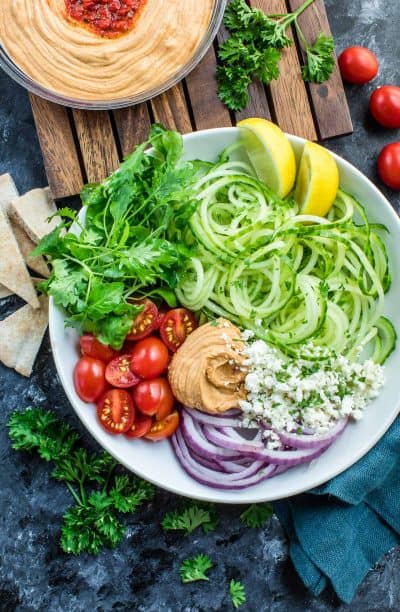 This Greek Spiralized Cucumber Salad features cucumber noodles for a sassy spiralized salad that's refreshing and delicious!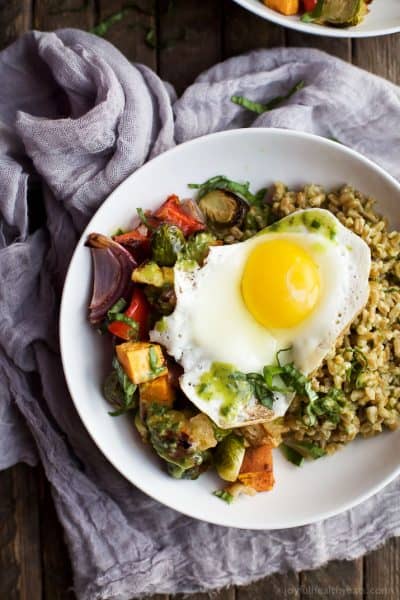 Harvest Roasted Vegetable Grain Bowls – a healthy, filling, fall inspired dinner recipe packed with nutrients and bursting with flavor!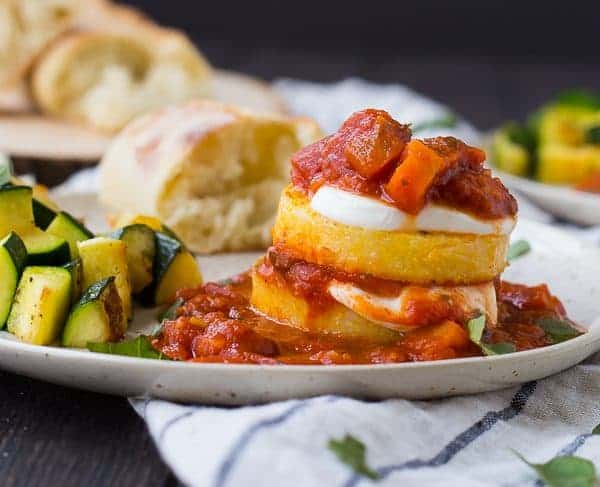 This polenta stack recipe is the perfect combination of rustic simplicity and effortless impressiveness. Ready in 15 minutes thanks to some simple shortcuts, it will become a go-to recipe in your kitchen!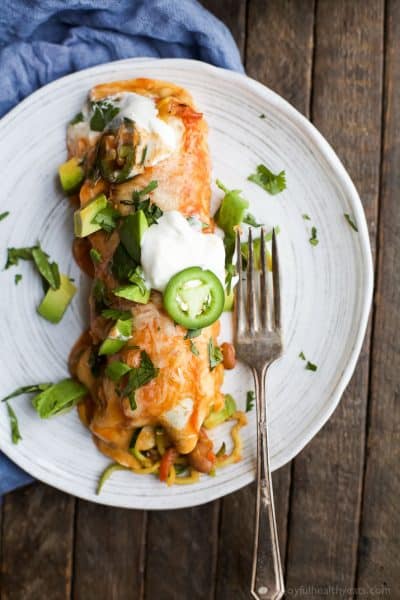 Inspiralized Vegetable Enchiladas are a easy light 30 minute meal. Perfect for your next taco night!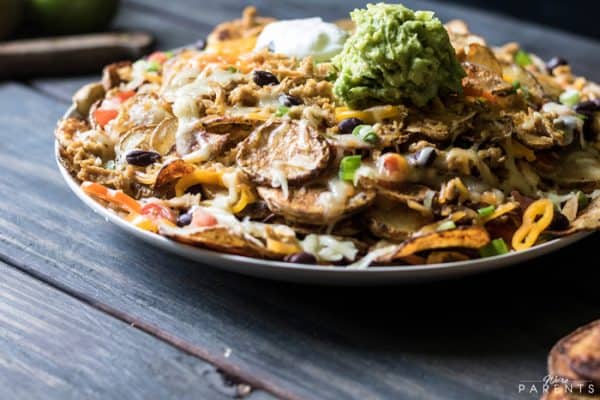 Vegetarian Pulled Pork Potato Nachos, the ultimate game day appetizer!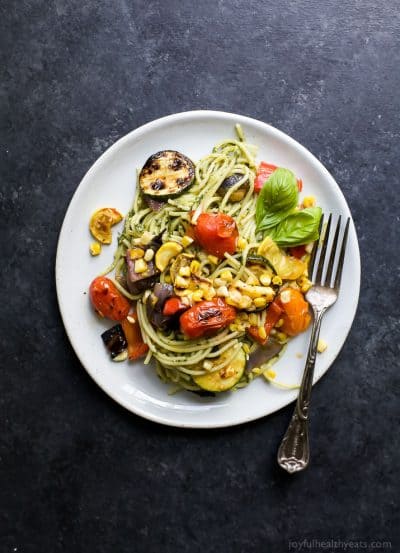 Basil Pesto Pasta tossed with fresh Grilled Vegetables a 30 minute meal your family will love! This light fresh gluten free pasta recipe will quickly become a summer favorite!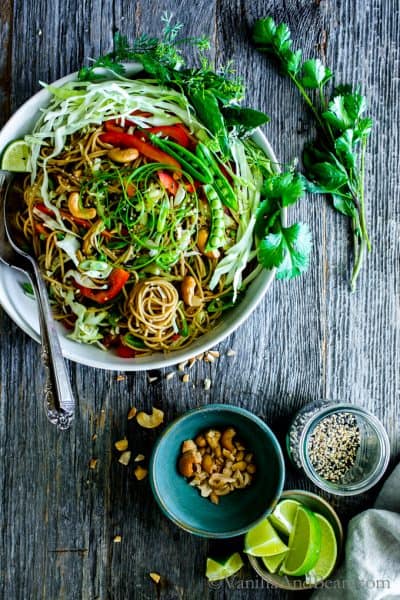 A flavor packed dressing with crunchy veggies, Sesame-Ginger Noodle Salad with Cashews comes together with ease. Make once, eat all week! Vegan + Vegetarian + Optionally Gluten Free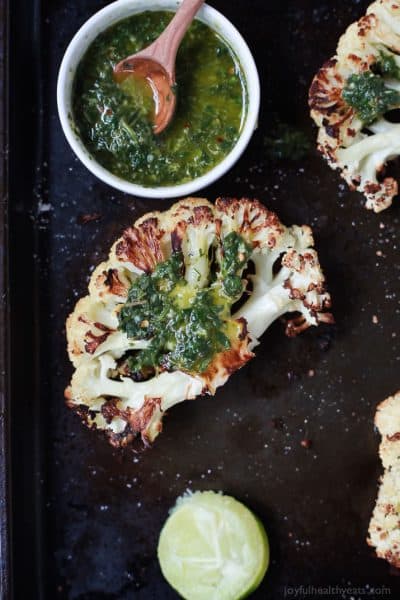 Easy naturally Gluten Free Roasted Cauliflower Steaks topped with fresh zesty Chimichurri Sauce at only 106 calories. Who knew Cauliflower could taste so good!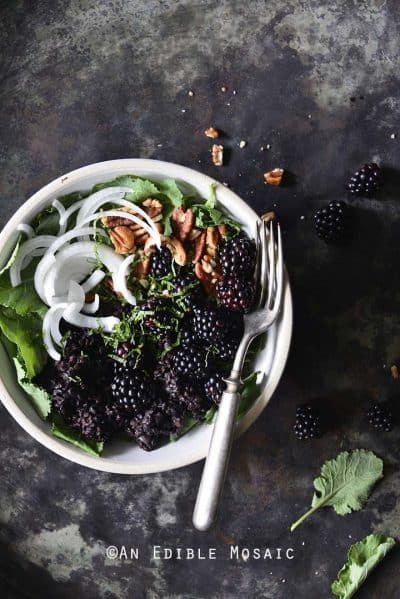 Vegan Herbed Black Rice, Black Lentils, and Black Quinoa Pilaf Salad Bowls with Blackberries is a nutritious summer meal.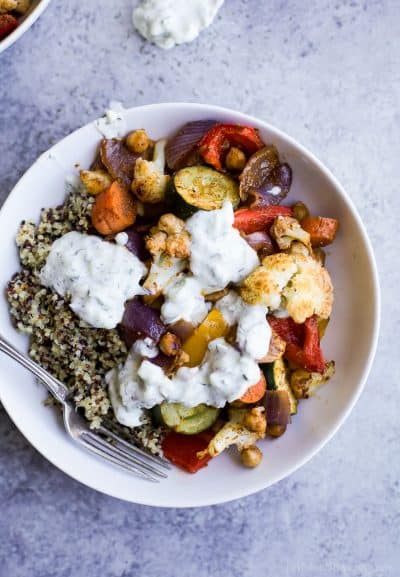 Roasted Vegetable Grain Bowls – a gluten free grain bowl filled with spiced roasted vegetables then covered in a creamy Tzatziki Sauce.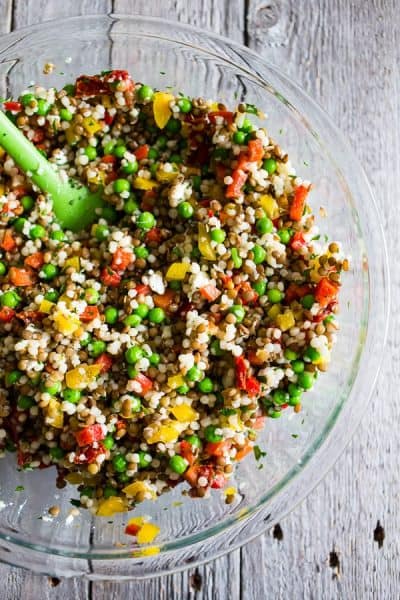 This lentil couscous goat cheese salad is PACKED full of flavor and the perfect meatless meal, light summer lunch or delicious side dish.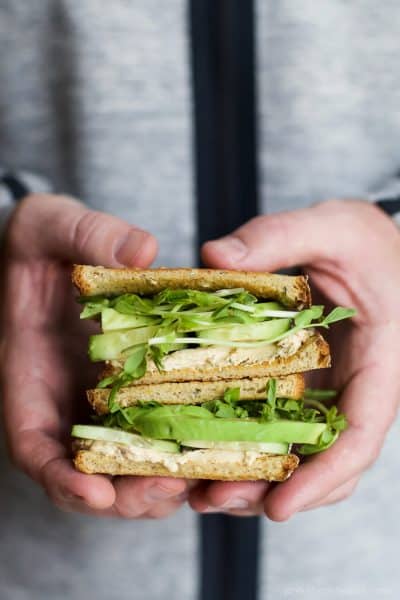 This heart healthy CUCUMBER AVOCADO SANDWICH slathered with an Herb Goat Cheese is the perfect lunch or quick dinner recipe.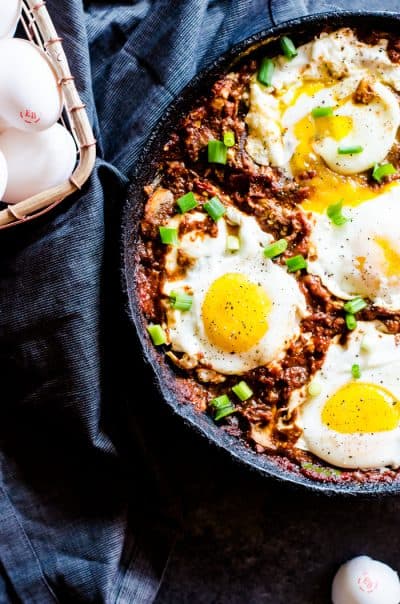 A chunky vegetable shakshuka unlike any traditional eggs in hell dish. This version is full of hearty flavorful vegetables mix in the spicy tomato base for a breakfast that will keep you fuller for longer.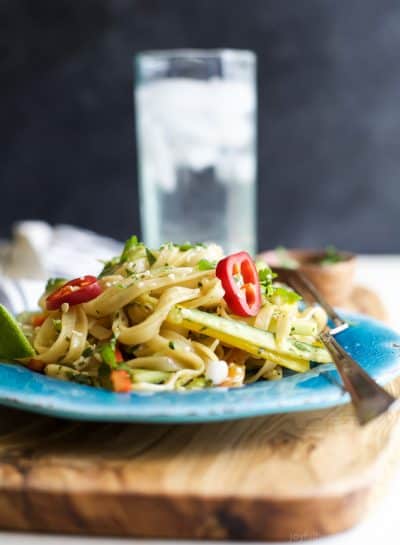 Asian Noodle Salad with a Spicy Sesame Dressing – easy to make, low in calories and bursting with flavor. Once you try this you'll be craving it all the time.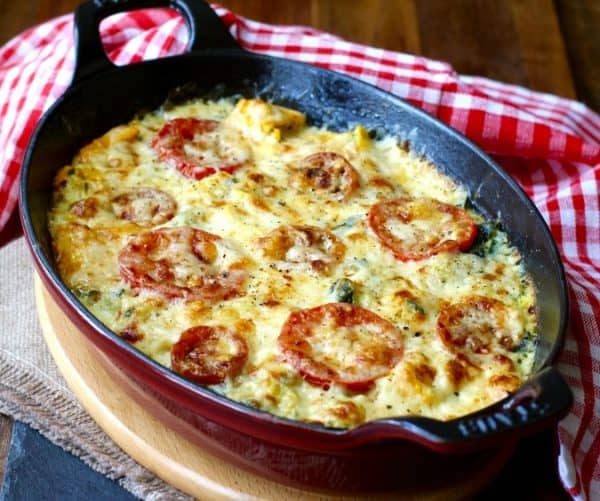 This Zucchini Tomato Gratin is one of my favorite summer dishes. It is really easy to make, and is a great way to use up all of your summer squash bounty.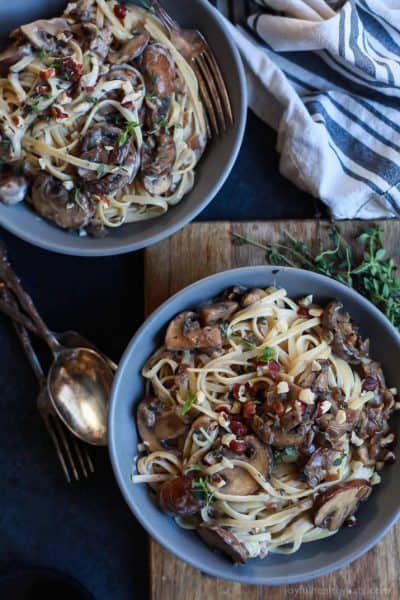 Drunken Wild Mushroom Pasta with a Creamy Goat Cheese Sauce – this recipe is total comfort food! Easy, using simple ingredients, done in just 30 minutes, only 331 calories, and vegetarian!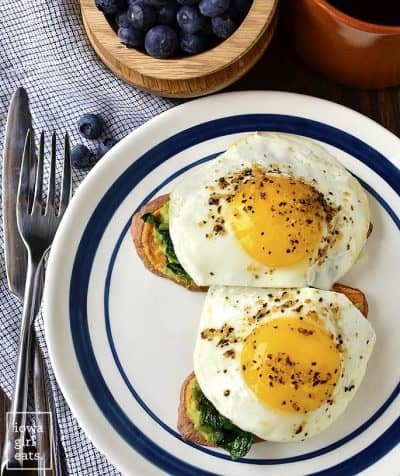 Get your day started with Avocado, Egg and Spinach Sweet Potato Toasts! This healthy, gluten-free breakfast recipe packs a healthy punch of protein, vitamins, and minerals.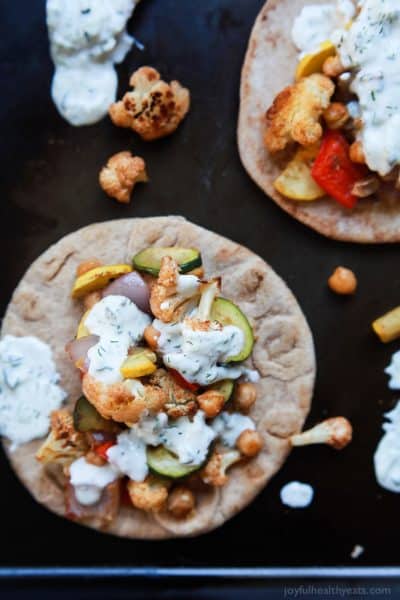 Moroccan Cauliflower Chickpea Pita – done in 35 minutes, filled with spiced roasted vegetables and covered in a creamy Tzatziki Sauce. A meal your family will love and perfect for meatless Monday!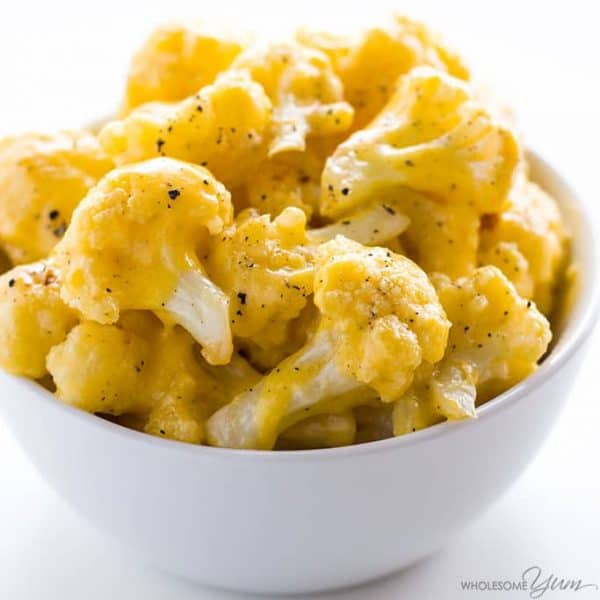 This healthy, low carb cauliflower mac and cheese recipe is made with just 5 common ingredients. Only 5 minutes prep time!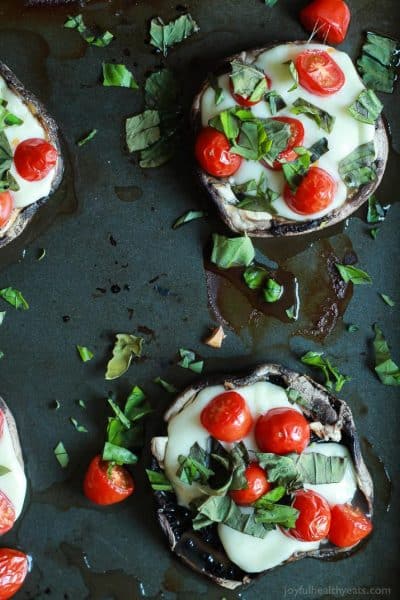 Change up your Friday night pizza night with this Mini Portobello Margherita Pizza – simple, fresh ingredients, and only 15 minutes!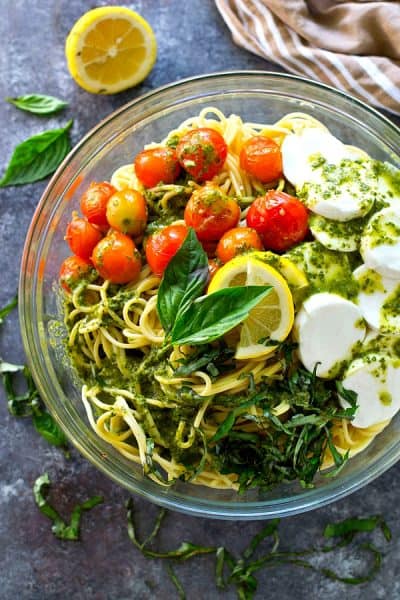 Juicy charred tomatoes, soft mozzarella cheese, and tons of flavorful lemon basil dressing make this spaghetti salad the ultimate summer side that you'll find yourself making again and again.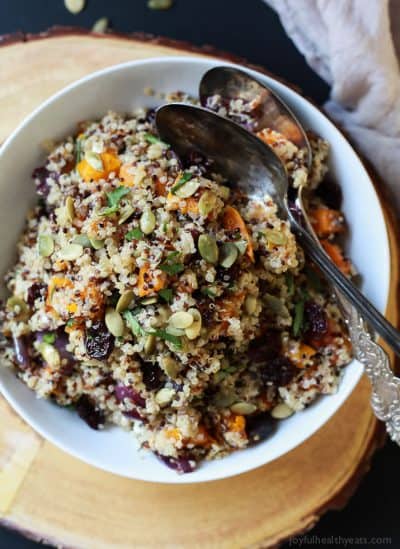 The BEST Roasted Butternut Squash Quinoa Salad with a secret creamy element and surprise spice that makes this salad dish pop with flavor.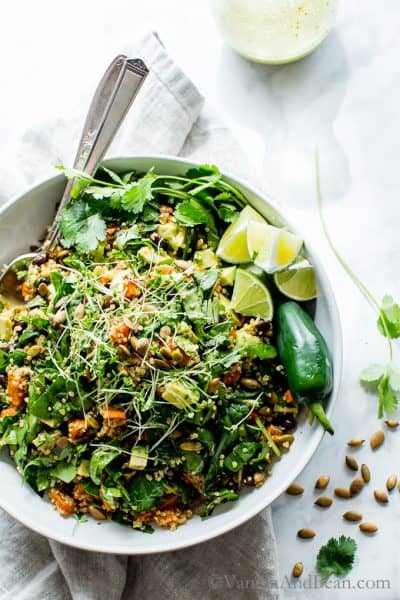 A make-ahead, ready when you are salad, Black Bean Sweet Potato Quinoa Salad with Smoky Pepitas and Roasted Jalapeño Lime Dressing.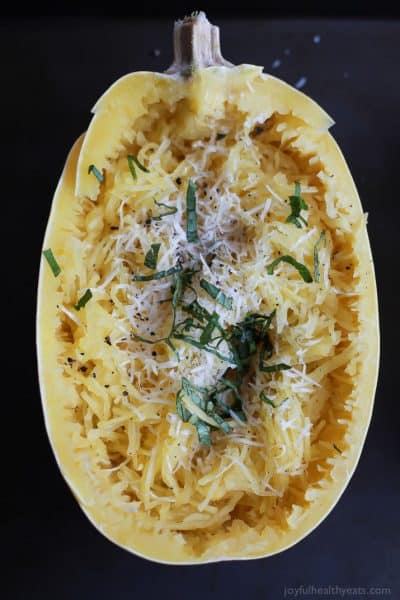 A 15 Minute way to make Spaghetti Squash that you will fall in love with, Parmesan Herb Microwave Spaghetti Squash. It's as easy as 1,2, … it needs to be on your table this holiday season!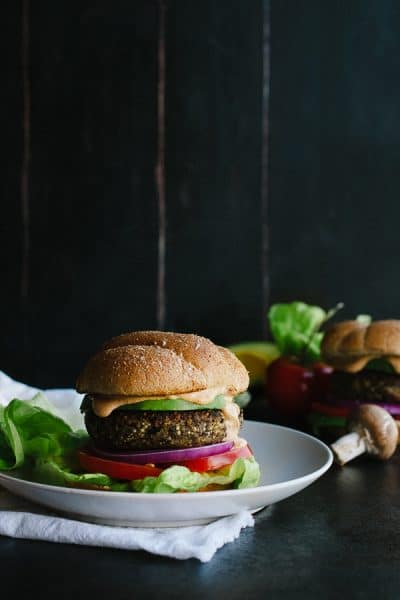 Mushroom & Quinoa Veggie Burger with Chipotle Aioli – this is every meat-lover's favorite veggie burger!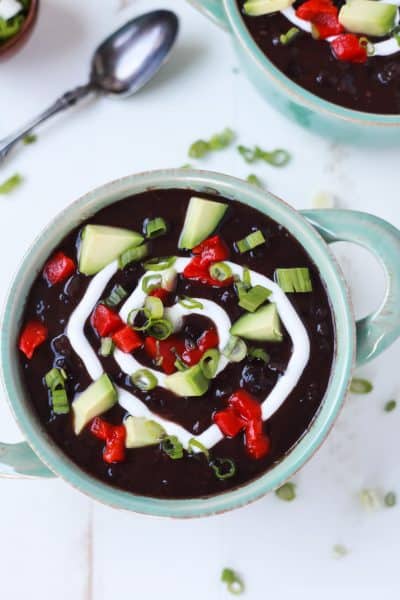 A gluten free Crock Pot Black Bean Soup with a smokey southwestern twist then topped with tangy greek yogurt for the ultimate savory bite.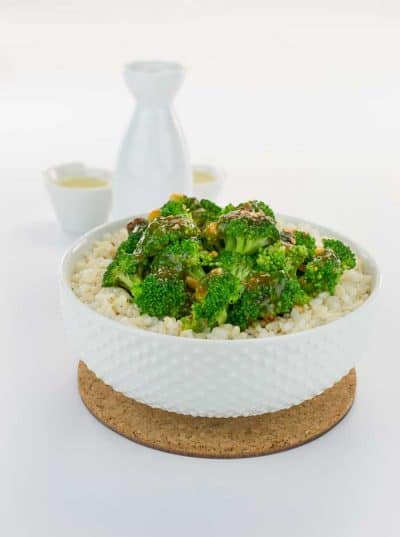 Quick and Easy Vegan Broccoli with Spicy Garlic Sauce Recipe, you can make the garlic sauce in the morning and even prepare the broccoli the night before if you want.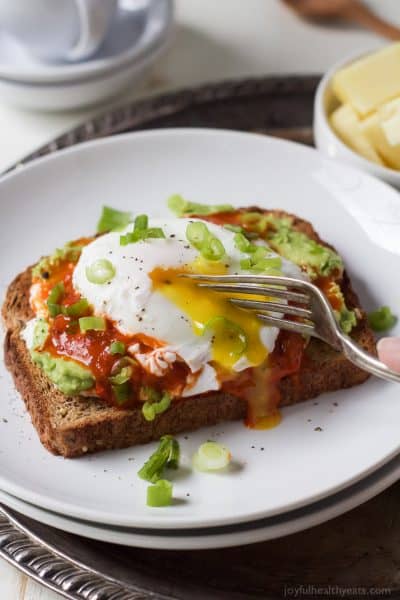 Ricotta Avocado Toast topped with Harissa and a Poached Egg, a heart healthy breakfast packed with protein and full of flavor for only 269 calories a serving!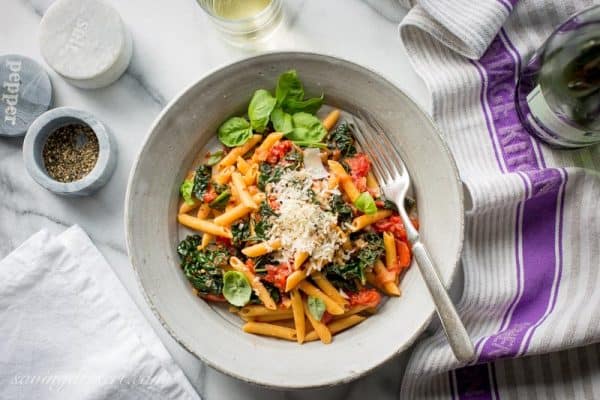 Spicy Pomodoro Sauce with Kale & Penne Pasta ~ a flavorful and healthy meatless Monday meal that will leave you full and satisfied.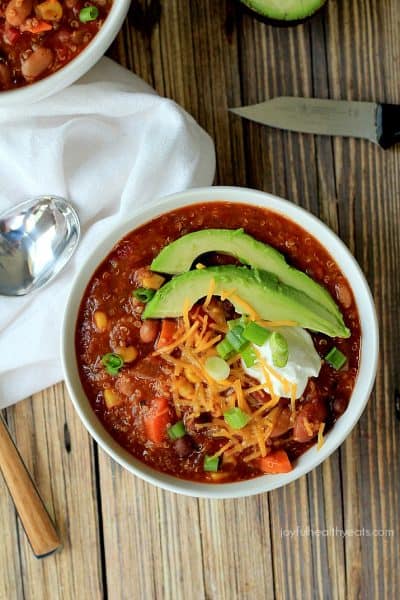 A hearty Quinoa Vegetarian Chili cooked to perfection in the Crock Pot, this soup recipe just screams fall comfort food!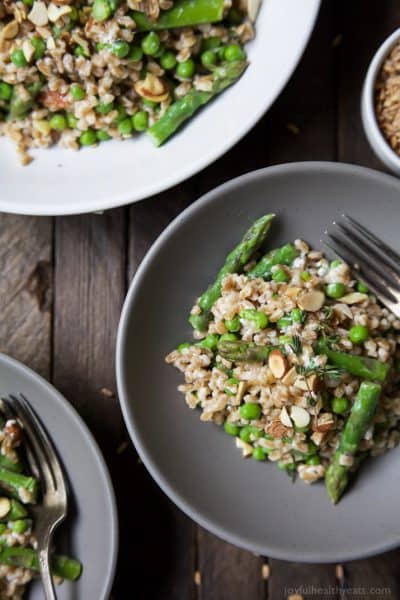 Creamy Springtime Farro Salad for the win! The perfect side dish filled with sweet peas, asparagus, fresh herbs and goat cheese! I guarantee you'll be addicted after the first bite!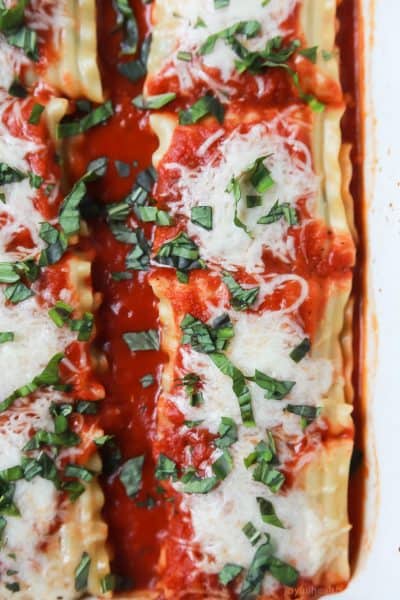 An easy vegetarian meal your family will love! Spinach Lasagna Rolls filled with delicious nutrient packed filling, topped with marinara sauce and light amounts of cheese for only 159 calories a serving!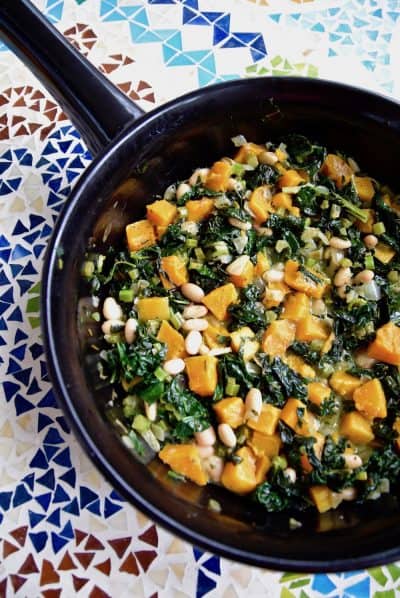 This kale sweet potato white bean skillet is an easy go-to meal that uses just one pan, making for a healthy gluten free and vegan dinner that can be prepped with little fuss.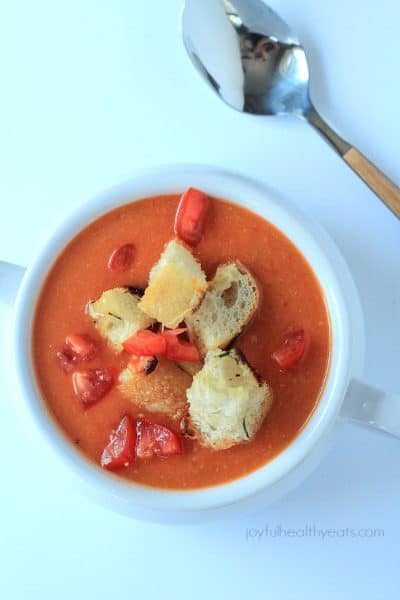 A hearty creamy Tuscan Tomato Soup filled with vegetables and fresh herbs, perfect for the fall and winter months!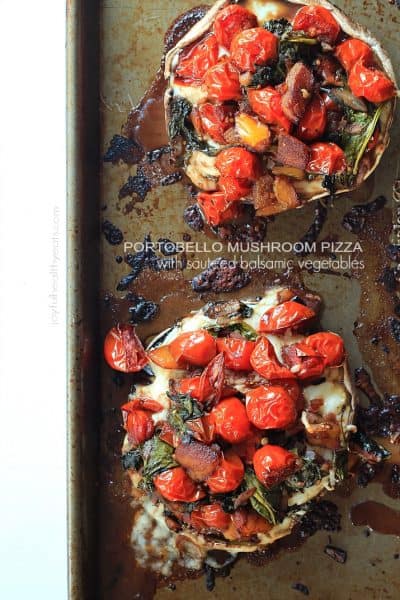 A flavor packed Portobello Mushroom Pizza topped with oozing cheese and fresh sautéed balsamic vegetables, done in 30 minutes!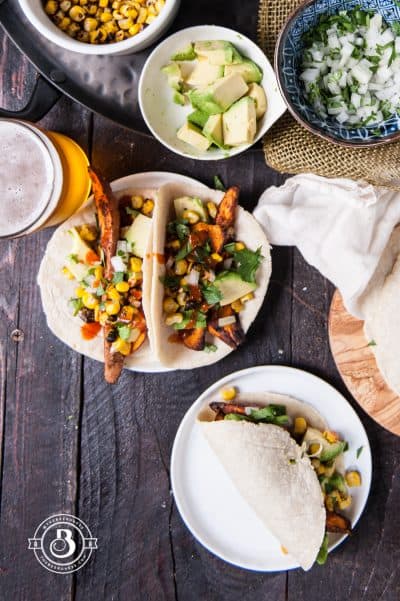 Crispy Sweet Potato Street Tacos, the sweet potatoes are soaked in beer, baked and then topped with a corn and avocado relish.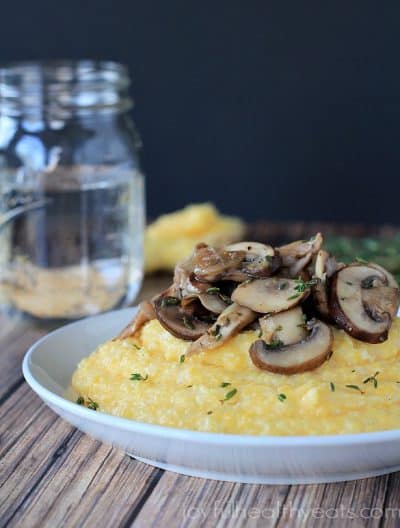 A creamy Parmesan Polenta served with a fresh Lemon Thyme Wild Mushroom mixture made from cremini and shitaki mushrooms, makes for the ultimate gluten free vegetarian dish!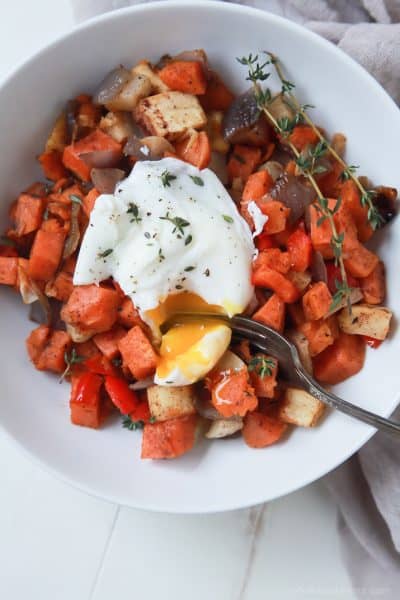 An Easy Sweet Potato Hash topped with Poached Eggs, you'll love the secret spice in this hash! It's the perfect breakfast or dinner for your family and easily fits into Paleo Diet.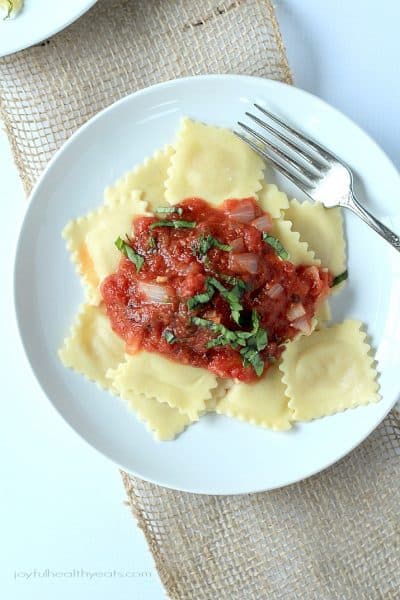 Four Cheese Stuffed Ravioli topped with Homemade Marinara Sauce, this meal literally takes 15 minutes to make!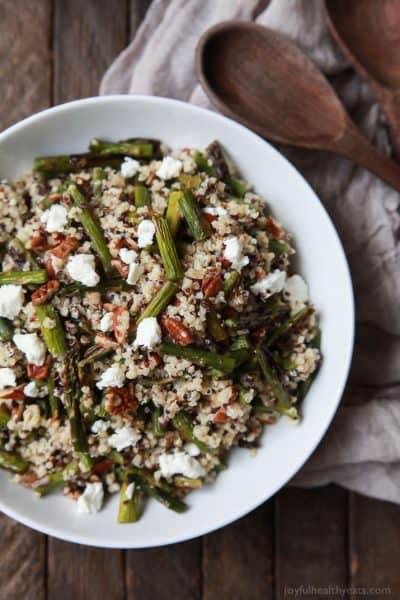 Creamy Goat Cheese Asparagus Quinoa Salad, loaded with delicious flavors your family will love. A quick easy gluten free recipe that makes a great lunch or side dish.