40 of the BEST Light & Easy Gluten Free Recipes filled with fresh ingredients and flavor!

40 of the BEST Light & Easy Gluten Free Recipes – recipes for breakfast, lunch and dinner all made with fresh ingredients and filled with flavor!
I know a lot of people who eat "gluten free" now. Some people do it for medical reasons. Some do it because they have an intolerance. Some do it because they BELIEVE or THINK they have an intolerance. And some do it because it's the "thing" to do.
Me?
I eat that way when I can, not because I have to or want to. But more because it's pretty easy to do and to go without gluten works for us. I do, however, notice that I don't feel as bloated when we are conscious of gluten so I do feel better. 🙂 And for that reason I wanted to give you guys a roundup of some of my favorite …. and in my humble opinion 40 of the BEST Light & Easy Gluten Free Recipes out there!
Not only are they absolutely gorgeous to look at, but they are filled with flavor and super easy to make. Every last one of these are must makes, so go ahead and pin this post to your Pinterest boards and start putting them on your meal plan.
Bon Appetit!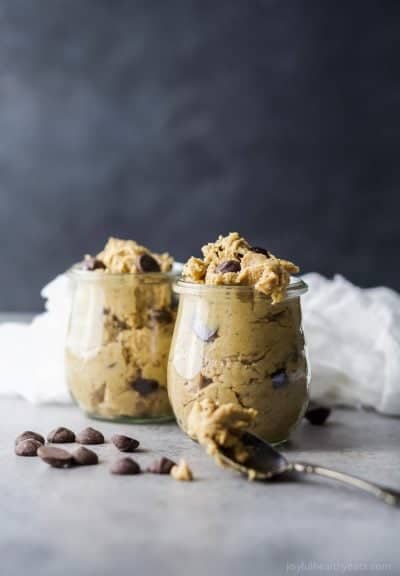 Vegan Chickpea Cookie Dough made in a blender. A healthy eggless no bake cookie dough recipe to satisfy that sweet tooth!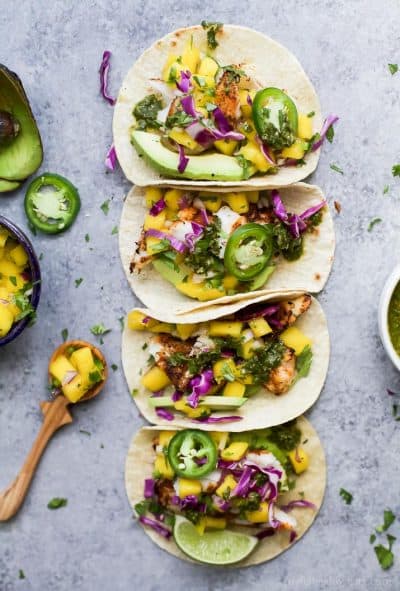 30 Minute GRILLED FISH TACOS topped with a fresh MANGO SALSA, Avocado, and Chimichurri! This easy grilling recipe is one "winner" of a meal that you're family will fall in love with!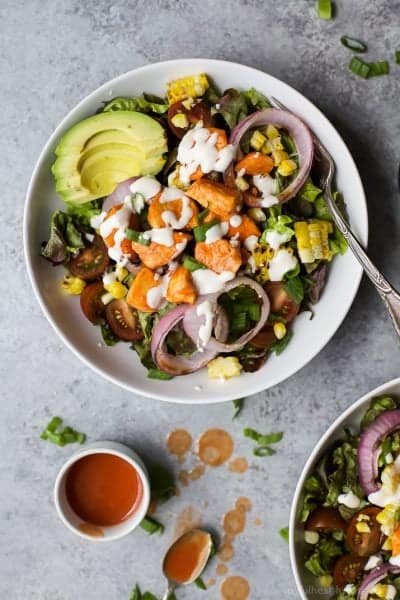 Grilled Buffalo Chicken Salad an easy 30 minute recipe smothered in buffalo sauce and filled with grilled vegetables for one delicious bite! Summer salads never tasted so good!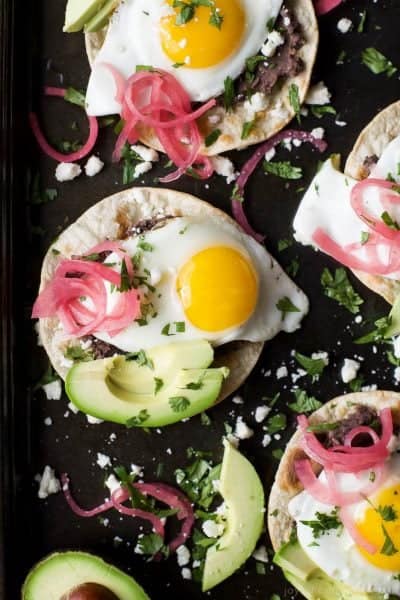 Healthy Huevos Rancheros Breakfast Tostadas topped with creamy avocado and pickled onions. These breakfast tostadas are a delicious breakfast option that are high in protein and fiber with only 292 calories a serving!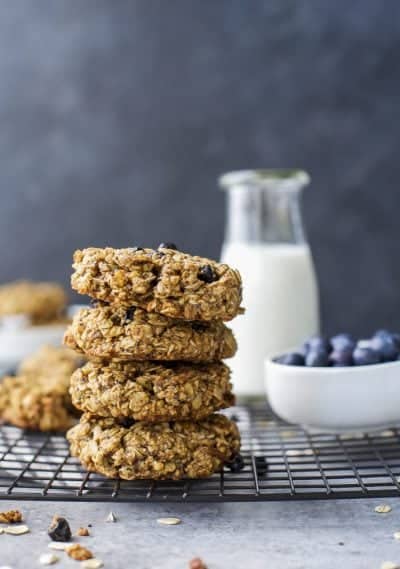 A Gluten Free Blueberry Breakfast Cookie baked to perfection, moist, naturally sweetened, high in fiber and perfect for a grab 'n go breakfast! These cookies will rock your world!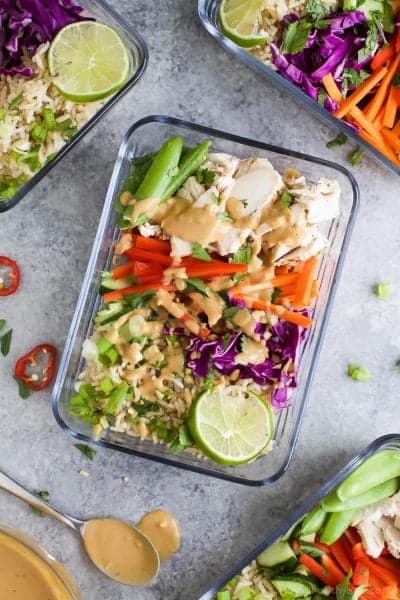 Easy Thai Chicken Grain Bowl drizzled with a Creamy Peanut Dressing. These Grain Bowls are filled with veggies, thai flavors, 17 grams of protein and come together in 15 minutes. The perfect start to a healthy new year!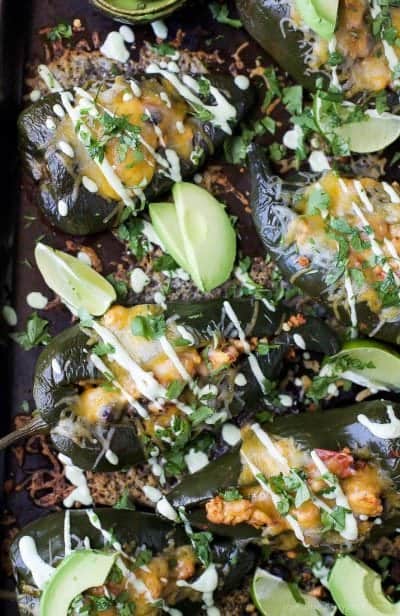 Turkey Stuffed Poblanos filled with fire roasted tomatoes and black beans then topped with melted cheese and an Avocado Crema to die for. A gluten free meal that will quickly become your families favorite!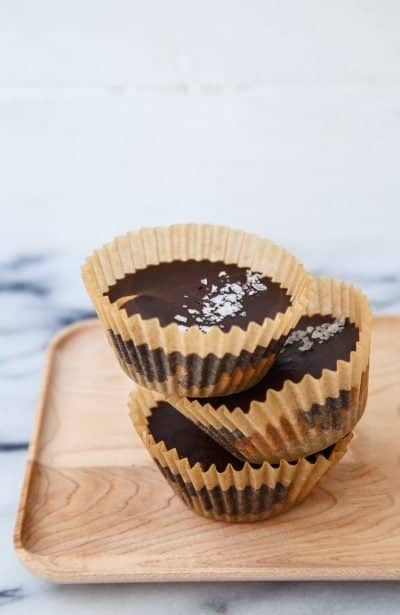 Homemade Peanut Butter Cups using simple ingredients!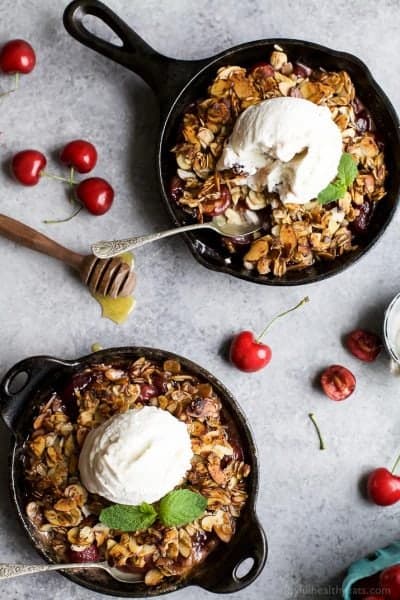 Gluten Free Cherry Crisp using fresh cherries, honey, and almonds! The ultimate HEALTHY cherry crisp recipe. It's the perfect dessert recipe for the spring and summer months!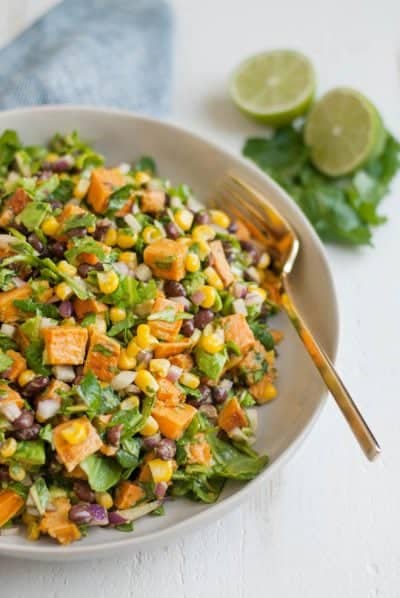 Combine roasted sweet potatoes, black beans, corn, red onion, avocado and chopped greens to create this Southwest Sweet Potato Chopped Salad. Serve with fresh avocado cilantro dressing for a light lunch or dinner!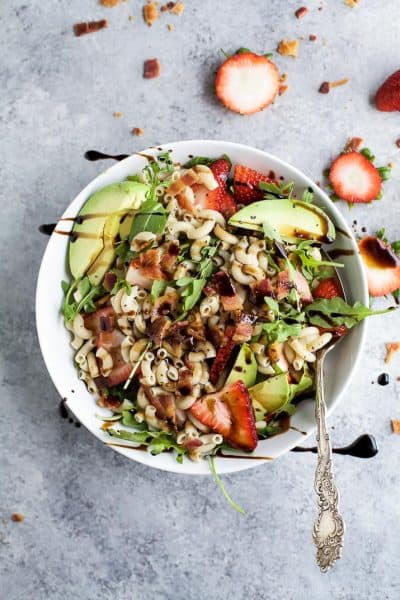 Easy Strawberry Avocado Pasta Salad tossed with fresh arugula, bacon, and a balsamic vinaigrette. The perfect summer salad or side dish to bring for all those backyard BBQ parties!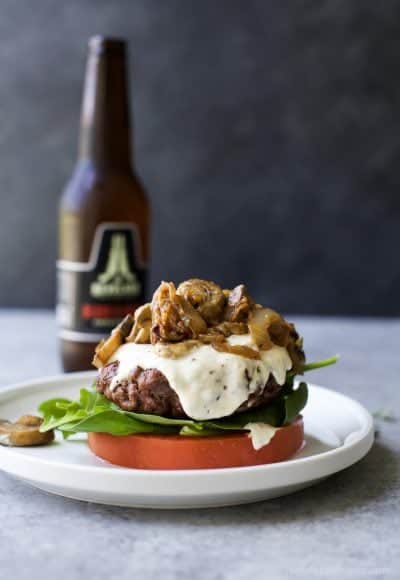 Caramelized Onion & Mushroom Burgers served "bunless" then topped with a creamy homemade Horseradish Aioli. This gluten free burger recipe will be on your menu all summer long!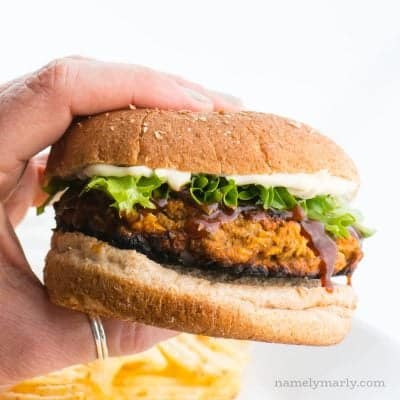 This Lentil Burger is the ultimate in tasty veggie burgers that you can make right at home! Inspire yourself and others with this healthy patty that's high in fiber, folate and flavor!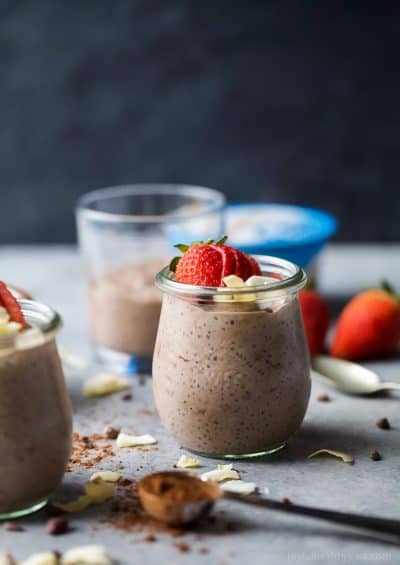 Coconut Dark Chocolate Chia Pudding – a creamy guilt free dessert that's dairy free and only 120 calories a serving.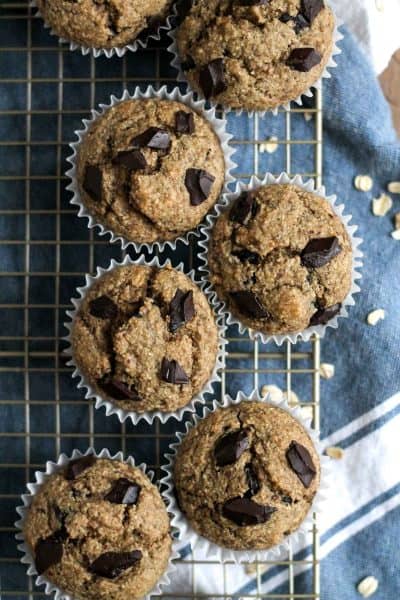 Banana Oatmeal Chocolate Chip Muffins: you would never believe that oats, bananas, and yogurt could together create something this amazing…until you try them.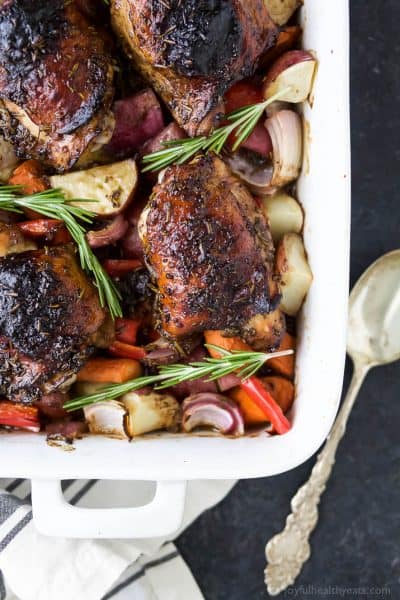 Easy One Pan Balsamic Chicken with Roasted Vegetables – a healthy paleo & gluten free recipe your family will devour! Tender juicy chicken covered in a sweet balsamic glaze has this one pan chicken bursting with flavor!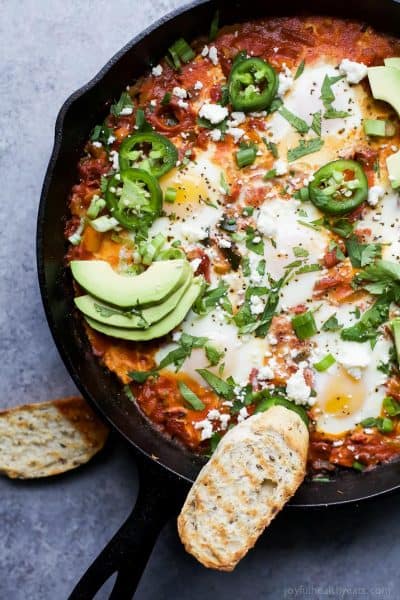 One Pot Mexican Shakshuka an easy dinner recipe made in 30 minutes only 206 calories a serving. Eggs baked in a spicy mexican inspired tomato sauce – it's egg-cellent!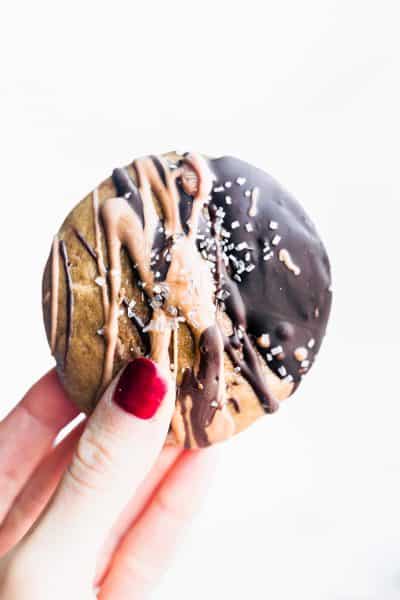 Dark Chocolate dipped Almond Butter Breakfast Cookies, paleo friendly breakfast cookie made with simple wholesome ingredients and unrefined natural sugars. Portable, easy, delicious!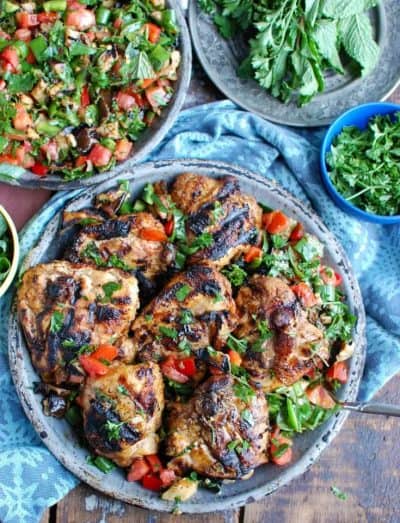 Shish Taouk Chicken Thighs with Mediterranean Eggplant Salad are a twist on traditional shish taouk grilled chicken kebabs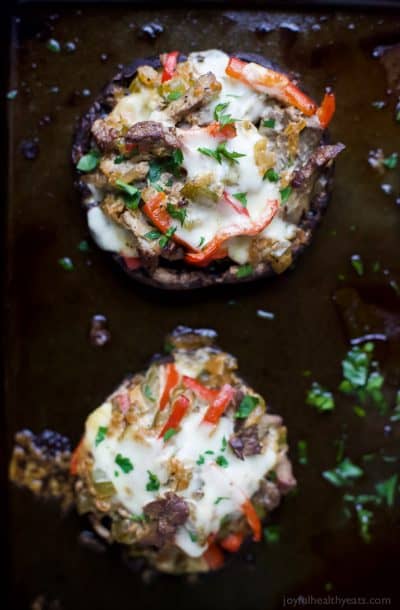 Easy Low Carb Philly Cheese Steak Stuffed Mushrooms filled with tender steak, sautéed vegetables and gooey cheese. These Stuffed Mushrooms are done in 30 minutes and loaded with flavor!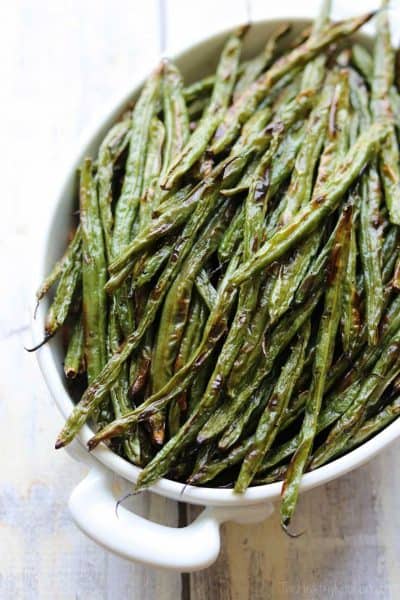 These Blistered Green Beans are the perfect accompaniment to practically any meal!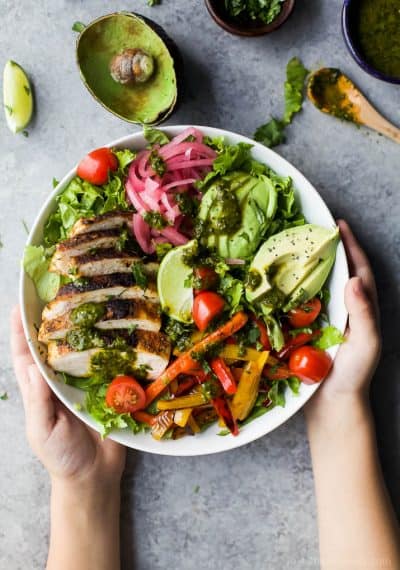 30 Minute Chicken Fajita Salad with fresh veggies, chipotle chicken, creamy avocado then topped with a zesty Chimichurri Dressing. This Chicken Fajita Salad is one flavorful dinner recipe that's sure to please any crowd.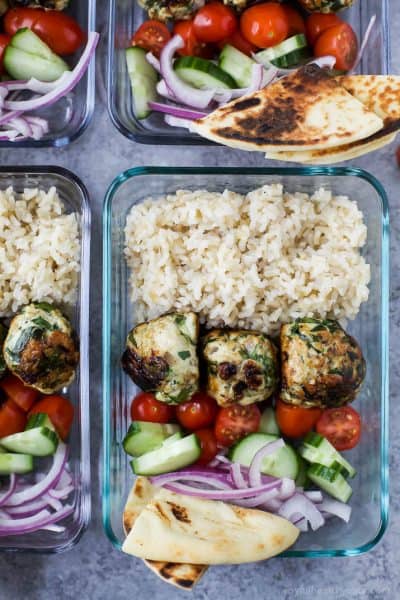 Gyro Turkey Meatball Grain Bowls drizzled in a creamy Tzatziki sauce make the perfect high protein meal prep recipe or weeknight dinner, only 370 calories a serving.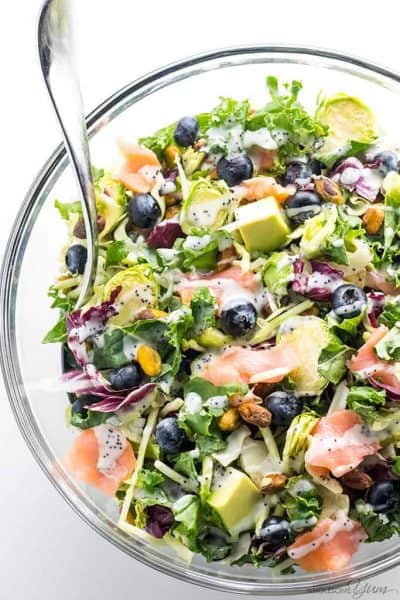 Easy sweet kale superfood salad with lemon vinaigrette, smoked salmon and avocado is like a better Costco kale salad. 5 ingredients, plus 5 in the dressing!
Easy Low Carb BBQ Chicken Pizza Stuffed Spaghetti Squash – filled with sweet tangy BBQ sauce, 22 grams of protein and gooey cheese. All your favorite things about BBQ Chicken Pizza for under 300 calories!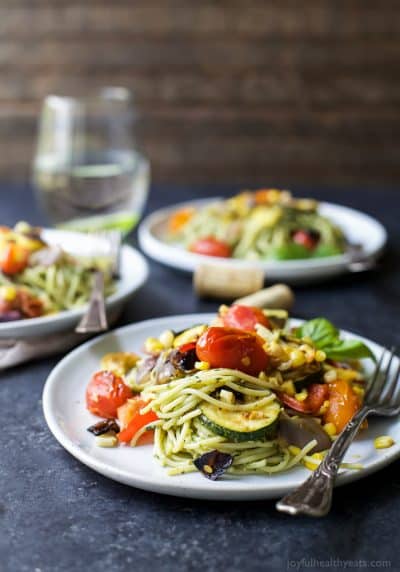 Basil Pesto Pasta tossed with fresh Grilled Vegetables a 30 minute meal your family will love! This light fresh gluten free pasta recipe will quickly become a summer favorite!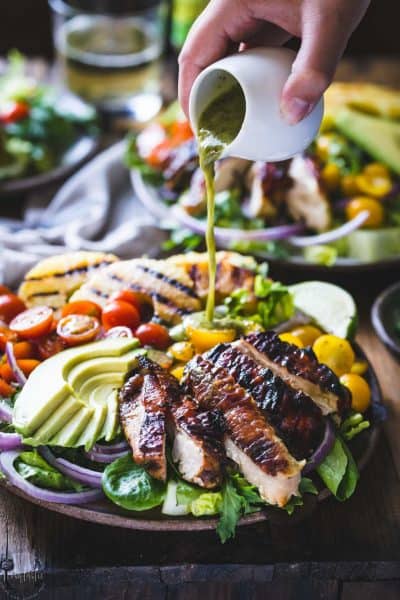 Cilantro Lime Chicken Salad, made with grilled pineapple, red onions, avocado, cherry tomatoes and served on a bed of lettuce. Healthy, Paleo and W30.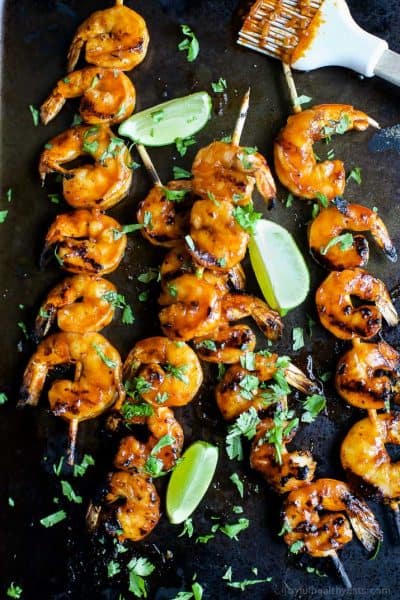 Honey Sriracha Grilled Shrimp these are hands down the BEST grilled shrimp you'll ever have and the Honey Sriracha Glaze is totally swoon worthy!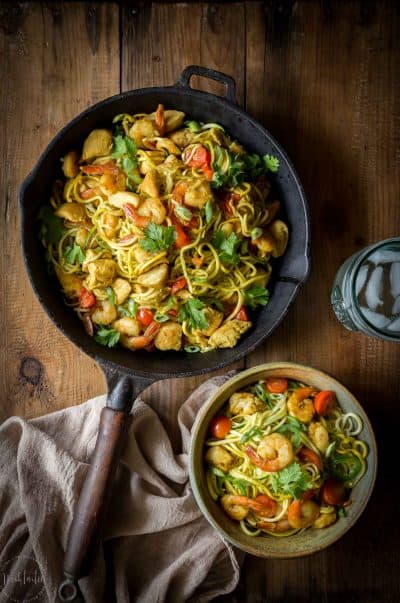 Paleo Singapore Street Noodles, made with zucchini noodles, shrimp, chicken and tasty mild curry flavored sauce with added turmeric! Gluten free, healthy and low carb with Whole30 options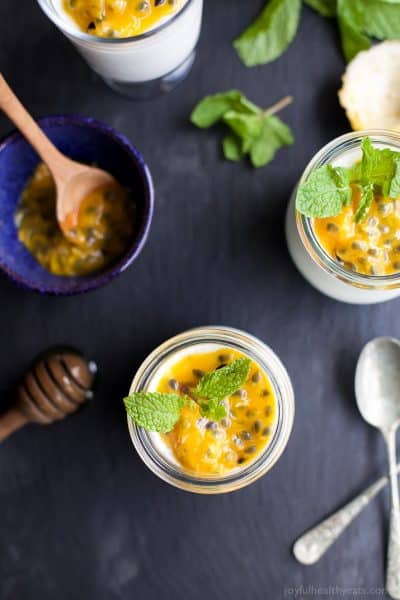 Paleo Vanilla Panna Cotta with Passion Fruit – a slightly sweet creamy Panna Cotta recipe that'll quickly become your new favorite dessert! And guess what, it's guilt free too!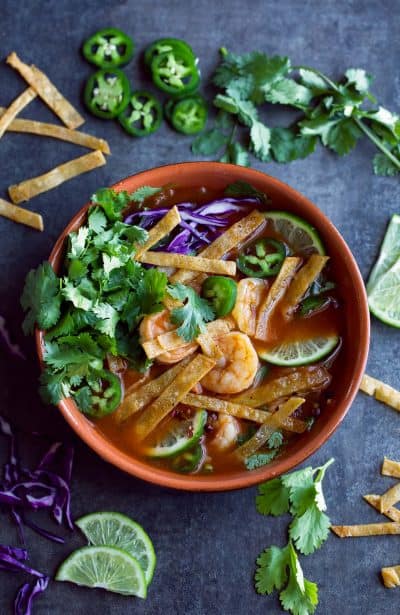 Spicy Shrimp Tortilla Soup ready in under 30 minutes and so crazy tasty! We are so totally in love with this delicious dairy-free soup.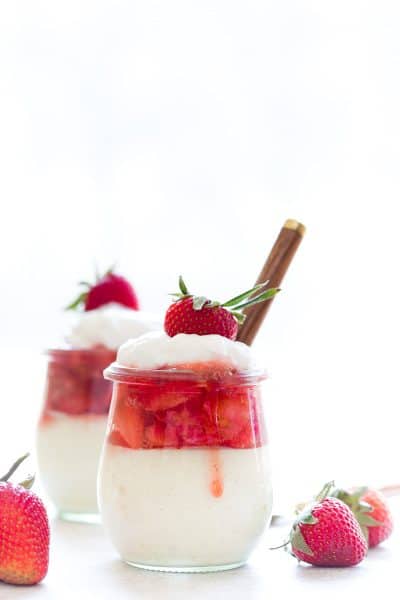 Greek Yogurt Cheesecake for two, the perfect light healthy sweet treat!
FISH TACO RICE BOWLS with avocado and pickled onions, topped with a Cilantro Lime Dressing! The perfect 30 minute meal to satisfy even the pickiest of eaters!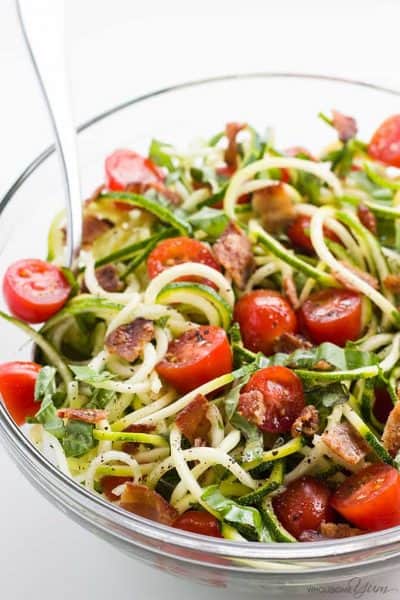 This cold zucchini noodle salad recipe is a delicious, healthy way to enjoy raw spiralized zucchini noodles. Quick & easy with common ingredients!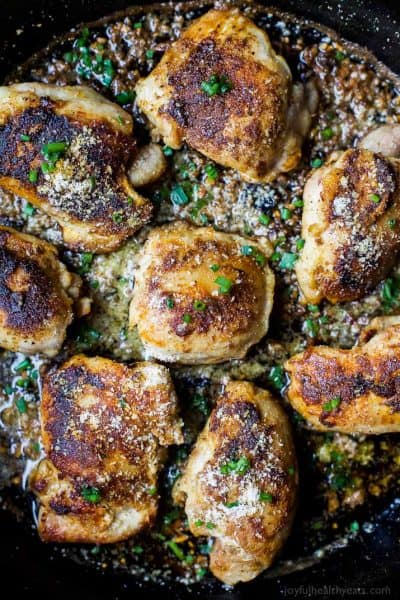 SKILLET GARLIC PARMESAN CHICKEN THIGHS, an amazing one pan skillet meal that will rock your socks off on flavor. This healthy meal is done in 30 minutes and finishes off at 262 calories a serving.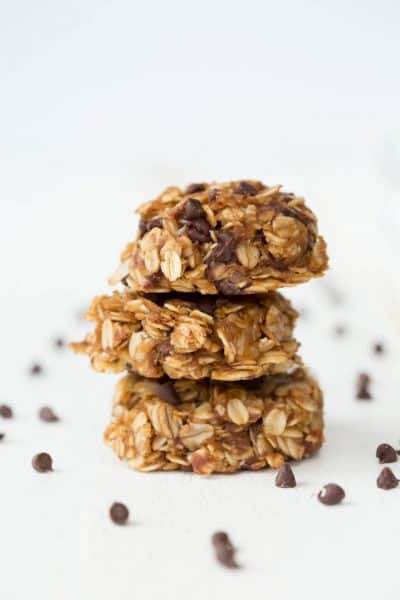 Combine a few simple ingredients and enjoy these Healthy No Bake Chocolate Peanut Butter Oatmeal Cookies for breakfast, snack or dessert! Kids and adults will love these naturally gluten-free and dairy-free no-bake cookies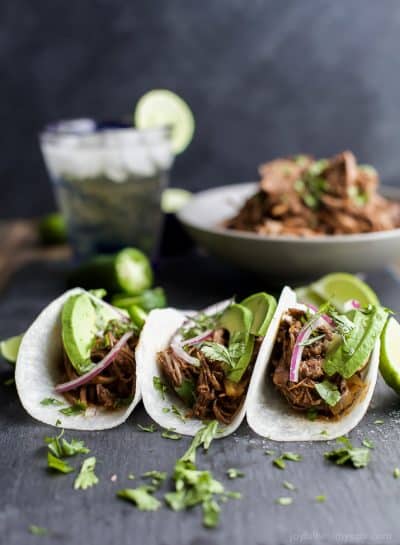 These Paleo Crock Pot Balsamic Braised Short Rib Tacos will be your new favorite Crock Pot recipe! Cuz Tacos… duh! They are sweet & spicy, easy, healthy, and totally deliver on flavor! You're gonna be in love!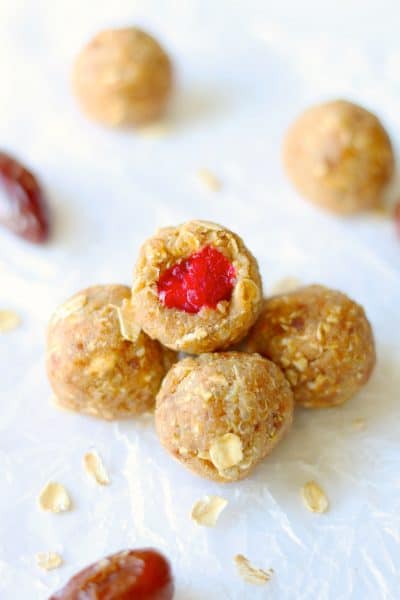 Snack healthy with No Bake Raspberry Protein Energy Bites (gluten free + vegan). These raspberry energy balls are dairy free, naturally sweetened with dates and have a raspberry center.
Healthy zucchini noodles "zucchini pasta" are tossed with lemon garlic shrimp for an easy, family favorite dinner recipe. It's naturally gluten-free and paleo-friendly and can easily be made Whole30 by replacing the white wine with chicken broth.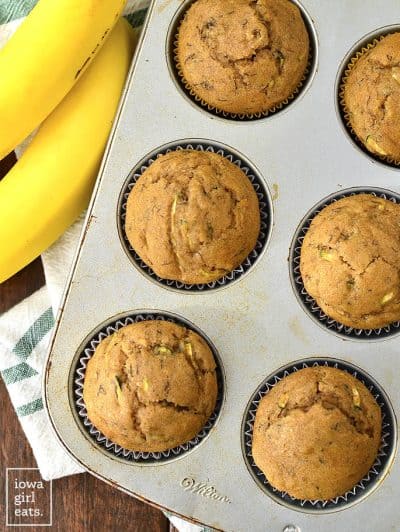 Healthier Zucchini Banana Bread Muffins are soft, squishy, and just sweet enough. Pair with coffee or tea for a tasty, gluten-free snack or breakfast idea!

DON'T MISS A RECIPE ->