39 of the Ultimate Back to School Recipes to make those school days less daunting!

39 of the Ultimate Back to School Recipes – from breakfast recipes, to snack, lunch and dinner. You're gonna love the easy recipes here to make back to school season a breeze!
Guys, this will be the first year that I actually take advantage of all those back to school recipes. I'm in need of fun lunch ideas, easy snack recipes, and of course quick dinner recipes on those nights I don't want to slave away in the kitchen.
So for your convenience and MINE I created a roundup of about 39 back to school recipes from some of the best bloggers out there! You're going to love this collection and I don't know about you. But I'm totally going to make every single one of these recipes. Starting with the homemade fruit leather! Yes please!
Bon Appetit friends! I hope you enjoy! Make sure to pin this recipe for later so you are ready for back to school season!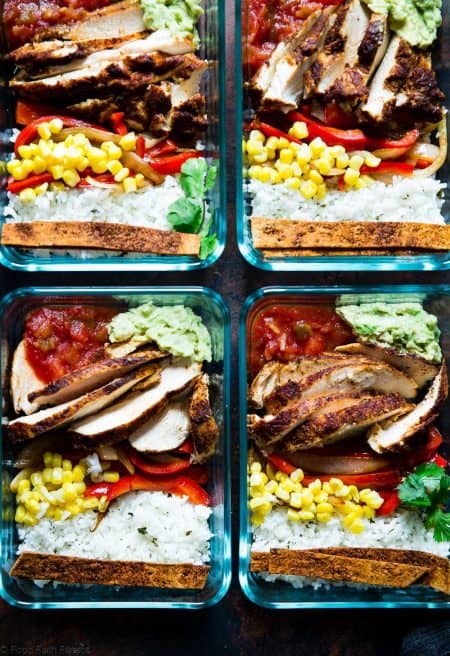 This healthy, gluten free chicken burrito bowl recipe can be made ahead of time, so it's ready to go for busy days. It's a dairy-free delicious desk lunch option!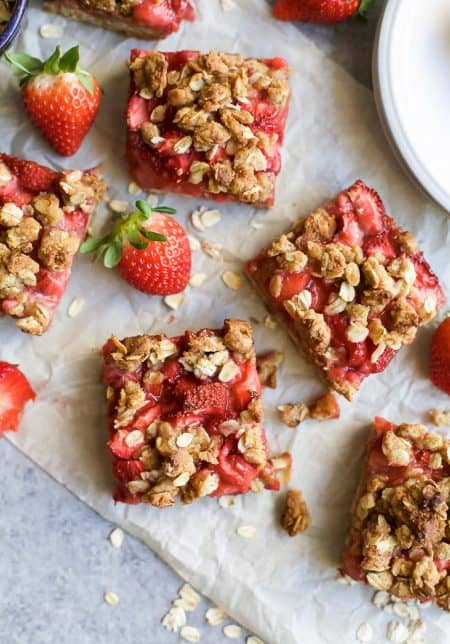 Healthy STRAWBERRY OATMEAL BARS filled with juicy strawberries and a buttery crumble topping for only 132 calories a serving! Serve it for breakfast, dessert, or eat it as a snack! Just make it!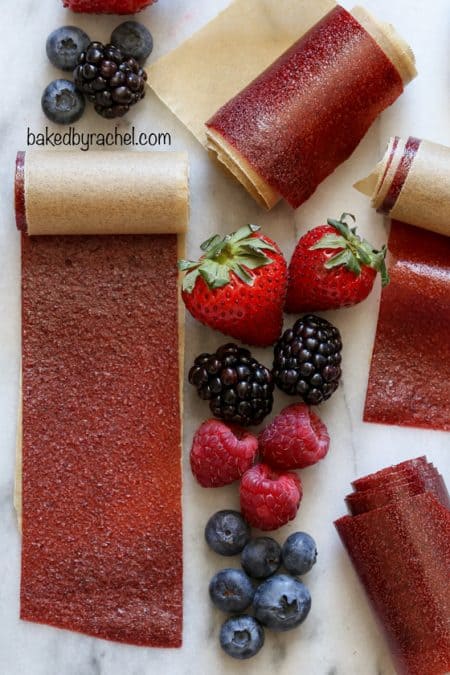 Easy homemade fruit leather, packed with four different types of berries. A fun and healthy snack for the entire family.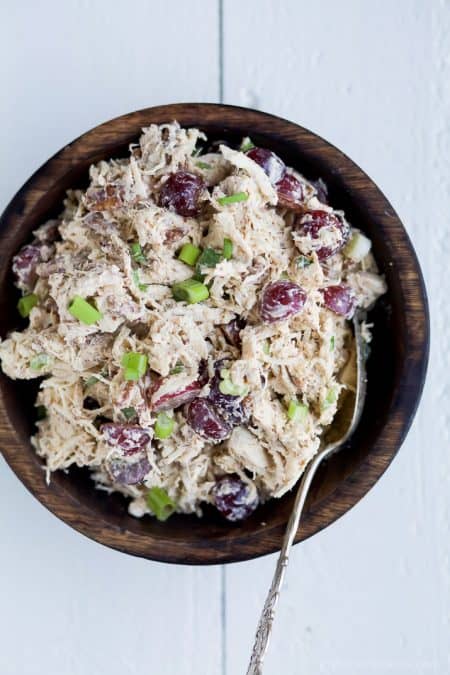 A LIGHT & EASY CHICKEN SALAD RECIPE that's low carb, high protein, and gluten free! This Chicken Salad is made with greek yogurt, mustard, grapes, and fresh lemon juice. Perfect for a quick lunch!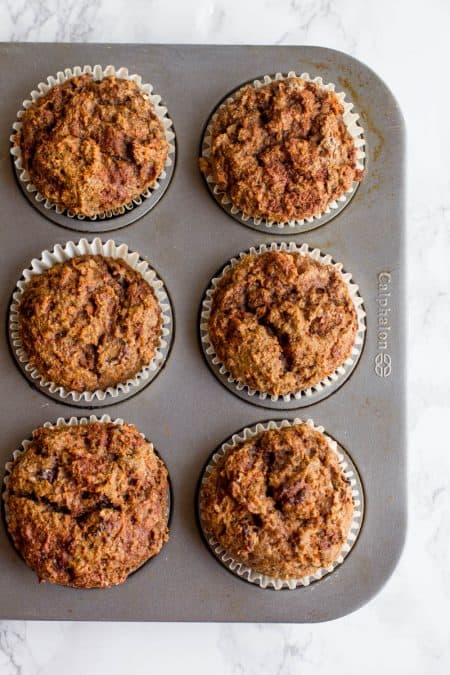 Healthy cake? Yup! Packed with whole grains, low on the sugar, and totally tasty, these healthy carrot cake muffins are a great breakfast option.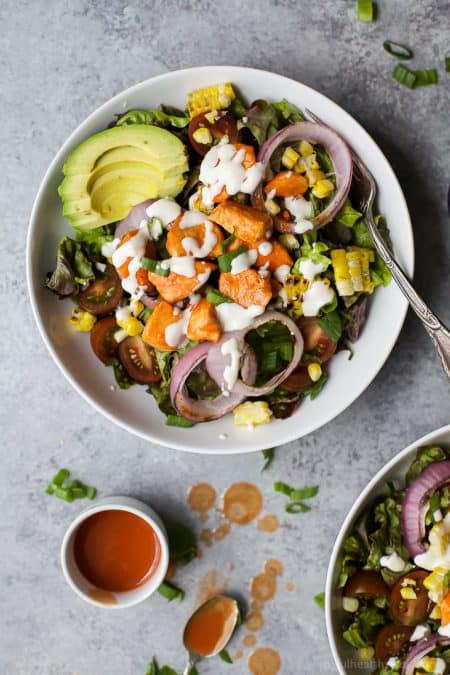 Grilled Buffalo Chicken Salad an easy 30 minute recipe smothered in buffalo sauce and filled with grilled vegetables for one delicious bite! Summer salads never tasted so good!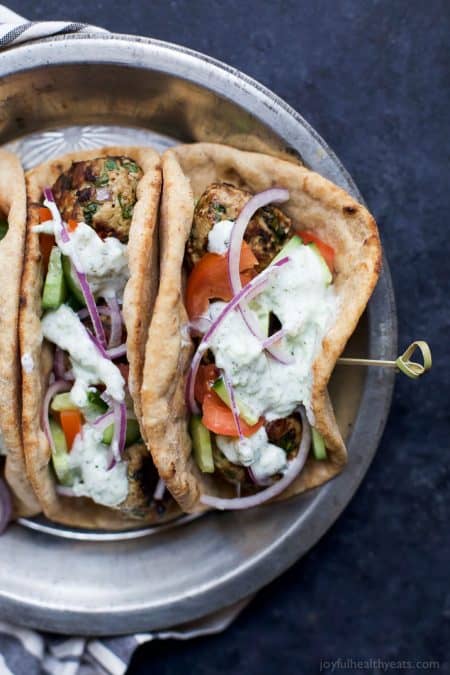 30 Minute Greek Turkey Meatball Gyros topped with a classic Tzatziki Sauce you'll want to swim in! These Gyros are the perfect healthy dinner option for the family and clock in 429 calories! Woohoo!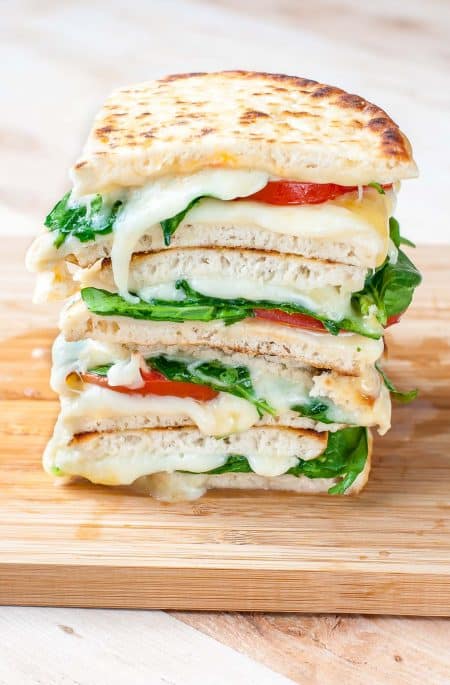 Spinach and Tomato Grilled Cheese Pitas: dunk them in your favorite soup or face-plant into them all on their own for a quick and easy lunch that's always a hit!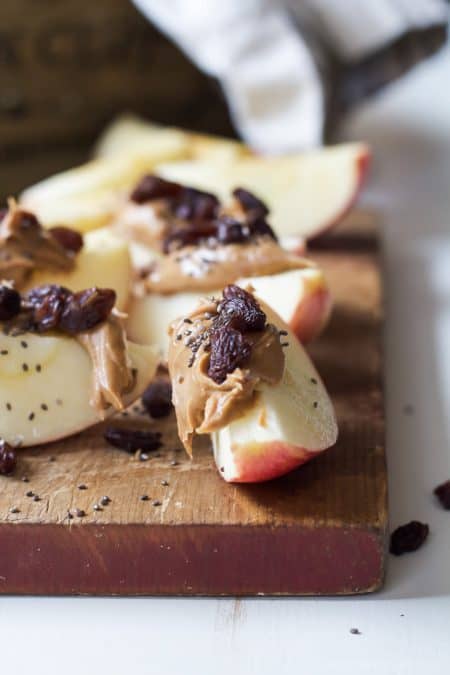 Easy Apple Peanut Butter Energy Bites, a perfect after school snack for the kids or mid day pick me up on a busy workday. These Energy Bites are loaded with peanut butter and nutrients for one delicious bite!
These Flourless Peanut Butter Waffles are not only easy to make, but also protein rich! All you need are a few healthy ingredients and they turn out light, fluffy, dairy free, and delicious!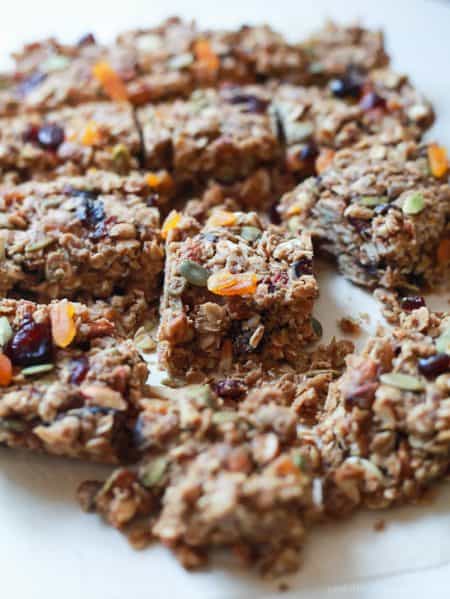 It's fall in a bar! Filled with maple syrup, pumpkin spice mix, pepitas, almonds and cranberries this No Bake Pumpkin Spice Granola Bar Recipe will make you leave the store bought granola bar days behind!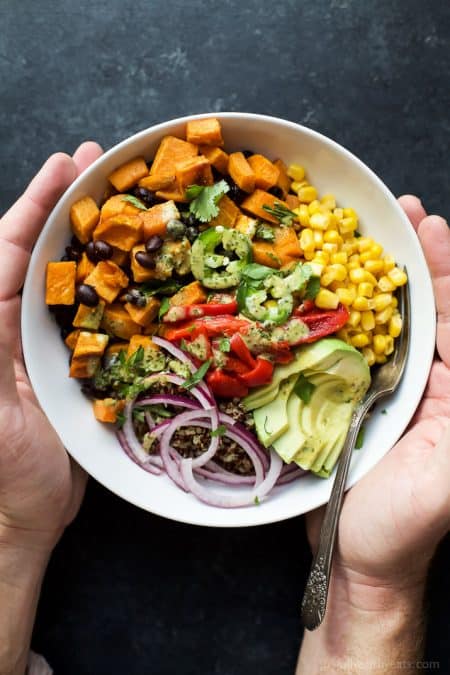 Easy SWEET POTATO BLACK BEAN QUINOA BOWLS topped with a zesty Cilantro Dressing you'll want to pour all over. A fresh vegetarian meal that will satisfy even those meat lovers!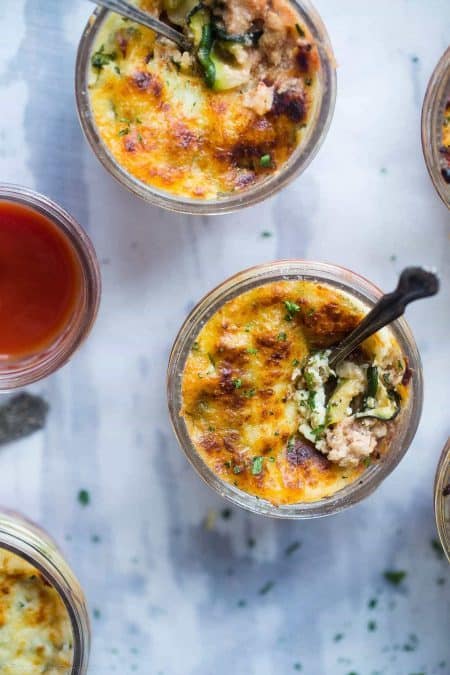 These mason jar zucchini lasagna are the perfect, portable healthy meal! They're low carb, gluten free, packed with protein and perfect to prep ahead to grab and go!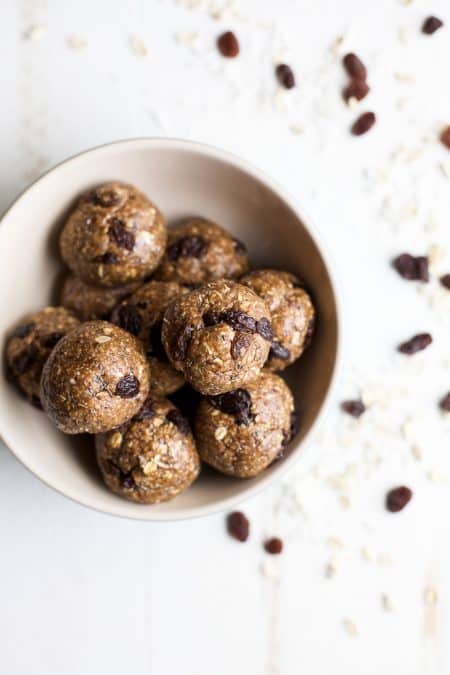 15 Minute NO BAKE OATMEAL COOKIE ENERGY BALLS, an easy healthy snack or on-the-go breakfast option! Filled with hearty oats, maple syrup, and sweet raisins, these energy balls taste just like an Oatmeal Cookie!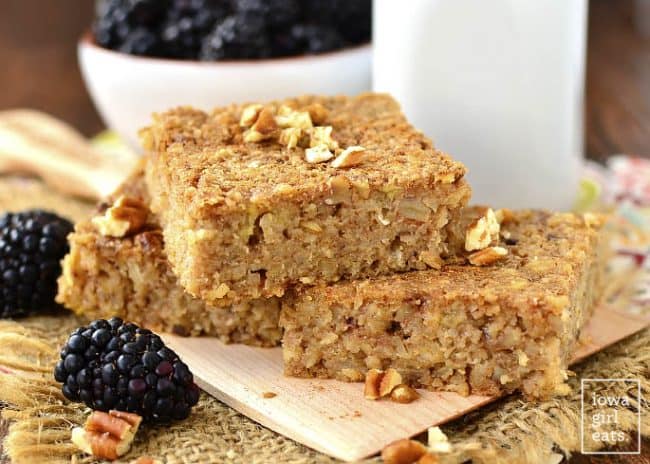 Maple-Cinnamon Oatmeal Breakfast Bars are naturally sweetened and gluten-free. Enjoy as a healthy snack or easy, on-the-go breakfast!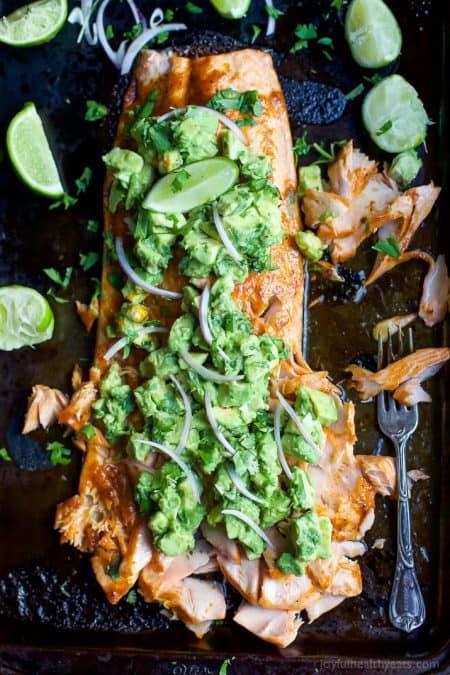 Paleo Baked Salmon that's rubbed down with a sweet & spicy spice blend then topped with a fresh zesty Avocado Salsa! This easy healthy recipe is done in less than 30 minutes!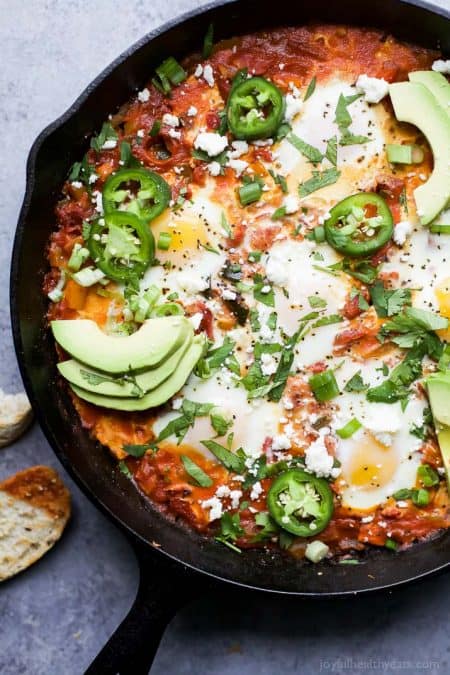 One Pot Mexican Shakshuka an easy dinner recipe made in 30 minutes only 206 calories a serving. Eggs baked in a spicy mexican inspired tomato sauce – it's egg-cellent!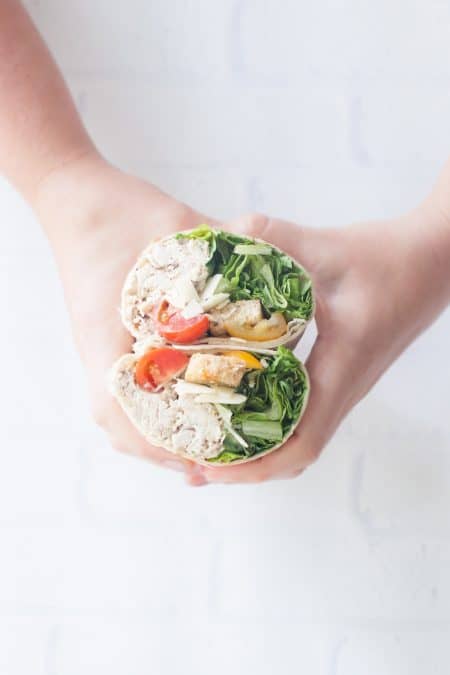 A few healthy shortcuts mean these Easy Chicken Caesar Wraps come together in less that 10 minutes—making them perfect for a healthy lunch or busy weeknight dinner.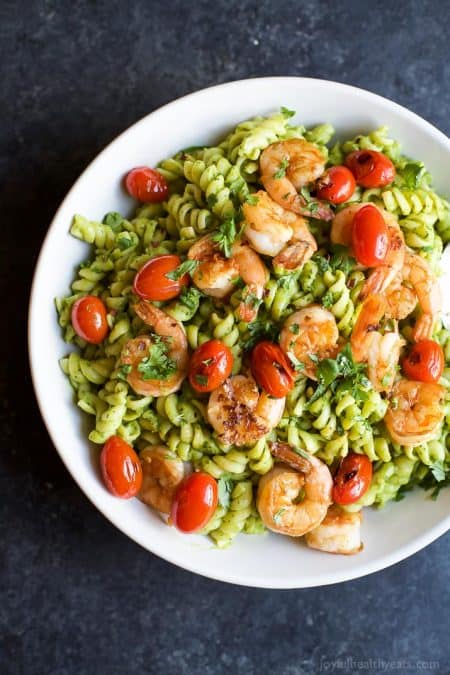 Chimichurri Avocado Pasta with Pan Seared Shrimp, a zesty healthy 25 Minute Pasta you'll feel good about feeding your family! Plus it's loaded with fiber, protein, and healthy fats!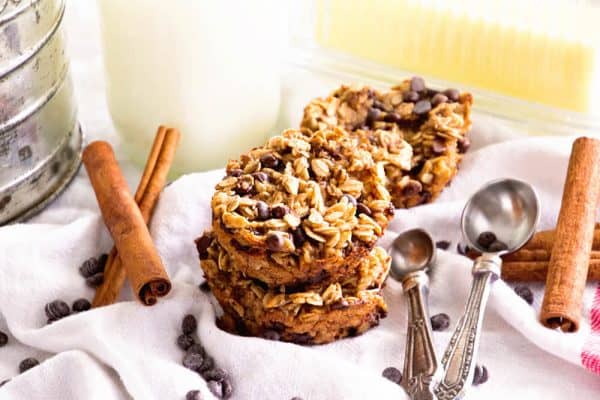 Chocolate Banana Baked Oatmeal Cups ~ Perfect for Breakfast, School Lunches and Snacks! These Baked Oatmeal Cups are Packed with Protein, Make Ahead and Freezer Friendly!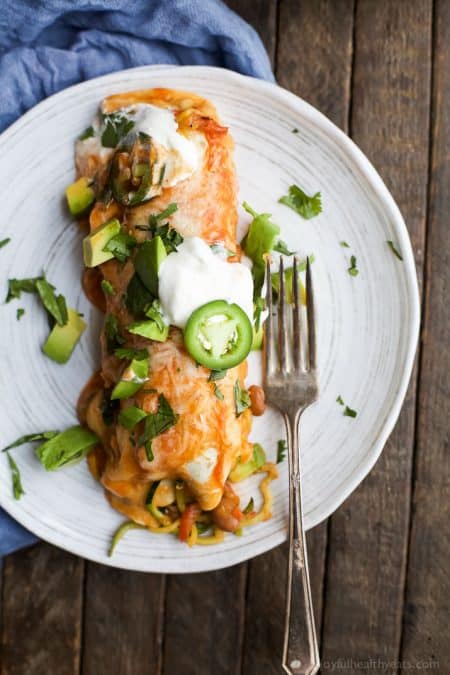 Inspiralized Vegetable Enchiladas are a easy light 30 minute meal. Perfect for your next taco night!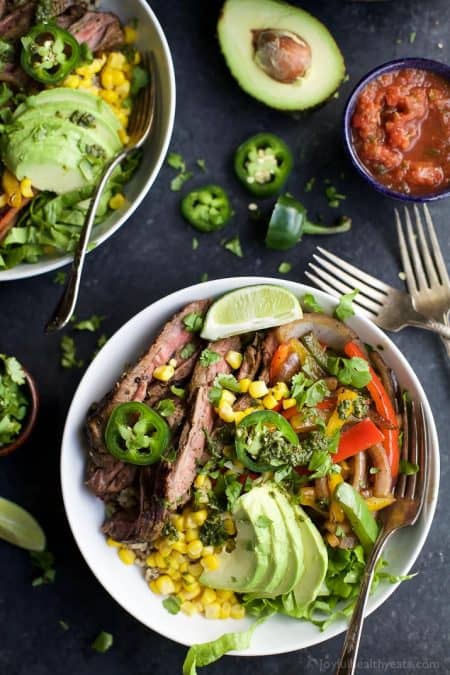 Homemade STEAK FAJITA BURRITO BOWLS filled with quinoa, fajita steak, avocado and a cilantro lime chimichurri sauce you'll adore. This quick Burrito Bowl is done in 30 minutes and is sure to be a favorite!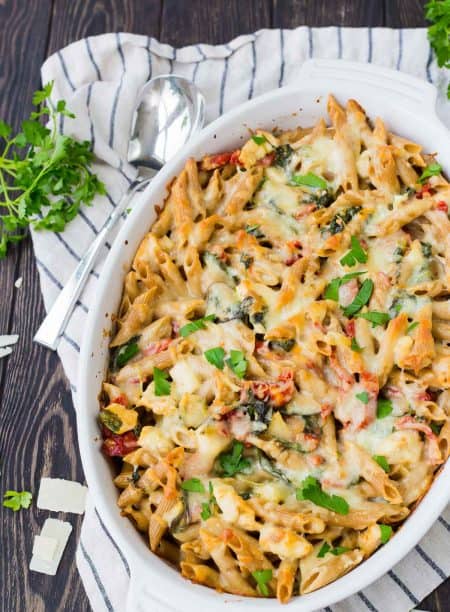 Creamy, flavorful, and healthy, this Chicken Tuscan Pasta Bake is perfect to eat right away or to prep ahead and freeze for another day. Great for sharing with people in need of a meal, too.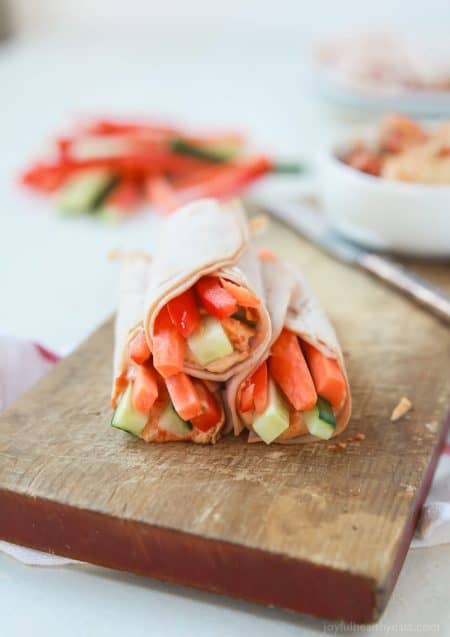 Lunch just got easier with these Gluten Free Veggie Turkey Rollups! Only 5 ingredients, bread free, less than 200 calories a serving and every bit as satisfying.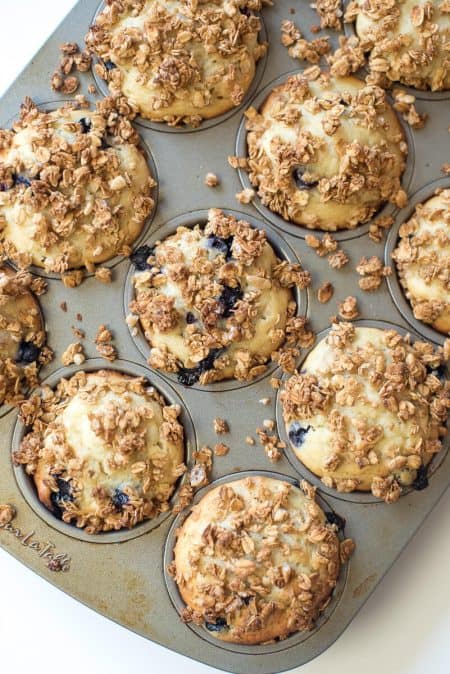 A little granola does something very special to a blueberry muffin recipe. Blueberry Granola Crunch Muffins are a delicious way to start your day!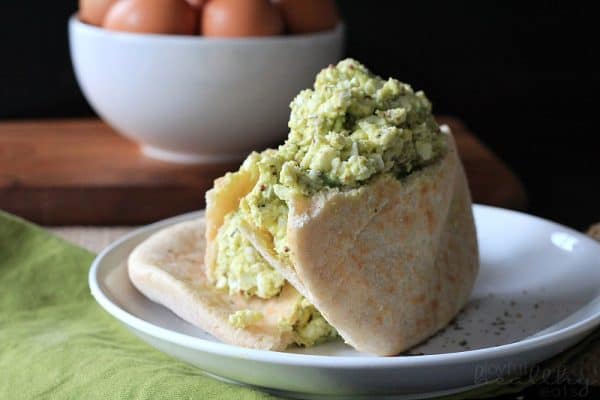 A low carb creamy, green, and tangy Avocado Egg Salad, the "mac-daddy" of all Egg Salads with a minimal amount of mayonnaise.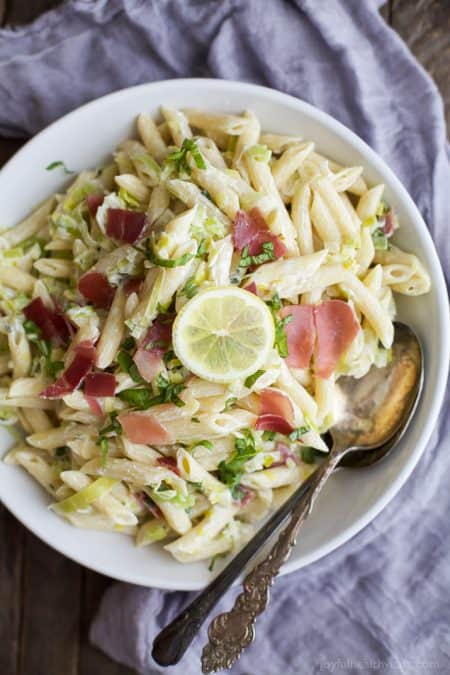 Creamy Lemon Pasta with salty Prosciutto – this pasta recipe is easy to make, filled with flavor, and guaranteed to be a new family favorite!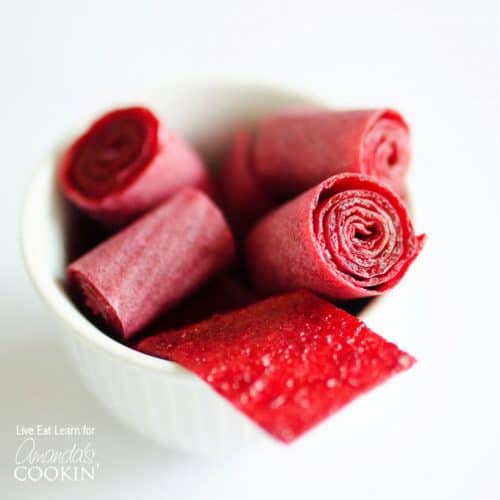 These easy homemade fruit roll ups have just 3 ingredients and require only a blender and an oven. They're a fun and healthy snack that the whole family is going to love!
Buffalo Chicken Quinoa Bowls topped with avocado, tomato, shredded buffalo chicken, drizzled with ranch and served on a bed of quinoa. Football food just got a healthy facelift!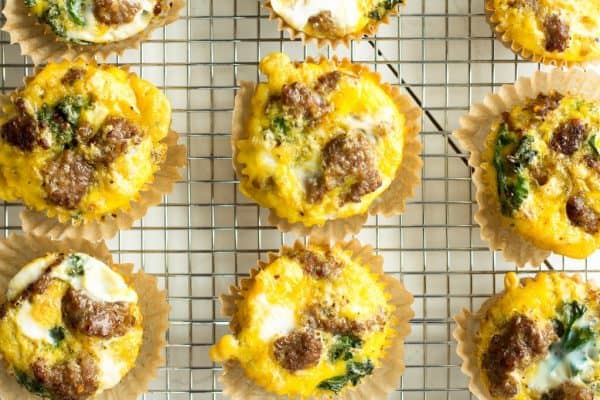 These sausage and kale make ahead egg muffins are a low carb, grain free, high protein breakfast that you can make ahead and store in the fridge.
Easy 15 Minute Cauliflower Chicken Fried Rice that's way better than takeout and tons healthier for you, clocking in at a whopping 205 calories a serving! PS you're kids will never know its cauliflower not rice!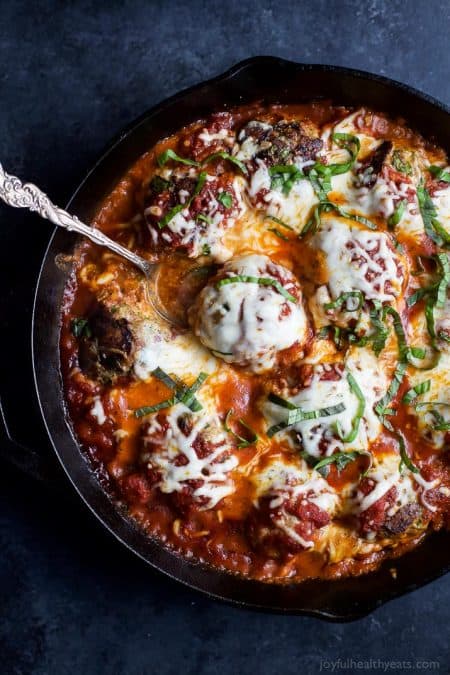 Cheesy Baked Turkey Meatballs cooked in Marinara sauce to keep them flavorful and moist. A comfort food that only takes 30 minutes to make! Holla!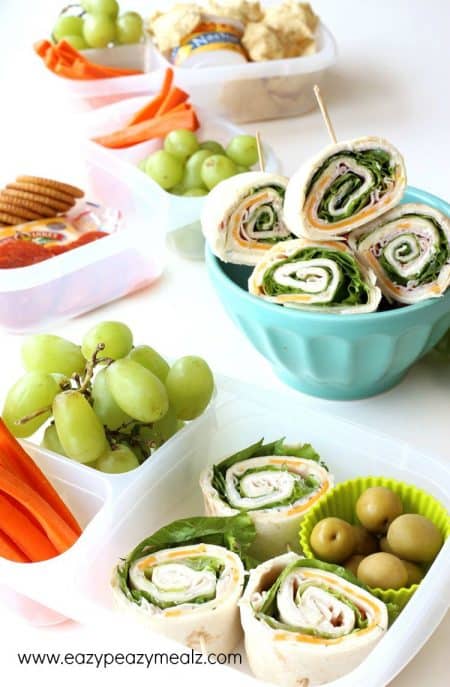 Easy to make Turkey Pinwheels have great flavor and are a fun (but still simple) alternative to a traditional sandwich!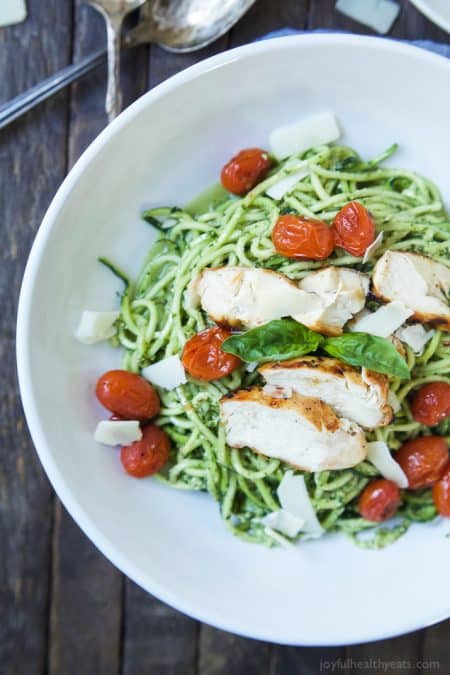 An easy dinner recipe for a busy week, and no stove needed! Pesto Chicken Zoodles with Burst Tomatoes, full of bold flavors, high in protein, and in low carbs! Your family will love it!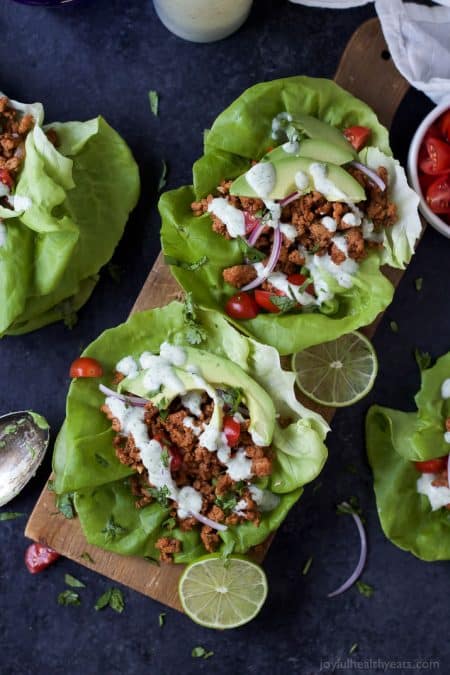 Ground Turkey Tacos in Lettuce Wraps topped with a fresh Cilantro Lime Crema – a great healthy weeknight meal option that's full of flavor and gluten free!
Peanut Butter Honey No Bake Granola Bars ~ Easy, No Bake Granola Bars are Flavored with Peanut Butter and Sweetened with Honey!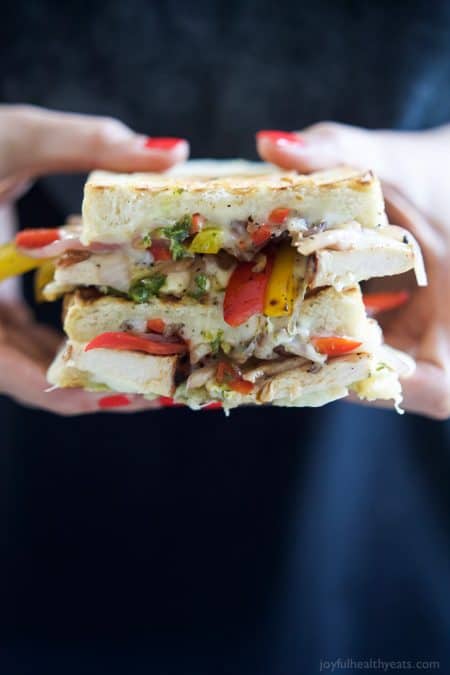 A Grilled Chicken Fajita Panini filled with juicy spice rubbed chicken, grilled peppers and onions, creamy fontina cheese, and zesty chimichurri for the perfect sandwich bite. You'll want this sandwich for lunch AND dinner!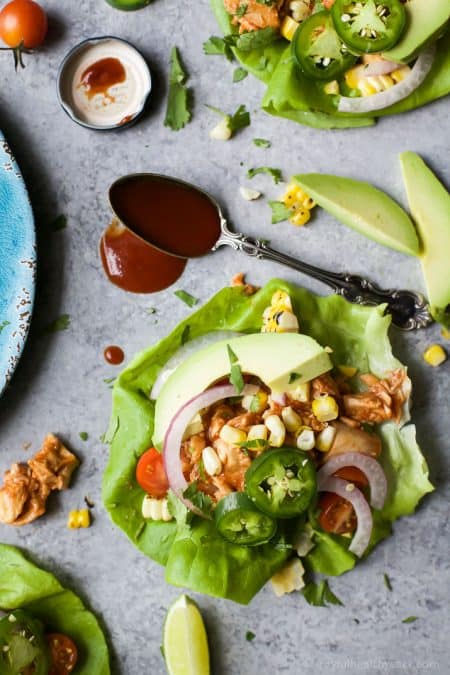 20 Minute BBQ Chicken Tacos with a short cut you're gonna love. This Chicken Tacos are loaded with light fresh flavors and are less than 300 calories a serving!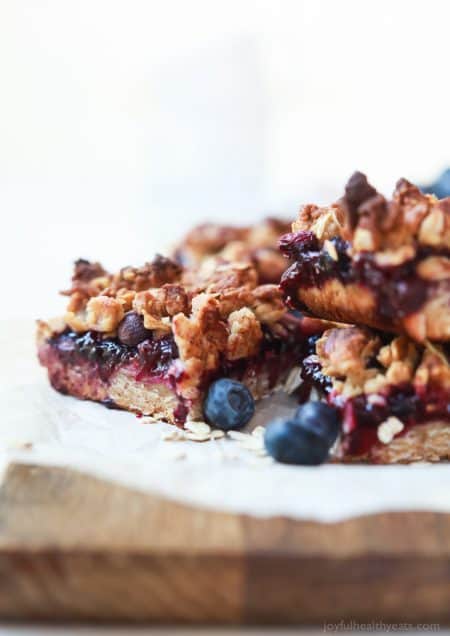 Lemon Blueberry Oatmeal Bars, filled with fresh fruit, lemon zest, and topped with a crumble that you won't be able to stop munching on! These Bars are easy to throw together and make a great breakfast, snack, or even dessert!