30 of the Best Quick & Easy Low Carb Recipes your family will love. Fast and easy dinner ideas that anyone can whip up in minutes, absolutely delicious and most of these are 30 minutes and keto friendly!
Some of my favorite low carb recipes are in this round up, recipes like my Cheese Zucchini Ravioli or Chicken Alfredo Stuffed Spaghetti Squash, you're going to love it!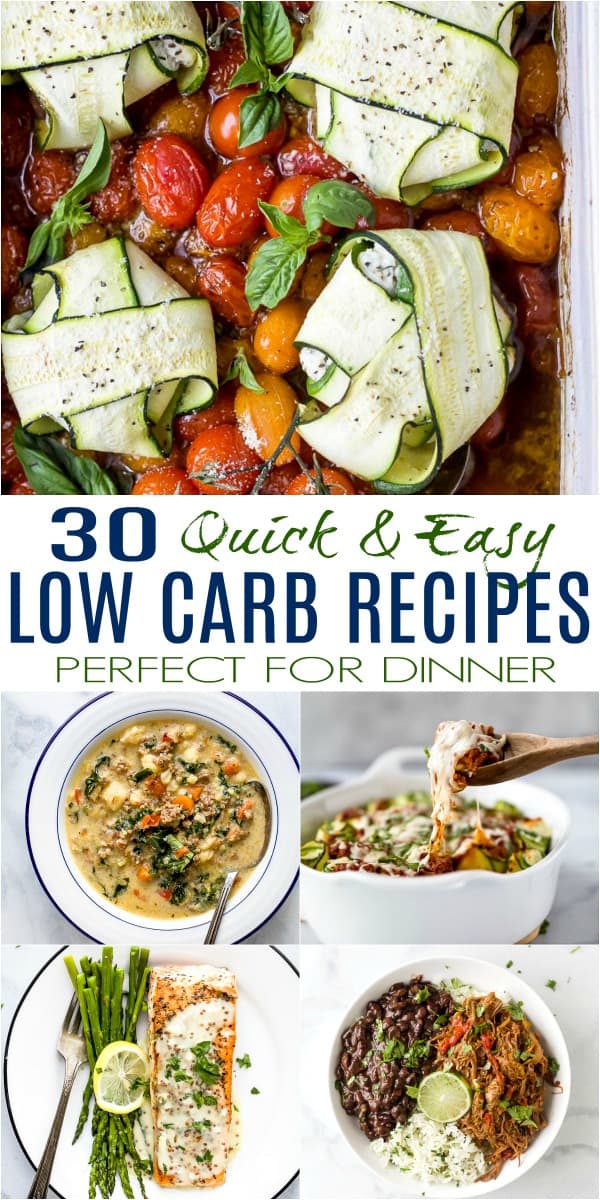 Low Carb Dinner Recipes
Yup, still recovering from one absolutely incredible extremely memorable trip to Napa Valley and Sonoma County. I literally cannot even describe to you the things we all did. I told Mike it felt like I was living out a photo shoot from Food & Wine Magazine or some hallmark movie. We went to about 5 different wineries while we were there. Each experience was different and totally over the top amazing, and then two of the evenings we had personal chefs that specialized in outdoor open flame dinners feed us. Y'all the food was killer and now I'm totally inspired the next time I have a dinner part. Wood fire pizzas for everyone! YUM!
But enough about that. Let's talk about how I'm going to make your life easier. Today's post is a one stop shop for all the delicious low carb recipes you can handle. I linked up 30 of the BEST Quick & Easy Low Carb Recipes I can find on my site and put them in one spot. All of these recipes are absolutely incredible, most of the them can be made in 30 minutes or less as well as are Keto Friendly (if that's your jam).
Bottom line. If you like good food. You're going to love this roundup. Make sure you pin it because you'll be using it all year round as an easy dinner idea resource! Trust me. Bon Appetit friends!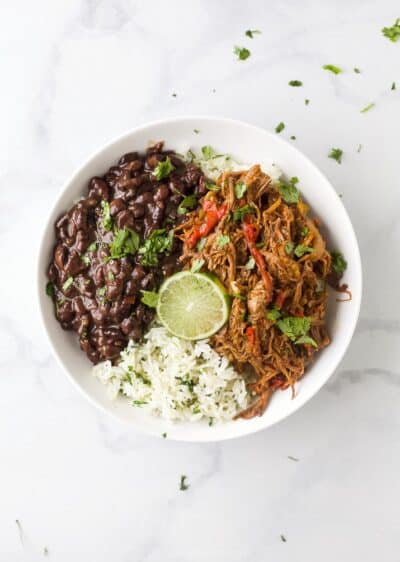 Cuban Ropa Vieja is also known as Shredded Beef, and this easy recipe is made in the Crock Pot. Seared beef covered with onions, garlic and peppers then braised in a flavorful green chili tomato sauce until it is fall apart tender. The ultimate easy dinner recipe that's great all year round!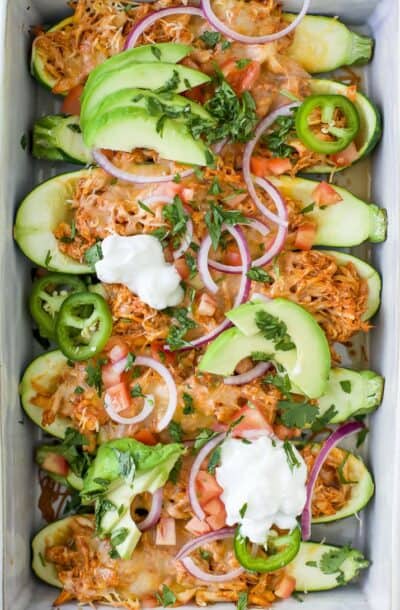 Easy Chicken Enchilada Zucchini Boats with red chili sauce and melted cheese. A 30 minute meal that's gluten free, low carb, high protein and perfect for a weeknight dinner.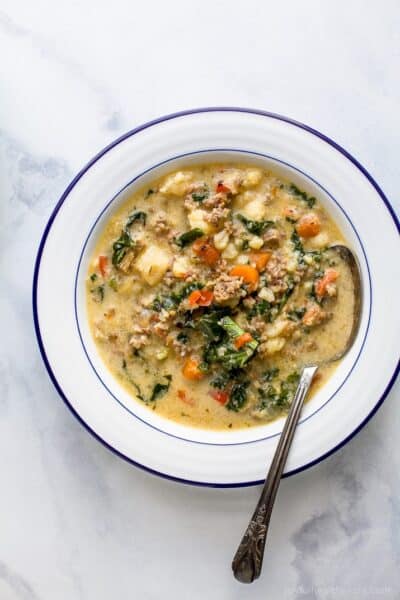 Instant Pot Zuppa Toscana Soup loaded with sausage, bacon, cauliflower and kale. This Zuppa Toscana recipe is low carb, dairy free, paleo and keto! It's an Olive Garden Copycat recipe that's guaranteed to be a hit!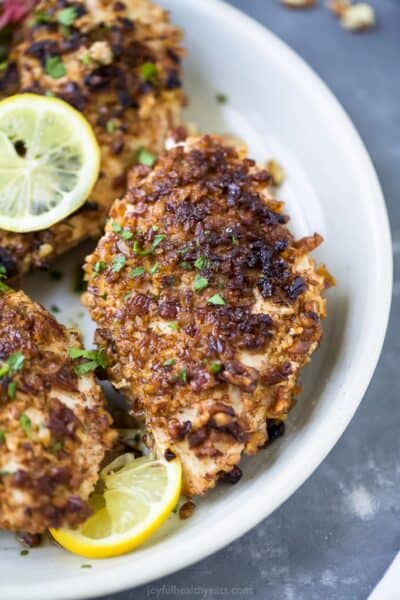 Light & easy Keto Pecan Crusted Chicken Recipe. Coated with a smoky pecan mixture and sautéed to perfection – this quick dinner recipe will become a staple in your home!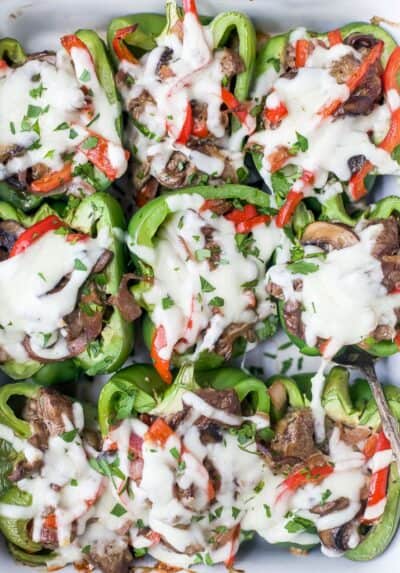 These Easy Philly Cheesesteak Stuffed Peppers are a healthy dinner idea that can easily be meal prepped. Low Carb Keto Stuffed Peppers filled with cheesy steak goodness, they taste just like a philly cheesesteak minus the bread!
Pan Seared Salmon drizzled with a Creamy Dijon Sauce – this easy flavorful dinner will impress and takes just 30 minutes. Pan seared salmon is delicious on it's own but topped with this dairy free creamy dijon sauce totally takes it up a notch.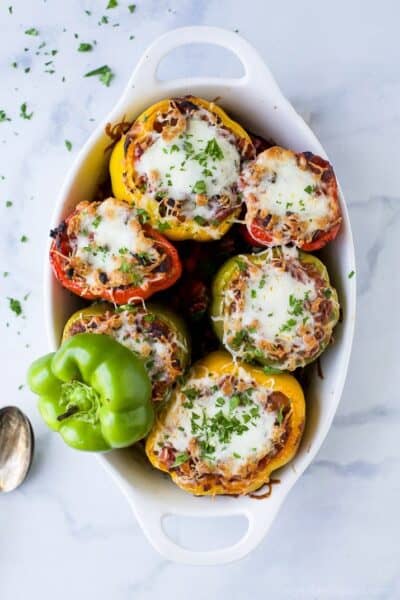 Gluten Free Turkey Bolognese Stuffed Peppers a simple dinner recipe filled with rich flavor your family will love. These Stuffed Peppers make the perfect comforting weeknight meal!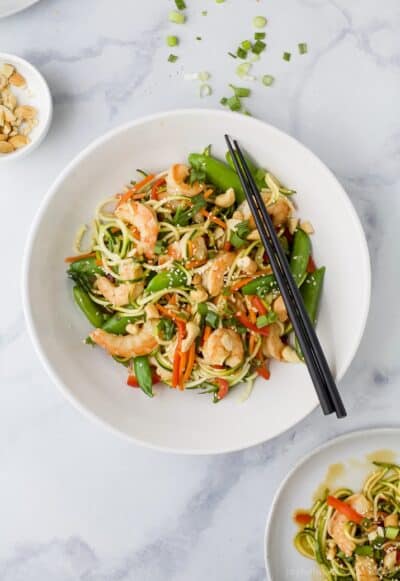 25 Minute Light & Easy Shrimp Stir Fry with Zucchini Noodles a healthy high protein low carb dinner your family will love!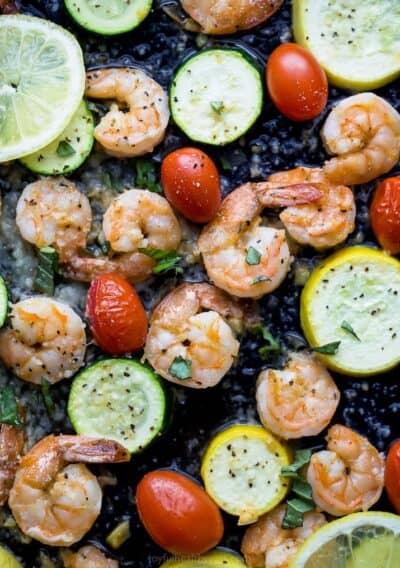 This easy Garlic Parmesan Roasted Shrimp and Zucchini recipe is a healthy low carb, high protein dinner. A 30 minute simple roasted shrimp recipe is made in the oven on one sheet pan for easy cleanup!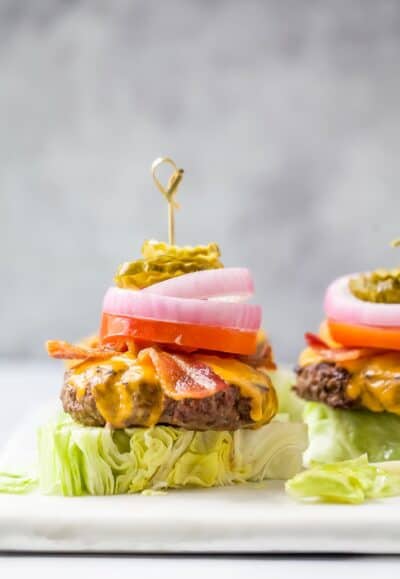 The Perfect Keto Bacon Cheeseburger made with lean ground bison served on a wedge of lettuce and topped with classic burger fixings. This low carb Bacon Cheeseburger is one epic summer grilling recipe – juicy, cheesy and loaded with flavor! Perfect for the 4th of July or Summer BBQ's!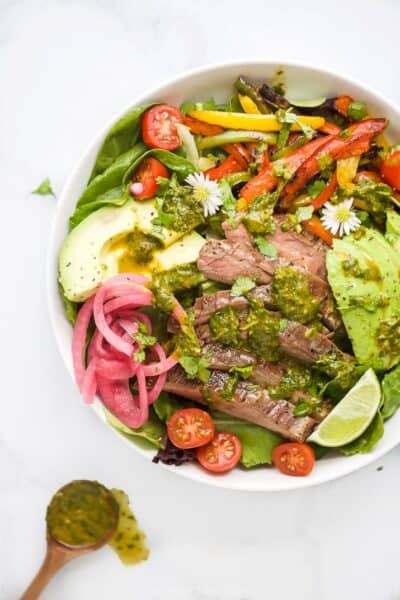 An easy Grilled Steak Fajita Salad that's loaded with tender steak, veggies, avocado and a quick zesty chimichurri dressing. This is a healthy low carb Mexican dinner recipe that you can throw together in 30 minutes.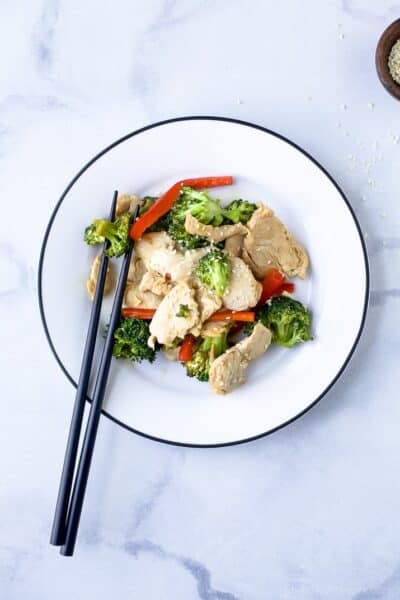 Chicken and Broccoli Stir Fry that takes 30 minutes to make and way healthier than take out. This easy stir fry recipe is low carb, high protein, gluten free and filled with asian flavor!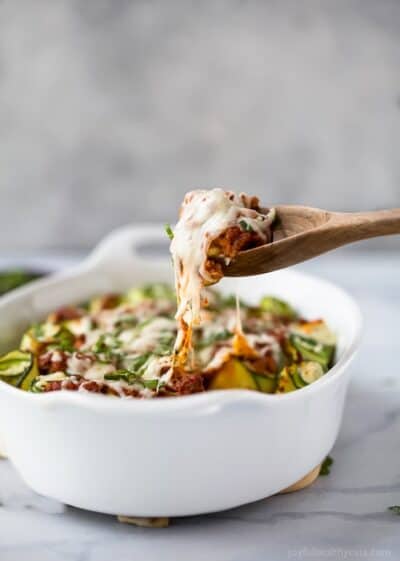 Low Carb Zucchini Lasagna Roll Ups with a homemade Meat Sauce – the perfect healthy comfort food! A ricotta filling wrapped up with zucchini noodles then topped with sauce and more cheese for one delicious bite!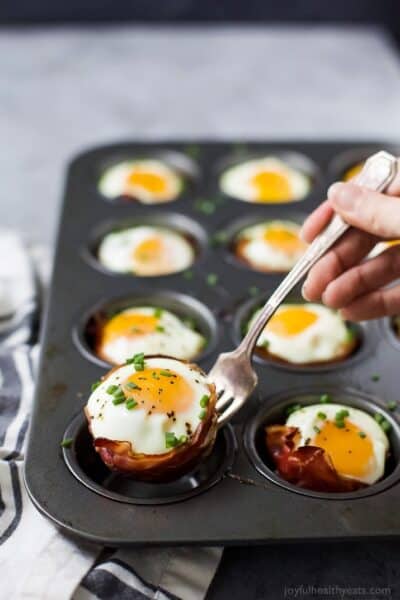 PROSCIUTTO BAKED EGG CUPS are an easy make ahead breakfast your family will love. Baked in an Italian ham (Prosciutto) shell with eggs cooked to perfection. These grab 'n 'go baked egg muffin cups boast 10 grams of protein per serving with only 116 calories!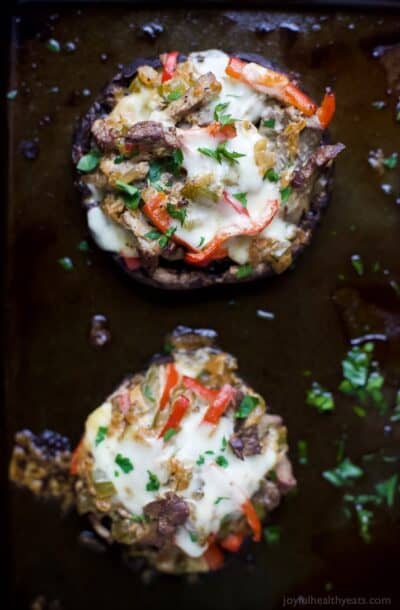 Easy Low Carb Philly Cheese Steak Stuffed Mushrooms filled with tender steak, sautéed vegetables and gooey cheese. These Stuffed Mushrooms are done in 30 minutes and loaded with flavor!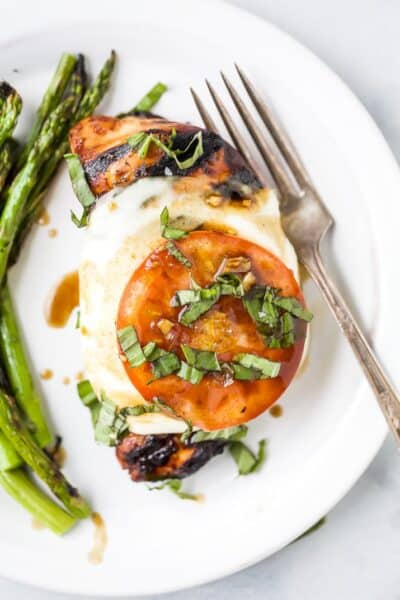 Easy Grilled Balsamic Caprese Chicken – the ultimate summer grilling recipe! Juicy delicious balsamic marinated grilled chicken breast topped with vine ripe tomatoes, melting fresh mozzarella and basil! A perfect healthy dinner recipe everyone loves that comes together in minutes.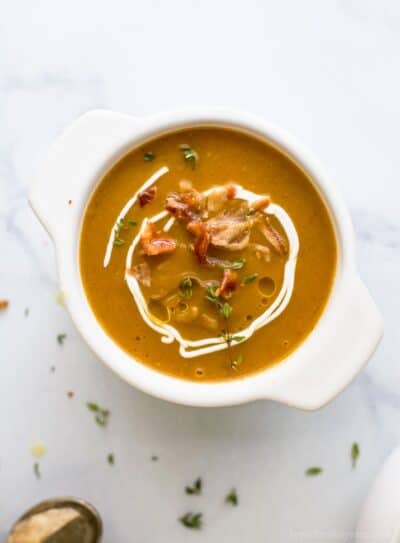 Paleo Instant Pot Autumn Squash Soup, filled with butternut squash, acorn squash, tummy warming spices and topped with bacon. An easy creamy squash soup that's guaranteed to be the star of the fall!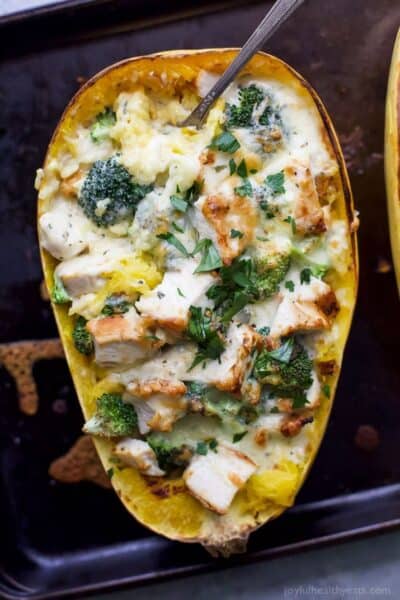 Chicken Alfredo Stuffed Spaghetti Squash, a delicious dinner recipe that screams comfort food but in a healthy way. Tender Spaghetti Squash filled with chicken, broccoli then covered in a creamy cheese sauce!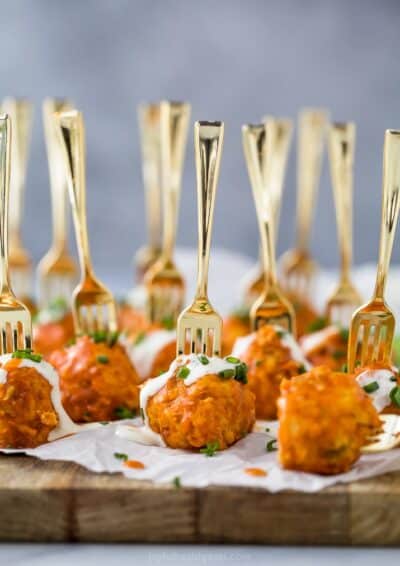 You'll love this Crockpot Buffalo Chicken Meatballs recipe, a lighter healthier version of your favorite buffalo wings! These are so easy to make, they're the perfect party appetizer!
Roasted Cauliflower Steaks topped with a tangy Cranberry Apple Chutney. This vegan recipe makes the perfect vegetarian main course for the holiday months!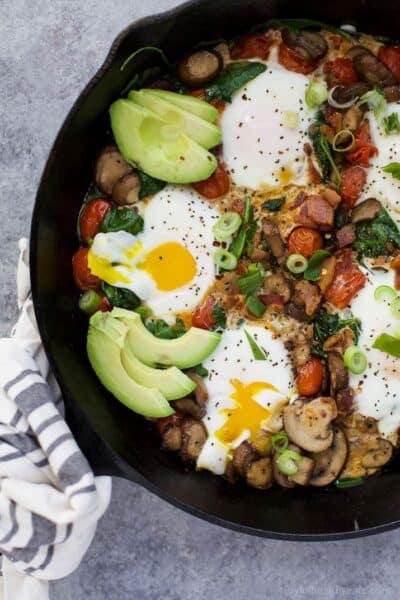 An easy gluten free Spinach Mushroom Breakfast Skillet that comes together in less than 30 minutes! This Breakfast Skillet is loaded with fiber and then topped with a runny egg and avocado. Perfect for brunch or dinner!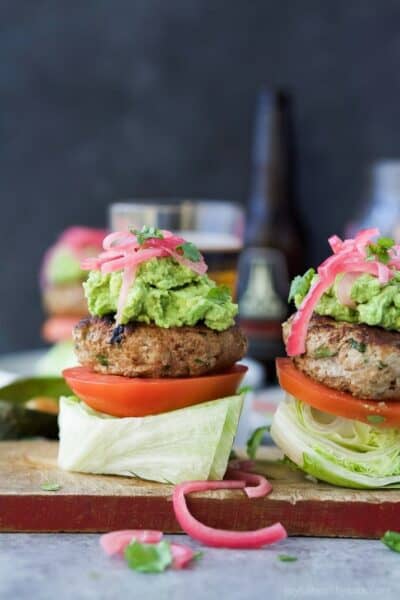 Healthy Paleo Chipotle Turkey Burgers filled with tex-mex flavor then topped with zesty guacamole and pickled onions. These Turkey Burgers are low carb, high in protein, done in 30 minutes and guaranteed to be a favorite!
Easy Cheese Zucchini Ravioli with roasted tomatoes – the perfect low carb low calorie dinner idea. Zucchini noodles wrapped around a garlic herb cheese then baked in a simple balsamic roasted tomato sauce for a fresh, light and delicious weeknight meal!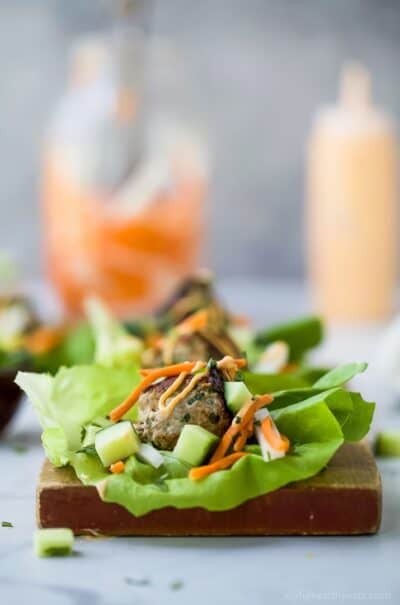 Quick Easy Banh Mi Lettuce Wraps a healthy low carb version of the famous Banh Mi Sandwich! Asian inspired turkey meatballs served on a lettuce wrap with pickled vegetables and sriracha mayo! It's dinner perfection!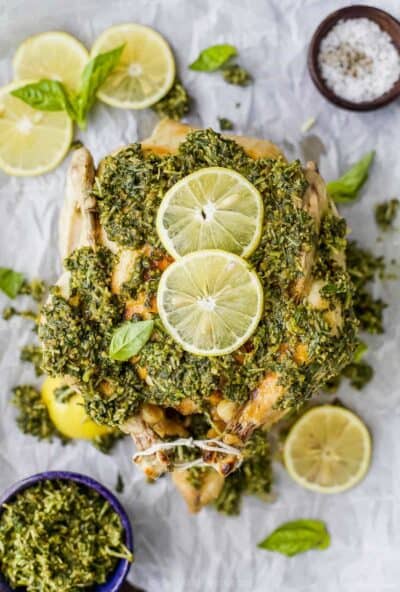 The BEST Instant Pot Rotisserie Chicken you'll ever make! Moist tender chicken with crispy skin covered in a fresh Pesto Sauce, all in just 45 minutes! This Rotisserie Chicken is a favorite and you'll love the new technique I use!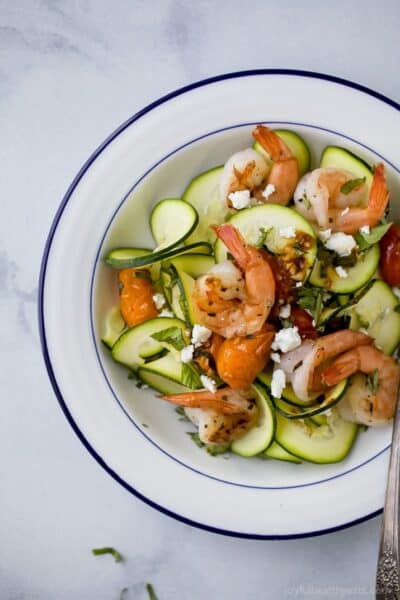 Creamy Shrimp Pasta tossed with Garlic Blistered Tomatoes and goat cheese- a quick easy weeknight meal that's loaded with delicious flavor. Plus this 30 minute pasta recipe is made "low carb" by using zucchini noodles!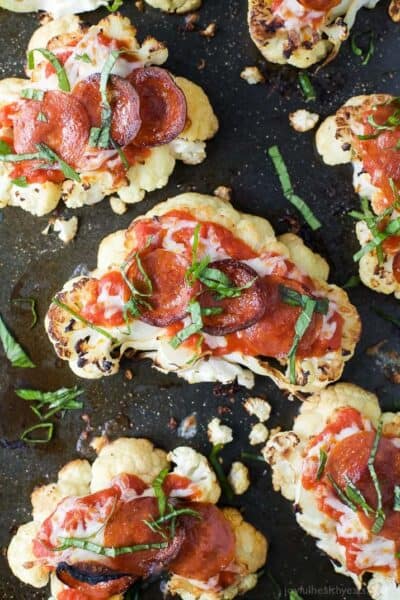 30 Minute Low Carb Cauliflower Steak Pepperoni Pizzas using only 6 ingredients. Pizza night just got a healthy upgrade, these Cauliflower Pizzas are 116 calories per serving and downright delicious!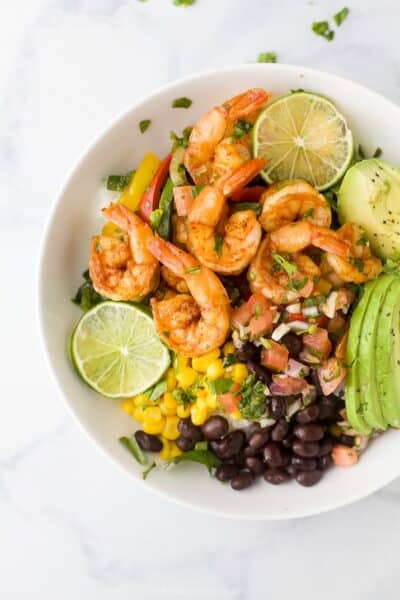 A One Sheet Pan Shrimp Fajita Recipe with epic flavor and ready in 15 minutes! These Paleo Shrimp Fajitas use minimal ingredients and have fast clean up. A healthy dinner idea and one of my favorite shrimp recipes!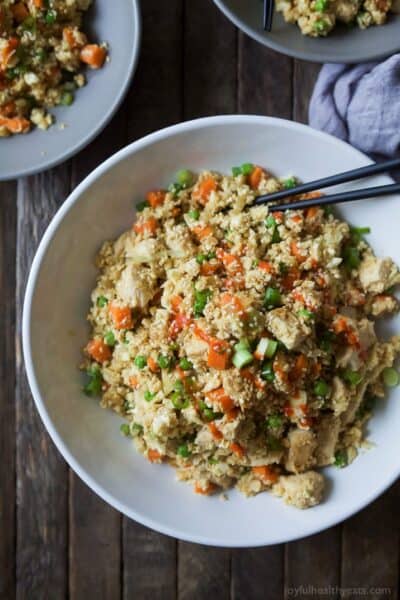 Easy 15 Minute Cauliflower Chicken Fried Rice that's way better than takeout and tons healthier for you, clocking in at a whopping 205 calories a serving!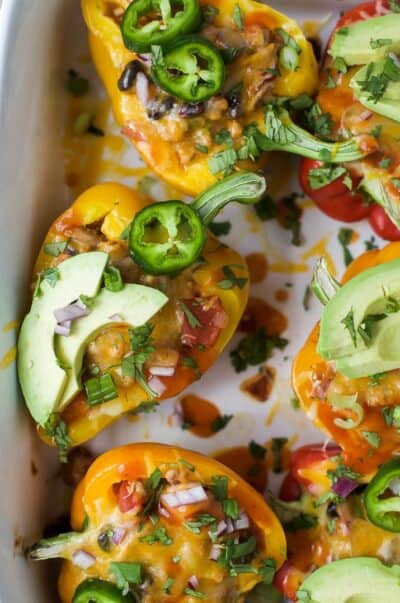 Cheesy Turkey Enchilada Stuffed Peppers filled with tex-mex flavor and covered in melty cheese. These gluten free Stuffed Peppers make an absolutely delicious healthy weeknight dinner for the family.