30 of the BEST HEALTHY & EASY SALAD RECIPES out there! Easy, Fresh, Light, and Quick to throw together Salad Recipes your family will love having on the dinner table! Bring on bikini season!
Truth be told, I do love a good salad. In fact, when we go out for dinner I will normally order a salad. Not because I'm trying to be healthy, but just because if it has all the right "fixings" in it, it's gonna be one good salad!
To me, a dynamite salad has multiple components. If it doesn't have these, I won't eat it. I'm kinda a salad snob in that way.
Layers of flavor!!! Don't just give me iceberg lettuce with carrots, tomatoes and cucumbers. Yuck! There's nothing there. Give me some flavor. Give me something to think about, a reason to dig through my salad to get that last roasted beet or whatever it is.
Dynamite Dressing. It's as simple as that. The sauce makes the salad. Bad sauce. Bad Salad. Good Sauce. Good Salad. Period.
NO Iceberg, unless it's a Wedge Salad. Then all is forgiven. But really ya'll, there is no nutritional value at all in iceberg (or romaine) buy the stuff that looks like weeds and get over it. It has flavor to it, nutrients, and who knows, you might like it!
All that to say. Salads can be a lot more than Rabbit Food. They can be a bomb of flavor going off. And I guarantee if you pick the right ones you'll be craving salad from here on out! Which, hey-oooo it's almost Swim Suit season so craving salads = muy bueno! On that note, I'm just gonna drop 30 of the BEST Easy & Healthy Salad Recipes I could find right here in yo lap… err… face. I know you're gonna enjoy every last one of these bad boys! And I can't wait to hear which one becomes your new favorite!
Bon Appetit ya'll and happy Wednesday!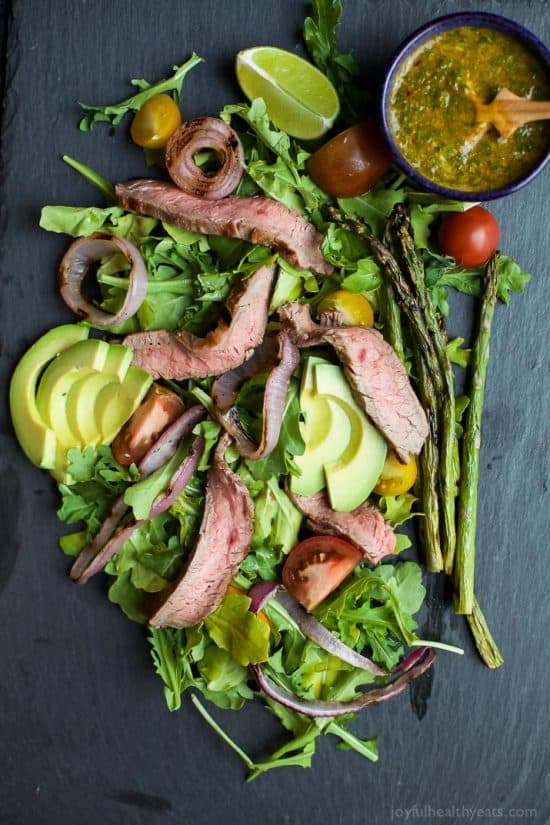 A paleo California Steak Salad filled with grilled onions, arugula, avocado, asparagus, charred Steak and covered in zesty Chimichurri Dressing. Fresh, light, high in protein and freakin delicious! You need this!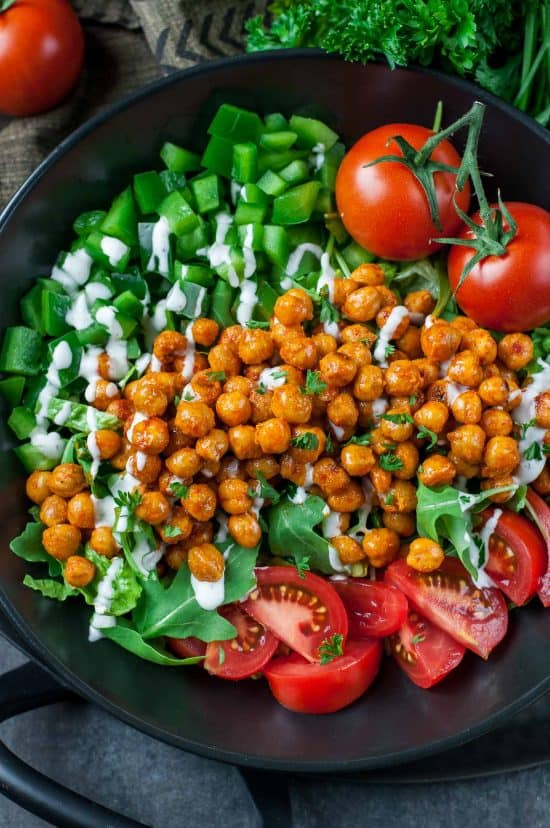 This Buffalo Chickpea Salad is super easy to make, loaded with veggies, and delivers a much needed high-five to the tastebuds. Try it today!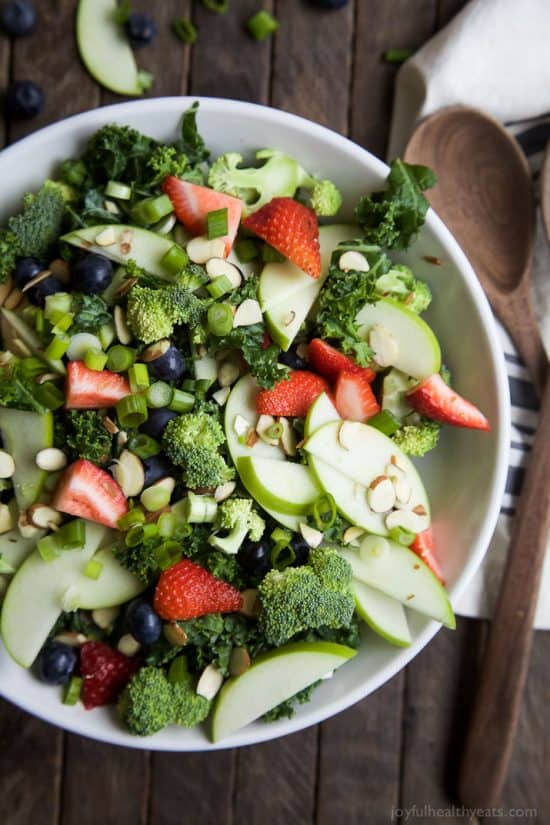 A super healthy Detox Summer Salad filled with kale, broccoli, fresh berries, and almonds then topped with a "lick your plate" worthy Citrus Basil Vinaigrette! This salad is great for lunch or the perfect side to bring to your next BBQ!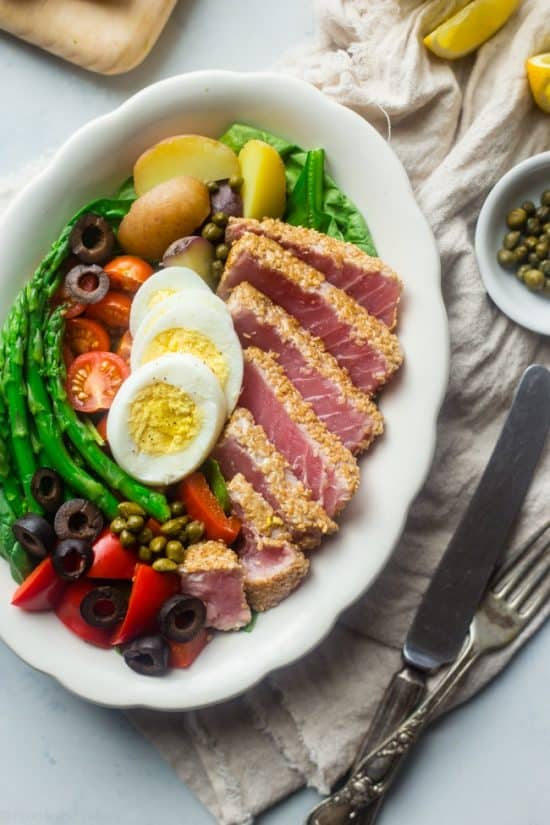 This Asian Nicoise Salad is healthy spin on the classic that uses a sesame ginger vinaigrette and seared tuna steaks for a healthy, whole30 compliant paleo-friendly meal that's packed with protein!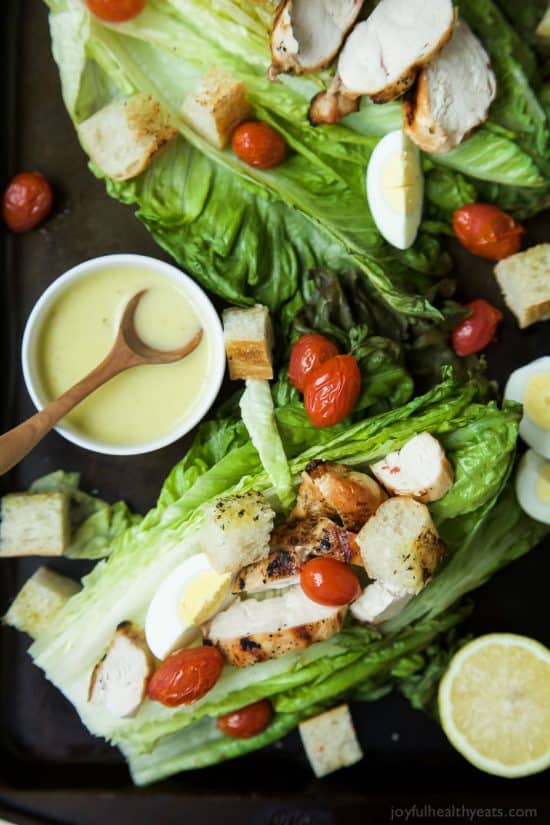 Grilled Chicken Caesar Salad with a Light Caesar Dressing that is egg and anchovy free! This Salad takes 15 minutes to make, is 289 calories a serving, and you can't beat that dynamite grill flavor infused throughout this dish!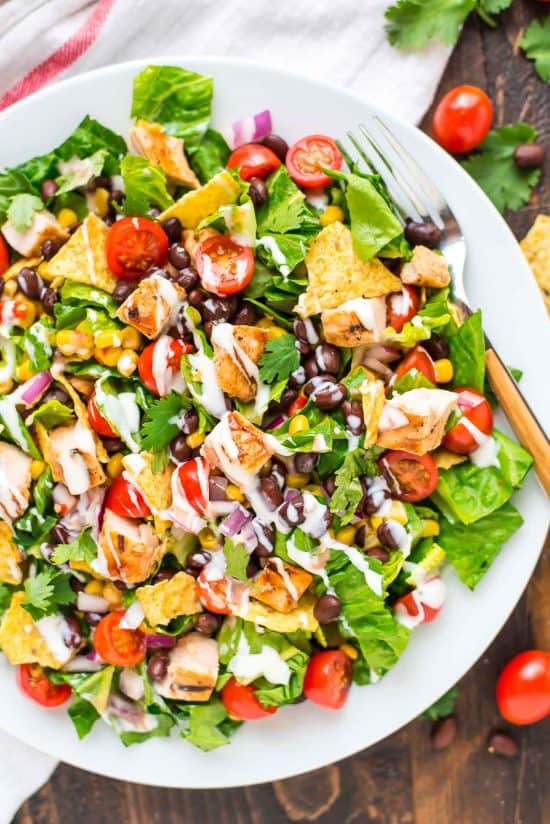 This fresh, filling BBQ Chicken Salad is quick to make and a family favorite! With juicy grilled chicken, black beans, tortilla chips, and creamy ranch.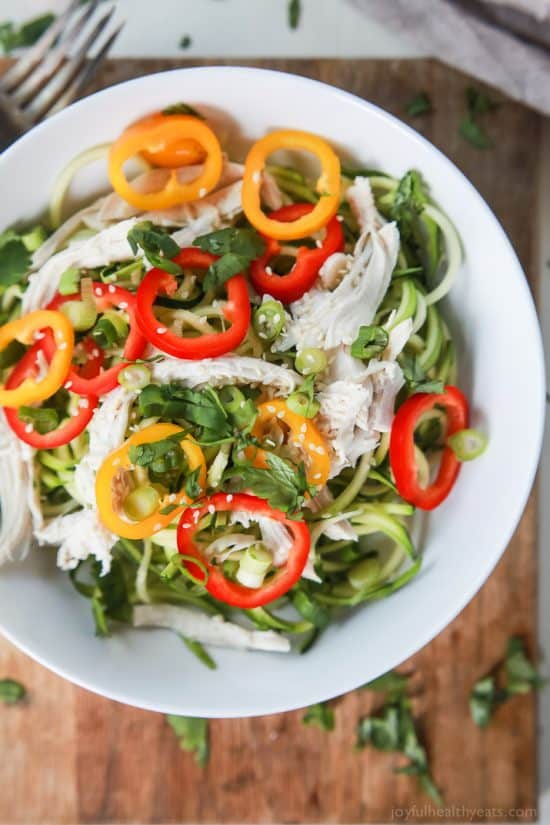 Thai Chicken Zucchini Noodle Salad with a Sesame Vinaigrette done in 15 minutes and only 324 calories. This salad is served cold with raw zucchini noodles, it is refreshing, light, filled with bold flavors and perfect for the summer!
A satisfying ZIPPY pear goat cheese kale salad packed with delicious ingredients and a light honey dressing.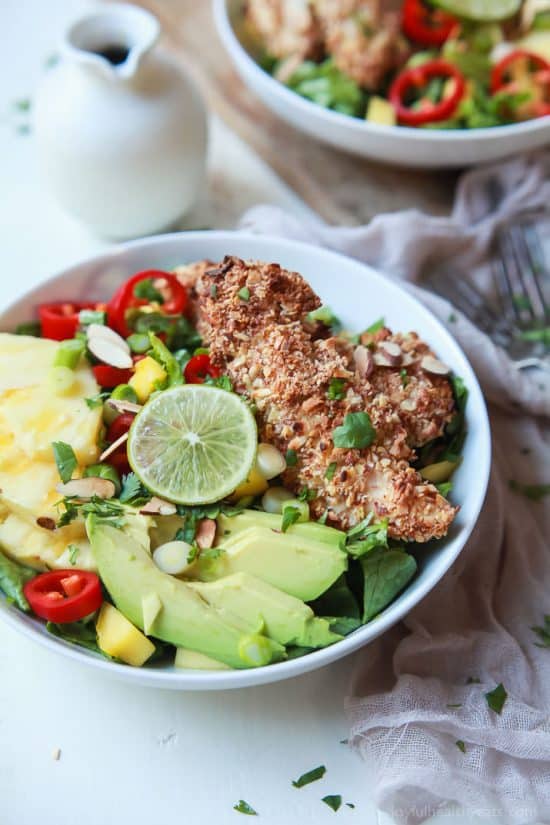 Change up your salad game with this Tropical Coconut Chicken Salad filled with fresh exotic fruits and homemade Almond-Coconut Crusted Chicken Tenders. It's a swoon worthy salad that'll take you to the beach and you'll want to repeat all week!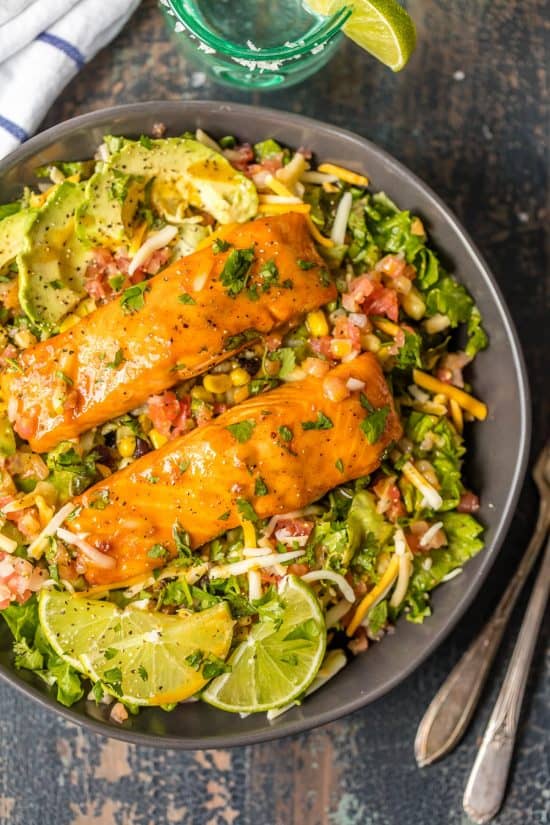 This TEQUILA LIME SALMON SALAD is the perfect hearty and delicious salad for any occasion! Salmon topped with a spicy tequila lime marinade and laid atop a bed of lettuce, corn, beans, avocado, pico, and more!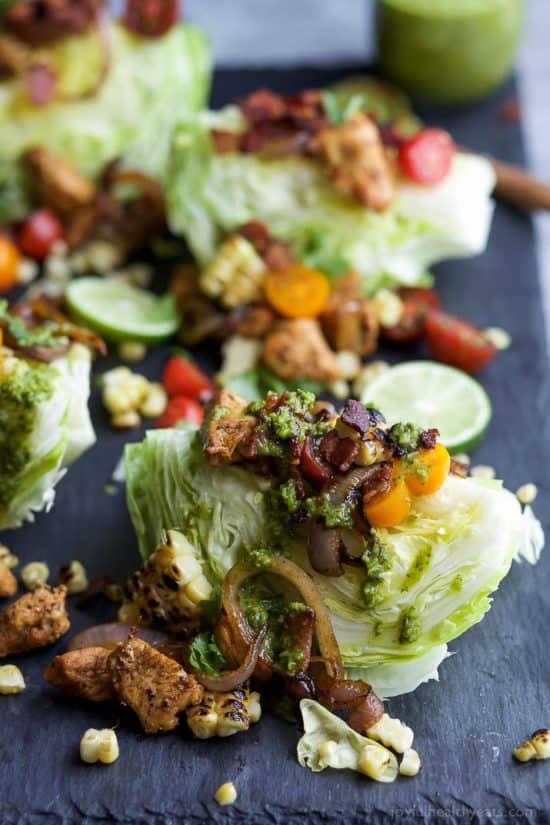 SOUTHWESTERN WEDGE SALAD with seasoned chicken, bacon, onion rings, charred corn a POBLANO DRESSING you'll adore. This wedge salad only takes 30 minutes to make & is under 400 calories a serving!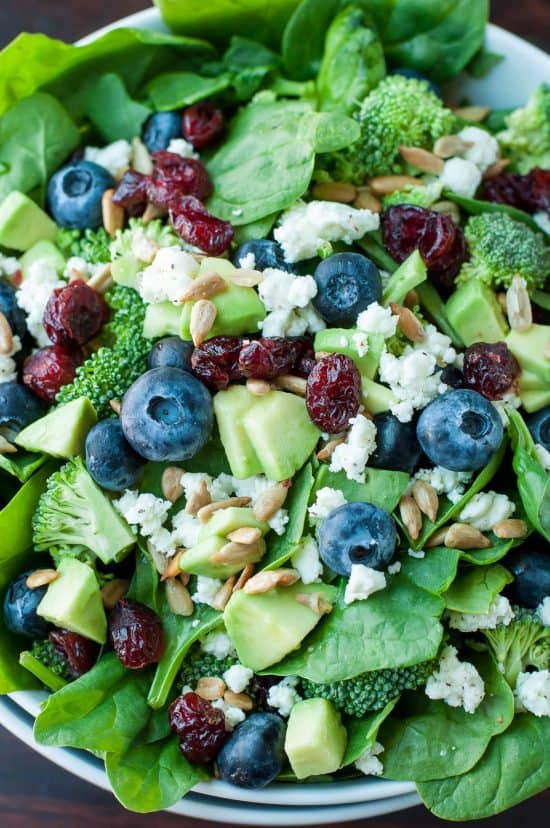 Channeling the flavors of some of some of my favorite restaurant salads, this tasty Blueberry Broccoli Spinach Salad with Poppyseed Ranch is the perfect blend of savory sweetness!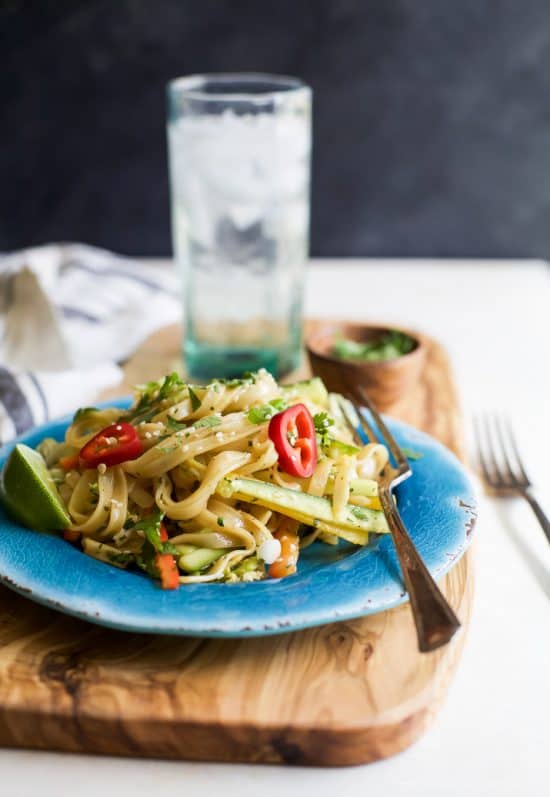 Asian Noodle Salad with a Spicy Sesame Dressing – easy to make, low in calories and bursting with flavor. Once you try this you'll be craving it all the time.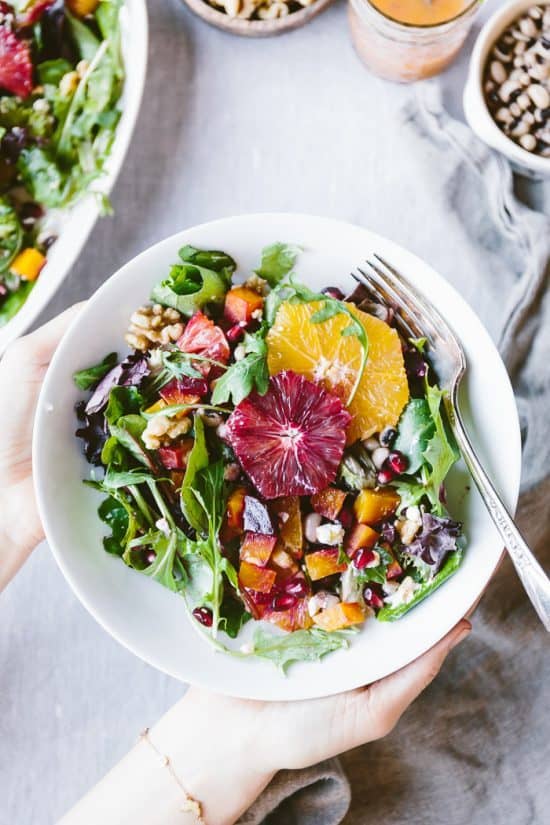 This Citrusy Roasted Beet Goat Cheese Salad is flavored with lucky black-eyed peas, Cara Cara and blood oranges, pomegranate seeds, and walnuts.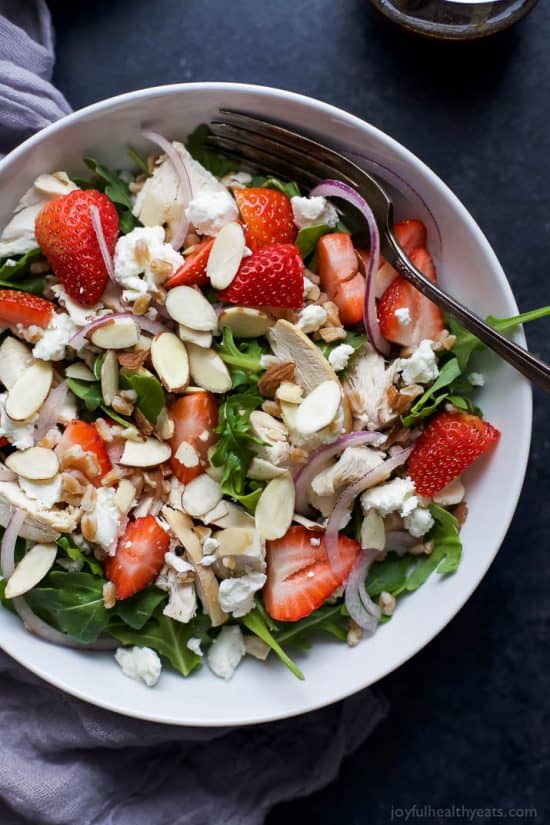 Fresh ingredients make this FARRO ARUGULA STRAWBERRY CHICKEN SALAD shine. A super simple salad to throw together for lunch or dinner that's friendly on the waistline!