20 Delicious High Protein Meals that are light, easy to make and loaded with protein to fill you up for the day! Each of these meal ideas is packed with lean meats, veggies and pantry staples to make them a great healthy dinner for the family during the week!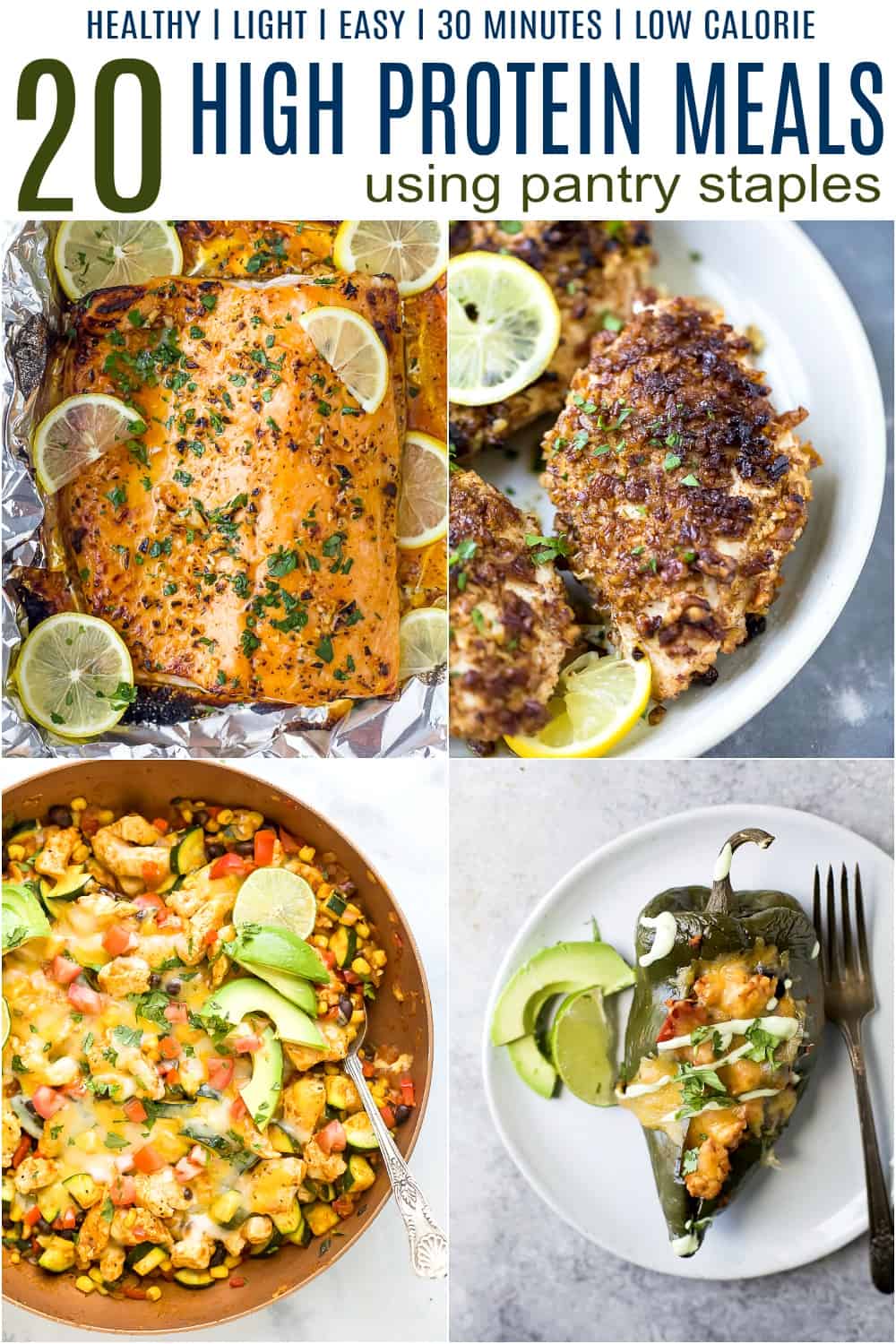 Easy High Protein Meals
One of the best things you can have on hand is a stack of easy high protein meals that you can whip out at any moment. Our bodies need protein, they function off of protein! And actually you can lose weight on a high protein diet! As a standard, I try to make sure that at each meal I am having at least 13 grams of protein, even better is 25 grams plus at each meal!
I think protein is one of the most under eaten macros in our diet. We tend to eat more carbs or fats – think grains, avocado, olive oil or nut butters! If we'd just increase our protein that would solve a lot of our problems. Protein fills you up and helps build your muscle!
So as a way to help you out! I've rounded up 20 of the Best light and Easy High Protein Meals around – each of these meals uses a lean meat, fresh veggies (or frozen) and pantry staples so that it's a quick dinner for the family! I hope you enjoy!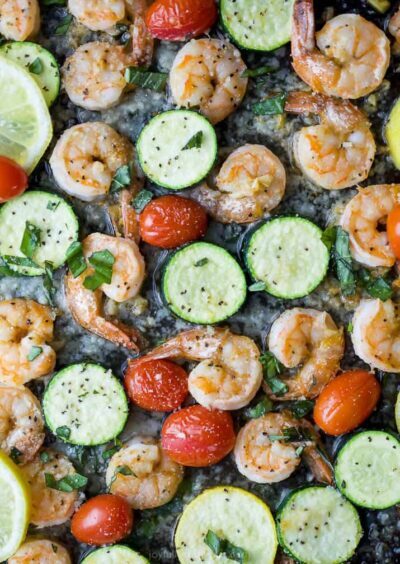 An easy sheet pan meal with 24 grams of protein a serving! Garlic Parmesan Roasted Shrimp and Zucchini is a simple 30 minute meal with roasted shrimp, zucchini and tomato coated in a garlic parmesan sauce! Loaded with flavor, light and refreshing, it's guaranteed to be a favorite!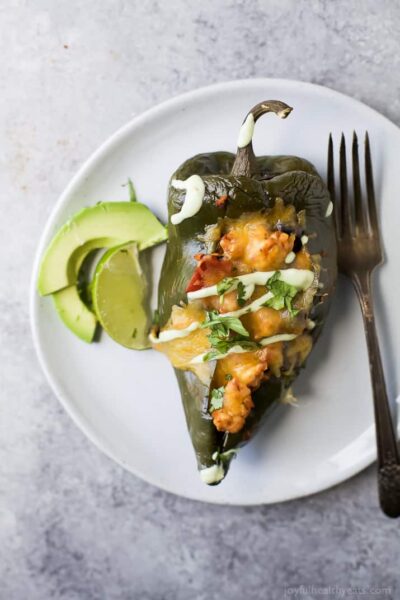 Use up items from your pantry and freezer combined with fresh produce to make these gluten free Turkey Stuffed Poblanos filled with fire roasted tomatoes & black beans, then topped with melted cheese and Avocado Crema. These delicious stuffed peppers are to die for!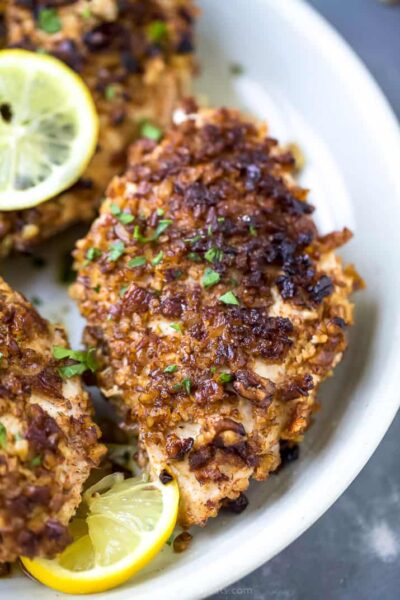 Spice up your Chicken Recipes with this light & easy Keto Pecan Crusted Chicken coated with a smoky pecan mixture and sautéed to perfection – this quick dinner recipe will become a staple in your home – 29 grams of protein a serving. Serve it with rice and veggies or over a salad!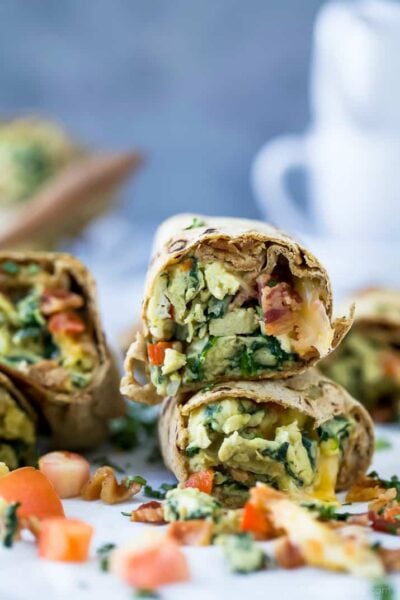 Starting the day off right is so important and these easy to make and grab Freezer Bacon & Egg Breakfast Burritos are perfect! They have 18 grams protein and are under 300 calories – plus they are delicious!
The BEST Instant Pot Mongolian Beef – this classic takeout meal just got a healthy upgrade! Filled with broccoli a gluten free sauce sweetened with honey all made in the instant pot! This Mongolian Beef recipe will become your new go to asian meal. (31 grams of protein)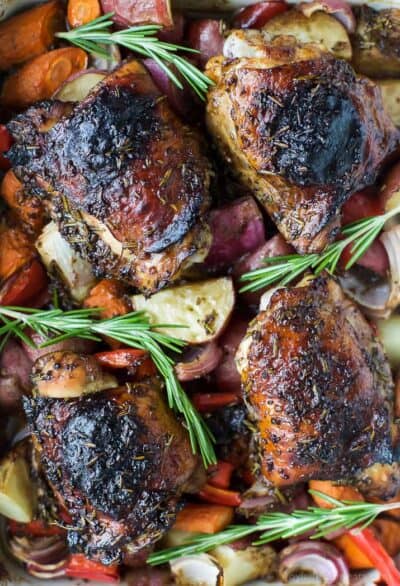 Easy One Pan Balsamic Chicken with Roasted Vegetables – a healthy paleo & gluten free recipe your family will devour! Tender juicy chicken covered in a sweet balsamic glaze has this one pan chicken bursting with flavor!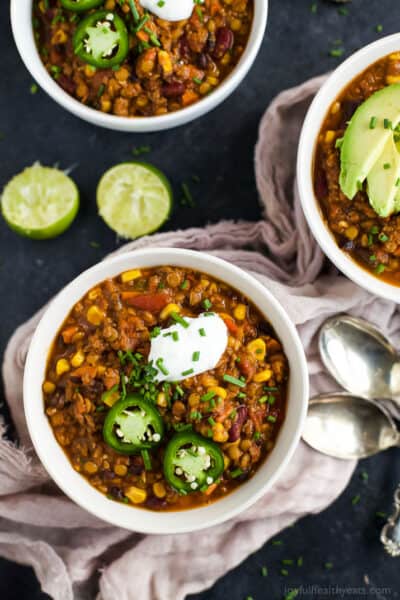 This chili is a perfect way to use up those pantry staples and also packs a 23 gram punch of protein per serving! Hearty one pot Smoky Lentil Chili filled with a rich smoky flavor, packed with vegetables, high in fiber and is absolutely comfort food in a bowl! (23 grams of protein)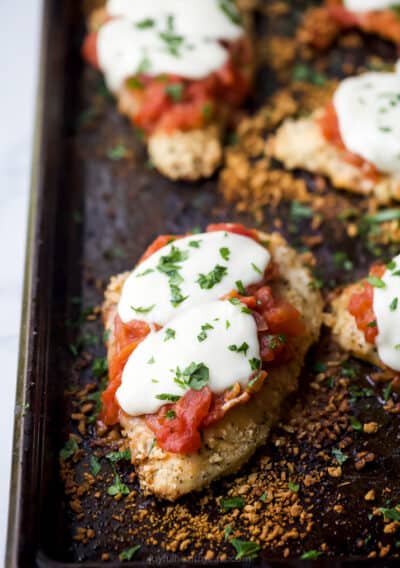 A classic Italian comfort food, lightened up! Baked Chicken Parmesan made with cutlets, homemade tomato sauce using pantry staples, gooey cheese and served on Zucchini Noodles or pasta. (28 grams of protein)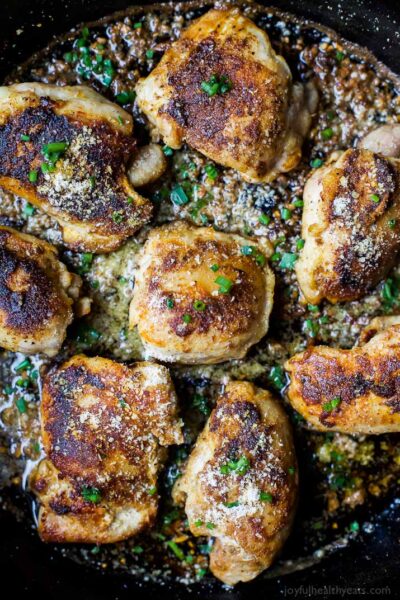 A mouth-watering high protein meal done in 30 minutes using pantry staples! These Skillet Garlic Parmesan Chicken Thighs are an amazing one-pan skillet meal coated with a buttery garlic parmesan sauce that will make you swoon! (23 grams of protein)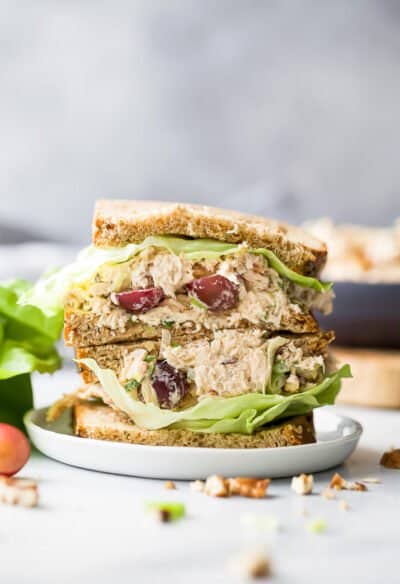 Take out some of those chicken breasts from the freezer to make this Easy Chicken Salad Recipe! A healthier version made with shredded chicken breasts, greek yogurt and grapes, it has the perfect balance of creamy + crunchy. Perfect to have on hand for lunches throughout the week! (18 grams of protein)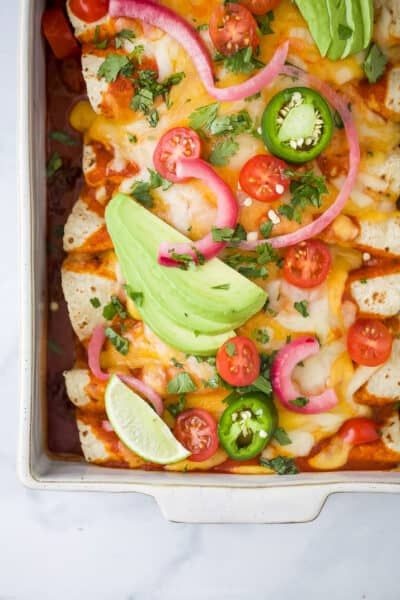 The Ultimate Easy Beef Enchilada Recipe with a smoky enchilada sauce and covered in cheese! These Beef Enchiladas scream comfort food – a homemade recipe that's perfect for a crowd and guaranteed to please! (35 grams of protein)
Need more breakfast options? I've got your back with these 30 Minute Paleo Sweet Potato Hash & Eggs cooked with bacon and topped with creamy avocado. The hash can easily be prepped for the week! Under 350 calories and so delicious you'll want to devour it, it's a great high protein meal! (13 grams of protein)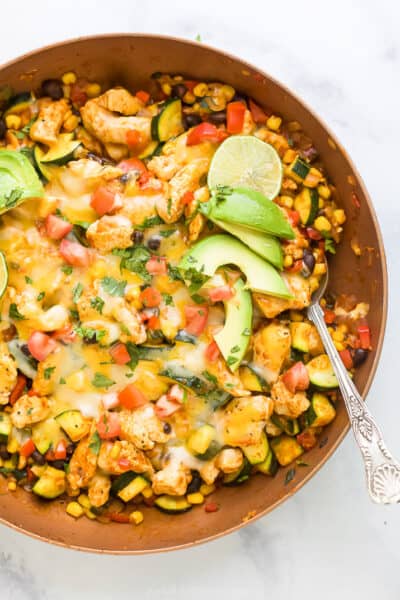 Hands down one of the meals I make the most at my house! 30 Minute Zucchini Chicken Enchilada Skillet a healthy high protein meal that comes together in one pan! Filled with zucchini, corn, black beans, zesty enchilada sauce then covered in cheese – it's the perfect light & easy meal for a busy week. (26 grams of protein)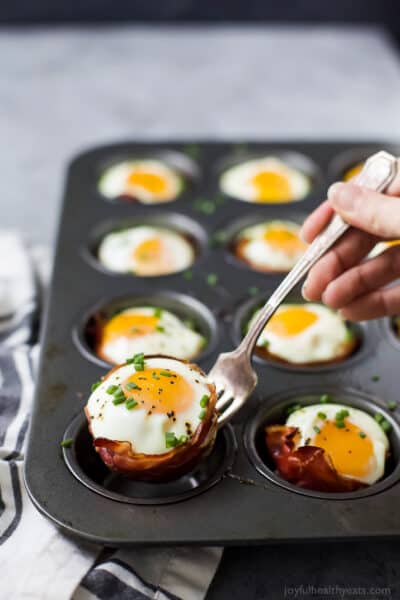 These Prosciutto Baked Egg Cups are an easy make ahead breakfast your family will love. Baked in an Italian ham (Prosciutto) shell with eggs cooked to perfection, don't have prosciutto sub it out with bacon! These grab 'n 'go baked egg muffin cups boast only 116 calories! (10 grams of protein)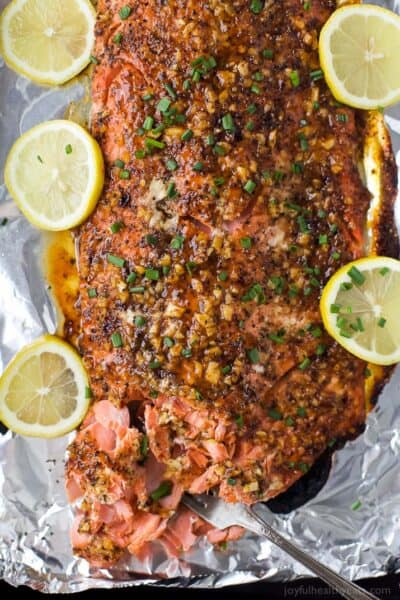 My all time favorite salmon recipe using pantry staples! Easy Paleo Honey Mustard Baked Salmon made in tin foil for easy cleanup and slathered with a delicious honey mustard sauce. It's a delicious dinner that's done in less than 30 minutes! (31 grams of protein)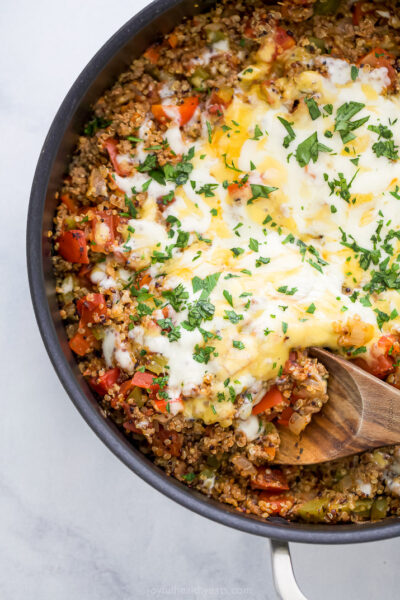 An Easy One Pot Quinoa Stuffed Pepper Casserole done in 30 minutes and is one of my favorite quinoa recipes! A quick dinner idea that has all the flavors of a classic stuffed peppers, made with quinoa, ground beef, peppers, Italian spices, fire roasted tomatoes and topped with cheese. (23 grams of protein)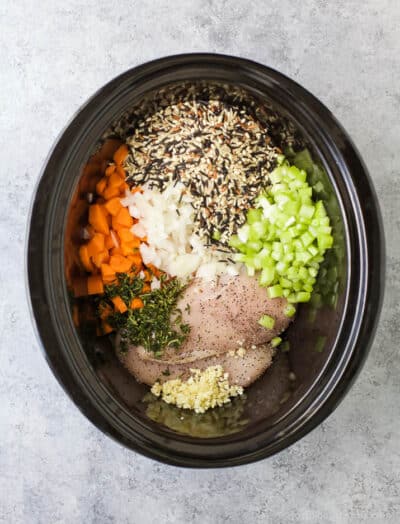 Every bite of this bowl is pure comfort food! An easy Crockpot Chicken and Wild Rice Soup using pantry staples and boneless chicken breast. (heck you can even put them in the crockpot frozen if you want.) It goes perfectly with a slice of crunchy bread, it's a great set-it-and-forget-it dinner idea with only 5 minutes of prep time. (17 grams of protein)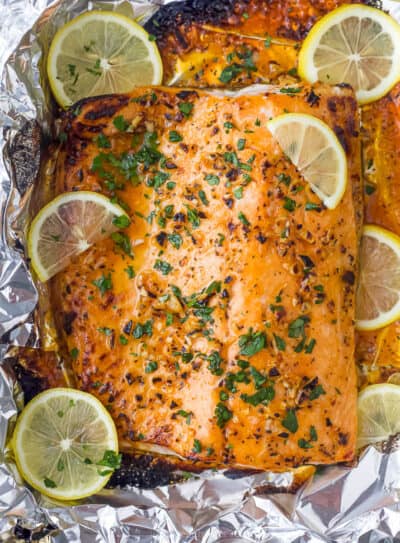 The Perfect Garlic Butter Baked Salmon in Foil that comes together in just 20 minutes! This easy salmon recipe is slathered in a honey garlic butter sauce then baked in a foil packet for the perfect flaky bite and easy cleanup. Guaranteed to be your new favorite salmon dinner!(24 grams of protein)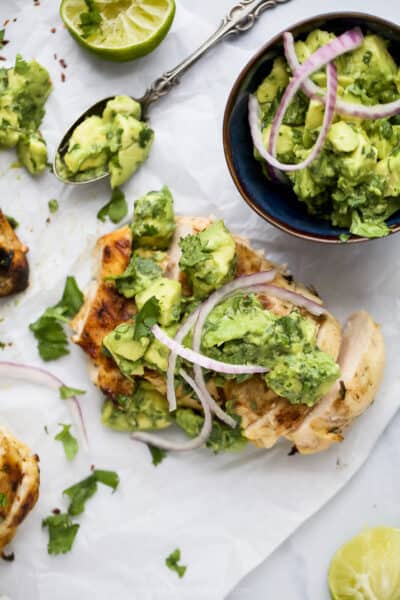 Tender Cilantro Lime Chicken made with a quick marinade then grilled to lock in all the flavors. A great easy chicken recipe that comes together in 30 minutes! The flavors from the fresh zesty Avocado Salsa is totally swoon worthy. (24 grams of protein)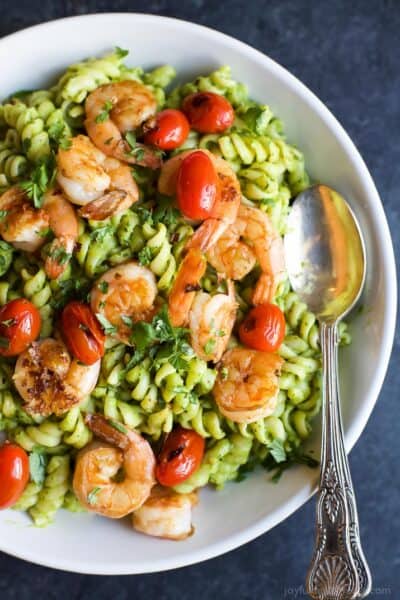 Chimichurri Avocado Pasta with Pan Seared Shrimp a zesty, healthy 25 minute pasta you'll feel good about feeding your family! I guarantee you probably have all the ingredients already! Plus, it's loaded with fiber, protein and healthy fats! (23 grams of protein)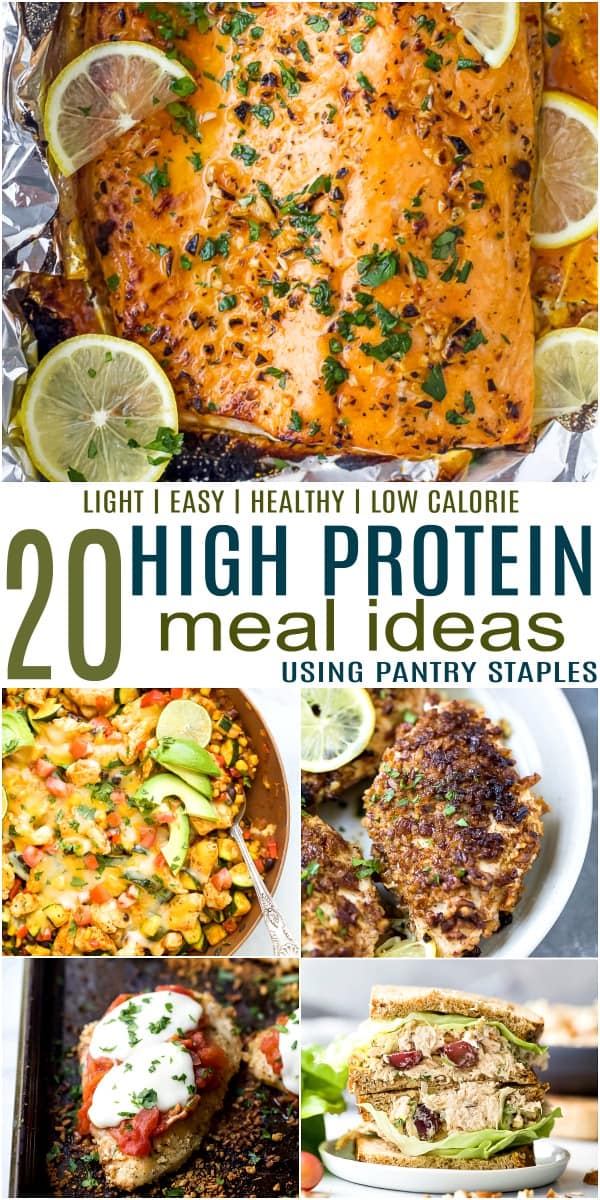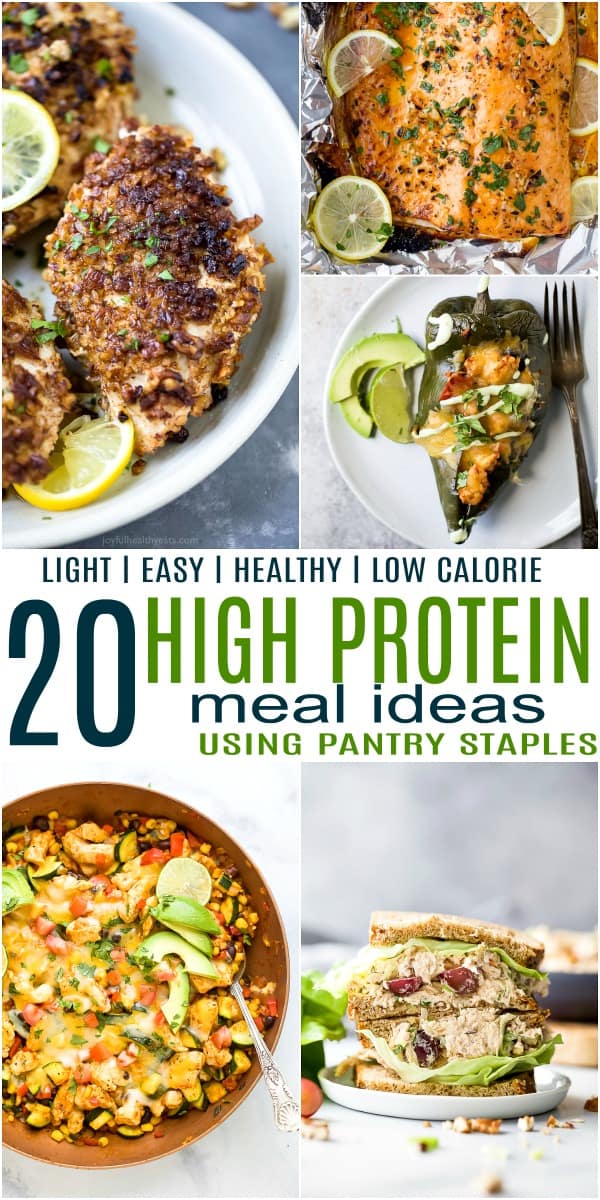 DON'T MISS A RECIPE ->