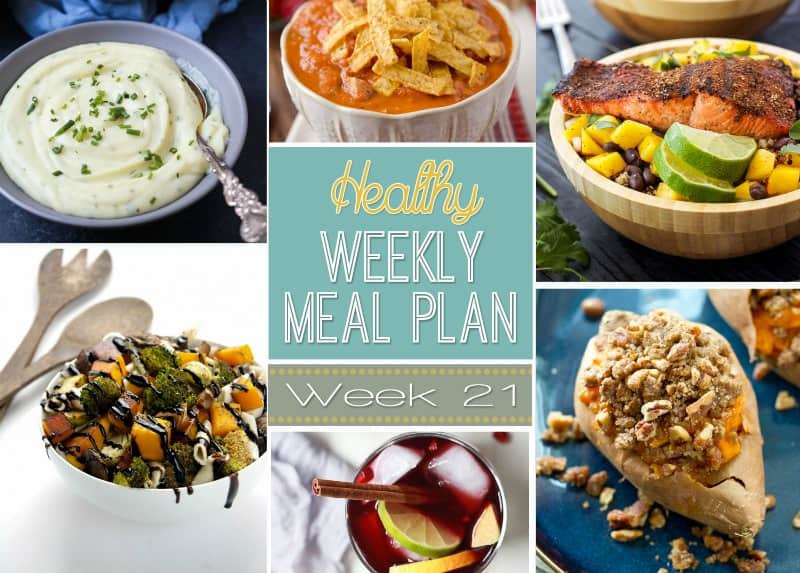 Happy Saturday folks! I hope our Healthy Meal Plan will help you navigate through the next week of meals in an easy and healthy way that your family will devour and beg for seconds!
It's the weekend, woohoo … party time. What fun plans do you have this weekend? I think we are going to see Santa for the first time EVER with little man! I wanted to wait until he kinda understood the whole Santa thing and this year is the first year where I feel like he's excited and gets it. Sooo… big man in a red coat .. here we come!
But before we head out to see Santa, let me leave you with a healthy meal plan for next week. The photos and recipes for this weeks meal plan are gorgeous! I wish I could eat them off the screen. For sure I am going to be making the Caribbean Salmon Bowl… yum!
Be sure to stop back every Saturday for your weekly fix of daily entrees as well as a breakfast, lunch, snack and dessert! Just click on the photo to see the recipe.
~ HEALTHY WEEKLY MEAL PLAN ~

This Maple Roasted Autumn Vegetable Pasta features caramelized, roasted autumn vegetables mixed with a simple pasta tossed in olive oil and lemon juice. A healthy pasta dish with sweet and savory flavors!

Creamy Chipotle, Chicken & Tomato Soup is an amazing recipe that comes together in 15 minutes, but has deep rich flavors of a soup that simmered for hours!

Dinner
This Crock Pot Roast with Vegetables is a family favorite meal! It's an entire dinner in one crock pot – with veggies, starch and meat all cooked together. The meat is SO tender and delicious! This is a must-make!

Loaded with crisp apples, homemade candied pecans, a tangy maple balsamic dressing, and tons of other fall goodness, this bistro fall salad is the ultimate way to celebrate the season!
Side Dish
Creamy Buttery Parsnip Garlic Mashed Potatoes, the parsnips in this totally make these the BEST Mashed Potatoes you will ever have! Plus they are only 108 calories a serving!

Caribbean rubbed salmon fillets grilled to perfection and served on top of a bed of quinoa, black beans, and delicious homemade mango salsa! These Caribbean Salmon Quinoa Bowls are a must-try!

BREAKFAST
Your favorite Girl Scout Cookie just took over breakfast in these Mini Thin Mint Donuts! Tender chocolate donuts covered with mint white chocolate icing and a chocolate drizzle!
SNACK
Cranberry Almond Energy Bites are a protein packed recipe that you can store in your freezer for a healthy and convenient snack or breakfast.
DINNER
Piled high with buttery pecan streusel topping and baked twice to perfection, these twice-baked pecan streusel sweet potatoes will be the biggest hit of your dinner!

LUNCH
Spinach Orzo Chicken Salad with Goat Cheese is the perfect salad to have at your next picnic or BBQ!
DRINK
The Ultimate Holiday Sangria Recipe filled with citrus, pomegranate, crisp pear, and cinnamon for one irresistible sip! Find out my secret method to making the BEST sangria!
DESSERT
This delicious and creamy Eggnog Rice Pudding recipe will have you ready for the holidays!