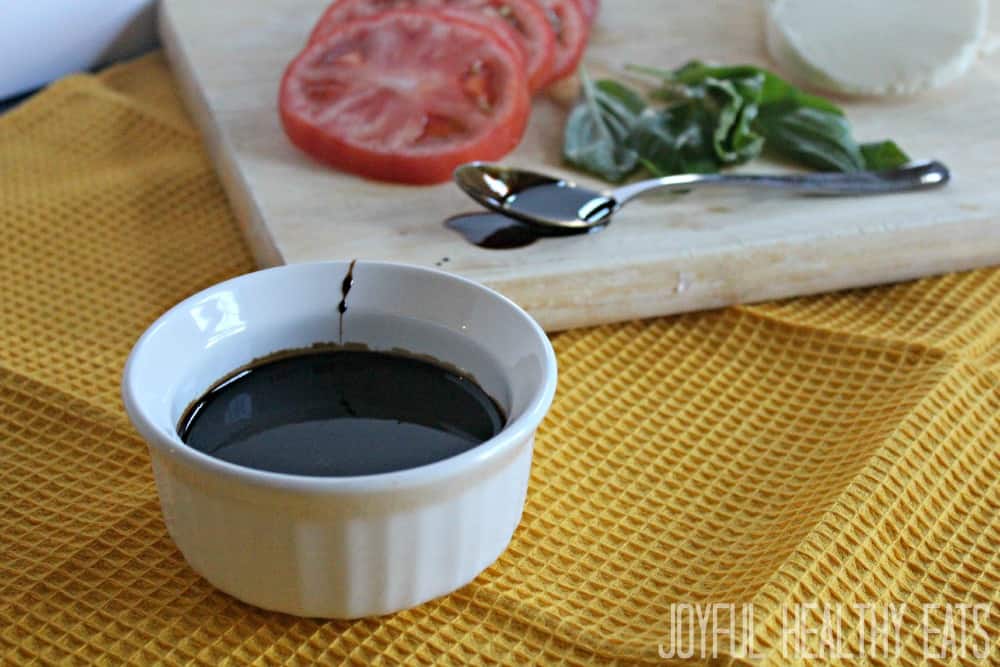 Ok, folks I know that most people are fans of Balsamic Vinegar. But the real question is, what kind do you buy? Do you buy a good one? Or do you buy the $2.49 one off the shelf in your grocery store? True Confession: I use to buy the cheapo one off the shelf not knowing the drastic difference in taste and not wanting to spend the money to get a "good" Balsamic Vinegar. But with the amount of times I use it for dressing, marninades, and so forth I really should have bought a higher quality Balsamic Vinegar.
Well, I am proud to say that on a date night with my hubbie one night we stopped in a store called Oil & Vinegar. OMG!!! Coolest store ever! They have all different kinds of … you guess it.. Oil & Vinegar. In fact, when you walk in there is this huge wall filled with "taps" of all the different oils & vinegars. You just grab a fun shaped bottle with the desired mL size you want and fill 'er up!
So, after purchasing my amazing bottle of aged Balsamic Vinegar I have been thinking up all kinds of recipes!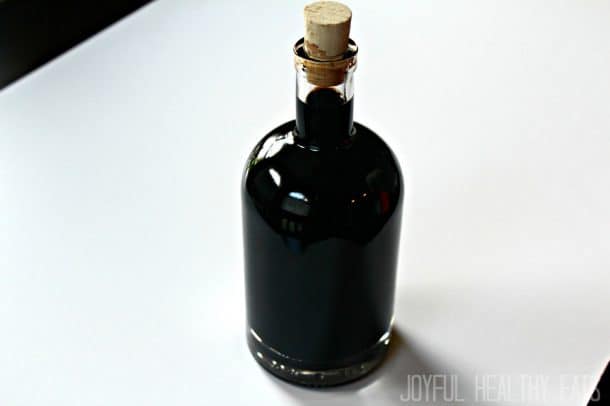 The first on the list was a Balsamic Reduction! Have you ever tasted a good Balsamic Reduction? You usually see it drizzled over a dish to add an extra dimension of flavor. It adds so much to any dish and when you reduce the vinegar down it becomes very concentrated and sweet. It is absolute deliciousness on a plate and super easy to make.
To get started, pour 1 cup of good balsamic vinegar into a small saucepan.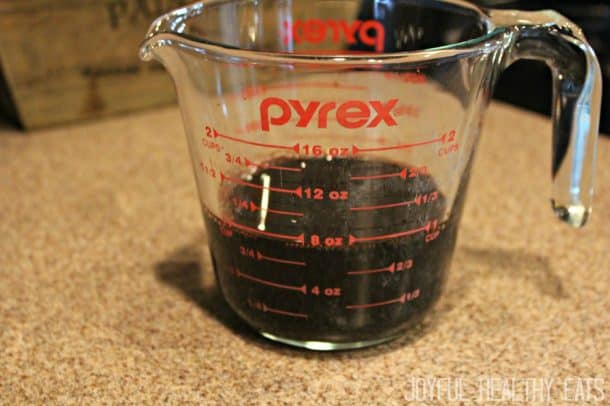 Turn heat to medium high and bring vinegar to a boil.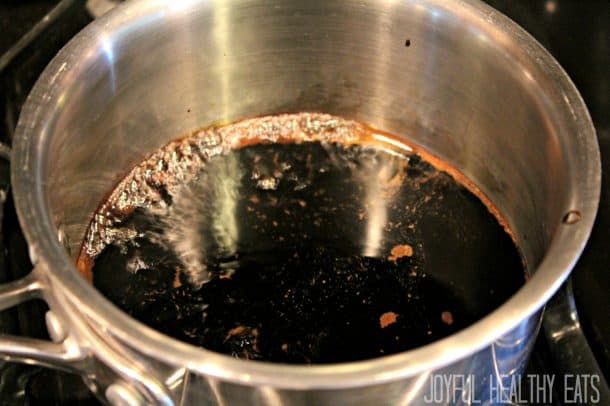 Once boiling, reduce to simmer {low heat with small bubbles along the edges}and let simmer for about 10 minutes until vinegar has reduced down. Stir occasionally. You will know it has reduced if it coats the back of spoon. {be sure to keep an eye on it because it can burn quickly}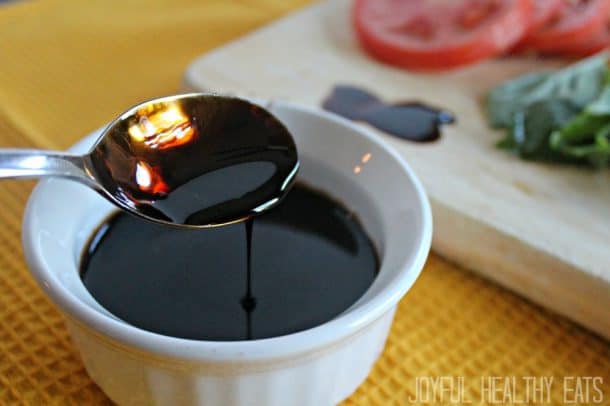 Let reduction cool and serve or transfer to a air tight container and store in refrigerator. {if reduction hardens after being in refrigerator for too long just place container in a bowl filled with warm water to heat up the reduction}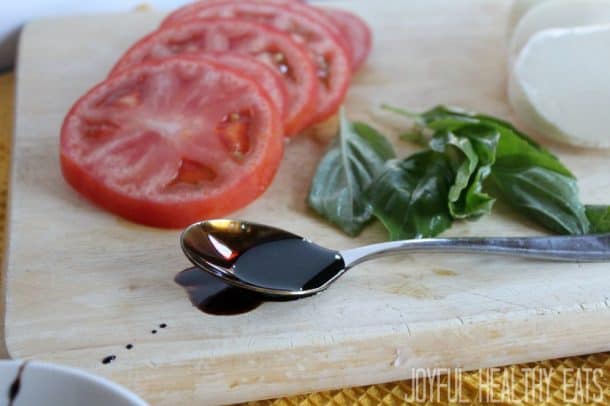 Can be served with a caprese salad, grilled peaches, bread, or whatever you want. You could just drink it if you like… its that good! 🙂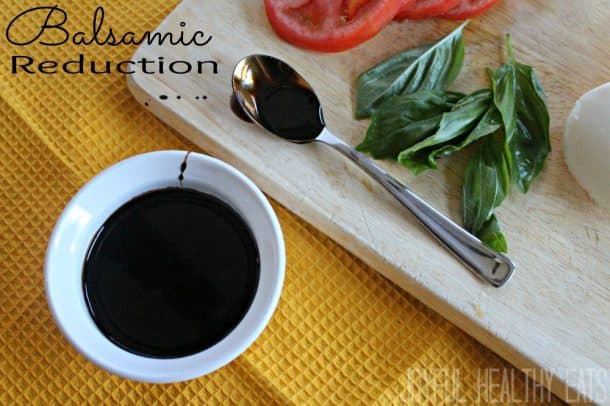 How to Make the Perfect Balsamic Reduction Glaze
Recipe type:
Condiments & Sauces, How to
Ingredients
1 cup of good quality balsamic vinegar
Instructions
Pour balsamic vinegar into a small saucepan.
Turn heat to medium high and bring vinegar to a boil.
Once boiling, reduce to simmer and let simmer for about 10 minutes until vinegar has reduced down. Stir occasionally. {be sure to keep an eye on it because it can burn quickly} You will know it is done if it coats the back of spoon.
Remove from heat.
Let reduction cool and serve or transfer to an air tight container and store in refrigerator. {if reduction hardens after being in refrigerator for too long just place container in a bowl filled with warm water to heat up the reduction}
Can be served with a caprese salad, grilled peaches, bread, or whatever you want. You could just drink it if you like... its that good! 🙂
More recipes by Joyful Healthy Eats you might enjoy:
Lemon Vinaigrette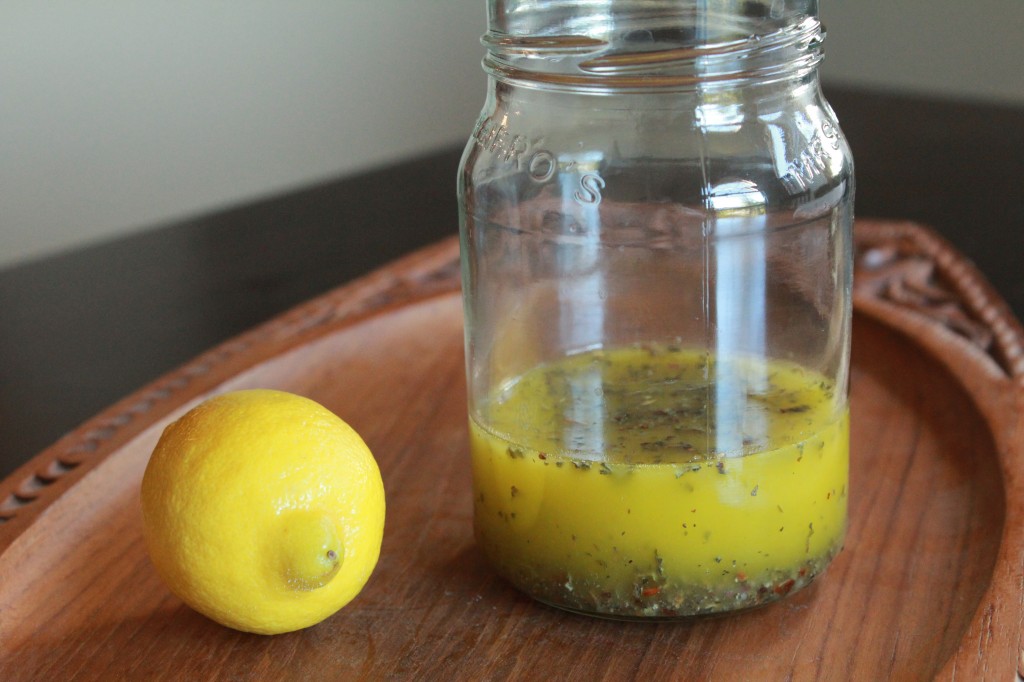 Paleo Avocado Tzatziki Sauce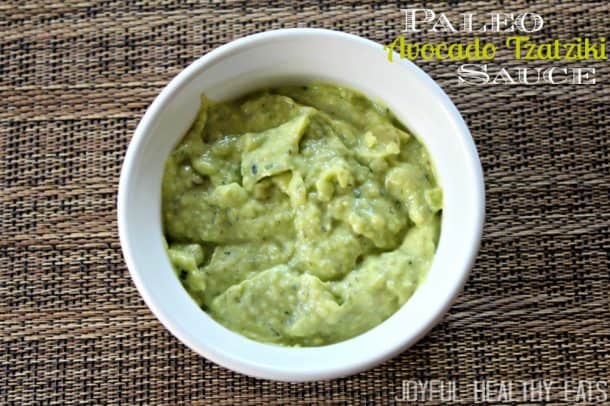 Homemade Tomato Sauce