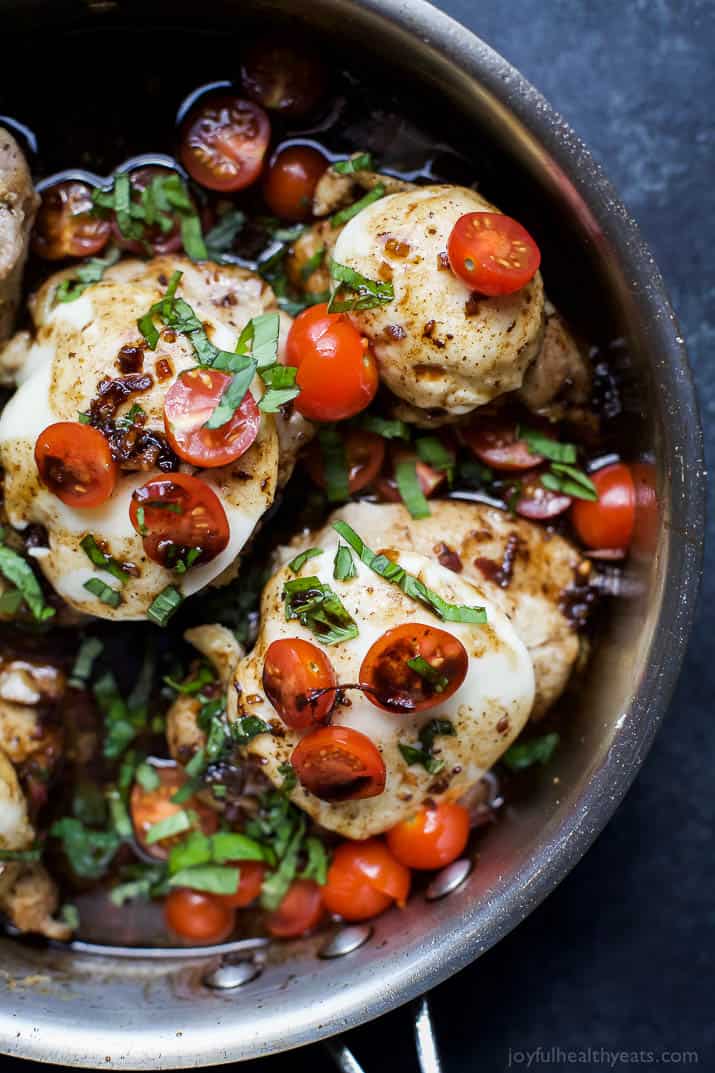 One Pan Balsamic Glazed Caprese Chicken – an easy recipe done in less than 40 minutes. Tender juicy Chicken cooked in a balsamic glaze. I guarantee your family will be begging for you to make this again!
Anybody else love watching The Voice? It just puts me in a happy place. The vocals are always incredible and I love listening to the banter between Blake and Adam. It seriously just cracks me up!
This season if I had to choose between coaches I would probably choose either Adam… of course… between well.. its Adam Levine! Or Alicia Keys because she reminds me of Pharrell and seems to really connect with her artists and knows exactly how to encourage them!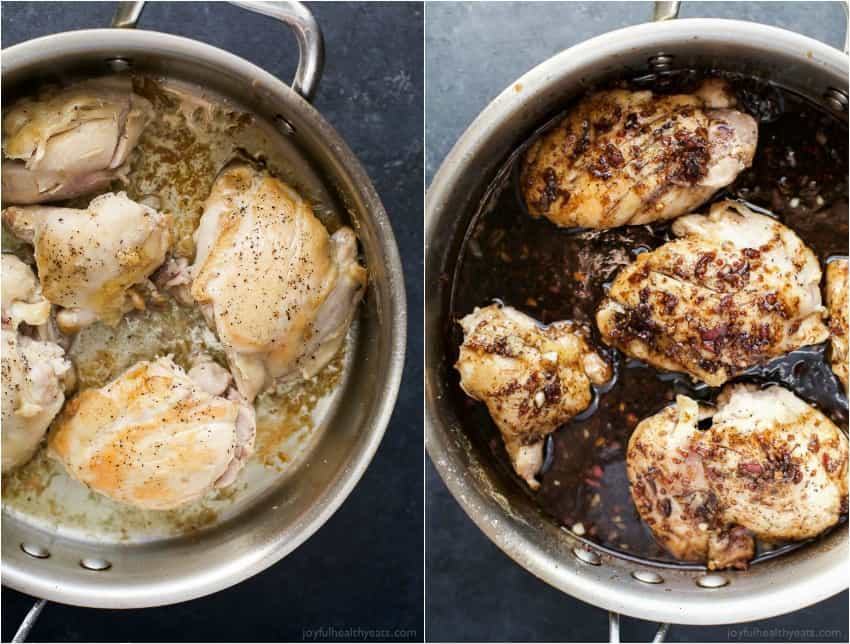 So why am I talking about The Voice? Well, I watched this weeks performances and was blown away by Billy Gilman. Did you guys watch it?
Seriously, OMG. If you haven't watched it. Here it is, it's incredible!
Not only were his vocals spot on and pitch incredible but the lyrics to the song were so moving!
I use to listen to country growing up and remember when this song by Martina McBride came out, but forgot how powerful the words were!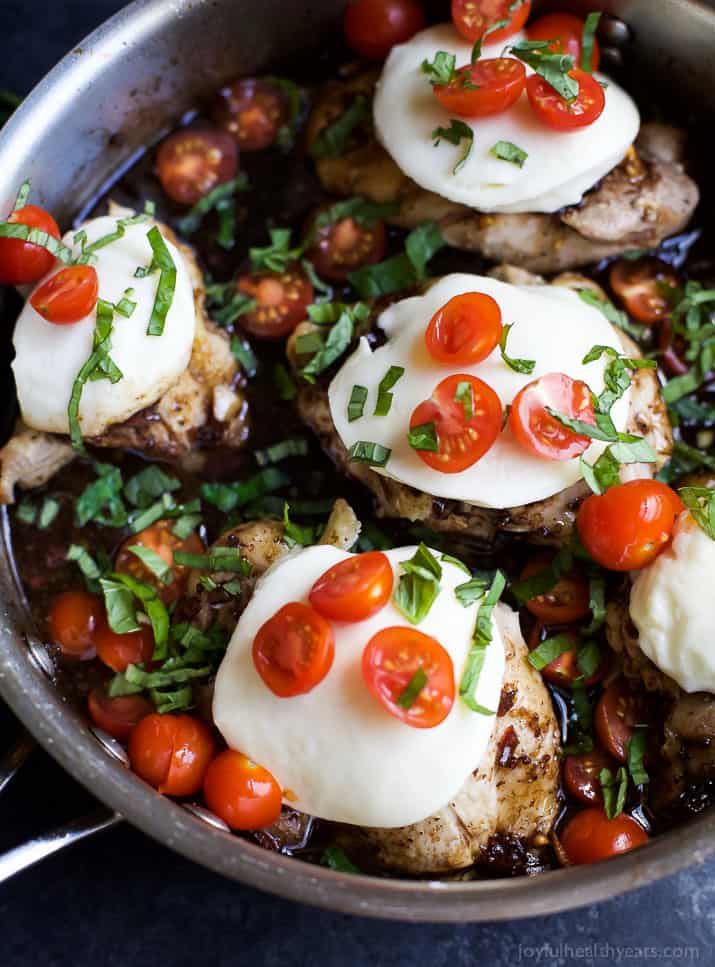 You can spend your whole life buildin'
Somethin' from nothin'
One storm can come and blow it all away
Build it anyway
God is great, but sometimes life ain't good
When I pray it doesn't always turn out like I think it should
But I do it anyway
I do it anyway
You can chase a dream
That seems so out of reach
And you know it might not ever come your way
Dream it anyway
God is great, but sometimes life ain't good
When I pray it doesn't always turn out like I think it should
But I do it anyway
I do it anyway
This world's gone crazy and it's hard to believe
That tomorrow will be better than today
Believe it anyway
You can love someone with all your heart
For all the right reasons
And in a moment they can choose to walk away
love 'em anyway
You can pour your soul out singing
A song you believe in
That tomorrow they'll forget you ever sang
Sing it anyway
Yeah, sing it anyway
I sing, I dream, I love
Anyway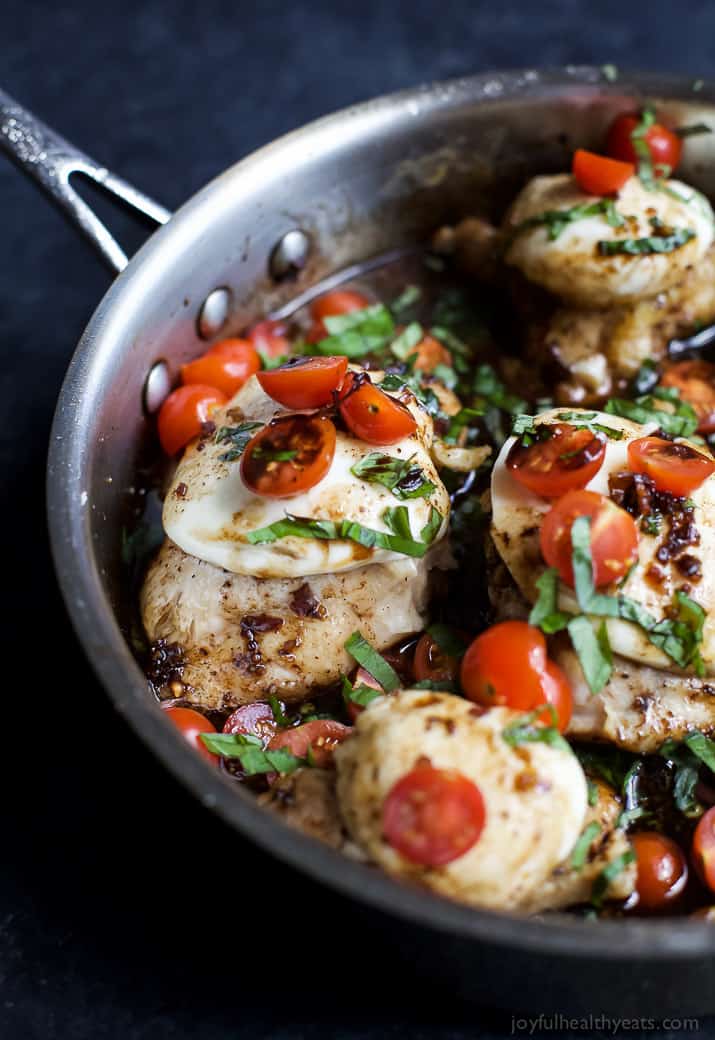 This is definitely my favorite part of the song:
God is great, but sometimes life ain't good
When I pray it doesn't always turn out like I think it should
But I do it anyway
I do it anyway
I guess it's becasue thats where I feel like I've lived the past year. This song definitely brought tears to my eyes. God is great, but sometimes life ain't good. That does not change the fact that He is still Good!
Ok, so if you haven't seen him sing this song yet. Watch it. I guarantee it will bring a smile to your face and brighten your day!
On a food front, this Balsamic Glazed Caprese Chicken will definitely brighten your day too as well as your tastebuds. Cuz holy hannah is it good!
I'm a sucker for all things balsamic and caprese but I never dreams this recipe would turn out this incredible! The chicken is seared in the pan first. Then you start to form your simple sweet balsamic glaze in the pan, throw the chicken back in to soak up all that deliciousness and then top your chicken with fresh melted mozzarella cheese, cherry tomatoes, and fresh basil!
You guys. TRY IT! I guarantee your family will love it and it will become your new addiction! We served it with pan seared asparagus but you could serve it on top of a bed of pasta, either way this Balsamic Glazed Caprese Chicken needs to go down at your casa! Like ASAP!!! Plus it's looks festive. 🙂
Bon Appetit friends and Happy Friday!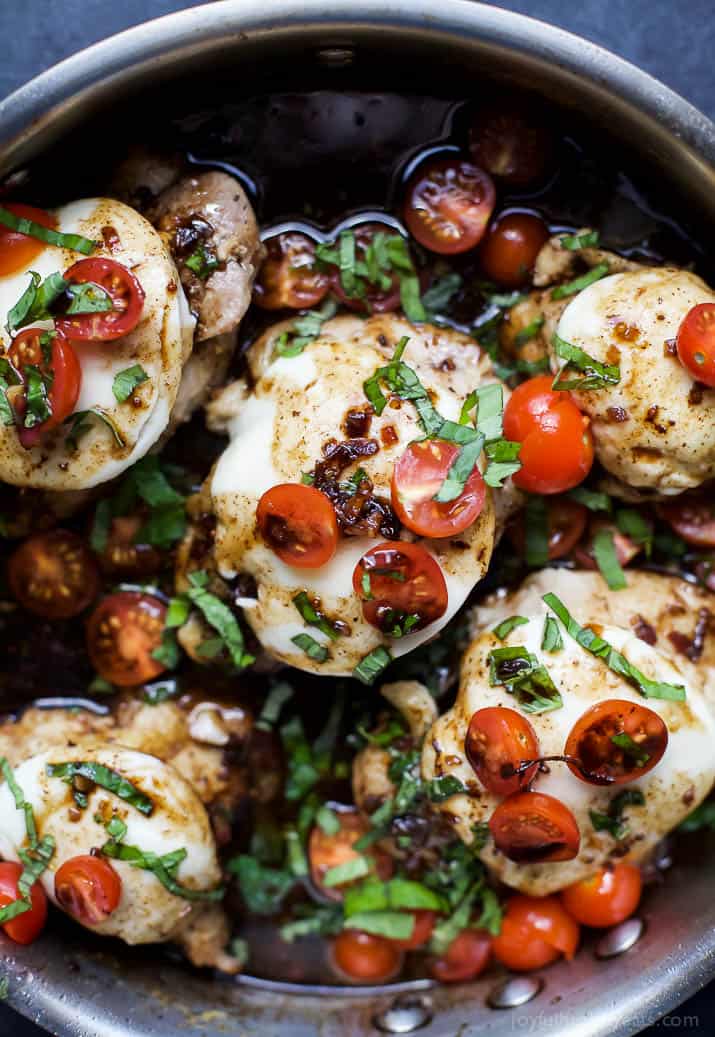 Balsamic Caprese Chicken
Author:
Krista @ JoyfulHealthyEats.com
Recipe type:
Chicken, Poultry, Kid Friendly, Easy Dinner Ideas, Gluten Free,
Ingredients
2 tablespoons olive oil
3 lbs. boneless skinless chicken thighs
salt & pepper to season
2 garlic cloves, minced
⅓ cup minced red onion
½ cup of balsamic vinegar
1 tablespoon course mustard
1 tablespoon honey
8 oz. fresh mozzarella, cut into 6 even slices
1 cup halved cherry tomatoes
⅓ cup fresh sliced basil
Instructions
Season both sides of chicken thighs with salt and pepper
Heat a large skillet to medium high heat.
Add olive oil and chicken thighs to pan. Cook each side of the chicken thigh for 5-8 minutes, until there is no longer any pink.
Remove chicken from the pan.
Add in garlic and onions. Saute until translucent, about 2 minutes.
Add in balsamic vinegar, mustard, and honey. Using a whisk, stir everything together, being sure to get the brown bits off the bottom of the pan. Reduce the heat to medium low. Let balsamic simmer for another 3-4 minutes stirring the entire time.
Add the chicken back to the pan, place one slice of mozzarella on each chicken. Cover and let cook on medium low to low for another 3-5 minutes, until the cheese is melted.
Remove from heat.
Sprinkle the top of the chicken with tomatoes and fresh basil.
Serve!
Nutrition Information
Serving size:
1 chicken thigh + toppings
Calories:
418
Fat:
19 g
Saturated fat:
7 g
Carbohydrates:
10 g
Sugar:
7 g
Sodium:
880 mg
Fiber:
1 g
Protein:
45 g
Cholesterol:
177 mg
IF YOU MAKE THIS RECIPE, BE SURE TO SNAP A PIC AND HASHTAG IT #JOYFULHEALTHYEATS. I LOVE SEEING WHAT YOU MAKE!
Want More Chicken Recipes?
Sheet Pan Honey Mustard Chicken & Vegetables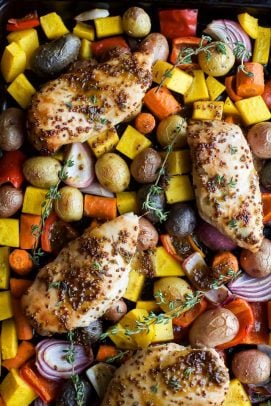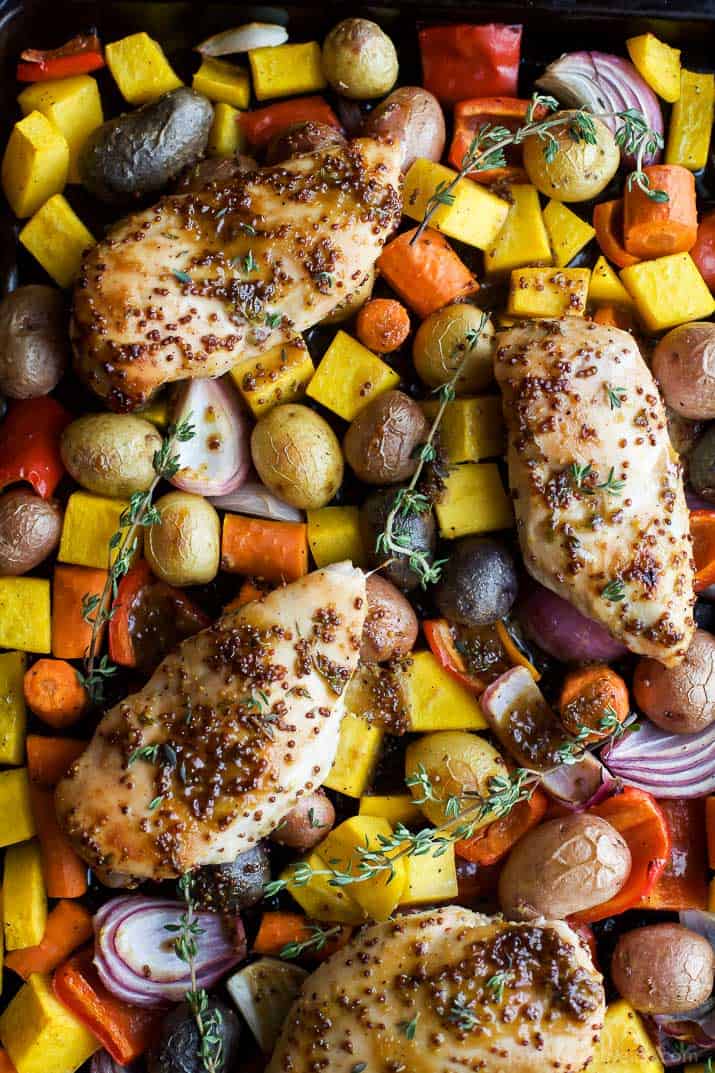 Thai Chicken Lettuce Wraps with Spicy Peanut Sauce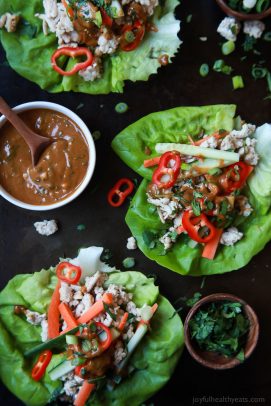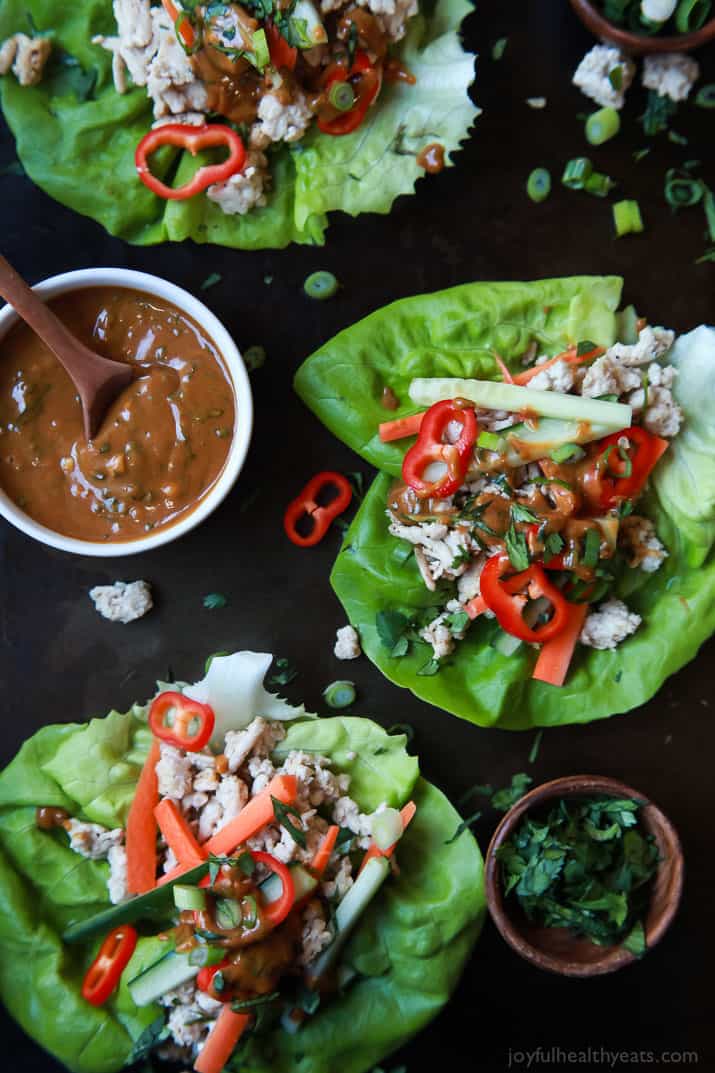 Easy Chicken Marsala with Blistered Tomatoes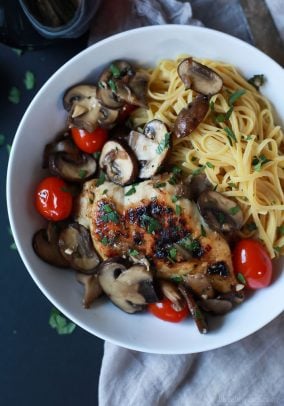 DON'T MISS A RECIPE ->